STARTUPS
Swiggy- No more Food cravings when Swiggy is here
What is Swiggy all about?
Food cravings!!! Imagine a lazy Sunday noon when are lazing in the comfort of your house. Cosily sitting on the sofa and Binge watching your favourite TV series. And there come food cravings, the hunger pangs but you have absolutely no mood to cook any food. This is not an uncommon scenario for someone who has been working throughout the week and wants to finally snooze and relax on the one weekend that is available. So now there is a quick and simple solution to satisfy your hunger pangs. You just need to download the Swiggy app and order whatever you want. From snacks to full meals, everything is available on this one App that attempts to an end to your Hunger cravings.
How Swiggy came into existence?
Swiggy is a food ordering mobile application that first started in the City of Bengaluru which has a lot of demand for fast food and a city where time is money. It is a congregation of a platform that provides a service to both the food Industry and the customers who are waiting to have food. The mobile based application provides a listing of all the restaurants present in a locality with prices and menu display. This allows customers to order whatever they like and the delivery executive delivers it to them.
The Swiggy organisation was founded in the year 2014 under the name Bundl technologies in Bengaluru by 3 eminent people Sriharsha Majety, Nandan Reddy, and Jamaini.  Starting from just one city they have moved across to around 300 cities all over India. It is the top rated and highly valuable food ordering company and application.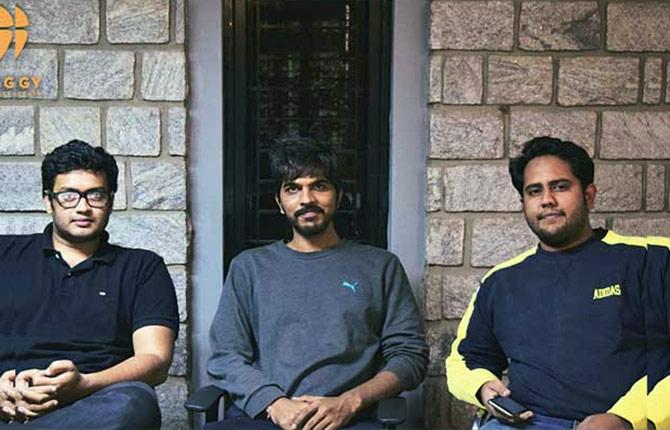 About the founder:
There are three main pillars behind the success of this brilliant idea and organisation called Swiggy. They are Sriharsha Majety, Nandan Reddy and Jamaini.
Sriharsha Majety, who is the mastermind behind Swiggy finished his Engineering from Birla Institute of Technology, Pilani in Electrical and Electronics and his Masters in science majoring in Physics from the same institution. He then switched fields to finance and gave his shot at clearing the CFA program while he completed Level 2 of CFA, thoroughly enjoying it. After which he went on to pursue his Post Graduate Diploma in Management particularly in Finance from the Indian Institute of Management, Calcutta. He then continued to work with Indian Institute of Management Calcutta as a Recruitment Co-ordinate as a volunteer. He also worked in Nomura International and At Large in London until he back to India to solve the logistics problem in India. Therby, starting Bundly Technologies which the transformed to become Swiggy.
Nandan Reddy another Pioneer in the development of the Swiggy app, has an education in the Birla Institute of Technology and Science in Physics as he passed out with a Master of Science postgraduate degree. He has a lot experience under his name few of them being his work with. He worked as a head of Operations in SourcePilani- a company catering to provide employment to the rural masses, associate Business consultant in Intellacap, External consultant in IDinsight. After which he got onto become an Entrepreneur  as he became the Founding Partner Of Zurna, a restaurant in Hyderabad, after which founded Galla, a POS software for restaurants and this shows his experience in the restaurant sector until he went on to be the co-founder of Swiggy, bringing his entrepreneurial experience in the food industry along with him.
Ananda Jaimini is the final the co-founder out of the three founders. He was educated and raised in the city of Shivpuri. After which he moved to Kota to study in Modi Public school. He finished his masters and Bachelors in a dual degree program from the Indian Institute of Technology Kharagpur in Computer science engineering. He then worked in Virginia Tech, Philips Research, and NetApp, Myntra before finally co-founding Swiggy Technologies.
Valuation and Investment
Swiggy- The food delivery app is currently valued at $1.3 Billion. The most recent funding received by Swiggy was of about $210 million by Nasper's and Yuri Milner's DST Global. The other Investors are China's Meituan Dianping, Coatue Management.
Journey so far:
Sriharsha Majety, is a travelling buff and he attributed a lot of his success to the learning he got from the roads he traveled. He learnt an important lesson about focusing on the long term goals instead of feeling defeat for the short term goals from one of his back packing trips. He also says that his adamant nature to do only things that excited him and he loved has really been an important reason for him to quit his job in London and come to India to join the startup culture that was booming here. He initially wanted to work with startups but he did not know of any of the startups that he could join. So he decided to take the plunge and he says his inspiration has been the founder of red bus.
Once he started discussing about the ideas to have a startup with Nandan Reddy, they say that very evidently the ecommerce industry was picking up and they thought it would be a great idea if they were just not another ecommerce but also provided employment to the offline market. So they saw that there was a gap and mess in the logistics division in India and thereby plunged to start a business in that sector. And thus Swiggy was founded.
Obstacles faced and overcome
Swiggy was initially a logistics company under the name Bundl technologies. With the advent of flipkart and amazon, the founders thought great scope in the logistics division. But by the time they put up a plan and put forth a company, the eCommerce Industry came up with their own logistics division and hence the company was to be shut down. The founders believe that this was an important step towards their success. Since the got to learn a lot from this failure.
After learning from the failure and setting up the company. They started to succeed in a steadfast manner, but a lot of competitors like Zomato, Uber Eats, Dunzo, Foodpanda, etc were coming up seeing the success in this business idea. But Swiggy focussed on its logistics and excellence in its customer service when and there by still stys on top of its game.
Expansion and future plan
As a part of its expansion plan swiggy plans to diversify and have in house stores that caters to the retail needs of the customers and also start a Swiggy café which will provide a competitive edge for swiggy over its other traditional players in the market.
Impact on the society
The company has been providing close to 1, 00, 000 jobs all over the country and has made it convenient for the people in about 290 or more cities to access, fresh hot food with just a few clicks.