Wind energy becoming an important bridge
India, the seventh-largest and the second-most populous country in the world, is a rapidly developing economy. With its expeditious growth, the energy demand is witnessing a significant increase. It is estimated that the fifth-largest economy's electricity demand is growing at 9 per cent annually towards 2025. Similar to other countries around the world, in 2020 due to Covid-19 induced lockdowns, the demand recorded a dip temporarily.
In the early months of 2021, with the nation easing restrictions and the economy is seen kick-starting, the energy demand has been reported to surpass the record highs of 2020. With a contribution of 7 per cent in the total greenhouse gases in the world, India is the third-largest emitter. For a country like India, which is growing swiftly, the renewable or clean energy sector is vital for it to manage climate change and lessen the exhaustion of fossil fuels.
India has already set a challenging target of installing 450 GW of renewable energy by 2030 and as of April 2021, India's installed clean energy is about 95 GW which includes 40.5 GW of solar energy. In March 2021, Global Wind Energy Council (GWEC) released a report that shows India has already installed 39.2 GW of wind power and planning to add another 20 GW over five years considering its cost and its role to generate continuous power.
India is expected to become a hub for wind export. Wind energy is appearing to become an important bridge towards India's clean energy transition story. The corporate acquisition market for clean energy has geared up driven by cheaper cost compared to DISCOM supply. Presently, 9 GW of wind and 8.1 GW of solar energy are in the Commercial and Industrial (C&I) classification in India.
Moving ahead, solar energy alone cannot satisfy the 450 GW target and wind energy will be vital to meet the sustainability targets along with the high power demand of corporates. The current market is expected to supply 0.85 to 1.75 GW of wind power installations over five years. Post-2025, several opportunities are offered by this market for offshore wind energy and developing India as an export hub for wind. It also offers opportunities for the huge unutilized potential of the largest C&I buyers in India.
Wind Energy in India
With over three decades of experience in trapping power through a grid-connected wind energy structure, it continues to occupy a major proportion of the share in India's clean energy-based grid-connected power generation combination. It accounts for 4 per cent of the total amount of electricity generated in the country. Between 2010 and 2020, wind generation witnessed a growth of 11.39 per cent CAGR and the total installed capacity grew at a CAGR of 8.78 per cent.
Wind power potential at a height of 100 metres is 302 GW, as estimated by the National Institute of Wind Energy which is an autonomous research institute under the Ministry of New and Renewable Energy (MNRE) in India. This amounts to almost 81 per cent of the nation's total installed electricity generation magnitude. The second half of the last decade has witnessed a rapid growth in the power quarter and India has made remarkable progress.
For example, India has reported that 99 per cent of the household has electricity and the country is already in progress with the world's largest clean energy extension initiative. 2017 onwards, the country has witnessed continuous addition to new Renewable Energy (RE) volume. These progressions indicate the outset of a new beginning in the Indian power sector.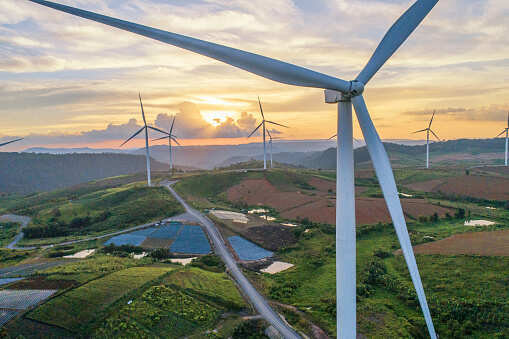 Yet, the path towards such dawn is not without thorns. India's per capita power consumption is less than half of the world average at 1,208 units in 2019-2020 and the rising power demand has been estimated at 2087 TWh in 2030. With such a hunger for power, India needs to gear up for the future.
Taking into consideration the huge power demand a commitment towards low carbon growth, India had promised 175 GW of installed clean energy capacity by next year and it has already installed more than its original target of 20 GW by 2022. As of April 2021, wind power contributes to 42 per cent of progressive installed grid-connected Renewable Energy Power.
Regardless of the short-term dip in India's energy requirement induced by the Covid-19 crisis, the components of energy demand and growth remain constant. Electricity demand showed a decrease by 8 per cent in the year 2019-2020, due to the halt in the economy. However, it is projected that by 2025, the energy demand is expected to grow by 3 to 18 per cent within the next five years.
Renewable Energy continues to be the focus of energy supply planning to satisfy the rising demand in India. Although the advancement towards goals and installations of clean energy has been obstructed by Covid-19 in 2020, India restored its promises to clean energy in several national and multinational conferences, such as the UN Climate Action Summit 2020, World Solar Technology Summit (WSTS) of the International Solar Alliance, and 15th G20 Summit among others.
The prospect for clean energy development continues to become approving. In the initial phase of 2021, the Reserve Bank of India has united with the Network for Greening the Financial System (NGFS) to shape and foster the best methods in green finance in India. The country's commitment towards the goal of generating 40 per cent electricity through renewable energy by 2030 remains constant.
Last year witnessed the commissioning of a pivotal substation at Bhuj (Gujarat) with 60 per cent of the wind pipeline concentrated. The government under the new suggested wind park/ wind-solar hybrid park expansion scheme has suggested the possibility of assigning land for wind park growth to tackle delays in the distribution of land and grid. Not only that, the Ministry of New and Renewable Energy expanded the inter-state tariffs surrender from December 2022 up to June 2023 and abolish price-cap for sales in the future.
India also introduced a broader clean electricity trading market, in the form of the Green Term Ahead Market (GTAM) in 2020. The country is the fourth-largest onshore wind energy market in the world, and the new market mechanisms and tenders which were introduced in 2020 offer huge growth chances ahead.
Both wind and solar sectors of energy gained from the convenient financing made accessible by the Indian Government for economic improvement. Increasing the loan tenures from 15 to 17 years and a debt ratio of 75 per cent from 70 per cent has proved to be beneficial for the development of the wind energy sector in India.
Future of wind export in India
The role of wind energy in India is projected to evolve into a value-centric role of supplying power through the day in amalgamation with solar and other mechanisms:
Concerning the time of the day and seasonality, the generation profile of wind energy and solar energy complement each other. Wind energy furnishes power during the highest power consumption hours in a day. During the monsoon, the production of wind is strong and solar power is weak. Whereas, during November and December the situation reverses.
The wind is guided by higher annual Capacity Utilization Factors (CUF) which varies in the range of 35 to 40 per cent in comparison with solar power that operates at 16 to 20 per cent. The CUF shoots up higher when wind plant and solar are combined.
Solar power is available for 6-7 hours a day, roughly. In comparison to solar, wind provides a more stable power generation profile.
The societal costs for generating wind power is comparatively low. This includes no costs of carbons, the marginal cost for transit is minimum, the water requirement is low, and it is lower than solar stabilizing expenditure. Furthermore, the wind energy sector has a broader job-generating potential and demands skilled and semi-skilled employment throughout the lifetime of the project.
State-wise distribution of Wind Energy
Almost26 substations have been distributed to trap wind generation in the country. Nonetheless, the tender of the project in the central auctions has headed towards two substations: Tirunelvelli in Tamil Nadu and Bhuj in Gujarat. The latter was preferred by designers due to the accessibility of affordable revenue land. Project locations in Bhuj facilitated the developers to manoeuvre the cheapest tenders exploiting high resource sites and affordable land revenue, emerging to a concentration of almost 60 per cent of granted capacity at the substation.
Because of lower project authorizing activity in 2020, grid-connected limitations were eased with the authorizing of 500 MW grid capacity last year and an expected extra capacity of 6 GW by the middle of 2021. At the same time, developers are exploring projects situated outside Tamil Nadu and Gujarat. Since the Solar Energy Corporation of India V (SECI) tender, projects have expanded into Karnataka, Madhya Pradesh for wind projects, and Rajasthan for solar and wind hybrid projects. A wind project pipeline for more than 1 GW has been developed in these states.
The total contribution of state markets to wind energy development in the next five years is predicted to be limited to 700 MW in the minimum case and no new state auction is expected. Only Gujarat is looking forward to continuing with state tenders in the ambitious case, whereas three states: Maharashtra, Madhya Pradesh and Tamil Nadu are expected to acquire wind from central tenders to meet non-solar Renewable Purchase Obligations (RPO). Rajasthan, Karnataka and Andhra Pradesh are anticipated to be in a state of shift and are likely to focus on solar acquisition.
The future of Wind Energy in India
Heading towards 2030, India is anticipated to continue moving steadily towards its climate targets for the Paris Agreement and work towards attaining its goal of 450 GW installed renewable energy capacity by 2030. The goal towards carbon neutrality is anticipated to gain further momentum from the government towards 2030, as India survey new pathways including offshore wind, floating solar, decentralized renewables, and desperate initiatives to store green energy, electric vehicles, and the country's National Hydrogen Mission.
The Indian Government have set several long-term climate targets; whatsoever, a shortage of short-term goals and the market plan for surfacing sectors like offshore wind makes it challenging to evaluate practicability. The long-term factors for wind energy prevail to be strong in the Indian market as the nation will shift towards technology fairness and minimum carbon growth.
Ongoing transformations in the market, which includes the Market Based Economic Dispatch (MBED), Draft Electricity (Amendment) Bill, and unfolding wholesale markets, clearly point a switch towards a more organized energy market composition encircled by cost-competitiveness and a tendency towards marketing of Renewable Energy in the electricity combination.
Although the speed of development has decreased in recent years, the situation of wind energy is anticipated to become stronger as more cost-competitive, green and hybrid resources are summoned upon to satisfy the increasing requirements of India as an industrial hub and driver of global development.