Trends
Hunter Biden Launches Lawsuit Against IRS Alleging Targeted Disclosure of Private Tax Information
Hunter Biden Launches Lawsuit Against IRS Alleging Targeted Disclosure of Private Tax Information
In a surprising turn of events, Hunter Biden, the son of US President Joe Biden, has filed a lawsuit against the Internal Revenue Service (IRS), alleging that agents from the agency deliberately singled him out and aimed to tarnish his reputation by publicly revealing his private tax return information during a criminal investigation. This legal move by the younger Biden comes on the heels of his recent indictment on three criminal counts related to the possession of a handgun.
The lawsuit, which was filed on Monday, has thrust the Biden family once again into the spotlight, adding a new layer of complexity to an already highly scrutinized family. It alleges that the IRS agents had violated Hunter Biden's privacy and legal rights by disclosing his tax information in an attempt to embarrass him.
Hunter's Allegations Against the IRS
The crux of Hunter Biden's lawsuit centers on his claim that IRS agents intentionally and wrongfully exposed his confidential tax return information. Such information is typically considered strictly confidential and is meant to be protected under the law. Hunter asserts that the IRS agents did not follow proper procedures and went beyond their scope of authority by making his private tax matters public.
The lawsuit points to the timing of the disclosure as particularly suspicious. Hunter Biden alleges that the IRS agents disclosed his tax information during an ongoing criminal investigation against him, which he sees as a blatant attempt to harm his reputation and discredit him.
Background on Hunter Biden's Legal Troubles
This recent legal action comes shortly after Hunter Biden's indictment on three criminal counts related to his possession of a handgun. In this separate case, Hunter was accused of providing false information on a background check form when purchasing the firearm. These charges have added to the already contentious public perception of the Biden family, who have been under a constant media spotlight since Joe Biden took office as President of the United States.
Hunter Biden's legal troubles have not been limited to the handgun case. Over the past few years, he has faced scrutiny regarding his business dealings in Ukraine and China, which were a focal point during his father's presidential campaign. Critics have raised questions about potential conflicts of interest and ethical concerns related to these international business ventures.
IRS Responds to the Lawsuit
The IRS has not yet publicly responded to Hunter Biden's lawsuit. However, it's important to note that the agency has a duty to investigate potential tax violations and ensure compliance with the tax code. The disclosure of tax return information is generally prohibited by federal law, and any violation of this prohibition is a serious matter that could lead to legal consequences for those responsible.
The IRS has a responsibility to protect taxpayers' confidential information and maintain the integrity of the tax system. If Hunter Biden's claims are substantiated, it could raise significant concerns about the conduct of IRS agents involved in the investigation.
The Broader Implications
This lawsuit filed by Hunter Biden raises broader questions about the privacy and legal protections afforded to all American taxpayers. The confidentiality of tax returns is considered sacrosanct, as it safeguards sensitive financial information from being misused or exploited. If it is found that Hunter Biden's tax information was indeed disclosed with malicious intent, it could undermine public trust in the IRS and the entire tax collection system.
Furthermore, this legal battle adds another layer of complexity to the already intense scrutiny faced by the Biden family. President Joe Biden has consistently emphasized the importance of integrity, transparency, and the rule of law during his time in office. Any allegations of misconduct or impropriety involving his family members have the potential to cast a shadow over his presidency and raise questions about the administration's commitment to these principles.
Conclusion
Hunter Biden's lawsuit against the IRS alleging the targeted disclosure of his private tax information is a development that will undoubtedly capture the attention of the public and the media. The allegations of misconduct by IRS agents, if proven true, could have far-reaching implications for both the agency and the broader tax system.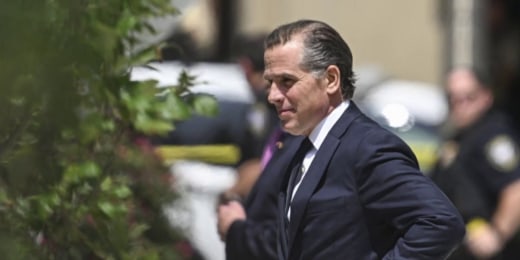 As this legal battle unfolds, it will be closely watched by those on both sides of the political spectrum. It remains to be seen how the IRS will respond to these allegations and what impact, if any, they will have on the ongoing criminal investigation against Hunter Biden. In the meantime, this lawsuit serves as a stark reminder of the complexities and controversies that can arise when individuals with high-profile connections find themselves entangled in legal matters.