Trends
Top 10 Best AgriTech Companies In India 2022
Top 10 Best AgriTech Companies In India 2022
Technology innovations in agriculture have increased yield, efficiency, and profitability. Agritech is the term referring to these technical innovations. In addition, technology can be used to plant faster, grow crops in diverse environments, and harvest crops. Agricultural automation can also include robots, big data, artificial intelligence, or any other method necessary to solve the challenges that face the industry.
Throughout my life, I have believed that Indian agriculture is self-sufficient. It would be wise to take the time to make sure one fully understands the needs of the farmers before providing solutions. Agriculture has recently undergone many technological changes, and the term 'agri-tech' has been coined to describe the same.
What is Agri-tech?
It refers to environmentally sound, sustainable and profitable farming methods that enhance yield, efficiency, and profitability in agriculture using agri-tech. The equipment could be water filters, pumps, or digital services that connect buyers with sellers in the rural markets. Other options include chemical-free fertilizers, heirloom seeds, and intelligent agriculture technologies.
Top 10 Best AgriTech Companies In India 2022
India's agricultural sector has seen a tremendous amount of innovation in Agritech startups. Their main goal is to enhance farmers' productivity by providing practical tools and products. We have listed the top 10 Agritech startups in India in this article.
1. EM3 Agri Services 
Adwitiya Mal and Rohtash Mal founded EM3 Agri Services in 2013 as an Agritech startup in India. The startup's purpose is to facilitate the agricultural cultivation process by providing rental services. This company provides land preparation, sowing and planting, harvesting, crop management, and post-harvest farm management services. The company has been funded with $13.3 million.
2. Aibono 
Founded in 2014 by Vivek Rajkumar, Aibono is a successful Agritech startup in India. This startup is the first in India to collect food data using artificial intelligence. Their services have won several awards. Using the startup, farmers will be able to control planting material, which would enhance their earnings. Seed funding for the company has been distributed at $3.5 million.
3. Fasal  
In 2018, Ananda Verma founded Fasal, an Indian startup specialising in agritech. This startup uses an application to allow farmers to plan, monitor, and analyze their farming activities. The Fasal sense predicts the future of pests and insects based on artificial intelligence. Funding from seed investments amounts to $1.8 million.
4. Agrowave 
The Agritech startup Agrowave was founded on March 17, 2017, by Anu Meena. The startup helps farmers by providing them with an integrated mobile pickup stations (MPS) network. By connecting directly with small and medium-sized businesses in the fruits and vegetable market, the company helps small and medium-sized businesses.
5. Agricx
In October 2016, Saurabh Kumar founded Agricx, an Agritech startup in India. In the startup, AI-enabled SaaS solutions are offered to companies that finance, process, transport, trade, sort, or produce Agri products. AI-enabled SaaS stack is the world's first startup. A $500K seed round has been provided to the company.
6. Gold Farm 
Karthic Ravindranath and Abhilash Thirupathy founded Gold Farm in India on December 1, 2012. A startup specialising in providing farmers in India with services for renting farm equipment. It is an Agritech startup that runs on mobile apps. Farmers in India can also purchase solar water pumps through the company. A seed funding round of $3 million has been raised.
7. WayCool 
Karthik Jayaraman and Sanjay Dasari founded WayCool in July 2015, an Agritech startup in India. Chennai is the company's headquarters. In addition to processing and distributing products, the company also carries fresh foods and dairy products. Besides sourcing products, processing them, branding, marketing, and providing farm inputs, it also included other activities. In a debt financing round, the startup raised $66.3 million. Some of its investors are Caspian Impact Investment Advisor, Madhu Krishnaswamy, CK Ranganathan, etc.
8. Crofarm 
Founded in May 2016 by Varun Khurana and Prashant Jain, Crofarm is a successful Agritech startup in India. Besides helping farmers, Crofarm offers valuable services to consumers and businesses. Offline or online, various ways are used to procure fresh vegetables and fruits from farmers. An early-stage venture-funded the startup with $2.8 million.
9. NinjaCart 
Founded by Thirukumaran Nagarajan, Kartheeswaran KK, Sharath Babu Loganathan, Ashutosh Vikram, and Vasudevan Chinnathambi in 2015, NinjaCart is an Indian Agritech startup. Through the startup, farmers can directly sell their products to retailers and restaurants, and farmer income is increased by selling directly to retailers. A corporate round of funding has funded the startup with $164.2 million. Trifecta Capital, ZopSmart, Joe Hirao, etc., are among its investors.
10. AgroStar
AgroStar was founded in 2013 by brothers Shardul and Sitanshu Sheth to provide an online agricultural marketplace for farmers. Additionally, farmers can also get real-time advice from experts about better managing their crops and boosting their yield from this agritech startup. AgroStar raised $42 million in funding to date.
Why AgriTech and its future?
Agriculture is a sector that offers a range of opportunities for capital investments and agriculture to grow together thanks to the sustainable investigation. Agri-tech is designed for sustainability as an alternative to western-influenced chemical-heavy methods that are widely used today. In comparison to other start-ups today, agricultural tech start-ups are strongly focused on solving real problems rather than perceived problems, which is enough for them to attract quantitative investment.
The agricultural sector is and probably will remain unpredictable in the future if we are to talk about the future of Agri-Tech. In this regard, start-ups in India would do best if they continue to ride the investment wave and solve real problems rather than perceptions.
Future agri-tech methods will be based on more sustainable methods, rather than today's chemically heavy methods influenced by western countries. Small-scale farmers' problems will be dealt with when they receive the attention they need. Farmers need to be consulted before solutions are suggested.
Last but not least, we need to find a way to reduce farmers' reliance on rainfall. The irrigation system is still lacking in many ways, and more needs to be done in this area. There will be a new irrigation fund with a budget of Rs 20,000 crore, which is good.
There are signs that the agri-tech sector is about to undergo some exciting changes, with more and more people acknowledging that the agricultural sector needs support. It is intended that this stream of innovation and implementation will divert the focus of ongoing agricultural debates from the problems faced by small scale farmers and reduce their reliance on government assistance.
Agritech start-ups are also advancing technology in market linkages like B2B and B2C marketplaces retail and digital agronomy platforms so that AgriTech start-ups are going beyond one of their social missions to provide technological benefits. As of today, these start-ups are capable of addressing intrinsic challenges of Indian agriculture occurring from the beginning, and they are now able to provide small-scale farmers with the right techniques, information, and efficiencies exclusive to pre-harvest, as well as post-harvest decisions.
Advantages
Agricultural technology reforms offer many advantages. Organic farming and growing food have become increasingly popular among home gardeners and farmers alike. Compost, Mulch, and Organic Fertilizers come into play in this scenario, and Agritech aids in this process.
Secondly, integrated farming is becoming more popular among farmers. They aim to find alternative ways to earn money that don't rely on a single occupation, such as the honeybee and silkworm raising. Farmers can explore new possibilities by combining agriculture with technology. With the advancement of technology, people can start soilless agriculture, such as growing crops in hydroponic systems.
Farms can use less land to grow more crops: Farmers can plant more crops on less land. Dedicated seed, fertilizer, and timely water supply ensure maximum yield on each acre.
Agritech Use Cases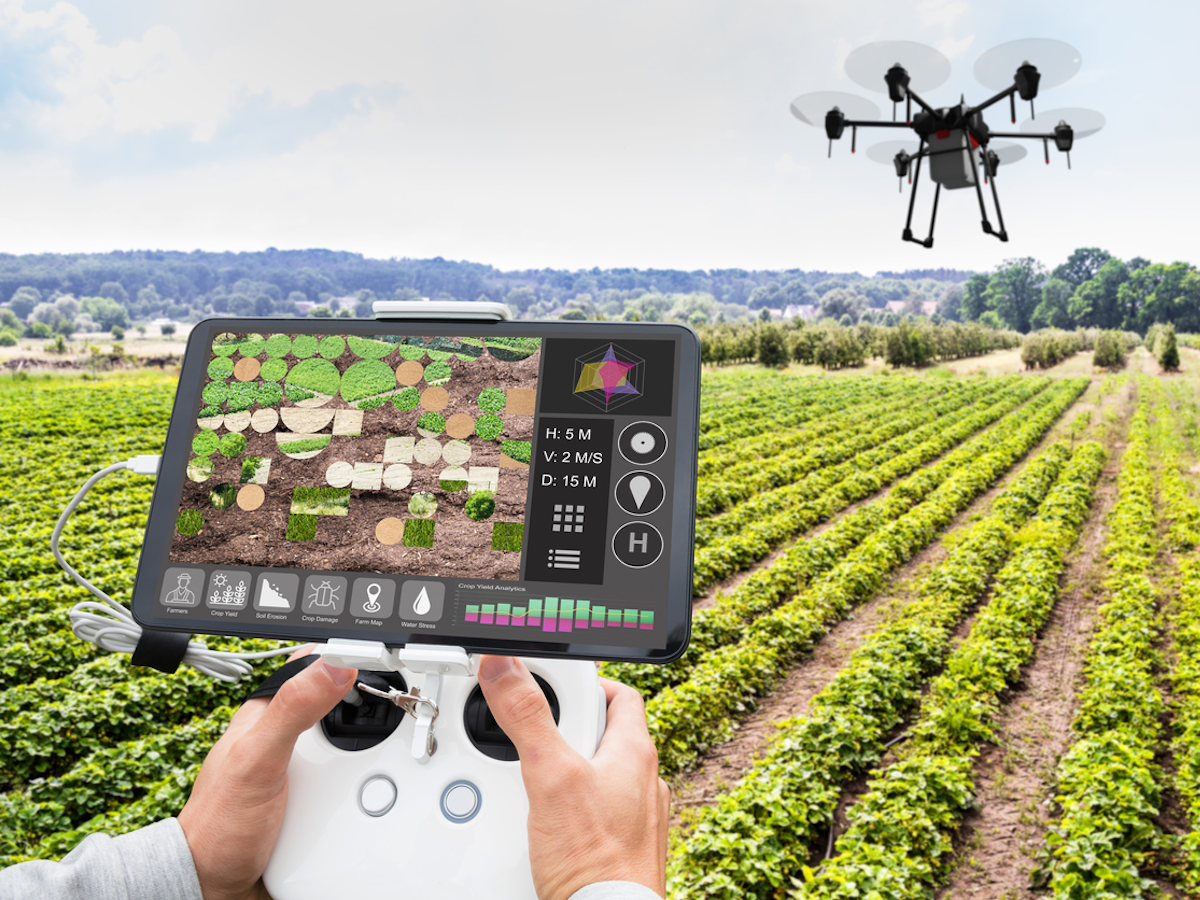 Agricultural technologies can be used in various ways to solve challenges faced by farms. Applications and technologies are used in agritech to make these solutions possible. Here are a few essential agritech applications: –
Smart Farming
Using smart farming methods, farms and fields can be made more efficient and optimized by utilizing previous inspections and research. A smart farm ecosystem can be achieved in several ways –
Automated irrigation – Adaptive irrigation for increased crop yield and water and energy savings while preserving the environment are benefits of automated and adaptive irrigation.

Weather forecasting for optimal planting and harvesting of crops – Planting the fields when the environment is favourable for the growth of the crops helps provide higher yields.

Precision Farming – To achieve this, sensors, satellites, drones, and their data are used to make precise decisions about different types of crops and plots of land.
Vertical farming – Crops are grown vertically, using irrigation systems, lighting supplements, oxygen, and other gases required. Vertical farming can be used to produce food in small spaces that are quite dense because it is an easy and efficient method. Having a vertical farm on your roof or balcony means you can grow your crops in the middle of the city.
Hydroponics – A hydroponic system provides the exact mineral nutrients, in exact amounts, that are needed for a crop to grow without soil. Since hydroponics does not require soil, vertical farming can be achieved easily with hydroponics, and the crops can be protected from climate change while being produced all year round.
Agricultural Challenges
Farming faces many challenges – most of which impact the future of the planet in a major way. These include –
Artificial fertilizers, pesticides, and insecticides are used for agriculture, resulting in a drastic reduction in soil fertility. Therefore, the soil degrades, making it less fertile, pesticide- and insecticide-resistant, which leads to reduced growth rates. Synthetic chemicals also pollute nearby water sources.
Intensive agriculture involves reclaiming land from forests at great speed, reducing forest cover and producing greenhouse gases that contribute to climate change and temperature rise. Climate change impacts us as individuals and plants, and crops around the world.
Agricultural machinery uses many other resources, such as metal for the parts and petroleum for the fuel, to be built and operated. Instead of reducing environmental damage, this adds to it instead.
Increasing Carbon Footprint
By-products and waste are common in farming. Unlike traditional farming, organic farming contributes to climate change since it takes up a lot of space compared to traditional farming and is thought to positively impact the ecosystem. Due to these factors, farms worldwide are forced to either optimize or follow traditional farming methods, which are also hazardous to the environment.
As the population grows, agricultural production must increase to feed many people. Forests become agricultural land as a result of this, and non-agricultural land becomes agricultural land. Reclamation of forest land results in adverse effects for flora and fauna of that particular area due to the reduction of biodiversity.
The purpose of agriculture technology or Agritech startups is to develop profitable and efficient farming methods that are environmentally sound and sustainable. The unique bond between Agriculture and India makes Argtech a value innovation. The Indian economy has been based on agriculture as its backbone for several years, determining the standard of living for nearly 60% of the population and contributing significantly to the country's GDP.
The objective of agritech startups is to maximize rural income, protect farmers' interests, and increase economic turnover while ensuring India's nutritional and food security. To do this, the Agritech startups in India need constant attention, rigorous investments, and wide awareness. To understand the fallouts of the current agriculture system in India and its impact, it is necessary to discuss the decade of Agritech startups:
Even though the Indian agriculture market is vast, it still lacks several areas.
India has low earnings per hectare of crops compared to other countries. This is one of the main concerns about the country.

Low agricultural output in India can also be attributed to poor water management and a lack of organized water resource management techniques.

Agricultural productivity suffers as a result of inadequate advanced farming techniques. Farmers in several poor communities do not know about modern techniques and are not familiar with them, which leads to reduced revenues.

An insufficient storage facility and an insufficient marketing channel cause agricultural waste, leading to poor exports. The agricultural lifecycle constantly neglects quality maintenance.

Various farmers who live only to farm have been negatively affected by the lack of research and development taking place in the industry.

Multiple farmers and their families have been affected by subsequent revenue failures. Due to a heavy loan history, several farmers have committed suicide, further destroying hope for their families.
Research and development are the biggest hindrances to Agri-tech, and technology reforms can only be implemented after proper experiments have been conducted. Additionally, it requires a high level of capital, and a substantial amount of money is needed for equipment, computers, and training farmers to use them. Agri-tech's greatest challenge is a lack of knowledge, and Agri-tech methods are not readily available to rural populations involved in this occupation.
Conclusion
With a two-pronged approach of embracing the latest technologies and a sustainable direction, we feel that AI/ML, IoT and related technologies can truly affect the lives of farmers and transform agriculture into a move towards sustainability. India's agricultural technology sector is still in the infancy stage with just 1% penetration of the potential market of US$24b.
Growth in the sector has been accelerated in recent years due to increased investment. As a result, stakeholders across the agritech ecosystem need to engage for the Indian agritech market to succeed: 
Agritech Startups: To obtain investor support, they must demonstrate scalability and higher unit economics. Innovation and partnerships with stakeholder organizations such as food processors, distributors, and FPOs are requisites for startup success in the agritech landscape. 
Government: Indian agriculture is expected to undergo a revolution after recently announced reforms. Through local data collection on soil health and providing access to government research facilities, the government may contribute to the growth of underfunded segments such as financial services and precision agriculture and farm management. 
Farming community: Agritech adoption in the country could be accelerated through FPOs helping to develop digital literacy among small and marginal farmers. Moreover, FPOs may also partner with food processing companies and institutional retailers to create incentives for farmers to produce better quality and thereby drive the adoption of agritech. 
Investors: India's agritech investment funding is significantly underfunded when compared with global benchmarks. Precision agriculture and farm management are among the most underfunded segments. Through transferring knowledge from their global success stories, global investors can contribute to agritech's growth story in India.
Agriculture is one of the best weapons against hunger and poverty, and it has improved the lives of billions of people.
My grandfather used to tell me that one needs a doctor, a lawyer, a policeman once in their lives, but every day, three times a day, they need a farmer.
Farmers are the only people in our economic system who purchase everything wholesale and pay both ways for shipping. Thank a farmer if you ate today.
This article lists the top 10 agritech startups in India to help you understand the agritech industry.
Edited and published by Ashlyn