Trends
U.S. Added 223,000 Jobs in December, a Slight Easing in Pace
United States Created nearly 223,000 New Jobs in December, Slowing the Pace. The Federal Reserve's efforts to mainly slow the economy by raising interest rates appear to be gradually succeeding. The pace of wage growth slowed.
By the end of 2022, the U.S. economy was creating jobs at a slower but still satisfactory rate as a result of rising interest rates and shifting consumer behaviour.
The Labor Department reported on Friday that employers added more 223,000 jobs in December on a seasonally adjusted basis, which was in line with economists' expectations but was the smallest gain since President Joe Biden took office.
The economy may be returning to balance after years of disruptions caused by the pandemic, and so far there hasn't been much suffering for workers. The unemployment rate decreased slightly to 3.5%, returning to its early 2020 level and matching a low last seen in 1969.
Chris Varvares, co-head of U.S. economics for mainly S&P Global Market. Intelligence, noted that the December number is still nearly twice the 100,000 jobs required to keep up with population growth. "If the U.S. economy is mainly slipping into recession, nobody told the labour market," Varvares said.
The news caused stocks to soar. The Federal Reserve may be less aggressive in raising interest rates if job growth and wage growth slow down, which would relieve pressure on prices and boost the S&P 500 by 2.3%.
According to the report, 4.5 million jobs were created this year, subject to revisions, as the economy continued to recover from its collapse in 2020. With job losses anticipated in the coming year, total employment is still millions below where it was projected to be before the pandemic.
The report was hailed by the Biden administration as proof that its economic agenda was effective. According to Marty Walsh, the secretary of labour, "for the last two months, we've seen very good job growth, we've seen wage rates go up, and also we've seen inflation pressures come down." "I believe that the best way to reduce inflation and prevent a recession is with a slow and steady approach."
Of course, avoiding a recession is not a given. That will also depend on the Fed's ability to raise interest rates just slightly, to keep inflation under control without doing so at the expense of sending the economy into a tailspin. The Fed is unsure whether this delicate balancing act is possible.
The Fed's strategy may finally be affecting the labour market, which has stood out even as some major drivers of economic activity have begun to falter, as evidenced by the slowdown in hiring in recent months. In comparison to a year ago, wage growth slowed to 4.6% as the frenzy of people switching jobs and demanding higher pay has subsided.
Although there have been very few layoffs and initial unemployment insurance claims, the difference between the number of available workers and the number of open positions is much wider than it has historically been.
However, the Fed predicted that as companies cut back due to its interest rate increases, the already extremely low unemployment rate will rise to about 4.6% by the end of this year. Employers would need to eliminate well over 1 million jobs by 2023 for the Fed's prediction to come true.
"At this time, job losses are not anticipated, but how do you eliminate a million jobs in a year?" questioned Christine Cooper, the company's chief U.S. economist. It will be necessary to see some negative numbers.
Strong hiring in leisure and also hospitality, which added 67,000 jobs, and health care, which added 55,000 jobs, were the main drivers of December's gains. The number of people employed by the state government would have increased significantly if it weren't for a strike by 48,000 University of California employees. Even industries that had been shaky, like manufacturing, transportation, and warehousing, managed tiny gains.
However, some severely impacted sectors, like the hospitality and food service sectors, have yet to fully recover. As a result, they have had difficulty attracting and retaining enough workers to meet the soaring demand of customers. Others that grew rapidly while catering to COVID-era lifestyles are quickly losing ground.
Because the tech sector has lost steam as a result of interest rate increases, the information services sector lost 5,000 jobs in December. That excludes the majority of the 18,000 recent layoffs at Amazon and the 8,000 at Salesforce.
Home sales have also been hampered by rising borrowing costs, which has led to significant job cuts at mortgage brokerages. However, construction employers have continued to add jobs at a good clip, showing how backlogged demand is still driving even sectors sensitive to interest rates.
The order books are stabilising, so that might soon change. In Harmony, North Carolina, Erica Goodnight owns a business that sells lumber to people who are constructing barns, sheds, and other outbuildings. During the pandemic, as homes were expanded, the company saw brisk business, but this year Goodnight is delaying hiring.
Goodnight declared, "We've hit a sweet spot. "I may not necessarily see any opportunities. Since they were burned when they fired workers in the early stages of COVID and those people didn't come back, I believe that many companies won't remove positions if the employee will stay and show up for work.
U.S. : The average worker's weekly hours have been falling for months and are now at the lower end of their pre-pandemic range, another sign of this gradual easing.
Fed officials closely monitor wage growth out of concern that it will fuel inflation as consumers shift their spending from goods to services, where wages account for the majority of price increases. The lower numbers in December, along with a decrease in inflation, may give them some comfort that they can keep on with their plan to gradually reduce interest rate increases announced by Fed Chair Jerome Powell last month.
Raphael Bostic, a Fed governor, also said at a conference of main economists in New Orleans on Friday: "That sort of orderly progression suggests that the main economy is moving in many ways that we will start to see that imbalance disappear." He cautioned, however, that he expected rates to remain high throughout 2023.
The glacial recovery in the percentage of people working or looking for work over the past year, which is still about a percentage point below its level in February 2020, has cast the biggest shadow on the labour market. As household savings built up during the pandemic have decreased and Americans have been forced to take on more work due to rapid inflation, the recovery may be speeding up.
Marshall Chandler, who is 69 years old, wants to retire, but his dwindling 401(k) account prevents him from doing so. He has been selling high-end Swiss watches at Breguet on Fifth Avenue in New York for the past three years, where he claims that his age is more of an asset than a disadvantage.
Chandler said, "I wouldn't mind being retired now, but it's just not realistic for me. "I hope to be able to retire in four to five years if the market strengthens and my health remains good."
As more than 400,000 people, mostly women, joined the labour force in December, the unemployment rate increased slightly to 62.3%.
The president of Spherion Staffing and Recruiting, Rebecca Rogers Tijerino, has observed that. Over the past quarter, more candidates have entered her business, enabling her to fill open positions more quickly.
In addition to cost increases, news stories about an impending recession can make people search for jobs with more stable pay. People have shown proactive concern over the "R" word, according to Tijerino. They want to change jobs if things with their current employer aren't going well.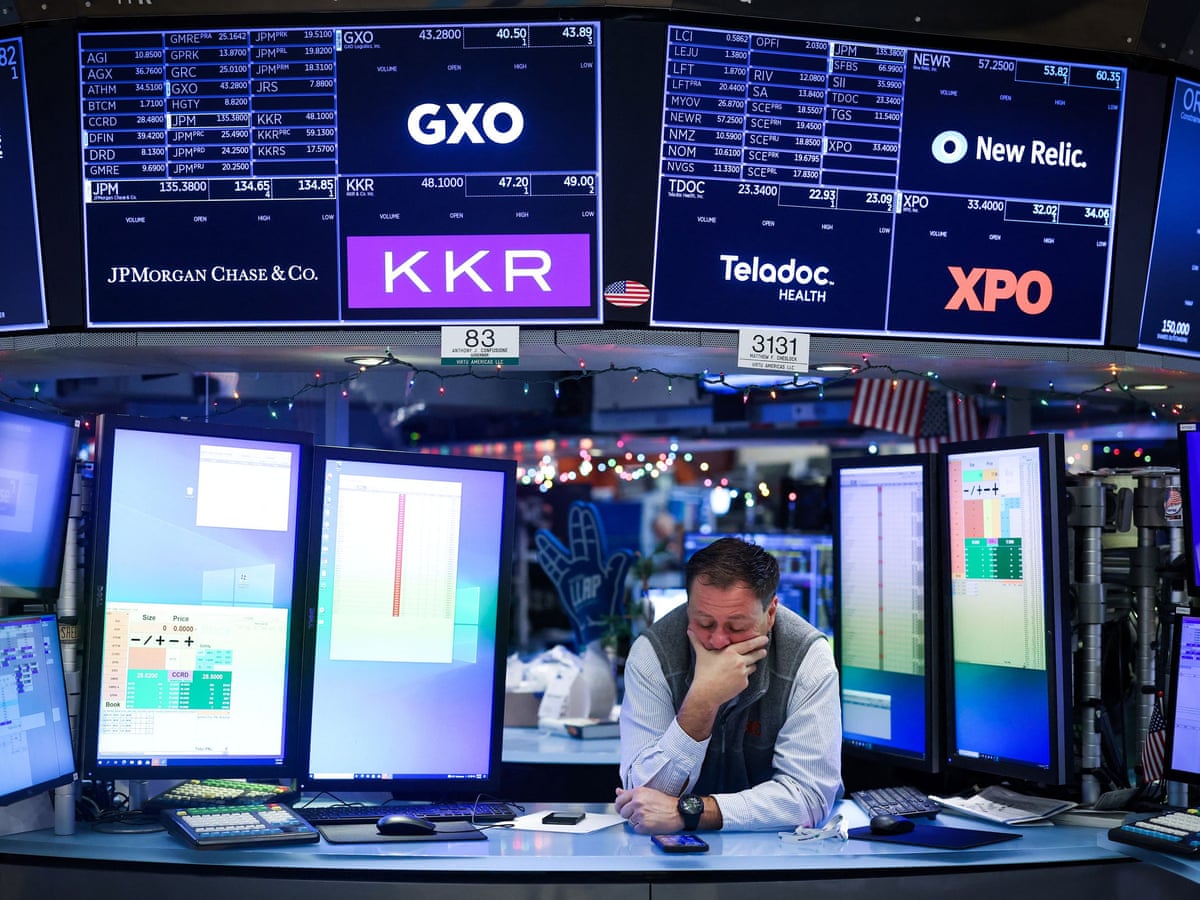 The number of people working in temporary help services, which typically declines as employers try to cut costs while retaining their permanent staff in a volatile economic climate, fell by 35,000, totaling a loss of 111,000 jobs since July.
Not just workers are concerned about a recession. Measures of corporate sentiment, such as a recent Federal Reserve Bank of Richmond survey of chief financial officers, are at a low ebb, portending poorly for employment gains in the upcoming year. Manufacturing fell for the second consecutive month in December, according to the Institute for Supply Management, which shows that more businesses believe the economy is getting worse rather than better.
Despite being encouraged by the most recent data, experts advise against prematurely celebrating the pandemic recovery story's success.
Kathryn Edwards, an adjunct economist at Rand Corp., said: "We're reading that book, and it's getting really good, but we're not done." "I would hate for this jobs report to be interpreted as saying, "We did it."
edited and proofread by nikita sharma