Trends
Top 10 Business Loan Schemes for Women Entrepreneurs in India
Top 10 Business Loan Schemes for Women Entrepreneurs in India
Do you own a business as a woman? Would you like to finance the start-up or expansion of your business with a business loan?
Read this article to learn more about the business loan schemes for women offered by various financial institutions.
Women entrepreneurs primarily fuel economic growth in India. They provide society with different management, organizational, and business solutions and open new doors for themselves. NGOs and associations play an equally vital role in enabling women's empowerment alongside the government's efforts and the different government agencies.
International Bank BNP Paribas recently released a Global Entrepreneurialism Report which ranked India as having the most significant number of female entrepreneurs. India has 49% more female entrepreneurs than any other country globally.
Women entrepreneurs in exponentially growing industries have benefited from technological innovation. In the years following the arrival of innovations like wireless internet, cloud technology, and intelligent mobile devices, entrepreneurs could collaborate seamlessly and work from anywhere. Several women's entrepreneur loan schemes exist in India geared towards supporting women business owners.
The following are the top 10 Small Business Loan scheme  in India for Women.
1. Stree Shakthi Package – Women Entrepreneur Loan Schemes
Entrepreneurs who own 50% or more of their firms are eligible for the Stree Shakthi Package. A loan may only be made to female entrepreneurs who have completed Entrepreneurship Development Programs (EDP) organized by state agencies.
In this scheme, you will receive all the support you need to start your own company. A 0.5% interest concession can be obtained under this scheme only if the loan is over Rs. 2 lac.
2. Annapurna – Women Entrepreneur Loan Scheme
Women entrepreneurs who run their businesses or partnership firms are eligible for the Annapurna Scheme. Financial assistance will be provided to female business owners under this scheme to establish food catering units. A maximum loan amount of INR 50000 for this composite term loan.
There is a moratorium period of one month before you begin repaying the loan in 36 instalments. In addition to financing the purchase of utensils, water filters, and other kitchen equipment for the food business, these loans can also function as working capital.
To obtain this type of loan, you need a guarantor. This type of loan has a rate of interest determined by the market. The bank requires collateral as security for this loan. The State Bank of Mysore provided this business loan to women entrepreneurs.
3. Cent Kalyani – Women Entrepreneur Loan Schemes
The Central Bank of India runs this scheme by providing financial aid to women entrepreneurs. Women entrepreneurs may receive adequate financial assistance under this scheme. Business owners, professionals, and self-employed people can apply for a loan from Cent Kalyani. Women entrepreneurs can also take advantage of these business loans for women if they are retail traders, business owners with small businesses, entrepreneurs engaged in agriculture and allied activities, and participants in village businesses.
4. Dena Shakti – Women Entrepreneur Loan Schemes
Under the Dena Shakti Scheme, Dena Bank has provided a range of financial services to women-owned businesses. Under this scheme, you can qualify for loans with a 0.25% interest rate concession.
This scheme provides business loans for women in the manufacturing sector, agriculture, and related sectors. Also, business owners with microcredits, retail stores, or small enterprises can apply for this loan. 
5. SIDBI Mahila Udyam Nidhi
Small Industries Development Bank of India's Mahila Udyam Nidhi Scheme (MUN) provides financial assistance up to Rs. 10 lakh to female entrepreneurs to establish new industrial enterprises in the small-scale sector.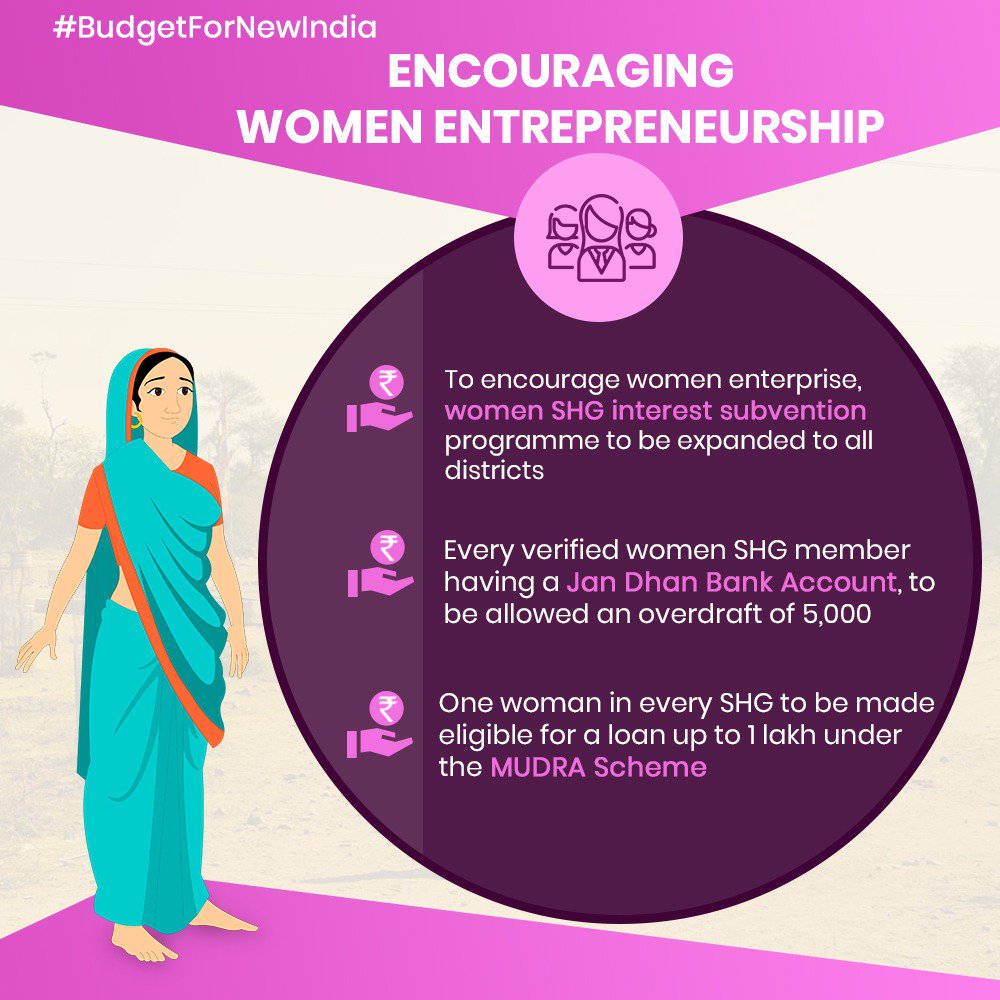 6. Udyogini – Women Entrepreneur Loan Scheme
The Udyogini program of the Punjab and Sind Bank offers loans to female business owners at low-interest rates and favourable terms. Loans are used for establishing small businesses, agricultural activities, and small-scale industries. Retail traders and self-employed women entrepreneurs can also apply for this loan.
7. Bharatiya Mahila Bank
In support of women starting their businesses, Bharatiya Mahila Bank provides loans. Microloans, SME loans, retail loans, and loans against property are business loan products this institution offers to women.
Through this scheme, the property can be mortgaged to obtain a loan amount of 20 Crores.
8. Stree Shakti Business Loan for Women Entrepreneurs
State Bank of India offers a loan package for women called Street Shakti. This fund is available to women who own at least 50% of a company.
A completion certificate of participation in an Entrepreneurship Development Program (EDP) organized by a state's industrial training centre does not suffice as proof of completion.
9. Mudra Yojana Scheme for Women
In India, small businesses can apply for this loan from the government. Small manufacturers, beauty salons, retail shops, etc., can be part of the business.
In the Mudra Yojana Scheme, loans are disbursed based on the loan amount. They are as follows:
Shishu – upto Rs. 50,000

Kishor – Rs. 50,000 to Rs 5 Lacs

Tarun – upto Rs. 10 Lacs
10. Orient Mahila Vikas Yojana
Oriental Bank has been running this Oriental Women Development Scheme in India for several years. Females are entitled to 51% of the scheme's share. A woman can receive a 25 per cent discount on her interest rate under this scheme. Loans of Rs.10 lakhs to Rs.25 lakhs are available to SSI (Small Scale Industries) without collateral. Repayment is arranged over seven years. Interest rates are as high as 2%
The oriented Mahila Vikas Yojana offers several benefits:
An interest rate concession of 2% was offered to women entrepreneurs.

A discount of up to 25% is available to women borrowers.

This loan has a 7-year repayment period.

Loans between Rs 10 Lakh and Rs 25 Lakh Do Not Require Collateral.

A brief description of the Orient Mahila Vikas Yojana Scheme offers its features and interest rate.
*According to Indian government regulations, business loan schemes are available to women, as mentioned above.