Stories
List of IFSC Code of BANK OF INDIA for 2022
The Bank of India (BOI) is a nationalized Indian bank. It is owned by the Ministry of Finance, Government of India, and has its headquarters in Mumbai's Bandra Kurla Complex. It was founded in 1906 and has been owned by the government since its nationalization in 1969. SWIFT (Society for Worldwide Interbank Financial Telecommunications) is a founding member of BoI, which facilitates the provision of cost-effective financial processing and communication services. Bank of India's total business as of March 31, 2021, is 1,037,549 crore (US$130 billion), with 5,108 branches and 5,551 ATMs worldwide (including 24 overseas branches).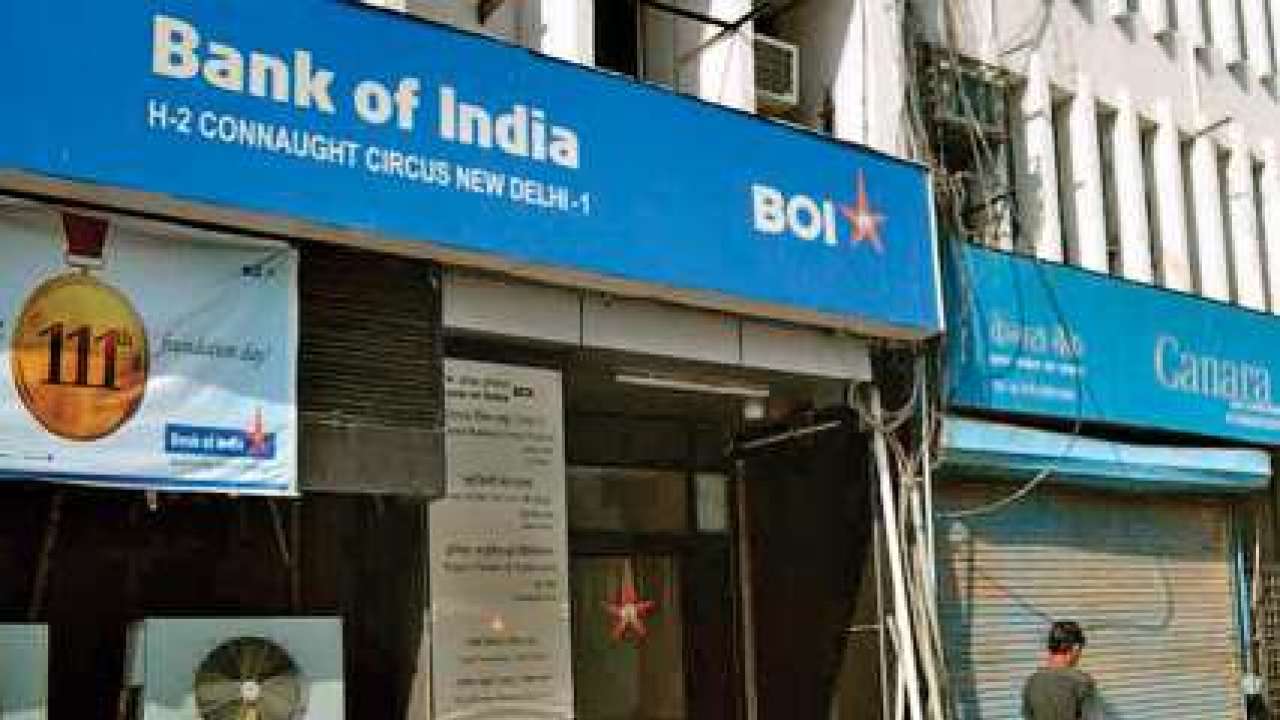 On September 7, 1906, a group of prominent businessmen from Mumbai, Maharashtra, India, established the Bank of India. The Bank was privately owned and controlled until July 19, 1969, when it was nationalized along with 13 other banks. Beginning with a single office in Mumbai and a paid-up capital of 5 million (US$63,000), the Bank has increased over the years to become a formidable institution with a strong national presence and sizable international operations. In terms of business volume, the Bank ranks first among nationalized banks. In India, the Bank has over 5,084 branches spread across all states and union territories, including specialized branches. Fifty-four zonal offices manage these branches.
Customer Care no: 1800 103 1906
Today, we present India's IFSC Codes for all BANK OF INDIA.
IFSC Code of BANK OF INDIA
BANK
IFSC
BRANCH
ADDRESS
CITY1
CITY2
STATE
STD CODE
PHONE
BANK OF INDIA
BKID0VG7012
MANGRUL ZANAK
A/P. MANGRUL ZANAK, TAL. RISOD, DIST. WASHIM. PIN 444504
MANGRUL ZANAK
WASHIM
MAHARASHTRA
7253
223408
BANK OF INDIA
BKID0VG7011
JAULKA
A/P. JAULKA, TAL. MALEGAON, DIST. WASHIM. PIN 444503
JAULKA
WASHIM
MAHARASHTRA
7254
223408
BANK OF INDIA
BKID0VG7010
LONI
NEAR BUS STAND, A/P. LONI, TAL. RISOD, DIST. WASHIM. PIN 444506
LONI
WASHIM
MAHARASHTRA
7251
223408
BANK OF INDIA
BKID0VG7009
SHELU BAZAR
SHELU BAZAR, TQMANGARULPIR DIST WASHIM,444403
SHELU BAZAR
WASHIM
MAHARASHTRA
7253
264914
BANK OF INDIA
BKID0VG7008
KAVATHAL
A/P. KAVATHAL, TAL. MANGLURPIR, DIST. WASHIM. PIN 444403
KAVATHAL
WASHIM
MAHARASHTRA
7253
223408
BANK OF INDIA
BKID0VG7007
MALEGAON
NEAR OLD BUS STAND,MAIN ROAD MALEGAON, TQ MALEGAON DIST. WASHIM 444 503
MALEGAON
WASHIM
MAHARASHTRA
7254
223408
BANK OF INDIA
BKID0VG7006
WASHIM
VIDHARBHA KOKAN GRAMIN BANKWASHIM MAIN ROAD PATANI CHOWK
WASHIM
WASHIM
MAHARASHTRA
7252
223408
BANK OF INDIA
BKID0VG7005
PARDITAKMORE
A P. PARDI TAKMOR, TAL. WASHIM, DIST. WASHIM. PIN 444505
PARDITAKMORE
WASHIM
MAHARASHTRA
7252
238915
BANK OF INDIA
BKID0VG7004
MUNGALA
A/P. MUNGALA, TAL. MALEGAON, DIST. WASHIM. PIN 444503
MUNGALA
WASHIM
MAHARASHTRA
7254
223408
BANK OF INDIA
BKID0VG7003
ANSING
NEAR BUS STAND , A/P. ANSING, TAL. WASHIM, DIST. WASHIM. PIN 444507
ANSING
WASHIM
MAHARASHTRA
7252
223408
BANK OF INDIA
BKID0VG7002
DHAMNI
A/P. DHAMNI, TAL. KARANJA, DIST. WASHIM. PIN 444403
DHAMNI
WASHIM
MAHARASHTRA
7256
223408
BANK OF INDIA
BKID0VG7001
SHIRPUR
AT POST SHIRPUR TQ. MALEGAON DIST WASHIM 444504
SHIRPUR
WASHIM
MAHARASHTRA
7254
223408
BANK OF INDIA
BKID0VG7000
RO-YAVATMAL
OPP. DHO BRANCH, NEAR BHAVE MANGAL KARYALAYA, YAVATMAL – 445001
YAVATMAL
YAVATMAL
MAHARASHTRA
BANK OF INDIA
BKID0VG6057
RUKHMININAGAR
VIDHARBHA KONKAN GRAMIN BANK RUKHMININAGAR BRANCH SHIRBHATE MANGAL KARYALAYA MAIN ROAD MOT C O BALASAHEB GOVINDRAO SHIRBHATE SURVEY AMRAVATI TQ DIST AMRAVATI 444601
RUKHMININAGAR
AMARAVATI
MAHARASHTRA
721
2540880
BANK OF INDIA
BKID0VG6056
JAWALA
AT, POST – JAWALA TQ – SHEGAON DIST – BULDANA 444203
JAWALA
BULDHANA
MAHARASHTRA
BANK OF INDIA
BKID0VG6055
DEULGAON MAHI
AT DEULGAON (MAHI) TQ SINDKHED RAJA DIST BULDANA443206
DEULGAON MAHI
BULDHANA
MAHARASHTRA
BANK OF INDIA
BKID0VG6053
WADEGAON
AT WADEGAON TQ BALAPUR DIST AKOLA444502
WADEGAON
AKOLA
MAHARASHTRA
7257
223408
BANK OF INDIA
BKID0VG6052
PARAS
A/P. PARAS, TAL. BALAPUR, DIST. AKOLA. 444109
PARAS
AKOLA
MAHARASHTRA
BANK OF INDIA
BKID0VG6051
UNDRI
A/P. UNDRI, TAL. CHIKHALI, DIST. BULDHANA.444303
UNDRI
BULDHANA
MAHARASHTRA
7264
223408
BANK OF INDIA
BKID0VG6050
NANDURA
NEAR STATE BANK OF INDIA, MALKAPUR ROAD, NANDURA.TAH NANDURA, DIST BULDANA, 443404
NANDURA
BULDHANA
MAHARASHTRA
7265
223408
BANK OF INDIA
BKID0VG6049
GANESHPUR
A/P. GANESHPUR, TAL. KHAMGAON, DIST. BULDHANA. PIN 444303
GANESHPUR
BULDHANA
MAHARASHTRA
7263
223408
BANK OF INDIA
BKID0VG6048
JALGAON J
NEAR BUS STAND, NANDURA ROAD, JALGAON (JAMOD), DIST. BULDANA. PIN 443402
JALGAON J
BULDHANA
MAHARASHTRA
7266
221767
BANK OF' INDIA
BKID0VG6047
PAHURJIRA
A/P. PAHUJIRA, TAL.SHEGAON, DIST. BULDANA. PIN 444312
PAHURJIRA
BULDHANA
MAHARASHTRA
7265
223408
BANK OF' INDIA
BKID0VG6046
JAMOD
A/P. JAMOD, TAL. JALGAON, DIST. BULDANA. PIN 443406
JAMOD
BULDHANA
MAHARASHTRA
7266
223408
BANK OF' INDIA
BKID0VG6045
MALKAPUR BULDANA
NARKHEDE COMPLEX, BULDANA ROAD, MALKAPUR. DIST. BULDANA. PIN 443101
MALKAPUR BULDANA
BULDHANA
MAHARASHTRA
7267
223408
BANK OF' INDIA
BKID0VG6044
DHAD
C/O PRABHAKAR SHRIRAM WAGH,NEAR BUS STAND,DHAMANGAON ROAD,DHAD,TQ & DIST BULDHANA 443106
DHAD
BULDHANA
MAHARASHTRA
7262
223408
BANK OF' INDIA
BKID0VG6043
DEULGAON
RASHTRASANTA PLAZA, CHIKHLI ROAD, DEULGAON RAJA, DIST BULDANA, 443204.
DEULGAON
BULDHANA
MAHARASHTRA
7261
223408
BANK OF' INDIA
BKID0VG6042
SULTANPUR
A/P. SULTANPUR, TAL. MEHKAR, DIST. BULDANA. PIN 443307
SULTANPUR
BULDHANA
MAHARASHTRA
7260
223408
BANK OF' INDIA
BKID0VG6041
DONGAON
C/O AMBADAS AMBEKAR NEARSANT GAJANAN MAHARAJ TEMPLE AREGAON ROAD,A/P DONGAON,TQ.MEHKAR,DIST.BULDHANA 443303.
DONGAON
BULDHANA
MAHARASHTRA
7268
223408
BANK OF' INDIA
BKID0VG6040
MEHKAR
RAJDERKAR COMPLEX OPP Z.P,MINOR IRRIGATION OFFICE, MEHKAR,TAH MEHKAR DIST BULDANA, 443301.
MEHKAR
BULDHANA
MAHARASHTRA
7268
224631
BANK OF' INDIA
BKID0VG6039
SAWANA
A/P. SAWANA, TAL. CHIKHALI, DIST. BULDHANA. PIN 443207
SAWANA
BULDHANA
MAHARASHTRA
7264
223408
BANK OF' INDIA
BKID0VG6038
SINDKHED RAJA
MATOSHRI BHAWAN, SOMWAR PETH,BAJAR LINE, SINDKHED RAJA, TAH SINDKHED RAJA, DIST. BULDHANA, 443203.
SINDKHED RAJA
BULDHANA
MAHARASHTRA
7269
234296
BANK OF' INDIA
BKID0VG6037
WARWAT BAKAL
A/P. WARWAT BAKAL, TAL. SANGRAMPUR, DIST. BULDANA. PIN 444203
WARWAT BAKAL
BULDHANA
MAHARASHTRA
7266
223408
BANK OF' INDIA
BKID0VG6036
SHELGAON BAZAR
A/P. SHELGAON BAZAR, TAL. MOTOLA, DIST. BULDHANA PIN 443102
SHELGAON BAZAR
BULDHANA
MAHARASHTRA
7267
223408
BANK OF' INDIA
BKID0VG6035
LONAR VKGB
MAPARI COMPLEX LONI ROAD, LONAR, DIST. BULDANA. PIN 443302
LONAR VKGB
BULDHANA
MAHARASHTRA
7260
221473
BANK OF' INDIA
BKID0VG6034
NARVEL
A/P. NARWEL, TAL. MALKAPUR. DIST. BULDHANA,PIN 443112
NARVEL
BULDHANA
MAHARASHTRA
7267
223408
BANK OF' INDIA
BKID0VG6033
CHIKHLI
KHANDALA ROAD, NEAR RAMDEO INDANE GAS AGENCY, CHIKHALI, DIST. BULDHANA, 443201.
CHIKHLI
BULDHANA
MAHARASHTRA
7264
223408
BANK OF' INDIA
BKID0VG6032
SHEGAON
SARVODAYA BULDING, NEAR MAIN ROAD,SHEGAON, DIST BULDANA, 444203
SHEGAON
BULDHANA
MAHARASHTRA
7265
223408
BANK OF' INDIA
BKID0VG6031
MOTALA
NANDURA ROAD MOTALA, DIST. BULDHANA. PIN 443103
MOTALA
BULDHANA
MAHARASHTRA
7267
223408
BANK OF' INDIA
BKID0VG4051
MULCHERA
A P. MULCHERA, DIST. GADCHIROLI. PIN 442707
MULCHERA
GADCHIROLI
MAHARASHTRA
7135
271041
BANK OF' INDIA
BKID0VG4050
MALEWADA
A P. MALEWADA, TAL. KURKHEDA, DIST. GADCHIROLI. PIN 4426023
MALEWADA
GADCHIROLI
MAHARASHTRA
7139
237037
BANK OF' INDIA
BKID0VG4049
KUNGHADA
A P. KUNGHDA, TAL. CHAMORSHI, DIST. GADCHIROLI. PIN 443603
KUNGHADA
GADCHIROLI
MAHARASHTRA
7135
263270
BANK OF' INDIA
BKID0VG4048
KORCHI
A P. KORCHI, DIST. GADCHIROLIPIN 441209
KORCHI
GADCHIROLI
MAHARASHTRA
7139
230007
BANK OF' INDIA
BKID0VG4047
KADHOLI
A P. KADHOLI, TAL. KURKHEDA, DIST. GADCHIROLI. PIN 442710
KADHOLI
GADCHIROLI
MAHARASHTRA
7139
236067
BANK OF' INDIA
BKID0VG4046
GADCHIROLI
VIDHARBH KONKAN GRAMIN BANK GADCHIROLI BRANCH AT & PO GADCHIROLI TAL GADCHIROLI DIST GADCHIROLO GADCHIROLI MH 111111 INDIA,GADCHIROLI
GADCHIROLI
GADCHIROLI
MAHARASHTRA
7132
232482
BANK OF' INDIA
BKID0VG4045
ETAPALLI
A P. ETAPALLI, TAL. ETAPALLI, DIST. GADCHIROLI. PIN 442704
ETAPALLI
GADCHIROLI
MAHARASHTRA
7136
223270
BANK OF' INDIA
BKID0VG4044
DHANORA
A P. DHANORA, TAL. DHANORA, DIST. GADCHIROLI. PIN 442606
DHANORA CHANDRAPUR
GADCHIROLI
MAHARASHTRA
7138
254009
BANK OF' INDIA
BKID0VG4043
CHAMORSHI
A P CHAMORSHI TAL CHAMORSHIDIST GADCHIROLI PIN NO.442603
CHAMORSHI
GADCHIROLI
MAHARASHTRA
7135
235309
BANK OF' INDIA
BKID0VG4042
ASHTI
A P. ASHTI, TAL. CHAMORSHI, DIST. GADCHIROLI. PIN 442707
ASHTI
GADCHIROLI
MAHARASHTRA
7135
244176
BANK OF' INDIA
BKID0VG4041
ARMORI
C O DEVIKA BUILDING, MAIN ROAD, INFRONT OF BANK OF INDIA, A P. ARMORI, TAL. ARMORI, DIST. GADCHIROLI. PIN 441208
ARMORI
GADCHIROLI
MAHARASHTRA
7137
266404
BANK OF' INDIA
BKID0VG4040
ANKISA
A P. ANKISA, TAL. SIRONCHA, DIST. GADCHIROLI. PIN 442506
ANKISA
GADCHIROLI
MAHARASHTRA
7131
202112
BANK OF' INDIA
BKID0VG4039
ALLAPALLI
A P. ALLAPALLI, TAL. AHERI, DIST. GADCHIROLI, PIN 442703
ALLAPALLI
GADCHIROLI
MAHARASHTRA
7173
266343
BANK OF' INDIA
BKID0VG4038
AHERI
C O MR.JAHIRODDIN H.HAKIM,BUS DEPOT ROAD,GANDHI CHOWK AHERI A P. AHERI, TAL. AHERI, DIST. GADCHIROLI, PIN 442705
AHERI
GADCHIROLI
MAHARASHTRA
7173
272321
BANK OF' INDIA
BKID0VG4037
WARORA
VIDHARBH KONKAN GRAMIN BANK WARORA BRANCH RAMGIRWAR BUILDING AMBEDKAR CHOWK AT & PO WARORA TAL WARORA DIST CHANDRAPUR CHANDRAPUR MH 111111 INDIA,CHANDRAPUR
WARORA
CHANDRAPUR
MAHARASHTRA
7176
281067
BANK OF' INDIA
BKID0VG4036
VISAPUR
A P. VISAPUR, TAL. CHANDRAPUR, DIST. CHANDRAPUR. PIN 442701
VISAPUR
CHANDRAPUR
MAHARASHTRA
7172
230901
BANK OF' INDIA
BKID0VG4035
TUKUM
TADOBA ROAD, NEAR S.T. WORKSHOP, TUKUM, DIST. CHANDRAPUR. PIN 442401
TUKUM
CHANDRAPUR
MAHARASHTRA
7172
265566
BANK OF' INDIA
BKID0VG4034
TOHOGAON
A P. TOHOGAON, TAL. GONDPIPRI, DIST. CHANDRAPUR. PIN 442701
TOHOGAON
CHANDRAPUR
MAHARASHTRA
7171
248078
BANK OF' INDIA
BKID0VG4033
TALODHI B
A P. TALODHIBAL, TAL. TALODHI BAL, DIST. CHANDRAPUR. PIN 441221
TALODHI B
CHANDRAPUR
MAHARASHTRA
7179
236472
BANK OF' INDIA
BKID0VG4032
SINDEWAHI
DR. KESHAORAO SHENDE COMPLEX, OLD BUS STAND SQUARE, WARD NO. 2, SINDEWAHI DIST CHANDRAPUR. 441 222
SINDEWAHI
CHANDRAPUR
MAHARASHTRA
7178
288168
BANK OF' INDIA
BKID0VG4031
SHEGAON BK
A P. SHEGAONBK, TAL. WARORA, DIST. CHANDRAPUR. PIN 442906
SHEGAON BK
CHANDRAPUR
MAHARASHTRA
7176
283108
BANK OF' INDIA
BKID0VG4030
SHANKARPUR
A P. SHANKARPUR, TAL. CHIMUR, DIST. CHANDRAPUR. PIN 442903
SHANKARPUR
CHANDRAPUR
MAHARASHTRA
7170
245220
BANK OF' INDIA
BKID0VG4029
SAOLI
A P. SAOLI, TAL. SAOLI, DIST. CHANDRAPUR. PIN 441225
SAOLI
CHANDRAPUR
MAHARASHTRA
7174
274525
BANK OF' INDIA
BKID0VG4028
RAJURA
VIDHARBH KONKAN GRAMIN BANK RAJURA BRANCH NEAR FOREST OFFICE S T STAND AT & PO TAL RAJURA RAJPURA CHANDRAPUR MH 111111 INDIA,CHANDRAPUR
RAJURA
CHANDRAPUR
MAHARASHTRA
7173
222245
BANK OF' INDIA
BKID0VG4027
PALASGAON
A P. PALASGAONJAT, TAL. SINDEWAHI, DIST. CHANDRAPUR. PIN 442701
PALASGAON
CHANDRAPUR
MAHARASHTRA
7178
268187
BANK OF' INDIA
BKID0VG4026
NANDORI
A P. NANDORI, TAL. BHADRAWATI, DIST. CHANDRAPUR. PIN 442907
NANDORI
CHANDRAPUR
MAHARASHTRA
7176
202238
BANK OF' INDIA
BKID0VG4025
NANDAFATA
A P NANDAFATA, TAL. GADCHANDUR, DIST. CHANDRAPUR. PIN 442917
NANDAFATA
CHANDRAPUR
MAHARASHTRA
7173
266590
BANK OF' INDIA
BKID0VG4024
NAGBHID
A P. NAGBHID, TAL. NAGBHID, DIST. CHANDRAPUR.PIN 441205
NAGBHID
CHANDRAPUR
MAHARASHTRA
7170
240093
BANK OF' INDIA
BKID0VG4023
MUL
A P. MUL, TAL. MUL, DIST. CHANDRAPUR. PIN 441224
MUL
CHANDRAPUR
MAHARASHTRA
7174
220768
BANK OF' INDIA
BKID0VG4022
MOTEGAON
A P. MOTEGAON, TAL. CHIMUR, DIST. CHANDRAPUR. PIN 442904
MOTEGAON
CHANDRAPUR
MAHARASHTRA
7170
234017
BANK OF' INDIA
BKID0VG4021
MOHADI M
A P MOHADI, TAL. NAGBHID, DIST. CHANDRAPUR. PIN 441205
MOHADI M
CHANDRAPUR
MAHARASHTRA
7179
254048
BANK OF' INDIA
BKID0VG4020
KORPANA
VIDHARBA KONKAN GRAMIN BANK KORANA BRANCH MAIN ROAD NEAR BUS STOP AP AND TAL KORPANA DIST CHANDRAPUR
KORPANA
CHANDRAPUR
MAHARASHTRA
7173
236708
BANK OF' INDIA
BKID0VG4019
KHAMBADA
A P. KHAMBADA, TAL. WARORA, DIST. CHANDRAPUR. PIN 442907
KHAMBADA
CHANDRAPUR
MAHARASHTRA
7176
264370
BANK OF' INDIA
BKID0VG4018
KELZER
A P. KELZAR, TAL. MUL, DIST. CHANDRAPUR. PIN 441224
KELZER
CHANDRAPUR
MAHARASHTRA
7174
264461
BANK OF' INDIA
BKID0VG4017
JIWATI
A P. JIWATI, DIST. CHANDRAPUR. PIN 442908
JIWATI
CHANDRAPUR
MAHARASHTRA
7173
258055
BANK OF' INDIA
BKID0VG4016
GONDPIPARI
A P. GONDPIPRI, TAL. GONDPIPRI, DIST. CHANDRAPUR. PIN 442702
GONDPIPARI
CHANDRAPUR
MAHARASHTRA
7171
228161
BANK OF' INDIA
BKID0VG4015
GHUGGUS
A P. GHUGGUS, TAL. CHANDRAPUR, DIST. CHANDRAPUR. PIN 442505
GHUGGUS
CHANDRAPUR
MAHARASHTRA
7172
285326
BANK OF' INDIA
BKID0VG4014
GHODPETH
A P GHODPETH, TAL. BHADRAWATI, DIST. CHANDRAPUR. PIN 442902
GHODPETH
CHANDRAPUR
MAHARASHTRA
7172
237397
BANK OF' INDIA
BKID0VG4013
GANGALWADI
A P. GANGALWADI, TAL. BRAMHAPURI, DIST. CHANDRAPUR.
GANGALWADI
CHANDRAPUR
MAHARASHTRA
7177
276046
BANK OF' INDIA
BKID0VG4012
GADCHANDUR
A P. GADCHANDUR, TAL. KORPANA, DIST. CHANDRAPUR. PIN 442908
GADCHANDUR
CHANDRAPUR
MAHARASHTRA
7173
246825
BANK OF' INDIA
BKID0VG4011
DHABA
A P. DHABA, TAL. GONDPIPIRI, DIST. CHANDRAPUR. PIN 442702
DHABA
CHANDRAPUR
MAHARASHTRA
7171
266787
BANK OF' INDIA
BKID0VG4010
DEWADA KH
A P. DEVADA KHURD, TAL. POMBHURNA, DIST. CHANDRAPUR. PIN 442905
DEWADA KH
CHANDRAPUR
MAHARASHTRA
7171
203228
BANK OF' INDIA
BKID0VG4009
CHIMUR
VIDHARBH KONKAN GRAMIN BANKCHIMUR BRANCH AT 7 PO CHIMUR MAIN ROAD TILAK WARD CHIMUR TAL CHIMUR DIST CHANDRAPUR CHANDRAPUR MH 442903 INDIA,CHANDRAPUR
CHIMUR
CHANDRAPUR
MAHARASHTRA
7170
265656
BANK OF' INDIA
BKID0VG4008
CHICHPALLI
A P. CHICHAPALLI, TAL. CHANDRAPUR, DIST. CHANDRAPUR. PIN 441224
CHICHPALLI
CHANDRAPUR
MAHARASHTRA
7172
232108
BANK OF' INDIA
BKID0VG4007
CHANDRAPUR
THAKARE BUILDING NEAR CDCCBLTD CIVIL LINES NAGPUR ROAD CHANDRAPUR442401
CHANDRAPUR
CHANDRAPUR
MAHARASHTRA
7172
276894
BANK OF' INDIA
BKID0VG4006
CHANDANKHEDA
A P. CHANDANKHEDA, TAL. BHADRAWATI, DIST. CHANDRAPUR. PIN 442906
CHANDANKHEDA
CHANDRAPUR
MAHARASHTRA
7175
273042
BANK OF' INDIA
BKID0VG4005
BRAMHAPURI
VIDHARBHA KOKAN GRAMIN BANK BRAMHAPURI, AP BRAMHAPURI SHIVAJI CHOWK BHAGINI MANDAL,CHANDRAPUR,MH,441206,INDIA PHONE 111111
BRAMHAPURI
CHANDRAPUR
MAHARASHTRA
7177
272128
BANK OF' INDIA
BKID0VG4004
BHISI
A P. BHISI, TAL. CHIMUR, DIST. CHANDRAPUR. PIN 442903
BHISI
CHANDRAPUR
MAHARASHTRA
7170
264561
BANK OF' INDIA
BKID0VG4003
BHADRAVATI
VIDHARBH KONKAN GRAMIN BANKBHADRAWATI BRANCH AT & PO BHADRAVATI NEAR PARISHAD MARKET ROAD GUNDAWAR COMPLEX TAL BHADRAVATI DIST CHANDRAPUE CHANDRAPUR MH 111111 INDIA,CHANDRAPUR
BHADRAVATI
CHANDRAPUR
MAHARASHTRA
7175
265618
BANK OF' INDIA
BKID0VG4002
BANGALI CAMP
CHANDA INDUSTRIAL ESTATE, MUL ROAD, CHANDRAPUR, DIST. CHANDRAPUR. PIN 442401
BANGALI CAMP
CHANDRAPUR
MAHARASHTRA
7172
325410
BANK OF' INDIA
BKID0VG4001
BALLARPUR
VIDHARBH KONKAN GRAMIN BANKBALLARPUR BRANCH AT & PO BALLARPUR TAL BALLARPUR DIST CHANDRAPUR D D M COMPLEX NEAR DILIP TALKIES CHANDRAPUR MH 442701 INDIA,CHANDRAPUR
BALLARPUR
CHANDRAPUR
MAHARASHTRA
7172
241613
BANK OF' INDIA
BKID0VG4000
CHANDRAPUR RO
VIDHARBHA KOKAN GRAMIN BANK,REGIONAL BRANCH , NEAR OLD WARORA NAKA CHANDRAPUR ,CHANDRAPUR,MH,442401
CHANDRAPUR RO
CHANDRAPUR
MAHARASHTRA
BANK OF' INDIA
BKID0VG3053
GARGOTI
VIDHARBA KONKAN GRAMIN BANK GARGOTI BRANCH, G P HOUSE NMLLN 1508 02 NEAR HIRA CHITRA MANDIR A P GARGOTI TAL BHUDARGAD DIST KOLHAPUR,KOLHAPUR,
GARGOTI
KOLHAPUR
MAHARASHTRA
2324
2324220123
BANK OF' INDIA
BKID0VG3052
CHIPLUN
VIDHARBA KONKAN GRAMIN BANK CHIPLUN BRANCH, OMKAR 113 C NEAR HOTEL VAIBHAV MUMBAI GOA HIGHWAY A P TAL CHIPLUN DIST RATNAGIRI,CHIPLUN,MH,
CHIPLUN
RATNAGIRI
MAHARASHTRA
2355
2355253330
BANK OF' INDIA
BKID0VG3051
BHINGLOLI
H.NO. 196,FIRST FLOOR,BABULAL STORE A P BHINGALOLI,TQ MANADANGAD,DIST RATNAGIRI PIN 415203
BHINGLOLI
RATNAGIRI
MAHARASHTRA
2350
2350225545
BANK OF' INDIA
BKID0VG3050
NIVALI
A P NIVALI,KOKAJE COMPOUND,TQ DIST RATNAGIRI,PIN 415639
NIVALI
RATNAGIRI
MAHARASHTRA
2352
2352253066
BANK OF' INDIA
BKID0VG3049
MAJGAON
VIDHARBHA KONKAN GRAMIN BANK MAJGAON BRANCH CO HOUSE NO 575 AT POTAL SAONER DIST SINDHUDURGA MH PIN CODE 416510
MAJGAON
SINDHUDURG
MAHARASHTRA
2363
2363275244
BANK OF' INDIA
BKID0VG3048
SHIROL
SHRI ASHOKRAO RAGHUNATH MANE 5611 12 NEAR PUSHPAK THEATER MAIN , ROAD AT POST & TAL SHIROL DIST KOLHAPUR,JALSINGPUR(SHIROL),MH,416103,INDIA
SHIROL
KOLHAPUR
MAHARASHTRA
2322
2322236655
BANK OF' INDIA
BKID0VG3047
KABNOOR
INDERA├╜ MHILA NAGRI,PATSANSTHA MARYADIT KABNOOR. DIS. KOLHAPUR PIN. 416129
KABNOOR
KOLHAPUR
MAHARASHTRA
2302
2302421005
BANK OF' INDIA
BKID0VG3046
JALGAON
A P.JALGAON, TALDAPOLI, DIST RATNAGIRI,PIN 415712
JALGAON
RATNAGIRI
MAHARASHTRA
2358
2358280202
BANK OF' INDIA
BKID0VG3045
KAGAL
NAGAR PARISHAD BUILDING, 1ST FLOOR BUS STAND SHEJARI A P KAGAL, TAL KAGAL, DIST KOLHAPUR PIN CODE 416216
KAGAL
KOLHAPUR
MAHARASHTRA
2325
2325244040
BANK OF' INDIA
BKID0VG3044
MALKAPUR
WAINGANGA KRISHNA GRAMIN BANK MALKAPUR BRANCH C O SHRI VASANT RAMCHANDRA BHOSALE 554 1 A P MALKAPUR THE SHAHUWADI DIST KOLHAPUR MALKAPUR MH 415101 INDIA,KOLHAPUR
MALKAPUR
KOLHAPUR
MAHARASHTRA
2329
2329225350
BANK OF' INDIA
BKID0VG3043
AJARA
WAINGANGA KRISHNA GRAMIN BANK AJARA BRANCH C O SHRI SAMBHAJI DATTATRAY PATIL AAI NIWAS NEAR VITHAL TEMPLE AT PO TAL AJARA DIST KOLHAPUR KOLHAPUR MH 416505 INDIA,KOLHAPUR
AJARA
KOLHAPUR
MAHARASHTRA
2323
2323244839
BANK OF' INDIA
BKID0VG3042
SINDHUDURG NAGARI ORAS
WAINGANAG KRISHANA GRAMIN BANK SIDHUDURG NAGRI BRANCH COTAL KUDAL DISTT SINDHUDURG SINDHUDURG MH 416520 INDIA,KUDAL(SINDHUDURG)
SINDHUDURG NAGARI ORAS
SINDHUDURG
MAHARASHTRA
2362
2362228060
BANK OF' INDIA
BKID0VG3041
HATKANANGALE
HATKANAGALE BRANCH D K BIDKAR HOUSE KOLHAPUR SANGLI ROAD HATKANANGALE DISTT KOLHAPUR KOLHAPUR MH 111111 INDIA,KOLHAPUR
HATKANANGALE
KOLHAPUR
MAHARASHTRA
2302
2302483690
BANK OF' INDIA
BKID0VG3040
LAXMIPURI
VIDHARBA KONKAN GRAMIN BANK BRANCH, 1ST FLOOR C WARD VIJAYA HEIGHTS LAXMIPURI KOLHAPUR,KOLHAPUR,MH,416002,INDIA
LAXMIPURI KOLHAPUR CTS
KOLHAPUR
MAHARASHTRA
2312
2312640127
BANK OF' INDIA
BKID0VG3039
MALVAN
VIDHARBH KONKAN GRAMIN BANK MALVAN BRANCH OPP BHANDARI HIGH SCHOOL AT & PO MALWAN DIST SIDHUDURG 416606 INDIA,KUDAL(SINDHUDURG)
MALVAN
SINDHUDURG
MAHARASHTRA
2364
2364247513
BANK OF' INDIA
BKID0VG3038
POIP
A P.POIP, TAL MALWAN, DIST SINDHUDURG,PIN 416608
POIP
SINDHUDURG
MAHARASHTRA
2365
2365227643
BANK OF' INDIA
BKID0VG3037
KALANE
A P.KALANE, TAL SAWANTWADI, DIST SINDHUDURG,PIN 416511
KALANE
SINDHUDURG
MAHARASHTRA
2363
2363255007
BANK OF' INDIA
BKID0VG3036
KANKAVALI
VIDHARBH KONKAN GRAMIN BANK KANAKVALI BRANCH AT & PO KANKAVALI TAL KANKAVALI DIST SIDHUDURG 416602 INDIA,KUDAL(SINDHUDURG)
KANKAVALI
SINDHUDURG
MAHARASHTRA
2367
2367232158
BANK OF' INDIA
BKID0VG3035
PAWASHI
WAINGANGA KRISHNA GRAMIN BANK PAWASHI BRANCH AT&PO PAWASHI TAL KUDAL DIST SINDHUDURG SINDHUDURG MH 111111 INDIA,KUDAL(SINDHUDURG)
PAWASHI
SINDHUDURG
MAHARASHTRA
2362
2362224033
BANK OF' INDIA
BKID0VG3034
MUTAT
A P.MUTAT, TAL DEOGAD, DIST SINDHUDURG,PIN 416803
MUTAT
SINDHUDURG
MAHARASHTRA
2365
2365251223
BANK OF' INDIA
BKID0VG3033
RAMGAD
ARVIND PRABHU DESAI BUILDING, A P.RAMGAD, TAL MALAVAN, DIST SINDHUDURG PIN CODE 416616
RAMGAD
SINDHUDURG
MAHARASHTRA
2365
2365259534
BANK OF' INDIA
BKID0VG3032
KUDAL
VIDHARBH KONKAN GRAMIN BANK KUDAL BRANCH AT & PO KUDHAL TAL KUDAL DIST SIDHUDURG 416520 INDIA,KUDAL(SINDHUDURG)
KUDAL
SINDHUDURG
MAHARASHTRA
2362
2362224352
BANK OF' INDIA
BKID0VG3030
PHANSGAON
A P.PHANASGAON, TAL DEOGAD, DIST RATNAGIRI,PIN 416811
PHANSGAON
RATNAGIRI
MAHARASHTRA
2364
2364244404
BANK OF' INDIA
BKID0VG3029
CHOUKE
A P.CHOWKE, TAL MALWAN, DIST SINDHUDURG,PIN 416606
CHOUKE
SINDHUDURG
MAHARASHTRA
2365
2365258220
BANK OF' INDIA
BKID0VG3028
TALKAT
A P.TALAKAT, TAL DODAMARG, DIST SINDHUDURG,PIN 416511
TALKAT
SINDHUDURG
MAHARASHTRA
2363
2363257327
BANK OF' INDIA
BKID0VG3027
DANOLI
WAINGANGA KRISHNA GRAMIN BANK DANOLI BRANCH AT &PO DANOLI TAL SAWANTWADI DIST RATNAGIRI MH RATNAGIRI MH 111111 INDIA,KUDAL(SINDHUDURG)
DANOLI
SINDHUDURG
MAHARASHTRA
2363
2363246513
BANK OF' INDIA
BKID0VG3026
BHUIBWADA
A P.BHUIBWADA, TAL VAIBHAVWADA, DIST SINDHUDURG,PIN 416810
BHUIBWADA
SINDHUDURG
MAHARASHTRA
2367
2367254816
BANK OF' INDIA
BKID0VG3025
OSARGAON
A P.OSARGAON, TAL KANKAVALI, DIST SINDHUDURG,PIN 416603
OSARGAON
SINDHUDURG
MAHARASHTRA
2367
2367251013
BANK OF' INDIA
BKID0VG3024
KARBUDE
PANCHAVATI BUILDING, A P.KARBUDE PHATA, TAL DIST RATNAGIRI,PIN 415639
KARBUDE
RATNAGIRI
MAHARASHTRA
2352
2352253504
BANK OF' INDIA
BKID0VG3023
LANJA
VIDHARBH KONKAN GRAMIN BANK LANJA BRANCH LANJA DUDH SAHAKARI VYAVSAYIK SANGHA AT & PO LANJA TAL SANGAMESHWAR DIST RATNAGIRI RATNAGIRI MH 416712 INDIA,RATNAGIRI
LANJA
RATNAGIRI
MAHARASHTRA
2351
2351230585
BANK OF' INDIA
BKID0VG3022
TALAWALI
GRAMPANCHAYAT BUILDING, 1ST FLOOR, BAGKAR STOP, A P.TALAWALI, TAL GUHAGHAR, DIST RATNAGIRI,PIN 415719
TALAWALI
RATNAGIRI
MAHARASHTRA
2359
2359247219
BANK OF' INDIA
BKID0VG3021
SHIPOSHI
A P.SHIPOSHI, TAL LANJA, DIST RATNAGIRI,PIN 415802
SHIPOSHI
RATNAGIRI
MAHARASHTRA
2351
2351234058
BANK OF' INDIA
BKID0VG3020
VESVI
A P.VESVI, TAL MANDANGAD, DIST RATNAGIRI, PIN CODE 415208
VESVI
RATNAGIRI
MAHARASHTRA
2350
2350223307
BANK OF' INDIA
BKID0VG3019
PACHAL
VKGB PACHAL SHAKHA, A P.PACHAL, TAL RAJAPUR, DIST RATNAGIRI,PIN 416704
PACHAL
RATNAGIRI
MAHARASHTRA
2353
2353223777
BANK OF' INDIA
BKID0VG3018
WADILIMBUCHI
AT. WADILIMBUCHI, POST WAGHART, TAL LANJA, DIST RATNAGIRI,PIN 416712
WADILIMBUCHI
RATNAGIRI
MAHARASHTRA
BANK OF' INDIA
BKID0VG3017
TALE
905 JAYSANTOSHIMATA SADAN, A P. TALE, TAL KHED, DIST RATNAGIRI,PIN 415709
TALE
RATNAGIRI
MAHARASHTRA
BANK OF' INDIA
BKID0VG3016
PHANSAVANE
GHAR NO.68A, A P.PHANSAVANE, TAL SANGMESHWAR, DIST RATNAGIRI,PIN 415610
PHANSAVANE
RATNAGIRI
MAHARASHTRA
2354
2354272259
BANK OF' INDIA
BKID0VG3015
DEVALE
GRAMPANCHAYAT BUILDING TAL MAJALA, A PDEVALE, TUI SANGMESHWAR, DIST RATNAGIRI,PIN 415807
DEVALE
RATNAGIRI
MAHARASHTRA
2354
2354269253
BANK OF' INDIA
BKID0VG3014
DEVRUKH
VIDHARBH KONKAN GRAMIN BANK DEORUKH BRANCH RAJANIGANDHA MANGALES HOUSE AT 7 PODEORUKH TAL SANGAMESHWAR DIST RATNAGIRI RATNAGIRI MH 415639 INDIA,RATNAGIRI
DEVRUKH
RATNAGIRI
MAHARASHTRA
2354
2354261593
BANK OF' INDIA
BKID0VG3013
ABLOLI
A P.ABLOLI, TAL GUHAGHAR, DIST RATNAGIRI,PIN 415703
ABLOLI
RATNAGIRI
MAHARASHTRA
2359
2359245045
BANK OF' INDIA
BKID0VG3012
DEVHARE
A P.DEVHARE, TAL MANDANGAD, DIST RATNAGIRI, PIN CODE 415208
DEVHARE
RATNAGIRI
MAHARASHTRA
2350
2350224230
BANK OF' INDIA
BKID0VG3011
RATNAGIRI
VIDHARBHA KONKAN GRAMIN BANK ,RATNAGIRI BRANCH ,PARASAMI KC JAIN NAGAR MARUTI MANDIR A P TAL & DIS RATNAGIRI MAHARASTRA 415612
RATNAGIRI
RATNAGIRI
MAHARASHTRA
2352
2352220968
BANK OF' INDIA
BKID0VG3009
PHANSU
A P.PHANSU, TAL DAPOLI, DIST RATNAGIRI,PIN 415712
PHANSU
RATNAGIRI
MAHARASHTRA
2358
2358285634
BANK OF' INDIA
BKID0VG3008
KHED
VIDHARBH KONKAN GRAMIN BANK KHED AT & POST TAL KHED DIST RATNAGIRI RATNAGIRI RATNAGIRI MH 415709 INDIA,RATNAGIRI
KHED
RATNAGIRI
MAHARASHTRA
2356
2356263016
BANK OF' INDIA
BKID0VG3007
KHOPI
VKGB KHOPI SHAKHA, A P.KHOPI, TAL KHED, DIST RATNAGIRI,PIN 415715
KHOPI
RATNAGIRI
MAHARASHTRA
2356
2356268001
BANK OF' INDIA
BKID0VG3006
VELDOOR
A P.VELDOOR, TUL GUHAGHAR, DIST RATNAGIRI,PIN 415703
VELDOOR
RATNAGIRI
MAHARASHTRA
2359
2359242210
BANK OF' INDIA
BKID0VG3005
AMBVALI
A P.AMBVALI, TAL KHED, DIST RATNAGIRI,PIN 415730
AMBVALI
RATNAGIRI
MAHARASHTRA
2356
2356266002
BANK OF' INDIA
BKID0VG3004
KADIVALI
A P.KADIVALI, TAL DAPOLI, DIST RATNAGIRI PIN CODE. 415712
KADIVALI
RATNAGIRI
MAHARASHTRA
2358
2358235004
BANK OF' INDIA
BKID0VG3003
D. GOTHANE
A P.DE.GOTHANE, TAL RAJAPUR, DIST RATNAGIRI,PIN 416702
D. GOTHANE
RATNAGIRI
MAHARASHTRA
2353
2353220246
BANK OF' INDIA
BKID0VG3002
ASURDE
A P.ASURDE, TAL CHIPALUN, DIST RATNAGIRI,PIN 415605
ASURDE
RATNAGIRI
MAHARASHTRA
BANK OF' INDIA
BKID0VG3000
RATNAGIRI RO
WAINGANAG KRISHANA GRAMIN BANK RATNAGITI REGIONAL BRANCH RATNAGIRI DISTRICT NAGAR WACHANALAYA BUILDING 1ST FLOOR NEAR JAYA STAMBHA RATNAGIRI RATNAGIRI MH 415612 INDIA,RATNAGIRI
RATNAGIRI
RATNAGIRI
MAHARASHTRA
BANK OF' INDIA
BKID0VG2044
KARAD
VIDHARBHA KONKAN GRAMIN BANK, SHRI. DILIPRAO DADASO CHAVAN, MORYA ARCADE, PLOT NO. 482 KARAD 415 110. TAL. KARAD, DIST. SATARA
KARAD
SATARA
MAHARASHTRA
2164
221411
BANK OF' INDIA
BKID0VG2043
KATAR KHATAV
VIDHARBHA KONKAN GRAMIN BANK KATARKHATAV BRANCH, CO SHRI SHASHIKANT KONDIBA CHINCHAKAR HOUSE NO 601 A P KATARKHATAV TAL KHATAV,SATARA
KATAR KHATAV
SATARA
MAHARASHTRA
2161
242021
BANK OF' INDIA
BKID0VG2042
KARKAMB
AT, POST KARKAMB, TQ PANDHARPUR, DIST SOLAPUR413315
KARKAMB
SOLAPUR
MAHARASHTRA
2186
242411
BANK OF' INDIA
BKID0VG2041
PATWARDHAN KUROLI
AT,POSTPATWARDHAN KUROLI, TQ PANDHARPUR, DIST SOLAPUR, PIN 413315
PATWARDHAN KUROLI
SOLAPUR
MAHARASHTRA
BANK OF' INDIA
BKID0VG2040
MALKAVATHE
AT AND POST MALKAWATHE TALUKA SOUTH SOLAPUR DISTT SOLAPUR PIN 413221
MALKAVATHE
SOLAPUR
MAHARASHTRA
217
2244100
BANK OF' INDIA
BKID0VG2039
MHAISAL
SERVE NO. 2286 NEAR MR. BHARAT ALGOND PATIL CITY,GRAMPANCHAYAT├╜ BRANCH TAL. MIRAJ, DIS. SANGLI PIN 416409
MHAISAL
SANGLI
MAHARASHTRA
233
2251060
BANK OF' INDIA
BKID0VG2038
PAL
HOUSE NO.111 MR. NAMDEV BANDU INJEKAR, TAL. KARHAD, DIS SATARA PIN. 415014
PAL
SATARA
MAHARASHTRA
2164
261039
BANK OF' INDIA
BKID0VG2037
JULE SOLAPUR
C O MR. MANOHAR ANANT MANE76 PATIL NAGAR VIJAPUR ROAD SOLAPUR. PIN. 413004
JULE SOLAPUR
SOLAPUR
MAHARASHTRA
217
2342555
BANK OF' INDIA
BKID0VG2036
KAMTI
WAINGANGA KRISHNA GRAMIN BANK KIMTI BRANCH C O RAJKUMAR NARNDEO KHARADE A P KAMTI TAL MOHOL DIST SOLAPUR SOLAPUR MH 413253 INDIA,SOLAPUR
KAMTI
SOLAPUR
MAHARASHTRA
2189
245247
BANK OF' INDIA
BKID0VG2035
GODOLI
CITY SURVEY NO.3 MAHALAXMI CORNER, GODOLI NAKA, TAL. GODOLI, DIST. SATARA. PIN 415001
GODOLI
SATARA
MAHARASHTRA
2162
220177
BANK OF' INDIA
BKID0VG2034
NANDRE
WAINGANGA KRISHANA GRAMIN BRANCH NANDRE BRANCH NANDRE VIKAS SHAHKARI BUILDING SANGLI ROAD AT POST NANDRE TEHSIL MIRAJ DISTT SANGLI SANGLI MH 416429 INDIA,SANGLI
NANDRE
SANGLI
MAHARASHTRA
233
2473036
BANK OF' INDIA
BKID0VG2033
SAWALAJ
SHRIRAJ COMPLEX, MAIN ROAD (ANJANI ROAD) A P SWALAJ, TAL. TASGAON, DIST. SANGLI. PIN 416311
SAWALAJ
SANGLI
MAHARASHTRA
2346
254322
BANK OF' INDIA
BKID0VG2032
VELAPUR
VELAPUR BRANCH PALKHI CHOWK SANGOLA ROAD TAL MALSHIRAS DISTT SOLAPUR SOLAPUR MH 111111 INDIA,SOLAPUR
VELAPUR
SOLAPUR
MAHARASHTRA
2185
245223
BANK OF' INDIA
BKID0VG2031
SANGLI
WAINGANGA KRISHNA GRAMIN BANK SANGLI BRANCH GULMOHAR COLONEY SAMARTH CHOWK MIRAJ SANGLI ROAD SANGLI SANGLI MH 416416 INDIA,SANGLI
SANGLI
SANGLI
MAHARASHTRA
233
2322345
BANK OF' INDIA
BKID0VG2030
NAGTHANE
NAGTHANE BRANCH AT & PO NAGTHANE TAL SATARA DISTT SATARA SATARA MH 111111 INDIA,SATARA
NAGTHANE
SATARA
MAHARASHTRA
2162
265600
BANK OF' INDIA
BKID0VG2029
VAIRAG
VIDHARBH KONKAN GRAMIN BANK VAIRAG BRANCH HOUSE NO 474 & 476 SIDHU SADAN KHADKPURA AT & PO VAIRAG TAL BARSHI DIST SOLAPUR SOLAPUR MH 111111 INDIA,SOLAPUR
VAIRAG
SOLAPUR
MAHARASHTRA
2184
240674
BANK OF' INDIA
BKID0VG2028
UPLAI BK
UPLAL BRANCH AT & PO UPLAL TAL MADHA DISTT SOLAPUR SOLAPUR MH 111111 INDIA,SOLAPUR
UPLAI BK
SOLAPUR
MAHARASHTRA
2183
244016
BANK OF' INDIA
BKID0VG2027
UMBARE
A P UMBARE, TAL. PANDHARPUR, DIST. SOLAPUR. PIN 413302
UMBARE
SOLAPUR
MAHARASHTRA
2186
269219
BANK OF' INDIA
BKID0VG2026
ULE
ULE BRANCH AT & PO ULE TAL SOUTH SOLAPUR DISTT SOLAPUR SOLAPUR MH 111111 INDIA,SOLAPUR
ULE
SOLAPUR
MAHARASHTRA
217
2251460
BANK OF' INDIA
BKID0VG2025
TEMBHURNI
VIDHARBH KONKAN GRAMIN BANK TEMBHURNI BRANCH AT DIST SOLAPUR SOLAPUR MH 111111 INDIA,SOLAPUR
TEMBHURNI
SOLAPUR
MAHARASHTRA
2183
231220
BANK OF' INDIA
BKID0VG2024
SOLAPUR
VIDHARBA KONKAN GRAMIN BANK SOLAPUR BRANCH, 6 MURARJI PETH SUBRAMANIYUM COMMERCIAL COMPLEX SOLAPUR,SOLAPUR,MH,413001,INDIA
SOLAPUR
SOLAPUR
MAHARASHTRA
217
2621249
BANK OF' INDIA
BKID0VG2023
SALGAR BK
WAINGANGA KRISHNA GRAMIN BANK AT PO SALGAR TAL MANGALWEDHA DIST SOLAPUR SOLAPUR MH 111111 INDIA,SOLAPUR
SALGAR BK
SOLAPUR
MAHARASHTRA
2188
248230
BANK OF' INDIA
BKID0VG2022
ROPALE
ROPALE BRANCH AT & PO ROPALE TAL PANDHARPUR DISTT SOLAPUR SOLAPUR MH 413313 INDIA,SOLAPUR
ROPALE
SOLAPUR
MAHARASHTRA
2186
255246
BANK OF' INDIA
BKID0VG2021
PANDHARPUR
VIDHARBH KONKAN GRAMIN BANK PANDHARPURBRANCH DAWALE SADAN SANT PETH AT & PO TAL PANDHARPUR DIST SOLAPUR SOLAPUR MH 111111 INDIA,SOLAPUR
PANDHARPUR
SOLAPUR
MAHARASHTRA
2186
222446
BANK OF' INDIA
BKID0VG2020
NIMGAON
NIMGAON BRANCH AT & PO NIMGAON TAL MALSHIRAS DISTT SOLAPUR SOLAPUR MH 413313 INDIA,SOLAPUR
NIMGAON
SOLAPUR
MAHARASHTRA
2185
261223
BANK OF' INDIA
BKID0VG2019
NIMBONI
NIMBONI BRANCH AT & PO NIMBONI TAL MANGALWEDHA DISTT SOLAPUR SOLAPUR MH 413122 INDIA,SOLAPUR
NIMBONI
SOLAPUR
MAHARASHTRA
2188
256112
BANK OF' INDIA
BKID0VG2018
SHREEPUR
NEAR DYANESHWAR MANGAL KARYALAYA, GANESH NAGAR, MAHALUNG ROAD, A P SHIRPUR, TAL. MALSHIRAS, DIST. SOLAPUR. PIN 413112
SHREEPUR
SOLAPUR
MAHARASHTRA
2185
255069
BANK OF' INDIA
BKID0VG2017
NATEPUTE
VIDHARBH KONKAN GRAMIN BANK NATEPUTE BRANCH MAIN ROAD AT & PO NATEPUTE TAL MALSHIRAS DIST SOLAPUR SOLAPUR MH 413109 INDIA,SOLAPUR
NATEPUTE
SOLAPUR
MAHARASHTRA
2185
262454
BANK OF' INDIA
BKID0VG2016
MANJARI
MANJARI BRANCH GRAMPANCHAYAT BLDG AT & PO MANJARI TAL SANGOLA DISTT SOLAPUR SOLAPUR MH 413307 INDIA,SOLAPUR
MANJARI
SOLAPUR
MAHARASHTRA
2187
254213
BANK OF' INDIA
BKID0VG2015
MALSHIRAS
VIDHARBH KONKAN GRAMIN BANK MALSHIRAS BRANCH NEAR PETROL PUMP AT & PO MALSHIRAS TAL MALSHIRAS DIST SOLAPUR SOLAPUR MH 413203 INDIA,SOLAPUR
MALSHIRAS
SOLAPUR
MAHARASHTRA
2185
235176
BANK OF' INDIA
BKID0VG2014
MALINAGAR
MALINGAR BRANCH AT & PO MALINAGAR TAL MALSHIRAS DISTT SOLAPUR SOLAPUR MH 413108 INDIA,SOLAPUR
MALINAGAR
SOLAPUR
MAHARASHTRA
2185
251041
BANK OF' INDIA
BKID0VG2013
LAMBOTI
A P LAMBOTI, TAL.MOHOL, DIST. SOLAPUR (SOLAPUR PUNE ROAD) PIN 413213.
LAMBOTI
SOLAPUR
MAHARASHTRA
2189
247515
BANK OF' INDIA
BKID0VG2012
KUMBHARI
WAINGANGA KRISHNA GRAMIN BANKKUMBHARI BRANCH AT PO KUMBHARI TAL SOUTH SOLAPURDIST SOLAPUR SOLAPUR MH 111111 INDIA,SOLAPUR
KUMBHARI
SOLAPUR
MAHARASHTRA
217
2280822
BANK OF' INDIA
BKID0VG2011
KARMALA
VIDHARBH KONKAN GRAMIN BANK KARMALA BRANCH GUJAR GALI JAIN MANDIR BUILDING AT PO & TAL KARMALA SOLAPUR MH 413203 INDIA,SOLAPUR
KARMALA
SOLAPUR
MAHARASHTRA
2182
220569
BANK OF' INDIA
BKID0VG2010
KARJAGI
VIDHARBH KONKAN GRAMIN BANK KARAJAGI BRANCH AT 7 PO KARJAGI TAL AKKALKOT DIST SOLAPUR SOLAPUR MH 111111 INDIA,SOLAPUR
KARJAGI
SOLAPUR
MAHARASHTRA
2181
254014
BANK OF' INDIA
BKID0VG2009
JEUR
JEUR BRANCH BARODA BLDG KARMALA ROAD NEAR S T STAND JERU TAL KARMALA DISTT SOLAPUR SOLAPUR MH 111111 INDIA,SOLAPUR
JEUR
SOLAPUR
MAHARASHTRA
2182
242274
BANK OF' INDIA
BKID0VG2008
ISLAMPUR
A P ISLAMPUR, TAL. MALSHIRAS, DIST. SOLAPUR. PIN 413107
ISLAMPUR
SOLAPUR
MAHARASHTRA
2185
275164
BANK OF' INDIA
BKID0VG2007
GURSALE
GURSALE BRANCH AT & PO GURSALE TAL PANDHARPUR DISTT SOLAPUR SOLAPUR MH 111111 INDIA,SOLAPUR
GURSALE
SOLAPUR
MAHARASHTRA
2186
249530
BANK OF' INDIA
BKID0VG2006
GADEGAON
A P GADEGAON, TAL. PANDHARPUR, DIST. SOLAPUR, PIN 413401
GADEGAON
SOLAPUR
MAHARASHTRA
2186
245253
BANK OF' INDIA
BKID0VG2005
BHOSE
VIDHARBH KONKAN GRAMIN BANK BHOSE K BRANCH AT & PO BHOSE TAL PANDHARPUR DIST SOLAPUR SOLAPUR413222 INDIA,SOLAPUR
BHOSE
SOLAPUR
MAHARASHTRA
2186
243249
BANK OF' INDIA
BKID0VG2004
BANDISHEGAON
VIDHARBH KONKAN GRAMIN BANK BHANDHISHEGAON BRANCH NEAR HAWALE HOSPITAL AT & PO BHANDHISHEGAON TAL PANDHRPUR DIST SOLAPUR SOLAPUR MH 111111 INDIA,SOLAPUR
BANDISHEGAON
SOLAPUR
MAHARASHTRA
2186
246243
BANK OF' INDIA
BKID0VG2003
BEMBLE
A P BEMBLE, TAL. MADHA, DIST. SOLAPUR, PIN 413211
BEMBLE
SOLAPUR
MAHARASHTRA
2183
260122
BANK OF' INDIA
BKID0VG2002
BARSHI
VIDHARBH KONKAN GRAMIN BANK BARSHI BRANCH 2419 KUNKULOL COMPLEX ADAWA RASTA BARSHI DIST SOLAPUR SOLAPUR MH 413411 INDIA,SOLAPUR
BARSHI
SOLAPUR
MAHARASHTRA
2184
223198
BANK OF' INDIA
BKID0VG2000
SOLAPUR RO
PLOT NO. 23, SURVEY NO 137 141, GURUKRUPA SANKUL, NEHARU NAGAR, VIJAPUR ROAD, SOLPUR 413004
SOLAPUR
SOLAPUR
MAHARASHTRA
217
2305721
BANK OF' INDIA
BKID0VG1000
HEAD BRANCH NAGPUR
VIDHARBHA KONKAN GRAMIN BANK CHANDRAPRASTHA 2NDPLOT NO. 6 DEENDAYAL NAGAR NAGPUR440022
NAGPUR
NAGPUR
MAHARASHTRA
712
2224319
BANK OF' INDIA
BKID0SABPAI
BANDRA KURLA COMPLEX
C-5, G BLOCK BKC, BANDRA KURLA COMPLEX, BANDRA EAST, MUMBAI, MAHARASHTRA 400051
MUMBAI
MUMBAI
MAHARASHTRA
22
66684419
BANK OF' INDIA
BKID0NAMRGB
NARMADA MALWA GB-INDORE BR
28, SOUTH RAJMOHALLA, INDORE – 452 002
INDORE
INDORE
MADHYA PRADESH
731
7312341813
BANK OF' INDIA
BKID0MG9071
IKLOD
IKLOD, DISTT. SHYOPUR
SHYOPUR
SHYOPUR
MADHYA PRADESH
91
8226010436
BANK OF' INDIA
BKID0MG9070
SALAPURA SHEOPUR
PALI ROAD, SHYOPUR, TEH. SHYOPUR 476337
SHYOPUR
SHYOPUR
MADHYA PRADESH
91
8226010279
BANK OF' INDIA
BKID0MG9069
BARODA
MATH MOHALLA,BARODA,DISTT.SHYOPUR
SHYOPUR
SHYOPUR
MADHYA PRADESH
91
8226010278
BANK OF' INDIA
BKID0MG9068
VIJAYPUR
MANDI VIJAYPUR, TEH. VIJAYPUR 476234
SHYOPUR
SHYOPUR
MADHYA PRADESH
91
8226010263
BANK OF' INDIA
BKID0MG9067
KARHAL
KARIYADEH TIRAHA, KARAHAL 476355
SHYOPUR
SHYOPUR
MADHYA PRADESH
91
8226010261
BANK OF' INDIA
BKID0MG9066
SOHI KALA
SHYOPUR PALI ROAD, SOHIKALA, TEH. SHYOPUR 476339
SHYOPUR
SHYOPUR
MADHYA PRADESH
91
8226010256
BANK OF' INDIA
BKID0MG9065
VEERPUR
MORENA SHEOPUR ROAD,SHYOPUR
SHYOPUR
SHYOPUR
MADHYA PRADESH
91
8226010253
BANK OF' INDIA
BKID0MG9064
RAIPUR GADIYA
VILL POST RAIPURGADIYADISTTMORENA
MURAINA
MURAINA
MADHYA PRADESH
91
7697961412
BANK OF' INDIA
BKID0MG9063
BARBAI
VILL POST BARBAI, DISTTMORENA
MURAINA
MURAINA
MADHYA PRADESH
91
8226010442
BANK OF' INDIA
BKID0MG9062
SHYAMPUR KALA
SHYAMPURKALAN,DISTT. SHYOPUR
MURAINA
MURAINA
MADHYA PRADESH
91
8226010441
BANK OF' INDIA
BKID0MG9061
MURAINA
BHOJ BHAWAN, M. S. ROAD, MURAINA 476001
MURAINA
MURAINA
MADHYA PRADESH
91
8226010281
BANK OF' INDIA
BKID0MG9060
KAILARAS
GANDHI ROAD, KAILARAS 476224
MURAINA
MURAINA
MADHYA PRADESH
91
8226010280
BANK OF' INDIA
BKID0MG9059
PORSA ROADMORENA
RAMNAGAR PHATAK BAZAAR,PORSA ROAD, MORENA
MURAINA
MURAINA
MADHYA PRADESH
91
8226010276
BANK OF' INDIA
BKID0MG9058
JOURAMORENA
RAMBABU VAKIL KA KATRA NEAR TEHSIL JOURA, MORENA
MURAINA
MURAINA
MADHYA PRADESH
91
9826564809
BANK OF' INDIA
BKID0MG9057
AANTARY KAILARAS
PAHADGADH ROAD, KAILARAS 476224
MURAINA
MURAINA
MADHYA PRADESH
91
8226010270
BANK OF' INDIA
BKID0MG9056
PORSA
SABJI MANDI ROAD, PORSA, MORENA
MURAINA
MURAINA
MADHYA PRADESH
91
8226010269
BANK OF' INDIA
BKID0MG9055
NOORABAD
VILLAGE POST NOORABAD 476001
MURAINA
MURAINA
MADHYA PRADESH
91
8226010267
BANK OF' INDIA
BKID0MG9054
SABALGADH
CO. SHRI RAJENDRA MARAIYA, SABALGADH, TEH. SABALGADH 476229
MURAINA
MURAINA
MADHYA PRADESH
91
8226010255
BANK OF' INDIA
BKID0MG9053
KUMHERI
VILLAGE POST KUMHERI, TEH. MURAINA 476221
MURAINA
MURAINA
MADHYA PRADESH
91
8226010254
BANK OF' INDIA
BKID0MG9052
AMBAH
ADVOCATE COLONY AMBAH
MURAINA
MURAINA
MADHYA PRADESH
91
8226010252
BANK OF' INDIA
BKID0MG9051
BARIER CHOURAHAMUR
BARIER CHOURAHA 476001
MURAINA
MURAINA
MADHYA PRADESH
91
8226006970
BANK OF' INDIA
BKID0MG9050
CITYCENTREGWALIOR
PATEL NAGAR,CITY CENTER , GWALIOR
GWALIOR
GWALIOR
MADHYA PRADESH
91
8226010312
BANK OF' INDIA
BKID0MG9049
MURAR
MAYUR MARKET, THATIPUR MURAR ,TEH. GWALIOR 474011
GWALIOR
GWALIOR
MADHYA PRADESH
91
8226010309
BANK OF' INDIA
BKID0MG9048
MAGRORA
JAWAHAR GANJ, DABRA 475110
GWALIOR
GWALIOR
MADHYA PRADESH
91
8226010306
BANK OF' INDIA
BKID0MG9047
SHANKARPUR GWALIOR
VINAY NAGAR, SECTOR 1, JAIL ROAD TIRAHA 474001
GWALIOR
GWALIOR
MADHYA PRADESH
91
8226010305
BANK OF' INDIA
BKID0MG9046
AANTARY GWALIOR
VILLAGE POST AANTARY, TEH. BHITARWAR 475001
GWALIOR
GWALIOR
MADHYA PRADESH
91
8226010304
BANK OF' INDIA
BKID0MG9045
BARETHA
BHIND ROAD, POST BAHADURPUR, TEH. MURAR 475661
GWALIOR
GWALIOR
MADHYA PRADESH
91
8226010303
BANK OF' INDIA
BKID0MG9044
GWALIOR
JINSI NALA NO. 1, LASHKAR, GWALIOR 474002
GWALIOR
GWALIOR
MADHYA PRADESH
91
8226010302
BANK OF' INDIA
BKID0MG9043
PANIHAR
VILLAGE POST PANIHAR, TEH. GHATIGAON 475530
GWALIOR
GWALIOR
MADHYA PRADESH
91
8226010300
BANK OF' INDIA
BKID0MG9042
MOHNA
VILLAGE POST MOHNA, TEH. GHATIGAON 475530
GWALIOR
GWALIOR
MADHYA PRADESH
91
8226010299
BANK OF' INDIA
BKID0MG9041
BANWAR
BANWAR, DISTT. GWALIOR
GWALIOR
GWALIOR
MADHYA PRADESH
91
8226010298
BANK OF' INDIA
BKID0MG9040
BILOUA GIJOURI
BADA BAZAR, BILOUA 475001
GWALIOR
GWALIOR
MADHYA PRADESH
91
8226010297
BANK OF' INDIA
BKID0MG9039
PICHOR
VILLAGE POST PICHOR, TEH. DABRA 475115
GWALIOR
GWALIOR
MADHYA PRADESH
91
8226010296
BANK OF' INDIA
BKID0MG9038
BHITARWAR
MAIN ROAD BHITARWAR, GWALIOR
GWALIOR
GWALIOR
MADHYA PRADESH
91
8226010294
BANK OF' INDIA
BKID0MG9037
GIRWAI
NEAR NEHRU PETROL PUMP, AB ROAD, GWALIOR 474001
GWALIOR
GWALIOR
MADHYA PRADESH
91
8226010293
BANK OF' INDIA
BKID0MG9036
DABRA
SUBHASH GANJ, DADRA, TEH. DABRA 475110
GWALIOR
GWALIOR
MADHYA PRADESH
91
7842223272
BANK OF' INDIA
BKID0MG9035
KARIAWATI
VILLAGE POST KHARIAWATY, TEH. DABRA 475110
GWALIOR
GWALIOR
MADHYA PRADESH
91
8226010289
BANK OF' INDIA
BKID0MG9034
C P COLONYMURAR
7 NO. CHOURAHA, C.P.COLONY,MURAR, GWALIOR
GWALIOR
GWALIOR
MADHYA PRADESH
91
8226010284
BANK OF' INDIA
BKID0MG9033
BHANDER
TEH. BHANDER 475674
DATIA
DATIA
MADHYA PRADESH
91
8226010311
BANK OF' INDIA
BKID0MG9032
INDERGARH
TEH. INDERGARH 475675
DATIA
DATIA
MADHYA PRADESH
91
8226010310
BANK OF' INDIA
BKID0MG9031
PRAKASHNAGARDATIA
STATION ROAD DATIA
DATIA
DATIA
MADHYA PRADESH
91
8226010308
BANK OF' INDIA
BKID0MG9030
RICHHRAPHATAKDATIA
IN FRONT OF MANDI, DATIA 475661
DATIA
DATIA
MADHYA PRADESH
91
8226010307
BANK OF' INDIA
BKID0MG9029
UNNAV
VILLAGE POST UNNAV, TEH. DATIA 475674
DATIA
DATIA
MADHYA PRADESH
91
8226010301
BANK OF' INDIA
BKID0MG9028
UPRAI
VILLAGE POST UPRAI, TEH. DATIA 475685
DATIA
DATIA
MADHYA PRADESH
91
8226010292
BANK OF' INDIA
BKID0MG9027
RARUARAI
VILLAGE POST RARUARAI, TEH. DATIA 475682
DATIA
DATIA
MADHYA PRADESH
91
8226010290
BANK OF' INDIA
BKID0MG9026
BADERA SOPAN
GRAM POST BADERASOPAN, TEH. BHANDER 475674
DATIA
DATIA
MADHYA PRADESH
91
8226010288
BANK OF' INDIA
BKID0MG9025
SOHAN
BHIND BHANDER ROAD, SOHAN, TEH. BHANDER 475674
DATIA
DATIA
MADHYA PRADESH
91
6268715582
BANK OF' INDIA
BKID0MG9024
SEONDHA
BUS STAND SAWADA, TEH. SAWADA 475682
DATIA
DATIA
MADHYA PRADESH
91
8226010286
BANK OF' INDIA
BKID0MG9023
BHAGUAPURA
VILLAGE POST BHAGUAPURA, TEH. SAWADA 475682
DATIA
DATIA
MADHYA PRADESH
91
8226010285
BANK OF' INDIA
BKID0MG9022
BASAI
GRAM POST BASAI, TEH. DATIA 475661
DATIA
DATIA
MADHYA PRADESH
91
8226010283
BANK OF' INDIA
BKID0MG9021
DATIA
HOLIPURA MARG DATIA
DATIA
DATIA
MADHYA PRADESH
91
8226010282
BANK OF' INDIA
BKID0MG9020
ENDORI
VILL.ENDORI TAH.GOHAD DISTT.BHIND
BHIND
BHIND
MADHYA PRADESH
91
8226010440
BANK OF' INDIA
BKID0MG9019
MACHHAND
IN CONGRESS KARALYA MACCHAND,DISTT.BHIND
BHIND
BHIND
MADHYA PRADESH
91
8226010439
BANK OF' INDIA
BKID0MG9018
BILAW
COSH VEERENDRA JADHON BILLAW
BHIND
BHIND
MADHYA PRADESH
91
8226010438
BANK OF' INDIA
BKID0MG9017
PARA
VILL POST PARA PRATAPPUR ATER ROAD, BHIND
BHIND
BHIND
MADHYA PRADESH
91
8226010437
BANK OF' INDIA
BKID0MG9016
DABOH
BHIND BHANDER ROAD, DABOH, TEH. LAHAR 477447
BHIND
BHIND
MADHYA PRADESH
91
8226010277
BANK OF' INDIA
BKID0MG9015
PHOOP
BHIND ITAWA ROAD, ROUN, TEH. LAHAR 477555
BHIND
BHIND
MADHYA PRADESH
91
8226010275
BANK OF' INDIA
BKID0MG9014
ROUN
LAHAR ROAD, BHIND, 477335
BHIND
BHIND
MADHYA PRADESH
91
8226010274
BANK OF' INDIA
BKID0MG9013
MEHGAON
GANDHI ROAD, MEHGAON, TEH. MEHGAON 477557
BHIND
BHIND
MADHYA PRADESH
91
8226010273
BANK OF' INDIA
BKID0MG9012
GORMI
MEHGAON PORSA ROAD, GORMI, TEH. MEHGAON 477660
BHIND
BHIND
MADHYA PRADESH
91
8226010271
BANK OF' INDIA
BKID0MG9011
UMARI
UMARI,BHIND
BHIND
BHIND
MADHYA PRADESH
91
8226010268
BANK OF' INDIA
BKID0MG9010
BUS STAND BHIND
IN FRONT OF BUS STAND,BHIND
BHIND
BHIND
MADHYA PRADESH
91
8226006966
BANK OF' INDIA
BKID0MG9009
SUNARPURA
MEHGAON PORSA ROAD, SONI, TEH. PORSA 477557
BHIND
BHIND
MADHYA PRADESH
91
8226010265
BANK OF' INDIA
BKID0MG9008
LAHAR
BHIND BHANDER ROAD, LAHAR 477445
BHIND
BHIND
MADHYA PRADESH
91
8226010264
BANK OF' INDIA
BKID0MG9007
GOHAD MAIN
IN FRONT OF VETNERY HOSPITAL, GOHAD 477116
BHIND
BHIND
MADHYA PRADESH
91
8226010262
BANK OF' INDIA
BKID0MG9006
BHIND MAIN
BHAGWATI PALACE, BHUTA BAZAR, BHIND 477001
BHIND
BHIND
MADHYA PRADESH
91
8226010260
BANK OF' INDIA
BKID0MG9005
ATER ROADBHIND
ATER ROAD BHIND
BHIND
BHIND
MADHYA PRADESH
91
8226010259
BANK OF' INDIA
BKID0MG9004
MIHONA
LAHAR ROAD, BHIND, TEH. LAHAR 477441
BHIND
BHIND
MADHYA PRADESH
91
8226010258
BANK OF' INDIA
BKID0MG9003
SONI
MEHGAON PORSA ROAD, SONI, TEH. MEHGAON 477557
BHIND
BHIND
MADHYA PRADESH
91
8226010257
BANK OF' INDIA
BKID0MG9002
MALANPUR
BHIND ROAD, MALANPUR, TEH. GOHAD 477117
BHIND
BHIND
MADHYA PRADESH
91
8226010251
BANK OF' INDIA
BKID0MG9001
GOHAD CHOURAHABHIN
NEAR POLICE STATION, GOHAD CHOURAHA, TEH. GOHAD 477116
BHIND
BHIND
MADHYA PRADESH
91
8226010250
BANK OF' INDIA
BKID0MG8070
GANGERUA
POST.GANGERUA, TEH.BARGHAT , DISTSEONI480667
SEONI
SEONI
MADHYA PRADESH
91
9424367914
BANK OF' INDIA
BKID0MG8069
PALARI
POST.PALARI, TEH.KEOLARI, DISTSEONI 480991
SEONI
SEONI
MADHYA PRADESH
91
9425845054
BANK OF' INDIA
BKID0MG8068
LAKHNADOUN
POST.LAKHNADOUN, DISTSEONI 480886
SEONI
SEONI
MADHYA PRADESH
91
9584647542
BANK OF' INDIA
BKID0MG8067
KHAWASA
P.O.KHAWASA TEHKURAI, DISTT.SEONI
SEONI
SEONI
MADHYA PRADESH
91
7389464796
BANK OF' INDIA
BKID0MG8066
BHOMA
POST.BHOMA, TEH.SEONI,DISTSEONI 480990
SEONI
SEONI
MADHYA PRADESH
91
9424771550
BANK OF' INDIA
BKID0MG8065
KEOLARI
P.O.KEOLARI TEHKEOLARI, DISTT.SEONI
SEONI
SEONI
MADHYA PRADESH
91
9424629933
BANK OF' INDIA
BKID0MG8064
BARGHAT
P.O.BARGHAT TEHBARGHAT, DISTT. SEONI
SEONI
SEONI
MADHYA PRADESH
91
7869064001
BANK OF' INDIA
BKID0MG8063
UGALI
P.O.UGLI TEHKEOLARI, DISTT. SEONI
SEONI
SEONI
MADHYA PRADESH
91
9425834112
BANK OF' INDIA
BKID0MG8062
CHHAPARA
POST.CHHAPARA, TEH LAKHNADAUN DISTSEONI480884
SEONI
SEONI
MADHYA PRADESH
91
9424705734
BANK OF' INDIA
BKID0MG8061
MANGLIPETH
POST.MAHAVIR MARIA KE SAMNE MANGLIPETH, TEH.SEONI, DISTSEONI 480661
SEONI
SEONI
MADHYA PRADESH
91
9479961580
BANK OF' INDIA
BKID0MG8060
DHANORA
POST.DHANORA, TEH.DHANORA DISTSEONI480999
SEONI
SEONI
MADHYA PRADESH
91
8878156791
BANK OF' INDIA
BKID0MG8059
DHARNA
P.O.DHARNA TEHBARGHAT,DISTTSEONI
SEONI
SEONI
MADHYA PRADESH
91
8989488865
BANK OF' INDIA
BKID0MG8058
PIPERDAHI
POST.PIPERDAHI,TEH.SEONI, DISTSEONI480661
SEONI
SEONI
MADHYA PRADESH
91
9893108927
BANK OF' INDIA
BKID0MG8057
SHIKARA
POST.SHIKARA,TEH.GHANSOUR, DISTSEONI 480997
SEONI
SEONI
MADHYA PRADESH
91
9424324727
BANK OF' INDIA
BKID0MG8056
MUNGWANI
POST.MUNGWANI,TEH.SEONI, DISTSEONI 480661
SEONI
SEONI
MADHYA PRADESH
91
8983680751
BANK OF' INDIA
BKID0MG8055
KURRAI
POST.KURAI, TEH.KURAI DISTSEONI480880
SEONI
SEONI
MADHYA PRADESH
91
9425839483
BANK OF' INDIA
BKID0MG8054
GOPALGANJ
POST.GOPALGANJ,TEH.SEONI, DISTSEONI 480661
SEONI
SEONI
MADHYA PRADESH
91
8120763939
BANK OF' INDIA
BKID0MG8053
DHUMA
P.O.DHOOMA TEHLAKHANADON, DISTT. SEONI
SEONI
SEONI
MADHYA PRADESH
91
8435548874
BANK OF' INDIA
BKID0MG8052
BADALPAR
P.O.BADALPAR TEHKURAI, DISTT.SEONI
SEONI
SEONI
MADHYA PRADESH
91
9424638924
BANK OF' INDIA
BKID0MG8051
ADEGAON
POST.ADEGAON TEH.LAKHNADOUN,DISTSEONI 480887
SEONI
SEONI
MADHYA PRADESH
91
9340532467
BANK OF' INDIA
BKID0MG8050
MOHGAON
P.O.MOHGAON TEHKURAI
SEONI
SEONI
MADHYA PRADESH
91
9424372475
BANK OF' INDIA
BKID0MG8049
BANDOL
POST.BANDOL,TEH. SEONI, DISTSEONI 480882
SEONI
SEONI
MADHYA PRADESH
91
7898187134
BANK OF' INDIA
BKID0MG8048
PANDIYA CHHAPARA
P.O.PANDIA CHHAPARA
SEONI
SEONI
MADHYA PRADESH
91
7724862962
BANK OF' INDIA
BKID0MG8047
GHANSAUR
P.O.GHANSOUR TEHGHANSOR
SEONI
SEONI
MADHYA PRADESH
91
9425078703
BANK OF' INDIA
BKID0MG8046
CHAMARI
POST.CHAMARI,TEH.LAKHNADAUN,DISTSEONI 480884
SEONI
SEONI
MADHYA PRADESH
91
9424784245
BANK OF' INDIA
BKID0MG8045
SEONI
SINDHIYA CHOWK, SBI ROAD, BARAPATHAR,POST.SEONI, TEH.SEONI ,DISTSEONI 480661
SEONI
SEONI
MADHYA PRADESH
91
9755729136
BANK OF' INDIA
BKID0MG8044
CHHINDI
POST CHHINDI TEHSIL TAMIA DIST CHHINDWARA
CHHINDWARA
CHHINDWARA
MADHYA PRADESH
91
9893599825
BANK OF' INDIA
BKID0MG8043
GUJRI
POST GUJARI THEPANDUHURNA DISTCHHINDWARA 480334
CHHINDWARA
CHHINDWARA
MADHYA PRADESH
91
9616642959
BANK OF' INDIA
BKID0MG8041
JUNNARDEO
P.O.JUNNARDEO TEHJUNNARDEO,DISTT.CHHINDWARA
CHHINDWARA
CHHINDWARA
MADHYA PRADESH
91
8010009322
BANK OF' INDIA
BKID0MG8040
UMRANALA
P.O.UMRANALA TEHMOHKHD,DISTT.CHHINDWARA
CHHINDWARA
CHHINDWARA
MADHYA PRADESH
91
9424665781
BANK OF' INDIA
BKID0MG8039
LINGA
POSTLINGA, TEH.MOHKHED DISTCHHINDWARA480107
CHHINDWARA
CHHINDWARA
MADHYA PRADESH
91
9300411650
BANK OF' INDIA
BKID0MG8038
CHAND
P.O.CHAND TEHCHOURAI, DISTT.CHHINDWARA
CHHINDWARA
CHHINDWARA
MADHYA PRADESH
91
9425461314
BANK OF' INDIA
BKID0MG8037
CHOURAI
P.O.CHOURAI TEHCHOURAI, DISTTCHHINDWARA
CHHINDWARA
CHHINDWARA
MADHYA PRADESH
91
9424324559
BANK OF' INDIA
BKID0MG8036
ROHNAKALA
POSTROHNAKALA,TEH.CHHINDWARA, DISTCHHINDWARA480001
CHHINDWARA
CHHINDWARA
MADHYA PRADESH
91
9407365466
BANK OF' INDIA
BKID0MG8035
GANDHIGANJ
P.O.CHHINDWARA TEHCHHINDWARA
CHHINDWARA
CHHINDWARA
MADHYA PRADESH
91
9425147727
BANK OF' INDIA
BKID0MG8034
MOHKHED
P.O.MOHKHED TEHMOHKHED, DISTT.CHHINDWARA
CHHINDWARA
CHHINDWARA
MADHYA PRADESH
91
9425028188
BANK OF' INDIA
BKID0MG8033
HARRAI
P.O.HARRAI TEHHARRAI, DISTT.CHHINDWARA
CHHINDWARA
CHHINDWARA
MADHYA PRADESH
91
7000047928
BANK OF' INDIA
BKID0MG8032
SAUSAR
POSTSOUSAR,TEH.SAUSAR DISTCHHINDWARA 480106
CHHINDWARA
CHHINDWARA
MADHYA PRADESH
91
9713985350
BANK OF' INDIA
BKID0MG8031
AMARWADA
MAIN ROAD AMARWADA, DISTT. CHHINDWARA480221
CHHINDWARA
CHHINDWARA
MADHYA PRADESH
91
9424326266
BANK OF' INDIA
BKID0MG8030
BORGAON
POSTBORGAON TEH.SOUSAR, DISTCHHINDWARA480108
CHHINDWARA
CHHINDWARA
MADHYA PRADESH
91
9993874223
BANK OF' INDIA
BKID0MG8029
SINGODI
P.O.SINGODI TEHAMARWADA,DISTT.CHHINDWARA
CHHINDWARA
CHHINDWARA
MADHYA PRADESH
91
7000043942
BANK OF' INDIA
BKID0MG8028
CHANDAMETA
POSTCHANDAMETA,TEH.PARASIA, DISTCHHINDWARA 480447
CHHINDWARA
CHHINDWARA
MADHYA PRADESH
91
9425845002
BANK OF' INDIA
BKID0MG8027
ITWARI
POST TEH.CHHINDWARA, DISTCHHINDWARA 480001
CHHINDWARA
CHHINDWARA
MADHYA PRADESH
91
7566431625
BANK OF' INDIA
BKID0MG8026
PARASIYA
P.O.PARASIA TEHPARASI,DISTT.CHHINDWARA
CHHINDWARA
CHHINDWARA
MADHYA PRADESH
91
9926544179
BANK OF' INDIA
BKID0MG8025
PANDHURNA
POSTTEH.PANDHURNA, DISTCHHINDWARA480334
CHHINDWARA
CHHINDWARA
MADHYA PRADESH
91
8109165670
BANK OF' INDIA
BKID0MG8024
BISAPURKALA
POSTBISAPURKALA,BLOCKMOHKHED, DISTCHHINDWARA480107
CHHINDWARA
CHHINDWARA
MADHYA PRADESH
91
9425147535
BANK OF' INDIA
BKID0MG8023
TAMIA
MAIN ROAD TAMIA, TEHSIL TAMIA, DISTT. CHHINDWARA 480559
CHHINDWARA
CHHINDWARA
MADHYA PRADESH
91
9406745962
BANK OF' INDIA
BKID0MG8022
HIRDAGARH
POSTHIRDAGARH,TEH.JUNNARDEO, DISTCHHINDWARA 480551
CHHINDWARA
CHHINDWARA
MADHYA PRADESH
91
9977713121
BANK OF' INDIA
BKID0MG8021
CHANDANGAON
NAGPUR ROAD, CHHINDWARA 480001
CHHINDWARA
CHHINDWARA
MADHYA PRADESH
91
9424935599
BANK OF' INDIA
BKID0MG8020
RANGARI
POSTRANGARI.TEH.SOUSAR. DISTCHHINDWARA 480108
CHHINDWARA
CHHINDWARA
MADHYA PRADESH
91
9425844643
BANK OF' INDIA
BKID0MG8019
GANGIWARA
POSTGANGIWADA,TEH.PARASIA, DISTCHHINDWARA 480441
CHHINDWARA
CHHINDWARA
MADHYA PRADESH
91
9407300770
BANK OF' INDIA
BKID0MG8018
JHIRPA
POSTJHIRPA,TEH.TAMIA, DISTCHHINDWARA 480559
CHHINDWARA
CHHINDWARA
MADHYA PRADESH
91
9111096648
BANK OF' INDIA
BKID0MG8017
AMBADA
POSTAMBADA,TEH.PANDHURNA, DISTCHHINDWARA480334
CHHINDWARA
CHHINDWARA
MADHYA PRADESH
91
9340269181
BANK OF' INDIA
BKID0MG8016
SURLAKHAPA
POSTSURLAKHAPA,TEH.AMARWADA, DISTCHHINDWARA 480224
CHHINDWARA
CHHINDWARA
MADHYA PRADESH
91
9425446836
BANK OF' INDIA
BKID0MG8015
KAPURDHA
POSTKAPURDHA,TEH.CHOURAI, DISTCHHINDWARA 480115
CHHINDWARA
CHHINDWARA
MADHYA PRADESH
91
9406726537
BANK OF' INDIA
BKID0MG8014
DELAKHARI
POSTDELAKHARI,TEH.TAMIA, DISTCHHINDWARA480559
CHHINDWARA
CHHINDWARA
MADHYA PRADESH
91
9479850629
BANK OF' INDIA
BKID0MG8013
JHILMILI
POSTCHOURAI,TEH.CHOURAI DISTCHHINDWARA480115
CHHINDWARA
CHHINDWARA
MADHYA PRADESH
91
9826613251
BANK OF' INDIA
BKID0MG8012
NAVEGAON
P.O.NAVEGAON TEHJUNNARDEO,DISTT.CHHINDWARA
CHHINDWARA
CHHINDWARA
MADHYA PRADESH
91
9424317097
BANK OF' INDIA
BKID0MG8011
BATKAKHAPA
P.O.BATKAKHAPA TEHHARRAI
CHHINDWARA
CHHINDWARA
MADHYA PRADESH
91
9424326345
BANK OF' INDIA
BKID0MG8010
SARNA
CHHINDWARANARSINGHPUR ROAD, SARNA, DISTT. CHHINDWARA 480002
CHHINDWARA
CHHINDWARA
MADHYA PRADESH
91
8871333124
BANK OF' INDIA
BKID0MG8009
BICHHUA
POST.BICHHUA, TEH.BICHHUA DISTCHHINDWARA480111
CHHINDWARA
CHHINDWARA
MADHYA PRADESH
91
9424325675
BANK OF' INDIA
BKID0MG8008
MARUD
POSTMARUD,TEH.PANDHURNA, DISTCHHINDWARA 480334
CHHINDWARA
CHHINDWARA
MADHYA PRADESH
91
9406726394
BANK OF' INDIA
BKID0MG8007
CHHINDWARA
DEVILAL SHARMA COMPLEX , PARASIA ROAD, CHHINDWARA, M.P.480001
CHHINDWARA
CHHINDWARA
MADHYA PRADESH
91
9425104709
BANK OF' INDIA
BKID0MG8006
BETUL BAZAR
POSTBETUL, TEH. BETUL,DIST.BETUL 460001
BETUL
BETUL
MADHYA PRADESH
91
7354327987
BANK OF' INDIA
BKID0MG8005
GHODADONGARI
POST. TEH.GHORADONGRI ,DIST.BETUL460443
BETUL
BETUL
MADHYA PRADESH
91
9755428988
BANK OF' INDIA
BKID0MG8004
CHICHOLI
DURGA CHOUK ,POST. CHICHOLI,DIST.BETUL 460330
BETUL
BETUL
MADHYA PRADESH
91
9754461609
BANK OF' INDIA
BKID0MG8003
AAMLA
POST AMALA TEHAMLA DIST BETUL 460551
BETUL
BETUL
MADHYA PRADESH
91
8709268286
BANK OF' INDIA
BKID0MG8002
BETUL
POST.BETUL, TEC.BETUL,DIST.BETUL460001
BETUL
BETUL
MADHYA PRADESH
91
9039087040
BANK OF' INDIA
BKID0MG8001
MULTAI
STATION ROAD, TEHSIL MULTAI, DISTT BAITUL 460661
BETUL
BETUL
MADHYA PRADESH
91
9424362144
BANK OF' INDIA
BKID0MG8000
RO CHHINDWARA
854, IN FRONT OF MAHARSHI VIDHYA MANDIR SARRA, NAGPUR ROAD, CHHINDWARA M.P. 480001
CHHINDWARA
CHHINDWARA
MADHYA PRADESH
91
8602188912
BANK OF' INDIA
BKID0MG7068
SIHORA
BRANCH SIHORA TEHSIL TALUKA KURWAI BLOCK MANDAL KURWAI DISTRICT VIDISHA464337
VIDISHA
VIDISHA
MADHYA PRADESH
91
9425097028
BANK OF' INDIA
BKID0MG7067
LAYRA
BRANCH LAYARA TEHSIL TALUKA KURWAI BLOCK MANDAL KURWAI DISTRICT VIDISHA464224
VIDISHA
VIDISHA
MADHYA PRADESH
91
9993171863
BANK OF' INDIA
BKID0MG7066
HATHODA
BRANCH HATHODA TEHSIL TALUKA BASODA DISTRICT VIDISHA
VIDISHA
VIDISHA
MADHYA PRADESH
91
8120938737
BANK OF' INDIA
BKID0MG7065
BAAGRI
VILL. BAAGRI, TAH. VIDISHA, DISTT. VIDISHA
VIDISHA
VIDISHA
MADHYA PRADESH
91
7415259529
BANK OF' INDIA
BKID0MG7064
HANSUA
BRANCH HANSUA WARD BLOCK OF BRANCH HANSUA TEHSIL TALUKA VIDISHA DISTRICT VIDISHA464001
VIDISHA
VIDISHA
MADHYA PRADESH
91
9827286049
BANK OF' INDIA
BKID0MG7063
KHAMKHEDA
BRANCH KHAMKHEDA WARD BLOCK OF BRANCH KHAMKHEDA TEHSIL TALUKA VIDISHA DISTRICT VIDISHA464226
VIDISHA
VIDISHA
MADHYA PRADESH
91
9893386253
BANK OF' INDIA
BKID0MG7062
CIVIL LINES
6, CLUB ROAD, VIDISHA.
VIDISHA
VIDISHA
MADHYA PRADESH
91
9424463585
BANK OF' INDIA
BKID0MG7061
KURWAI
BRANCH KURWAI TEHSIL TALUKA KURWAI DISTRICT VIDISHA464337
VIDISHA
VIDISHA
MADHYA PRADESH
91
7860588322
BANK OF' INDIA
BKID0MG7060
GANJ
HANUMAN CHOUK, BASODA, DIST. VIDISHA
VIDISHA
VIDISHA
MADHYA PRADESH
91
9425774735
BANK OF INDIA
BKID0MG7059
SIRONJ
BUS STAND, SIRONJ, DISTT. VIDISHA
VIDISHA
VIDISHA
MADHYA PRADESH
91
8839002048
BANK OF' INDIA
BKID0MG7058
GUROD
VILL. GUROD, TAH. NATERAN, DISTT. VIDISHA
VIDISHA
VIDISHA
MADHYA PRADESH
91
8539957263
BANK OF' INDIA
BKID0MG7057
UDAYPUR
BRANCH UDAYPUR TEHSIL TALUKA BOSADA DISTRICT VIDISHA464221
VIDISHA
VIDISHA
MADHYA PRADESH
91
9340807244
BANK OF' INDIA
BKID0MG7056
LATERI
LATERI, TAH. LATERI, DISTT. VIDISHA
VIDISHA
VIDISHA
MADHYA PRADESH
91
9630030474
BANK OF' INDIA
BKID0MG7055
BASODA
STATION ROAD, BASODA, DISTT. VIDISHA
VIDISHA
VIDISHA
MADHYA PRADESH
91
9827251516
BANK OF' INDIA
BKID0MG7054
MAHLUA CHOURAHA
VILL. MAHLUA CHOURAHA, TAH. KURWAI, DIST. VIDISHA
VIDISHA
VIDISHA
MADHYA PRADESH
91
9425129773
BANK OF' INDIA
BKID0MG7053
SOJANA
VILL. SOJNA, TAH. GYARASPUR, DISTT. VIDISHA
VIDISHA
VIDISHA
MADHYA PRADESH
91
9826218872
BANK OF' INDIA
BKID0MG7052
GULABGANJ
VILL. GULABGANJ, TAH. GULABGANJ, DISTT. VIDISHA
VIDISHA
VIDISHA
MADHYA PRADESH
91
9893408196
BANK OF' INDIA
BKID0MG7051
SHAMSHABAD
BRANCH SHAMSHABAD TEHSIL TALUKA NATERAN DISTRICT VIDISHA464111
VIDISHA
VIDISHA
MADHYA PRADESH
91
9425150200
BANK OF' INDIA
BKID0MG7050
SIRNOTA
BRANCH SIRNOTA TEHSIL TALUKA BASODA, DISTRICT VIDISHA464221
VIDISHA
VIDISHA
MADHYA PRADESH
91
8319552430
BANK OF' INDIA
BKID0MG7049
VIDISHA
23,KHARI PHATAK RD VI
VIDISHA
VIDISHA
MADHYA PRADESH
91
982758836
BANK OF' INDIA
BKID0MG7048
EVE BEGUMGANJ
BEGAMGANJ, TAH. BEGAMGANJ, DISTT. RAISEN
RAISEN
RAISEN
MADHYA PRADESH
91
9993928661
BANK OF' INDIA
BKID0MG7047
UCHERA JAMUNIA
VILL. UCHERA JAMUNIA, TAH. SILWANI, DISTT. RAISEN
RAISEN
RAISEN
MADHYA PRADESH
91
9893339610
BANK OF' INDIA
BKID0MG7046
TEKAPAR GARHI
VILL. GAIRATGANJ, TAH. GAIRATGANJ, DISTT. RAISEN
RAISEN
RAISEN
MADHYA PRADESH
91
9826972286
BANK OF' INDIA
BKID0MG7045
SANCHI
VIDISHA ROAD, SANCHI, DISTT. RASIEN
RAISEN
RAISEN
MADHYA PRADESH
91
8839709957
BANK OF' INDIA
BKID0MG7044
MARKETRAISEN
BUS STAND, VIDISHA ROAD, RAISEN, DISTT. RAISEN
RAISEN
RAISEN
MADHYA PRADESH
91
7999233764
BANK OF' INDIA
BKID0MG7043
GOHARGANJ
VILL. GOHARGANJ, TAH. GOHARGANJ, DISTT. RAISEN
RAISEN
RAISEN
MADHYA PRADESH
91
9827289459
BANK OF' INDIA
BKID0MG7042
AMARAVAD
VILL. AMRAVAD, TAH. BARELI, DISTT. RAISEN
RAISEN
RAISEN
MADHYA PRADESH
91
9179963990
BANK OF' INDIA
BKID0MG7041
TAMOT
VILL. TAMOT, TAH. GOHARGANJ, DISTT. RAISEN
RAISEN
RAISEN
MADHYA PRADESH
91
7747903340
BANK OF' INDIA
BKID0MG7040
SULTANGANJ
VILL. SULTANGANJ, TAH. BEGAMGANJ, DISTT. RAISEN
RAISEN
RAISEN
MADHYA PRADESH
91
9826459639
BANK OF' INDIA
BKID0MG7039
KHARBAI
VILL. KHARBAI, TAH. RAISEN, DISTT. RAISEN
RAISEN
RAISEN
MADHYA PRADESH
91
8269810441
BANK OF' INDIA
BKID0MG7038
OBEDULLAGANJ
OBEDULLAGANJ, TAH. GOHARGANJ, DISTT. RAISEN
RAISEN
RAISEN
MADHYA PRADESH
91
9827307221
BANK OF' INDIA
BKID0MG7037
PANJARA
VILL. PANJRA, TAH. UDAIPURA, DISTT. RAISEN
RAISEN
RAISEN
MADHYA PRADESH
91
9425653265
BANK OF' INDIA
BKID0MG7036
CHANDAN PIPALIY
VILL. CHANDAN PIPLIYA, TAH. SILWANI, DISTT. RAISEN
RAISEN
RAISEN
MADHYA PRADESH
91
8109170579
BANK OF' INDIA
BKID0MG7035
CHIKLOD
VILL. CHIKLOD, TAH. GOHARGANJ, DISTT. RAISEN
RAISEN
RAISEN
MADHYA PRADESH
91
9993415335
BANK OF' INDIA
BKID0MG7034
MANDIDEEP
NH 69, OPPO. PETROL PUMP, MANDIDEEP, DISTT. RAISEN
RAISEN
RAISEN
MADHYA PRADESH
91
9893265603
BANK OF' INDIA
BKID0MG7033
NAKTARA
VILL. NAKTARA, TAH. RAISEN, DISTT. RAISEN
RAISEN
RAISEN
MADHYA PRADESH
91
9826014007
BANK OF' INDIA
BKID0MG7032
UDAIPURA
POSTTEHSILUDAYPURA, DISTTRAISEN464770
RAISEN
RAISEN
MADHYA PRADESH
91
9827250560
BANK OF' INDIA
BKID0MG7031
BEGAMGANJ
VILL. BEGAMGANJ, TAH. BEGAMGANJ, DISTT. RAISEN
RAISEN
RAISEN
MADHYA PRADESH
91
8770772573
BANK OF' INDIA
BKID0MG7030
GARHI H
POSTGARHI, TEHSILGAIRATGANJ, DISTTRAISEN 464884
RAISEN
RAISEN
MADHYA PRADESH
91
9425036174
BANK OF' INDIA
BKID0MG7029
GUDAWAL
VILL. GUDAVAL, TAH. GOHARGANJ, DISTT. RAISEN
RAISEN
RAISEN
MADHYA PRADESH
91
697600066
BANK OF' INDIA
BKID0MG7028
NOORGANJ
VILL. NOORGANJ, TAH. GOHARGANJ, DISTT. RAISEN
RAISEN
RAISEN
MADHYA PRADESH
91
9826093008
BANK OF' INDIA
BKID0MG7027
DIWANGANJ
VILL. DIWANGANJ, TAH. RAISEN, DISTT. RAISEN
RAISEN
RAISEN
MADHYA PRADESH
91
9893483381
BANK OF' INDIA
BKID0MG7026
SILARI
VILL. SILARI, TAH. UDAIPURA, DISTT. RAISEN
RAISEN
RAISEN
MADHYA PRADESH
91
9752423424
BANK OF' INDIA
BKID0MG7025
SILWANI
VILL. SILWANI, TAH. SILWANI, DISTT. RAISEN
RAISEN
RAISEN
MADHYA PRADESH
91
9753693250
BANK OF' INDIA
BKID0MG7024
DEHGAON
VILL. DEHGAON, TAH. GAIRATGANJ, DISTT. RAISEN
RAISEN
RAISEN
MADHYA PRADESH
91
7974052405
BANK OF' INDIA
BKID0MG7023
BAMORI
VILL. BAMORI, TAH. SILWANI, DISTT. RAISEN
RAISEN
RAISEN
MADHYA PRADESH
91
9827300546
BANK OF' INDIA
BKID0MG7022
BHARKATCH
VILL. BHARKATCH, TAH. BARELI, DISTT. RAISEN
RAISEN
RAISEN
MADHYA PRADESH
91
9504333733
BANK OF' INDIA
BKID0MG7021
BARELI
VILL. BARELI, TAH. BARELI, DISTT. RAISEN
RAISEN
RAISEN
MADHYA PRADESH
91
9425045271
BANK OF' INDIA
BKID0MG7020
KHARGONE
VILL. KHARGONE, TAH. BARELI, DISTT. RAISEN
RAISEN
RAISEN
MADHYA PRADESH
91
9425654984
BANK OF' INDIA
BKID0MG7019
PATANDEO
MUKHARJI CHOUK, SAGAR ROAD,
RAISEN
RAISEN
MADHYA PRADESH
91
7024142993
BANK OF' INDIA
BKID0MG7018
SULTANPUR
VILL. SULTANPUR, TAH. GOHARGANJ, DISTT. RAISEN
RAISEN
RAISEN
MADHYA PRADESH
91
9425493537
BANK OF' INDIA
BKID0MG7017
DEVARI
VILL. DEVRI, TAH. UDAIPURA, DISTT. RAISEN
RAISEN
RAISEN
MADHYA PRADESH
91
9893186732
BANK OF' INDIA
BKID0MG7016
BADI
VILL. BADI, TAH. BARELI, DISTT. RAISEN
RAISEN
RAISEN
MADHYA PRADESH
91
9425374817
BANK OF' INDIA
BKID0MG7015
SALAMATPUR
VILL. SALAMATPUR, TAH. RAISEN, DISTT. RAISEN
RAISEN
RAISEN
MADHYA PRADESH
91
9407284400
BANK OF' INDIA
BKID0MG7014
RATIBAD
RATIBAD,BLOCK PHANDA,TAHSIL HUZUR,DISTT. BHOPAL
BHOPAL
BHOPAL
MADHYA PRADESH
91
9425369939
BANK OF' INDIA
BKID0MG7013
SAKET NAGAR
MIG 54, SEC. 2A, SAKET NAGAR, BHOPAL
BHOPAL
BHOPAL
MADHYA PRADESH
91
9636716008
BANK OF' INDIA
BKID0MG7012
MISROD
NEAR BHOPAL CITY HOSPITAL, BAGLI ROAD, MADAN MARKET, MISROD, BHOPAL
BHOPAL
BHOPAL
MADHYA PRADESH
91
8839218633
BANK OF' INDIA
BKID0MG7011
KATARA HILLS
GA 1617, SPRING VALLEY ARCADE, KATARA HILLS, BHOPAL
BHOPAL
BHOPAL
MADHYA PRADESH
91
6264406622
BANK OF' INDIA
BKID0MG7010
KAROND
6, ASHIYANA COLONY, BERASIA ROAD, KAROND, BHOPAL
BHOPAL
BHOPAL
MADHYA PRADESH
91
6260001880
BANK OF' INDIA
BKID0MG7009
NIPANIA JAT
VILL. NIPANIA JAT, TAH. HUZUR, DISTT. BHOPAL
BHOPAL
BHOPAL
MADHYA PRADESH
91
8565948501
BANK OF' INDIA
BKID0MG7008
DILLOD
VILL. DILLOD, TAH. BERASIA, DISTT. BHOPAL
BHOPAL
BHOPAL
MADHYA PRADESH
91
8085844682
BANK OF' INDIA
BKID0MG7007
DAMKHEDA
UG 137, MINAL SHOPPING MALL, MINAL RESIDENCY, J. K. ROAD, BHOPAL
BHOPAL
BHOPAL
MADHYA PRADESH
91
7770920062
BANK OF' INDIA
BKID0MG7006
LALGHATI
192, JAIN NAGAR, GUFA MANDIR ROAD, MANAS MARRIAGE GARDEN, LALGHATI, BHOPAL
BHOPAL
BHOPAL
MADHYA PRADESH
91
7587664301
BANK OF' INDIA
BKID0MG7005
BAIRAGARH CHICHLI
PLOT NO. 2, MAHABALI NAGAR, KOLAR ROAD, BHOPAL
BHOPAL
BHOPAL
MADHYA PRADESH
91
9425044201
BANK OF' INDIA
BKID0MG7004
BARKHEDA BARAMAD
VILL. SONKATCH, TAH. BERASIA, DISTT. BHOPAL
BHOPAL
BHOPAL
MADHYA PRADESH
91
9926980812
BANK OF' INDIA
BKID0MG7003
SHAHPURA
BRANCH SHAHPURA HX 11, E7 EXTENSION ARERA COLONY DISTRICT BHOPAL 462016
BHOPAL
BHOPAL
MADHYA PRADESH
91
9425080116
BANK OF' INDIA
BKID0MG7002
SUHAYA
VILL. SUHAYA, TAH. BERASIA, DISTT. VIDISHA
BHOPAL
BHOPAL
MADHYA PRADESH
91
7000541805
BANK OF' INDIA
BKID0MG7001
BERASIA
BUS STAND, BERASIA, DISTT. BERASIA
BHOPAL
BHOPAL
MADHYA PRADESH
91
9425647234
BANK OF' INDIA
BKID0MG7000
RO BHOPAL
BANK OF INDIA BUILDING ARERA HILLS, JAIL ROAD, BHOPAL
BHOPAL
BHOPAL
MADHYA PRADESH
91
7987296057
BANK OF' INDIA
BKID0MG6103
MANDU
MANDU
DHAR
DHAR
MADHYA PRADESH
91
9424065821
BANK OF' INDIA
BKID0MG6101
BIDAWAL
BIDAWAL
DHAR
DHAR
MADHYA PRADESH
91
8770512151
BANK OF' INDIA
BKID0MG6100
TIRLA
TIRLA
DHAR
DHAR
MADHYA PRADESH
91
7698853372
BANK OF' INDIA
BKID0MG6099
KOD
KOD
DHAR
DHAR
MADHYA PRADESH
91
7747010387
BANK OF' INDIA
BKID0MG6098
DIGHTHAN
DIGHTHAN
DHAR
DHAR
MADHYA PRADESH
91
7869848112
BANK OF' INDIA
BKID0MG6096
GUNAWAD
GUNAWAD
DHAR
DHAR
MADHYA PRADESH
91
7747010383
BANK OF' INDIA
BKID0MG6095
BAGDI
BAGDI
DHAR
DHAR
MADHYA PRADESH
91
9893110400
BANK OF' INDIA
BKID0MG6094
SADALPUR
SADALPUR
DHAR
DHAR
MADHYA PRADESH
91
9425937442
BANK OF' INDIA
BKID0MG6093
DASAI
DASAI
DHAR
DHAR
MADHYA PRADESH
91
9179843608
BANK OF' INDIA
BKID0MG6090
PITHAMPUR
PITHAMPUR
DHAR
DHAR
MADHYA PRADESH
91
9755164962
BANK OF' INDIA
BKID0MG6089
TRIMURTI NAGAR
TRIMURTI NAGAR
DHAR
DHAR
MADHYA PRADESH
91
7747010389
BANK OF' INDIA
BKID0MG6088
GHATABILLOD
GHATABILLOD
DHAR
DHAR
MADHYA PRADESH
91
9826713932
BANK OF' INDIA
BKID0MG6086
NISARPUR
NISARPUR
DHAR
DHAR
MADHYA PRADESH
91
8120008960
BANK OF' INDIA
BKID0MG6084
BADNAWAR
BADNAWAR
DHAR
DHAR
MADHYA PRADESH
91
7089903351
BANK OF' INDIA
BKID0MG6083
BAKANER
BAKANER
DHAR
DHAR
MADHYA PRADESH
91
9098423134
BANK OF' INDIA
BKID0MG6081
ALI
ALI
DHAR
DHAR
MADHYA PRADESH
91
8120008959
BANK OF' INDIA
BKID0MG6080
AMBADA
AMBADA
DHAR
DHAR
MADHYA PRADESH
91
8989411466
BANK OF' INDIA
BKID0MG6079
GANPUR
GANPUR
DHAR
DHAR
MADHYA PRADESH
91
9589639492
BANK OF' INDIA
BKID0MG6077
KANWAN
KANWAN
DHAR
DHAR
MADHYA PRADESH
91
7440410223
BANK OF' INDIA
BKID0MG6076
RAJOD
RAJOD
DHAR
DHAR
MADHYA PRADESH
91
7898258928
BANK OF' INDIA
BKID0MG6075
RINGNOD
RINGNOD
DHAR
DHAR
MADHYA PRADESH
91
9340967067
BANK OF' INDIA
BKID0MG6072
DHAMNOD
DHAMNOD
DHAR
DHAR
MADHYA PRADESH
91
9174400410
BANK OF' INDIA
BKID0MG6071
AHOO
AHOO
DHAR
DHAR
MADHYA PRADESH
91
7747010385
BANK OF' INDIA
BKID0MG6070
DHOLANA
DHOLANA
DHAR
DHAR
MADHYA PRADESH
91
8120008944
BANK OF' INDIA
BKID0MG6069
PIPLIYA
PIPLIYA
DHAR
DHAR
MADHYA PRADESH
91
9172576627
BANK OF' INDIA
BKID0MG6067
PADIYAL
PADIYAL
DHAR
DHAR
MADHYA PRADESH
91
9977164113
BANK OF' INDIA
BKID0MG6066
DAHI
DAHI
DHAR
DHAR
MADHYA PRADESH
91
9993308476
BANK OF' INDIA
BKID0MG6064
TANDA
TANDA
DHAR
DHAR
MADHYA PRADESH
91
8120008981
BANK OF' INDIA
BKID0MG6063
AMJHERA
AMJHERA
DHAR
DHAR
MADHYA PRADESH
91
9926634100
BANK OF' INDIA
BKID0MG6060
SANDALA
SANDALA
DHAR
DHAR
MADHYA PRADESH
91
9893630300
BANK OF' INDIA
BKID0MG6059
LUNHERA BU
LUNHERA BU.
DHAR
DHAR
MADHYA PRADESH
91
9981345776
BANK OF' INDIA
BKID0MG6058
SEMALDA
SEMALDA
DHAR
DHAR
MADHYA PRADESH
91
7354881961
BANK OF' INDIA
BKID0MG6057
SALKANPUR
SALKANPUR
DHAR
DHAR
MADHYA PRADESH
91
7725895515
BANK OF' INDIA
BKID0MG6052
NALCHHA
NALCHHA
DHAR
DHAR
MADHYA PRADESH
91
8120008938
BANK OF' INDIA
BKID0MG6049
KARODKALA
KARODKALA
DHAR
DHAR
MADHYA PRADESH
91
8959931985
BANK OF' INDIA
BKID0MG6046
SUSARI
SUSARI
DHAR
DHAR
MADHYA PRADESH
91
7772940667
BANK OF' INDIA
BKID0MG6045
SARDARPUR
SARDARPUR
DHAR
DHAR
MADHYA PRADESH
91
8120008982
BANK OF' INDIA
BKID0MG6044
NAGADA
NAGADA
DHAR
DHAR
MADHYA PRADESH
91
9754769486
BANK OF' INDIA
BKID0MG6043
JEERABAD
JEERABAD
DHAR
DHAR
MADHYA PRADESH
91
9009575138
BANK OF' INDIA
BKID0MG6042
GANDHWANI
GANDHWANI
DHAR
DHAR
MADHYA PRADESH
91
9926002641
BANK OF' INDIA
BKID0MG6041
KALIBAWADI
KALIBAWADI
DHAR
DHAR
MADHYA PRADESH
91
9981389913
BANK OF' INDIA
BKID0MG6040
AJANDA
AJANDA
DHAR
DHAR
MADHYA PRADESH
91
8120008937
BANK OF' INDIA
BKID0MG6039
UMARBAN
UMARBAN
DHAR
DHAR
MADHYA PRADESH
91
9926085529
BANK OF' INDIA
BKID0MG6035
BODHWADA
BODHWADA
DHAR
DHAR
MADHYA PRADESH
91
7440410224
BANK OF' INDIA
BKID0MG6033
LOHARI
LOHARI
DHAR
DHAR
MADHYA PRADESH
91
7225931467
BANK OF' INDIA
BKID0MG6031
TILGARA
TILGARA
DHAR
DHAR
MADHYA PRADESH
91
9669524666
BANK OF' INDIA
BKID0MG6030
BHENSOLA
BHENSOLA
DHAR
DHAR
MADHYA PRADESH
91
7389993100
BANK OF' INDIA
BKID0MG6029
DHULET
DHULET
DHAR
DHAR
MADHYA PRADESH
91
7879781771
BANK OF' INDIA
BKID0MG6026
TEESGAON
TEESGAON
DHAR
DHAR
MADHYA PRADESH
91
9826508126
BANK OF' INDIA
BKID0MG6025
DEDLA
DEDLA
DHAR
DHAR
MADHYA PRADESH
91
7000643816
BANK OF' INDIA
BKID0MG6024
SINGHANA
SINGHANA
DHAR
DHAR
MADHYA PRADESH
91
8120008963
BANK OF' INDIA
BKID0MG6023
TAWALAI
TAWALAI
DHAR
DHAR
MADHYA PRADESH
91
8827921223
BANK OF' INDIA
BKID0MG6022
DHARAMPURI
DHARAMPURI
DHAR
DHAR
MADHYA PRADESH
91
8120008972
BANK OF' INDIA
BKID0MG6021
LABRIYA
LABRIYA
DHAR
DHAR
MADHYA PRADESH
91
9926041151
BANK OF' INDIA
BKID0MG6020
RAJGARH
RAJGARH
DHAR
DHAR
MADHYA PRADESH
91
7354881943
BANK OF' INDIA
BKID0MG6017
KAROLI
KAROLI
DHAR
DHAR
MADHYA PRADESH
91
8462963125
BANK OF' INDIA
BKID0MG6016
CHADAWAD
CHADAWAD
DHAR
DHAR
MADHYA PRADESH
91
7989967556
BANK OF' INDIA
BKID0MG6015
BAGH
BAGH
DHAR
DHAR
MADHYA PRADESH
91
7354881944
BANK OF' INDIA
BKID0MG6014
DEHRI
DEHRI
DHAR
DHAR
MADHYA PRADESH
91
6261125450
BANK OF' INDIA
BKID0MG6013
DHAR
DHAR
DHAR
DHAR
MADHYA PRADESH
91
9425478292
BANK OF' INDIA
BKID0MG6012
MANAWAR
MANAWAR
DHAR
DHAR
MADHYA PRADESH
91
8120008980
BANK OF' INDIA
BKID0MG6011
KUKSHI
KUKSHI
DHAR
DHAR
MADHYA PRADESH
91
7440410221
BANK OF' INDIA
BKID0MG6010
BAKHATGARH
BAKHATGARH
DHAR
DHAR
MADHYA PRADESH
91
9424862975
BANK OF' INDIA
BKID0MG6009
GUJARI
GUJARI
DHAR
DHAR
MADHYA PRADESH
91
9826071617
BANK OF' INDIA
BKID0MG6008
BARMANDAL
BARMANDAL
DHAR
DHAR
MADHYA PRADESH
91
9098152778
BANK OF' INDIA
BKID0MG6007
PITHAMPUR INDUS
PITHAMPUR INDUS.
DHAR
DHAR
MADHYA PRADESH
91
9752775320
BANK OF' INDIA
BKID0MG6006
KHACHRODA
KHACHRODA
DHAR
DHAR
MADHYA PRADESH
91
7869503098
BANK OF' INDIA
BKID0MG6005
SUNDREL
SUNDREL
DHAR
DHAR
MADHYA PRADESH
91
9893944680
BANK OF' INDIA
BKID0MG6004
DATTIGARA
DATTIGARA
DHAR
DHAR
MADHYA PRADESH
91
7354881948
BANK OF' INDIA
BKID0MG6003
KAILASH NAGAR
KAILASH NAGAR
DHAR
DHAR
MADHYA PRADESH
91
9425983377
BANK OF' INDIA
BKID0MG6002
KHALGHAT
KHALGHAT
DHAR
DHAR
MADHYA PRADESH
91
9755352235
BANK OF' INDIA
BKID0MG6001
JOLANA
JOLANA
DHAR
DHAR
MADHYA PRADESH
91
9754855800
BANK OF' INDIA
BKID0MG6000
REGIONAL OFFICE DHAR
1093, SILVER HILLS, INDORE AHEMDABAD ROAD,DHAR
DHAR
DHAR
MADHYA PRADESH
91
9826620686
BANK OF' INDIA
BKID0MG5102
KHAWASA
SADAR BAJAR,KHAWASA,
JHABUA
JHABUA
MADHYA PRADESH
91
9887247224
BANK OF' INDIA
BKID0MG5097
SARANGI
RATLAM SARANGI,SARANGI,
JHABUA
JHABUA
MADHYA PRADESH
91
9074547660
BANK OF' INDIA
BKID0MG5092
JHASEC MP
ANAND BHAWAN,RAMKRISHNA NAGAR, SARDAR PATEL MARG RAJGARH NAKA,JHABUA ,
JHABUA
JHABUA
MADHYA PRADESH
91
8889055584
BANK OF' INDIA
BKID0MG5091
PETLAWAD
KANWAN ROAD ,PETLAWAD,
JHABUA
JHABUA
MADHYA PRADESH
91
8120008916
BANK OF' INDIA
BKID0MG5074
ALIRAJPUR
MAYA BHAWAN,SUBHASH MARG NEAR BUS STAND,ALIRAJPUR,
ALIRAJPUR
ALIRAJPUR
MADHYA PRADESH
91
9425190637
BANK OF' INDIA
BKID0MG5062
CHANDPUR
SADAR BAJAR,CHANDPUR,CHANDPUR,
ALIRAJPUR
ALIRAJPUR
MADHYA PRADESH
91
7747019537
BANK OF' INDIA
BKID0MG5061
BOLASA
BOLASA JHAKNAWADA ROAD,BOLASA,
JHABUA
JHABUA
MADHYA PRADESH
91
9009344899
BANK OF' INDIA
BKID0MG5056
SAMOI
SCHOOL FALIYA,SAMOI,
JHABUA
JHABUA
MADHYA PRADESH
91
8120008918
BANK OF' INDIA
BKID0MG5055
SONDWA
HEMANT VIHAR,WALPUR ROAD,SONDWA,
ALIRAJPUR
ALIRAJPUR
MADHYA PRADESH
91
9981111853
BANK OF' INDIA
BKID0MG5054
BARZAR
MADHAVLAL SAHU,MAIN BAJAR ROAD BARZAR,BARZAR,
ALIRAJPUR
ALIRAJPUR
MADHYA PRADESH
91
7067863001
BANK OF' INDIA
BKID0MG5053
BORI
WASKALE NIWAS,PARA ROAD,BORI,
ALIRAJPUR
ALIRAJPUR
MADHYA PRADESH
91
8349969195
BANK OF' INDIA
BKID0MG5051
BHABHRA
NAYA BAJAR,CHANDRA SHEKHAR AZAD NAGAR,
ALIRAJPUR
ALIRAJPUR
MADHYA PRADESH
91
9479930521
BANK OF' INDIA
BKID0MG5048
KAKANWANI
SADAR BAZAR,KAKANWANI,
JHABUA
JHABUA
MADHYA PRADESH
91
8821804025
BANK OF' INDIA
BKID0MG5047
MEGHNAGAR
AMAR SHANTI,JHABUA ROAD,POLICE LINE K SAMNE,MEGHNAGAR,
JHABUA
JHABUA
MADHYA PRADESH
91
8120008911
BANK OF' INDIA
BKID0MG5038
RANAPUR
SHIVAJI CHOK,RANAPUR,
JHABUA
JHABUA
MADHYA PRADESH
91
8120008913
BANK OF' INDIA
BKID0MG5037
CHHAKTALA
CHHAKTALA KAWAT ROAD,CHHAKTALA,
ALIRAJPUR
ALIRAJPUR
MADHYA PRADESH
91
8503876515
BANK OF' INDIA
BKID0MG5034
KUNDANPUR
RANAPUR ROAD,KUNDANPUR,
JHABUA
JHABUA
MADHYA PRADESH
91
7747019538
BANK OF INDIA
BKID0MG5032
THANDLA
GOVT. HOSPITOL ROAD ,THANDLA,
JHABUA
JHABUA
MADHYA PRADESH
91
8770236674
BANK OF' INDIA
BKID0MG5028
UMARKOT
NEAR RAJWADA,UMERKOT,
JHABUA
JHABUA
MADHYA PRADESH
91
9407437547
BANK OF' INDIA
BKID0MG5024
SEGAON BARWANI
NA,IN FRONT OF SAWARIYA HOTEL, BEFORE OLYMPIC CIRCLE, ANJAD BARWANI ROAD ,BARWANI,
BARWANI
BARWANI
MADHYA PRADESH
91
9589560325
BANK OF' INDIA
BKID0MG5023
DANOD ROAD
RAJPUR ROAD,DANOD
BARWANI
BARWANI
MADHYA PRADESH
91
7747019527
BANK OF' INDIA
BKID0MG5022
UDAIGARH
MAIN ROAD, UDAIGARH,UDAIGARH,
ALIRAJPUR
ALIRAJPUR
MADHYA PRADESH
91
8109757245
BANK OF' INDIA
BKID0MG5021
PARWALIYA
MAIN ROAD PARVALIA,PARVALIA,
JHABUA
JHABUA
MADHYA PRADESH
91
9907230224
BANK OF' INDIA
BKID0MG5020
BARWET
SARANGI BARWET ROAD,BARVET,
JHABUA
JHABUA
MADHYA PRADESH
91
7747019543
BANK OF' INDIA
BKID0MG5019
AMBUA
MAIN ROAD,AMBUA,
ALIRAJPUR
ALIRAJPUR
MADHYA PRADESH
91
8120008922
BANK OF' INDIA
BKID0MG5018
NANPUR
VANI SADAN,K.B.ROAD NANPUR,NANPUR,
ALIRAJPUR
ALIRAJPUR
MADHYA PRADESH
91
9977101040
BANK OF' INDIA
BKID0MG5017
PITOL
SADAR BAJAR,PITOL,
JHABUA
JHABUA
MADHYA PRADESH
91
7354881955
BANK OF' INDIA
BKID0MG5016
RAMBHAPUR
NAYA BAJAR ,RAMBHAPUR,
JHABUA
JHABUA
MADHYA PRADESH
91
9754413256
BANK OF' INDIA
BKID0MG5015
BAMNIYA
NARELA ROAD BAMNIYA,BAMNIYA,
JHABUA
JHABUA
MADHYA PRADESH
91
9424094890
BANK OF' INDIA
BKID0MG5014
PATI
DANGI HOUSE,BARWANI ROAD,PATI,
BARWANI
BARWANI
MADHYA PRADESH
91
9752533236
BANK OF' INDIA
BKID0MG5013
WALPUR
BAJAR FALIYA WALPUR,WALPUR,
ALIRAJPUR
ALIRAJPUR
MADHYA PRADESH
91
6266514394
BANK OF' INDIA
BKID0MG5012
MENIMATA
SUKHPURI ROAD,MENIMATA,MENIMATA,
BADWANI
BADWANI
MADHYA PRADESH
91
7747019514
BANK OF' INDIA
BKID0MG5011
PARA
BORI ROAD KOTHARI MARKET,PARA,
JHABUA
JHABUA
MADHYA PRADESH
91
9893222623
BANK OF' INDIA
BKID0MG5010
KHATTALI
TILAK MARG,KHATTALI,
ALIRAJPUR
ALIRAJPUR
MADHYA PRADESH
91
9685026973
BANK OF' INDIA
BKID0MG5009
KARWAD
SADAR BAJAR,KARWAD,
JHABUA
JHABUA
MADHYA PRADESH
91
8120008915
BANK OF' INDIA
BKID0MG5008
KATHIWARA
RAJMAHAL MARG,OPPOSITE FOREST GUEST HOUSE,KATHIWARA,
ALIRAJPUR
ALIRAJPUR
MADHYA PRADESH
91
8120089991
BANK OF' INDIA
BKID0MG5007
UMRALI
MAIN ROAD,UMRALI,
ALIRAJPUR
ALIRAJPUR
MADHYA PRADESH
91
8989175015
BANK OF' INDIA
BKID0MG5006
RAIPURIYA
MAIN ROAD,RAIPURIYA,
JHABUA
JHABUA
MADHYA PRADESH
91
8234002005
BANK OF' INDIA
BKID0MG5005
JOBAT
JHABUA MAIN ROAD, JOBAT
ALIRAJPUR
ALIRAJPUR
MADHYA PRADESH
91
8120008995
BANK OF' INDIA
BKID0MG5004
KALYANPURA
RAJWADA BHAWAN,SADAR BAJAR ,KALYANPURA,
JHABUA
JHABUA
MADHYA PRADESH
91
7354881952
BANK OF' INDIA
BKID0MG5003
KALIDEVI
MAIN ROAD,KALIDEVI,
JHABUA
JHABUA
MADHYA PRADESH
91
8109085028
BANK OF' INDIA
BKID0MG5002
JHABUA MAIN
AZADCHOK ,JHABUA,JHABUA ,
JHABUA
JHABUA
MADHYA PRADESH
91
7489465353
BANK OF' INDIA
BKID0MG5001
JHAKNAWDA
GRAM PANCHAYAT BHAWAN ,PETLAWAD RAJGARH MAIN ROAD,JHAKNAWADA,
JHABUA
JHABUA
MADHYA PRADESH
91
8109489218
BANK OF' INDIA
BKID0MG5000
REGIONAL OFFICE JHABUA
ANAND BHAWAN,RAMKRISHNA NAGAR, SARDAR PATEL MARG RAJGARH NAKA,JHABUA ,
JHABUA
JHABUA
MADHYA PRADESH
91
6264407447
BANK OF' INDIA
BKID0MG1542
UMARIA
POST UMARIA TEHSIL BANDHAVGARH
UMARIA
UMARIA
MADHYA PRADESH
91
8226013922
BANK OF' INDIA
BKID0MG1541
PIPARIA
POST PIPARIYA TEHSIL MAANPUR
UMARIA
UMARIA
MADHYA PRADESH
91
8226010237
BANK OF' INDIA
BKID0MG1540
AKHADAR
POST AKHDAR TEHSIL BANDHAVGARH
UMARIA
UMARIA
MADHYA PRADESH
91
8226006982
BANK OF' INDIA
BKID0MG1539
NAVGAJA
POSTCHANDIA, BLOCKBANDHAVGARH 484660
UMARIA
UMARIA
MADHYA PRADESH
91
8226010228
BANK OF' INDIA
BKID0MG1538
NOWROZABAD
POSTNOWROZABAD COLLIERY,BLOCKBANDHAVGARH 484555
UMARIA
UMARIA
MADHYA PRADESH
91
8226010227
BANK OF' INDIA
BKID0MG1537
MANPUR
POST TEHSIL MANPUR
UMARIA
UMARIA
MADHYA PRADESH
91
8226013923
BANK OF' INDIA
BKID0MG1536
BIRSINGHPUR
POSTBIRSINGHPUR,BLOCKBIRSINGHPUR 484551
UMARIA
UMARIA
MADHYA PRADESH
91
8226013934
BANK OF' INDIA
BKID0MG1535
KOUDIA
POST KOUDIA
UMARIA
UMARIA
MADHYA PRADESH
91
8226010219
BANK OF' INDIA
BKID0MG1534
AMARPUR
POSTAMARPUR, BLOCKBANDHAVGARH 484661
UMARIA
UMARIA
MADHYA PRADESH
91
8226010214
BANK OF' INDIA
BKID0MG1533
CHILHARI
POSTCHILHARI,BLOCK BIRSINGHPUR 484661
UMARIA
UMARIA
MADHYA PRADESH
91
8226010212
BANK OF' INDIA
BKID0MG1532
GHUNGHUTI
POSTGHUNGHUTI,BLOCKBIRSINGHPUR 484551
UMARIA
UMARIA
MADHYA PRADESH
91
8226010208
BANK OF' INDIA
BKID0MG1531
BALPURWA
POSTSHAHDOL, BLOCK SOHAGPUR 484001
SHAHDOL
SHAHDOL
MADHYA PRADESH
91
8226006987
BANK OF' INDIA
BKID0MG1530
CHUHIRI
POSTCHUHIRI, BLOCK SOHAGPUR 484110
SHAHDOL
SHAHDOL
MADHYA PRADESH
91
8226010243
BANK OF' INDIA
BKID0MG1529
NEWBARONDHA
POST BEOHARI TEHSIL BEOHARI
SHAHDOL
SHAHDOL
MADHYA PRADESH
91
8226010242
BANK OF' INDIA
BKID0MG1528
BHUIBANDH
POST SHAHDOL, BLOCKSOHAGPUR 484001
SHAHDOL
SHAHDOL
MADHYA PRADESH
91
8226006986
BANK OF' INDIA
BKID0MG1527
SINGHPUR
POST SINGHPUR
SHAHDOL
SHAHDOL
MADHYA PRADESH
91
8226010235
BANK OF' INDIA
BKID0MG1526
BAMHOURI BANGWAR
POSTBAMHOURI, BLOCK BURHAR 484669
SHAHDOL
SHAHDOL
MADHYA PRADESH
91
8226013928
BANK OF' INDIA
BKID0MG1525
TIHAKI
POSTTIHKI, BLOCKBEOHARI 484774
SHAHDOL
SHAHDOL
MADHYA PRADESH
91
8226010233
BANK OF' INDIA
BKID0MG1524
BURHAR
POST BURHAR TEHSIL SOHAGPUR
SHAHDOL
SHAHDOL
MADHYA PRADESH
91
8224012605
BANK OF' INDIA
BKID0MG1523
RASMOHANI
POSTRASMOHINI, BLOCK JAITPUR 484669
SHAHDOL
SHAHDOL
MADHYA PRADESH
91
8226010230
BANK OF' INDIA
BKID0MG1522
PAPOUNDH
POST PAPOUNDH, BLOCK BEOHARI 484774
SHAHDOL
SHAHDOL
MADHYA PRADESH
91
8226010226
BANK OF' INDIA
BKID0MG1521
AMLAI
POSTAMLAI, BLOCK BURHAR 484117
SHAHDOL
SHAHDOL
MADHYA PRADESH
91
8226010225
BANK OF' INDIA
BKID0MG1520
DHANPURI
POSTDHANPURI, BLOCKBURHAR 484114
SHAHDOL
SHAHDOL
MADHYA PRADESH
91
8226013924
BANK OF' INDIA
BKID0MG1519
CHHATWAI
POSTCHHATWAI, BLOCK SOHAGPUR 484001
SHAHDOL
SHAHDOL
MADHYA PRADESH
91
8226010215
BANK OF' INDIA
BKID0MG1518
BANSUKLI
POSTBANSUKLI, BLOCKJAISINGHNAGAR 484110
SHAHDOL
SHAHDOL
MADHYA PRADESH
91
8226010213
BANK OF' INDIA
BKID0MG1517
JAISINGHNAGAR
POST JAISINGHNAGAR TEHSIL JAISINGHNAGAR
SHAHDOL
SHAHDOL
MADHYA PRADESH
91
8226006984
BANK OF' INDIA
BKID0MG1516
RAJENDRANAGAR
POSTKHAIRAHA, BLOCKBURHAR 484110
SHAHDOL
SHAHDOL
MADHYA PRADESH
91
8226010206
BANK OF' INDIA
BKID0MG1515
BUDWA
POSTBUDWA, BLOCK BEOHARI 484776
SHAHDOL
SHAHDOL
MADHYA PRADESH
91
8226013927
BANK OF' INDIA
BKID0MG1514
SHAHDOL
POST SHAHDOL BEHIND SBI MAIN BRANCH
SHAHDOL
SHAHDOL
MADHYA PRADESH
91
8226010204
BANK OF' INDIA
BKID0MG1513
BASANIHA
POSTRAJENDRAGRAM, BLOCKPUSHPRAJGARH 484881
ANUPPUR
ANUPPUR
MADHYA PRADESH
91
8226010244
BANK OF' INDIA
BKID0MG1512
MEDIARAS
POST MEDIARAS, BLOCK ANOOPPUR 484224
ANUPPUR
ANUPPUR
MADHYA PRADESH
91
8226010240
BANK OF' INDIA
BKID0MG1511
ANUPPUR
POST ANUPPUR TEHSIL ANUPPUR
ANUPPUR
ANUPPUR
MADHYA PRADESH
91
8226010239
BANK OF' INDIA
BKID0MG1510
KOTMA
POST KOTMA TEHSIL KOTMA
ANUPPUR
ANUPPUR
MADHYA PRADESH
91
8226010231
BANK OF' INDIA
BKID0MG1509
DEOHARA
POSTSANJAY KOYLA NAGAR, BLOCK ANOOPPUR 484120
ANUPPUR
ANUPPUR
MADHYA PRADESH
91
8226010229
BANK OF' INDIA
BKID0MG1508
BENIBARI
BLOCK PUSPRAJGARH 484881
ANUPPUR
ANUPPUR
MADHYA PRADESH
91
8226010224
BANK OF' INDIA
BKID0MG1507
NIGWANI
POSTNIGWANI, BLOCK KOTMA 484771
ANUPPUR
ANUPPUR
MADHYA PRADESH
91
8226006981
BANK OF' INDIA
BKID0MG1506
BIJURI
POST BIJURI TEHSIL KOTMA
ANUPPUR
ANUPPUR
MADHYA PRADESH
91
8226010221
BANK OF' INDIA
BKID0MG1505
CHACHAI
MPEB COLONY CHACHAI
ANUPPUR
ANUPPUR
MADHYA PRADESH
91
8226010217
BANK OF' INDIA
BKID0MG1504
AMADAND
POSTMALGA, BLOCK KOTMA 484440
ANUPPUR
ANUPPUR
MADHYA PRADESH
91
8226010216
BANK OF' INDIA
BKID0MG1503
FUNGA
POST FUNBGA TEHSIL ANUPPUR
ANUPPUR
ANUPPUR
MADHYA PRADESH
91
8226013929
BANK OF' INDIA
BKID0MG1502
KHUNTATOLA
POSTBEED, BLOCKJAITHARI 484330
ANUPPUR
ANUPPUR
MADHYA PRADESH
91
8226010210
BANK OF' INDIA
BKID0MG1501
SAKOLA
POSTBHADRA COLLIERY,BLOCKKOTMA 484334
ANUPPUR
ANUPPUR
MADHYA PRADESH
91
8226010209
BANK OF' INDIA
BKID0MG1500
RO SHAHDOL
REGIONAL OFFICE SHAHDOL BUDHAR ROAD, SHAHDOL M.P. 484001
SHAHDOL
SHAHDOL
MADHYA PRADESH
 
8770849224
BANK OF' INDIA
BKID0MG1452
RATLAM
MITRA NIWAS ROAD GEETA MANDIR RATLAM
RATLAM
RATLAM
MADHYA PRADESH
91
8226010454
BANK OF' INDIA
BKID0MG1451
DHAMNOD
GHANDI CHOUK, DHAMNOD,RATLAM
RATLAM
RATLAM
MADHYA PRADESH
91
8226010362
BANK OF' INDIA
BKID0MG1450
KASTURBA NAGARRATLAM
67, KASTURBA NAGAR , RATLAM
RATLAM
RATLAM
MADHYA PRADESH
91
8226010355
BANK OF' INDIA
BKID0MG1449
SAILANA
SABJI MANDI POST SAILANA 457630
RATLAM
RATLAM
MADHYA PRADESH
91
8226010353
BANK OF' INDIA
BKID0MG1448
DHODHA
POST. DHODHAR 457339
RATLAM
RATLAM
MADHYA PRADESH
91
8226010352
BANK OF' INDIA
BKID0MG1447
JAORA
CHOUPATI POST.JAORA 457226
RATLAM
RATLAM
MADHYA PRADESH
91
8226010345
BANK OF' INDIA
BKID0MG1446
PIPLOD
SADAR BAZAR .PO.PIPLODA 457331
RATLAM
RATLAM
MADHYA PRADESH
91
8226010344
BANK OF' INDIA
BKID0MG1445
ALOTE
KAMLA SMRUTI,BUS STAND,A LOT,RATLAM
RATLAM
RATLAM
MADHYA PRADESH
91
8226010343
BANK OF' INDIA
BKID0MG1444
NAMLI
POST.NAMLI 457222
RATLAM
RATLAM
MADHYA PRADESH
91
8226010342
BANK OF' INDIA
BKID0MG1443
DHOSWAS
DHOSWAS,TEH.RATLAM
RATLAM
RATLAM
MADHYA PRADESH
91
8226010341
BANK OF' INDIA
BKID0MG1442
RATLAM
CHANDANI CHOUK,RATLAM 457001
RATLAM
RATLAM
MADHYA PRADESH
91
8226010328
BANK OF' INDIA
BKID0MG1441
DALUMODI BAZARRATLAM
MODI MARKET 1ST FLOOR,RATLAM
RATLAM
RATLAM
MADHYA PRADESH
91
8226010327
BANK OF' INDIA
BKID0MG1440
RAOTI
RAOTI,TEH.BAJNA,457769
RATLAM
RATLAM
MADHYA PRADESH
91
8226010318
BANK OF' INDIA
BKID0MG1439
TAL
POST. TAL DISTT. RATLAM 457118
RATLAM
RATLAM
MADHYA PRADESH
91
8226010317
BANK OF' INDIA
BKID0MG1438
SINGOLI
SINGOLI,NEEMUCH
NEEMUCH
NEEMUCH
MADHYA PRADESH
91
8226010455
BANK OF' INDIA
BKID0MG1437
ATHANA
ATHANA, TAH,JAWAD, DISTT.NEEMUCH
NEEMUCH
NEEMUCH
MADHYA PRADESH
91
8226010444
BANK OF' INDIA
BKID0MG1436
RATANGAD
POSTRATANGARH,BLOCKJAVAD
NEEMUCH
NEEMUCH
MADHYA PRADESH
91
8226010363
BANK OF' INDIA
BKID0MG1435
AMBEDKAR
AMBEDKAR MARG,NEEMUCH 458441
NEEMUCH
NEEMUCH
MADHYA PRADESH
91
8226010354
BANK OF' INDIA
BKID0MG1434
ANTRIB
VILL. POST ANTRI BUJURG 458113
NEEMUCH
NEEMUCH
MADHYA PRADESH
91
8226010350
BANK OF' INDIA
BKID0MG1433
MANASA
SADARBAZAR,MANASA,DISTT.NEEMUCH
NEEMUCH
NEEMUCH
MADHYA PRADESH
91
8226010348
BANK OF' INDIA
BKID0MG1432
JAWAD
POST.JAWAD 458224
NEEMUCH
NEEMUCH
MADHYA PRADESH
91
8226010346
BANK OF' INDIA
BKID0MG1431
KANJARDA
VILL. POST KANJARDA 458110
NEEMUCH
NEEMUCH
MADHYA PRADESH
91
8226010337
BANK OF' INDIA
BKID0MG1430
RAMPUR
POST. RAMPURA 458118
NEEMUCH
NEEMUCH
MADHYA PRADESH
91
8226010336
BANK OF' INDIA
BKID0MG1429
JAMUNIA
VILL POST.JAMUNIAKALA 458441
NEEMUCH
NEEMUCH
MADHYA PRADESH
91
8226010331
BANK OF' INDIA
BKID0MG1428
CHITAKHEDA
234,BUS STAND MARG,JAT, NEEMUCH
NEEMUCH
NEEMUCH
MADHYA PRADESH
91
8226010330
BANK OF' INDIA
BKID0MG1427
MORWAN
MORWAN,TEH.JAWAD,45848
NEEMUCH
NEEMUCH
MADHYA PRADESH
91
8226010329
BANK OF' INDIA
BKID0MG1426
PARDA
PARDA,TEH.MANASA, NEEMUCH
NEEMUCH
NEEMUCH
MADHYA PRADESH
91
8226010325
BANK OF' INDIA
BKID0MG1425
BAGANA
STATION ROAD ,BAGHANA 458441
NEEMUCH
NEEMUCH
MADHYA PRADESH
91
8226010324
BANK OF' INDIA
BKID0MG1424
KUKDESHWAR
SADAR BAZAR,KUKDESHWAR,DISTT.NEEMUCH
NEEMUCH
NEEMUCH
MADHYA PRADESH
91
8226010322
BANK OF' INDIA
BKID0MG1423
JAT
VILL. POST . JAT 458226
NEEMUCH
NEEMUCH
MADHYA PRADESH
91
9407191976
BANK OF' INDIA
BKID0MG1422
NIMUCH
KAMAL CHOUCK NIMUCH
NEEMUCH
NEEMUCH
MADHYA PRADESH
91
8226010315
BANK OF' INDIA
BKID0MG1421
NAHARGARH
NEAR BY TVS SHOW ROOM,BILLOD ROAD,NAHARGARH,TAHSEETAMAU.DISTMANDSAUR
MANDSAUR
MANDSAUR
MADHYA PRADESH
91
8226010495
BANK OF' INDIA
BKID0MG1420
SITAMAU FATAK
NEAR AGRICULTURE COLLEGE, SITAMAU FATAK, BLOCK,TAHSIL DISTT. MANDSAUR
MANDSAUR
MANDSAUR
MADHYA PRADESH
91
8226006974
BANK OF' INDIA
BKID0MG1419
SOMWARIA JAORAJAORA
36, KATJU MARG , PIPLI BAZAR,BLOCK TAHSIL JAORA , RATLAM
MANDSAUR
MANDSAUR
MADHYA PRADESH
91
8226006976
BANK OF' INDIA
BKID0MG1418
NARAYANGARH
NARAYANGARH, MANDSAUR
MANDSAUR
MANDSAUR
MADHYA PRADESH
91
8226010453
BANK OF' INDIA
BKID0MG1417
STEEL NAGAR MANDSAUR
1011, STEEL NAGAR MANDSAUR
MANDSAUR
MANDSAUR
MADHYA PRADESH
91
8226010358
BANK OF' INDIA
BKID0MG1416
SHAMGARH
JAWAHAR ROAD,SHAMGARH,
MANDSAUR
MANDSAUR
MADHYA PRADESH
91
8226010351
BANK OF' INDIA
BKID0MG1415
KALAKHAT
KALAKHET,PO. MANDSAUR 458002
MANDSAUR
MANDSAUR
MADHYA PRADESH
91
8226010349
BANK OF' INDIA
BKID0MG1414
MALHAR
POST, MALHARGADH 458339
MANDSAUR
MANDSAUR
MADHYA PRADESH
91
8226010347
BANK OF' INDIA
BKID0MG1413
SITAMAU
OPPOSITE BUS STAND,SITAMOW,MANDSAUR
MANDSAUR
MANDSAUR
MADHYA PRADESH
91
8226010340
BANK OF' INDIA
BKID0MG1412
BHANPURA
POST. BHANPURA 458775
MANDSAUR
MANDSAUR
MADHYA PRADESH
91
8226010339
BANK OF' INDIA
BKID0MG1411
GAROTH
GAROTH TEH.GAROTH,458
MANDSAUR
MANDSAUR
MADHYA PRADESH
91
8226010338
BANK OF' INDIA
BKID0MG1410
DALAUDA
DALAUDA,MANDSAUR
MANDSAUR
MANDSAUR
MADHYA PRADESH
91
8226010335
BANK OF' INDIA
BKID0MG1409
SUWASRA
POST. SUWASARA 458888
MANDSAUR
MANDSAUR
MADHYA PRADESH
91
8226010334
BANK OF' INDIA
BKID0MG1408
KANGHATI
1,KANGHATTI,TEH.MALHARGARH,MANDSAUR
MANDSAUR
MANDSAUR
MADHYA PRADESH
91
8226010333
BANK OF' INDIA
BKID0MG1407
JHARDA
2653,SADAR BAZAR,JHARDA,MANDSAUR
MANDSAUR
MANDSAUR
MADHYA PRADESH
91
8226010332
BANK OF' INDIA
BKID0MG1406
KARJU
53,KARJOO,TEH.MANDSAUR
MANDSAUR
MANDSAUR
MADHYA PRADESH
91
8226010326
BANK OF' INDIA
BKID0MG1405
PIPLIA
MANASA ROAD,GANDHI CHOWK, BAGHANA, NEEMUCH
MANDSAUR
MANDSAUR
MADHYA PRADESH
91
8226010323
BANK OF' INDIA
BKID0MG1404
SANJIT
JAIN SHWETHAMBAR MANDIR, SANJIT,MANDSAUR
MANDSAUR
MANDSAUR
MADHYA PRADESH
91
8226010321
BANK OF' INDIA
BKID0MG1403
DIGAON MALI
CHOWPATHY BUS STAND,DIGAONMALI, DISTT MANDSAUR
MANDSAUR
MANDSAUR
MADHYA PRADESH
91
8226010320
BANK OF' INDIA
BKID0MG1402
BHAUGHA
VILL PO.BHAUGADH 458667
MANDSAUR
MANDSAUR
MADHYA PRADESH
91
8226010319
BANK OF' INDIA
BKID0MG1401
MANDSAUR
OPP. CIVIL HOSPITAL, 458001
MANDSAUR
MANDSAUR
MADHYA PRADESH
91
8226010314
BANK OF' INDIA
BKID0MG1400
RO MANDSAUR
ABOVE HONDA SHOWROOM,FIRST FLOOR, MAHU NEEMUCH ROAD,MANDSAUR M.P. 458001
MANDSAUR
MANDSAUR
MADHYA PRADESH
91
9987215300
BANK OF' INDIA
BKID0MG1354
NIWAS
POSTNIWAS, TAHSILNIWAS 481885
MANDLA
MANDLA
MADHYA PRADESH
91
226010197
BANK OF' INDIA
BKID0MG1353
MOHGAONM
POSTMOHGAON, TAHSIL MANDLA 481663
MANDLA
MANDLA
MADHYA PRADESH
91
226010196
BANK OF' INDIA
BKID0MG1352
BAMHNIBANJAR
POSTBAMHANI BANJAR,TAH.NAINPUR, MANDLA
MANDLA
MANDLA
MADHYA PRADESH
91
8226010195
BANK OF' INDIA
BKID0MG1351
BHUABICHHIYA
POSTBHUA BICHHIYA,DISTT. MANDLA
MANDLA
MANDLA
MADHYA PRADESH
91
8226010183
BANK OF' INDIA
BKID0MG1350
MAHARAJPUR
POSTMAHARAJPUR, TAHSILMANDLA DIST MANDLA481661
MANDLA
MANDLA
MADHYA PRADESH
91
226010178
BANK OF' INDIA
BKID0MG1349
NARAYANGUNJ
POSTNARAYANGANJ, TAHSILNARAYANGANJ DIST MANDLA481662
MANDLA
MANDLA
MADHYA PRADESH
91
8226010176
BANK OF' INDIA
BKID0MG1348
MANERI
POSTMANERI, TAHSILNIWAS,MANDLA
MANDLA
MANDLA
MADHYA PRADESH
91
8226010175
BANK OF' INDIA
BKID0MG1347
GHUGHARI
POSTGHUGHARI,MANDLA
MANDLA
MANDLA
MADHYA PRADESH
91
8226010171
BANK OF' INDIA
BKID0MG1346
BIJADANDI
POSTBIJADANDI, TAHSILNIWAS DIST MANDLA481662
MANDLA
MANDLA
MADHYA PRADESH
91
9691378624
BANK OF' INDIA
BKID0MG1345
KALPI
KALPI ,TAHSILNIWAS, MANDLA
MANDLA
MANDLA
MADHYA PRADESH
91
7898793353
BANK OF' INDIA
BKID0MG1344
NAINPUR
POSTNAINPUR, TAHSILNAINPUR
MANDLA
MANDLA
MADHYA PRADESH
91
8226010160
BANK OF' INDIA
BKID0MG1343
BINJHIYA
POSTBINJHIYA, TAHSILMANDLA
MANDLA
MANDLA
MADHYA PRADESH
91
8226010159
BANK OF' INDIA
BKID0MG1342
AJANIYA
POSTAJANIYA,TAHSILBHUABICHHIYADIST MANDLA 481993
MANDLA
MANDLA
MADHYA PRADESH
91
8226010157
BANK OF' INDIA
BKID0MG1341
GHUTAS
POSTGHUTAS, TAHSILBHUABICHHIYADIST MANDLA 481995
MANDLA
MANDLA
MADHYA PRADESH
91
8226010153
BANK OF' INDIA
BKID0MG1340
BABALIYA
POSTDEORIKALA, TAHSILNARAYANGANJ DIST MANDLA 481885
MANDLA
MANDLA
MADHYA PRADESH
91
8226010151
BANK OF' INDIA
BKID0MG1339
BAKORI
POSTBAKORI, TAHSILMA
MANDLA
MANDLA
MADHYA PRADESH
91
6268370646
BANK OF' INDIA
BKID0MG1338
MANDLA
NEAR KRISHI UPAJ MANDI
MANDLA
MANDLA
MADHYA PRADESH
91
8226010149
BANK OF' INDIA
BKID0MG1337
KARANJIYA
POST KARANJIYA, TAHSILBAJAG, DINDORI
DINDORI
DINDORI
MADHYA PRADESH
91
226010194
BANK OF' INDIA
BKID0MG1336
SAMNAPUR
POSTSAMNAPUR, TAHSIL DINDORI 481778
DINDORI
DINDORI
MADHYA PRADESH
91
8226010182
BANK OF' INDIA
BKID0MG1335
NIGHORI
POSTNIGHORI BHANPUR,DINDORI
DINDORI
DINDORI
MADHYA PRADESH
91
8226010181
BANK OF' INDIA
BKID0MG1334
SHAHPUR
POSTSHAHPUR, TAHSILDINDORI, DISTT.DINDORI
DINDORI
DINDORI
MADHYA PRADESH
91
8226010177
BANK OF' INDIA
BKID0MG1333
RAIPURA
POSTRAIPURA,TAHSILSAHPURA , DINDORI
DINDORI
DINDORI
MADHYA PRADESH
91
8226010174
BANK OF' INDIA
BKID0MG1332
PURANIDINDORI
POSTDINDORI,TAHSILDINDORI
DINDORI
DINDORI
MADHYA PRADESH
91
8226010173
BANK OF' INDIA
BKID0MG1331
DINDORI
POSTDINDORI,TAHSILDINDORI
DINDORI
DINDORI
MADHYA PRADESH
91
8226010172
BANK OF' INDIA
BKID0MG1330
SHAHPURA
POSTSHAHPURA, TAHSILSHAHPURA,DISTT. DINDORI
DINDORI
DINDORI
MADHYA PRADESH
91
8226010163
BANK OF' INDIA
BKID0MG1329
KISANPURI
POSTGADASARAI,TAHSILDINDORI 481882
DINDORI
DINDORI
MADHYA PRADESH
91
8226010162
BANK OF' INDIA
BKID0MG1328
GADASARAI
POSTGADASARAI,TAHSILKARANJIA,DISTT. DINDORI
DINDORI
DINDORI
MADHYA PRADESH
91
8226010161
BANK OF' INDIA
BKID0MG1327
VIKRAMPUR
POSTVIKRAMPUR, TAHSIIDINDORI
DINDORI
DINDORI
MADHYA PRADESH
91
8226010158
BANK OF' INDIA
BKID0MG1326
KOSMI
POSTKOSMI, TAHSILBALAGHAT 481001
BALAGHAT
BALAGHAT
MADHYA PRADESH
91
8226010202
BANK OF' INDIA
BKID0MG1325
MOHGAONB
POSTMOHGAON,TAHSILBAIHAR, BALAGHAT
BALAGHAT
BALAGHAT
MADHYA PRADESH
91
8226010201
BANK OF' INDIA
BKID0MG1324
UKWA
POSTUKWA, TAHSILBAIHER 481105
BALAGHAT
BALAGHAT
MADHYA PRADESH
91
8226010200
BANK OF' INDIA
BKID0MG1323
KATANGI
POSTKATANGI, TAHSILKATANGI, BALAGHAT
BALAGHAT
BALAGHAT
MADHYA PRADESH
91
8226010199
BANK OF' INDIA
BKID0MG1322
KIRNAPUR
POSTKIRNAPUR, TAHSILLANJI, BALAGHAT
BALAGHAT
BALAGHAT
MADHYA PRADESH
91
8226010198
BANK OF' INDIA
BKID0MG1321
BAIHAR
POSTBAIHER, TAHSILBAIHAR, BALAGHAT
BALAGHAT
BALAGHAT
MADHYA PRADESH
91
8226010193
BANK OF' INDIA
BKID0MG1320
LANJI
POSTLANJI,TAHSILLANJI 481222
BALAGHAT
BALAGHAT
MADHYA PRADESH
91
8226010192
BANK OF' INDIA
BKID0MG1319
BAHELA
POSTBAHELA, TAHSILLANJI, BALAGHAT
BALAGHAT
BALAGHAT
MADHYA PRADESH
91
8226010191
BANK OF' INDIA
BKID0MG1318
LALBARRA
POSTLALBARRA, TAHSILLALBARRA 481441
BALAGHAT
BALAGHAT
MADHYA PRADESH
91
8226010190
BANK OF' INDIA
BKID0MG1317
TEKADI
POSTTEKADI, TAHSILKATANGI, BALAGHAT
BALAGHAT
BALAGHAT
MADHYA PRADESH
91
8226010189
BANK OF' INDIA
BKID0MG1316
RAMPAYLI
POSTRAMPAYALI,TAHSILWARASEONI, BALAGHAT
BALAGHAT
BALAGHAT
MADHYA PRADESH
91
8226010188
BANK OF' INDIA
BKID0MG1315
MALAJKHAND
POSTMALAJKHAND, TAHSILBAIHER 481116
BALAGHAT
BALAGHAT
MADHYA PRADESH
91
8226010187
BANK OF' INDIA
BKID0MG1314
BIRSA
POSTBIRSA , TAHSIL BAIHER 481051
BALAGHAT
BALAGHAT
MADHYA PRADESH
91
8226010186
BANK OF' INDIA
BKID0MG1313
KHAIRLANJI
POSTKHAIRLANJI, TAHSIL WARASEONI, BALAGHAT
BALAGHAT
BALAGHAT
MADHYA PRADESH
91
8226010185
BANK OF' INDIA
BKID0MG1312
TIRODI
POSTTIRODI, TAHSILKATANGI, BALAGHAT
BALAGHAT
BALAGHAT
MADHYA PRADESH
91
8226010184
BANK OF' INDIA
BKID0MG1311
MANEGAON
POSTMANEGAOUN, TAHSILBAIHAR, BALAGHAT
BALAGHAT
BALAGHAT
MADHYA PRADESH
91
8226010180
BANK OF' INDIA
BKID0MG1310
HATTA
POSTHATTA , TAHSIL KIRNAPUR 481225
BALAGHAT
BALAGHAT
MADHYA PRADESH
91
8226010179
BANK OF' INDIA
BKID0MG1309
BURHIBGT
NEAR HANUMAN MANDIR, POST TAHBALAGHAT 481551
BALAGHAT
BALAGHAT
MADHYA PRADESH
91
8226010170
BANK OF' INDIA
BKID0MG1308
WARASEONI
POSTWARASEONI, TAHSILWARASEONI, BALAGHAT
BALAGHAT
BALAGHAT
MADHYA PRADESH
91
8226010169
BANK OF' INDIA
BKID0MG1307
MENDKI
POSTMENDKI, TAHSILWARASEONI, BALAGHAT
BALAGHAT
BALAGHAT
MADHYA PRADESH
91
8226010168
BANK OF' INDIA
BKID0MG1306
BHANEGAON
POSTBHANEGAON, TAHSILLANJI, BALAGHAT
BALAGHAT
BALAGHAT
MADHYA PRADESH
91
8226010167
BANK OF' INDIA
BKID0MG1305
SADRA
POSTSADRA, TAHSILLANJI, BALAGHAT
BALAGHAT
BALAGHAT
MADHYA PRADESH
91
8226010166
BANK OF' INDIA
BKID0MG1304
BHARWELI
POSTBHARWELI, TAHSILBALAGHAT 481102
BALAGHAT
BALAGHAT
MADHYA PRADESH
91
8226010156
BANK OF' INDIA
BKID0MG1303
GADHI
POSTGADHI, TAHSILBAI
BALAGHAT
BALAGHAT
MADHYA PRADESH
91
8226010155
BANK OF' INDIA
BKID0MG1302
PARASWADA
POSTPARASWADA,TAHSILBAIHER 481556
BALAGHAT
BALAGHAT
MADHYA PRADESH
91
8226010154
BANK OF' INDIA
BKID0MG1301
BALAGHAT
POSTBALAGHAT, TAHSILBALAGHAT 481001
BALAGHAT
BALAGHAT
MADHYA PRADESH
91
8226010152
BANK OF' INDIA
BKID0MG1300
RO MANDLA
REGIONAL OFFICE MANDLA  BEHIND BUS STAND, MANDLA M.P. 481661
MANDLA
MANDLA
MADHYA PRADESH
 
9981318749
BANK OF' INDIA
BKID0MG1253
AADARSH SHIKSHAN SAMITI KARELI
THAKUR NIRANJAN SINGH COLLEGE, KARELI, NARSINGHPUR
NARSINGHPUR
NARSINGHPUR
MADHYA PRADESH
91
8719912040
BANK OF' INDIA
BKID0MG1252
COLLECTORATE NARSINGHPUR
COLLECTORATE ROAD NARSINGHPUR
NARSINGHPUR
NARSINGHPUR
MADHYA PRADESH
91
7999392781
BANK OF' INDIA
BKID0MG1251
GOTEGAON
VPO GOTEGAON BLOCK GOTEGAON,TAH. GOTEGAON 487118
NARSINGHPUR
NARSINGHPUR
MADHYA PRADESH
91
8226010400
BANK OF' INDIA
BKID0MG1250
TENDUKHEDA
VPO TENDUKHEDA BLOCK CHAWARPATHA, TAH. TENDUKHEDA 487337
NARSINGHPUR
NARSINGHPUR
MADHYA PRADESH
91
7987749131
BANK OF' INDIA
BKID0MG1249
SOORWARI
VPO SOORWARI BLOCK GOTEGAONTAH. GOTEGAON 487118
NARSINGHPUR
NARSINGHPUR
MADHYA PRADESH
91
6264490122
BANK OF' INDIA
BKID0MG1248
KARAKBEL
VPO KARAKBEL, NEAR POST OFFICE,TAH. NARSINGHPUR 487114
NARSINGHPUR
NARSINGHPUR
MADHYA PRADESH
91
8226010394
BANK OF' INDIA
BKID0MG1247
NARSINGHPUR BASTI
MAHAJANI WARD NARSINGHPUR
NARSINGHPUR
NARSINGHPUR
MADHYA PRADESH
91
8226010393
BANK OF' INDIA
BKID0MG1246
DEORI LOLRI
TENDUKHEDA MARG,DEVARI,DISTT.NARSINGHPUR
NARSINGHPUR
NARSINGHPUR
MADHYA PRADESH
91
8226010390
BANK OF' INDIA
BKID0MG1245
GADARWARA
CHAWADI WARD, BLOCK GADARWARA, GADARWARA 487551
NARSINGHPUR
NARSINGHPUR
MADHYA PRADESH
91
8226010389
BANK OF' INDIA
BKID0MG1244
SINGHPUR BADA
VPO SINGHPUR BADA BLOCK NARSINGHPUR, TAH NARSINGHPUR 487110
NARSINGHPUR
NARSINGHPUR
MADHYA PRADESH
91
8226010378
BANK OF' INDIA
BKID0MG1243
KAMTI IMALYA
NARSINGHPURGOTEGAON DISTT.NARSINGHPUR
NARSINGHPUR
NARSINGHPUR
MADHYA PRADESH
91
7000652210
BANK OF' INDIA
BKID0MG1242
BARAHATA
NARSINGHPURGOTEGAON ,NARSINGHPUR
NARSINGHPUR
NARSINGHPUR
MADHYA PRADESH
91
8226010376
BANK OF' INDIA
BKID0MG1241
CHICHALI
CHICHLI,TEH,GADARWARA,NARSINGHPUR
NARSINGHPUR
NARSINGHPUR
MADHYA PRADESH
91
6267665237
BANK OF' INDIA
BKID0MG1240
SAIKHEDA
VPO SAIKHEDA BLOCKSAIKHEDA, TAH. GADARWARA 487661
NARSINGHPUR
NARSINGHPUR
MADHYA PRADESH
91
8226010369
BANK OF' INDIA
BKID0MG1239
BAGASPUR
VPO BAGASPUR BLOCK GOTEGAON,TAH. GOTEGAON 487118
NARSINGHPUR
NARSINGHPUR
MADHYA PRADESH
91
8226010368
BANK OF' INDIA
BKID0MG1238
KARELI
GALLA MANDI,JAYPRAKASH
NARSINGHPUR
NARSINGHPUR
MADHYA PRADESH
91
8226010367
BANK OF' INDIA
BKID0MG1237
BOHANI
VPO BOHANI BLOCK CHAWARPATHA,TAH. GADARWARA487555
NARSINGHPUR
NARSINGHPUR
MADHYA PRADESH
91
8226010366
BANK OF' INDIA
BKID0MG1236
PANARI
VPO PANARI BLOCK CHICHALI BABAI,TAH. KARELI 487221
NARSINGHPUR
NARSINGHPUR
MADHYA PRADESH
91
9340144627
BANK OF' INDIA
BKID0MG1235
KANWAS
VPO KANWAS BLOCK CHICHALI BABAI, TAH. KARELI 487221
NARSINGHPUR
NARSINGHPUR
MADHYA PRADESH
91
8770822455
BANK OF' INDIA
BKID0MG1234
AMGAON BADA
VPO AMGAON BADA, BLOCK KARELI, TAH. KARELI 487221
NARSINGHPUR
NARSINGHPUR
MADHYA PRADESH
91
8226010577
BANK OF' INDIA
BKID0MG1233
STATION GANJ NARSINGHPUR
MANDI ROAD STATION GANJ, NARSINGHPUR
NARSINGHPUR
NARSINGHPUR
MADHYA PRADESH
91
8226010578
BANK OF' INDIA
BKID0MG1232
NARSINGHPUR
MAHAJANI WARD, NARSINGHPUR BASTI, NARSINGHPUR 487002
NARSINGHPUR
NARSINGHPUR
MADHYA PRADESH
91
8226010575
BANK OF' INDIA
BKID0MG1231
BAHORIBAND
BAHORIBAND, DISTT.KATNI
KATNI
KATNI
MADHYA PRADESH
91
8226010460
BANK OF' INDIA
BKID0MG1230
BARAHI
BARHI, DISTT. KATNI
KATNI
KATNI
MADHYA PRADESH
91
9131189642
BANK OF' INDIA
BKID0MG1229
KHIRHANI DURGA CHOWK
DURGA CHOUK ,KHIRAHNI, KATANI
KATNI
KATNI
MADHYA PRADESH
91
8226010456
BANK OF' INDIA
BKID0MG1228
VIJAY RAGHAVGARH
VIJAYRAGHAVGARH, KATNI
KATNI
KATNI
MADHYA PRADESH
91
8226010448
BANK OF' INDIA
BKID0MG1227
BADWARA
BADWARA, DIST KATNI
KATNI
KATNI
MADHYA PRADESH
91
8226010396
BANK OF' INDIA
BKID0MG1226
UMARIYAPAN
JHANDA CHOWK UMARIYAPAN, KATNI
KATNI
KATNI
MADHYA PRADESH
91
8878403452
BANK OF' INDIA
BKID0MG1225
DEORI TOLA
PEERWAWA JABALPUR KATNI
KATNI
KATNI
MADHYA PRADESH
91
8226010391
BANK OF' INDIA
BKID0MG1224
KATNI
RML WARD NADIPAR, KATNI 483001
KATNI
KATNI
MADHYA PRADESH
91
8226010383
BANK OF' INDIA
BKID0MG1223
AMGAWAN
KATNIBINA RD,AMGAWAN,KATNI
KATNI
KATNI
MADHYA PRADESH
91
9407059152
BANK OF' INDIA
BKID0MG1222
DASHARMAN
DASHARMAN, DIST KATNI
KATNI
KATNI
MADHYA PRADESH
91
8226010383
BANK OF' INDIA
BKID0MG1221
VILAYAT KALA
BADWARANANDIYA RD,DISTT. KATNI
KATNI
KATNI
MADHYA PRADESH
91
8226010381
BANK OF' INDIA
BKID0MG1220
DEORA KALA
KATNIVIJAYRAGHAVGARH, KATNI
KATNI
KATNI
MADHYA PRADESH
91
9340625461
BANK OF' INDIA
BKID0MG1219
KYMORE
KYMORE DIST KATNI
KATNI
KATNI
MADHYA PRADESH
91
8319960854
BANK OF' INDIA
BKID0MG1218
KUA
SIHORA BAHORIBAND ROAD,DISTT.KATNI
KATNI
KATNI
MADHYA PRADESH
91
8226010373
BANK OF' INDIA
BKID0MG1217
BILHARI
MANDLA ROAD,BILHARI JABALPUR
JABALPUR
JABALPUR
MADHYA PRADESH
91
8226010458
BANK OF' INDIA
BKID0MG1216
GWARIGHAT ROAD
GWARIGHAT ROAD, GWARIGHAT, JABALPUR
JABALPUR
JABALPUR
MADHYA PRADESH
91
9993892046
BANK OF' INDIA
BKID0MG1215
BARGI
BARGI , TAHJABALPUR
JABALPUR
JABALPUR
MADHYA PRADESH
91
8226010447
BANK OF' INDIA
BKID0MG1214
KARMETA GRAM
VILL KARMETA, DAMOH NAKA, JABALPUR
JABALPUR
JABALPUR
MADHYA PRADESH
91
8226010446
BANK OF' INDIA
BKID0MG1213
EKTA CHOUK UKHARIROAD
UKHARIROAD, EKTA CHOUK JABALPUR
JABALPUR
JABALPUR
MADHYA PRADESH
91
6260409981
BANK OF' INDIA
BKID0MG1212
PISANHARI MADHIYA
PISANHARI MADHIYAJI,JABALPUR
JABALPUR
JABALPUR
MADHYA PRADESH
91
8226010401
BANK OF' INDIA
BKID0MG1211
MANJHOLI
BUS STAND MAJHOLI,JABALPUR
JABALPUR
JABALPUR
MADHYA PRADESH
91
8226010399
BANK OF' INDIA
BKID0MG1210
PATAN
NEAR BUSSTAND PATAN, JABALPUR
JABALPUR
JABALPUR
MADHYA PRADESH
91
8226010392
BANK OF' INDIA
BKID0MG1209
ADHARTAL JABALPUR
3666 SUBHASH WARD JABALPUR
JABALPUR
JABALPUR
MADHYA PRADESH
91
8226010387
BANK OF' INDIA
BKID0MG1208
LAMKANA
LAMKANA SEHORA RD LAMKANA, DISTT JABALPUR
JABALPUR
JABALPUR
MADHYA PRADESH
91
8226010385
BANK OF' INDIA
BKID0MG1207
PANAGAR
PANAGAR DIST JABALPUR
JABALPUR
JABALPUR
MADHYA PRADESH
91
8226010384
BANK OF' INDIA
BKID0MG1206
SHAHPURA JBP
SHAHPURA,TEH PATAN DISTT.JABALPUR
JABALPUR
JABALPUR
MADHYA PRADESH
91
8226010381
BANK OF' INDIA
BKID0MG1205
SAHAJPUR
SAHAJPUR,TEH.PATAN, DISTTJABALPUR
JABALPUR
JABALPUR
MADHYA PRADESH
91
8226010374
BANK OF' INDIA
BKID0MG1204
KHITOLA BAZAR
NEAR BUS STAND , KHITOLA BAZAR ,TAH. SIHORA 483225
JABALPUR
JABALPUR
MADHYA PRADESH
91
8226010372
BANK OF' INDIA
BKID0MG1203
SIHORA JBP
MANJHOLI ROAD,JABALPUR
JABALPUR
JABALPUR
MADHYA PRADESH
91
8226010371
BANK OF' INDIA
BKID0MG1202
RANJHI
CHANDRA SHEKHER WORD,RANJHI,JABALPUR
JABALPUR
JABALPUR
MADHYA PRADESH
91
7974114241
BANK OF' INDIA
BKID0MG1201
JABALPUR
600,BADERIYA COMPLEX.KAMALA NEHRU NAGAR
JABALPUR
JABALPUR
MADHYA PRADESH
91
8226010576
BANK OF' INDIA
BKID0MG1200
RO JABALPUR
REGIONAL BRANCH JABALPUR  600, BADERIYA COMPLEX,  KAMLA NEHRU NAGAR,  JABALPUR M.P. 482002
JABALPUR
JABALPUR
MADHYA PRADESH
 
9160476493
BANK OF' INDIA
BKID0MG1047
MALAKHEDI
BANDRABAD ROAD,MALAKHEDI, BLOCK, TAHSIL,DISTT. HOSHANGABAD
HOSHANGABAD
HOSHANGABAD
MADHYA PRADESH
91
8226010479
BANK OF' INDIA
BKID0MG1046
BANKABERI
POSTBANKABEDI,TAH. SEONIMALWA, DISTHOSHANGABAD461223
HOSHANGABAD
HOSHANGABAD
MADHYA PRADESH
91
8226010142
BANK OF' INDIA
BKID0MG1045
KOTHARA
POST.KOTHRA, TAH. SEONIMALWA , DISTHOSHANGABAD461223
HOSHANGABAD
HOSHANGABAD
MADHYA PRADESH
91
8226010141
BANK OF' INDIA
BKID0MG1044
BAGRATAWA
TAHBABAI DISTHOSHANGABAD
HOSHANGABAD
HOSHANGABAD
MADHYA PRADESH
91
8226010133
BANK OF' INDIA
BKID0MG1043
BAGWADA
POSTBAGHWADA,TEHSILSEONI MALWA,DISTHOSHANGABAD 461221
HOSHANGABAD
HOSHANGABAD
MADHYA PRADESH
91
8226010132
BANK OF' INDIA
BKID0MG1042
NANDARWADA
POSTNANDARWADA,TEHSILSEONI MALWA, DISTHOSHANGABAD461223
HOSHANGABAD
HOSHANGABAD
MADHYA PRADESH
91
8226010131
BANK OF' INDIA
BKID0MG1041
MALHANVADA
POSTMALHANWADA,TEHSILBANKHEDI, DISTHOSHANGABAD 461990
HOSHANGABAD
HOSHANGABAD
MADHYA PRADESH
91
8718810129
BANK OF' INDIA
BKID0MG1040
ITARSI
DESHBANDHU PURA , ITARSI DISTHOSHANGABAD464990
HOSHANGABAD
HOSHANGABAD
MADHYA PRADESH
91
8226010127
BANK OF' INDIA
BKID0MG1039
AARI
POSTAARI,TEHSILBABAI,DISTHOSHANGABAD 461661
HOSHANGABAD
HOSHANGABAD
MADHYA PRADESH
91
8226010120
BANK OF' INDIA
BKID0MG1038
EVEPIPARIA
POSTTEHSILPIPARIA, DISTHOSHANGABAD 464881
HOSHANGABAD
HOSHANGABAD
MADHYA PRADESH
91
8226010119
BANK OF' INDIA
BKID0MG1037
BABAI
POSTTEHSILBABAI, DISTHOSHANGABAD 461661
HOSHANGABAD
HOSHANGABAD
MADHYA PRADESH
91
8226010106
BANK OF' INDIA
BKID0MG1036
BANAPURAHOSHANGABAD
POSTBANAPURA,TEHSILSEONI MALWA, DISTHOSHANGABAD 461221
HOSHANGABAD
HOSHANGABAD
MADHYA PRADESH
91
8226010105
BANK OF' INDIA
BKID0MG1035
GURRA
POSTGURRA,TEHSILITARASI, DISTHOSHANGABAD 461111
HOSHANGABAD
HOSHANGABAD
MADHYA PRADESH
91
8226010104
BANK OF' INDIA
BKID0MG1034
JAMANIA
TAHITARSI DISTHOSHANGABAD
HOSHANGABAD
HOSHANGABAD
MADHYA PRADESH
91
8226010103
BANK OF' INDIA
BKID0MG1033
SOHAGPUR
POSTTEHSILSOHAGPUR, DISTHOSHANGABAD 461771
HOSHANGABAD
HOSHANGABAD
MADHYA PRADESH
91
8226010102
BANK OF' INDIA
BKID0MG1032
OLD ITARASI
POSTTEHSILITARASI, DISTHOSHANGABAD 461111
HOSHANGABAD
HOSHANGABAD
MADHYA PRADESH
91
8226010101
BANK OF' INDIA
BKID0MG1031
EVE RASULIA
TAHHO BAD DISTHOSHANGABAD
HOSHANGABAD
HOSHANGABAD
MADHYA PRADESH
91
8226010100
BANK OF' INDIA
BKID0MG1030
CHANDON
POSTCHANDON,TEHSILBANKHEDI, DISTHOSHANGABAD 461990
HOSHANGABAD
HOSHANGABAD
MADHYA PRADESH
91
8226010099
BANK OF' INDIA
BKID0MG1029
PACHMADI
POSTPACHMADHI,TEHSILPIPARIA, DISTHOSHANGABAD 461881
HOSHANGABAD
HOSHANGABAD
MADHYA PRADESH
91
9479608657
BANK OF' INDIA
BKID0MG1028
DOLARIA
POSTDOLARIA,TEHSILHOSHANGABAD, DISTHOSHANGABAD 461116
HOSHANGABAD
HOSHANGABAD
MADHYA PRADESH
91
8226010097
BANK OF' INDIA
BKID0MG1027
SUKTAWA
POSTSUKTAWA,TEHSILITARASI, DISTHOSHANGABAD461111
HOSHANGABAD
HOSHANGABAD
MADHYA PRADESH
91
8226010092
BANK OF' INDIA
BKID0MG1026
HOSHANGABAD
POSTTEHSILHOSHANGABAD, DISTHOSHANGABAD461001
HOSHANGABAD
HOSHANGABAD
MADHYA PRADESH
91
8226010091
BANK OF' INDIA
BKID0MG1025
SEONI MALWA
POSTTEHSILSEONI MALWA, DISTHOSHANGABAD 461223
HOSHANGABAD
HOSHANGABAD
MADHYA PRADESH
91
8226010090
BANK OF' INDIA
BKID0MG1024
PIPARIYAHOSHANGABAD
POSTTEHSILPIPARIA, DISTHOSHANGABAD 461775
HOSHANGABAD
HOSHANGABAD
MADHYA PRADESH
91
8226010089
BANK OF' INDIA
BKID0MG1023
BIAORA
POSTBIORA,TEHSILHOSHANGABAD, DISTHOSHANGABAD 461110
HOSHANGABAD
HOSHANGABAD
MADHYA PRADESH
91
8226010086
BANK OF' INDIA
BKID0MG1022
BANKHEDI
POSTTEHSILBANKHEDI, DISTHOSHANGABAD 461990
HOSHANGABAD
HOSHANGABAD
MADHYA PRADESH
91
8226010083
BANK OF' INDIA
BKID0MG1021
KHAPARKHEDA
POSTKHAPERKHEDA,TEHSILPIPARIA, DISTHOSHANGABAD 461785
HOSHANGABAD
HOSHANGABAD
MADHYA PRADESH
91
8226010079
BANK OF' INDIA
BKID0MG1020
SHEOPUR
POSTSHIVPUR, TEHSILSEONI MALWA, DISTHOSHANGABAD 461225
HOSHANGABAD
HOSHANGABAD
MADHYA PRADESH
91
8226010076
BANK OF' INDIA
BKID0MG1019
SANDIA
POSTSANDIA,TEHSIL PIPARIA, DISTHOSHANGABAD461773
HOSHANGABAD
HOSHANGABAD
MADHYA PRADESH
91
8226010071
BANK OF' INDIA
BKID0MG1018
MATKULI
POSTMATKULI,TEHSILPIPARIA, DISTHOSHANGABAD 461778
HOSHANGABAD
HOSHANGABAD
MADHYA PRADESH
91
8226010070
BANK OF' INDIA
BKID0MG1017
SEMRI HARCHAND
POSTSEMRIHARCHAND,TEHSILSOHAGPUR, DISTHOSHANGABAD 461668
HOSHANGABAD
HOSHANGABAD
MADHYA PRADESH
91
8226010068
BANK OF' INDIA
BKID0MG1016
SHOBHAPUR
TAHSOHAGPUR,DISTHOSHANGABAD
HOSHANGABAD
HOSHANGABAD
MADHYA PRADESH
91
8226010067
BANK OF' INDIA
BKID0MG1015
NIMSADIYA
POSTNIMSADIA,TEHSILHOSHANGABAD, DISTHOSHANGABAD461558
HOSHANGABAD
HOSHANGABAD
MADHYA PRADESH
91
8226010063
BANK OF' INDIA
BKID0MG1014
TIMARNI
POSTTEHSIL TIMARANI, DIST HARDA, 461228
HARDA
HARDA
MADHYA PRADESH
91
8226010140
BANK OF' INDIA
BKID0MG1013
HARDA
POSTTEHSIL HARDA, DIST HARDA,461331
HARDA
HARDA
MADHYA PRADESH
91
8226010139
BANK OF' INDIA
BKID0MG1012
CHARUA
POSTCHARUA, TEHSILKHIRKIA, DIST HARDA 461441
HARDA
HARDA
MADHYA PRADESH
91
8226010136
BANK OF' INDIA
BKID0MG1011
SODALPUR
POSTSODALPUR, TEHSIL TIMARANI, DIST HARDA 461228
HARDA
HARDA
MADHYA PRADESH
91
8226010135
BANK OF' INDIA
BKID0MG1010
MM HARDA
POSTTEHSIL HARDA, DIST HARDA 461331
HARDA
HARDA
MADHYA PRADESH
91
8226010130
BANK OF' INDIA
BKID0MG1009
RAHETGAON
POSTRAHATGAON, TEHSILTIMARNI, DIST HARDA461251
HARDA
HARDA
MADHYA PRADESH
91
8226010124
BANK OF' INDIA
BKID0MG1008
MANDLAHOSHAGABAD
POSTMANDLA,TEHSILKHIRKIA, DIST HARDA461441
HARDA
HARDA
MADHYA PRADESH
91
8226010123
BANK OF' INDIA
BKID0MG1007
TEMAGAON
POSTTEMAGAON, TEHSIL TIMRANI DIST HARDA461228
HARDA
HARDA
MADHYA PRADESH
91
8226010118
BANK OF' INDIA
BKID0MG1006
MASANGAON
TAHHARDA,DISTHARDA
HARDA
HARDA
MADHYA PRADESH
91
8226010114
BANK OF' INDIA
BKID0MG1005
POKHARANI
POSTPOKHARNI, TEHSIL TIMRANI DIST HARDA 461228
HARDA
HARDA
MADHYA PRADESH
91
8226010111
BANK OF' INDIA
BKID0MG1004
CHARKHEDA
POSTCHARKHEDA,TEHSIL TIMRANI DIST HARDA461281
HARDA
HARDA
MADHYA PRADESH
91
8226010085
BANK OF' INDIA
BKID0MG1003
SIRALI
POSTSIRALI, TEHSILKHIRKIA, DIST HARDA 461335
HARDA
HARDA
MADHYA PRADESH
91
8226010075
BANK OF' INDIA
BKID0MG1002
HANDIYA
POSTHANDIA, TEHSILHARDA, DIST HARDA 461381
HARDA
HARDA
MADHYA PRADESH
91
8226010072
BANK OF' INDIA
BKID0MG1001
KHIRKIYA
POSTKHIRKIA, TEHSILKHIRKIA, DIST HARDA461441
HARDA
HARDA
MADHYA PRADESH
91
8226010069
BANK OF' INDIA
BKID0MG1000
RO HOSHANGABAD
REGIONAL BRANCH HOSHANGABAD, MANGALWARA, HOSHANGABAD M.P. 461001
HOSHANGABAD
HOSHANGABAD
MADHYA PRADESH
91
9588493393
BANK OF' INDIA
BKID0MG0470
HARSOLA
VILL PO HARSOLA
INDORE
INDORE
MADHYA PRADESH
91
9425478366
BANK OF' INDIA
BKID0MG0469
BAWLIYA KHURD
BAWLIYA KHURD
UJJAIN
UJJAIN
MADHYA PRADESH
91
9039933944
BANK OF' INDIA
BKID0MG0468
SETHI NAGAR
HIG SETHI NAGAR
UJJAIN
UJJAIN
MADHYA PRADESH
91
8959023204
BANK OF' INDIA
BKID0MG0467
KHANDWA ROAD
HOUSE NO 06 ,RANI BAGH
UJJAIN
UJJAIN
MADHYA PRADESH
91
8889289200
BANK OF' INDIA
BKID0MG0466
SAPNA SANGEETA ROADINDORE
603,SNEH NAGAR BEHIND
INDORE
INDORE
MADHYA PRADESH
91
9424589472
BANK OF' INDIA
BKID0MG0465
PALDA
262 SHRIRAM NAGAR
INDORE
INDORE
MADHYA PRADESH
91
7999290064
BANK OF' INDIA
BKID0MG0464
KSHIRSAGAR
GALI NO 12
UJJAIN
UJJAIN
MADHYA PRADESH
91
9755092476
BANK OF' INDIA
BKID0MG0463
CHAKKAMED
VILL CHAKKAMED
UJJAIN
UJJAIN
MADHYA PRADESH
91
708990850
BANK OF' INDIA
BKID0MG0462
TALAWALI CHANDA
CO NEETA CHAMBERS
INDORE
INDORE
MADHYA PRADESH
91
9926080439
BANK OF' INDIA
BKID0MG0461
AIRPORT ROAD
AIRPORT ROAD
INDORE
INDORE
MADHYA PRADESH
91
926056347
BANK OF' INDIA
BKID0MG0460
NIPANIAINDORE
NEAR BHUWANSH COLLAGE
UJJAIN
UJJAIN
MADHYA PRADESH
91
7089903676
BANK OF' INDIA
BKID0MG0459
NIHALPUR MUNDI
NIHALPUR MUNDI
UJJAIN
UJJAIN
MADHYA PRADESH
91
9713278724
BANK OF' INDIA
BKID0MG0458
PIPLIYAHANA
74B GREATER BRIJESHWA
INDORE
INDORE
MADHYA PRADESH
91
9644408166
BANK OF' INDIA
BKID0MG0457
VIJAY NAGAR INDORE
1111,SCHEME NO.114,PAR
INDORE
INDORE
MADHYA PRADESH
91
7987923140
BANK OF' INDIA
BKID0MG0456
KANADIYA ROAD
KANADIYA ROAD
UJJAIN
UJJAIN
MADHYA PRADESH
91
8744972262
BANK OF' INDIA
BKID0MG0455
NANAKHED
33SWAPNIL PALACE NANA
UJJAIN
UJJAIN
MADHYA PRADESH
91
9893341747
BANK OF' INDIA
BKID0MG0454
ANNAPURNA
8,VISHAL NAGAR
UJJAIN
UJJAIN
MADHYA PRADESH
91
7089903687
BANK OF' INDIA
BKID0MG0453
BHORASHALA
INDORE UJJAIN STATE HIWAY
UJJAIN
UJJAIN
MADHYA PRADESH
91
9926912647
BANK OF' INDIA
BKID0MG0452
MHOWGOAN
GAIKWAD CHORAHA
INDORE
INDORE
MADHYA PRADESH
91
9926477166
BANK OF' INDIA
BKID0MG0451
BAD KUMMED
BAD KUMMED
UJJAIN
UJJAIN
MADHYA PRADESH
91
7089291570
BANK OF' INDIA
BKID0MG0450
MAHAKAL UJJAIN
31 JAWAHAR MARG PATANI
UJJAIN
UJJAIN
MADHYA PRADESH
91
9425873828
BANK OF' INDIA
BKID0MG0449
GANDHI NAGAR
BC MARKET,GANDHI NAGAR
INDORE
INDORE
MADHYA PRADESH
91
9644793003
BANK OF' INDIA
BKID0MG0448
SUDAMA NAGAR INDORE
2554E SUDAMA NAGAR
INDORE
INDORE
MADHYA PRADESH
91
8120115900
BANK OF' INDIA
BKID0MG0446
JHUTAWAD
VILLAGE POST JHUTAWA
UJJAIN
UJJAIN
MADHYA PRADESH
91
8818888140
BANK OF' INDIA
BKID0MG0445
MANPUR
TAMBOLI MOHHALLA
INDORE
INDORE
MADHYA PRADESH
91
6232785093
BANK OF' INDIA
BKID0MG0444
SERVICE BRANCH INDORE
192 JAWAHAR MARG
INDORE
INDORE
MADHYA PRADESH
91
8120008940
BANK OF' INDIA
BKID0MG0443
RAU
V P RAU
INDORE
INDORE
MADHYA PRADESH
91
9827572669
BANK OF' INDIA
BKID0MG0442
BETMA
10,PURA BAZAR,BETMA
INDORE
INDORE
MADHYA PRADESH
91
7089903686
BANK OF' INDIA
BKID0MG0441
BHAIRAVGARH
BHAIRAVGARH
UJJAIN
UJJAIN
MADHYA PRADESH
91
9826636296
BANK OF' INDIA
BKID0MG0440
KHAJRANA
KHAJRANA
INDORE
INDORE
MADHYA PRADESH
91
9425190620
BANK OF' INDIA
BKID0MG0439
CHANDRAWATIGANJ
VP CHANDRAWATIGANJ
INDORE
INDORE
MADHYA PRADESH
91
9425380409
BANK OF' INDIA
BKID0MG0438
KAMPEL
KAMPEL
INDORE
INDORE
MADHYA PRADESH
91
9826427969
BANK OF' INDIA
BKID0MG0437
KALARIYA
KALARIYA
INDORE
INDORE
MADHYA PRADESH
91
9826390383
BANK OF' INDIA
BKID0MG0436
GOUTAMPURA
AP GOUTAMPURA
INDORE
INDORE
MADHYA PRADESH
91
9425911909
BANK OF' INDIA
BKID0MG0435
DEPALPUR
AP DEPALPUR
INDORE
INDORE
MADHYA PRADESH
91
9425321116
BANK OF' INDIA
BKID0MG0434
MHOW
MAIN STREET, MHOW TEH
INDORE
INDORE
MADHYA PRADESH
91
9009388122
BANK OF' INDIA
BKID0MG0433
SANWER
SANVER DIST INDORE
INDORE
INDORE
MADHYA PRADESH
91
9827305201
BANK OF' INDIA
BKID0MG0432
MUSAKHEDI
MUSAKHEDI
INDORE
INDORE
MADHYA PRADESH
91
9425911904
BANK OF' INDIA
BKID0MG0431
BARLAI
BARLAI
INDORE
INDORE
MADHYA PRADESH
91
8120008933
BANK OF' INDIA
BKID0MG0430
DARZI KARADIA
DARZI KARADIA
INDORE
INDORE
MADHYA PRADESH
91
9300693688
BANK OF' INDIA
BKID0MG0429
INDORE
192 JAWAHAR MARG
INDORE
INDORE
MADHYA PRADESH
91
9425107874
BANK OF' INDIA
BKID0MG0428
RANGWASA
RANGWASA
INDORE
INDORE
MADHYA PRADESH
91
9826416390
BANK OF' INDIA
BKID0MG0426
NAGDA UJJAIN
NAGDA UJJAIN
UJJAIN
UJJAIN
MADHYA PRADESH
91
9479424711
BANK OF' INDIA
BKID0MG0425
KHACHROD
KHACHROD
UJJAIN
UJJAIN
MADHYA PRADESH
91
7724826366
BANK OF' INDIA
BKID0MG0422
UNHEL
UNHEL
UJJAIN
UJJAIN
MADHYA PRADESH
91
9827793563
BANK OF' INDIA
BKID0MG0420
INGORIYA
INGORIYA
UJJAIN
UJJAIN
MADHYA PRADESH
91
9424846044
BANK OF' INDIA
BKID0MG0419
MAKDON
MAKDON
UJJAIN
UJJAIN
MADHYA PRADESH
91
9009292109
BANK OF' INDIA
BKID0MG0418
NINORA
NINORA
UJJAIN
UJJAIN
MADHYA PRADESH
91
9479931801
BANK OF' INDIA
BKID0MG0417
BARNAGAR
BADNAGER
UJJAIN
UJJAIN
MADHYA PRADESH
91
9826181785
BANK OF' INDIA
BKID0MG0416
CHANPAKHEDA
CHANPAKHEDA
UJJAIN
UJJAIN
MADHYA PRADESH
91
9174400465
BANK OF' INDIA
BKID0MG0415
KAYTHA
KAYTHA DISTT. UJJAIN
UJJAIN
UJJAIN
MADHYA PRADESH
91
7771000229
BANK OF' INDIA
BKID0MG0414
MAHIDPUR ROAD
AT POST MAHIDPUR RO
UJJAIN
UJJAIN
MADHYA PRADESH
91
9406574600
BANK OF' INDIA
BKID0MG0413
MAHIDPUR
MAHIDPUR
UJJAIN
UJJAIN
MADHYA PRADESH
91
9407258618
BANK OF' INDIA
BKID0MG0412
GHONSLA
AT POST GHONSLA
UJJAIN
UJJAIN
MADHYA PRADESH
91
9926876892
BANK OF' INDIA
BKID0MG0411
KANASIYA
KANASIYA
UJJAIN
UJJAIN
MADHYA PRADESH
91
8103265572
BANK OF' INDIA
BKID0MG0410
KHEDAWADA
KHEDAWADA
UJJAIN
UJJAIN
MADHYA PRADESH
91
7509027580
BANK OF' INDIA
BKID0MG0409
NAGJHIRI
NAGJHRI
UJJAIN
UJJAIN
MADHYA PRADESH
91
9425380135
BANK OF' INDIA
BKID0MG0408
CHIMANGANJ MANDIUJJAIN
CHIMANGANJ MANDI
UJJAIN
UJJAIN
MADHYA PRADESH
91
9977795757
BANK OF' INDIA
BKID0MG0407
PIPLODA DWARKADHISH
PIPLODA DWARKADHISH
UJJAIN
UJJAIN
MADHYA PRADESH
91
9752927299
BANK OF' INDIA
BKID0MG0406
KHARSODKHURD
KHARODKHURD
UJJAIN
UJJAIN
MADHYA PRADESH
91
7089903620
BANK OF' INDIA
BKID0MG0405
DANIGATE
DANIGATE
UJJAIN
UJJAIN
MADHYA PRADESH
91
8989042933
BANK OF' INDIA
BKID0MG0404
TARANA
TARANA
UJJAIN
UJJAIN
MADHYA PRADESH
91
9753023989
BANK OF' INDIA
BKID0MG0403
CHINTAMAN
CHINTAMAN
UJJAIN
UJJAIN
MADHYA PRADESH
91
8720815929
BANK OF' INDIA
BKID0MG0402
NARSINGA
NARSINGA
UJJAIN
UJJAIN
MADHYA PRADESH
91
9754507393
BANK OF' INDIA
BKID0MG0401
UJJAIN
8 SHANKU MARG, FREEGAN
UJJAIN
UJJAIN
MADHYA PRADESH
91
6264015053
BANK OF' INDIA
BKID0MG0400
REGIONAL OFFICE UJJAIN
VISHWAVIDYALAYA MARG,
UJJAIN
UJJAIN
MADHYA PRADESH
91
9165976796
BANK OF' INDIA
BKID0MG0368
ULJHAWAN
VILLAGE AND POST ULJHAWAN TEHSIL SEHORE DISTRICT SEHORE
SEHORE
SEHORE
MADHYA PRADESH
91
9993182657
BANK OF' INDIA
BKID0MG0367
MOGRARAM
VILLAGE AND POST MOGRARAM TEHSIL SEHORE DISTRICT SEHORE
SEHORE
SEHORE
MADHYA PRADESH
91
7000355427
BANK OF' INDIA
BKID0MG0366
BHONRA
NEAR WATER TANK,VILLAGE AND POST BHONRA TEHSIL ASTHA DISTRICT SEHORE
SEHORE
SEHORE
MADHYA PRADESH
91
9039468171
BANK OF' INDIA
BKID0MG0365
SEWDA
VILL AND POST SEWDA,TEHSIL ASHTA,DISTRICT SEHORE
SEHORE
SEHORE
MADHYA PRADESH
91
9754490204
BANK OF' INDIA
BKID0MG0364
PEELUKHEDI
JAIPUR JABALPUR MAIN HIGHWAY,OPP ZELATIN LEATHER FACTORY,VILL AND POST PILUKHEDI DIST RAJGARH
RAJGARH
RAJGARH
MADHYA PRADESH
91
9589215886
BANK OF' INDIA
BKID0MG0363
RAMGARH
VILL POST RAMGARH THE ZEERAPUR DIST SEHORE
SEHORE
SEHORE
MADHYA PRADESH
91
8890739311
BANK OF' INDIA
BKID0MG0362
DORAHA
NEAR PETROL PUMP HOSPITAL VILLAGE DORAHA,TEH SHYAMPUR,
SEHORE
SEHORE
MADHYA PRADESH
91
9685701000
BANK OF' INDIA
BKID0MG0361
LADKUI
VILLAGE LAKDUI,THE NASRULLAGANJ, DISTT SEHORE
SEHORE
SEHORE
MADHYA PRADESH
91
9806331160
BANK OF' INDIA
BKID0MG0360
DHAMANDA
VILLAGE DHAMANDA,TEH ICHAWAR, DISTT SEHORE
SEHORE
SEHORE
MADHYA PRADESH
91
9893159971
BANK OF' INDIA
BKID0MG0359
MEHATWADA
VP MEHATWADA TEH JAWAR DIST SEHORE
SEHORE
SEHORE
MADHYA PRADESH
91
9981306040
BANK OF' INDIA
BKID0MG0358
KOTHARIKALAN
VP KOTHARIKALAN TEH ASTHA DIST SEHORE
SEHORE
SEHORE
MADHYA PRADESH
91
9977323049
BANK OF' INDIA
BKID0MG0357
JHADMAU
VP JHADMAU TEH ZEERAPUR DIST RAJGARH
RAJGARH
RAJGARH
MADHYA PRADESH
91
9424939428
BANK OF' INDIA
BKID0MG0356
BHOJPUR
VP BHOJPUR TEH KHILCHIPUR DIST RAJGARH
RAJGARH
RAJGARH
MADHYA PRADESH
91
9752641727
BANK OF' INDIA
BKID0MG0355
BAKHED
GRAM BAKHED,THE RAJGARH,DIST RAJGARH
RAJGARH
RAJGARH
MADHYA PRADESH
91
9907777084
BANK OF' INDIA
BKID0MG0354
SEHORE MANDI
MATA MANDIR CHORAHA, GALLA MANDI,TEH AND DIST SEHORE
SEHORE
SEHORE
MADHYA PRADESH
91
9584077574
BANK OF' INDIA
BKID0MG0353
AHMEDPUR
MAIN ROAD AHAMADPUR,THE SHYAMPUR DIST SEHORE
SEHORE
SEHORE
MADHYA PRADESH
91
9752522580
BANK OF' INDIA
BKID0MG0352
BILKISGANJ
NEAR BUS STAND BILKISGANJ TEHDIST SEHORE
SEHORE
SEHORE
MADHYA PRADESH
91
8357093483
BANK OF' INDIA
BKID0MG0351
BAKHTARA
NEAR S B I , MAIN MARKET BAKHTARA TEH BUDHNI DIST SEHORE
SEHORE
SEHORE
MADHYA PRADESH
91
7354960298
BANK OF' INDIA
BKID0MG0350
BHOPAL NAKASEHORE
INDORE BHOPAL ROAD,BHOPAL NAKA SEHORE
SEHORE
SEHORE
MADHYA PRADESH
91
8718994386
BANK OF' INDIA
BKID0MG0349
SHYAMPUR
VP SHYAMPUR TEH DIST SEHORE
SEHORE
SEHORE
MADHYA PRADESH
91
8109107574
BANK OF' INDIA
BKID0MG0348
SHAHGANJ
VP SHAHGANJ TEH BUDNI DIST SEHORE
SEHORE
SEHORE
MADHYA PRADESH
91
9827765971
BANK OF' INDIA
BKID0MG0347
BUDHANI
BUS STAND BUDNI, DIST SEHORE
SEHORE
SEHORE
MADHYA PRADESH
91
9425128994
BANK OF' INDIA
BKID0MG0346
SIDDIQUIGANJ
SIDDIQUIGANJ TEH ASHTA DIST SEHORE
SEHORE
SEHORE
MADHYA PRADESH
91
9893800663
BANK OF' INDIA
BKID0MG0345
REHATI
REHATI, TEH BUDHNI DIST SEHORE
SEHORE
SEHORE
MADHYA PRADESH
91
8959540958
BANK OF' INDIA
BKID0MG0344
SEHORE
KOTWALI CHOURAHA TEH AND DIST SEHORE
SEHORE
SEHORE
MADHYA PRADESH
91
8305373197
BANK OF' INDIA
BKID0MG0343
ASHTA
SIKANDAR BAJAR, ASHTA, TEH ASHTA DIST SEHORE
SEHORE
SEHORE
MADHYA PRADESH
91
9977464989
BANK OF' INDIA
BKID0MG0342
ICHHAWAR
GANJEE BAR, ICHHAWAR, TEH ICCHAWAR DIST SEHORE
SEHORE
SEHORE
MADHYA PRADESH
91
9893748300
BANK OF' INDIA
BKID0MG0341
JAWAR
NEAR RAMMANDIR, JAWAR TEH ASHTA DIST SEHORE
SEHORE
SEHORE
MADHYA PRADESH
91
9669398151
BANK OF' INDIA
BKID0MG0340
NASRULLAGANJ
BLOCK OFFICE, NASRULLAGANJ, TEH NASRULLAGANJ, DIST SEHORE
SEHORE
SEHORE
MADHYA PRADESH
91
8818886561
BANK OF' INDIA
BKID0MG0339
CHHIPANER
VP CHHIPANER, TEH NASRULLA GANJ, DIST SEHORE
SEHORE
SEHORE
MADHYA PRADESH
91
7987899701
BANK OF' INDIA
BKID0MG0338
PADAMPURA
OLD A B ROAD, PACHORE, TEH AND DIST RAJGARH
RAJGARH
RAJGARH
MADHYA PRADESH
91
9425442554
BANK OF' INDIA
BKID0MG0337
TALEN
VP TALEN, TEH NARSINGHGARH, DIST RAJGARH
RAJGARH
RAJGARH
MADHYA PRADESH
91
9826882089
BANK OF' INDIA
BKID0MG0335
NARSINGHA MANDI
NARSINGHGAARH, BUS STAND, TEH NARSINGHGAARH, DIST RAJGARH
RAJGARH
RAJGARH
MADHYA PRADESH
91
9893767441
BANK OF' INDIA
BKID0MG0334
UDANKHEDI
VP UDANKHEDI, TEH SARANGPUR, DIST RAJGARH
RAJGARH
RAJGARH
MADHYA PRADESH
91
9826460480
BANK OF' INDIA
BKID0MG0333
SANDAWTA
VP SNADAWTA, TEH SARANGPUR, DIST RAJGARH
RAJGARH
RAJGARH
MADHYA PRADESH
91
9425683894
BANK OF' INDIA
BKID0MG0331
MACHALPUR
MACHALPUR, TEH JEERAPUR, DIST RAJGARH
RAJGARH
RAJGARH
MADHYA PRADESH
91
9752227443
BANK OF' INDIA
BKID0MG0330
RAJGARH
PARAYAN CHOWK, RAJGARH TEH AND DIST RAJGARH
RAJGARH
RAJGARH
MADHYA PRADESH
91
9424405860
BANK OF' INDIA
BKID0MG0329
KURAWAR
KURAWAR MANDI, KURAVAR TEH NARSINGHARH, DIST RAJGARH
RAJGARH
RAJGARH
MADHYA PRADESH
91
9699494840
BANK OF' INDIA
BKID0MG0328
PIPILLA KULMI
VP PIPLYAKULMI, TEH JEERAPUR DIST RAJGARH
RAJGARH
RAJGARH
MADHYA PRADESH
91
9993927923
BANK OF' INDIA
BKID0MG0327
CHHAPIHEDA
VP CHHAPIHEDA TEH KHILCHIPUR, DIST RAJGARH
RAJGARH
RAJGARH
MADHYA PRADESH
91
9826446825
BANK OF' INDIA
BKID0MG0326
PADLYAMATA
NEAR BUSSTAND,V AND P PADLYAMATA TEH SARANGPUR, DIST RAJGARH
RAJGARH
RAJGARH
MADHYA PRADESH
91
9770395044
BANK OF' INDIA
BKID0MG0325
NARSINGHGARH
FOOLBAG CHOURAHA, NARSINGHGARH TEH NARSINGHGARH, DT RAJGARH
RAJGARH
RAJGARH
MADHYA PRADESH
91
9425346945
BANK OF' INDIA
BKID0MG0324
MANDAWAR
VP MANDAWAR TEH NARSINGHGARH, DIST RAJGARH
RAJGARH
RAJGARH
MADHYA PRADESH
91
7694006307
BANK OF' INDIA
BKID0MG0323
SUTHALIYA
MADHOOSUDANGARH ROAD, SUTHALIYA TEH BIAORA, DIST RAJGARH
RAJGARH
RAJGARH
MADHYA PRADESH
91
9754226507
BANK OF' INDIA
BKID0MG0322
MAU PADANA
VP MAU TEH SARANGPUR, DIST RAJGARH
RAJGARH
RAJGARH
MADHYA PRADESH
91
9981330110
BANK OF' INDIA
BKID0MG0321
LAKHANWAS
VP LAKHANWAS TEH BIAORA, DIST RAJGARH
RAJGARH
RAJGARH
MADHYA PRADESH
91
9893753901
BANK OF' INDIA
BKID0MG0319
KALIPEETH
VP KALIPEETH TEH RAJGARH, DIST RAJGARH
RAJGARH
RAJGARH
MADHYA PRADESH
91
8982301033
BANK OF' INDIA
BKID0MG0318
JEERAPUR
JAMAI COLONY, JEERAPUR,TEH JEERAPUR DIST RAJGARH
RAJGARH
RAJGARH
MADHYA PRADESH
91
9993328733
BANK OF' INDIA
BKID0MG0316
JHADLA
VP JHADLA, VIA KURAWAR, TEH NARSINGHARH DIST RAJGARH
RAJGARH
RAJGARH
MADHYA PRADESH
91
9993776853
BANK OF' INDIA
BKID0MG0315
GINDORHAT
VP GINDORHAT TEH BIAORA, DIST RAJGARH
RAJGARH
RAJGARH
MADHYA PRADESH
91
7566556690
BANK OF' INDIA
BKID0MG0314
GAGORNI
VILL GAGORANI TEH JEERAPUR
RAJGARH
RAJGARH
MADHYA PRADESH
91
8654814585
BANK OF' INDIA
BKID0MG0313
GOGHATPUR
VILL GOGHATPUR TEH JEERAPUR
RAJGARH
RAJGARH
MADHYA PRADESH
91
9755343341
BANK OF' INDIA
BKID0MG0312
EKLERA RAJGARH
VP EKLERA TEH NARSINGHARH
RAJGARH
RAJGARH
MADHYA PRADESH
91
9926379247
BANK OF' INDIA
BKID0MG0311
SARANGPUR
BHENROO DARWAJA ROAD, SARANGPUR TEH SARANGPUR
RAJGARH
RAJGARH
MADHYA PRADESH
91
9425367744
BANK OF' INDIA
BKID0MG0310
CHATUKHEDA
VP CHATUKHEDA TEH RAJGARH
RAJGARH
RAJGARH
MADHYA PRADESH
91
7000682043
BANK OF' INDIA
BKID0MG0309
KHUJANER
VP KHUJNER TEH RAJGARH
RAJGARH
RAJGARH
MADHYA PRADESH
91
9977013354
BANK OF' INDIA
BKID0MG0308
PADONIYA
BIAORA BAIPASS A B ROAD, BIAORA
RAJGARH
RAJGARH
MADHYA PRADESH
91
7694006323
BANK OF' INDIA
BKID0MG0307
BAIRASIYA
VP BAIRASIYA, TEH NARSINGHARH
RAJGARH
RAJGARH
MADHYA PRADESH
91
9826682402
BANK OF' INDIA
BKID0MG0306
KHILCHIPUR
THAWARIYA BAJAR,KHILCHIPUR
RAJGARH
RAJGARH
MADHYA PRADESH
91
9893995670
BANK OF' INDIA
BKID0MG0304
BIAORA
A B ROAD, BIAORA TEH BIAORA
RAJGARH
RAJGARH
MADHYA PRADESH
91
9630924312
BANK OF' INDIA
BKID0MG0303
BHIYANA
VP BHAYANA TEH SARANGPUR
RAJGARH
RAJGARH
MADHYA PRADESH
91
9993164237
BANK OF' INDIA
BKID0MG0302
BODA
PACHORE ROAD , BUS STAND ,TEH NARSINGHARH
RAJGARH
RAJGARH
MADHYA PRADESH
91
9893355767
BANK OF' INDIA
BKID0MG0301
PADANA
PADANATEHSARANGPUR
RAJGARH
RAJGARH
MADHYA PRADESH
91
9827827882
BANK OF' INDIA
BKID0MG0300
REGIONAL OFFICE SEHORE
BHOPAL NAKA SEHORE
SEHORE
SEHORE
MADHYA PRADESH
91
8555088140
BANK OF' INDIA
BKID0MG0299
NAGALWADI
GOMA HOUSE,SILVI MAUHLA,SADAR BAJAR,NAGALWADI,
BARWANI
BARWANI
MADHYA PRADESH
91
9977749419
BANK OF' INDIA
BKID0MG0298
DAPORA
ICCHAPUR ROAD DAPORA
BURHANPUR
BURHANPUR
MADHYA PRADESH
91
7089903727
BANK OF' INDIA
BKID0MG0297
PHOPHNAR
TURAK GORUDA ROAD PHOPHNAR
BURHANPUR
BURHANPUR
MADHYA PRADESH
91
7089903725
BANK OF' INDIA
BKID0MG0296
DAWANA
BARWANI MAIN ROAD,DAWANA,DAWANA,
BARWANI
BARWANI
MADHYA PRADESH
91
9893306002
BANK OF' INDIA
BKID0MG0295
OMKARESHWAR
MAIN ROAD OMKARSHWAR
KHANDWA
KHANDWA
MADHYA PRADESH
91
9826817215
BANK OF' INDIA
BKID0MG0294
THIKRI
BARWANI ROAD,THIKRI,THIKRI,
BARWANI
BARWANI
MADHYA PRADESH
91
7747019524
BANK OF' INDIA
BKID0MG0293
PIPALGONE
PIPALGONE ROAD PIPALGOAN
KHARGONE
KHARGONE
MADHYA PRADESH
91
8712822258
BANK OF' INDIA
BKID0MG0292
DIVERSION ROAD KHARGONE
RAGUWANSI BHAWAN BAWDI BUS STAND DIVERSION ROAD
KHARGONE
KHARGONE
MADHYA PRADESH
91
7771007745
BANK OF' INDIA
BKID0MG0291
KARAHI
CHINGUN ROAD KARAHI
KHARGONE
KHARGONE
MADHYA PRADESH
91
9755595324
BANK OF' INDIA
BKID0MG0290
ANJAD
BUS STAND ANJAD,ANJAD,
BARWANI
BARWANI
MADHYA PRADESH
91
7747019521
BANK OF' INDIA
BKID0MG0289
SHAIKHPURA SHEKHPURA
AT POST SHAIKHPURA
BURHANPUR
BURHANPUR
MADHYA PRADESH
91
7089903720
BANK OF' INDIA
BKID0MG0288
BORGAON BUJURG
MAIN ROAD BORGAON BUJU
KHANDWA
KHANDWA
MADHYA PRADESH
91
9939676768
BANK OF' INDIA
BKID0MG0287
SHAHPUR
CHOUPADE COMPLEX,BADA BAZAR,SHAHPUR
BURHANPUR
BURHANPUR
MADHYA PRADESH
91
7089903764
BANK OF' INDIA
BKID0MG0286
SAROLA
3940 SAROLA
BURHANPUR
BURHANPUR
MADHYA PRADESH
91
7089903728
BANK OF' INDIA
BKID0MG0285
CHHEGAON MAKHAN
INDORE ICCHAPUR STATE HIGWAY CHHEGAON MAKHAN
KHANDWA
KHANDWA
MADHYA PRADESH
91
9407349956
BANK OF' INDIA
BKID0MG0284
BISTAN
PATEL COMPLEX NEAR BUS STAND
KHARGONE
KHARGONE
MADHYA PRADESH
91
9425982589
BANK OF' INDIA
BKID0MG0283
ROSHANI
AT POST. ROSHANI
KHANDWA
KHANDWA
MADHYA PRADESH
91
9977967694
BANK OF' INDIA
BKID0MG0282
PANDHANA
AT POST. PANDHANA
KHANDWA
KHANDWA
MADHYA PRADESH
91
7000489830
BANK OF' INDIA
BKID0MG0281
KHAKNER
KHAKNER
BURHANPUR
BURHANPUR
MADHYA PRADESH
91
9425911947
BANK OF' INDIA
BKID0MG0280
KOHDAD
AT POST. KOHDAD
KHANDWA
KHANDWA
MADHYA PRADESH
91
7049405530
BANK OF' INDIA
BKID0MG0279
KHANDWA
ANNAND NAGAR
KHANDWA
KHANDWA
MADHYA PRADESH
91
9340320500
BANK OF' INDIA
BKID0MG0278
MOONDI
MAIN ROAD TEHSIL PUNASA
KHANDWA
KHANDWA
MADHYA PRADESH
91
7089907947
BANK OF' INDIA
BKID0MG0277
JASWADI
BUS STAND JASWAD
KHANDWA
KHANDWA
MADHYA PRADESH
91
7089903711
BANK OF' INDIA
BKID0MG0276
CHHANERA
MAIN MARKET CHHANERA
KHANDWA
KHANDWA
MADHYA PRADESH
91
7089903724
BANK OF' INDIA
BKID0MG0275
HAIDERPUR
NEPANAGAR ROAD HYDERPUR
BURHANPUR
BURHANPUR
MADHYA PRADESH
91
9405679147
BANK OF' INDIA
BKID0MG0274
KHALWA
KHALWA
KHANDWA
KHANDWA
MADHYA PRADESH
91
7089903706
BANK OF' INDIA
BKID0MG0273
PUNASA
SANAWAD ROAD PUNASA
KHANDWA
KHANDWA
MADHYA PRADESH
91
7089903744
BANK OF' INDIA
BKID0MG0272
GANDHAWA
GANDHAWA
KHANDWA
KHANDWA
MADHYA PRADESH
91
6264250515
BANK OF' INDIA
BKID0MG0271
DIWAL
RANAVAT BUILDING MAIN ROAD
KHANDWA
KHANDWA
MADHYA PRADESH
91
9977316557
BANK OF' INDIA
BKID0MG0270
DHULKOT
NEAR GRAM PANCHYA , GRAM POST DHULKOT
BURHANPUR
BURHANPUR
MADHYA PRADESH
91
9425496058
BANK OF' INDIA
BKID0MG0269
DESHGAONE
NEAR PATROL PUMP , GRAM DESHGAON
KHANDWA
KHANDWA
MADHYA PRADESH
91
8989838308
BANK OF' INDIA
BKID0MG0268
CHICHGOHAN
ROSHIYA ROAD CHICHGOHAN
KHANDWA
KHANDWA
MADHYA PRADESH
91
9926867710
BANK OF' INDIA
BKID0MG0267
BURHANPUR
SHASTRI CHAWK , SHAH BAZAR NEAR SHANI MANDIR
BURHANPUR
BURHANPUR
MADHYA PRADESH
91
7089908505
BANK OF' INDIA
BKID0MG0266
BILLOD
KILLOD ROAD GRAM KILLOD
KHANDWA
KHANDWA
MADHYA PRADESH
91
7898000989
BANK OF' INDIA
BKID0MG0265
BID
BUS STAND BEED
KHANDWA
KHANDWA
MADHYA PRADESH
91
7089903701
BANK OF' INDIA
BKID0MG0264
BAGMAR
BAGMAR
KHANDWA
KHANDWA
MADHYA PRADESH
91
7089903769
BANK OF' INDIA
BKID0MG0263
SINGOT
JASWADI ROAD VILLAGE SINGOT
KHANDWA
KHANDWA
MADHYA PRADESH
91
9691205387
BANK OF' INDIA
BKID0MG0262
AMALPURA
KHIRKIYA ROAD
KHANDWA
KHANDWA
MADHYA PRADESH
91
9584721421
BANK OF' INDIA
BKID0MG0261
ARUD
PANDHANA ROAD ARUD
KHANDWA
KHANDWA
MADHYA PRADESH
91
7089903767
BANK OF' INDIA
BKID0MG0260
KALMUKHI
MAIN ROAD VILLAGE KALMUKHI
KHARGONE
KHARGONE
MADHYA PRADESH
91
9754848909
BANK OF' INDIA
BKID0MG0259
BALWADA
INDORE KHANDWA ROAD
KHARGONE
KHARGONE
MADHYA PRADESH
91
9826031857
BANK OF' INDIA
BKID0MG0258
NEPANAGAR
AT POST NEPANAGAR
BURHANPUR
BURHANPUR
MADHYA PRADESH
91
9179099176
BANK OF' INDIA
BKID0MG0257
SIRPUR
VILL POST SIRPUR
BURHANPUR
BURHANPUR
MADHYA PRADESH
91
7089907938
BANK OF' INDIA
BKID0MG0256
NACHANKHEDA
VILL POST NACHANKHEDA
BURHANPUR
BURHANPUR
MADHYA PRADESH
91
7089903718
BANK OF' INDIA
BKID0MG0255
SANAWAD ROAD KHARGONE
IN FRONT OF DRP LINE KHARGONE SANAWAD ROAD
KHARGONE
KHARGONE
MADHYA PRADESH
91
7089903763
BANK OF' INDIA
BKID0MG0254
GOSHALA ROAD
NEAR ANJALI TALKIES, NEAR SHANI MANDIR
KHANDWA
KHANDWA
MADHYA PRADESH
91
7089903765
BANK OF' INDIA
BKID0MG0253
JASWADI ROAD
43 SAPANA BAIKUNTH NAGAR JASWADI ROAD
KHANDWA
KHANDWA
MADHYA PRADESH
91
7999841101
BANK OF' INDIA
BKID0MG0252
LAL BAG BURHANPUR
SINDHI BASTI LAL BAG B
BURHANPUR
BURHANPUR
MADHYA PRADESH
91
7089903726
BANK OF' INDIA
BKID0MG0251
BAMANDI
MAIN ROAD BAMANDI
KHARGONE
KHARGONE
MADHYA PRADESH
91
9425085506
BANK OF' INDIA
BKID0MG0250
SHIVNA
MAIN MARKET SHIVNA
KHARGONE
KHARGONE
MADHYA PRADESH
91
8223047960
BANK OF' INDIA
BKID0MG0249
MONGARGAON
MONGARGAON
KHARGONE
KHARGONE
MADHYA PRADESH
91
8959066500
BANK OF' INDIA
BKID0MG0248
RANGAON
MAIN ROAD RANGAON
KHANDWA
KHANDWA
MADHYA PRADESH
91
8602797350
BANK OF' INDIA
BKID0MG0247
PAMAKHEDI
PAMAKHEDI PO BAIJOGWAD
KHANDWA
KHANDWA
MADHYA PRADESH
91
9425484834
BANK OF' INDIA
BKID0MG0246
DHULKOTKABRI
KABRI ROAD DHULKOT
KHARGONE
KHARGONE
MADHYA PRADESH
91
6266945488
BANK OF' INDIA
BKID0MG0245
JHIRNIYA
OLD BUS STAND ZIRNIYA ROAD ZIRNIYA
KHARGONE
KHARGONE
MADHYA PRADESH
91
7089903757
BANK OF' INDIA
BKID0MG0243
SEGAON
KHARGONE BADWANI ROAD SEGAON
KHARGONE
KHARGONE
MADHYA PRADESH
91
7089903770
BANK OF' INDIA
BKID0MG0242
TALWADA DEB
NEAR BUS STAND ,TALWADA DEB,
BARWANI
BARWANI
MADHYA PRADESH
91
7747019523
BANK OF' INDIA
BKID0MG0240
SENDHWA
DR.J.C.PALIWAL HOUSE,SADAR BAZAR,SENDHAWA,
BARWANI
BARWANI
MADHYA PRADESH
91
9575133966
BANK OF' INDIA
BKID0MG0239
BARWANI
DAJI COMPLEX,M.G.ROAD,BARWANI,
BARWANI
BARWANI
MADHYA PRADESH
91
9425911922
BANK OF' INDIA
BKID0MG0238
SOMAKHEDI
BUS STAND SOMAKHEDI
KHARGONE
KHARGONE
MADHYA PRADESH
91
7089903747
BANK OF' INDIA
BKID0MG0237
PANSEMAL
NEAR JHANDA CHOK,MAIN ROAD,PANSEMAL,
BARWANI
BARWANI
MADHYA PRADESH
91
7747019517
BANK OF' INDIA
BKID0MG0236
OZRA
INDORE KHARGONE ROAD
KHARGONE
KHARGONE
MADHYA PRADESH
91
9926881078
BANK OF' INDIA
BKID0MG0235
JULWANIYA
BARWANI ROAD,JULWANIA,
BARWANI
BARWANI
MADHYA PRADESH
91
9860281749
BANK OF' INDIA
BKID0MG0234
NIMRANI
MAIN ROAD JHIRNIYA NIMRANI
KHARGONE
KHARGONE
MADHYA PRADESH
91
9826646480
BANK OF' INDIA
BKID0MG0232
MAHESHWAR
MAHESHWAR
KHARGONE
KHARGONE
MADHYA PRADESH
91
7089903752
BANK OF' INDIA
BKID0MG0231
NANDRA
BADWAH DHAMNOD ROAD N
KHARGONE
KHARGONE
MADHYA PRADESH
91
9926494929
BANK OF' INDIA
BKID0MG0230
MEHATWADA
MEHATWADA TEHMAHESHWA
KHARGONE
KHARGONE
MADHYA PRADESH
91
7898493987
BANK OF' INDIA
BKID0MG0229
PALSUD
NIWALI ROAD,PALSUD,
BARWANI
BARWANI
MADHYA PRADESH
91
9039790297
BANK OF' INDIA
BKID0MG0228
MAINGAON
MAINGAON POPIPRATA
KHARGONE
KHARGONE
MADHYA PRADESH
91
9753531649
BANK OF' INDIA
BKID0MG0227
MULTHAN
MULTHAN
KHARGONE
KHARGONE
MADHYA PRADESH
91
9977534589
BANK OF' INDIA
BKID0MG0226
LALKHEDA
KHARGONE ROAD LALKHEDA
KHARGONE
KHARGONE
MADHYA PRADESH
91
9926480613
BANK OF' INDIA
BKID0MG0225
LONARA
NEAR BUS STAND LONARA
KHARGONE
KHARGONE
MADHYA PRADESH
91
8827598469
BANK OF' INDIA
BKID0MG0224
KANAPUR
MARDANA ROAD KANAPUR
KHARGONE
KHARGONE
MADHYA PRADESH
91
9926060411
BANK OF' INDIA
BKID0MG0223
KASRAWAD
MANDLESWAR ROAD KASRAWAD
KHARGONE
KHARGONE
MADHYA PRADESH
91
9977783787
BANK OF' INDIA
BKID0MG0222
MANDLESHWAR
85,MAHATMA GANDHI MARG
KHARGONE
KHARGONE
MADHYA PRADESH
91
9424058880
BANK OF' INDIA
BKID0MG0221
KATKUT
MAIN ROAD KATKUT
KHARGONE
KHARGONE
MADHYA PRADESH
91
8120366972
BANK OF' INDIA
BKID0MG0220
KELI
MAIN MARKET KELI
KHARGONE
KHARGONE
MADHYA PRADESH
91
7089903753
BANK OF' INDIA
BKID0MG0219
KHARGONE
BISTAN ROAD,KHARGONE
KHARGONE
KHARGONE
MADHYA PRADESH
91
9757030362
BANK OF' INDIA
BKID0MG0218
SANAWAD
VILL POST SANAWAD,
KHARGONE
KHARGONE
MADHYA PRADESH
91
7089903414
BANK OF' INDIA
BKID0MG0217
JALGOAN
CHANDNICHOK,PANSEMAL ROAD,JALGAON,
BARWANI
BARWANI
MADHYA PRADESH
91
8349379803
BANK OF' INDIA
BKID0MG0216
NIWALI
NEAR BUS STAND,NIWALI,
BARWANI
BARWANI
MADHYA PRADESH
91
7974824724
BANK OF' INDIA
BKID0MG0215
SILAWAD
PALSUD ROAD ,SILAWAD,
BARWANI
BARWANI
MADHYA PRADESH
91
9981143968
BANK OF' INDIA
BKID0MG0214
GOGAWAN
SANAWAD ROAD GOGAWAN
KHARGONE
KHARGONE
MADHYA PRADESH
91
9425911901
BANK OF' INDIA
BKID0MG0213
DHAWALI
MAIN ROAD NEAR BUS STAND,DHAWALI,
BARWANI
BARWANI
MADHYA PRADESH
91
9926043084
BANK OF' INDIA
BKID0MG0212
DHANORA
MAIN ROAD ,DHANORA,
BARWANI
BARWANI
MADHYA PRADESH
91
7747019516
BANK OF' INDIA
BKID0MG0210
CHACHARIYA PATI
SAHUJI HOUSE,CHACHARIYA FAATA MRG,CHACHARIYA PATI
BARWANI
BARWANI
MADHYA PRADESH
91
9826041771
BANK OF' INDIA
BKID0MG0209
CHAINPUR
AT POST CHAINPUR
KHARGONE
KHARGONE
MADHYA PRADESH
91
7089903560
BANK OF' INDIA
BKID0MG0208
BARWAHA
KHANDWA INDORE MARG BARWAHA
KHARGONE
KHARGONE
MADHYA PRADESH
91
9753199788
BANK OF' INDIA
BKID0MG0207
KHETIYA
SUBHASH MARG,KHETIYA,
BARWANI
BARWANI
MADHYA PRADESH
91
7747019518
BANK OF' INDIA
BKID0MG0206
RAJPUR
JAYGURUDEV,MUNCIPAL WARD NO5,PALSUD ROAD,RAJPUR
BARWANI
BARWANI
MADHYA PRADESH
91
9131293354
BANK OF' INDIA
BKID0MG0205
BHIKANGAON
AMAN KHEDI ROAD BHIKANGAON
KHARGONE
KHARGONE
MADHYA PRADESH
91
9131085778
BANK OF' INDIA
BKID0MG0203
BHAGWANPUR
MAIN ROAD BHAGWANPURA
KHARGONE
KHARGONE
MADHYA PRADESH
91
9057229202
BANK OF' INDIA
BKID0MG0202
BHAGYAPUR
MAIN ROAD BHAGYAPUR
KHARGONE
KHARGONE
MADHYA PRADESH
91
8989119388
BANK OF' INDIA
BKID0MG0201
BEDIA
KHARGONE ROAD BEDIYA
KHARGONE
KHARGONE
MADHYA PRADESH
91
7089903766
BANK OF' INDIA
BKID0MG0200
REGIONAL OFFICE KHARGONE
1ST FLOORVALLABH HOTEL
KHARGONE
KHARGONE
MADHYA PRADESH
91
9425911927
BANK OF' INDIA
BKID0MG0177
MANGLAJ
GRAM POST MANGLAJ
SHAJAPUR
SHAJAPUR
MADHYA PRADESH
91
7555171748
BANK OF' INDIA
BKID0MG0176
MR ROAD DEWAS
MR 9 DAYMA COMPLEX
DEWAS
DEWAS
MADHYA PRADESH
91
8989702996
BANK OF' INDIA
BKID0MG0175
NEMAWAR
BUS STAND NEMAWAR
DEWAS
DEWAS
MADHYA PRADESH
91
6264138388
BANK OF' INDIA
BKID0MG0174
TANODIYA
UJJAIN AGAR ROAD
AGAR MALWA
AGAR MALWA
MADHYA PRADESH
91
9893192350
BANK OF' INDIA
BKID0MG0173
ARANYA KALAN
SHUJALPUR ASHTA ROAD
SHAJAPUR
SHAJAPUR
MADHYA PRADESH
91
9770842545
BANK OF' INDIA
BKID0MG0172
BAGLI
MG ROAD,KHANTHALI BHAW
DEWAS
DEWAS
MADHYA PRADESH
91
9685423792
BANK OF' INDIA
BKID0MG0171
DATTOTAR MANDI
VIJAYGANJ MANDI SUNWAN
DEWAS
DEWAS
MADHYA PRADESH
91
9826046174
BANK OF' INDIA
BKID0MG0170
VIKAS NAGAR DEWAS
6 RAM NAGAR ANNEX
DEWAS
DEWAS
MADHYA PRADESH
91
9826611188
BANK OF' INDIA
BKID0MG0169
CHAWANI AGAR
COLLECTRATE ROAD KHAND
AGAR MALWA
AGAR MALWA
MADHYA PRADESH
91
9981816700
BANK OF' INDIA
BKID0MG0168
MAKSI
51 PITHA ROAD
SHAJAPUR
SHAJAPUR
MADHYA PRADESH
91
9425947903
BANK OF' INDIA
BKID0MG0167
PANWADI
PANWADI
SHAJAPUR
SHAJAPUR
MADHYA PRADESH
91
9425946568
BANK OF' INDIA
BKID0MG0166
POLAY KALA
POLAY KALA BUS STAND
SHAJAPUR
SHAJAPUR
MADHYA PRADESH
91
7089903530
BANK OF' INDIA
BKID0MG0165
SOYATKALA
SOYATKALA TEH SUSNER
AGAR MALWA
AGAR MALWA
MADHYA PRADESH
91
8319270278
BANK OF' INDIA
BKID0MG0164
MOMAN BADODIYA
MOMAN BADODIYA
SHAJAPUR
SHAJAPUR
MADHYA PRADESH
91
9754558488
BANK OF' INDIA
BKID0MG0163
SATWAS
WARD NO 8 MAIN ROAD
DEWAS
DEWAS
MADHYA PRADESH
91
7415183411
BANK OF' INDIA
BKID0MG0162
DEWAS MANDI
A301, AWAS NAGAR MAI
DEWAS
DEWAS
MADHYA PRADESH
91
9826649699
BANK OF' INDIA
BKID0MG0161
CHAMUNDA COMPLEX
BEHIND INDIAN COFFEE HOUSE
DEWAS
DEWAS
MADHYA PRADESH
91
9424445680
BANK OF' INDIA
BKID0MG0160
SHUJALPUR CITY
VP SHUJALPUR MANDI
SHAJAPUR
SHAJAPUR
MADHYA PRADESH
91
9644665582
BANK OF' INDIA
BKID0MG0159
SHUJALPUR MANDI
VP SHUJALPUR
SHAJAPUR
SHAJAPUR
MADHYA PRADESH
91
9425650220
BANK OF' INDIA
BKID0MG0158
AWANTIPUR BADODIYA
AT POST. AWANTIPUR
SHAJAPUR
SHAJAPUR
MADHYA PRADESH
91
9755259381
BANK OF' INDIA
BKID0MG0156
BAROD MALWA
AT POST. BAROD MALW
AGAR MALWA
AGAR MALWA
MADHYA PRADESH
91
9425991776
BANK OF' INDIA
BKID0MG0155
JAISINGHPURA
JAISINGHPURA
AGAR MALWA
AGAR MALWA
MADHYA PRADESH
91
9926422344
BANK OF' INDIA
BKID0MG0154
AGAR MALWA
AGAR MALWA
AGAR MALWA
AGAR MALWA
MADHYA PRADESH
91
9424870633
BANK OF' INDIA
BKID0MG0153
KANAD
AT POST. KANAD
AGAR MALWA
AGAR MALWA
MADHYA PRADESH
91
9893269113
BANK OF' INDIA
BKID0MG0152
MOHANA
MOHANA
SHAJAPUR
SHAJAPUR
MADHYA PRADESH
91
9826349686
BANK OF' INDIA
BKID0MG0151
DUPADA
DUPADA
SHAJAPUR
SHAJAPUR
MADHYA PRADESH
91
9926762786
BANK OF' INDIA
BKID0MG0150
AKODIYA MANDI
AKODIYA MANDI
SHAJAPUR
SHAJAPUR
MADHYA PRADESH
91
9827012703
BANK OF' INDIA
BKID0MG0147
MODI
AT POSTMODI
AGAR MALWA
AGAR MALWA
MADHYA PRADESH
91
7089903574
BANK OF' INDIA
BKID0MG0146
KALAPIPAL
KALAPIPAL
SHAJAPUR
SHAJAPUR
MADHYA PRADESH
91
9098398268
BANK OF' INDIA
BKID0MG0145
RANAYAL
RANAYAL
SHAJAPUR
SHAJAPUR
MADHYA PRADESH
91
9993210736
BANK OF' INDIA
BKID0MG0144
KHARDONKALA
KHARDONKALA
SHAJAPUR
SHAJAPUR
MADHYA PRADESH
91
7999281924
BANK OF' INDIA
BKID0MG0143
BHERAWAL
BHERAWAL
SHAJAPUR
SHAJAPUR
MADHYA PRADESH
91
9981627474
BANK OF' INDIA
BKID0MG0142
TILAWAD
AT POST TILAWAD
SHAJAPUR
SHAJAPUR
MADHYA PRADESH
91
9752954124
BANK OF' INDIA
BKID0MG0141
NALKHEDA
NALKHEDA
AGAR MALWA
AGAR MALWA
MADHYA PRADESH
91
9977977496
BANK OF' INDIA
BKID0MG0139
SUSNER
SUSNER
AGAR MALWA
AGAR MALWA
MADHYA PRADESH
91
9977535673
BANK OF' INDIA
BKID0MG0138
TANKI CHOURAHA
TANKI CHOURAHA
SHAJAPUR
SHAJAPUR
MADHYA PRADESH
91
7089903607
BANK OF' INDIA
BKID0MG0137
BERCHHA MANDI
BERCHHA MANDI
SHAJAPUR
SHAJAPUR
MADHYA PRADESH
91
9826080487
BANK OF' INDIA
BKID0MG0136
SHAJAPUR
TAH SHAJAPUR
SHAJAPUR
SHAJAPUR
MADHYA PRADESH
91
9425021007
BANK OF' INDIA
BKID0MG0135
JIYAGAON
JIYAGAON
DEWAS
DEWAS
MADHYA PRADESH
91
9425936992
BANK OF' INDIA
BKID0MG0134
KHATEGAON
KHATEGAON
DEWAS
DEWAS
MADHYA PRADESH
91
9893073885
BANK OF' INDIA
BKID0MG0133
SANDALPUR
SANDALPUR
DEWAS
DEWAS
MADHYA PRADESH
91
7000676782
BANK OF' INDIA
BKID0MG0132
HARANGAON
HARANGAON
DEWAS
DEWAS
MADHYA PRADESH
91
7828303584
BANK OF' INDIA
BKID0MG0131
AJNAS
AJNAS
DEWAS
DEWAS
MADHYA PRADESH
91
8319835986
BANK OF' INDIA
BKID0MG0130
LOHARDA
LOHARDA
DEWAS
DEWAS
MADHYA PRADESH
91
9893382898
BANK OF' INDIA
BKID0MG0129
KANNOD
KANNOD
DEWAS
DEWAS
MADHYA PRADESH
91
7440909766
BANK OF' INDIA
BKID0MG0128
KUSMANIYA
KUSMANIYA
DEWAS
DEWAS
MADHYA PRADESH
91
8269848736
BANK OF' INDIA
BKID0MG0127
HATPIPLIYA
HATPIPLIYA
DEWAS
DEWAS
MADHYA PRADESH
91
9407129186
BANK OF' INDIA
BKID0MG0126
DERIYA SAHU
DERIYA SAHU
DEWAS
DEWAS
MADHYA PRADESH
91
9424021532
BANK OF' INDIA
BKID0MG0125
MANKUND
MANKUND
DEWAS
DEWAS
MADHYA PRADESH
91
9907214744
BANK OF' INDIA
BKID0MG0124
PIPRI
PIPRI
DEWAS
DEWAS
MADHYA PRADESH
91
9826036531
BANK OF' INDIA
BKID0MG0123
PUNJAPURA
AT POST. PUNJAPURA
DEWAS
DEWAS
MADHYA PRADESH
91
9644912196
BANK OF' INDIA
BKID0MG0122
DEVGAD
DEVGAD
DEWAS
DEWAS
MADHYA PRADESH
91
9165312121
BANK OF' INDIA
BKID0MG0121
CHAPDA
CHAPDA
DEWAS
DEWAS
MADHYA PRADESH
91
9926084175
BANK OF' INDIA
BKID0MG0120
SONKUTCH
SONKUTCH DISTT DEWAS
DEWAS
DEWAS
MADHYA PRADESH
91
9685340001
BANK OF' INDIA
BKID0MG0118
BABAI
BABAI
DEWAS
DEWAS
MADHYA PRADESH
91
9827539746
BANK OF' INDIA
BKID0MG0117
PIPALRAWAN
PIPALRAWA
DEWAS
DEWAS
MADHYA PRADESH
91
9425367904
BANK OF' INDIA
BKID0MG0116
GANDHARWAPURI
GANDHARWAPURI
DEWAS
DEWAS
MADHYA PRADESH
91
9926033663
BANK OF' INDIA
BKID0MG0115
IKLERADEWAS
IKLERA DEWAS
DEWAS
DEWAS
MADHYA PRADESH
91
9893693998
BANK OF' INDIA
BKID0MG0114
CHOUBARA DHIRA
CHOUBARA DHIRA
DEWAS
DEWAS
MADHYA PRADESH
91
9630781465
BANK OF' INDIA
BKID0MG0113
CHIDAWD
CHIDAWAD
DEWAS
DEWAS
MADHYA PRADESH
91
7089903524
BANK OF' INDIA
BKID0MG0112
TONKKHURD
TONKKHURD
DEWAS
DEWAS
MADHYA PRADESH
91
9981244435
BANK OF' INDIA
BKID0MG0111
MENDKI DHAKAD
MENDKI DHAKAD
DEWAS
DEWAS
MADHYA PRADESH
91
9754402712
BANK OF' INDIA
BKID0MG0110
BHORASA
BHORASA
DEWAS
DEWAS
MADHYA PRADESH
91
9826345467
BANK OF' INDIA
BKID0MG0109
DOUBLE CHOKI
DOUBLE CHOKI
DEWAS
DEWAS
MADHYA PRADESH
91
9926571989
BANK OF' INDIA
BKID0MG0108
JAMGOD
JAMGOD
DEWAS
DEWAS
MADHYA PRADESH
91
9424023110
BANK OF' INDIA
BKID0MG0107
SIYA
SIYA
DEWAS
DEWAS
MADHYA PRADESH
91
9406626620
BANK OF' INDIA
BKID0MG0106
NAGDADEWAS
ATPONAGDADEWAS
DEWAS
DEWAS
MADHYA PRADESH
91
9981783441
BANK OF' INDIA
BKID0MG0105
BAROTHA
AT POST. BAROTHA
DEWAS
DEWAS
MADHYA PRADESH
91
9425437875
BANK OF' INDIA
BKID0MG0104
ITAWA
INFRONT OF RAJBHARTI NURSING HOME
DEWAS
DEWAS
MADHYA PRADESH
91
9165786317
BANK OF' INDIA
BKID0MG0103
AGROD
AGROD
DEWAS
DEWAS
MADHYA PRADESH
91
9098279456
BANK OF' INDIA
BKID0MG0102
SINGAWDA
AT POST SINGAWDA
DEWAS
DEWAS
MADHYA PRADESH
91
7828076289
BANK OF' INDIA
BKID0MG0100
REGIONAL OFFICE DEWAS
KALANI BAG A.B. ROAD DEWAS
DEWAS
DEWAS
MADHYA PRADESH
91
9407299307
BANK OF' INDIA
BKID0BESCOM
BESCOM CANTONMENT
JYOTHI MAHAL 49 ST MARKS ROAD CANTONMENT BANGALORE 560001
BANGALORE
BANGALORE URBAN
KARNATAKA
80
22959473
BANK OF' INDIA
BKID0ARYAGB
ARYAVART GB-GOMTI NAGAR BR
1/54, VIKAS KHAND, GOMTI NAGAR, LUCKNOW
LUCKNOW
LUCKNOW
UTTAR PRADESH
5226455002
BANK OF' INDIA
BKID0AG9999
HEAD OFFICE
A-2 46, VIJAY KHAND, GOMTI NAGAR, LUCKNOW- , PIN CODE 226010
HEAD OFFICE
DEWAS
UTTAR PRADESH
91
7388899702
BANK OF' INDIA
BKID0AG2999
R.O. ORAI
VILLAGERATH ROAD BLOCKDAKOR POST OFFICEORAI TAHSILORAI , PIN CODE 285001
R.O. ORAI
DEWAS
UTTAR PRADESH
91
8588899575
BANK OF' INDIA
BKID0AG2952
TITRA KHALILPUR
VILL. TITRA KHALILPUR BLOCKKONCH POKONCH TAHSILKONCH , PIN585123
ORAI
DEWAS
UTTAR PRADESH
91
9792203559
BANK OF' INDIA
BKID0AG2951
KONCH MAND SAMITI
VILL. KONCH MAND SAMITI BLOCKKONCH POKONCH TAHSILKONCH , PIN285205
ORAI
DEWAS
UTTAR PRADESH
91
8052302818
BANK OF' INDIA
BKID0AG2950
BANGRA
VILL. BANGRABLOCKMADHOGARH POBANGRATAHSILMADHIGARH , PIN285121
ORAI
DEWAS
UTTAR PRADESH
91
8052302819
BANK OF' INDIA
BKID0AG2949
AATA
VILL. AATA BLOCKKADAURA POAATA TAHSILKALPI , PIN285202
ORAI
DEWAS
UTTAR PRADESH
91
8052302520
BANK OF' INDIA
BKID0AG2948
SAIDNAGAR
VILL. SAIDNAGAR BLOCKDAKOR POSAIDNAGAR TAHSILKONCH , PIN285223
ORAI
DEWAS
UTTAR PRADESH
91
8052302280
BANK OF' INDIA
BKID0AG2947
ITON
VILL. ITO BLOCKKUTAUNDH POITO TAHSILJALOUN , PIN285129
ORAI
DEWAS
UTTAR PRADESH
91
8052302256
BANK OF' INDIA
BKID0AG2946
KOTRA
VILL. KOTRA BLOCKKOTRA POKOTRA TAHSILORAI , PIN285001
ORAI
DEWAS
UTTAR PRADESH
91
9792203795
BANK OF' INDIA
BKID0AG2945
MEDICAL COLLEGE ORAI
VILL. ORAI BLOCKORAI POORAI TAHSILORAI , PIN285001
ORAI
DEWAS
UTTAR PRADESH
91
9792203793
BANK OF' INDIA
BKID0AG2944
NADIGAON
VILL. NADIGAON BLOCKNADIGAON PONADIGAON TAHSILMADHOGARH , PIN285001
ORAI
DEWAS
UTTAR PRADESH
91
9792203802
BANK OF' INDIA
BKID0AG2943
JHANDA CHAURAHA
VILL. JHANDA CHAURAHA BLOCKJALAUN POJALAUN TAHSILJALOUN , PIN285123
ORAI
DEWAS
UTTAR PRADESH
91
8052302258
BANK OF' INDIA
BKID0AG2942
KONCH ROAD ORAI
VILL. KONCH RD BLOCKDAKOR POORAI TAHSILORAI , PIN285001
ORAI
DEWAS
UTTAR PRADESH
91
8052302255
BANK OF' INDIA
BKID0AG2941
DAKOR
VILL. DAKOR BLOCKDAKOR PODAKOR TAHSILORAI , PIN285122
ORAI
DEWAS
UTTAR PRADESH
91
9792203778
BANK OF' INDIA
BKID0AG2940
KANASI
VILL. KANASI BLOCKKANASI POKANASI TAHSILJALOUN , PIN285125
ORAI
DEWAS
UTTAR PRADESH
91
8052302259
BANK OF' INDIA
BKID0AG2939
RAJENDRA NAGAR ORAI
VILL.ORAI BLOCK ORAI PO ORAI TAHSILORAI , PIN285001
ORAI
DEWAS
UTTAR PRADESH
91
9792203763
BANK OF' INDIA
BKID0AG2938
CHURKHI ROAD ORAI
VILL. ORAI BLOCKORAI POORAI TAHSILORAI , PIN285001
ORAI
DEWAS
UTTAR PRADESH
91
9792203526
BANK OF' INDIA
BKID0AG2937
PATEL NAGAR ORAI
VILL. PATEL NAGAR ORAI BLOCKDAKOR POPATEL NAGAR ORAI TAHSILORAI , PIN 285001
ORAI
DEWAS
UTTAR PRADESH
91
9792203548
BANK OF' INDIA
BKID0AG2936
NAYA RAMNAGAR ORAI
VILL. NAYA RAMNAGAR ORAI BLOCKDAKOR PODVC ORAI TAHSILORAI , PIN285001
ORAI
DEWAS
UTTAR PRADESH
91
9792203550
BANK OF' INDIA
BKID0AG2935
RAMPURA
VILL. RAMPURA BLOCKRAMPURA PORAMPURA TAHSILMADHOGARH , PIN285127
ORAI
DEWAS
UTTAR PRADESH
91
9792203551
BANK OF' INDIA
BKID0AG2934
AJNARI RD ORAI TIMRO
VILL. AJNARI RD. ORAI BLOCKDAKOR POORAI TAHSILORAI , PIN285001
ORAI
DEWAS
UTTAR PRADESH
91
9792203523
BANK OF' INDIA
BKID0AG2933
KONCH
VILL. BHAGAT SINGH NAGAR BLOCKKONCH POKONCH TAHSILKONCH , PIN285205
ORAI
DEWAS
UTTAR PRADESH
91
9792203537
BANK OF' INDIA
BKID0AG2932
SHEKHPUR BUJURG
VILL. SHEKHPUR BUJURG BLOCKJALAUN POSHEKHPUR BUJURG TAHSILJALOUN , PIN285128
ORAI
DEWAS
UTTAR PRADESH
91
9792203556
BANK OF' INDIA
BKID0AG2931
SHEKHPUR JAGIR
VILL. SHEKHPUR JAGIR BLOCKKUTHAUND POSHEKHPUR JAGIR TAHSILJALOUN , PIN285125
ORAI
JALAUN
UTTAR PRADESH
91
9792203557
BANK OF' INDIA
BKID0AG2930
CHURKHI
VILL. CHURKHI BLOCKMAHEWA POCHURKHI TAHSILKALPI , PIN285196
ORAI
JALAUN
UTTAR PRADESH
91
9792203525
BANK OF' INDIA
BKID0AG2929
DAMRAS
VILL. DAMRAS BLOCKMAHEWA PODAMRAS TAHSILKALPI , PIN285103
ORAI
JALAUN
UTTAR PRADESH
91
9792203527
BANK OF' INDIA
BKID0AG2928
MADHOGARH
VILL. MADHOGARH BLOCKMADHOGARH POMADHOGARH TAHSILMADHOGARH , PIN285126
ORAI
JALAUN
UTTAR PRADESH
91
9792203541
BANK OF' INDIA
BKID0AG2927
KUKARGAON
VILL. KUKARGAON BLOCKDAKOR POKUKARGAON TAHSILORAI , PIN285001
ORAI
JALAUN
UTTAR PRADESH
91
9792203538
BANK OF' INDIA
BKID0AG2926
PAHARGAON
VILL. PAHADGAON BLOCKKONCH POPAHARGAON TAHSILKONCH , PIN285205
ORAI
JALAUN
UTTAR PRADESH
91
9792203546
BANK OF' INDIA
BKID0AG2925
RENDHAR KHAS
VILL. RENDAR BLOCKNADIGAON PORENDHAR TAHSILMADHOGARH , PIN285121
ORAI
JALAUN
UTTAR PRADESH
91
9792203552
BANK OF' INDIA
BKID0AG2924
BADAGAONKAITHRI
VILL. BADAGAON BLOCKDAKOR POBADAGAON TAHSILORAI , PIN285001
ORAI
JALAUN
UTTAR PRADESH
91
9792203524
BANK OF' INDIA
BKID0AG2923
KHAKSISKHASIS KHAS
VILL. KHAKSIS BLOCKJALAUN POKHAKSIS TAHSILJALOUN , PIN285123
ORAI
JALAUN
UTTAR PRADESH
91
9792203536
BANK OF' INDIA
BKID0AG2922
MADARIPUR
VILL. MADARIPUR BLOCKKUTHAUND POMADARIPUR TAHSILJALOUN , PIN285103
ORAI
JALAUN
UTTAR PRADESH
91
9792203540
BANK OF' INDIA
BKID0AG2921
JALAUN
VILL. JALAUN BLOCKJALAUN POJALAUN TAHSILJALOUN , PIN285123
ORAI
JALAUN
UTTAR PRADESH
91
9792203531
BANK OF' INDIA
BKID0AG2920
USARGAON
VILL. USARGAON BLOCKKADAURA POUSARGAON TAHSILKALPI , PIN285202
ORAI
JALAUN
UTTAR PRADESH
91
9792203559
BANK OF' INDIA
BKID0AG2919
AIT
VILL. AIT BLOCKDAKOR POAIT TAHSILORAI , PIN285201
ORAI
JALAUN
UTTAR PRADESH
91
9792203522
BANK OF' INDIA
BKID0AG2918
MOHAMMDABAD
VILL. MOHAMMDABAD BLOCKDAKOR POMOHAMMDABAD TAHSILORAI , PIN285122
ORAI
JALAUN
UTTAR PRADESH
91
9792203542
BANK OF' INDIA
BKID0AG2917
KALPI
VILL. TARNANGANJ BLOCKMAHEWA POKALPI TAHSILKALPI , PIN285204
ORAI
JALAUN
UTTAR PRADESH
91
9792203534
BANK OF' INDIA
BKID0AG2916
SAMI
VILL. SAMI BLOCKNADIGAON POSAMI TAHSILKONCH , PIN285205
ORAI
JALAUN
UTTAR PRADESH
91
9792203554
BANK OF' INDIA
BKID0AG2915
SIKRI RAJA
VILL. SIKRI RAJA BLOCKJALAUN POSIKRI RAJA TAHSILJALOUN , PIN285123
ORAI
JALAUN
UTTAR PRADESH
91
9792203558
BANK OF' INDIA
BKID0AG2914
KUTHAUND
VILL. KUTHAUND BLOCKKUTHAUND POKUTHAUND TAHSILJALOUN , PIN285125
ORAI
JALAUN
UTTAR PRADESH
91
9792203539
BANK OF' INDIA
BKID0AG2913
KADAURA
VILL. KADAURA BLOCKKADAURA POKADAURA TAHSILKALPI , PIN285203
ORAI
JALAUN
UTTAR PRADESH
91
9792203532
BANK OF' INDIA
BKID0AG2912
KAILIA
VILL. KAILIA BLOCKNADIGAON POKAILIA TAHSILKONCH , PIN285251
ORAI
JALAUN
UTTAR PRADESH
91
9792203533
BANK OF' INDIA
BKID0AG2911
KEOLARI
VILL. KEOLARI BLOCKNADIGAON POKEOLARI TAHSILJALOUN , PIN285123
ORAI
JALAUN
UTTAR PRADESH
91
9792203535
BANK OF' INDIA
BKID0AG2910
SAHAV
VILL. SAHAB BLOCKJALAUN POSAHAV TAHSILMADHOGARH , PIN285123
ORAI
JALAUN
UTTAR PRADESH
91
9792203553
BANK OF' INDIA
BKID0AG2909
KAGJIPURAKALPI
VILL. KAGJIPURA , KALPI BLOCKMAHOBA POKALPI TAHSILKALPI , PIN285204
ORAI
JALAUN
UTTAR PRADESH
91
9792203543
BANK OF' INDIA
BKID0AG2908
PARASAN
VILL. PARASAN BLOCKKADAURA POPARASAN TAHSILKALPI , PIN285202
ORAI
JALAUN
UTTAR PRADESH
91
9792203547
BANK OF' INDIA
BKID0AG2907
SARAWAN
VILL. SARAWAN BLOCKMADHOGARH POSARAWAN TAHSILMADHOGARH , PIN285123
ORAI
JALAUN
UTTAR PRADESH
91
9792203555
BANK OF' INDIA
BKID0AG2906
MUSMRIYA
VILL. MUSAMRIYA BLOCKMAHEVA POMUSMRIYA TAHSILKALPI , PIN285196
ORAI
JALAUN
UTTAR PRADESH
91
9792203544
BANK OF' INDIA
BKID0AG2905
GADHAR
VILL. GADHAR BLOCKDAKOR POGADHAR TAHSILORAI , PIN285001
ORAI
JALAUN
UTTAR PRADESH
91
9792203528
BANK OF' INDIA
BKID0AG2904
JAGAMMANPUR
VILL. JAGAMMANPUR BLOCKRAMPURA POJAGAMMANPUR TAHSILMADHOGARH , PIN285124
ORAI
JALAUN
UTTAR PRADESH
91
9792203530
BANK OF' INDIA
BKID0AG2903
PIRAUNA
VILL. PIRAUNA BLOCKKONCH POPIRAUNA TAHSILKONCH , PIN285202
ORAI
JALAUN
UTTAR PRADESH
91
9792203549
BANK OF' INDIA
BKID0AG2902
HARDOI GUJAR
VILL. HARDOI GOOJAR BLOCKDAKOR POHARDAOI GUJAR TAHSILORAI , PIN285131
ORAI
JALAUN
UTTAR PRADESH
91
9792203529
BANK OF' INDIA
BKID0AG2901
ORAI MAIN BRANCH ORAI
VILL. RATH RD BLOCKDAKOR POORAI TAHSILORAI , PIN285001
ORAI
JALAUN
UTTAR PRADESH
91
9792203545
BANK OF' INDIA
BKID0AG2824
BELATAD
VILL. BELATAD BLOCKGHORAVAL POSHAHGANJU TAHSILGHORAVAL , PIN231216
MIRZAPUR
JALAUN
UTTAR PRADESH
91
8052302395
BANK OF' INDIA
BKID0AG2823
DHARTI DOLWA
VILL. DHARTI DOLWA BLOCKDUDHDHI POVINDHAMGANJ TAHSILDUDHDHI , PIN231226
MIRZAPUR
JALAUN
UTTAR PRADESH
91
8052302540
BANK OF' INDIA
BKID0AG2822
OBRA
VILL. OBRA BLOCKCHOPAN POOBRA TAHSILRABARTSGANJ , PIN231219
MIRZAPUR
JALAUN
UTTAR PRADESH
91
8052302391
BANK OF' INDIA
BKID0AG2821
LOHANDI
VILL. LOHANDI BLOCKGHURAVAL POLOHANDI TAHSILGHURAVAL , PIN231210
MIRZAPUR
JALAUN
UTTAR PRADESH
91
8052302481
BANK OF' INDIA
BKID0AG2820
MAGAR DAHAN
VILL. MAGAR DAHAN BLOCKGHURAVAL POBAIDAD TAHSILGHURAVAL , PIN231216
MIRZAPUR
JALAUN
UTTAR PRADESH
91
8052302356
BANK OF' INDIA
BKID0AG2819
KIRBIL
VILL. KIRBILBLOCKMYORPUR POKIRVIL TAHSILDUDHDHI , PIN231208
MIRZAPUR
JALAUN
UTTAR PRADESH
91
8052302354
BANK OF' INDIA
BKID0AG2818
SANGOBANDH
VILL. SANGOBANDHBLOCKMYORPUR POSANGOBANDHTAHSILMYORPUR , PIN231212
MIRZAPUR
JALAUN
UTTAR PRADESH
91
8052302577
BANK OF' INDIA
BKID0AG2817
KULDOMARI
VILL. KULDOMARI BLOCKDIBULGANJ POKULDOMARI TAHSILMYORPUR , PIN231215
MIRZAPUR
JALAUN
UTTAR PRADESH
91
8052302576
BANK OF' INDIA
BKID0AG2816
DALA
VILL. DALA BLOCKSONBHADRA POSONBHADRA TAHSILRABARTSGANJ , PIN231216
MIRZAPUR
JALAUN
UTTAR PRADESH
91
9792203800
BANK OF' INDIA
BKID0AG2815
CHOPAN
VILL. CHOPAN BLOCKSONBHADRA POSONBHADRA TAHSILRABARTSGANJ , PIN231216
MIRZAPUR
JALAUN
UTTAR PRADESH
91
9792203796
BANK OF' INDIA
BKID0AG2814
GHORAWAL
VILL. GHORAWAL BLOCKSONBHADRA POGHORAWAL TAHSILRABARTSGANJ , PIN231210
MIRZAPUR
JALAUN
UTTAR PRADESH
91
9792203751
BANK OF' INDIA
BKID0AG2813
MURDHAWA
VILL. MURDHAWA BLOCKDUDDHI POMURDHAWA TAHSILDUDDHI , PIN231217
MIRZAPUR
JALAUN
UTTAR PRADESH
91
9792203750
BANK OF' INDIA
BKID0AG2812
KHARIYA
VILL. SHANKTI NAGAR BLOCKMYORPUR POSHANKTI NAGAR TAHSILDUDDHI , PIN231222
MIRZAPUR
JALAUN
UTTAR PRADESH
91
9792203738
BANK OF' INDIA
BKID0AG2811
ROBARTSGANJ
VILL. ROBARTSGANJ BLOCKROBARTSGANJ POROBARTSGANJ TAHSILRABARTSGANJ , PIN231216
MIRZAPUR
JALAUN
UTTAR PRADESH
91
9792203742
BANK OF' INDIA
BKID0AG2810
IMLIPURA
VILL. IMLIPURA BLOCKGHORAWAL POMUKARSIM TAHSILRABARTSGANJ , PIN231216
MIRZAPUR
JALAUN
UTTAR PRADESH
91
9792203734
BANK OF' INDIA
BKID0AG2809
LILASIMYORPUR
VILL. LILASI BLOCKMIYORPUR POLILASI TAHSILDUDDHI , PIN231212
MIRZAPUR
JALAUN
UTTAR PRADESH
91
9792203739
BANK OF' INDIA
BKID0AG2808
AURIMOR
VILL. ANPARA BLOCKCHHANVEY POANPARA TAHSILDUDDHI , PIN231225
MIRZAPUR
JALAUN
UTTAR PRADESH
91
9792203732
BANK OF' INDIA
BKID0AG2807
SUKRAT
VILL. SUKRAT BLOCKRABARTSGANJ POSUKRAT TAHSILRABARTSGANJ , PIN231216
MIRZAPUR
JALAUN
UTTAR PRADESH
91
9792203728
BANK OF' INDIA
BKID0AG2806
JHAROKALAN
VILL. DUDDHI BLOCKDUDDHI PODUDDHI TAHSILDUDDHI , PIN231208
MIRZAPUR
JALAUN
UTTAR PRADESH
91
9792203736
BANK OF' INDIA
BKID0AG2805
JARHA
VILL. BAKRIHAVA VAYA BLOCKNYURPUR PODHARTI DAD TAHSILDUDDHI , PIN231223
MIRZAPUR
JALAUN
UTTAR PRADESH
91
9792203735
BANK OF' INDIA
BKID0AG2804
BABHNI
VILL. BABHNI BLOCKBABHNI POBABHNI TAHSILDUDDHI , PIN231228
MIRZAPUR
JALAUN
UTTAR PRADESH
91
9792203733
BANK OF' INDIA
BKID0AG2803
MAHULI
VILL. MAHULI BLOCKDUDDHI POMAHULI TAHSILDUDDHI , PIN231208
MIRZAPUR
SONBHADRA
UTTAR PRADESH
91
9792203740
BANK OF' INDIA
BKID0AG2802
PAKARHAT
VILL. RAMGARH BLOCKCHATRA PORAMGARH TAHSILRABARTSGANJ , PIN231213
MIRZAPUR
SONBHADRA
UTTAR PRADESH
91
9792203741
BANK OF' INDIA
BKID0AG2801
KARMA
VILL. KARMA BLOCKGHORAWAL POKARMA TAHSILRABARTSGANJ , PIN231216
MIRZAPUR
SONBHADRA
UTTAR PRADESH
91
9792203737
BANK OF' INDIA
BKID0AG2799
R.O. MIRZAPUR
VILLAGE TANDONPURI COLONY BLOCK MIRZAPUR POST OFFICE MIRZAPUR TAHSIL MIRZAPUR , PIN CODE231001
R.O. MIRZAPUR
SONBHADRA
UTTAR PRADESH
91
9792203762
BANK OF' INDIA
BKID0AG2756
KOTA SHIV PRATAP SINGH
VILL. KOTA SHIAPRATAP SINGH, BLOCKHALLIYA POKOTA SHIAPRATAP SINGH TEHLALGANJ , PIN231211
MIRZAPUR
SONBHADRA
UTTAR PRADESH
91
8052302531
BANK OF' INDIA
BKID0AG2755
MALLEPUR
VILL. MALLEPURBLOCKKONE POTILATHI TAHSILSADAR , PIN231312
MIRZAPUR
SONBHADRA
UTTAR PRADESH
91
8052302480
BANK OF' INDIA
BKID0AG2754
RAMGARH
VILL. RAMGARH BLOCKMAJHWA POSEEKHAR TAHSILSADAR , PIN231306
MIRZAPUR
SONBHADRA
UTTAR PRADESH
91
8052302393
BANK OF' INDIA
BKID0AG2753
RAMAPUR
VILL. RAMAPUR BLOCKMAJHWA POKACHHAWA TAHSILSADAR , PIN231501
MIRZAPUR
SONBHADRA
UTTAR PRADESH
91
8052302530
BANK OF' INDIA
BKID0AG2752
DEVPUR
VILL. DEVPURA BLOCKRAJGARH PODEVPURA TAHSILMARIHAN , PIN231001
MIRZAPUR
SONBHADRA
UTTAR PRADESH
91
8052302483
BANK OF' INDIA
BKID0AG2751
NUAON
VILL. NUAON BLOCKRAJGARH POCHUNAR TAHSILCHUNAR , PIN231304
MIRZAPUR
SONBHADRA
UTTAR PRADESH
91
8052302357
BANK OF' INDIA
BKID0AG2750
BABURA
VILL. BABURABLOCKCHANVE POBABURATAHSILMIRZAPUR , PIN231307
MIRZAPUR
SONBHADRA
UTTAR PRADESH
91
8052302355
BANK OF' INDIA
BKID0AG2749
KHAIRA
VILL. KHAIRA BLOCKCHAINBEIN POKHAIRA TAHSILMIRZAPUR SADAR , PIN231313
MIRZAPUR
SONBHADRA
UTTAR PRADESH
91
8052302542
BANK OF' INDIA
BKID0AG2748
DUBRAPAHADI
VILL. DUBRAPAHADI BLOCKMAHUARIKALAN PODUBRAPAHADI TAHSILMIRZAPUR SADAR , PIN231307
MIRZAPUR
SONBHADRA
UTTAR PRADESH
91
8052302549
BANK OF' INDIA
BKID0AG2747
MUJEHRAKALAN
VILL. MUJEHRAKALAN BLOCKKON POMUJEHRAKALAN TAHSILMIRZAPUR SADAR , PIN231312
MIRZAPUR
SONBHADRA
UTTAR PRADESH
91
8052302543
BANK OF' INDIA
BKID0AG2746
FATHA
VILL. FATHA BLOCKMIRZAPUR POMIRZAPUR TAHSILMIRZAPUR SADAR , PIN231001
MIRZAPUR
SONBHADRA
UTTAR PRADESH
91
9792203801
BANK OF' INDIA
BKID0AG2745
MUHKONCHWA
VILL. BHARUHANA BLOCKSEETI POSADAR TAHSILMIRZAPUR SADAR , PIN231001
MIRZAPUR
SONBHADRA
UTTAR PRADESH
91
9792203782
BANK OF' INDIA
BKID0AG2744
PALI
VILL. PALI BLOCKMIRZAPUR POMIRZAPUR TAHSILMIRZAPUR SADAR , PIN231001
MIRZAPUR
SONBHADRA
UTTAR PRADESH
91
9792203799
BANK OF' INDIA
BKID0AG2743
LALAGANJ
VILL. LALGAN BLOCKMIRZAPUR POMIRZAPUR TAHSILLALGANJ , PIN231001
MIRZAPUR
MIRZAPUR
UTTAR PRADESH
91
9792203798
BANK OF' INDIA
BKID0AG2742
NADIHAR
VILL. NADIHAR BLOCKRAJGARH PORAJGARH TAHSILMARIHAN , PIN231001
MIRZAPUR
SONBHADRA
UTTAR PRADESH
91
9792203797
BANK OF' INDIA
BKID0AG2741
PAKKA POKHRA
VILL. PAKKA POKHRA BLOCKSEETI POSADAR TAHSILMIRZAPUR SADAR , PIN231001
MIRZAPUR
SONBHADRA
UTTAR PRADESH
91
9792203781
BANK OF' INDIA
BKID0AG2740
DABAK
VILL. DABAK BLOCKJAMALPUR POBABURICHANDAULITAHSILCHUNAR , PIN232102
MIRZAPUR
SONBHADRA
UTTAR PRADESH
91
9792203779
BANK OF' INDIA
BKID0AG2739
BARKACHA KALAN
VILL. BARKACHA KALAN BLOCKSEETI POBARKACHA KALAN TAHSILMIRZAPUR SADAR , PIN231001
MIRZAPUR
SONBHADRA
UTTAR PRADESH
91
9792203780
BANK OF' INDIA
BKID0AG2738
GAIPURA
VILL. GAIPURA BLOCKCHHANBEN POKALNA TAHSILMIRZAPUR SADAR , PIN231303
MIRZAPUR
SONBHADRA
UTTAR PRADESH
91
9792203783
BANK OF' INDIA
BKID0AG2737
KACHWA BAZAR
VILL. KACHWA BAZAR BLOCKMAJHWAN POKACHWA BAZAR TAHSILMIRZAPUR SADAR , PIN231501
MIRZAPUR
SONBHADRA
UTTAR PRADESH
91
9792203784
BANK OF' INDIA
BKID0AG2736
MIRZAPUR MAIN
VILL. GANESH GANJ BLOCKNAGAR POGANESH GANJ TAHSILMIRZAPUR SADAR , PIN231001
MIRZAPUR
MIRZAPUR
UTTAR PRADESH
91
9792203714
BANK OF' INDIA
BKID0AG2735
MANDI SAMITI MIRZAPUR
VILL.MIRZAPUR BLOCK MIRZAPUR PO MIRZAPUR TAHSILMIRZAPUR SADAR , PIN231001
MIRZAPUR
MIRZAPUR
UTTAR PRADESH
91
9792203749
BANK OF' INDIA
BKID0AG2734
BIHASRA
VILL. BIHASDA BLOCKMIRZAPUR POBIHASDA TAHSILMIRZAPUR SADAR , PIN231303
MIRZAPUR
MIRZAPUR
UTTAR PRADESH
91
9792203748
BANK OF' INDIA
BKID0AG2733
MUKERI BAZAR
VILL. LAL DIGGI BLOCKNAGAR POLAL DIGGI TAHSILMIRZAPUR SADAR , PIN231001
MIRZAPUR
MIRZAPUR
UTTAR PRADESH
91
9792203716
BANK OF' INDIA
BKID0AG2732
TRIMOHANI
VILL. CHAUK DHUNDI KATRA BLOCKNAGAR POCHAUK DHUNDI KATRA TAHSILMIRZAPUR SADAR , PIN231001
MIRZAPUR
MIRZAPUR
UTTAR PRADESH
91
9792203730
BANK OF' INDIA
BKID0AG2731
EMALIA CHATTI
VILL. AHRAURA BLOCKAHRAURA POAHEAURA TAHSILCHUNAR , PIN231301
MIRZAPUR
MIRZAPUR
UTTAR PRADESH
91
9792203705
BANK OF' INDIA
BKID0AG2730
BAGHAURA
VILL. BAGHAURA BLOCKRAJGARH POBAGHAURA TAHSILMARIHAN , PIN231001
MIRZAPUR
MIRZAPUR
UTTAR PRADESH
91
9792203697
BANK OF' INDIA
BKID0AG2729
CHHATHANPAIDAPUR
VILL. CHHATHAN BLOCKPAHARI POPAIDAPUR TAHSILMIRZAPUR SADAR , PIN231001
MIRZAPUR
MIRZAPUR
UTTAR PRADESH
91
9792203701
BANK OF' INDIA
BKID0AG2728
KALVARI
VILL. KALVARI BLOCKMADIHAN POKALVARI TAHSILMARIHAN , PIN231210
MIRZAPUR
MIRZAPUR
UTTAR PRADESH
91
9792203710
BANK OF' INDIA
BKID0AG2727
SRI NIWAS DHAM
VILL. HARGARH BLOCKJAMALPUR POHARGARH TAHSILMIRZAPUR SADAR , PIN231313
MIRZAPUR
MIRZAPUR
UTTAR PRADESH
91
9792203727
BANK OF' INDIA
BKID0AG2726
BHUILI
VILL. ADALHAT BLOCKCHHANVEY POADALHAT TAHSILCHUNAR , PIN231302
MIRZAPUR
MIRZAPUR
UTTAR PRADESH
91
9792203700
BANK OF' INDIA
BKID0AG2725
PACHOKARAPACHEKAR
VILL. LALPUR NAUDIHA BLOCKRAJGARH POLALPUR NAUDIHA TAHSILMARIHAN , PIN231001
MIRZAPUR
MIRZAPUR
UTTAR PRADESH
91
9792203719
BANK OF' INDIA
BKID0AG2724
HALIYA
VILL. HALIYA BLOCKHALIYA POHALIYA TAHSILLALGANJ , PIN231211
MIRZAPUR
MIRZAPUR
UTTAR PRADESH
91
9792203704
BANK OF' INDIA
BKID0AG2723
JAFARPURA
VILL. VASAHI BLOCKJAMALPUR POVASAHI TAHSILCHUNAR , PIN231302
MIRZAPUR
MIRZAPUR
UTTAR PRADESH
91
9792203706
BANK OF' INDIA
BKID0AG2722
MOHANPUR
VILL. BHARPURA BLOCKPAHARI POBHARPURA TAHSILMIRZAPUR SADAR , PIN231001
MIRZAPUR
MIRZAPUR
UTTAR PRADESH
91
9792203715
BANK OF' INDIA
BKID0AG2721
BARAIPUR
VILL. NARAINPUR BLOCK JAMALPUR PONARAINPUR TAHSILCHUNAR , PIN231305
MIRZAPUR
MIRZAPUR
UTTAR PRADESH
91
9792203698
BANK OF' INDIA
BKID0AG2720
PARSODHA
VILL. PURUSHOTTAMPUR BLOCKNARAYANPUR POPURUSHOTTAMPUR TAHSILCHUNAR , PIN231305
MIRZAPUR
MIRZAPUR
UTTAR PRADESH
91
9792203720
BANK OF' INDIA
BKID0AG2719
NAROIYA BAZAR
VILL. JIGNA BLOCKCHHANVEY POJIGNA TAHSILMIRZAPUR SADAR , PIN231313
MIRZAPUR
MIRZAPUR
UTTAR PRADESH
91
9792203718
BANK OF' INDIA
BKID0AG2718
DEEP NAGAR
VILL. KUBRI PATEHRA BLOCKMADIHAN POKUBRI PATEHRA TAHSILMARIHAN , PIN231309
MIRZAPUR
MIRZAPUR
UTTAR PRADESH
91
9792203702
BANK OF' INDIA
BKID0AG2717
TILANV
VILL. TILANV BLOCKLALGANJ POTILAV TAHSILLALGANJ , PIN231211
MIRZAPUR
MIRZAPUR
UTTAR PRADESH
91
9792203729
BANK OF' INDIA
BKID0AG2716
JAMUI
VILL. JAMUHAR BLOCKNARAYANPUR POJAMUHAR TAHSILCHUNAR , PIN231304
MIRZAPUR
MIRZAPUR
UTTAR PRADESH
91
9792203707
BANK OF' INDIA
BKID0AG2715
PURJAGIR
VILL. PURJAGIR BLOCKKON POCHILHA TAHSILMIRZAPUR SADAR , PIN231312
MIRZAPUR
MIRZAPUR
UTTAR PRADESH
91
9792203721
BANK OF' INDIA
BKID0AG2714
MAVAIYA
VILL. MAVAIYA BLOCKKON POCHILHA TAHSILMIRZAPUR SADAR , PIN231312
MIRZAPUR
MIRZAPUR
UTTAR PRADESH
91
9792203713
BANK OF' INDIA
BKID0AG2713
PAHO BAZAR PAHO
VILL. DOMANPUR BLOCKSIKHAR PODOMANPUR TAHSILMIRZAPUR SADAR , PIN231306
MIRZAPUR
MIRZAPUR
UTTAR PRADESH
91
9792203723
BANK OF' INDIA
BKID0AG2712
SIKHAR
VILL. SIKHAR BLOCKSIKHAR POSIKHAR TAHSILMIRZAPUR SADAR , PIN231306
MIRZAPUR
MIRZAPUR
UTTAR PRADESH
91
9792203726
BANK OF' INDIA
BKID0AG2711
MAHAMALPUR
VILL. MAHAMALPUR BLOCKMAJHAVAN POMAHAMALPUR TAHSILMIRZAPUR SADAR , PIN231501
MIRZAPUR
MIRZAPUR
UTTAR PRADESH
91
9792203712
BANK OF' INDIA
BKID0AG2710
RAIPURI
VILL. VIRAURA BLOCKCHHANVEY POVIRAURA TAHSILMIRZAPUR SADAR , PIN231303
MIRZAPUR
MIRZAPUR
UTTAR PRADESH
91
9792203722
BANK OF' INDIA
BKID0AG2709
JHIGURA
VILL. DEVRI AMGHAT BLOCKNAGAR PODEVRI AMGHAT TAHSILMIRZAPUR SADAR , PIN231001
MIRZAPUR
MIRZAPUR
UTTAR PRADESH
91
9792203709
BANK OF' INDIA
BKID0AG2708
BHAINSA
VILL. BHAISA BLOCKMAJHAVA POBHAISA TAHSILMIRZAPUR SADAR , PIN231501
MIRZAPUR
MIRZAPUR
UTTAR PRADESH
91
9792203699
BANK OF' INDIA
BKID0AG2707
JAUGARH
VILL. SAKTESHGARH BLOCKRAJGARH POSAKTESHGARH TAHSILCHUNAR , PIN231304
MIRZAPUR
MIRZAPUR
UTTAR PRADESH
91
9792203708
BANK OF' INDIA
BKID0AG2706
VINDHYACHAL
VILL. VINDHYACHAL BLOCKNAGAR POVINDHYACHAL TAHSILMIRZAPUR SADAR , PIN 231307
MIRZAPUR
MIRZAPUR
UTTAR PRADESH
91
9792203731
BANK OF' INDIA
BKID0AG2705
SAMOGRA
VILL. AMOI BLOCKNAGAR POAMOI TAHSILMIRZAPUR SADAR , PIN231001
MIRZAPUR
MIRZAPUR
UTTAR PRADESH
91
9792203725
BANK OF' INDIA
BKID0AG2704
NADINI
VILL. SUPANTHA BLOCKCHHANVEY POSUPANTHA TAHSILMIRZAPUR SADAR , PIN231303
MIRZAPUR
MIRZAPUR
UTTAR PRADESH
91
9792203717
BANK OF' INDIA
BKID0AG2703
SAMASPUR
VILL. CHUNAR BLOCKNARAIYANPUR POCHUNAR TAHSILCHUNAR , PIN231304
MIRZAPUR
MIRZAPUR
UTTAR PRADESH
91
8052302550
BANK OF' INDIA
BKID0AG2702
DUBARKALAN
VILL. DUBARKALAN BLOCKLALGANJ PODUBARKALAN TAHSILLALGANJ , PIN231211
MIRZAPUR
MIRZAPUR
UTTAR PRADESH
91
9792203703
BANK OF' INDIA
BKID0AG2701
LAHANGPUR
VILL. LAHANGPUR BLOCKLALGANJ POLAHANGPUR TAHSILLALGANJ , PIN231001
MIRZAPUR
MIRZAPUR
UTTAR PRADESH
91
9792203711
BANK OF' INDIA
BKID0AG2641
TOLAMAF
VILL. TOLAMAF BLOCKMAUDAHA POTOLAMAF TAHSILMAUDAHA , PIN210507
MAHOBA
MIRZAPUR
UTTAR PRADESH
91
9792203791
BANK OF' INDIA
BKID0AG2640
JARAKHAR
VILL. JARAKHARBLOCKGOHAND POJARAKHARTAHSILRATH , PIN210421
MAHOBA
MIRZAPUR
UTTAR PRADESH
91
8052302583
BANK OF' INDIA
BKID0AG2639
KHADEHI LOHAN
VILL. KHADEHI LOHAN BLOCKMUSKRA POKHADEHI LOHAN TAHSILMAUDAHA , PIN210506
MAHOBA
MIRZAPUR
UTTAR PRADESH
91
8052302906
BANK OF' INDIA
BKID0AG2638
ITAILIYA RAJA
VILL. ITAILIYA RAJA BLOCKGOHAND PODHASNGAVA TAHSILRATH , PIN210428
MAHOBA
MIRZAPUR
UTTAR PRADESH
91
8052302692
BANK OF' INDIA
BKID0AG2637
KHERA SHILJIT
VILL. KHERA SHILJIT BLOCKSARILA POKHERA SHILJIT TAHSILSARILA , PIN210422
MAHOBA
MIRZAPUR
UTTAR PRADESH
91
8052302691
BANK OF' INDIA
BKID0AG2636
KACHWAKALA
VILL. KACHWAKALABLOCKGOHAND POKACHWAKALATAHSILHAMIRPUR , PIN210431
MAHOBA
MIRZAPUR
UTTAR PRADESH
91
8052302690
BANK OF' INDIA
BKID0AG2635
MISHRIPUR
VILL. MISHRIPUR BLOCKKURARA POMISHRIPUR TAHSILHAMIRPUR , PIN210505
MAHOBA
MIRZAPUR
UTTAR PRADESH
91
8052302476
BANK OF' INDIA
BKID0AG2634
SARAULI BUJURG
VILL. SARAULI BUJURG BLOCKSUMERPUR POSARAULI BUJURG TAHSILHAMIRPUR , PIN210301
MAHOBA
MIRZAPUR
UTTAR PRADESH
91
8052302279
BANK OF' INDIA
BKID0AG2633
KHANDEH
VILL. KHANDEH BLOCKMAUDAHA POKHANDEH TAHSILHAMIRPUR , PIN210507
MAHOBA
MIRZAPUR
UTTAR PRADESH
91
8052302278
BANK OF' INDIA
BKID0AG2632
ICHAULI
VILL. ICHAULI BLOCKMAUDAHA POICHAULI TAHSILMAUDAHA , PIN210504
MAHOBA
MIRZAPUR
UTTAR PRADESH
91
8052302263
BANK OF' INDIA
BKID0AG2631
LODHIPUR NEWADA
VILL. LODHIPUR NEWADA BLOCKMUSKARA POLODHIPUR NEWADA TAHSILMAUDAHA , PIN210501
MAHOBA
MIRZAPUR
UTTAR PRADESH
91
8052302257
BANK OF' INDIA
BKID0AG2630
CHANDAUT DANDA
VILL. CHANDAUT DANDA BLOCKSARILA POCHANDAUT DANDA TAHSILHAMIRPUR , PIN210422
MAHOBA
MIRZAPUR
UTTAR PRADESH
91
9792203563
BANK OF' INDIA
BKID0AG2629
SARILA
VILL. SARILA BLOCKSARILA POSARILA TAHSILRATH , PIN210432
MAHOBA
MIRZAPUR
UTTAR PRADESH
91
8052302261
BANK OF' INDIA
BKID0AG2628
KALPI CHAURAHA
VILL. KALPI CHAURAHA, HAMIRPUR BLOCK HAMIRPUR PO HAMIRPUR TAHSILHAMIRPUR , PIN210301
MAHOBA
MIRZAPUR
UTTAR PRADESH
91
9792203757
BANK OF' INDIA
BKID0AG2627
DEVGAON
VILL. DEVGAON BLOCKSUMERPUR PODEVGAON TAHSILHAMIRPUR , PIN210341
MAHOBA
MIRZAPUR
UTTAR PRADESH
91
9792203565
BANK OF' INDIA
BKID0AG2626
UMARIA
VILL. UMARIA BLOCKSARILA POUMARIA TAHSILRATH , PIN210431
MAHOBA
MIRZAPUR
UTTAR PRADESH
91
9792203588
BANK OF' INDIA
BKID0AG2625
NAI BASTI RATH
VILL. NAI BASTI RATH BLOCKRATHPORATHTAHSILRATH , PIN210431
MAHOBA
MIRZAPUR
UTTAR PRADESH
91
9792203579
BANK OF' INDIA
BKID0AG2624
MANDI RATH
VILL. RATHBLOCKRATHPORATHTAHSILRATH , PIN210431
MAHOBA
MIRZAPUR
UTTAR PRADESH
91
9792203576
BANK OF' INDIA
BKID0AG2623
SUMERPUR
VILL. SUMERPUR BLOCKSUMERPUR POSUMERPUR TAHSILMAUDAHA , PIN210502
MAHOBA
MIRZAPUR
UTTAR PRADESH
91
9792203585
BANK OF' INDIA
BKID0AG2622
MAUDAHA MAIN
VILL. MAUDAHA BLOCKMAUDAHAPOMAUDAHATAHSILMAUDAHA , PIN210507
MAHOBA
MIRZAPUR
UTTAR PRADESH
91
9792203577
BANK OF' INDIA
BKID0AG2621
MANDI MAUDAHA MANDI STHAL MAUDAHA
VILL. MAUDAHA BLOCKMAUDAHA POMANDI MAUDAHA TAHSILMAUHAHA , PIN210507
MAHOBA
HAMIRPUR
UTTAR PRADESH
91
9792203575
BANK OF' INDIA
BKID0AG2620
TIKRI BUJURGTIKRI
VILL. TIKRI BUJURG BLOCKMAUDAHA POTIKRI BUJURG TAHSILMAUDAHA , PIN210507
MAHOBA
HAMIRPUR
UTTAR PRADESH
91
9792203587
BANK OF' INDIA
BKID0AG2619
ARTARA
VILL. ARTRA BLOCKMAUDAHA POARTARA TAHSILMAUDAHA , PIN210507
MAHOBA
HAMIRPUR
UTTAR PRADESH
91
9792203561
BANK OF' INDIA
BKID0AG2618
ST ROAD SUMERPUR
VILL. SUMERPUR BLOCKSUMERPUR POSUMERPUR TAHSILMAUDAHA , PIN210502
MAHOBA
HAMIRPUR
UTTAR PRADESH
91
9792203580
BANK OF' INDIA
BKID0AG2617
GOHANDITALIYA RAJA
VILL. GOHAND BLOCKGOHAND POGOHAND TAHSILHAMIRPUR , PIN210422
MAHOBA
HAMIRPUR
UTTAR PRADESH
91
9792203569
BANK OF' INDIA
BKID0AG2616
RATH MAIN BRANCH
VILL. RATHBLOCKRATH PORATHTAHSILRATH , PIN210431
MAHOBA
HAMIRPUR
UTTAR PRADESH
91
9792203581
BANK OF' INDIA
BKID0AG2615
SHEKHUPUR
VILL. SHEKHUPUR BLOCKKURARA POSHEKHUPUR TAHSILMAUDAHA , PIN210505
MAHOBA
HAMIRPUR
UTTAR PRADESH
91
9792203583
BANK OF' INDIA
BKID0AG2614
JALALPUR
VILL. JALALPUR BLOCKSARILA POJALALPUR TAHSILHAMIRPUR , PIN210423
MAHOBA
HAMIRPUR
UTTAR PRADESH
91
9792203571
BANK OF' INDIA
BKID0AG2613
BERI
VILL. BERI BLOCKKURARA POBERI TAHSILHAMIRPUR , PIN285203
MAHOBA
HAMIRPUR
UTTAR PRADESH
91
9792203562
BANK OF' INDIA
BKID0AG2612
KURARA
VILL. KURARA BLOCKKURARA POKURARA TAHSILMAUDAHA , PIN210505
MAHOBA
HAMIRPUR
UTTAR PRADESH
91
9792203573
BANK OF' INDIA
BKID0AG2611
DHAGWAN
VILL. DHAGWAN BLOCKSARILA PODHAGWAN TAHSILHAMIRPUR , PIN210341
MAHOBA
HAMIRPUR
UTTAR PRADESH
91
9792203566
BANK OF' INDIA
BKID0AG2610
GAHRAULI
VILL. GAHRAULI BLOCKMUSKARA POGAHRAULI TAHSILHAMIRPUR , PIN210301
MAHOBA
HAMIRPUR
UTTAR PRADESH
91
9792203568
BANK OF' INDIA
BKID0AG2609
DHANAURI
VILL. DHANAURI BLOCKGOHAND PODHANAURI TAHSILRATH , PIN210431
MAHOBA
HAMIRPUR
UTTAR PRADESH
91
9792203567
BANK OF' INDIA
BKID0AG2608
SISOLAR
VILL. SISOLAR BLOCKMAUDAHA POSILOLAR TAHSILMAUDAHA , PIN210507
MAHOBA
HAMIRPUR
UTTAR PRADESH
91
9792203584
BANK OF' INDIA
BKID0AG2607
SHAYAR
VILL. SHAYAR BLOCKMAUDAHA POSAYAR TAHSILMAUDAHA , PIN210510
MAHOBA
HAMIRPUR
UTTAR PRADESH
91
9792203582
BANK OF' INDIA
BKID0AG2606
TENDHA
VILL. TENDHA BLOCKSUMERPUR POTENDHA TAHSILMUDAHA , PIN210502
MAHOBA
HAMIRPUR
UTTAR PRADESH
91
9792203586
BANK OF' INDIA
BKID0AG2605
KUNEHTA
VILL. KUNEHTA BLOCKMAUDAHA POKUNEHTA TAHSILMAUDAHA , PIN210507
MAHOBA
HAMIRPUR
UTTAR PRADESH
91
9792203572
BANK OF' INDIA
BKID0AG2604
MUSKARA
VILL. MUSKARA BLOCKMUSKARA POMUSKARA TAHSILMAUDAHA , PIN210506
MAHOBA
HAMIRPUR
UTTAR PRADESH
91
9792203578
BANK OF' INDIA
BKID0AG2603
MAJHGAWAN
VILL. MAJHIGAWAN BLOCKRATH POMACJHGAWAN TAHSILRATH , PIN210429
MAHOBA
HAMIRPUR
UTTAR PRADESH
91
9792203574
BANK OF' INDIA
BKID0AG2602
CHIKASI
VILL. CHIKASI BLOCKGOHAND POCHIKASI TAHSILRATH , PIN210430
MAHOBA
HAMIRPUR
UTTAR PRADESH
91
9792203564
BANK OF' INDIA
BKID0AG2601
HAMIRPUR
VILL. RAMEDI BLOCKKURARA POHAMIRPUR TAHSILHAMIRPUR , PIN210301
MAHOBA
HAMIRPUR
UTTAR PRADESH
91
9792203570
BANK OF' INDIA
BKID0AG2599
R.O. MAHOBA
VILLAGEGANDHI NAGAR BLOCKMAHOBA POST OFFICEMAHOBA TAHSILMAHOBA , PIN CODE 210427
R.O. MAHOBA
HAMIRPUR
UTTAR PRADESH
91
8052302883
BANK OF' INDIA
BKID0AG2522
MUDERI
VILL. MUDERI BLOCKJAITPUR POMUDERI TAHSILMAHOBA , PIN210426
MAHOBA
HAMIRPUR
UTTAR PRADESH
91
8052302276
BANK OF' INDIA
BKID0AG2521
SRI NAGAR
VILL. SRI NAGAR BLOCK MAHOBA POSRI NAGAR TAHSILMAHOBA , PIN210433
MAHOBA
HAMIRPUR
UTTAR PRADESH
91
9792203761
BANK OF' INDIA
BKID0AG2520
UDAL CHOWK MAHOBA
VILL.MAHOBA BLOCK MAHOBA POMAHOBA TAHSILMAHOBA , PIN210427
MAHOBA
HAMIRPUR
UTTAR PRADESH
91
9792203756
BANK OF' INDIA
BKID0AG2519
VIKAS BHAWAN MAHOBA
VILL.MAHOBA BLOCK MAHOBA PO MAHOBA TAHSILMAHOBA , PIN210427
MAHOBA
HAMIRPUR
UTTAR PRADESH
91
9792203696
BANK OF' INDIA
BKID0AG2518
KABRAI
VILL. KABRAI BLOCKKABRAI POKABRAI TAHSILMAHOBA , PIN210424
MAHOBA
HAMIRPUR
UTTAR PRADESH
91
9792203686
BANK OF' INDIA
BKID0AG2517
KHARELA
VILL. KHARELA BLOCKCHARKHARI POKHARELA TAHSILHAMIRPUR , PIN210421
MAHOBA
HAMIRPUR
UTTAR PRADESH
91
9792203687
BANK OF' INDIA
BKID0AG2516
SAURA
VILL. SAURA BLOCKPANWARI POSAURA TAHSILKULPAHAD , PIN210427
MAHOBA
HAMIRPUR
UTTAR PRADESH
91
9792203694
BANK OF' INDIA
BKID0AG2515
PANWARI
VILL. PANWARI BLOCKPANWARI POPANWARI TAHSILRATH , PIN210429
MAHOBA
HAMIRPUR
UTTAR PRADESH
91
9792203692
BANK OF' INDIA
BKID0AG2514
KULPAHAR
VILL. KULPAHAR BLOCKJAITPUR POKULPAHAR TAHSILMAHOBA , PIN210426
MAHOBA
HAMIRPUR
UTTAR PRADESH
91
9792203688
BANK OF' INDIA
BKID0AG2513
CHARKHARI
VILL. CHARKHARI BLOCKCHARKHARI POCHARKHARI TAHSILHAMIRPUR , PIN210421
MAHOBA
HAMIRPUR
UTTAR PRADESH
91
9792203682
BANK OF' INDIA
BKID0AG2512
MAHOBA
VILL. PALIWAL MARKET BLOCKKABRAI POMAHOBA TAHSILMAHOBA , PIN210427
MAHOBA
HAMIRPUR
UTTAR PRADESH
91
9792203689
BANK OF' INDIA
BKID0AG2511
GYODI
VILL. GYODI BLOCKMAUDAHA POGYODI TAHSILMAHOBA , PIN210507
MAHOBA
HAMIRPUR
UTTAR PRADESH
91
9792203684
BANK OF' INDIA
BKID0AG2510
SIJAHARI
VILL. SIJAHRI BLOCKKABRAI POSIJAHARI TAHSILMAHOBA , PIN210427
MAHOBA
HAMIRPUR
UTTAR PRADESH
91
9792203695
BANK OF' INDIA
BKID0AG2509
BELATAL BACHHECHAR LAMAURA
VILL. BELATAL BLOCKJAITPUR POJAITPUR TAHSILHAMIRPUR , PIN210423
MAHOBA
HAMIRPUR
UTTAR PRADESH
91
9792203679
BANK OF' INDIA
BKID0AG2508
DHARAUN ROADGAHARA
VILL. KABRAI BLOCKKABRAI POKABRAI TAHSILMAHOBA , PIN210424
MAHOBA
HAMIRPUR
UTTAR PRADESH
91
9792203683
BANK OF' INDIA
BKID0AG2507
BHARWARA
VILL. BHARVARA BLOCKPANWARI POBHARWARA TAHSILRATH , PIN210429
MAHOBA
HAMIRPUR
UTTAR PRADESH
91
9792203681
BANK OF' INDIA
BKID0AG2506
BENDO
VILL. BENDO BLOCKPANWARI POBENDO TAHSILRATH , PIN210429
MAHOBA
HAMIRPUR
UTTAR PRADESH
91
9792203680
BANK OF' INDIA
BKID0AG2505
NARAURA
VILL. NANAURA BLOCKKABRAI PONANAURA TAHSILRATH , PIN210429
MAHOBA
HAMIRPUR
UTTAR PRADESH
91
9792203691
BANK OF' INDIA
BKID0AG2504
FATEHPUR BAJARIA
VILL. FATEHPUR BAZARIA BLOCKKARBAI POFATEHPUR BAJARIA TAHSILMAHOBA , PIN210427
MAHOBA
HAMIRPUR
UTTAR PRADESH
91
9792203685
BANK OF' INDIA
BKID0AG2503
RIWAI
VILL. RIWAI BLOCKCHARKHARI POREVAI TAHSILHAMIRPUR , PIN210421
MAHOBA
MAHOBA
UTTAR PRADESH
91
9792203693
BANK OF' INDIA
BKID0AG2502
MAHOB KANTH
VILL. MOHAB KANTH BLOCKPANWARI POMOHAB KANTH TAHSILRATH , PIN210429
MAHOBA
MAHOBA
UTTAR PRADESH
91
9792203690
BANK OF' INDIA
BKID0AG2501
AJNAR
VILL. AJNAR BLOCKJAITPUR POJAITPUR TAHSILHAMIRPUR , PIN210423
MAHOBA
MAHOBA
UTTAR PRADESH
91
9792203678
BANK OF' INDIA
BKID0AG2499
R.O. LAKHIMPUR
VILLAGEL.R.P.ROAD BLOCKLAKHIMPUR POST OFFICEKHERI TAHSILLAKHIMPUR , PIN CODE 262701
R.O. LAKHIMPUR
MAHOBA
UTTAR PRADESH
91
8052302944
BANK OF' INDIA
BKID0AG2475
AHAMAD NAGAR
VILL. AHAMAD NAGAR BLOCKKUMBHI POAHAMAD NAGAR TAHSILGOLA , PIN262802
LAKHIMPUR
MAHOBA
UTTAR PRADESH
91
8052302851
BANK OF' INDIA
BKID0AG2474
DEVI PURWA
VILL. DEVI PURWABLOCKDHAURAHARA PODEVI PURWATAHSILDHAURAHARA , PIN262723
LAKHIMPUR
MAHOBA
UTTAR PRADESH
91
8052302850
BANK OF' INDIA
BKID0AG2473
BARAINCHA
VILL. BARAINCHA BLOCKMOHAMMADI POGOKAN TAHSILMOHAMMDI , PIN262804
LAKHIMPUR
MAHOBA
UTTAR PRADESH
91
8052302849
BANK OF' INDIA
BKID0AG2472
BHULANPUR
VILL. BHULANPUR BLOCKBEJHAM POBHULANPUR TAHSILBEJHAM , PIN261501
LAKHIMPUR
MAHOBA
UTTAR PRADESH
91
8052302848
BANK OF' INDIA
BKID0AG2471
SINGAHA KHURD
VILL. SINGAHA KHURD BLOCKNIGHASAN POSINGAHA KALAN TAHSILNIGHASAN , PIN262905
LAKHIMPUR
MAHOBA
UTTAR PRADESH
91
8052302847
BANK OF' INDIA
BKID0AG2470
DARI NAGRA
VILL. DARI NAGRABLOCKMITAULI POSANDILAVA TAHSILMOHAMMDI , PIN262727
LAKHIMPUR
MAHOBA
UTTAR PRADESH
91
8052302846
BANK OF' INDIA
BKID0AG2469
SENPUR
VILL. SENPURBLOCKMITAULI POBEERAMPUR TAHSILMOHAMMDI , PIN262802
LAKHIMPUR
MAHOBA
UTTAR PRADESH
91
8052302840
BANK OF' INDIA
BKID0AG2468
JALALPUR
VILL. JALALPURBLOCKBANKEGANJ POJALALPURTAHSILGOLA GOKARAN NATH , PIN262728
LAKHIMPUR
MAHOBA
UTTAR PRADESH
91
8052302841
BANK OF' INDIA
BKID0AG2467
RURA SULTANPUR
VILL. RURA SULTANPURBLOCKBIJUA POMUDIA POOJA GAON TAHSILGOLA GOKARAN NATH , PIN261506
LAKHIMPUR
MAHOBA
UTTAR PRADESH
91
8052302842
BANK OF' INDIA
BKID0AG2466
KATIA
VILL. JASHIAMAJRA KATIA BLOCKLAKHIMPUR POGOPALPUR TAHSILGOLA GOKARAN NATH , PIN262701
LAKHIMPUR
MAHOBA
UTTAR PRADESH
91
8052302844
BANK OF' INDIA
BKID0AG2465
SAKETHU
VILL. SAKETHU BLOCKNAKAHA POSAKETHU TAHSILSAKETHU , PIN262802
LAKHIMPUR
MAHOBA
UTTAR PRADESH
91
8052302843
BANK OF' INDIA
BKID0AG2464
KALUWA MOTI
VILL. KALUWA MOTI BLOCKMITAULI POKALUWA MOTI TAHSILMOHAMMADI , PIN261505
LAKHIMPUR
MAHOBA
UTTAR PRADESH
91
8052302845
BANK OF' INDIA
BKID0AG2463
BELA PARSUA
VILL. BELA PARSUABLOCKTIKUNIA POBELA PARSUATAHSILNIGHASAN , PIN232906
LAKHIMPUR
MAHOBA
UTTAR PRADESH
91
8052302524
BANK OF' INDIA
BKID0AG2462
BHALLIA BUJURG
VILL. BHALLIA BUJURG BLOCKGOLAPOBHALLIA BUJURG TAHSILGOLA , PIN262802
LAKHIMPUR
MAHOBA
UTTAR PRADESH
91
8052302523
BANK OF' INDIA
BKID0AG2461
DHAKERVA NANKAR
VILL. DHAKERVA NANKAR BLOCKRAMIA BEHADAPODHAKERVA NANKAR TAHSILNIGHASAN , PIN262907
LAKHIMPUR
MAHOBA
UTTAR PRADESH
91
8052302546
BANK OF' INDIA
BKID0AG2460
RAMPUR GRANT
VILL. RAMPUR GRANTBLOCKBANKEGANJ POSANSARPUR TAHSILGOLA , PIN262802
LAKHIMPUR
MAHOBA
UTTAR PRADESH
91
8052302547
BANK OF' INDIA
BKID0AG2459
DARERY
VILL. DARERYBLOCKRAMIA BEHADA PODARERYTAHSILNIGHASAN , PIN262907
LAKHIMPUR
MAHOBA
UTTAR PRADESH
91
8052302548
BANK OF' INDIA
BKID0AG2458
BENI RAJAPUR
VILL. BENI RAJAPUR BLOCKMOHAMMADI POBENI RAJAPUR TAHSILMOHAMMADI , PIN262804
LAKHIMPUR
MAHOBA
UTTAR PRADESH
91
8252302284
BANK OF' INDIA
BKID0AG2457
MOODAGALIB
VILL. MOODAGALIB BLOCKMOHAMMADI POMOODAGALIB TAHSILMOHAMMADI , PIN262804
LAKHIMPUR
LAKHIMPUR
UTTAR PRADESH
91
8052302283
BANK OF' INDIA
BKID0AG2456
LUDHAURI
VILL. LUDHAURI BLOCKNIGHASAN POLUDHAURI TAHSILNIGHASAN , PIN262903
LAKHIMPUR
LAKHIMPUR
UTTAR PRADESH
91
8052302282
BANK OF' INDIA
BKID0AG2455
SUJANPUR
VILL. SUJANPUR BLOCKRAMIYA BEHAD POSUJANPUR TAHSILLAKHIMPUR , PIN262701
LAKHIMPUR
LAKHIMPUR
UTTAR PRADESH
91
8052302281
BANK OF' INDIA
BKID0AG2454
MILL WARD
VILL. GOLA GOKARN NATH BLOCKKUMBHI POGOLA GOKARN NATH TAHSILGOLA GOKARAN NATH, PIN262802
LAKHIMPUR
LAKHIMPUR
UTTAR PRADESH
91
8052302210
BANK OF' INDIA
BKID0AG2453
BHEERA ROAD
VILL. PALIA KALAN BLOCKPALIA KALAN POPALIA KALAN TAHSILMOHAMMADI , PIN262902
LAKHIMPUR
LAKHIMPUR
UTTAR PRADESH
91
8052302211
BANK OF' INDIA
BKID0AG2452
LAGUCHA
VILL. LAGUCHA BLOCKLAKHIM PUR POLAGUCHA TAHSILLAKHIMPUR , PIN262701
LAKHIMPUR
LAKHIMPUR
UTTAR PRADESH
91
8052302254
BANK OF' INDIA
BKID0AG2451
ANDESH NAGAR
VILL. ANDESH NAGAR BLOCKPHOOL BEHAR POMAHEWA GANJ TAHSILLAKHIMPUR , PIN262701
LAKHIMPUR
LAKHIMPUR
UTTAR PRADESH
91
8052302253
BANK OF' INDIA
BKID0AG2450
MAHEWA GANJ
VILL. MAHEWA GANJ BLOCKPHOOL BEHAR POMAHEWA GANJ TAHSILLAKHIMPUR , PIN262701
LAKHIMPUR
LAKHIMPUR
UTTAR PRADESH
91
8052302252
BANK OF' INDIA
BKID0AG2449
BEHJAM
VILL. BEHJAM BLOCKBEHJAM POBEHJAM TAHSILLAKHIMPUR , PIN262701
LAKHIMPUR
LAKHIMPUR
UTTAR PRADESH
91
8052302249
BANK OF' INDIA
BKID0AG2448
NEEM GAON
VILL. NEEM GAON BLOCKLAKHIM PUR PONEEM GAON TAHSILLAKHIMPUR , PIN262701
LAKHIMPUR
LAKHIMPUR
UTTAR PRADESH
91
8052302250
BANK OF' INDIA
BKID0AG2447
KAIMAHARA
VILL. KAIMAHARA BLOCKLAKHIM PUR POKAIMAHARA TAHSILLAKHIMPUR , PIN262701
LAKHIMPUR
LAKHIMPUR
UTTAR PRADESH
91
8052302251
BANK OF' INDIA
BKID0AG2446
MELA MAIDAN
VILL. NIGHASAN RD, MELA MAIDAN BLOCKLAKHIM PUR POLAKHIM PUR TAHSILLAKHIMPUR , PIN262701
LAKHIMPUR
LAKHIMPUR
UTTAR PRADESH
91
8052302223
BANK OF' INDIA
BKID0AG2445
MITAULI
VILL. MITAULI BLOCKMITAULI POMITAULI TAHSILDHAURAHARA, PIN262727
LAKHIMPUR
LAKHIMPUR
UTTAR PRADESH
91
8052302224
BANK OF' INDIA
BKID0AG2444
OEL
VILL. OEL BLOCKBEHJAM POOEL TAHSILDHAURAHARA, PIN262725
LAKHIMPUR
LAKHIMPUR
UTTAR PRADESH
91
8052302233
BANK OF' INDIA
BKID0AG2443
NAKAHA PIPRI
VILL. LAKHIMPUR ALIGANJ MARG, NAKAHA PIPRI BLOCK,LAKHIMPUR POPIPRAWAN, LAKHIMPUR, PIN262701
LAKHIMPUR
LAKHIMPUR
UTTAR PRADESH
91
8052302683
BANK OF' INDIA
BKID0AG2442
LRPROAD
VILL. L.R.P.RD BLOCKLAKHIM PUR POLAKHIM PUR TAHSILLAKHIMPUR , PIN262701
LAKHIMPUR
LAKHIMPUR
UTTAR PRADESH
91
8052302218
BANK OF' INDIA
BKID0AG2441
MAIGALGANJ
VILL. MAIGALGANJ BLOCKPASGAWAN POMAIGALGANJ TAHSILLAKHIMPUR , PIN261505
LAKHIMPUR
LAKHIMPUR
UTTAR PRADESH
91
8052302221
BANK OF' INDIA
BKID0AG2440
MANDAWA
VILL. JASWANTNAGAR MANDAWABLOCKISA NAGAR POMOHAMMADA PUR TAHSILBISWAN , PIN262722
LAKHIMPUR
LAKHIMPUR
UTTAR PRADESH
91
8052302222
BANK OF' INDIA
BKID0AG2439
GAURA
VILL. KHAIYAN GAURA BLOCKPHOOL BEHAR POTETAR PUR TAHSILLAKHIMPUR PIN 262001
LAKHIMPUR
LAKHIMPUR
UTTAR PRADESH
91
8052302212
BANK OF' INDIA
BKID0AG2438
SARSAWA
VILL. SARSAWA BLOCKDHAURAHRA POBELWA MOTI TAHSILDHAURAHRA , PIN262723
LAKHIMPUR
LAKHIMPUR
UTTAR PRADESH
91
8052302243
BANK OF' INDIA
BKID0AG2437
MOHAMMADI
VILL. MOHAMMADI BLOCKMOHAMMADI POMOHAMMADI TAHSILMOHAMMADI , PIN262804
LAKHIMPUR
LAKHIMPUR
UTTAR PRADESH
91
8052302266
BANK OF' INDIA
BKID0AG2436
PALIA KALAN
VILL. PALIA KALAN BLOCKPALIA KALAN POPALIA KALAN TAHSILMOHAMMADI , PIN262902
LAKHIMPUR
LAKHIMPUR
UTTAR PRADESH
91
8052302235
BANK OF' INDIA
BKID0AG2435
GOLA
VILL. ALIGANJ RD, BLOCKKUMBHI POGOLA GOKARAN NATH TAHSILGOLA GOKARAN NATH, PIN262802
LAKHIMPUR
LAKHIMPUR
UTTAR PRADESH
91
8052302213
BANK OF' INDIA
BKID0AG2434
MOTI PUR
VILL. HARDWAHI BAZARMOTIPURBLOCKNIGHASAN POMOTIPUR TAHSILNIGHASAN , PIN262906
LAKHIMPUR
LAKHIMPUR
UTTAR PRADESH
91
8052302227
BANK OF' INDIA
BKID0AG2433
LAKESAR
VILL. RUKUNDIPUR BLOCKLAKHIM PUR POMANYORA TAHSILLAKHIMPUR , PIN262701
LAKHIMPUR
LAKHIMPUR
UTTAR PRADESH
91
8052302219
BANK OF' INDIA
BKID0AG2432
RAIPUR
VILL. MALPUR RAIPUR BLOCKBIJUA PORAM NAGAR KHURD TAHSILMOHAMMADI PIN262901
LAKHIMPUR
LAKHIMPUR
UTTAR PRADESH
91
8052302237
BANK OF' INDIA
BKID0AG2431
JAT PURWA
VILL. JATPURWA BLOCKRAMIA BEHAR POJATPURWA TAHSILDHAURAHARA , PIN262724
LAKHIMPUR
LAKHIMPUR
UTTAR PRADESH
91
8052302216
BANK OF' INDIA
BKID0AG2430
PATARASI
VILL. PATARASI BLOCKNAKAHA POBASAHA MAFI TAHSILDHAURAHARA, PIN262726
LAKHIMPUR
LAKHIMPUR
UTTAR PRADESH
91
8052302236
BANK OF' INDIA
BKID0AG2429
SAIDA PUR
VILL. SAIDAPUR BLOCKPHOOL BEHAR POPHOOL BEHAR TAHSILLAKHIMPUR , PIN261506
LAKHIMPUR
LAKHIMPUR
UTTAR PRADESH
91
8052302241
BANK OF' INDIA
BKID0AG2428
PADARIA
VILL. PADARIA BLOCKBIJUA POPADARIA TAHSILMOHAMMADI , PIN262901
LAKHIMPUR
LAKHIMPUR
UTTAR PRADESH
91
8052302234
BANK OF' INDIA
BKID0AG2427
RAMA PUR
VILL. RAMAPUR BLOCKNAKAHA PORAMA PUR TAHSILLAKHIMPUR , PIN262701
LAKHIMPUR
LAKHIMPUR
UTTAR PRADESH
91
8052302239
BANK OF' INDIA
BKID0AG2426
BAMNAGAR
VILL. BAMNAGAR BLOCKPALIA KALAN POVICHITRA NAGAR TAHSILMOHAMMADI , PIN262902
LAKHIMPUR
LAKHIMPUR
UTTAR PRADESH
91
8052302205
BANK OF' INDIA
BKID0AG2425
TRIKOLIA
VILL. TRIKOLIA BLOCKPALIA KALAN POTRIKOLIA TAHSILMOHAMMADI , PIN262902
LAKHIMPUR
LAKHIMPUR
UTTAR PRADESH
91
8052302247
BANK OF' INDIA
BKID0AG2424
NAUGAWAN
VILL. NAUGAWAN BLOCKPALIA KALAN POTRILOK PUR TAHSILMOHAMMADI , PIN262902
LAKHIMPUR
LAKHIMPUR
UTTAR PRADESH
91
8052302231
BANK OF' INDIA
BKID0AG2423
DHAURAHARA
VILL. DHAURAHARA BLOCKDHAURAHRA PODHAURAHARA TAHSILDHAURAHARA , PIN262723
LAKHIMPUR
LAKHIMPUR
UTTAR PRADESH
91
8052302209
BANK OF' INDIA
BKID0AG2422
KHAMARIA
VILL. KHAMARIA BLOCKISA NAGAR POKHAMARIYA TAHSILBISWAN , PIN262722
LAKHIMPUR
LAKHIMPUR
UTTAR PRADESH
91
8052302217
BANK OF' INDIA
BKID0AG2421
BHEEKHAMPUR
VILL. BHEEKHAMPUR BLOCKMITAULI POBHIKHAM PUR TAHSILMOHAMMADI , PIN262805
LAKHIMPUR
LAKHIMPUR
UTTAR PRADESH
91
8052302207
BANK OF' INDIA
BKID0AG2420
SUTHNA BARSOLA
VILL. SUTHNA BARSOLA BLOCKNIGHASAN POTIKUNIA TAHSILNIGHASAN , PIN262906
LAKHIMPUR
LAKHIMPUR
UTTAR PRADESH
91
8052302246
BANK OF' INDIA
BKID0AG2419
RAKEHATI
VILL. RAKEHATI BLOCKNIGHASAN PORAKEHATI TAHSILNIGHASAN , PIN262903
LAKHIMPUR
LAKHIMPUR
UTTAR PRADESH
91
8052302238
BANK OF' INDIA
BKID0AG2418
MULLA PUR
VILL. J.B. GANJ BLOCKPASGAWAN POJ. B. GANJ TAHSILLAKHIMPUR , PIN261505
LAKHIMPUR
LAKHIMPUR
UTTAR PRADESH
91
8052302229
BANK OF' INDIA
BKID0AG2417
NIGHASAN
VILL. NIGHASAN BLOCKNIGHASAN PONIGHASAN TAHSILNIGHASAN , PIN262903
LAKHIMPUR
LAKHIMPUR
UTTAR PRADESH
91
8052302232
BANK OF' INDIA
BKID0AG2416
ABHAYAPUR
VILL. ABHAYAPUR BLOCKRAMIA BEHAR POABHAI PUR TAHSILDHAURAHA, PIN262724
LAKHIMPUR
LAKHIMPUR
UTTAR PRADESH
91
8052302201
BANK OF' INDIA
BKID0AG2415
DHAKERWA
VILL. DHAKERWA BLOCKRAMIA BEHAR PODHAKERWA TAHSILNIGHASAN , PIN262907
LAKHIMPUR
LAKHIMPUR
UTTAR PRADESH
91
8052302208
BANK OF' INDIA
BKID0AG2414
MUDIA KHURD
VILL. MUDIA KHURD BLOCKPHOOL BEHAR PODAUD PUR TAHSILLAKHIMPUR , PIN262701
LAKHIMPUR
LAKHIMPUR
UTTAR PRADESH
91
8052302228
BANK OF' INDIA
BKID0AG2413
AMIR NAGAR
VILL. AMIR NAGAR BLOCKKUMBHI POKUMBHI TAHSILGOLA GOKARAN NATH, PIN262802
LAKHIMPUR
LAKHIMPUR
UTTAR PRADESH
91
8052302203
BANK OF' INDIA
BKID0AG2412
SISAYA KALAN
VILL. SISSAYA KALAN BLOCKDHAURAHRA POSISAYA KALAN TAHSILDHAURAHA, PIN262723
LAKHIMPUR
LAKHIMPUR
UTTAR PRADESH
91
8052302244
BANK OF' INDIA
BKID0AG2411
HASANPUR KATAULI
VILL. HASANPUR KATAULI BLOCKISA NAGAR POISA NAGAR TAHSILLAKHIMPUR , PIN262502
LAKHIMPUR
LAKHIMPUR
UTTAR PRADESH
91
8052302215
BANK OF' INDIA
BKID0AG2410
AJAN
VILL. AJAN BLOCKKUMBHI POKUMBHI TAHSILGOLA GOKARAN NATH, PIN262802
LAKHIMPUR
LAKHIMPUR
UTTAR PRADESH
91
8052302522
BANK OF' INDIA
BKID0AG2409
SISAURA NASIR
VILL MOHAMMADPUR TAJPUR, BLOCKPASGAWAN PO MOHAMMADPUR TAJPUR, TAHSILMOHAMMADI, PIN262804
LAKHIMPUR
LAKHIMPUR
UTTAR PRADESH
91
8052302245
BANK OF' INDIA
BKID0AG2408
GULAULA
VILL. GULAULA BLOCKBEHJAM POTIKOLA TAHSILLAKHIMPUR , PIN261501
LAKHIMPUR
LAKHIMPUR
UTTAR PRADESH
91
8052302214
BANK OF' INDIA
BKID0AG2407
BHANPUR
VILL. BHANPUR BLOCKBIJUA POBHAN PUR TAHSILMOHAMMADI , PIN262901
LAKHIMPUR
LAKHIMPUR
UTTAR PRADESH
91
8052302206
BANK OF' INDIA
BKID0AG2406
BALAMIA BHARKHAR
VILL. BALAMIA BHARKHAR BLOCKMOHAMMADI POBALAMIA BHARKHAR TAHSILMOHAMMADI , PIN262804
LAKHIMPUR
LAKHIMPUR
UTTAR PRADESH
91
8252302204
BANK OF' INDIA
BKID0AG2405
MOODA SAWARAN
VILL. MOODA SAWARAN BLOCKBIJUA POMOODA SAWARAN TAHSILMOHAMMADI , PIN262901
LAKHIMPUR
LAKHIMPUR
UTTAR PRADESH
91
8052302226
BANK OF' INDIA
BKID0AG2404
SANSARPUR
VILL. SANSARPUR BLOCKBANKEYGANJ POSANSARPUR TAHSILGOLA GOKARAN NATH , PIN262801
LAKHIMPUR
LAKHIMPUR
UTTAR PRADESH
91
8052302242
BANK OF' INDIA
BKID0AG2403
UCHAULIA
VILL. UCHAULIA BLOCKPASGAWAN POUCHAULIA TAHSILLAKHIMPUR , PIN242306
LAKHIMPUR
LAKHIMPUR
UTTAR PRADESH
91
8052302248
BANK OF' INDIA
BKID0AG2402
ROSAN NAGAR
VILL. ROSAN NAGAR BLOCKBANKEYGANJ POROSAN NAGAR TAHSILGOLA GOKARAN NATH, PIN262801
LAKHIMPUR
LAKHIMPUR
UTTAR PRADESH
91
8052302240
BANK OF' INDIA
BKID0AG2401
LAKHIMPUR SITAPUR ROAD
VILL. BUS STATION RD LAKHIMPUR BLOCKLAKHIM PUR POLAKHIM PUR TAHSILLAKHIMPUR , PIN262701
LAKHIMPUR
LAKHIMPUR
UTTAR PRADESH
91
8052302220
BANK OF' INDIA
BKID0AG2399
R.O. CHITRAKOOT
VILLAGE AMANPUR, VILL.BEDIPULIYABLOCK KARVI POST OFFICE KARVI TAHSIL CHITRAKOOT, PIN CODE210205
R.O. CHITRAKOOT
LAKHIMPUR
UTTAR PRADESH
91
8052302981
BANK OF' INDIA
BKID0AG2341
POORABPATAI
VILL. POORABPATAIBLOCKMAU POPOORABPATAITAHSILMAU , PIN210209
CHITRAKOOT
LAKHIMPUR
UTTAR PRADESH
91
8052302983
BANK OF' INDIA
BKID0AG2340
BIYAWAL
VILL. BIYAWAL BLOCKMAU POBIYAWAL TAHSILMAU , PIN210209
CHITRAKOOT
LAKHIMPUR
UTTAR PRADESH
91
8052302366
BANK OF' INDIA
BKID0AG2339
BARAUR
VILL. BARAURBLOCKPAHADI PORAJAPUR TAHSILKARVI , PIN210207
CHITRAKOOT
LAKHIMPUR
UTTAR PRADESH
91
8052302984
BANK OF' INDIA
BKID0AG2338
GHURETANPUR
VILL. GHURETANPUBLOCKKARVI POGHURETANPUR TAHSILKARVI , PIN210205
CHITRAKOOT
LAKHIMPUR
UTTAR PRADESH
91
8052302982
BANK OF' INDIA
BKID0AG2337
BALAPUR KHALSA
VILL. BALAPUR KHBLOCKPAHADI PORANGOLI TAHSILKARVI , PIN210205
CHITRAKOOT
LAKHIMPUR
UTTAR PRADESH
91
8052302467
BANK OF' INDIA
BKID0AG2336
BANDHI
VILL. BANDHIBLOCKRAM NAGAR PORAIPURA TAHSILMANIKPUR , PIN210205
CHITRAKOOT
LAKHIMPUR
UTTAR PRADESH
91
8052302466
BANK OF' INDIA
BKID0AG2335
CHUREH KESHURUA
VILL. CHUREH KESHRUWA BLOCKKARVI POMANIKPUR TAHSILMANIKPUR , PIN210208
CHITRAKOOT
LAKHIMPUR
UTTAR PRADESH
91
8052302862
BANK OF' INDIA
BKID0AG2334
GARCHAPPA
VILL. GARCHAPPA BLOCKKARVI POMANIKPUR TAHSILMANIKPUR , PIN210208
CHITRAKOOT
LAKHIMPUR
UTTAR PRADESH
91
8052302526
BANK OF' INDIA
BKID0AG2333
BHAINSAUDHA
VILL. BHAINSAUDHA BLOCKCHITRAKOOT POBHAINSAUDHA TAHSILKARVI , PIN210204
CHITRAKOOT
LAKHIMPUR
UTTAR PRADESH
91
8052302277
BANK OF' INDIA
BKID0AG2332
LAMIYARI
VILL. LAMIYARI BLOCKMAMSI BUJURG POPAHRI, KARBI TAHSILMAU , PIN210207
CHITRAKOOT
LAKHIMPUR
UTTAR PRADESH
91
9792203789
BANK OF' INDIA
BKID0AG2331
SONEPUR
VILL. SONEPUR BLOCKKARWI POKARWI TAHSILKARVI , PIN210205
CHITRAKOOT
LAKHIMPUR
UTTAR PRADESH
91
9792203755
BANK OF' INDIA
BKID0AG2330
MANDI SAMITI KARWI
VILL.KARWI BLOCKKARWI POKARWI TAHSILKARVI , PIN210205
CHITRAKOOT
LAKHIMPUR
UTTAR PRADESH
91
9792203663
BANK OF' INDIA
BKID0AG2329
PURANI BAZAR
VILL. PURANI BAZAR BLOCKKARVI POKARVI TAHSILKARVI , PIN210205
CHITRAKOOT
LAKHIMPUR
UTTAR PRADESH
91
9792203670
BANK OF' INDIA
BKID0AG2328
GANIBA
VILL. GANIBA BLOCKPAHARI POGANIVA TAHSILKARVI , PIN210205
CHITRAKOOT
LAKHIMPUR
UTTAR PRADESH
91
9792203656
BANK OF' INDIA
BKID0AG2327
PAHARI
VILL. PAHARI BLOCKPAHARI POPAHARI TAHSILMAU , PIN210206
CHITRAKOOT
LAKHIMPUR
UTTAR PRADESH
91
9792203669
BANK OF' INDIA
BKID0AG2326
MURKA
VILL. MURKA BLOCKMAU POMURKA TAHSILMAU , PIN210208
CHITRAKOOT
LAKHIMPUR
UTTAR PRADESH
91
9792203666
BANK OF' INDIA
BKID0AG2325
MAU
VILL. MAU BLOCKMAU POMAU TAHSILMAU , PIN210209
CHITRAKOOT
LAKHIMPUR
UTTAR PRADESH
91
9792203665
BANK OF' INDIA
BKID0AG2324
MANIKPUR
VILL. MANIKPUR BLOCKMANIKPUR POMANIKPUR TAHSILMAU , PIN210208
CHITRAKOOT
CHITRAKOOT
UTTAR PRADESH
91
9792203662
BANK OF' INDIA
BKID0AG2323
BEDI PULIA
VILL. BADI PULIA BLOCKKARVI POBEDIPULIA TAHSILKARVI , PIN210205
CHITRAKOOT
CHITRAKOOT
UTTAR PRADESH
91
9792203651
BANK OF' INDIA
BKID0AG2322
MAHUVA GAON
VILL. MAHUVA GAON BLOCKPAHARI POMAHUVAGANJ TAHSILMAU , PIN210207
CHITRAKOOT
CHITRAKOOT
UTTAR PRADESH
91
9792203660
BANK OF' INDIA
BKID0AG2321
CHHIVLAHA
VILL. CHHIVLAHA BLOCKMAU POCHHIVLAHA TAHSILMAU , PIN210209
CHITRAKOOT
CHITRAKOOT
UTTAR PRADESH
91
9792203655
BANK OF' INDIA
BKID0AG2320
NADINKURMIYAN
VILL. NADINKUMARIYAN BLOCKPAHARI PONADINKURMIYAN TAHSILMAU , PIN210207
CHITRAKOOT
CHITRAKOOT
UTTAR PRADESH
91
9792203667
BANK OF' INDIA
BKID0AG2319
SARAIYAN
VILL. SARAIYAN BLOCKMANIKPUR POSARAIYAN TAHSILMAU , PIN210208
CHITRAKOOT
CHITRAKOOT
UTTAR PRADESH
91
9792203674
BANK OF' INDIA
BKID0AG2318
NADITAURA
VILL. NADITORA BLOCKPAHARI PONADITAURA TAHSILMAU , PIN210206
CHITRAKOOT
CHITRAKOOT
UTTAR PRADESH
91
9792203668
BANK OF' INDIA
BKID0AG2317
CHAKAUNDH
VILL. SHANKAR BAZAR BLOCKKARVI POKARVI TAHSILKARVI , PIN210205
CHITRAKOOT
CHITRAKOOT
UTTAR PRADESH
91
9792203654
BANK OF' INDIA
BKID0AG2316
LALTA ROAD
VILL. LALTA RD BLOCKRAMNAGAR POLALTA RD TAHSILMAU , PIN210209
CHITRAKOOT
CHITRAKOOT
UTTAR PRADESH
91
9792203659
BANK OF' INDIA
BKID0AG2315
UMARI
VILL. SUBHASH NAGAR BLOCKMANIKPUR POMANIKPUR TAHSILMAU , PIN210208
CHITRAKOOT
CHITRAKOOT
UTTAR PRADESH
91
9792203677
BANK OF' INDIA
BKID0AG2314
RASIN
VILL. RAULI KALYANPUR BLOCKKARVI PORAULI KALYANPUR TAHSILKARVI , PIN210202
CHITRAKOOT
CHITRAKOOT
UTTAR PRADESH
91
9792203673
BANK OF' INDIA
BKID0AG2313
MAJHGAON
VILL. RAJAPUR BLOCKRAJAPUR PORAJAPUR TAHSILMAU , PIN210207
CHITRAKOOT
CHITRAKOOT
UTTAR PRADESH
91
9792203661
BANK OF' INDIA
BKID0AG2312
BACHHARAN
VILL. BACHHARAN BLOCKRAM NAGAR POBACHHRAN TAHSILMAU , PIN210206
CHITRAKOOT
CHITRAKOOT
UTTAR PRADESH
91
9792203649
BANK OF' INDIA
BKID0AG2311
RAM NAGAR CHHIVOHAN
VILL. RAM NAGARBLOCKRAM NAGAR PORAM NAGAR TAHSILMAU , PIN210209
CHITRAKOOT
CHITRAKOOT
UTTAR PRADESH
91
9792203672
BANK OF' INDIA
BKID0AG2310
SITAPUR
VILL. SITAPUR BLOCKKARVI POSITAPUR TAHSILKARVI , PIN210204
CHITRAKOOT
CHITRAKOOT
UTTAR PRADESH
91
9792203676
BANK OF' INDIA
BKID0AG2309
MARKUNDI
VILL. MARKUNDI BLOCKMANIKPUR POMARKUNDI TAHSILMAU , PIN210208
CHITRAKOOT
CHITRAKOOT
UTTAR PRADESH
91
9792203664
BANK OF' INDIA
BKID0AG2308
BHARAT KOOP
VILL. BHARAT KOOP BLOCKKARBVI POBHARATKOOP TAHSILKARVI , PIN210205
CHITRAKOOT
CHITRAKOOT
UTTAR PRADESH
91
9792203652
BANK OF' INDIA
BKID0AG2307
AINCHVARA
VILL. AINCHVARA BLOCKMANIKPUR POAICHVARA TAHSILMAU , PIN210205
CHITRAKOOT
CHITRAKOOT
UTTAR PRADESH
91
9792203648
BANK OF' INDIA
BKID0AG2306
KHANDEHA
VILL. KHANDEHA BLOCKMAU POKHANDEHA TAHSILMAU , PIN210209
CHITRAKOOT
CHITRAKOOT
UTTAR PRADESH
91
9792203658
BANK OF' INDIA
BKID0AG2305
BARGARH
VILL. BARGARH BLOCKMAU POBARGARH TAHSILMAU , PIN210208
CHITRAKOOT
CHITRAKOOT
UTTAR PRADESH
91
9792203650
BANK OF' INDIA
BKID0AG2304
SHIV RAMPUR
VILL. SHIV RAMPUR BLOCKKARVI POSHIVRAMPUR TAHSILKARVI , PIN210205
CHITRAKOOT
CHITRAKOOT
UTTAR PRADESH
91
9792203675
BANK OF' INDIA
BKID0AG2303
BHAURI
VILL. BHAURI BLOCKKARVI POBHAURI TAHSILKARVI , PIN210205
CHITRAKOOT
CHITRAKOOT
UTTAR PRADESH
91
9792203653
BANK OF' INDIA
BKID0AG2302
RAIPURA
VILL. RAIPURA BLOCKRAM NAGAR PORAIPURA TAHSILMAU , PIN210205
CHITRAKOOT
CHITRAKOOT
UTTAR PRADESH
91
9792203671
BANK OF' INDIA
BKID0AG2301
KARVI
VILL. KARVI BLOCKKARVI POKARVI TAHSILKARVI , PIN210205
CHITRAKOOT
CHITRAKOOT
UTTAR PRADESH
91
9792203657
BANK OF' INDIA
BKID0AG2299
R.O. SITAPUR
VILLAGECIVIL LINES BLOCKSITAPUR POST OFFICESITAPUR TAHSILSITAPUR , PIN CODE 261001
R.O. SITAPUR
CHITRAKOOT
UTTAR PRADESH
91
8052302866
BANK OF' INDIA
BKID0AG2263
SAMAISA
VILL. SAMAISA BLOCKPASRENDI POSAMAISA TAHSILLAHARPUR , PIN261207
SITAPUR
CHITRAKOOT
UTTAR PRADESH
91
8052302825
BANK OF' INDIA
BKID0AG2262
ANGARASI
VILL. ANGARASIBLOCKPASRENDI POANGARASITAHSILLAHARPUR , PIN261207
SITAPUR
CHITRAKOOT
UTTAR PRADESH
91
8052302824
BANK OF' INDIA
BKID0AG2261
POKHARA
VILL. POKHARA BLOCKHARGAON POPOKHARA TAHSILLAHARPUR , PIN261135
SITAPUR
CHITRAKOOT
UTTAR PRADESH
91
8052302823
BANK OF' INDIA
BKID0AG2260
MAKHUWAPUR CHAUBEPIR
VILL. MAKHUWAPUR CHAUBEPIR BLOCKKHAIRABAD POMAKHUWAPUR CHAUBEPIR TAHSILSITAPUR , PIN261302
SITAPUR
CHITRAKOOT
UTTAR PRADESH
91
8052302822
BANK OF' INDIA
BKID0AG2259
RAHEEMABAD
VILL. RAHIMABAD BLOCKKHAIRABAD PORAHIMABAD TAHSILSITAPUR , PIN261131
SITAPUR
CHITRAKOOT
UTTAR PRADESH
91
8052302821
BANK OF' INDIA
BKID0AG2258
PATABOJH
VILL. PATABOJHBLOCKMAHOLI POPATABOJHTAHSILMISHRIKH , PIN261001
SITAPUR
CHITRAKOOT
UTTAR PRADESH
91
8052302353
BANK OF' INDIA
BKID0AG2257
BEEHATGAUR
VILL. BEEHATGAURBLOCKMAHOLI POBEEHATGAURTAHSILMISHRIKH , PIN261141
SITAPUR
CHITRAKOOT
UTTAR PRADESH
91
8052302352
BANK OF' INDIA
BKID0AG2256
FATEH NAGAR
VILL. FATEH NAGAR BLOCKMACHRETA POFATEH NAGAR TAHSILMISRIKH , PIN261405
SITAPUR
CHITRAKOOT
UTTAR PRADESH
91
8052302290
BANK OF' INDIA
BKID0AG2255
KORAUNA
VILL. KORAUNA BLOCKGONDALAMAU POKORAUNA TAHSILMISRIKH , PIN261403
SITAPUR
CHITRAKOOT
UTTAR PRADESH
91
8052302286
BANK OF' INDIA
BKID0AG2254
NAIPALAPUR
VILL. NAIPALAPURBLOCKKHAIRABAD POSITAPUR TAHSILSITAPUR , PIN261001
SITAPUR
CHITRAKOOT
UTTAR PRADESH
91
8052302108
BANK OF' INDIA
BKID0AG2253
RAIPUR
VILL. RAIPUR BLOCK KAIRABAD POMAINASI SARAYAN TAHSILSITAPUR , PIN261001
SITAPUR
CHITRAKOOT
UTTAR PRADESH
91
8052302106
BANK OF' INDIA
BKID0AG2252
KURSI
VILL. KURSI BLOCK GONDLAMAU POKURSI TAHSILSIDHAULI , PIN261303
SITAPUR
CHITRAKOOT
UTTAR PRADESH
91
8052302103
BANK OF' INDIA
BKID0AG2251
INDRAULI
VILL. INDRAULI BLOCK MAHOLI POINDRAULI TAHSILSITAPUR , PIN261001
SITAPUR
CHITRAKOOT
UTTAR PRADESH
91
8052302102
BANK OF' INDIA
BKID0AG2250
MANDARUA
VILL. MOHAKAMPURMADARUABLOCK MISHRIKH POMOHAKAMPURMADARUATAHSILMISRIKH , PIN261401
SITAPUR
CHITRAKOOT
UTTAR PRADESH
91
8052302101
BANK OF' INDIA
BKID0AG2249
SUHETARA
VILL. SUHETARA BLOCKKHAIRABAD POKHAIRABAD TAHSILLAHARPUR , PIN261131
SITAPUR
CHITRAKOOT
UTTAR PRADESH
91
8052302100
BANK OF' INDIA
BKID0AG2248
RATAUSIA
VILL. RATAUSIA BLOCK PISAWAN PONAIKAKHERA TAHSILSITAPUR , PIN261141
SITAPUR
CHITRAKOOT
UTTAR PRADESH
91
8052302098
BANK OF' INDIA
BKID0AG2247
HAIDERPUR
VILL. HAIDERPUR BLOCK HARGAON POGURDHAPA TAHSILLAHARPUR , PIN261121
SITAPUR
SITAPUR
UTTAR PRADESH
91
8052302096
BANK OF' INDIA
BKID0AG2246
BAHADURNAGAR
VILL. BAHADURNAGAR BLOCKPISAWAN POBAHADURNAGAR TAHSILBISWAN , PIN261151
SITAPUR
SITAPUR
UTTAR PRADESH
91
8052302090
BANK OF' INDIA
BKID0AG2245
KHAGESIAMAU
VILL. KHAGESIAMAU BLOCK ALIA POKHAGESIAMAU TAHSILSITAPUR , PIN261001
SITAPUR
SITAPUR
UTTAR PRADESH
91
8052302089
BANK OF' INDIA
BKID0AG2244
SAHADAT NAGAR
VILL. SAHADAT NAGAR BLOCKAIIA POSAHADAT NAGAR TAHSILSITAPUR , PIN261121
SITAPUR
SITAPUR
UTTAR PRADESH
91
8052302088
BANK OF' INDIA
BKID0AG2243
SARAYAN SANI
VILL. SARAYAN SANI BLOCKKHAIRABAD POSARAYAN SANI TAHSILBISWAN , PIN261145
SITAPUR
SITAPUR
UTTAR PRADESH
91
8052302085
BANK OF' INDIA
BKID0AG2242
GOPALPUR
VILL. GOPALPUR BLOCKGONDLAMAU POSAHOLI GOPALPUR TAHSILSIDHAULI , PIN261303
SITAPUR
SITAPUR
UTTAR PRADESH
91
8052302084
BANK OF' INDIA
BKID0AG2241
PURANA SITAPUR
VILL PURANA SITAPUR BLOCKKHAIRABAD POPURANA SITAPUR TAHSILSITAPUR PIN 261001
SITAPUR
SITAPUR
UTTAR PRADESH
91
8052302083
BANK OF' INDIA
BKID0AG2240
NEEMSAR
VILL. NEEMSAR BLOCK MISHRIKH PONEEMSAR TAHSILMISRIKH , PIN261402
SITAPUR
SITAPUR
UTTAR PRADESH
91
8052302082
BANK OF' INDIA
BKID0AG2239
ARTHANA
VILL. ARTHANA BLOCKPISAWAN POARTHANA TAHSILBISWAN , PIN262701
SITAPUR
SITAPUR
UTTAR PRADESH
91
8052302081
BANK OF' INDIA
BKID0AG2238
PISAWAN
VILL. PISAWAN BLOCKPISAWAN POPISAWAN TAHSILBISWAN , PIN261151
SITAPUR
SITAPUR
UTTAR PRADESH
91
8052302080
BANK OF' INDIA
BKID0AG2237
HUSAINGANJ
VILL. HUSAINGANJ BLOCK KAIRABAD POHUSAINGANJ TAHSILSITAPUR , PIN261125
SITAPUR
SITAPUR
UTTAR PRADESH
91
8052302076
BANK OF' INDIA
BKID0AG2236
KACHNAR
VILL. KACHNAR BLOCK ALIA POANGRASI KACHNAR TAHSILSITAPUR , PIN261001
SITAPUR
SITAPUR
UTTAR PRADESH
91
8052302075
BANK OF' INDIA
BKID0AG2235
HSCOMPLEXSADAR
VILL. SADARHOTEL SUKHDAI COMPLEXBLOCKKHAIRABAD POSITAPUR TAHSILSITAPUR , PIN261001
SITAPUR
SITAPUR
UTTAR PRADESH
91
8052302074
BANK OF' INDIA
BKID0AG2234
EMILIYA SULTANPUR
VILL. EMILIYA SULTANPUR BLOCK ALIA POEMILIYA SULTANPUR TAHSILSITAPUR , PIN261001
SITAPUR
SITAPUR
UTTAR PRADESH
91
8052302072
BANK OF' INDIA
BKID0AG2233
ALIYA
VILL. ALIYA. BLOCKALIYA POALIYA. TAHSILSITAPUR , PIN261001
SITAPUR
SITAPUR
UTTAR PRADESH
91
8052302071
BANK OF' INDIA
BKID0AG2232
MEHNDIPURWA
VILL. MEHNDIPURWA. BLOCK PERSENDI POKAILABAHADURPUR TAHSILMAHMOODABAD , PIN261207
SITAPUR
SITAPUR
UTTAR PRADESH
91
8052302070
BANK OF' INDIA
BKID0AG2231
PARSADA
VILL. PARSADA. BLOCK MACHHREHTA POPARSADA. TAHSILMISRIKH , PIN261404
SITAPUR
SITAPUR
UTTAR PRADESH
91
8052302069
BANK OF' INDIA
BKID0AG2230
PARSEHRA DHAKHIA
VILL. PARSEHRA DHAKHIA. BLOCK MAHOLI POPARSEHRA DHAKIA TAHSILSITAPUR , PIN261141
SITAPUR
SITAPUR
UTTAR PRADESH
91
8052302064
BANK OF' INDIA
BKID0AG2229
SANDILA
VILL. SANDILA BLOCKMACHHREHTA POSAKRARA SANDILA TAHSILMISRIKH , PIN 261404
SITAPUR
SITAPUR
UTTAR PRADESH
91
8052302061
BANK OF' INDIA
BKID0AG2228
KALLIE
VILL. KALLIE BLOCK GONDLAMAU POKALLIE TAHSILMISRIKH , PIN261403
SITAPUR
SITAPUR
UTTAR PRADESH
91
8052302060
BANK OF' INDIA
BKID0AG2227
URDAULI
VILL. URDAULI. BLOCKMAHOLI POURDAULI. TAHSILSITAPUR , PIN261141
SITAPUR
SITAPUR
UTTAR PRADESH
91
8052302058
BANK OF' INDIA
BKID0AG2226
SHAHMAHOLI
VILL. SHAHMAHOLI BLOCKPARSENDI POSHAHMAHOLI TAHSILSITAPUR , PIN261125
SITAPUR
SITAPUR
UTTAR PRADESH
91
8052302057
BANK OF' INDIA
BKID0AG2225
GONDALAMAU
VILL. GONDALAMAU. BLOCKGONDLAMAU POGONDLAMAU TAHSILSIDHAULI , PIN261303
SITAPUR
SITAPUR
UTTAR PRADESH
91
8052302056
BANK OF' INDIA
BKID0AG2224
TALGAON
VILL. TALGAON BLOCKPARSENDI POTALGAON TAHSILMAHMOODABAD , PIN261207
SITAPUR
SITAPUR
UTTAR PRADESH
91
8052302054
BANK OF' INDIA
BKID0AG2223
AUNTT
VILL. AUNTT BLOCKMISRIKHPOAUNTT TAHSILMISRIKH , PIN261401
SITAPUR
SITAPUR
UTTAR PRADESH
91
8052302051
BANK OF' INDIA
BKID0AG2222
BRAHMAWALI
VILL. BRAHMAWALI. BLOCK MAHOLI POBRAHMAWALI. TAHSILSITAPUR , PIN261141
SITAPUR
SITAPUR
UTTAR PRADESH
91
8052302050
BANK OF' INDIA
BKID0AG2221
WAZIR NAGAR
VILL. WAZIR NAGAR. BLOCKPISAWAN POWAZIR NAGAR. TAHSILSITAPUR , PIN261141
SITAPUR
SITAPUR
UTTAR PRADESH
91
8052302049
BANK OF' INDIA
BKID0AG2220
MUDRASAN
VILL. MUDRASAN. BLOCK HARGAON POMUDRASAN. TAHSILLAHARPUR , PIN261135
SITAPUR
SITAPUR
UTTAR PRADESH
91
8052302046
BANK OF' INDIA
BKID0AG2219
MAHADEV ATRA
VILL. MAHADEV ATRA. BLOCK HARGAON POMAHADEV ATRA. TAHSILLAHARPUR , PIN261135
SITAPUR
SITAPUR
UTTAR PRADESH
91
8052302045
BANK OF' INDIA
BKID0AG2218
NERIKALAN
VILL. NERIKALAN BLOCKALIYA PONERIKALAN TAHSILSITAPUR , PIN261001
SITAPUR
SITAPUR
UTTAR PRADESH
91
8052302037
BANK OF' INDIA
BKID0AG2217
KAZIKAMALPUR
VILL. KAZIKAMALPUR. BLOCKALIYA POKAZIKAMALPUR TAHSILSITAPUR , PIN261001
SITAPUR
SITAPUR
UTTAR PRADESH
91
8052302036
BANK OF' INDIA
BKID0AG2216
NERI
VILL. NERI BLOCK PISAWAN PONERI TAHSILSITAPUR , PIN261141
SITAPUR
SITAPUR
UTTAR PRADESH
91
8052302034
BANK OF' INDIA
BKID0AG2215
JHAREKHAPUR
VILL. JHAREKHAPUR BLOCK HARGAON POSELUMAU TAHSILSITAPUR , PIN261121
SITAPUR
SITAPUR
UTTAR PRADESH
91
8052302033
BANK OF' INDIA
BKID0AG2214
BAMBHAURA
VILL. BAMBHAURA BLOCKAIIA POBAMBHAURA TAHSILSITAPUR , PIN261141
SITAPUR
SITAPUR
UTTAR PRADESH
91
8052302027
BANK OF' INDIA
BKID0AG2213
MANDI SAMITI
VILL. MANDI SAMITI BLOCK KAIRABAD POSHSAPUR MANDI SAMITI TAHSILBISWAN , PIN261001
SITAPUR
SITAPUR
UTTAR PRADESH
91
8052302026
BANK OF' INDIA
BKID0AG2212
MISRIKH
VILL. MISRIKH BLOCK MISHRIKH POMISRIKH TAHSILMISRIKH , PIN261401
SITAPUR
SITAPUR
UTTAR PRADESH
91
8052302022
BANK OF' INDIA
BKID0AG2211
KHAIRABAD
VILL. KHAIRABAD BLOCKKHAIRABAD POKHAIRABAD TAHSILSIDHAULI , PIN261331
SITAPUR
SITAPUR
UTTAR PRADESH
91
8052302019
BANK OF' INDIA
BKID0AG2210
BARAIJALALPUR
VILL. BARAIJALALPUR BLOCKKHAIRABAD POBARAI JALALPUR TAHSILSIDHAULI , PIN261302
SITAPUR
SITAPUR
UTTAR PRADESH
91
8052302016
BANK OF' INDIA
BKID0AG2209
SITAPUR
VILL. SITAPUR BLOCKKHAIRABAD POSITAPUR TAHSILSITAPUR , PIN261001
SITAPUR
SITAPUR
UTTAR PRADESH
91
8052302013
BANK OF' INDIA
BKID0AG2208
AURANGABAD
VILL. AURANGABAD BLOCKGONDLAMAU POAURANGABAD TAHSILMISRIKH , PIN261403
SITAPUR
SITAPUR
UTTAR PRADESH
91
8052302012
BANK OF' INDIA
BKID0AG2207
HARGAON
VILL. HARGAON BLOCKHARGAON POHARGAON TAHSILSITAPUR , PIN261121
SITAPUR
SITAPUR
UTTAR PRADESH
91
8052302011
BANK OF' INDIA
BKID0AG2206
MAHOLI
VILL. MAHOLI BLOCKMAHOLI POMAHOLI TAHSILSITAPUR , PIN261141
SITAPUR
SITAPUR
UTTAR PRADESH
91
8052302009
BANK OF' INDIA
BKID0AG2205
KUTUBNAGAR
VILL. KUTUBNAGAR BLOCK MISHRIKH POKUTUBNAGAR TAHSILMISRIKH , PIN261401
SITAPUR
SITAPUR
UTTAR PRADESH
91
8052302007
BANK OF' INDIA
BKID0AG2204
BARGAWAN
VILL. BARGAWAN BLOCKPISAWAN POBARGAWAN TAHSILBISWAN , PIN261151
SITAPUR
SITAPUR
UTTAR PRADESH
91
8052302005
BANK OF' INDIA
BKID0AG2203
SANDANA
VILL. SANDANA BLOCKGONDLAMAU POSANDANA TAHSILMISRIKH , PIN261403
SITAPUR
SITAPUR
UTTAR PRADESH
91
8052302003
BANK OF' INDIA
BKID0AG2202
PARSENDI
VILL. PARSENDI BLOCKPARSENDI POPARSENDI TAHSILMAHMOODABAD , PIN261207
SITAPUR
SITAPUR
UTTAR PRADESH
91
8052302002
BANK OF' INDIA
BKID0AG2201
MACHHREHTA
VILL. MACHHREHTA BLOCKMACHHREHTA POMACHHREHTA TAHSILMISRIKH , PIN261405
SITAPUR
SITAPUR
UTTAR PRADESH
91
8052302001
BANK OF' INDIA
BKID0AG2199
R.O.BISWAN
VILLAGE JAGANNATHPUR, SIDHAULI RD. BLOCK BISWAN POST OFFICE BISWAN TAHSIL SITAPUR, PIN CODE261201
R.O.BISWAN
SITAPUR
UTTAR PRADESH
91
8052302563
BANK OF' INDIA
BKID0AG2173
MARSANDA
VILL. MARSANDABLOCKLAHARPUR POMARSANDATAHSILLAHARPUR , PIN261136
BISWAN
SITAPUR
UTTAR PRADESH
91
8052302826
BANK OF' INDIA
BKID0AG2172
MADOR
VILL. MADOR BLOCKLAHARPUR POMADOR TAHSILLAHARPUR , PIN261136
BISWAN
SITAPUR
UTTAR PRADESH
91
8052302868
BANK OF' INDIA
BKID0AG2171
CHANDRASENI
VILL. CHANDRASENBLOCKREOSAPOCHANDRASAINI TAHSILBISWAN , PIN261202
BISWAN
SITAPUR
UTTAR PRADESH
91
8052302860
BANK OF' INDIA
BKID0AG2170
HARIHARPUR
VILL. KUSHMOURA BLOCKREOSAPOSEMARA TAHSILBISWAN , PIN261205
BISWAN
SITAPUR
UTTAR PRADESH
91
8052302858
BANK OF' INDIA
BKID0AG2169
KOTARA
VILL. KOTARABLOCKBISWAN POKOTARA TAHSILBISWAN , PIN261201
BISWAN
SITAPUR
UTTAR PRADESH
91
8052302855
BANK OF' INDIA
BKID0AG2168
NEORAJPUR
VILL. NEORAJPUR BLOCKBISWAN POULARA TAHSILBISWAN , PIN261145
BISWAN
SITAPUR
UTTAR PRADESH
91
8052302827
BANK OF' INDIA
BKID0AG2167
KUNWARGADDI
VILL. KUNWARGADDI BLOCKKASMANDAPOREHUWA TAHSILSIDHAULI , PIN261301
BISWAN
SITAPUR
UTTAR PRADESH
91
8052302861
BANK OF' INDIA
BKID0AG2166
BABA KUTI
VILL. BABA KUTI BLOCKRAMPUR MATHURA POSAMARDAHA TAHSILMAHMOODABAD , PIN261203
BISWAN
SITAPUR
UTTAR PRADESH
91
8052302859
BANK OF' INDIA
BKID0AG2165
SURAICHA
VILL. SURAICHABLOCKSIDHAULI POSURAICHA TAHSILSIDHAULI , PIN261302
BISWAN
SITAPUR
UTTAR PRADESH
91
8052302857
BANK OF' INDIA
BKID0AG2164
DHAUKAL GA
VILL. DHAUKAL GANJ BLOCKBISWAN POBHIRA TAHSILBISWAN , PIN261201
BISWAN
SITAPUR
UTTAR PRADESH
91
8052302856
BANK OF' INDIA
BKID0AG2163
GERUHA MA
VILL. GERUHAMAHMOODPURBLOCKLAHARPUR PONIMAUCHI TAHSILLAHARPUR , PIN261135
BISWAN
SITAPUR
UTTAR PRADESH
91
8052302867
BANK OF' INDIA
BKID0AG2162
MIRANAGAR
VILL. MIRANAGAR BLOCKRAMPUR MATHURA POMIRANAGAR TAHSILMAHMOODABAD , PIN261203
BISWAN
SITAPUR
UTTAR PRADESH
91
8052302854
BANK OF' INDIA
BKID0AG2161
KHALGAON
VILL. KHALGAONBLOCKPAHLA POKHALGAON TAHSILMAHMOODABAD , PIN261301
BISWAN
SITAPUR
UTTAR PRADESH
91
8052302853
BANK OF' INDIA
BKID0AG2160
PARSEHRA
VILL. PARSEHRABLOCKBISWAN POPURWA DASAPUR TAHSILBISWAN , PIN261201
BISWAN
SITAPUR
UTTAR PRADESH
91
8052302814
BANK OF' INDIA
BKID0AG2159
GURERA
VILL. GURERABLOCKBISWAN POGURERATAHSILBISWAN , PIN261201
BISWAN
SITAPUR
UTTAR PRADESH
91
8052302852
BANK OF' INDIA
BKID0AG2158
RIHAR
VILL. RIHAR BLOCKBEHTA PORIHAR TAHSILMAHMOODABAD , PIN261208
BISWAN
SITAPUR
UTTAR PRADESH
91
8052302289
BANK OF' INDIA
BKID0AG2157
SHAMSABAD
VILL. SHAMSABAD BLOCKPAHLA POSHAMSABAD TAHSILMAHMOODABAD , PIN261206
BISWAN
SITAPUR
UTTAR PRADESH
91
8052302288
BANK OF' INDIA
BKID0AG2156
BHADMARA
VILL. BHADMARA BLOCKREUSA POBHADMARA TAHSILMAHMOODABAD , PIN261205
BISWAN
SITAPUR
UTTAR PRADESH
91
8052302287
BANK OF' INDIA
BKID0AG2155
CHATAUNI
VILL. CHATAUNI BLOCKRAMPUR MATHURA POCHATAUNI TAHSILBISWAN , PIN261204
BISWAN
SITAPUR
UTTAR PRADESH
91
8052302285
BANK OF' INDIA
BKID0AG2154
RAJAPUR KALAN
VILL. RAJAPUR KALAN BLOCK REOSA PORAJAPUR KALAN TAHSILMAHMOODABAD , PIN261205
BISWAN
SITAPUR
UTTAR PRADESH
91
8052302107
BANK OF' INDIA
BKID0AG2153
MADNAPUR
VILL. MADNAPUR BLOCKSAKRAN POMADNAPUR TAHSILBISWAN , PIN261201
BISWAN
SITAPUR
UTTAR PRADESH
91
8052302105
BANK OF' INDIA
BKID0AG2152
ITAUA
VILL. ITAUA BLOCK BEHTA POITAUA TAHSILLAHARPUR , PIN261136
BISWAN
SITAPUR
UTTAR PRADESH
91
8052302104
BANK OF' INDIA
BKID0AG2151
HALIM NAGAR
VILL. HALIM NAGAR BLOCK REOSA POGWARI TAHSILMAHMOODABAD , PIN261205
BISWAN
SITAPUR
UTTAR PRADESH
91
8052302099
BANK OF' INDIA
BKID0AG2150
BABUPUR
VILL. BABUPUR BLOCKMAHMOODABAD POBABUPUR TAHSILMAHMOODABAD , PIN261206
BISWAN
SITAPUR
UTTAR PRADESH
91
8052302097
BANK OF' INDIA
BKID0AG2149
TIKRA
VILL. TIKRA BLOCKBISWAN POTIKRA TAHSILBISWAN , PIN261201
BISWAN
SITAPUR
UTTAR PRADESH
91
8052302095
BANK OF' INDIA
BKID0AG2148
BANNIKHARAILA
VILL. MANPUR MAHARAJ NAGAR BLOCKBISWAN POBANNIKHARAILA TAHSILBISWAN , PIN261145
BISWAN
SITAPUR
UTTAR PRADESH
91
8052302094
BANK OF' INDIA
BKID0AG2147
BILARIA
VILL. KESARIGANJ BLOCK LAHARPUR POBILARIA TAHSILLAHARPUR , PIN261135
BISWAN
SITAPUR
UTTAR PRADESH
91
8052302093
BANK OF' INDIA
BKID0AG2146
BAHADURGANJ
VILL. BAHADURGANJ BLOCKRAMPUR MATHURA POBAHADURGANJ TAHSILBISWAN , PIN261204
BISWAN
SITAPUR
UTTAR PRADESH
91
8052302092
BANK OF' INDIA
BKID0AG2145
GANGAPURWA
VILL. GANGAPURWA BLOCK REOSA POPANDIT PURWA GANGAPURWA TAHSILMAHMOODABAD , PIN261205
BISWAN
SITAPUR
UTTAR PRADESH
91
8052302091
BANK OF' INDIA
BKID0AG2144
SIRAULI
VILL. SIRAULI BLOCKPAHLA POBETHARAMADHAV TAHSILBISWAN , PIN261203
BISWAN
SITAPUR
UTTAR PRADESH
91
8052302087
BANK OF' INDIA
BKID0AG2143
BEHMA
VILL. SIDHAULI BLOCKPAHLA POBEHMA TAHSILSIDHAULI , PIN261303
BISWAN
SITAPUR
UTTAR PRADESH
91
8052302086
BANK OF' INDIA
BKID0AG2142
KHANPUR KANKARI
VILL. KHANPUR KANKARI BLOCK REOSA POKHANPUR KANKARI TAHSILMAHMOODABAD , PIN261205
BISWAN
SITAPUR
UTTAR PRADESH
91
8052302059
BANK OF' INDIA
BKID0AG2141
KAMALAPUR
VILL. KAMALAPUR BLOCK KASMANDA POKAMALAPUR TAHSILSIDHAULI , PIN261302
BISWAN
SITAPUR
UTTAR PRADESH
91
8052302079
BANK OF' INDIA
BKID0AG2140
BAKAHUWA BAZAR
VILL. BAKHAUWA BAZAR BLOCKMAHMOODABAD POBAKAHUWA BAZAR TAHSILBISWAN , PIN261202
BISWAN
SITAPUR
UTTAR PRADESH
91
8052302078
BANK OF' INDIA
BKID0AG2139
BHITHAULI
VILL. BHITHAULI BLOCK KASMANDA POBHITHAULI TAHSILSIDHAULI , PIN261302
BISWAN
SITAPUR
UTTAR PRADESH
91
8052302077
BANK OF' INDIA
BKID0AG2138
KUNWARPUR
VILL. KUNWARPUR BLOCK SIDHAULI POGANGAGANJ KUNWARPUR TAHSILSIDHAULI , PIN261303
BISWAN
SITAPUR
UTTAR PRADESH
91
8052302073
BANK OF' INDIA
BKID0AG2137
CHANDPUR
VILL. CHANDPUR. BLOCK RAMPUR MATHURA POCHANDPUR TAHSILBISWAN , PIN261203
BISWAN
SITAPUR
UTTAR PRADESH
91
8052302068
BANK OF' INDIA
BKID0AG2136
BAUNABHARI
VILL. BAUNABHARI. BLOCKSIDHAULI POBAUNABHARI. TAHSILSIDHAULI , PIN261303
BISWAN
SITAPUR
UTTAR PRADESH
91
8052302067
BANK OF' INDIA
BKID0AG2135
BHADFAR
VILL. BHADFAR. BLOCK BEHTA POBHADFAR. TAHSILLAHARPUR , PIN261135
BISWAN
SITAPUR
UTTAR PRADESH
91
8052302066
BANK OF' INDIA
BKID0AG2134
LAHARPUR
VILL. LAHARPUR. BLOCKLAHARPUR POLAHARPUR. TAHSILLAHARPUR , PIN261135
BISWAN
SITAPUR
UTTAR PRADESH
91
8052302065
BANK OF' INDIA
BKID0AG2133
JAHANGIRABAD
VILL. JAHANGIRABAD. BLOCK BISWAN POJAHANGIRABAD. TAHSILBISWAN , PIN261202
BISWAN
SITAPUR
UTTAR PRADESH
91
8052302063
BANK OF' INDIA
BKID0AG2132
BARI
VILL. BARI. BLOCKSIDHAULI POBARI. TAHSILSIDHAULI , PIN261303
BISWAN
SITAPUR
UTTAR PRADESH
91
8052302062
BANK OF' INDIA
BKID0AG2131
BANSURA
VILL. BANSURA. BLOCKRAMPUR MATHURA POBANSURA. TAHSILBISWAN , PIN261204
BISWAN
SITAPUR
UTTAR PRADESH
91
8052302052
BANK OF' INDIA
BKID0AG2130
SANDA
VILL. SANDA BLOCKSAKRAN POSANDA TAHSILBISWAN , PIN261202
BISWAN
SITAPUR
UTTAR PRADESH
91
8052302055
BANK OF' INDIA
BKID0AG2129
BILAULI BAZAR
VILL. BILAULI BAZAR BLOCK PAHLA POBILAULI BAZAR TAHSILMAHMOODABAD , PIN261206
BISWAN
SITAPUR
UTTAR PRADESH
91
8052302053
BANK OF' INDIA
BKID0AG2128
GODHANA
VILL. GODHANA. BLOCK SIDHAULI POGODHANA. TAHSILSIDHAULI , PIN261303
BISWAN
SITAPUR
UTTAR PRADESH
91
8052302047
BANK OF' INDIA
BKID0AG2127
SITA RASOI
VILL. SITA RASOI. BLOCKKASMANDA POSITA RASOI. TAHSILSIDHAULI , PIN261303
BISWAN
SITAPUR
UTTAR PRADESH
91
8052302048
BANK OF' INDIA
BKID0AG2126
KOTRA SHIV THANA
VILL. KOTRA SHIV THANA. BLOCK BISWAN POKOTRA SHIV THANA. TAHSILMAHMOODABAD , PIN261205
BISWAN
SITAPUR
UTTAR PRADESH
91
8052302044
BANK OF' INDIA
BKID0AG2125
DEOKALIA
VILL. DEOKALIA BLOCK BISWAN PODEOKALIA TAHSILBISWAN , PIN261201
BISWAN
SITAPUR
UTTAR PRADESH
91
8052302043
BANK OF' INDIA
BKID0AG2124
SHAHPUR
VILL. SHAHPUR BLOCKBEHTA POSHAHPUR TAHSILLAHARPUR , PIN261135
BISWAN
SITAPUR
UTTAR PRADESH
91
8052302042
BANK OF' INDIA
BKID0AG2123
MANPUR
VILL. MANPUR BLOCK BISWAN POMANPUR TAHSILBISWAN , PIN261145
BISWAN
SITAPUR
UTTAR PRADESH
91
8052302039
BANK OF' INDIA
BKID0AG2122
AKBARPUR
VILL. AKBARPUR. BLOCKLAHARPUR POAKBARPUR. TAHSILBISWAN , PIN262701
BISWAN
SITAPUR
UTTAR PRADESH
91
8052302040
BANK OF' INDIA
BKID0AG2121
THANGAON
VILL. THANGAON BLOCKREOSA POTHANGAON TAHSILMAHMOODABAD , PIN261205
BISWAN
SITAPUR
UTTAR PRADESH
91
8052302041
BANK OF' INDIA
BKID0AG2120
KISHOREGANJ
VILL. KISHOREGANJ. BLOCKREOSA POKISHOREGANJ. TAHSILMAHMOODABAD , PIN261205
BISWAN
SITAPUR
UTTAR PRADESH
91
8052302038
BANK OF' INDIA
BKID0AG2119
NEELGAON
VILL. NEELGAON BLOCK SIDHAULI PONEELGAON TAHSILSIDHAULI , PIN261301
BISWAN
SITAPUR
UTTAR PRADESH
91
8052302035
BANK OF' INDIA
BKID0AG2118
SEOTA
VILL. SEOTA BLOCKREOSA POSEOTA TAHSILMAHMOODABAD , PIN261205
BISWAN
SITAPUR
UTTAR PRADESH
91
8052302032
BANK OF' INDIA
BKID0AG2117
RAMPURKALAN
VILL. RAMPURKALAN BLOCK PAHLA PORAMPURKALAN TAHSILMAHMOODABAD , PIN261205
BISWAN
SITAPUR
UTTAR PRADESH
91
8052302031
BANK OF' INDIA
BKID0AG2116
SAKRAN
VILL. SAKRAN BLOCKSAKRAN POSAKRAN TAHSILLAHARPUR , PIN261136
BISWAN
SITAPUR
UTTAR PRADESH
91
8052302030
BANK OF' INDIA
BKID0AG2115
SHERPUR
VILL. SHERPUR BLOCKLAHARPUR POSHERPUR TAHSILLAHARPUR , PIN261135
BISWAN
SITAPUR
UTTAR PRADESH
91
8052302029
BANK OF' INDIA
BKID0AG2114
SADARPUR
VILL. SADARPUR BLOCKMAHMOODABAD POSADARPUR TAHSILBISWAN , PIN261201
BISWAN
SITAPUR
UTTAR PRADESH
91
8052302028
BANK OF' INDIA
BKID0AG2113
RAMPUR MATHURA
VILL. RAMPUR MATHURA BLOCKRAMPUR MATHURA PORAMPUR MATHURA TAHSILBISWAN , PIN261204
BISWAN
SITAPUR
UTTAR PRADESH
91
8052302025
BANK OF' INDIA
BKID0AG2112
REOSA
VILL. REOSA BLOCKREOSA POREOSA TAHSILMAHMOODABAD , PIN261205
BISWAN
SITAPUR
UTTAR PRADESH
91
8052302024
BANK OF' INDIA
BKID0AG2111
BISWAN
VILL. BISWAN BLOCKBISWAN POBISWAN TAHSILBISWAN , PIN261201
BISWAN
SITAPUR
UTTAR PRADESH
91
8052302023
BANK OF' INDIA
BKID0AG2110
BHANDIA
VILL. BHANDIA BLOCK KASMANDA POBHANDIA TAHSILSIDHAULI , PIN261301
BISWAN
SITAPUR
UTTAR PRADESH
91
8052302021
BANK OF' INDIA
BKID0AG2109
MAHARAJNAGAR
VILL. MAHARAJNAGAR BLOCKBISWAN POMAHARAJNAGAR TAHSILBISWAN , PIN261201
BISWAN
SITAPUR
UTTAR PRADESH
91
8052302020
BANK OF' INDIA
BKID0AG2108
LALPUR BAZAR
VILL. LALPUR BAZAR BLOCK LAHARPUR POLALPUR BAZAR TAHSILLAHARPUR , PIN261136
BISWAN
SITAPUR
UTTAR PRADESH
91
8052302018
BANK OF' INDIA
BKID0AG2107
TAMBOUR
VILL. TAMBOUR BLOCKBEHTA POTAMBOUR TAHSILMAHMOODABAD , PIN261208
BISWAN
SITAPUR
UTTAR PRADESH
91
8052302017
BANK OF' INDIA
BKID0AG2106
KESARIGANJ
VILL. KESARIGANJ BLOCK LAHARPUR POKESARGANJ TAHSILLAHARPUR , PIN261135
BISWAN
SITAPUR
UTTAR PRADESH
91
8052302015
BANK OF' INDIA
BKID0AG2105
PAINTEPUR
VILL. PAINTEPUR BLOCK MAHMOODABAD POPAINTEPUR TAHSILBISWAN , PIN261203
BISWAN
SITAPUR
UTTAR PRADESH
91
8052302014
BANK OF' INDIA
BKID0AG2104
ATARIA
VILL. ATARIA BLOCKSIDHAULI POATARIA TAHSILSIDHAULI , PIN261303
BISWAN
SITAPUR
UTTAR PRADESH
91
8052302010
BANK OF' INDIA
BKID0AG2103
SIDHAULI
VILL. SIDHAULI BLOCKSIDHAULI POSIDHAULI TAHSILSIDHAULI , PIN261303
BISWAN
SITAPUR
UTTAR PRADESH
91
8052302008
BANK OF' INDIA
BKID0AG2102
MAHMUDABAD
VILL. MAHMUDABAD BLOCKMAHMUDABAD POMAHMUDABAD TAHSILBISWAN , PIN261203
BISWAN
SITAPUR
UTTAR PRADESH
91
8052302006
BANK OF' INDIA
BKID0AG2101
S RAJASAHEB
VILL. SARAIYAN RAJASAHEB BLOCKPAHLA POSARAYAN RAJASAHEB TAHSILMAHMOODABAD , PIN261206
BISWAN
SITAPUR
UTTAR PRADESH
91
8052302004
BANK OF' INDIA
BKID0AG2099
R.O. BANDA
VILLAGECHILLA ROAD BLOCKBANDA POST OFFICEBANDA TAHSILBANDA , PIN CODE 210001
R.O. BANDA
SITAPUR
UTTAR PRADESH
91
9792203767
BANK OF' INDIA
BKID0AG2079
KRISHI UTPADAN MANDI SAMIT KALUKUAN
VILL. BANDA BLOCKBAROKHAR KHURD POBANDA TAHSILBANDA , PIN210001
BANDA
SITAPUR
UTTAR PRADESH
91
9792203621
BANK OF' INDIA
BKID0AG2078
TATHAGAT GYANSTHALI SEN SEC SCHOOL
VILL. ATARRA RURAL BLOCKNARAINI POBANDA TAHSILATARRA , PIN210321
BANDA
SITAPUR
UTTAR PRADESH
91
9792203787
BANK OF' INDIA
BKID0AG2077
JASAIPUR
VILL. JASAIPURBLOCKTINDWARI POTINDWARI TAHSILBANDA , PIN210128
BANDA
SITAPUR
UTTAR PRADESH
91
8052302813
BANK OF' INDIA
BKID0AG2076
KAJITOLA
VILL. KAJITOLABLOCKBABERU PONIBHAUR TAHSILBABERU , PIN210121
BANDA
SITAPUR
UTTAR PRADESH
91
8052302461
BANK OF' INDIA
BKID0AG2075
LUKTARA
VILL. LUKTARA BLOCKBADOKHAR KHURDAPOBANDA TAHSILBANDA , PIN210001
BANDA
SITAPUR
UTTAR PRADESH
91
8052302459
BANK OF' INDIA
BKID0AG2074
MUNGUS
VILL. MUNGUSBLOCKTINDWARI POMUNGUSTAHSILBANDA , PIN210128
BANDA
SITAPUR
UTTAR PRADESH
91
8052302460
BANK OF' INDIA
BKID0AG2073
JAMU
VILL. JAMUBLOCKKAMASIN POJAMUTAHSILBANDA , PIN210203
BANDA
SITAPUR
UTTAR PRADESH
91
8052302462
BANK OF' INDIA
BKID0AG2072
PANGARA
VILL. PANGARA BLOCKNARAINI POPANGARA TAHSILNARAINI , PIN210129
BANDA
SITAPUR
UTTAR PRADESH
91
8052302362
BANK OF' INDIA
BKID0AG2071
SABADA
VILL. SABADABLOCKJASPURA POSABADATAHSILBANDA , PIN210126
BANDA
SITAPUR
UTTAR PRADESH
91
8052302363
BANK OF' INDIA
BKID0AG2070
BHUREDI BHOORAGARH
VILL. BHUREDI BHOORAGARHBLOCKBANDA POBANDA TAHSILBANDA , PIN210001
BANDA
SITAPUR
UTTAR PRADESH
91
8052302351
BANK OF' INDIA
BKID0AG2069
INGUAMAU
VILL. INGUAMAUBLOCKKAMASIN POKAMASIN TAHSILKAMASIN , PIN210125
BANDA
SITAPUR
UTTAR PRADESH
91
8052302360
BANK OF' INDIA
BKID0AG2068
SADHA
VILL. SADHA BLOCKNARAINI PONARAINI TAHSILNARAINI , PIN210129
BANDA
SITAPUR
UTTAR PRADESH
91
8052302527
BANK OF' INDIA
BKID0AG2067
KURRAHI
VILL. KURRAHI BLOCKBISANDA POBISANDA TAHSILBABERU , PIN210203
BANDA
SITAPUR
UTTAR PRADESH
91
8052302364
BANK OF' INDIA
BKID0AG2066
MAWAI BUJURG
VILL. MAWAI BUJURG BLOCKBADOKHAR POMAWAI BUJURG TAHSILBANDA , PIN210001
BANDA
SITAPUR
UTTAR PRADESH
91
8052302275
BANK OF' INDIA
BKID0AG2065
MAHOKHAR JAMUNI
VILL. MAHOKHAR JAMUNI BLOCKBADOKHAR POMAHOKHAR JAMUNI TAHSILBANDA , PIN210001
BANDA
BANDA
UTTAR PRADESH
91
8052302274
BANK OF' INDIA
BKID0AG2064
SINGHPUR PAHARIYA
VILL. SINGHPUR PAHARIYA BLOCKBISANDA POSINGHPUR PAHARIYA TAHSILBABERU , PIN210203
BANDA
BANDA
UTTAR PRADESH
91
8052302273
BANK OF' INDIA
BKID0AG2063
GADARIYA
VILL. GADARIYA BLOCKJASPURA POGADARIYA TAHSILBANDA , PIN210126
BANDA
BANDA
UTTAR PRADESH
91
8052302272
BANK OF' INDIA
BKID0AG2062
MARDAN NAKA
VILL. BAROKHAR KHURD BLOCKBAROKHAR KHURD POBANDA TAHSILBANDA , PIN210001
BANDA
BANDA
UTTAR PRADESH
91
8052302265
BANK OF' INDIA
BKID0AG2061
DINGWAHI
VILL. DINGWAHI BLOCKNEWADA POBADOKHAR KHURD TAHSILBANDA , PIN210120
BANDA
BANDA
UTTAR PRADESH
91
9792203790
BANK OF' INDIA
BKID0AG2060
KARTAL
VILL. KARTAL BLOCKNARAINI POKARTAL TAHSILNAIRAINI , PIN210129
BANDA
BANDA
UTTAR PRADESH
91
8052302264
BANK OF' INDIA
BKID0AG2059
FATEHGANJ
VILL. FATEHGANJ BLOCKNARAINI PODARWA MANPUR TAHSILNARAINI , PIN210202
BANDA
BANDA
UTTAR PRADESH
91
9792203760
BANK OF' INDIA
BKID0AG2058
MAHUWA
VILL. MAHUWA BLOCKNARAINI POMAHUWA TAHSILBANDA , PIN210001
BANDA
BANDA
UTTAR PRADESH
91
9792203765
BANK OF' INDIA
BKID0AG2057
SADI MADANPUR
VILL. CHILLA BLOCKBANDA POBANDA TAHSILBANDA , PIN210123
BANDA
BANDA
UTTAR PRADESH
91
9792203759
BANK OF' INDIA
BKID0AG2056
PACHNEHI
VILL. PACHNEHI BLOCKBANDA POPACHNEHI TAHSILBANDA , PIN210001
BANDA
BANDA
UTTAR PRADESH
91
9792203758
BANK OF' INDIA
BKID0AG2055
BARA GAON BANDA
VILL. BANDA BLOCKTINDWARI POBARA GAON TAHSILBANDA , PIN210126
BANDA
BANDA
UTTAR PRADESH
91
9792203753
BANK OF' INDIA
BKID0AG2054
SIMAUNI
VILL. SIMAUNI BLOCKBAROKHAR POSIMAUNI TAHSILBANDA , PIN210121
BANDA
BANDA
UTTAR PRADESH
91
9792203754
BANK OF' INDIA
BKID0AG2053
DEGREE COLLEGE ATARRA
VILL. ATARRA BLOCK ATARRA POATARRA TAHSILATARRA , PIN210321
BANDA
BANDA
UTTAR PRADESH
91
9792203595
BANK OF' INDIA
BKID0AG2052
VIKAS BHAWAN BANDA
VILL.BANDA BLOCK BANDA PO BANDA TAHSILBANDA , PIN210001
BANDA
BANDA
UTTAR PRADESH
91
9792203647
BANK OF' INDIA
BKID0AG2051
PAKHRAULI
VILL. PAKHRAULI BLOCKBABERI POPAKHRAULI TAHSILBABERU , PIN210121
BANDA
BANDA
UTTAR PRADESH
91
9792203637
BANK OF' INDIA
BKID0AG2050
KPS BADAUSA
VILL.BADAUSA BLOCKNARAINI POBADOSA TAHSILATARRA , PIN210202
BANDA
BANDA
UTTAR PRADESH
91
9792203598
BANK OF' INDIA
BKID0AG2049
CHHOTI BAZAR
VILL. JHANDA CHAURAHA BLOCKCHHOTI BAZAR POBANDA TAHSILBANDA , PIN210001
BANDA
BANDA
UTTAR PRADESH
91
9792203611
BANK OF' INDIA
BKID0AG2048
BISANDA
VILL. BISANDA BLOCKBISANDA POBISANDA TAHSILATARRA , PIN210203
BANDA
BANDA
UTTAR PRADESH
91
9792203608
BANK OF' INDIA
BKID0AG2047
DURGAPUR BUS STOP
VILL. GIRVA BUS STAND BLOCKMAHUVA POGIRVA TAHSILBANDA , PIN210001
BANDA
BANDA
UTTAR PRADESH
91
9792203612
BANK OF' INDIA
BKID0AG2046
JAMWARA
VILL. JAMVARA BLOCKNARAINI POJAMWARA TAHSILNARAINI , PIN210129
BANDA
BANDA
UTTAR PRADESH
91
9792203616
BANK OF' INDIA
BKID0AG2045
SHERPUR
VILL. SHERPUR BLOCKMAHUVA POSHERPUR TAHSILBANDA , PIN210001
BANDA
BANDA
UTTAR PRADESH
91
9792203644
BANK OF' INDIA
BKID0AG2044
JAKHAURA
VILL. MATAUNDH BLOCKBAROKHAR KHURD POMATAUNDH TAHSILBANDA , PIN210001
BANDA
BANDA
UTTAR PRADESH
91
9792203615
BANK OF' INDIA
BKID0AG2043
JARI
VILL. JARI BLOCKBAROKHAR KHURD POJARI TAHSILBANDA , PIN210001
BANDA
BANDA
UTTAR PRADESH
91
9792203617
BANK OF' INDIA
BKID0AG2042
PATWAN
VILL. PATWAN BLOCKBABERU POPATWAN TAHSILBABERU , PIN210121
BANDA
BANDA
UTTAR PRADESH
91
9792203641
BANK OF' INDIA
BKID0AG2041
NARAINI
VILL. NARAINI BLOCKNARAINI PONARAINI TAHSILNARAINI , PIN210129
BANDA
BANDA
UTTAR PRADESH
91
9792203632
BANK OF' INDIA
BKID0AG2040
PUNAHUR
VILL. BISANDA BLOCKBISANDA POBISANDA TAHSILNARAINI , PIN210203
BANDA
BANDA
UTTAR PRADESH
91
9792203642
BANK OF' INDIA
BKID0AG2039
TURRA
VILL. TURRA BLOCKNARAINI POTURRA TAHSILATARRA , PIN210202
BANDA
BANDA
UTTAR PRADESH
91
9792203646
BANK OF' INDIA
BKID0AG2038
KALINJAR
VILL. KALINJAR BLOCKNARAINI POKALINJAR TAHSILNARAINI , PIN210129
BANDA
BANDA
UTTAR PRADESH
91
9792203619
BANK OF' INDIA
BKID0AG2037
GURHAKALA
VILL. GURAKALAN BLOCKNARAINI POGURHAKALA TAHSILNARAINI , PIN210129
BANDA
BANDA
UTTAR PRADESH
91
9792203613
BANK OF' INDIA
BKID0AG2036
HATHAURA
VILL. HATHAURA BLOCKBAROKHAR KHURD POHATHAURA TAHSILBANDA , PIN210001
BANDA
BANDA
UTTAR PRADESH
91
9792203614
BANK OF' INDIA
BKID0AG2035
TINDWARI
VILL. TINDWARI BLOCKTINDWARI POTINDWARI TAHSILBANDA , PIN210128
BANDA
BANDA
UTTAR PRADESH
91
9792203645
BANK OF' INDIA
BKID0AG2034
NAHARI
VILL. NAHRI BLOCKNARAINI PONAHARI TAHSILNAIRANI , PIN210129
BANDA
BANDA
UTTAR PRADESH
91
9792203631
BANK OF' INDIA
BKID0AG2033
MILATHU
VILL. MILATHU BLOCKBABERU POMILATHU TAHSILBABERU , PIN210121
BANDA
BANDA
UTTAR PRADESH
91
9792203627
BANK OF' INDIA
BKID0AG2032
KANWARA MOHANPURWA
VILL. KYOTRA BLOCKBANDA POKYOTRA TAHSILBANDA , PIN210001
BANDA
BANDA
UTTAR PRADESH
91
9792203628
BANK OF' INDIA
BKID0AG2031
MARKA
VILL. MARKA BLOCKBABERU POMARKA TAHSILBABERU , PIN210125
BANDA
BANDA
UTTAR PRADESH
91
9792203626
BANK OF' INDIA
BKID0AG2030
BAHERI
VILL. BAHERI BLOCKNARAINI POBAHERI TAHSILNARAINI , PIN210129
BANDA
BANDA
UTTAR PRADESH
91
9792203597
BANK OF' INDIA
BKID0AG2029
PAILANI SINDHAN KALAN
VILL. PELANI BLOCKJASPURA POPAILANI TAHSILBANDA , PIN210126
BANDA
BANDA
UTTAR PRADESH
91
9792203636
BANK OF' INDIA
BKID0AG2028
KANAKHERA
VILL. PAILANI DERA BLOCKJASPURA POPAILANI DERA TAHSILBANDA , PIN210126
BANDA
BANDA
UTTAR PRADESH
91
9792203623
BANK OF' INDIA
BKID0AG2027
JASPURA
VILL. JASPURA BLOCKJASPURA POJASPURA TAHSILBANDA , PIN210126
BANDA
BANDA
UTTAR PRADESH
91
9792203618
BANK OF' INDIA
BKID0AG2026
KAMASIN
VILL. KAMASIN BLOCKKAMASIN POKAMASIN TAHSILATARRA , PIN210125
BANDA
BANDA
UTTAR PRADESH
91
9792203622
BANK OF' INDIA
BKID0AG2025
BYONJA
VILL. HARDAULI BLOCKBABERU POHARDAULI TAHSILBABERU , PIN210121
BANDA
BANDA
UTTAR PRADESH
91
9792203609
BANK OF' INDIA
BKID0AG2024
NAGNEDHI
VILL. KHURHAND STATION BLOCKMAHUVA POKHURHAND STATION TAHSILATARRA , PIN210127
BANDA
BANDA
UTTAR PRADESH
91
9792203630
BANK OF' INDIA
BKID0AG2023
BHADEHADU
VILL. BHADEHADU BLOCKBISANDA POBHADEHADU TAHSILBABERU , PIN210121
BANDA
BANDA
UTTAR PRADESH
91
9792203604
BANK OF' INDIA
BKID0AG2022
BENDA GHATBENDA
VILL. BENDAGHAT BLOCKTINDWARI POBENDAGHAT TAHSILBANDA , PIN210128
BANDA
BANDA
UTTAR PRADESH
91
9792203602
BANK OF' INDIA
BKID0AG2021
PALHARI
VILL. CHHAVNI BLOCKBANDA POBANDA TAHSILBANDA , PIN210001
BANDA
BANDA
UTTAR PRADESH
91
9792203639
BANK OF' INDIA
BKID0AG2020
BIRRANV
VILL. BIRRANV BLOCKKAMASIN POBIRRANV TAHSILBABERU , PIN210125
BANDA
BANDA
UTTAR PRADESH
91
9792203607
BANK OF' INDIA
BKID0AG2019
PALRA
VILL. PALRA BLOCKTINDWARI POPALRA TAHSILBANDA , PIN210123
BANDA
BANDA
UTTAR PRADESH
91
9792203638
BANK OF' INDIA
BKID0AG2018
PADMAI
VILL. NARAINI BLOCKNARAINI PONARAINI TAHSILNARAINI , PIN210129
BANDA
BANDA
UTTAR PRADESH
91
9792203635
BANK OF' INDIA
BKID0AG2017
PACHHAUHAN
VILL. PACHHAUHAN BLOCKKAMASIN POPACHHAUHA TAHSILBABERU , PIN210125
BANDA
BANDA
UTTAR PRADESH
91
9792203634
BANK OF' INDIA
BKID0AG2016
ORAN
VILL. ORAN BLOCKBISANDA POORAN TAHSILATARRA , PIN210129
BANDA
BANDA
UTTAR PRADESH
91
9792203633
BANK OF' INDIA
BKID0AG2015
BHAVANI PURWA
VILL. AWAS VIKAS COLONY BLOCKBANDA POBANDA TAHSILBANDA , PIN210001
BANDA
BANDA
UTTAR PRADESH
91
9792203605
BANK OF' INDIA
BKID0AG2014
BAROKHAR KHURD
VILL. BABULAL CHAURAHA BLOCKBANDA POBANDA TAHSILBANDA , PIN210001
BANDA
BANDA
UTTAR PRADESH
91
9792203601
BANK OF' INDIA
BKID0AG2013
RAMPUR
VILL. RAMPUR BLOCKJASPURA PORAMPURA TAHSILBANDA , PIN210126
BANDA
BANDA
UTTAR PRADESH
91
9792203643
BANK OF' INDIA
BKID0AG2012
BAROKHAR BUJURG
VILL. BAROKHAR BUJURG BLOCKMAHUVA POBAROKHAR BUJURG TAHSILBANDA , PIN 210001
BANDA
BANDA
UTTAR PRADESH
91
9792203600
BANK OF' INDIA
BKID0AG2011
KALU KUWAN
VILL. KALU KUWAN BLOCKBAROKHAR KHURD POKALUKUWAN TAHSILBANDA , PIN210001
BANDA
BANDA
UTTAR PRADESH
91
9792203620
BANK OF' INDIA
BKID0AG2010
BHABHUVA
VILL. BHABHUVA BLOCKBABERU POBHABHUVA TAHSILBABERU , PIN210121
BANDA
BANDA
UTTAR PRADESH
91
9792203603
BANK OF' INDIA
BKID0AG2009
CHANDWARA
VILL. CHANDWARA BLOCKJASPURA POCHANDWARA TAHSILBANDA , PIN210126
BANDA
BANDA
UTTAR PRADESH
91
9792203610
BANK OF' INDIA
BKID0AG2008
BABERU
VILL. BABERU BLOCKBABERU POBABERU TAHSILBABERU , PIN210121
BANDA
BANDA
UTTAR PRADESH
91
9792203596
BANK OF' INDIA
BKID0AG2007
LAMA
VILL. LAMA BLOCKBAROKHAR KHURD POLAMA TAHSILBANDA , PIN210001
BANDA
BANDA
UTTAR PRADESH
91
9792203625
BANK OF' INDIA
BKID0AG2006
PAPRENDA
VILL. PAPRENDA BLOCKBAROKHAR KHURD POPAPRENDA TAHSILBANDA , PIN210001
BANDA
BANDA
UTTAR PRADESH
91
9792203640
BANK OF' INDIA
BKID0AG2005
BILGAON
VILL. BILGAON BLOCKBISANDA POBILGAON TAHSILBABERU , PIN210001
BANDA
BANDA
UTTAR PRADESH
91
9792203606
BANK OF' INDIA
BKID0AG2004
ATARRA
VILL. ATARRA BLOCKNARAINI POATARRA TAHSILATARRA , PIN210321
BANDA
BANDA
UTTAR PRADESH
91
9792203594
BANK OF' INDIA
BKID0AG2003
KHAPTIHA KALAN
VILL. KHAPTIHA KALAN BLOCKTINDWARI POKHAPATIHA KALAN TAHSILBANDA , PIN210001
BANDA
BANDA
UTTAR PRADESH
91
9792203624
BANK OF' INDIA
BKID0AG2002
MURWAL
VILL. MURWAL BLOCKBABERU POMURVAL TAHSILBANDA , PIN210121
BANDA
BANDA
UTTAR PRADESH
91
9792203629
BANK OF' INDIA
BKID0AG2001
BANDA MAIN
VILL. NEAR KOTWALI BLOCKBANDA POBANDA TAHSILBANDA , PIN210001
BANDA
BANDA
UTTAR PRADESH
91
9792203599
BANK OF' INDIA
BKID0AG1934
CHAUDHARY RAM BIHARI BUDHA COLLEGE
VILL. KATRA BLOCKSHRASVASTI POSHRASVASTI TAHSILSHRASVASTI , PIN271845
BHINGA
BANDA
UTTAR PRADESH
91
8052302199
BANK OF' INDIA
BKID0AG1933
LALPUR PRAHLADA
VILL. LALPUR PRAHLADA BLOCKGILAULA POVISHANPUR TAHSILIKAUNA, PIN271804
BHINGA
BANDA
UTTAR PRADESH
91
8052302890
BANK OF' INDIA
BKID0AG1932
KAMLA BHARI
VILL. KAMLA BHARI BLOCKGILAULA PORAMPUR PAIRA TAHSILBHINGA , PIN271835
BHINGA
BANDA
UTTAR PRADESH
91
8052302341
BANK OF' INDIA
BKID0AG1931
HARBANSHPUR
VILL. HARBANSHPUR BLOCKJAMUNAHA PORAHMATU TAHSILBHINGA , PIN271865
BHINGA
BANDA
UTTAR PRADESH
91
8052302340
BANK OF' INDIA
BKID0AG1930
BHARTHA KALAN
VILL. BHARTHA KALAN BLOCKSIRSIYA POTITHARIYA TAHSILBHINGA , PIN271840
BHINGA
BANDA
UTTAR PRADESH
91
8052302339
BANK OF' INDIA
BKID0AG1929
PAREVPUR
VILL. PAREVPURBLOCKGILAULA PODHARSANVA TAHSILIKAUNA, PIN271835
BHINGA
BANDA
UTTAR PRADESH
91
8052302338
BANK OF' INDIA
BKID0AG1928
EMILIYA KARANPUR
VILL. EMILIYA KARANPUR BLOCKJAMUNAHA POKARANPUR TAHSILBHINGA , PIN271875
BHINGA
BANDA
UTTAR PRADESH
91
8052302559
BANK OF' INDIA
BKID0AG1927
LENGARI GULAR
VILL. LENGARI GULAR BLOCKGILOULA POVIJAYPUR TAHSILIKAUNA , PIN271835
BHINGA
BANDA
UTTAR PRADESH
91
8052302558
BANK OF' INDIA
BKID0AG1926
MOHINIPUR
VILL. MOHINIPUR BLOCKIKAUNA POMADARA TAHSILIKAUNA , PIN271845
BHINGA
BANDA
UTTAR PRADESH
91
8052302560
BANK OF' INDIA
BKID0AG1925
CHICHDI
VILL. CHICHDI BLOCKGILAULA POCHICHDI TAHSILBHINGA , PIN271835
BHINGA
BANDA
UTTAR PRADESH
91
8052302293
BANK OF' INDIA
BKID0AG1924
PARSA DEHRIYA
VILL. PARSA DEHRIYA BLOCKJAMUNAHA POPARSA DEHRIYA TAHSILBHINGA , PIN271831
BHINGA
BANDA
UTTAR PRADESH
91
8052302292
BANK OF' INDIA
BKID0AG1923
DEVRANIYA
VILL. DEVRANIYA BLOCKJAMUNAHA PODEVRANIYA TAHSILBHINGA , PIN271875
BHINGA
BANDA
UTTAR PRADESH
91
8052302291
BANK OF' INDIA
BKID0AG1922
MALHIPUR
VILL. MALHIPUR BLOCKJAMUNHA POMALHIPUR TAHSILBHINGA , PIN271834
BHINGA
BANDA
UTTAR PRADESH
91
8052302198
BANK OF' INDIA
BKID0AG1921
BHUJANGA
VILL. BHUJANGA BLOCKHARIHAR RANI POBHUJANGA TAHSILBHINGA , PIN271831
BHINGA
BANDA
UTTAR PRADESH
91
8052302197
BANK OF' INDIA
BKID0AG1920
GULARA
VILL. GULARA BLOCKSIRSIYA POGULARA TAHSILBHINGA , PIN271840
BHINGA
SHRASVASTI
UTTAR PRADESH
91
8052302193
BANK OF' INDIA
BKID0AG1919
MAJHAUA
VILL. MAJHAUA BLOCKIKAUNA POIKAUNA TAHSILBHINGA , PIN271845
BHINGA
SHRAVASTI
UTTAR PRADESH
91
8052302183
BANK OF' INDIA
BKID0AG1918
BHINGA
VILL. BHINGA BLOCKHARIHAR RANI POBHINGA TAHSILBHINGA , PIN271831
BHINGA
SHRAVASTI
UTTAR PRADESH
91
8052302172
BANK OF' INDIA
BKID0AG1917
JOKHAWA BAZAR
VILL. JOKHAWA BAZAR BLOCKSIRSIYA POJOKHAWA BAZAR TAHSILBHINGA , PIN271801
BHINGA
SHRAVASTI
UTTAR PRADESH
91
8052302167
BANK OF' INDIA
BKID0AG1916
BEERPUR
VILL. BEERPUR BLOCKIKAUNA POBEERPUR TAHSILBHINGA , PIN271801
BHINGA
SHRAVASTI
UTTAR PRADESH
91
8052302165
BANK OF' INDIA
BKID0AG1915
TRILAKPUR
VILL. TILAKPUR BLOCKIKAUNA POBHATPURWAN KALAN TAHSILBHINGA , PIN271801
BHINGA
SHRAVASTI
UTTAR PRADESH
91
8052302162
BANK OF' INDIA
BKID0AG1914
GOTHWA
VILL. GOTHWA BLOCKHARIHAR RANI POGOTHWA TAHSILBHINGA , PIN271801
BHINGA
SHRAVASTI
UTTAR PRADESH
91
8052302161
BANK OF' INDIA
BKID0AG1913
LAXMAN NAGAR
VILL. LAXMAN NAGAR BLOCKGILAULA PORAMNAGAR TAHSILBHINGA , PIN271801
BHINGA
SHRAVASTI
UTTAR PRADESH
91
8052302160
BANK OF' INDIA
BKID0AG1912
RATNAPUR
VILL. RATNAPUR BLOCKGILAULA PODIKAULI TAHSILBHINGA , PIN271801
BHINGA
SHRAVASTI
UTTAR PRADESH
91
8052302158
BANK OF' INDIA
BKID0AG1911
SUBIKHA
VILL. GILAULA BLOCKGILAULA POGILAULA TAHSILBHINGA , PIN271835
BHINGA
SHRAVASTI
UTTAR PRADESH
91
8052302157
BANK OF' INDIA
BKID0AG1910
GHURMA PARSIA
VILL. GHURMA PARSIA BLOCKGILAULA POCHETTIAMURRA TAHSILBHINGA , PIN271835
BHINGA
SHRAVASTI
UTTAR PRADESH
91
8052302149
BANK OF' INDIA
BKID0AG1909
TULSIPUR
VILL. TULSIPUR BLOCKGILAULA POTULSIPUR TAHSILBHINGA , PIN271801
BHINGA
SHRAVASTI
UTTAR PRADESH
91
8052302141
BANK OF' INDIA
BKID0AG1908
JC KATGHARA
VILL. JAICHANDPUR KATGHARA BLOCKIKAUNA POJAICHANDPUR KATGHARA TAHSILNANPARA, PIN271865
BHINGA
SHRAVASTI
UTTAR PRADESH
91
8052302136
BANK OF' INDIA
BKID0AG1907
PANDEPURWA
VILL. PANDEPURWABLOCKHARIHAR RANI POHARIHARPUR RANI TAHSILBHINGA , PIN271829
BHINGA
SHRAVASTI
UTTAR PRADESH
91
8052302132
BANK OF' INDIA
BKID0AG1906
HARDATTNAGAR
VILL. HARDATTNAGAR BLOCKJAMUNAHA POHARDATTNAGAR TAHSILBHINGA , PIN271875
BHINGA
SHRAVASTI
UTTAR PRADESH
91
8052302131
BANK OF' INDIA
BKID0AG1905
BHANGHA
VILL. BHANGHA BLOCKHARIHAR RANI POBHANGA TAHSILBHINGA , PIN271631
BHINGA
SHRAVASTI
UTTAR PRADESH
91
8052302130
BANK OF' INDIA
BKID0AG1904
LAKSHAMANPUR BAZAR
VILL. LAKSHAMANPUR BAZAR BLOCKSIRSIYA POLAKSHAMANPUR BAZAR TAHSILBHINGA , PIN271831
BHINGA
SHRAVASTI
UTTAR PRADESH
91
8052302126
BANK OF' INDIA
BKID0AG1903
NASIRGANJ MAHADEVA
VILL. NASIRGANJ BLOCKJAMUNAHA PONASIRGANJ TAHSILBHINGA , PIN271801
BHINGA
SHRAVASTI
UTTAR PRADESH
91
8052302125
BANK OF' INDIA
BKID0AG1902
SONWA
VILL. SONWA BLOCKGILAULA POSONWA TAHSILBHINGA , PIN271801
BHINGA
SHRAVASTI
UTTAR PRADESH
91
8052302123
BANK OF' INDIA
BKID0AG1901
JAMUNAHA
VILL. JAMUNHA BLOCKJAMUNHA POJAMUNHA TAHSILBHINGA , PIN271801
BHINGA
SHRAVASTI
UTTAR PRADESH
91
8052302119
BANK OF' INDIA
BKID0AG1899
R.O. BHINGA
VILLAGE NEAR HANUMAN GHADI BLOCK BHINGA POST OFFICE BHINGA TAHSIL SRAVASTI, PIN CODE271831
R.O. BHINGA
SHRAVASTI
UTTAR PRADESH
91
8052302556
BANK OF' INDIA
BKID0AG1830
GENDHARIA
VILL. GENDHARIA BLOCKVISHVESHWAR GANJ PORANIPUR GOBRAHI TAHSILBAHRAICH , PIN271821
BHINGA
SHRAVASTI
UTTAR PRADESH
91
8052302834
BANK OF' INDIA
BKID0AG1829
SHIVDAHA
VILL. SHIVDAHABLOCKPAYAGPUR POPIPRA PADARATH TAHSILBAHRAICH , PIN271871
BHINGA
SHRAVASTI
UTTAR PRADESH
91
8052302831
BANK OF' INDIA
BKID0AG1828
RAYBOJHA
VILL. RAYBOJHABLOCKBALHA POROYBOJHATAHSILNANPARA , PIN271865
BHINGA
SHRAVASTI
UTTAR PRADESH
91
8052302829
BANK OF' INDIA
BKID0AG1827
BANKASHI
VILL. BANKASHIBLOCKNAWABGANJ POSOHARWA TAHSILNANPARA , PIN271865
BHINGA
SHRAVASTI
UTTAR PRADESH
91
8052302372
BANK OF' INDIA
BKID0AG1826
NAUWA GAON
VILL. NAUWA GAONBLOCKNAWABGANJ PONEWAJ TAHSILNANPARA , PIN271881
BHINGA
SHRAVASTI
UTTAR PRADESH
91
8052302373
BANK OF' INDIA
BKID0AG1825
SORAHIYA
VILL. SORAHIYABLOCKNAVABGANJ POBABAGANJ TAHSILNANPARA , PIN271881
BHINGA
SHRAVASTI
UTTAR PRADESH
91
8052302374
BANK OF' INDIA
BKID0AG1824
JHALA
VILL. JHALA BLOCKMIHINPURWA POMANGOURIHA TAHSILJHALA , PIN271855
BHINGA
SHRAVASTI
UTTAR PRADESH
91
8052302564
BANK OF' INDIA
BKID0AG1823
HARKHAPUR
VILL. HARKHAPUR BLOCKMIHINPURWA POHARKHAPUR TAHSILNANPARA , PIN271855
BHINGA
SHRAVASTI
UTTAR PRADESH
91
8052302574
BANK OF' INDIA
BKID0AG1822
BADA GAON
VILL. BADA GAON BLOCKBISHESHWARGANJ POBADA GAON TAHSILMAHASI , PIN271821
BHINGA
SHRAVASTI
UTTAR PRADESH
91
8052302196
BANK OF' INDIA
BKID0AG1821
RAJWAPUR
VILL. RAJWAPUR BLOCKBALHA PONANPARA DEEWAN KOTHI TAHSILMAHASI , PIN271855
BHINGA
SHRAVASTI
UTTAR PRADESH
91
8052302194
BANK OF' INDIA
BKID0AG1820
BADHAIA KALAN
VILL. BADHAIA KALAN BLOCKBALHA POKALANDARPUR TAHSILMAHASI , PIN271855
BHINGA
SHRAVASTI
UTTAR PRADESH
91
8052302536
BANK OF' INDIA
BKID0AG1819
NAWABGANJ
VILL. NAWABGANJ BLOCKNAWABGANJ PONAWABGANJ TAHSILNANPARA, PIN271865
BHINGA
SHRAVASTI
UTTAR PRADESH
91
8052302190
BANK OF' INDIA
BKID0AG1818
KAKRI
VILL. KAKRI BLOCKBALHA PONANPARA TAHSILNANPARA, PIN271865
BHINGA
SHRAVASTI
UTTAR PRADESH
91
8052302189
BANK OF' INDIA
BKID0AG1817
MUDERWA THAKURAIN
VILL. MUDERWA THAKURAINBLOCKBISHESHWARGANJ POMUDERWA THAKURAIN TAHSILMAHASI, PIN271821
BHINGA
BAHRAICH
UTTAR PRADESH
91
8052302178
BANK OF' INDIA
BKID0AG1816
JAHANNATHPUR
VILL. JAGANNATHPUR SHERE BECHAI BLOCKBALHA POHADA BASEHRI TAHSILNANPARA, PIN271865
BHINGA
BAHRAICH
UTTAR PRADESH
91
8052302537
BANK OF' INDIA
BKID0AG1815
GOORH
VILL. GOORH BLOCKBAHRAICH MIHIRPUR POGOORH TAHSILMAHASI , PIN271855
BHINGA
BAHRAICH
UTTAR PRADESH
91
8052302168
BANK OF' INDIA
BKID0AG1814
PURENA
VILL. PURENA BLOCKBISHESHWARGANJ POPURENA TAHSILKAISARGANJ , PIN271903
BHINGA
BAHRAICH
UTTAR PRADESH
91
8052302154
BANK OF' INDIA
BKID0AG1813
PAYAGPUR BUS ADDA
VILL. PAYAGPUR BUS STATION BLOCKPAYAGPUR POPAYAGPUR TAHSILBAHRAICH , PIN271871
BHINGA
BAHRAICH
UTTAR PRADESH
91
8052302150
BANK OF' INDIA
BKID0AG1812
GAIGHAT
VILL. GAIGHAT BLOCKBALHA POGAIGHAT TAHSILNANPARA, PIN271865
BHINGA
BAHRAICH
UTTAR PRADESH
91
8052302142
BANK OF' INDIA
BKID0AG1811
CHARDA
VILL. CHARDA BLOCKNAWABGANJ POCHARDA TAHSILBAHRAICH , PIN271881
BHINGA
BAHRAICH
UTTAR PRADESH
91
8052302140
BANK OF' INDIA
BKID0AG1810
URRA
VILL. URRA BLOCKMIHINPURWA POURRA TAHSILMAHASI , PIN271855
BHINGA
BAHRAICH
UTTAR PRADESH
91
8052302137
BANK OF' INDIA
BKID0AG1809
KHUTEHNA
VILL. KHUTEHNA BLOCKPAYAGPUR POSARASA TAHSILBAHRAICH , PIN271870
BHINGA
BAHRAICH
UTTAR PRADESH
91
8052302133
BANK OF' INDIA
BKID0AG1808
GANGWAL
VILL. GANGWAL BLOCKBISHESHWARGANJ POGANGWAL TAHSILMAHASI , PIN271821
BHINGA
BAHRAICH
UTTAR PRADESH
91
8052302128
BANK OF' INDIA
BKID0AG1807
KHAJURAR
VILL. KHAJURAR BLOCKPAYAGPUR POKHAJURAR TAHSILBAHRAICH , PIN271801
BHINGA
BAHRAICH
UTTAR PRADESH
91
8052302124
BANK OF' INDIA
BKID0AG1806
CHAFFARIA
VILL. CHAFFARIA BLOCKMIHINPURWA POCHAFFARIA TAHSILBAHRAICH , PIN271841
BHINGA
BAHRAICH
UTTAR PRADESH
91
8052302122
BANK OF' INDIA
BKID0AG1805
RUPAIDIHA
VILL. RUPAIDIHA. BLOCKNAWABGANJ PORUPAIDIHA. TAHSILBAHRAICH , PIN271881
BHINGA
BAHRAICH
UTTAR PRADESH
91
8052302116
BANK OF' INDIA
BKID0AG1804
MIHINPURWA
VILL. MIHINPURWA. BLOCKMIHINPURWA POMIHINPURWA. TAHSILMAHSI, PIN271855
BHINGA
BAHRAICH
UTTAR PRADESH
91
8052302114
BANK OF' INDIA
BKID0AG1803
PAYAGPUR
VILL. PAYAGPUR BLOCKPAYAGPUR POPAYAGPUR TAHSILBAHRAICH , PIN271871
BHINGA
BAHRAICH
UTTAR PRADESH
91
8052302113
BANK OF' INDIA
BKID0AG1802
NANPARA
VILL. NANPARA BLOCKBALHA PONANPARA TAHSILNANPARA. , PIN271865
BHINGA
BAHRAICH
UTTAR PRADESH
91
8052302112
BANK OF' INDIA
BKID0AG1801
TAL BAGHEL
VILL. TALBAGHEL BLOCKPAYAGPUR POKOT BAZAR TAHSILBAHRAICH , PIN271801
BHINGA
BAHRAICH
UTTAR PRADESH
91
8052302180
BANK OF' INDIA
BKID0AG1799
R.O. BAHRAICH
VILLAGE KACHEHRI ROAD BLOCK BAHRAICH POST OFFICE BAHRAICH TAHSIL BAHRAICH , PIN CODE 271801
R.O. BAHRAICH
BAHRAICH
UTTAR PRADESH
91
8052302934
BANK OF' INDIA
BKID0AG1765
BAIDORA
VILL. BAIDURA, AP BAIDAURA
,BLOCK FAKHERPUR THE. KAISERGANJ, DIST.BAHRAICHPIN271806
BAHRAICH
BAHRAICH
UTTAR PRADESH
91
8052302534
BANK OF' INDIA
BKID0AG1764
BHEDIARI
VILL. BHEDIARIBLOCKHUZURPUR PONEWASITAHSILKAISERGANJ , PIN271872
BAHRAICH
BAHRAICH
UTTAR PRADESH
91
8052302833
BANK OF' INDIA
BKID0AG1763
HARCHANDA
VILL. HARCHANDA BLOCKJARWAPOHARCHANDATAHSILKAISERGANJ , PIN271904
BAHRAICH
BAHRAICH
UTTAR PRADESH
91
8052302830
BANK OF' INDIA
BKID0AG1762
GULARIHA GAZIPUR
VILL. GULARIHA GULRAHA BLOCKKAISARGANJ POSUTAULI TAHSILKAISERGANJ , PIN271903
BAHRAICH
BAHRAICH
UTTAR PRADESH
91
8052302839
BANK OF' INDIA
BKID0AG1761
NARHARGAUD
VILL. NARHAR GAUDA BLOCKTEJWAPUR POKHASHA MOHAMMADPUR TAHSILMAHSI , PIN271825
BAHRAICH
BAHRAICH
UTTAR PRADESH
91
8052302837
BANK OF' INDIA
BKID0AG1760
DHARMANPUR
VILL. DHARMANPURBLOCKCHITTAURA PODHARMANPUR TAHSILBAHRAICH , PIN271875
BAHRAICH
BAHRAICH
UTTAR PRADESH
91
8052302838
BANK OF' INDIA
BKID0AG1759
BARDAHA KA
VILL. BARDAHA KALANBLOCKSHIVPUR POBARDAHA TAHSILNANPARA , PIN271830
BAHRAICH
BAHRAICH
UTTAR PRADESH
91
8052302836
BANK OF' INDIA
BKID0AG1758
BARAIPARA
VILL. BARAIPARA BLOCKRISIA POBHAWANIPUR RAMGADHI TAHSILNANPARA , PIN271865
BAHRAICH
BAHRAICH
UTTAR PRADESH
91
8052302832
BANK OF' INDIA
BKID0AG1757
DIHWA
VILL. DIHWA BLOCKRISIA PODIHWA TAHSILNANPARA , PIN271865
BAHRAICH
BAHRAICH
UTTAR PRADESH
91
8052302835
BANK OF' INDIA
BKID0AG1756
KATILIYA BHOOP SINGH
VILL. KATILIYA BHOOP SINGH BLOCKCITTAURA POVARI TAHSILBAHRAICH , PIN271877
BAHRAICH
BAHRAICH
UTTAR PRADESH
91
8052302369
BANK OF' INDIA
BKID0AG1755
VAIRI MAHESHPUR
VILL. BARI MAHESHPUR BLOCKKAISARGANJ POMUSFAFABAD TAHSILKAISARGANJ , PIN271903
BAHRAICH
BAHRAICH
UTTAR PRADESH
91
8052302377
BANK OF' INDIA
BKID0AG1754
SAPSA
VILL. SAPSA BLOCKJARWAL POBANKASAHI TAHSILKAISARGANJ , PIN271902
BAHRAICH
BAHRAICH
UTTAR PRADESH
91
8052302378
BANK OF' INDIA
BKID0AG1753
BANWARI GOPALPUR
VILL. BANWARI GOPALPUR BLOCKCITTAURA POSABLAPUR TAHSILBAHRAICH , PIN271875
BAHRAICH
BAHRAICH
UTTAR PRADESH
91
8052302370
BANK OF' INDIA
BKID0AG1752
MOGLAHA
VILL. MOGLAHA BLOCKTEJWAPUR PODEORA TAHSILMAHSI , PIN271825
BAHRAICH
BAHRAICH
UTTAR PRADESH
91
8052302375
BANK OF' INDIA
BKID0AG1751
BULBUL NEWAJ
VILL. BULBUL NEWAJBLOCKRISIA POBULBUL TAHSILNANPARA , PIN271882
BAHRAICH
BAHRAICH
UTTAR PRADESH
91
8052302371
BANK OF' INDIA
BKID0AG1750
SINGHAI
VILL. SINGHAI BLOCKTEJWAPUR PORAIPURA TAHSILKAISARGANJ , PIN271902
BAHRAICH
BAHRAICH
UTTAR PRADESH
91
8052302376
BANK OF' INDIA
BKID0AG1749
BAUNDI FATEHULLAPUR
VILL. BAUNDI FATEHULLAPUR BLOCKTEJWAPUR POSOHARWA TAHSILMAHSI , PIN271875
BAHRAICH
BAHRAICH
UTTAR PRADESH
91
8052302382
BANK OF' INDIA
BKID0AG1748
BIRHIMPUR
VILL. BIRHIMPURBILHOURA BLOCKJAVARAL POBIRHAMPURTAHSILKAISARGANJ , PIN271903
BAHRAICH
BAHRAICH
UTTAR PRADESH
91
8052302572
BANK OF' INDIA
BKID0AG1747
WAJIRGANJ
VILL. WAJIRGANJ BLOCKFAKHARGANJ POSARIJGANATAHSILKAISARGANJ , PIN 271903
BAHRAICH
BAHRAICH
UTTAR PRADESH
91
8052302569
BANK OF' INDIA
BKID0AG1746
KHASAHA MOHAMMADPUR
VILL. KHASAHA MOHAMMADPURBLOCKBALWAPUR POKHASHA MOHAMMADPUR TAHSILMAHASI , PIN271825
BAHRAICH
BAHRAICH
UTTAR PRADESH
91
8052302565
BANK OF' INDIA
BKID0AG1745
CHAWANI BAZAR
VILL. CHAWANI BAZAR BLOCKCHAWANI BAZAR POCHAWANI BAZAR TAHSILBAHRAICH , PIN271801
BAHRAICH
BAHRAICH
UTTAR PRADESH
91
8052302200
BANK OF' INDIA
BKID0AG1744
RASULABAD
VILL. RASULABAD BLOCKJARWAL POSONARI TAHSILKAISARGANJ , PIN271904
BAHRAICH
BAHRAICH
UTTAR PRADESH
91
8052302192
BANK OF' INDIA
BKID0AG1743
KISHUNPUR MITHA
VILL. KISHUNPUR MITHA BLOCKSHIVPUR POKISHUNPUR MITHA TAHSILMAHASI, PIN271851
BAHRAICH
BAHRAICH
UTTAR PRADESH
91
8052302191
BANK OF' INDIA
BKID0AG1742
CHAKUJOT
VILL. CHAKUJOT BLOCKHUJOORPUR POCHAKUJOT TAHSILBAHRAICH , PIN271801
BAHRAICH
BAHRAICH
UTTAR PRADESH
91
8052302188
BANK OF' INDIA
BKID0AG1741
MACHHIYAHI
VILL. MACHHIYAHI BLOCKCHHITTAURA POCHILWARIA TAHSILBAHRAICH , PIN271870
BAHRAICH
BAHRAICH
UTTAR PRADESH
91
8052302187
BANK OF' INDIA
BKID0AG1740
MAHARAJGANJ
VILL. MAHARAJGANJ BLOCKMAHSI POMAHARAJGANJ TAHSILMAHASI , PIN271825
BAHRAICH
BAHRAICH
UTTAR PRADESH
91
8052302185
BANK OF' INDIA
BKID0AG1739
PURAINEE
VILL. PURAINEE BLOCKKAISARGANJ POBAIRI MAHESHPUR TAHSILBAHRAICH , PIN 271871
BAHRAICH
BAHRAICH
UTTAR PRADESH
91
8052302184
BANK OF' INDIA
BKID0AG1738
GADWA
VILL. GADWA BLOCKMEHSI PONAUTALA TAHSILMAHASI , PIN271851
BAHRAICH
BAHRAICH
UTTAR PRADESH
91
8052302186
BANK OF' INDIA
BKID0AG1737
SISAI SALON
VILL. RISIA BLOCKRISIA PORISIA TAHSILBAHRAICH , PIN271875
BAHRAICH
BAHRAICH
UTTAR PRADESH
91
8052302181
BANK OF' INDIA
BKID0AG1736
NARSINGH DIHA
VILL. NARSINGH DIHA BLOCKRISIA PONARSINGH DIHA TAHSILBAHRAICH , PIN271875
BAHRAICH
BAHRAICH
UTTAR PRADESH
91
8052302182
BANK OF' INDIA
BKID0AG1735
TENDWA BASANTPUR
VILL. TENDWA BASANTPUR BLOCKTEJWAPUR POTENDWA BASANTPUR TAHSILBAHRAICH , PIN271801
BAHRAICH
BAHRAICH
UTTAR PRADESH
91
8052302179
BANK OF' INDIA
BKID0AG1734
DIHA
VILL. DIHA BLOCKCHHITTAURA PODIHA TAHSILBAHRAICH , PIN271801
BAHRAICH
BAHRAICH
UTTAR PRADESH
91
8052302177
BANK OF' INDIA
BKID0AG1733
NEWADA
VILL. NEWADA BLOCKTEJWAPUR PONEWADA TAHSILMAHASI , PIN271825
BAHRAICH
BAHRAICH
UTTAR PRADESH
91
8052302176
BANK OF' INDIA
BKID0AG1732
LAUKAHI
VILL. LAUKAHI BLOCKHOJOORPUR POLAUKAHI TAHSILBAHRAICH , PIN271801
BAHRAICH
BAHRAICH
UTTAR PRADESH
91
8052302175
BANK OF' INDIA
BKID0AG1731
JARWAL ROAD
VILL. JARWAL RD BLOCKJARWALPOJARWAL RD TAHSILBAHRAICH , PIN271901
BAHRAICH
BAHRAICH
UTTAR PRADESH
91
8052302173
BANK OF' INDIA
BKID0AG1730
KAISARGANJ
VILL. KAISARGANJ BLOCKKAISARGANJ POKAISARGANJ TAHSILKAISARGANJ , PIN271801
BAHRAICH
BAHRAICH
UTTAR PRADESH
91
8052302171
BANK OF' INDIA
BKID0AG1729
GAJADHARPUR
VILL. GAJADHARPUR BLOCKFAKARPUR POGAJADHARPUR TAHSILBAHRAICH , PIN271801
BAHRAICH
BAHRAICH
UTTAR PRADESH
91
8052302170
BANK OF' INDIA
BKID0AG1728
LAUKI
VILL. LAUKI BLOCKRISIA POLAUKI TAHSILBAHRAICH , PIN271801
BAHRAICH
BAHRAICH
UTTAR PRADESH
91
8052302169
BANK OF' INDIA
BKID0AG1727
REHUA BISHUNPUR
VILL. KATRA BAHADURGANJ BLOCKCHHITTAURA POKALAPIPARA TAHSILBAHRAICH , PIN271801
BAHRAICH
BAHRAICH
UTTAR PRADESH
91
8052302166
BANK OF' INDIA
BKID0AG1726
HARDI
VILL. HARDI BLOCKMAHSI POGADAMARKHURD TAHSILBAHRAICH , PIN271801
BAHRAICH
BAHRAICH
UTTAR PRADESH
91
8052302164
BANK OF' INDIA
BKID0AG1725
FAKHERPUR
VILL. FAKHERPUR BLOCKFAKHERPUR POFAKHERPUR TAHSILBAHRAICH , PIN271902
BAHRAICH
BAHRAICH
UTTAR PRADESH
91
8052302163
BANK OF' INDIA
BKID0AG1724
KHAIRA BAZAR
VILL. KHAIRA BAZAR BLOCKTEJWAPUR POKHAIRA BAZAR TAHSILBAHRAICH , PIN271801
BAHRAICH
BAHRAICH
UTTAR PRADESH
91
8052302933
BANK OF' INDIA
BKID0AG1723
GAMBHIRWA BAZAR
VILL. GAMBHIRWA BAZAR BLOCKCHHITTAURA POGAMBHIRWA BAZAR TAHSILBAHRAICH , PIN271801
BAHRAICH
BAHRAICH
UTTAR PRADESH
91
8052302156
BANK OF' INDIA
BKID0AG1722
ITAHABASTHANWA
VILL. ITAHA BLOCKSHIVPUR POPAKARA DEWARIA TAHSILBAHRAICH , PIN271882
BAHRAICH
BAHRAICH
UTTAR PRADESH
91
8052302155
BANK OF' INDIA
BKID0AG1721
BEGAM PUR
VILL. BEGAM PUR BLOCKCHHITTAURA POBEGAM PUR TAHSILBAHRAICH , PIN271801
BAHRAICH
BAHRAICH
UTTAR PRADESH
91
8052302153
BANK OF' INDIA
BKID0AG1720
KUTTI PREMDAS
VILL. KUTTI PREMDAS BLOCKHUJOORPUR POKUTTI PREMDAS TAHSILBAHRAICH , PIN271801
BAHRAICH
BAHRAICH
UTTAR PRADESH
91
8052302152
BANK OF' INDIA
BKID0AG1719
BHAGGARWA BAZAR
VILL. BHAGGARWA BAZAR BLOCKHUJOORPUR POBHAGGARWA BAZAR TAHSILBAHRAICH , PIN271872
BAHRAICH
BAHRAICH
UTTAR PRADESH
91
8052302950
BANK OF' INDIA
BKID0AG1718
KANDAILA
VILL. KANDAILA BLOCKKAISARGANJ PORANIGANJ TAHSILKAISARGANJ , PIN271903
BAHRAICH
BAHRAICH
UTTAR PRADESH
91
8052302148
BANK OF' INDIA
BKID0AG1717
JARWAL KASBA
VILL. JARWAL KASBA BLOCKJARWAL POJARWAL KASBA TAHSILKAISARGANJ , PIN271904
BAHRAICH
BAHRAICH
UTTAR PRADESH
91
8052302147
BANK OF' INDIA
BKID0AG1716
RAIPUR THALIA
VILL. RAIPUR THALIA BLOCKMAHSI PORAIPUR THALIA TAHSILMAHASI , PIN271851
BAHRAICH
BAHRAICH
UTTAR PRADESH
91
8052302538
BANK OF' INDIA
BKID0AG1715
BHILAURA BASU
VILL. BHILAURA BASU BLOCKFAKARPUR POBHILAURA BASU TAHSILFAKARPUR , PIN271801
BAHRAICH
BAHRAICH
UTTAR PRADESH
91
8052302145
BANK OF' INDIA
BKID0AG1714
GANDARA
VILL. GANDARA BLOCKJARWAL POGANDARA TAHSILKAISARGANJ , PIN271903
BAHRAICH
BAHRAICH
UTTAR PRADESH
91
8052302144
BANK OF' INDIA
BKID0AG1713
MAROCHA
VILL. MAROCHA BLOCKTEJWAPUR POMAROCHA TAHSILBAHRAICH , PIN271902
BAHRAICH
BAHRAICH
UTTAR PRADESH
91
8052302143
BANK OF' INDIA
BKID0AG1712
BEHRA
VILL. BEHRA BLOCKSHIVPUR POBEHRA TAHSILMAHASI , PIN271851
BAHRAICH
BAHRAICH
UTTAR PRADESH
91
8052302139
BANK OF' INDIA
BKID0AG1711
SHANKAR PUR
VILL. SHANKAR PUR BLOCKBALHA POAMAVA MAULVI TAHSILBAHRAICH , PIN271882
BAHRAICH
BAHRAICH
UTTAR PRADESH
91
8052302138
BANK OF' INDIA
BKID0AG1710
JAITAPUR
VILL. JAITAPUR BLOCKFAKARPUR POJAITAPUR TAHSILBAHRAICH , PIN271902
BAHRAICH
BAHRAICH
UTTAR PRADESH
91
8052302135
BANK OF' INDIA
BKID0AG1709
HAJOORPUR
VILL. HAJOORPUR BLOCKHAJOORPUR POHAJOORPUR TAHSILBAHRAICH , PIN271872
BAHRAICH
BAHRAICH
UTTAR PRADESH
91
8052302134
BANK OF' INDIA
BKID0AG1708
BADRAULI
VILL. BADRAULI BLOCKKAISARGANJ POBADRAULI TAHSILKAISARGANJ , PIN271903
BAHRAICH
BAHRAICH
UTTAR PRADESH
91
8052302129
BANK OF' INDIA
BKID0AG1707
RAMPURWA
VILL. RAMPURWA BLOCKTEJWAPUR PORAMPURWA TAHSILMAHASI , PIN271825
BAHRAICH
BAHRAICH
UTTAR PRADESH
91
8052302127
BANK OF' INDIA
BKID0AG1706
ASHWAMOHAMADPUR
VILL. ASHWAMOHAMADPUR BLOCKSHIVPUR POASHWA MOHAMADPUR TAHSILBAHRAICH , PIN271882
BAHRAICH
BAHRAICH
UTTAR PRADESH
91
8052302121
BANK OF' INDIA
BKID0AG1705
MAHASI
VILL. MAHASI BLOCKMAHASI POMAHASI TAHSILMAHASI , PIN271824
BAHRAICH
BAHRAICH
UTTAR PRADESH
91
8052302120
BANK OF' INDIA
BKID0AG1704
CIVIL LINES HOSPITAL CHAURAHA
VILL. CIVIL LINES BLOCKCHHITTAURA POCIVIL LINESTAHSILBAHRAICH , PIN271801
BAHRAICH
BAHRAICH
UTTAR PRADESH
91
8052302118
BANK OF' INDIA
BKID0AG1703
SHIVPUR
VILL. SHIVPUR. BLOCKSHIVPUR POSHIVPUR. TAHSILBAHRAICH , PIN271830
BAHRAICH
BAHRAICH
UTTAR PRADESH
91
8052302117
BANK OF' INDIA
BKID0AG1702
KUNDASAR
VILL. KUNDASAR. BLOCKKAISARGANJ POKUNDASAR. TAHSILKAISARGANJ , PIN271903
BAHRAICH
BAHRAICH
UTTAR PRADESH
91
8052302115
BANK OF' INDIA
BKID0AG1701
BAHRAICH DIGHIYA
VILL. BAHARAICH. BLOCKCHHITTAURA POBAHRAICH TAHSILBAHRAICH , PIN271801
BAHRAICH
BAHRAICH
UTTAR PRADESH
91
8052302111
BANK OF' INDIA
BKID0AG1616
JAJAN PATTI
AT,JAJANPATTI BLOCK GOAT,ERDHANMATHURA.PIN CODE 281123, PIN281123
HATHRAS
BAHRAICH
UTTAR PRADESH
91
7317799365
BANK OF' INDIA
BKID0AG1615
VRINDAVAN
MUDGAL RISHI BHAWAN, MOTI JHEEL MARG VRINDAVAN , PIN281121
HATHRAS
BAHRAICH
UTTAR PRADESH
91
8173900605
BANK OF' INDIA
BKID0AG1614
TARSI
VILL. TARSI, PODHANGAO MATHURA , PIN├╜281005
HATHRAS
BAHRAICH
UTTAR PRADESH
91
8173900614
BANK OF' INDIA
BKID0AG1613
SONAI
AT,POST SONAI MATHURA , PIN├╜281206
HATHRAS
BAHRAICH
UTTAR PRADESH
91
8173900613
BANK OF' INDIA
BKID0AG1612
RONCHI BANGAR
KADAMB VIHAR RD RONCHI BANGAR , PIN├╜281006
HATHRAS
BAHRAICH
UTTAR PRADESH
91
8173900603
BANK OF' INDIA
BKID0AG1611
RAYA
SUBEDAR ATAR SINGH MARKET, HATHRASMATHURA RD RAYA , PIN├╜281204
HATHRAS
BAHRAICH
UTTAR PRADESH
91
8173900612
BANK OF' INDIA
BKID0AG1610
PALI KHEDA
OM NAGAR COLONY, PALIKHERA SONKH RD , PIN├╜281004
HATHRAS
BAHRAICH
UTTAR PRADESH
91
8173900610
BANK OF' INDIA
BKID0AG1609
MATHURA LAXMI NAGAR
BEHIND MAA CHANDRAWALI PETROL PUMP LAXMI NAGAR , PIN├╜281001
HATHRAS
BAHRAICH
UTTAR PRADESH
91
8173900501
BANK OF' INDIA
BKID0AG1608
MATHURA CITY
17 A RADHA NAGAR, OPPOSITE MADHUVAN HOTEL KRISHNA NAGAR , PIN├╜281004
HATHRAS
BAHRAICH
UTTAR PRADESH
91
8173900608
BANK OF' INDIA
BKID0AG1607
MAANT
RAYA NAUJHIL RD MAANT , PIN├╜281202
HATHRAS
BAHRAICH
UTTAR PRADESH
91
8173900607
BANK OF' INDIA
BKID0AG1606
GOVERDHAN
SARAI BARA BAZAR GOVERDHAN , PIN├╜281502
HATHRAS
BAHRAICH
UTTAR PRADESH
91
8173900602
BANK OF' INDIA
BKID0AG1605
FARAH
NEAR BUS STAND POST FARAH , PIN├╜281122
HATHRAS
BAHRAICH
UTTAR PRADESH
91
8173900604
BANK OF' INDIA
BKID0AG1604
DAMODARPURA
VILL. DAMODARPURA POAURANGABAD , PIN├╜281006
HATHRAS
MATHURA
UTTAR PRADESH
91
8173900611
BANK OF' INDIA
BKID0AG1603
BATI
AT,POST BATI, MAIN RD , PIN├╜281004
HATHRAS
MATHURA
UTTAR PRADESH
91
8173900615
BANK OF' INDIA
BKID0AG1602
BALDEV
JAWAHAR RD, NEW PO BLDG. BALDEV , PIN├╜281301
HATHRAS
MATHURA
UTTAR PRADESH
91
8173900609
BANK OF' INDIA
BKID0AG1601
BAJNA
MOHALLA SHIVAJI NAGAR BAJNA , PIN├╜281201
HATHRAS
MATHURA
UTTAR PRADESH
91
8173900606
BANK OF' INDIA
BKID0AG1599
R.O. HATHRAS
MUNSHI GAJADHAR MARG ALIGARH ROAD , PIN CODE ├╜204101
HATHRAS
MATHURA
UTTAR PRADESH
91
8173900599
BANK OF' INDIA
BKID0AG1540
NAUGAON
AT,POSTNAGAONN TAHSILSAHABAD HATHRAS.PIN 281502 STD 0565, PIN281502
HATHRAS
MATHURA
UTTAR PRADESH
91
7317799363
BANK OF' INDIA
BKID0AG1539
JALESER ROAD
JALESER RDPJALESERRS TAHSILSADABADPIN 281104 STD 05745, PIN281104
HATHRAS
MATHURA
UTTAR PRADESH
91
7317799364
BANK OF' INDIA
BKID0AG1538
HASAYAN
HASAYANSIKANDRA RAO HATHRASPIN 204212 STD CODE 05721, PIN204212
HATHRAS
MATHURA
UTTAR PRADESH
91
7317799362
BANK OF' INDIA
BKID0AG1537
ADARSHNAGAR
ADARSHNAGAR MAINDU RDHATHRAS 204101 STD 05722, PIN204101
HATHRAS
MATHURA
UTTAR PRADESH
91
7317799366
BANK OF' INDIA
BKID0AG1536
WAZIDPUR
AT,POST WAZIDPUR HATHRAS , PIN├╜204215
HATHRAS
MATHURA
UTTAR PRADESH
91
8173900507
BANK OF' INDIA
BKID0AG1535
TUKSAN
AT,POST TUKSAN HATHRAS , PIN├╜204101
HATHRAS
MATHURA
UTTAR PRADESH
91
8173900517
BANK OF' INDIA
BKID0AG1534
SIKANDRA RAO
AT,POSTS.RAO HATHRAS , PIN├╜204215
HATHRAS
MATHURA
UTTAR PRADESH
91
8173900524
BANK OF' INDIA
BKID0AG1533
SASNI
AT,POST SASNI HATHRAS , PIN├╜204216
HATHRAS
MATHURA
UTTAR PRADESH
91
8173900508
BANK OF' INDIA
BKID0AG1532
SALEMPUR
AT,POST SALEMPUR HATHRAS , PIN├╜202124
HATHRAS
MATHURA
UTTAR PRADESH
91
8173900505
BANK OF' INDIA
BKID0AG1531
SAHPAU
MAIN RD, MOHALLABAJARIA VILL.AND P.O. SAHPAU , PIN├╜281307
HATHRAS
MATHURA
UTTAR PRADESH
91
8173900532
BANK OF' INDIA
BKID0AG1530
SADABAD
HIGHWAY PLAZA, AGRAALIGARH RD SADABAD , PIN281306
HATHRAS
MATHURA
UTTAR PRADESH
91
8173900527
BANK OF' INDIA
BKID0AG1529
RUHERI
AT,POST RUHERI HATHRAS , PIN├╜204101
HATHRAS
HATHRAS
UTTAR PRADESH
91
8173900513
BANK OF' INDIA
BKID0AG1528
RATIBHANPUR
AT,POSTPIPAL GAVAN HATHRAS , PIN├╜204215
HATHRAS
HATHRAS
UTTAR PRADESH
91
8173900515
BANK OF' INDIA
BKID0AG1527
PURDIL NAGAR
AT,POST PURDILNAGAR HATHRAS , PIN├╜204214
HATHRAS
HATHRAS
UTTAR PRADESH
91
8173900525
BANK OF' INDIA
BKID0AG1526
PORA
AT,POST PORA HATHRAS , PIN├╜204215
HATHRAS
HATHRAS
UTTAR PRADESH
91
8173900512
BANK OF' INDIA
BKID0AG1525
PARSARA
AT,POSTPARSARA BLOCKHATHRAS , PIN├╜204101
HATHRAS
HATHRAS
UTTAR PRADESH
91
8173900530
BANK OF' INDIA
BKID0AG1524
MURSAN
AT,POSTMURSAN HATHRAS , PIN├╜204213
HATHRAS
HATHRAS
UTTAR PRADESH
91
8173900522
BANK OF' INDIA
BKID0AG1523
MUGHAL GARHI
AT,POST MUGHALGARHI TEHSILS. RAO , PIN├╜204215
HATHRAS
HATHRAS
UTTAR PRADESH
91
8173900536
BANK OF' INDIA
BKID0AG1522
MENDU
AT,POST MENDU HATHRAS , PIN├╜204105
HATHRAS
HATHRAS
UTTAR PRADESH
91
8173900526
BANK OF' INDIA
BKID0AG1521
MEETAI
AT,POST MEETAI HATHRAS , PIN├╜204101
HATHRAS
HATHRAS
UTTAR PRADESH
91
8173900509
BANK OF' INDIA
BKID0AG1520
MAHOW
AT,POST ,MAHOW HATHRAS , PIN204121
HATHRAS
HATHRAS
UTTAR PRADESH
91
8173900601
BANK OF' INDIA
BKID0AG1519
LADPUR
AT,POST LADPUR HATHRAS , PIN├╜204101
HATHRAS
HATHRAS
UTTAR PRADESH
91
8173900520
BANK OF' INDIA
BKID0AG1518
KOTA
AT,POSTKOTA BLOCK MURSAN , PIN├╜204213
HATHRAS
HATHRAS
UTTAR PRADESH
91
8173900528
BANK OF' INDIA
BKID0AG1517
KOMARI
AT,POST KOMRI HATHRAS , PIN├╜202139
HATHRAS
HATHRAS
UTTAR PRADESH
91
8173900506
BANK OF' INDIA
BKID0AG1516
JARERA
AT,POSTNAGLA VEER SAHAI HATHRAS , PIN├╜204214
HATHRAS
HATHRAS
UTTAR PRADESH
91
8173900516
BANK OF' INDIA
BKID0AG1515
HATISA BHAGWANTPUR
AT,POST HATISA BHAGWANTPUR HATHRAS , PIN├╜204101
HATHRAS
HATHRAS
UTTAR PRADESH
91
8173900521
BANK OF' INDIA
BKID0AG1514
HATHRAS SERVICE BRANCH
MUNSHI GAJADHAR MARG ALIGARH RD , PIN├╜204101
HATHRAS
HATHRAS
UTTAR PRADESH
91
8173900534
BANK OF' INDIA
BKID0AG1513
HATHRAS MURSAN GATE
MURSAN GATE HATHRAS HATHRAS , PIN├╜204101
HATHRAS
HATHRAS
UTTAR PRADESH
91
8173900502
BANK OF' INDIA
BKID0AG1512
HATHRAS ALIGARH ROAD
MUNSHI GAJADHAR MARG ALIGARH RD , PIN├╜204101
HATHRAS
HATHRAS
UTTAR PRADESH
91
8173900533
BANK OF' INDIA
BKID0AG1511
HATHRAS AGRA ROAD
AGRA RD HATHRAS , PIN├╜204101
HATHRAS
HATHRAS
UTTAR PRADESH
91
8173900503
BANK OF' INDIA
BKID0AG1510
EIHAN
AT,POST EIHAN HATHRAS , PIN├╜204102
HATHRAS
HATHRAS
UTTAR PRADESH
91
8173900511
BANK OF' INDIA
BKID0AG1509
DEVINAGAR
AT,POST HATHRAS JUNCTION HATHRAS , PIN├╜204102
HATHRAS
HATHRAS
UTTAR PRADESH
91
8173900523
BANK OF' INDIA
BKID0AG1508
CHHONDA GADUA
VILL. CHHONDA GADUA P.O. GADUA , PIN├╜204216
HATHRAS
HATHRAS
UTTAR PRADESH
91
8173900529
BANK OF' INDIA
BKID0AG1507
CHANDPA
AT,POST CHANDPA HATHRAS , PIN├╜204101
HATHRAS
HATHRAS
UTTAR PRADESH
91
8173900504
BANK OF' INDIA
BKID0AG1506
BISAWAR
MOHALLA PENTH BAZAR, BISAWAR BLOCKSADABAD , PIN├╜281302
HATHRAS
HATHRAS
UTTAR PRADESH
91
8173900531
BANK OF' INDIA
BKID0AG1505
BASTOI
AT,POSTBASTOI HATHRAS , PIN204215
HATHRAS
HATHRAS
UTTAR PRADESH
91
8173900519
BANK OF' INDIA
BKID0AG1504
BARAUS
VILL. BARAUS POBANS AMRU , PIN281306
HATHRAS
HATHRAS
UTTAR PRADESH
91
8173900535
BANK OF' INDIA
BKID0AG1503
BANDHNOO
AT,POST KGW SASNI HATHRAS , PIN├╜202139
HATHRAS
HATHRAS
UTTAR PRADESH
91
8173900518
BANK OF' INDIA
BKID0AG1502
BAMNAI
AT,POST LUHETA HATHRAS , PIN├╜204101
HATHRAS
HATHRAS
UTTAR PRADESH
91
8173900510
BANK OF' INDIA
BKID0AG1501
AGSAULI
AT,POST AGSAULI HATHRAS , PIN├╜204210
HATHRAS
HATHRAS
UTTAR PRADESH
91
8173900514
BANK OF' INDIA
BKID0AG1432
BAHORA
AT,POST BAHORAKASGANJ207245 STD05740 , PIN207245
ETAH
HATHRAS
UTTAR PRADESH
91
7317799349
BANK OF' INDIA
BKID0AG1431
KINAWA
AT,POST KINAWA KASGANJ207124 STD 05744, PIN207124
ETAH
HATHRAS
UTTAR PRADESH
91
7317799352
BANK OF' INDIA
BKID0AG1430
PAUSARA
AT,POSTPAUSARA KASGANJ 207123AREA STD 05744 , PIN207123
ETAH
HATHRAS
UTTAR PRADESH
91
7317799350
BANK OF' INDIA
BKID0AG1429
NORTHA
AT, NORTHA PO BAHEDIAKASGANJ 207123 STD 05744 , PIN207123
ETAH
HATHRAS
UTTAR PRADESH
91
7317799353
BANK OF' INDIA
BKID0AG1428
SALEMPUR BIVI
AT,POSTSALEMPUR BIVIKASGANJ 207403 STD 05744, PIN207403
ETAH
HATHRAS
UTTAR PRADESH
91
7317799355
BANK OF' INDIA
BKID0AG1427
WAZIRPUR
AT,POST ,WAZIR PUR KASGANJ , PIN207123
ETAH
HATHRAS
UTTAR PRADESH
91
8173900402
BANK OF' INDIA
BKID0AG1426
SORON
AT,POSTSORON KASGANJ , PIN207402
ETAH
HATHRAS
UTTAR PRADESH
91
8173900419
BANK OF' INDIA
BKID0AG1425
SIKHERA
AT,POST SIKAHRA KASGANJ , PIN207242
ETAH
HATHRAS
UTTAR PRADESH
91
8173900408
BANK OF' INDIA
BKID0AG1424
SIDHPURA
AT,POSTSIDHPURA KASGANJ , PIN207246
ETAH
HATHRAS
UTTAR PRADESH
91
8173900413
BANK OF' INDIA
BKID0AG1423
SARAWAL
AT,POSTSARAWAL KASGANJ , PIN207248
ETAH
HATHRAS
UTTAR PRADESH
91
8173900405
BANK OF' INDIA
BKID0AG1422
SAHAWAR
AT,POSTSAHAWAR KASGANJ , PIN207245
ETAH
HATHRAS
UTTAR PRADESH
91
8173900418
BANK OF' INDIA
BKID0AG1421
PRAHALADPUR
AT,POSTPRAHALADPUR KASGANJ , PIN207403
ETAH
KASGANJ
UTTAR PRADESH
91
8173900415
BANK OF' INDIA
BKID0AG1420
PATIYALI
VILL. ALIGANJ RD POPATIYALI , PIN207243
ETAH
KASGANJ
UTTAR PRADESH
91
8173900422
BANK OF' INDIA
BKID0AG1419
PACHGAIN
AT,POSTGARHI PACHHGAIN KASGANJ , PIN207124
ETAH
KASGANJ
UTTAR PRADESH
91
8173900426
BANK OF' INDIA
BKID0AG1418
NAGARIA
VILL.NAGARIA POST NEOLI , PIN207402
ETAH
KASGANJ
UTTAR PRADESH
91
8173900414
BANK OF' INDIA
BKID0AG1417
NADARAI
AT,POST NADARAI KASGANJ , PIN207123
ETAH
KASGANJ
UTTAR PRADESH
91
8173900404
BANK OF' INDIA
BKID0AG1416
MOHANPURA
AT,POST MOHANPURA KASGANJ , PIN207401
ETAH
KANSHIRAM NAGAR
UTTAR PRADESH
91
8173900427
BANK OF' INDIA
BKID0AG1415
MOHANPUR
AT,POST MOHANPUR KASGANJ , PIN207242
ETAH
KANSHIRAM NAGAR
UTTAR PRADESH
91
8173900417
BANK OF' INDIA
BKID0AG1414
KISRAULI
AT,POST KISRAULI KASGANJ , PIN207124
ETAH
KANSHIRAM NAGAR
UTTAR PRADESH
91
8173900409
BANK OF' INDIA
BKID0AG1413
KENDY
VILL KENDY POSTNAMENI , PIN207124
ETAH
KANSHIRAM NAGAR
UTTAR PRADESH
91
8173900403
BANK OF' INDIA
BKID0AG1412
KASGANJ NADRAI GATE
NADRAI GATE, MAAL GODOWN CHAURAHA POKASGANJ , PIN207123
ETAH
KANSHIRAM NAGAR
UTTAR PRADESH
91
8173900423
BANK OF' INDIA
BKID0AG1411
KASGANJ MAIN
VILL. BADI HOLI MOHALLA JAIJAI RAM , PIN207123
ETAH
KANSHIRAM NAGAR
UTTAR PRADESH
91
8173900420
BANK OF' INDIA
BKID0AG1410
HATHODAWAN
AT,POST HATHODAWAN KASGANJ , PIN207243
ETAH
KANSHIRAM NAGAR
UTTAR PRADESH
91
8173900412
BANK OF' INDIA
BKID0AG1409
GORAHA
AT,POST GORAHA KASGANJ , PIN207123
ETAH
KANSHIRAM NAGAR
UTTAR PRADESH
91
8173900406
BANK OF' INDIA
BKID0AG1408
GANJDUNDWARA
AT,POST GANJDHUDWARA KASGANJ , PIN207242
ETAH
KANSHIRAM NAGAR
UTTAR PRADESH
91
8173900407
BANK OF' INDIA
BKID0AG1407
GADAKA
AT,POST GADAKA KASGANJ , PIN207242
ETAH
KANSHIRAM NAGAR
UTTAR PRADESH
91
8173900410
BANK OF' INDIA
BKID0AG1406
DHOLNA
AT,POST ,DHOLNA KASGANJ , PIN207124
ETAH
KANSHIRAM NAGAR
UTTAR PRADESH
91
8173900401
BANK OF' INDIA
BKID0AG1405
DARIYABGANJ
AT,POST DARIYABGANJ KASGANJ , PIN207243
ETAH
KANSHIRAM NAGAR
UTTAR PRADESH
91
8173900421
BANK OF' INDIA
BKID0AG1404
BINPUR KALAN
VILL.MUKHARYAL POAMIRSHAH , PIN207245
ETAH
KANSHIRAM NAGAR
UTTAR PRADESH
91
8173900425
BANK OF' INDIA
BKID0AG1403
BILRAM
AT,POST BILRAM KASGANJ , PIN207124
ETAH
KANSHIRAM NAGAR
UTTAR PRADESH
91
8173900411
BANK OF' INDIA
BKID0AG1402
BACHHMAI
VILL. BACHHMAI POSURJAI , PIN207241
ETAH
KANSHIRAM NAGAR
UTTAR PRADESH
91
8173900424
BANK OF' INDIA
BKID0AG1401
AMANPUR
AT,POST AMANPUR KASGANJ , PIN207241
ETAH
KANSHIRAM NAGAR
UTTAR PRADESH
91
8173900416
BANK OF' INDIA
BKID0AG1399
R.O. ETAH
OPPOSITE AGRAWAL PETROL PUMP, G. T. ROAD, ARUNA NAGAR, ETAH , PIN CODE 207001
ETAH
KANSHIRAM NAGAR
UTTAR PRADESH
91
8172900307
BANK OF' INDIA
BKID0AG1347
SARAI AGHAT
SARAI AGHAT,AP SARAI AGHAT, NEAR TEL EXCHANGE, KAYAMGANJ RAOD, SARAI AGHAT, ETAH PIN207250
ETAH
KANSHIRAM NAGAR
UTTAR PRADESH
91
7317799347
BANK OF' INDIA
BKID0AG1346
LALPUR SIKRARI
AT,POST LAL PUR SIKRARI ETAH207301 STD 05742 , PIN207301
ETAH
KANSHIRAM NAGAR
UTTAR PRADESH
91
7317799351
BANK OF' INDIA
BKID0AG1345
SIRSATIPPU
AT,SIRSA TIPU BLOCKMARHARA ETAH, PIN207125
ETAH
KANSHIRAM NAGAR
UTTAR PRADESH
91
7317799346
BANK OF' INDIA
BKID0AG1343
PAWANS
AT,POST PANWANS ETAH 207001 STD 05742 , PIN207001
ETAH
KANSHIRAM NAGAR
UTTAR PRADESH
91
7317799354
BANK OF' INDIA
BKID0AG1342
PHAPHOTU
AT,POST PHAT,POST HATOETAH 207001 STD 05742, PIN207001
ETAH
KANSHIRAM NAGAR
UTTAR PRADESH
91
7317799356
BANK OF' INDIA
BKID0AG1341
BABSA
AT,POST BABSAETAH207001 STD05742 PIN207001
ETAH
KANSHIRAM NAGAR
UTTAR PRADESH
91
7317799348
BANK OF' INDIA
BKID0AG1340
VIRAMPUR
VILL.VIRAMPUR POST KAKRAWALI , PIN207001
ETAH
KANSHIRAM NAGAR
UTTAR PRADESH
91
8173900313
BANK OF' INDIA
BKID0AG1339
VASUNDHRA
AT,POST VASUNDHRA ETAH , PIN207302
ETAH
KANSHIRAM NAGAR
UTTAR PRADESH
91
8173900306
BANK OF' INDIA
BKID0AG1338
TODERPUR ROHINA
VILL. TODERPUR ROHINA POKHATOTA , PIN207301
ETAH
KANSHIRAM NAGAR
UTTAR PRADESH
91
8173900340
BANK OF' INDIA
BKID0AG1337
SHAKRAULI
AT,POST SHAKRAULI ETAH , PIN207202
ETAH
KANSHIRAM NAGAR
UTTAR PRADESH
91
8173900322
BANK OF' INDIA
BKID0AG1336
SARAINEEM
AT,POSTSARAINEEM ETAH , PIN207202
ETAH
ETAH
UTTAR PRADESH
91
8173900310
BANK OF' INDIA
BKID0AG1335
SAKEET
AT,POST SAKEET ETAH , PIN207121
ETAH
ETAH
UTTAR PRADESH
91
8173900336
BANK OF' INDIA
BKID0AG1334
RIJORE
AT,POSTRIJORE ETAH , PIN207001
ETAH
ETAH
UTTAR PRADESH
91
8173900303
BANK OF' INDIA
BKID0AG1333
RAMNAGAR
VILL RAMNAGAR POST RUSTAM GARH , PIN207001
ETAH
ETAH
UTTAR PRADESH
91
8173900312
BANK OF' INDIA
BKID0AG1332
RAJA KA RAMPUR
AT,POST RAJA KA RAMPUR ETAH , PIN207244
ETAH
ETAH
UTTAR PRADESH
91
8173900334
BANK OF' INDIA
BKID0AG1331
PUNHERA
AT,POSTPUNHERA ETAH , PIN207202
ETAH
ETAH
UTTAR PRADESH
91
8173900305
BANK OF' INDIA
BKID0AG1330
PIWARI
AT,POST PIWARI ETAH , PIN207401
ETAH
ETAH
UTTAR PRADESH
91
8173900326
BANK OF' INDIA
BKID0AG1329
PATANA
VILL.PATNA POST GANESHPUR , PIN207202
ETAH
ETAH
UTTAR PRADESH
91
8173900311
BANK OF' INDIA
BKID0AG1328
PARSON GOLKUAN
AT,POST PARSON, ALIGANJ RD NEAR GOLAKUAN CHAURAHA , PIN207001
ETAH
ETAH
UTTAR PRADESH
91
8173900339
BANK OF' INDIA
BKID0AG1327
NUHKHAS
AT,POSTNUHKHAS ETAH , PIN207202
ETAH
ETAH
UTTAR PRADESH
91
8173900301
BANK OF' INDIA
BKID0AG1326
NIDHOLI KHURD
AT,POST NIDHOLI KHURD ETAH , PIN207001
ETAH
ETAH
UTTAR PRADESH
91
8173900320
BANK OF' INDIA
BKID0AG1325
NIDHOLI KALAN
AT,POST NIDHOLI KALAN ETAH , PIN207122
ETAH
ETAH
UTTAR PRADESH
91
8173900329
BANK OF' INDIA
BKID0AG1324
NADRALA
AT,POSTNADARALA ETAH , PIN207247
ETAH
ETAH
UTTAR PRADESH
91
8173900331
BANK OF' INDIA
BKID0AG1323
MOHIUDDINPUR
AT,POSTPILUA ETAH , PIN207120
ETAH
ETAH
UTTAR PRADESH
91
8173900307
BANK OF' INDIA
BKID0AG1322
MARHERA
AT,POST MARHERA ETAH , PIN207401
ETAH
ETAH
UTTAR PRADESH
91
8173900316
BANK OF' INDIA
BKID0AG1321
MALAWAN
AT,POSTMALAWAN ETAH , PIN207001
ETAH
ETAH
UTTAR PRADESH
91
8173900323
BANK OF' INDIA
BKID0AG1320
KARTHALA
AT,POSTKARTALA ETAH , PIN207001
ETAH
ETAH
UTTAR PRADESH
91
8173900315
BANK OF' INDIA
BKID0AG1319
JIRASMI
AT,POSTJIRASMI ETAH , PIN207001
ETAH
ETAH
UTTAR PRADESH
91
8173900309
BANK OF' INDIA
BKID0AG1318
JINHERA
AT,POSTMIRAHACHI ETAH , PIN207125
ETAH
ETAH
UTTAR PRADESH
91
8173900317
BANK OF' INDIA
BKID0AG1317
JALESAR MAIN
VILL. SHERGANJ, 207302, PO JALESAR , PIN207302
ETAH
ETAH
UTTAR PRADESH
91
8173900333
BANK OF' INDIA
BKID0AG1316
JALESAR CITY
VILL. NALA BAZAR PO JALESAR , PIN207302
ETAH
ETAH
UTTAR PRADESH
91
8173900332
BANK OF' INDIA
BKID0AG1315
JAITHRA
ALIGANJ RD POST JAITHRA , PIN207249
ETAH
ETAH
UTTAR PRADESH
91
8173900328
BANK OF' INDIA
BKID0AG1314
ISSOLI
AT,POST ISSOLII ETAH , PIN207202
ETAH
ETAH
UTTAR PRADESH
91
8173900308
BANK OF' INDIA
BKID0AG1313
ETAH SERVICE BRANCH
REGIONAL OFFICE CIVIL LINES , PIN207001
ETAH
ETAH
UTTAR PRADESH
91
8173900338
BANK OF' INDIA
BKID0AG1312
ETAH PATIYALI GATE
NEAR GANGA ACADEMY SCHOOL, PEEPAL ADDA SAHAWAR RD , PIN207001
ETAH
ETAH
UTTAR PRADESH
91
8173900337
BANK OF' INDIA
BKID0AG1311
ETAH MAIN
INFORNT OF BUS STAND ETAH , PIN207001
ETAH
ETAH
UTTAR PRADESH
91
8173900325
BANK OF' INDIA
BKID0AG1310
ETAH CITY
WALI MOHD. CHAURAHA POETAH , PIN207001
ETAH
ETAH
UTTAR PRADESH
91
8173900321
BANK OF' INDIA
BKID0AG1309
DHUMARI
AT,POSTDHUMARI ETAH , PIN207248
ETAH
ETAH
UTTAR PRADESH
91
8173900327
BANK OF' INDIA
BKID0AG1308
DHIRAMAI
AT,POSTDHIRAMAI ETAH , PIN207125
ETAH
ETAH
UTTAR PRADESH
91
8173900314
BANK OF' INDIA
BKID0AG1307
CHHACHHNA
AT,POSTCHHACHHENA ETAH , PIN207001
ETAH
ETAH
UTTAR PRADESH
91
8173900319
BANK OF' INDIA
BKID0AG1306
BERNI
AT,POSTBERNI ETAH , PIN207202
ETAH
ETAH
UTTAR PRADESH
91
8173900318
BANK OF' INDIA
BKID0AG1305
BAGWALA
AT,POSTBAGWALA ETAH , PIN207001
ETAH
ETAH
UTTAR PRADESH
91
8173900302
BANK OF' INDIA
BKID0AG1304
AWAGARH
VILL. JALESAR RD POAWAGARH , PIN207302
ETAH
ETAH
UTTAR PRADESH
91
8173900335
BANK OF' INDIA
BKID0AG1303
AMROLI RATANPUR
VILL. NAGLA PADAAPOALIGANJ , PIN207247
ETAH
ETAH
UTTAR PRADESH
91
8173900330
BANK OF' INDIA
BKID0AG1302
ALIGANJ ETAH
TEHSIL RD POALIGANJ , PIN207247
ETAH
ETAH
UTTAR PRADESH
91
8173900324
BANK OF' INDIA
BKID0AG1301
AHAMADABAD
VILL. KATHOLI POAHAMDABAD , PIN207001
ETAH
ETAH
UTTAR PRADESH
91
8173900304
BANK OF' INDIA
BKID0AG1299
R.O. ALIGARH
NIRANJAN PRIYA DHAM, IN FRONT OF NARAYANA COACHING, CENTER POINT, ALIGARH , PIN CODE 202001
ALIGARH
ETAH
UTTAR PRADESH
91
8173900099
BANK OF' INDIA
BKID0AG1275
TENTIGAON
RAJ TALENT ENGLISH SCHOOL KHAIR TETIGAON RD, KHAIR DISTT ALIGARH , PIN202138
ALIGARH
ETAH
UTTAR PRADESH
 
9675073273
BANK OF' INDIA
BKID0AG1274
MALSAI
FINAL V MALSAI P BILONACHITTRASITAHSIL ATRAULI ALIGARH 202134 STD, PIN202134
ALIGARH
ETAH
UTTAR PRADESH
91
9411930982
BANK OF' INDIA
BKID0AG1273
KAZIMABAD
VP KAZIMABAD TAHSILATRAULI ALIGARH 202282 STD, PIN202282
ALIGARH
ETAH
UTTAR PRADESH
91
7317799340
BANK OF' INDIA
BKID0AG1272
BHARTARI
AT, BHARTARI PO BHANKARI, TAHSIL KOIL ALIGARH 202001, PIN202001
ALIGARH
ETAH
UTTAR PRADESH
91
7317799341
BANK OF' INDIA
BKID0AG1271
VEERPURA
AT,POST VEERPURA ALIGARH , PIN202142
ALIGARH
ETAH
UTTAR PRADESH
91
8173900010
BANK OF' INDIA
BKID0AG1270
TOCHHIGARH
AT,POSTTOCHHIGARH ALIGARH , PIN├╜204106
ALIGARH
ETAH
UTTAR PRADESH
91
8173900049
BANK OF' INDIA
BKID0AG1269
TAPPAL
AT,POSTTAPPAL ALIGARH , PIN202165
ALIGARH
ETAH
UTTAR PRADESH
91
8173900033
BANK OF' INDIA
BKID0AG1268
TAKIPUR
AT,POST TAKIPUR ALIGARH , PIN202141
ALIGARH
ETAH
UTTAR PRADESH
91
8173900030
BANK OF' INDIA
BKID0AG1267
SYAROL
AT,POST SYAROL ALIGARH , PIN├╜202165
ALIGARH
ETAH
UTTAR PRADESH
91
8173900057
BANK OF' INDIA
BKID0AG1266
SHAHGARH
AT,POST SHAHGARH ALIGARH , PIN├╜202129
ALIGARH
ALIGARH
UTTAR PRADESH
91
8173900017
BANK OF' INDIA
BKID0AG1265
SATHINI
AT,POST SATHINI ALIGARH , PIN├╜202145
ALIGARH
ALIGARH
UTTAR PRADESH
91
8173900018
BANK OF' INDIA
BKID0AG1264
SANKRA
AT,POSTSANKRA ALIGARH , PIN├╜202133
ALIGARH
ALIGARH
UTTAR PRADESH
91
8173900047
BANK OF' INDIA
BKID0AG1263
SALPUR
INFRONT OF SALPUR INTER COLLEGE, VILL.AND P.O. SALPUR TEHSILKHAIR , PIN├╜202141
ALIGARH
ALIGARH
UTTAR PRADESH
91
8173900069
BANK OF' INDIA
BKID0AG1262
PISAWA
JATTARI RD PISAWA , PIN├╜202155
ALIGARH
ALIGARH
UTTAR PRADESH
91
8173900070
BANK OF' INDIA
BKID0AG1261
PILKHNA
AT,POSTPILKHNA ALIGARH , PIN├╜202001
ALIGARH
ALIGARH
UTTAR PRADESH
91
8173900040
BANK OF' INDIA
BKID0AG1260
PANETHI
AT,POST PANETHI ALIGARH , PIN├╜202002
ALIGARH
ALIGARH
UTTAR PRADESH
91
8173900031
BANK OF' INDIA
BKID0AG1259
PALSERA
AT,POST PALSERA ALIGARH , PIN├╜202137
ALIGARH
ALIGARH
UTTAR PRADESH
91
8173900039
BANK OF' INDIA
BKID0AG1258
PALIRAZAPUR
AT,POST PALIRAZAPUR ALIGARH , PIN├╜202150
ALIGARH
ALIGARH
UTTAR PRADESH
91
8173900002
BANK OF' INDIA
BKID0AG1257
PALIMUKHIMPUR
AT,POST PALIMUKHIMPUR ALIGARH , PIN├╜202131
ALIGARH
ALIGARH
UTTAR PRADESH
91
8173900011
BANK OF' INDIA
BKID0AG1256
NARONA
AT,POST NARONA ALIGARH , PIN├╜202125
ALIGARH
ALIGARH
UTTAR PRADESH
91
8173900009
BANK OF' INDIA
BKID0AG1255
NAGLA JUJHAR
AT,POST N.JUJHAR ALIGARH , PIN├╜202123
ALIGARH
ALIGARH
UTTAR PRADESH
91
8173900020
BANK OF' INDIA
BKID0AG1254
NAGLA BIRKHOO
AT,POST NAGLA BIRKHOO ALIGARH , PIN├╜202123
ALIGARH
ALIGARH
UTTAR PRADESH
91
8173900029
BANK OF' INDIA
BKID0AG1253
MADRAK
AT,POST MADRAK ALIGARH , PIN├╜202150
ALIGARH
ALIGARH
UTTAR PRADESH
91
8173900001
BANK OF' INDIA
BKID0AG1252
LODHA
AT,POST LODHA ALIGARH , PIN├╜202140
ALIGARH
ALIGARH
UTTAR PRADESH
91
8173900071
BANK OF' INDIA
BKID0AG1251
KURANA
VILL. KURANA POKHANDEHA , PIN├╜202137
ALIGARH
ALIGARH
UTTAR PRADESH
91
8173900050
BANK OF' INDIA
BKID0AG1250
KULWA
AT,POSTKULWA ALIGARH , PIN202282
ALIGARH
ALIGARH
UTTAR PRADESH
91
8173900035
BANK OF' INDIA
BKID0AG1249
KHAIR
AT,POSTKHAIR, CHHOTA CHAURAHA ALIGARH , PIN202138
ALIGARH
ALIGARH
UTTAR PRADESH
91
8173900060
BANK OF' INDIA
BKID0AG1248
KASIMPUR
AT,POST KASIMPUR ALIGARH , PIN202127
ALIGARH
ALIGARH
UTTAR PRADESH
91
8173900028
BANK OF' INDIA
BKID0AG1247
KANDALI
VILL. KANDALI POSINARDHARI, MATHURA ALIGARH RD TEHSIL IGLAS , PIN├╜202124
ALIGARH
ALIGARH
UTTAR PRADESH
91
8173900064
BANK OF' INDIA
BKID0AG1246
KALAI
AT,POST KALAI ALIGARH , PIN├╜202125
ALIGARH
ALIGARH
UTTAR PRADESH
91
8173900013
BANK OF' INDIA
BKID0AG1245
KPRANI
AT,POST K.P.RANI ALIGARH , PIN├╜202280
ALIGARH
ALIGARH
UTTAR PRADESH
91
8173900046
BANK OF' INDIA
BKID0AG1244
JIRAULI
AT,POST JIRAULI ALIGARH , PIN202281
ALIGARH
ALIGARH
UTTAR PRADESH
91
8173900004
BANK OF' INDIA
BKID0AG1243
JATTARI
AT,POST JATTARI ALIGARH , PIN├╜202137
ALIGARH
ALIGARH
UTTAR PRADESH
91
8173900022
BANK OF' INDIA
BKID0AG1242
JALLUPUR SEHORE
AT,POSTJALLUPUR SIHORE ALIGARH , PIN├╜202002
ALIGARH
ALIGARH
UTTAR PRADESH
91
8173900023
BANK OF' INDIA
BKID0AG1241
JALALI
AT,POST JALALI ALIGARH , PIN├╜202128
ALIGARH
ALIGARH
UTTAR PRADESH
91
8173900026
BANK OF' INDIA
BKID0AG1240
JAIDPURA
AT,POSTJAIDPURA ALIGARH , PIN├╜202165
ALIGARH
ALIGARH
UTTAR PRADESH
91
8173900051
BANK OF' INDIA
BKID0AG1239
IGLAS
AT,POST IGLAS ALIGARH , PIN202124
ALIGARH
ALIGARH
UTTAR PRADESH
91
8173900045
BANK OF' INDIA
BKID0AG1238
HASTPUR
AT,POST HASTPUR ALIGARH , PIN202002├╜
ALIGARH
ALIGARH
UTTAR PRADESH
91
8173900007
BANK OF' INDIA
BKID0AG1237
HARDUAGANJ
AT,POST ,HARDUAGANJ ALIGARH , PIN202125
ALIGARH
ALIGARH
UTTAR PRADESH
91
8173900015
BANK OF' INDIA
BKID0AG1236
HARDOI ALIGARH
AT,POST HARDOI ALIGARH , PIN├╜202133
ALIGARH
ALIGARH
UTTAR PRADESH
91
8173900034
BANK OF' INDIA
BKID0AG1235
GORAI
AT,POSTGORAI ALIGARH , PIN202145
ALIGARH
ALIGARH
UTTAR PRADESH
91
8173900008
BANK OF' INDIA
BKID0AG1234
GOPI
AT,POST GOPI ALIGARH , PIN├╜204215
ALIGARH
ALIGARH
UTTAR PRADESH
91
8173900036
BANK OF' INDIA
BKID0AG1233
GONDA
AT,POST GONDA ALIGARH , PIN├╜202123
ALIGARH
ALIGARH
UTTAR PRADESH
91
8173900032
BANK OF' INDIA
BKID0AG1232
GHARWARA
AT,POSTGHARWARA, BLOCKTAPPAL TEHSILKHAIR , PIN├╜202165
ALIGARH
ALIGARH
UTTAR PRADESH
91
8173900068
BANK OF' INDIA
BKID0AG1231
GAUMAT
AT,POSTGAUMAT ALIGARH , PIN├╜202135
ALIGARH
ALIGARH
UTTAR PRADESH
91
8173900019
BANK OF' INDIA
BKID0AG1230
GANGIRI
AT,POST GANGIRI ALIGARH , PIN202134
ALIGARH
ALIGARH
UTTAR PRADESH
91
8173900005
BANK OF' INDIA
BKID0AG1229
GADRANA
AT,POSTGADRANA ALIGARH , PIN202001
ALIGARH
ALIGARH
UTTAR PRADESH
91
8173900016
BANK OF' INDIA
BKID0AG1228
GABHANA
AT,POST GABHANA ALIGARH , PIN├╜202136
ALIGARH
ALIGARH
UTTAR PRADESH
91
8173900024
BANK OF' INDIA
BKID0AG1227
DIGSARI
AT,POST DIGSARI ALIGARH , PIN202123
ALIGARH
ALIGARH
UTTAR PRADESH
91
8173900048
BANK OF' INDIA
BKID0AG1226
DHORRA MAFI
GRETAR ASAD ENCLAVE, POQUARSI PACHIM DHORRA MAFI , PIN├╜202002
ALIGARH
ALIGARH
UTTAR PRADESH
91
8173900065
BANK OF' INDIA
BKID0AG1225
DADON
AT,POST DADON ALIGARH , PIN├╜202133
ALIGARH
ALIGARH
UTTAR PRADESH
91
8173900014
BANK OF' INDIA
BKID0AG1224
CHHARRA
AT,POST CHHARRA ALIGARH , PIN202130
ALIGARH
ALIGARH
UTTAR PRADESH
91
8173900042
BANK OF' INDIA
BKID0AG1223
CHANDAUS
AT,POST CHANDAUS ALIGARH , PIN├╜202132
ALIGARH
ALIGARH
UTTAR PRADESH
91
8173900055
BANK OF' INDIA
BKID0AG1222
BUDHANSI
AT,POSTBUDHANSI ALIGARH , PIN├╜202125
ALIGARH
ALIGARH
UTTAR PRADESH
91
8173900058
BANK OF' INDIA
BKID0AG1221
BESWAN
AT,POSTBESWAN ALIGARH , PIN├╜202145
ALIGARH
ALIGARH
UTTAR PRADESH
91
8173900056
BANK OF' INDIA
BKID0AG1220
BARLA
AT,POST BARLA ALIGARH , PIN202129
ALIGARH
ALIGARH
UTTAR PRADESH
91
8173900012
BANK OF' INDIA
BKID0AG1219
BARAULI
AT,POST BARAULI ALIGARH , PIN├╜202126
ALIGARH
ALIGARH
UTTAR PRADESH
91
8173900006
BANK OF' INDIA
BKID0AG1218
BAMNOYEE
AT,POST BAMNOYEE ALIGARH , PIN├╜204215
ALIGARH
ALIGARH
UTTAR PRADESH
91
8173900038
BANK OF' INDIA
BKID0AG1217
ATRAULI
AT,POST ATRAULI ALIGARH , PIN├╜202280
ALIGARH
ALIGARH
UTTAR PRADESH
91
8173900041
BANK OF' INDIA
BKID0AG1216
ANDLA
AT,POST ANDLA ALIGARH , PIN202140
ALIGARH
ALIGARH
UTTAR PRADESH
91
8173900003
BANK OF' INDIA
BKID0AG1215
AMRITPUR
AT,POST AMRITPUR ALIGARH , PIN202132
ALIGARH
ALIGARH
UTTAR PRADESH
91
8173900044
BANK OF' INDIA
BKID0AG1214
AMRAULI
AT,POST AMRAULI ALIGARH , PIN├╜202122
ALIGARH
ALIGARH
UTTAR PRADESH
91
8173900027
BANK OF' INDIA
BKID0AG1213
ALIGARH UPER KOT
ISRAELI COMPLEX TEHSIL RD , PIN202001
ALIGARH
ALIGARH
UTTAR PRADESH
91
8173900062
BANK OF' INDIA
BKID0AG1212
ALIGARH SERVICE BRANCH
NIRANJAN PRIYA DHAM CENTRE POINT , PIN├╜202001
ALIGARH
ALIGARH
UTTAR PRADESH
91
8173900061
BANK OF' INDIA
BKID0AG1211
ALIGARH QUARSI CHAURAHA
H 1 SHRI ESTATE, RAMGHAT RD, OPP. STEDIUM POQUARSI , PIN├╜202001
ALIGARH
ALIGARH
UTTAR PRADESH
91
8173900066
BANK OF' INDIA
BKID0AG1210
ALIGARH NAURANGABAD
NAURANGABAD ALIGARH , PIN202001
ALIGARH
ALIGARH
UTTAR PRADESH
91
8173900053
BANK OF' INDIA
BKID0AG1209
ALIGARH MASOODABAD
MASSOODABAD ALIGARH , PIN202001
ALIGARH
ALIGARH
UTTAR PRADESH
91
8173900052
BANK OF' INDIA
BKID0AG1208
ALIGARH JAMALPUR
JAMALPUR ALIGARH , PIN202001
ALIGARH
ALIGARH
UTTAR PRADESH
91
8173900043
BANK OF' INDIA
BKID0AG1207
ALIGARH DIGGI ROAD
DIGGI RD ALIGARH , PIN202001
ALIGARH
ALIGARH
UTTAR PRADESH
91
8173900054
BANK OF' INDIA
BKID0AG1206
ALIGARH CITY
PAWAN PALACE, SAMAD RD CENTRE POINT , PIN202001
ALIGARH
ALIGARH
UTTAR PRADESH
91
8173900063
BANK OF' INDIA
BKID0AG1205
ALIGARH MAIN
RAMGHAT RD ALIGARH , PIN202001
ALIGARH
ALIGARH
UTTAR PRADESH
91
8173900025
BANK OF' INDIA
BKID0AG1204
ALIGARH AGRA ROAD
AGRA RD ALIGARH , PIN202001
ALIGARH
ALIGARH
UTTAR PRADESH
91
8173900059
BANK OF' INDIA
BKID0AG1203
AKRABAD
MAIN MARKET AKRABAD , PIN├╜202121
ALIGARH
ALIGARH
UTTAR PRADESH
91
8173900067
BANK OF' INDIA
BKID0AG1202
AKBARPUR
AT,POST AKBARPUR ALIGARH , PIN├╜202002
ALIGARH
ALIGARH
UTTAR PRADESH
91
8173900037
BANK OF' INDIA
BKID0AG1201
AHMEDPUR
P.O AHMEDPUR ALIGARH , PIN├╜202002
ALIGARH
ALIGARH
UTTAR PRADESH
91
8173900021
BANK OF' INDIA
BKID0AG1199
R.O. AGRA
REGIONAL OFFICE,1, RAGHUNATH NAGAR M. G. ROAD , PIN CODE 282002
AGRA
ALIGARH
UTTAR PRADESH
91
8173900399
BANK OF' INDIA
BKID0AG1151
UMRETHA
AT,POSTUMRETHA BLOCK PINAHAT , PIN283123
AGRA
ALIGARH
UTTAR PRADESH
91
8173900136
BANK OF' INDIA
BKID0AG1150
TEHRA
AT,POSTTEHRA, BLOCKSAIYAN , PIN282001
AGRA
ALIGARH
UTTAR PRADESH
91
8173900135
BANK OF' INDIA
BKID0AG1149
SHAMSHABAD AGRA
BLOCK AND POST SHAMSHABAD AGRA , PIN283125
AGRA
ALIGARH
UTTAR PRADESH
91
8173900134
BANK OF' INDIA
BKID0AG1148
SANDHAN
AT,POST SNDHAN BLOCK ACHHNERA , PIN283101
AGRA
ALIGARH
UTTAR PRADESH
91
8173900148
BANK OF' INDIA
BKID0AG1147
SAIYAN
BLOCK AND POST SAIYAN AGRA , PIN283124
AGRA
ALIGARH
UTTAR PRADESH
91
8173900133
BANK OF' INDIA
BKID0AG1146
RUNKTA
INFRONT OF POLICE CHOWKI, VILL. AND PO RUNAKTA BLOCK ACHHNERA , PIN282007
AGRA
ALIGARH
UTTAR PRADESH
91
8173900150
BANK OF' INDIA
BKID0AG1145
RB INSTITUTE MURI CROSSING
RBIT,MURI CROSSING AGRA , PIN283126
AGRA
ALIGARH
UTTAR PRADESH
91
8173900143
BANK OF' INDIA
BKID0AG1144
RAIBHA
AT,POSTRAIBHA BLOCKACHHNERA , PIN283101
AGRA
ALIGARH
UTTAR PRADESH
91
8173900132
BANK OF' INDIA
BKID0AG1143
PINAHAT
BLOCK AND POST PINAHAT AGRA , PIN283123
AGRA
AGRA
UTTAR PRADESH
91
8173900131
BANK OF' INDIA
BKID0AG1142
PATHAULI
AT,POSTPATHAULI BLOCK BICHPURI , PIN282001
AGRA
AGRA
UTTAR PRADESH
91
8173900130
BANK OF' INDIA
BKID0AG1141
PANWARI
AT,POSTPANWARI, BLOCKACHHNERA , PIN282007
AGRA
AGRA
UTTAR PRADESH
91
8173900129
BANK OF' INDIA
BKID0AG1140
NONI
AT,POSTNONI, SARENDHI CROSSING, BLOCKJAGNER , PIN283115
AGRA
AGRA
UTTAR PRADESH
91
8173900128
BANK OF' INDIA
BKID0AG1139
MALPURA
AT,POST MALPURA BLOCK AKOLA , PIN283102
AGRA
AGRA
UTTAR PRADESH
91
8173900149
BANK OF' INDIA
BKID0AG1138
KURRA CHITTARPU
AT,POSTKURRA CHITTARPUR, BLOCKSHAMSABAD , PIN282009
AGRA
AGRA
UTTAR PRADESH
91
8173900127
BANK OF' INDIA
BKID0AG1137
KUBERPUR
KUBERPUR CHAURAHA, VILL.KUBERPUR, POCHHALESAR BLOCKKHANDOLI , PIN283202
AGRA
AGRA
UTTAR PRADESH
91
8173900151
BANK OF' INDIA
BKID0AG1136
KIRAOLI
TEH AND PKIRAULI BLOCK ACHHNERA , PIN283122
AGRA
AGRA
UTTAR PRADESH
91
8173900126
BANK OF' INDIA
BKID0AG1135
KHERAGARH
AT,POSTKHERAGARH AGRA , PIN283121
AGRA
AGRA
UTTAR PRADESH
91
8173900124
BANK OF' INDIA
BKID0AG1134
KHERA JAWAHAR
AT,POSTKHERAJAWAHAR BLOCKFATEHABAD , PIN283111
AGRA
AGRA
UTTAR PRADESH
91
8173900125
BANK OF' INDIA
BKID0AG1133
KARUDHANA
AT,POSTKARAUDHANA AGRA , PIN282009
AGRA
AGRA
UTTAR PRADESH
91
8173900144
BANK OF' INDIA
BKID0AG1132
KALAL KHERIA
AT,POSTKALALKHERIA BLOCKBARAULI AHIR , PIN282003
AGRA
AGRA
UTTAR PRADESH
91
8173900123
BANK OF' INDIA
BKID0AG1131
KAKUA
AT,POSTKAKUA BLOCKBARAULI AHIR , PIN282009
AGRA
AGRA
UTTAR PRADESH
91
8173900122
BANK OF' INDIA
BKID0AG1130
KAGAROL
AT,POSTKAGAROL BLOCK KHERAGARH , PIN283121
AGRA
AGRA
UTTAR PRADESH
91
8173900121
BANK OF' INDIA
BKID0AG1129
JAITHPUR KALAN
BLOCK AND POST JAITPUR KALAN AGRA , PIN283114
AGRA
AGRA
UTTAR PRADESH
91
8173900120
BANK OF' INDIA
BKID0AG1128
JAGNER
BLOCK AND POST JAGNER AGRA , PIN283115
AGRA
AGRA
UTTAR PRADESH
91
8173900119
BANK OF' INDIA
BKID0AG1127
HINGOT KHERIA
VIDHAYAK CROSSING, V AND P.HINGOTKHERIA BLOCKBARAULI AHIR , PIN282003
AGRA
AGRA
UTTAR PRADESH
91
8173900118
BANK OF' INDIA
BKID0AG1126
FATEHPUR SIKIRI
BLOCK AND POST FATEHPURSIKRI AGRA , PIN283110
AGRA
AGRA
UTTAR PRADESH
91
8173900117
BANK OF' INDIA
BKID0AG1125
FATEHABAD
LOHIA BLDG NEAR BUS STAND BLOCK FATEHABAD PIN 283111
AGRA
AGRA
UTTAR PRADESH
91
8173900116
BANK OF' INDIA
BKID0AG1124
DHIMSREE
AT,POSTDHIMSHREE BLOCK FATEHABAD , PIN283125
AGRA
AGRA
UTTAR PRADESH
91
8173900115
BANK OF' INDIA
BKID0AG1123
BIYARA
AT,POSTBIYARA BLOCKACHHNERA , PIN283101
AGRA
AGRA
UTTAR PRADESH
91
8173900114
BANK OF' INDIA
BKID0AG1122
BICHPURI
VIIL. AND POBICHPURI MAIN MARKET AGRA , PIN283105
AGRA
AGRA
UTTAR PRADESH
91
8173900142
BANK OF' INDIA
BKID0AG1121
BARHAN
AT,POST BARHAN AGRA , PIN283201
AGRA
AGRA
UTTAR PRADESH
91
8173900141
BANK OF' INDIA
BKID0AG1120
BARAULI AHIR
BLOCK AND POST BARAULI AHIR AGRA , PIN282003
AGRA
AGRA
UTTAR PRADESH
91
8173900113
BANK OF' INDIA
BKID0AG1119
BAH
BLOCK AND POST BAH NEAR RAM LEELA GROUND , PIN283104
AGRA
AGRA
UTTAR PRADESH
91
8173900112
BANK OF' INDIA
BKID0AG1118
ARNAUTA
AT,POSTANRAUTA BLOCKPINAHAT , PIN283123
AGRA
AGRA
UTTAR PRADESH
91
8173900111
BANK OF' INDIA
BKID0AG1117
ANWAL KHERA
AT, POST ANWALKHERA, BLOCKKHANDOLI VED MATA GAYATRI BHAWAN , PIN283201
AGRA
AGRA
UTTAR PRADESH
91
8173900110
BANK OF' INDIA
BKID0AG1116
AKOLA
BLOCK AND POST AKOLA AGRA , PIN283102
AGRA
AGRA
UTTAR PRADESH
91
8173900109
BANK OF' INDIA
BKID0AG1115
AGRA TAJGANJ
NEAR TAJ VIEW CROSSING TAJGANJ , PIN282001
AGRA
AGRA
UTTAR PRADESH
91
8173900108
BANK OF' INDIA
BKID0AG1114
AGRA SHALIMAR ENCLAVE
RAHUL PLAZA, SHALIMAR ENCLAVE KAMLA NAGAR , PIN282005
AGRA
AGRA
UTTAR PRADESH
91
8173900140
BANK OF' INDIA
BKID0AG1113
AGRA SHAHGANJ
COD COLONY SHAHGANJ , PIN282010
AGRA
AGRA
UTTAR PRADESH
91
8173900107
BANK OF' INDIA
BKID0AG1112
AGRA SERVICE BRANCH
REGIONAL OFFICE,1, RAGHUNATH NAGAR M. G. RD , PIN282002
AGRA
AGRA
UTTAR PRADESH
91
8173900139
BANK OF' INDIA
BKID0AG1111
AGRA RAMBAGH
A 315,TRANS YAMUNA COLONY RAMBAGH , PIN282006
AGRA
AGRA
UTTAR PRADESH
91
8173900106
BANK OF' INDIA
BKID0AG1110
AGRA RAJPUR CHUNGI
INDRA PURAM MOD, SHAMSHABAD RAJPUR , PIN282001
AGRA
AGRA
UTTAR PRADESH
91
8173900138
BANK OF' INDIA
BKID0AG1109
AGRA LOHA MANDI
32 1 5, GUJAR TOPKHANA LOHAMANDI , PIN282002
AGRA
AGRA
UTTAR PRADESH
91
8173900147
BANK OF' INDIA
BKID0AG1108
AGRA KHERIA MOD
AYODHAYA KUNJ KHERIA MODE , PIN282001
AGRA
AGRA
UTTAR PRADESH
91
8173900105
BANK OF' INDIA
BKID0AG1107
AGRA KHANDARI CROSSING
2, DEV NAGAR, MAU RD KHANDARI CROSSING , PIN282005
AGRA
AGRA
UTTAR PRADESH
91
8173900146
BANK OF' INDIA
BKID0AG1106
AGRA KALWARI
VILL.KALWARI P.O. SHAHGANJ , PIN282010
AGRA
AGRA
UTTAR PRADESH
91
8173900145
BANK OF' INDIA
BKID0AG1105
AGRA DAYALBAGH
HEERA MARKET DAYAL BAGH , PIN282005
AGRA
AGRA
UTTAR PRADESH
91
8173900104
BANK OF' INDIA
BKID0AG1104
AGRA CIVIL LINE
194 A, BAG FARZANA CIVIL LINES , PIN282002
AGRA
AGRA
UTTAR PRADESH
91
8173900103
BANK OF' INDIA
BKID0AG1103
AGRA BUNDUKATRA
NEAR MADHU NAGAR CROSSING AGRA , PIN282001
AGRA
AGRA
UTTAR PRADESH
91
8173900102
BANK OF' INDIA
BKID0AG1102
AGRA AVAS VIKAS COLONY
OPPOSITE KARGIL PETROL PUMP SIKANDRA BODLA RD , PIN282007
AGRA
AGRA
UTTAR PRADESH
91
8173900137
BANK OF' INDIA
BKID0AG1101
ACHHNERA
AT,POSTACHHNERA MAIN BARA BAZAAR , PIN283101
AGRA
AGRA
UTTAR PRADESH
91
8173900101
BANK OF' INDIA
BKID0AG0903
BANKI
MOHAMMADPUR BANKIP SRI RAMBANKUTI BARABANKI225001 STD05248, PIN225001
BARABANKI
AGRA
UTTAR PRADESH
91
7317799345
BANK OF' INDIA
BKID0AG0902
TENDWA
AT, TENDWA PO TIKARIASAID KHAN BARABANKI 225416 STD 05244, PIN225416
BARABANKI
AGRA
UTTAR PRADESH
91
7317799344
BANK OF' INDIA
BKID0AG0901
BADEL
AT,POSTBADEL TAHSILNAWABGANJ BARABANKI 225002 STD 05248, PIN225002
BARABANKI
AGRA
UTTAR PRADESH
91
7317799342
BANK OF' INDIA
BKID0AG0899
R.O. FIROZABAD
RS PLAZA RAM KRISHNA NAGAR JALESAR ROAD , PIN CODE 283203
FIROZABAD
AGRA
UTTAR PRADESH
91
8172900281
BANK OF' INDIA
BKID0AG0835
NAGLABEACH
VILL.NAGLABEACHBLOCK NARKHGEE , PIN283203
FIROZABAD
AGRA
UTTAR PRADESH
91
8172900300
BANK OF' INDIA
BKID0AG0834
KOTLA
AT, KOTLA BLOCK NARKHGEE FIROZABAD, PIN283203
FIROZABAD
AGRA
UTTAR PRADESH
91
7317799360
BANK OF' INDIA
BKID0AG0833
LAUHARAI
LAUHARAI P GARSAN TAHSILSIRSAGANJ FIROZABAD 283142 STD 05676 , PIN283203
FIROZABAD
AGRA
UTTAR PRADESH
91
7317799359
BANK OF' INDIA
BKID0AG0832
BACHHGAON
AT, BACHHGAON PO BACHHGAON,JALESER RD FIROZABAD 283204 STD05612, PIN283203
FIROZABAD
AGRA
UTTAR PRADESH
91
7317799358
BANK OF' INDIA
BKID0AG0831
ASFABAD
AT, ASFABAD BLOCK FIROZABD FIROZABAD 283203 STD 05612, PIN283203
FIROZABAD
BARABANKI
UTTAR PRADESH
91
7317799357
BANK OF' INDIA
BKID0AG0830
VIBHAV NAGAR
VIBHUNAGAR FIROZBAD FIROZABAD PIN 283203 STD 05612, PIN283203
FIROZABAD
BARABANKI
UTTAR PRADESH
91
7317799361
BANK OF' INDIA
BKID0AG0828
TUNDLA
92, STATION RD TUNDLA , PIN283204
FIROZABAD
BARABANKI
UTTAR PRADESH
91
8173900204
BANK OF' INDIA
BKID0AG0827
OKHRA
AT,POSTOKHARA BLOCKNARKHI , PIN283204
FIROZABAD
FIROZABAD
UTTAR PRADESH
91
8173900203
BANK OF' INDIA
BKID0AG0826
JONDHARI
VILL.AND PJONDHARY BLOCK NARKHI , PIN283204
FIROZABAD
FIROZABAD
UTTAR PRADESH
91
8173900202
BANK OF' INDIA
BKID0AG0825
FIROZABAD MAIN
42, KNJAR HOUSE SHIVAJI MARG , PIN283203
FIROZABAD
FIROZABAD
UTTAR PRADESH
91
8173900201
BANK OF' INDIA
BKID0AG0824
FIROZABAD CITY
RATAN BIHAR, NEAR OM APARTMENT , PIN283203
FIROZABAD
FIROZABAD
UTTAR PRADESH
91
8173900205
BANK OF' INDIA
BKID0AG0823
URESAR
AT,POSTURESAR FIROZABAD , PIN205152
FIROZABAD
FIROZABAD
UTTAR PRADESH
91
7388600773
BANK OF' INDIA
BKID0AG0822
UKHREND
AT,POSTUKHREND FIROZABAD , PIN205142
FIROZABAD
FIROZABAD
UTTAR PRADESH
91
7388600772
BANK OF' INDIA
BKID0AG0821
TILIYANI
AT,POSTTILIYANI FIROZABAD , PIN205142
FIROZABAD
FIROZABAD
UTTAR PRADESH
91
7388600771
BANK OF' INDIA
BKID0AG0820
SOTHRA
AT,POSTSOTHRA FIROZABAD , PIN205151
FIROZABAD
FIROZABAD
UTTAR PRADESH
91
7388600770
BANK OF' INDIA
BKID0AG0819
SIRSAGANJ
SIRSAGANJ FIROZABAD , PIN205151
FIROZABAD
FIROZABAD
UTTAR PRADESH
91
7388600769
BANK OF' INDIA
BKID0AG0818
SHIKOHABAD
SHIKOHABAD FIROZABAD , PIN205135
FIROZABAD
FIROZABAD
UTTAR PRADESH
91
7388600768
BANK OF' INDIA
BKID0AG0817
RAJGARH
AT,POSTRAJGARH FIROZABAD , PIN205122
FIROZABAD
FIROZABAD
UTTAR PRADESH
91
7388600767
BANK OF' INDIA
BKID0AG0816
PHARIHA
AT,POSTPHARIHA FIROZABAD , PIN205145
FIROZABAD
FIROZABAD
UTTAR PRADESH
91
7388600766
BANK OF' INDIA
BKID0AG0815
PARHAM
AT,POSTPARHAM FIROZABAD , PIN205130
FIROZABAD
FIROZABAD
UTTAR PRADESH
91
7388600765
BANK OF' INDIA
BKID0AG0814
PAIGU
AT,POSTPAIGU FIROZABAD , PIN205151
FIROZABAD
FIROZABAD
UTTAR PRADESH
91
7388600764
BANK OF' INDIA
BKID0AG0813
NIZAMPUR GARUMA
AT,POSTNIZAMPURGARUMA FIROZABAD , PIN205135
FIROZABAD
FIROZABAD
UTTAR PRADESH
91
7388600763
BANK OF' INDIA
BKID0AG0812
NAGLA KHANGER
AT,POSTN KHANGER FIROZABAD , PIN205142
FIROZABAD
FIROZABAD
UTTAR PRADESH
91
7388600762
BANK OF' INDIA
BKID0AG0811
MUSTAFABAD
AT,POSTMUSTAFABAD FIROZABAD , PIN205130
FIROZABAD
FIROZABAD
UTTAR PRADESH
91
7388600761
BANK OF' INDIA
BKID0AG0810
MAKKHANPUR
AT,POSTMAKKHANPUR FIROZABAD , PIN205145
FIROZABAD
FIROZABAD
UTTAR PRADESH
91
7388600760
BANK OF' INDIA
BKID0AG0809
LABAUA
AT,POSTLABHAUA FIROZABAD , PIN205145
FIROZABAD
FIROZABAD
UTTAR PRADESH
91
7388600759
BANK OF' INDIA
BKID0AG0808
KHAIRGHAR
AT,POSTKHAIRGARH FIROZABAD , PIN205145
FIROZABAD
FIROZABAD
UTTAR PRADESH
91
7388600758
BANK OF' INDIA
BKID0AG0807
KESARI
AT,POSTKESRI FIROZABAD , PIN205130
FIROZABAD
FIROZABAD
UTTAR PRADESH
91
7388600757
BANK OF' INDIA
BKID0AG0806
JASRANA
AT,POSTJASRANA FIROZABAD , PIN215126
FIROZABAD
FIROZABAD
UTTAR PRADESH
91
7388600756
BANK OF' INDIA
BKID0AG0805
JAJUMAI
AT,POSTJAJUMAI FIROZABAD , PIN205145
FIROZABAD
FIROZABAD
UTTAR PRADESH
91
7388600755
BANK OF' INDIA
BKID0AG0804
HATHWANT
AT,POSTHATHWANT FIROZABAD , PIN205145
FIROZABAD
FIROZABAD
UTTAR PRADESH
91
7388600754
BANK OF' INDIA
BKID0AG0803
EKA
AT,POSTEKA FIROZABAD , PIN205152
FIROZABAD
FIROZABAD
UTTAR PRADESH
91
7388600753
BANK OF' INDIA
BKID0AG0802
DHATRI
AT,POSTDHATRI FIROZABAD , PIN205135
FIROZABAD
FIROZABAD
UTTAR PRADESH
91
7388600752
BANK OF' INDIA
BKID0AG0801
BADA BAZAR
SHIKOHABAD FIROZABAD , PIN205135
FIROZABAD
FIROZABAD
UTTAR PRADESH
91
7388600751
BANK OF' INDIA
BKID0AG0799
R.O. MAINPURI
DADA RAMAN ROAD, NEAR RAGHUVEER COLD STORAGE, MAINPURI , PIN CODE 205001
MAINPURI
FIROZABAD
UTTAR PRADESH
91
7388600798
BANK OF' INDIA
BKID0AG0744
SAUNG
AT,POSTSAUNJ, BLOCK KARHAL, TEHSIL KISHNI MAINPURI. , PIN205268
MAINPURI
FIROZABAD
UTTAR PRADESH
91
8765780036
BANK OF' INDIA
BKID0AG0743
PARTAPUR
AT,POST ARTAT,POST UR P BHOGAON MAINPURI PINCODE 206302 STD 05672, PIN205001
MAINPURI
FIROZABAD
UTTAR PRADESH
91
7317799377
BANK OF' INDIA
BKID0AG0742
NABIGANJ
AT,POSTNABI GANJ MAINPURI PIN CODE 205301STD 05673, PIN205001
MAINPURI
FIROZABAD
UTTAR PRADESH
91
7317799375
BANK OF' INDIA
BKID0AG0741
KOSMA MUSLEMEEN
AT POSTKOSMA MUSLEMEEN MAINPURI 205119 PIN 205001
MAINPURI
FIROZABAD
UTTAR PRADESH
91
7317799376
BANK OF' INDIA
BKID0AG0740
VYONTI KHURD
AT,POSTVYOTIKHURD MAINPURI , PIN205001
MAINPURI
FIROZABAD
UTTAR PRADESH
91
7388600740
BANK OF' INDIA
BKID0AG0739
STATION ROAD MAINPURI
MAINPURI, PIN205001
MAINPURI
FIROZABAD
UTTAR PRADESH
91
7388600739
BANK OF' INDIA
BKID0AG0738
SHAHJAHANPUR
GHIROR MAINPURI , PIN205121
MAINPURI
MAINPURI
UTTAR PRADESH
91
7388600738
BANK OF' INDIA
BKID0AG0737
SAHARA
AT,POSTSAHARA MAINPURI , PIN205267
MAINPURI
MAINPURI
UTTAR PRADESH
91
7388600737
BANK OF' INDIA
BKID0AG0736
RUI SINORA
AT,POSTRUESINORA MAINPURI , PIN205262
MAINPURI
MAINPURI
UTTAR PRADESH
91
7388600736
BANK OF' INDIA
BKID0AG0735
RATIBHANPUR
AT,POSTRATIBHANPUR MAINPURI , PIN205001
MAINPURI
MAINPURI
UTTAR PRADESH
91
7388600735
BANK OF' INDIA
BKID0AG0734
RATANPUR BARA
AT,POSTRATANPURBARA MAINPURI , PIN205120
MAINPURI
MAINPURI
UTTAR PRADESH
91
7388600734
BANK OF' INDIA
BKID0AG0733
RAMNAGER
AT,POSTRAMNAGAR MAINPURI , PIN206303
MAINPURI
MAINPURI
UTTAR PRADESH
91
7388600733
BANK OF' INDIA
BKID0AG0732
PARONKHA
AT,POSTNAGLA KEHRI MAINPURI , PIN205301
MAINPURI
MAINPURI
UTTAR PRADESH
91
7388600732
BANK OF' INDIA
BKID0AG0731
OUNCHA
AT,POSTAUNCHHA MAINPURI , PIN205263
MAINPURI
MAINPURI
UTTAR PRADESH
91
7388600731
BANK OF' INDIA
BKID0AG0730
NAWATHERA
AT,POSTNAWATERHA MAINPURI , PIN205261
MAINPURI
MAINPURI
UTTAR PRADESH
91
7388600730
BANK OF' INDIA
BKID0AG0729
NANAMAU
AT,POSTNANAMAU MAINPURI , PIN205265
MAINPURI
MAINPURI
UTTAR PRADESH
91
7388600729
BANK OF' INDIA
BKID0AG0728
MAINPURI
MAINPURI MAINPURI , PIN205001
MAINPURI
MAINPURI
UTTAR PRADESH
91
7388600728
BANK OF' INDIA
BKID0AG0727
MADHAN
AT,POSTMADHAN MAINPURI , PIN205263
MAINPURI
MAINPURI
UTTAR PRADESH
91
7388600727
BANK OF' INDIA
BKID0AG0726
LEKHRAJPUR
AT,POSTLEKHRAJPUR MAINPURI , PIN205120
MAINPURI
MAINPURI
UTTAR PRADESH
91
7388600726
BANK OF' INDIA
BKID0AG0725
KUSHMARA
AT,POSTKUSHMARA MAINPURI , PIN206303
MAINPURI
MAINPURI
UTTAR PRADESH
91
7388600725
BANK OF' INDIA
BKID0AG0724
KURRA
AT,POSTKURRA MAINPURI , PIN205268
MAINPURI
MAINPURI
UTTAR PRADESH
91
7388600724
BANK OF' INDIA
BKID0AG0723
KURAOLI
KURAOLI MAINPURI , PIN205265
MAINPURI
MAINPURI
UTTAR PRADESH
91
7388600723
BANK OF' INDIA
BKID0AG0722
KISHINI
KISHANI MAINPURI , PIN206302
MAINPURI
MAINPURI
UTTAR PRADESH
91
7388600722
BANK OF' INDIA
BKID0AG0721
KARHAL ROAD MAINPURI
MAINPURI MAINPURI , PIN205001
MAINPURI
MAINPURI
UTTAR PRADESH
91
7388600721
BANK OF' INDIA
BKID0AG0720
KARHAL
KARHAL MAINPURI , PIN205264
MAINPURI
MAINPURI
UTTAR PRADESH
91
7388600720
BANK OF' INDIA
BKID0AG0719
KALHORE
AT,POSTKALHORE MAINPURI , PIN205121
MAINPURI
MAINPURI
UTTAR PRADESH
91
7388600719
BANK OF' INDIA
BKID0AG0718
JASMAI
AT,POSTJASMAI MAINPURI , PIN209725
MAINPURI
MAINPURI
UTTAR PRADESH
91
7388600718
BANK OF' INDIA
BKID0AG0717
JAGATPUR
AT,POSTJAGATPUR MAINPURI , PIN205267
MAINPURI
MAINPURI
UTTAR PRADESH
91
7388600717
BANK OF' INDIA
BKID0AG0716
GHIROR
GHIROR MAINPURI , PIN205121
MAINPURI
MAINPURI
UTTAR PRADESH
91
7388600716
BANK OF' INDIA
BKID0AG0715
DIHULI
AT,POSTDEHULI MAINPURI , PIN205261
MAINPURI
MAINPURI
UTTAR PRADESH
91
7388600715
BANK OF' INDIA
BKID0AG0714
CHITAYAN
AT,POSTCHITAYAN MAINPURI , PIN206302
MAINPURI
MAINPURI
UTTAR PRADESH
91
7388600714
BANK OF' INDIA
BKID0AG0713
CHHACHHA
AT,POSTCHHACHHA MAINPURI , PIN205262
MAINPURI
MAINPURI
UTTAR PRADESH
91
7388600713
BANK OF' INDIA
BKID0AG0712
BICHHWAN
AT,POSTBICHHAWAN MAINPURI , PIN205267
MAINPURI
MAINPURI
UTTAR PRADESH
91
7388600712
BANK OF' INDIA
BKID0AG0711
BHONGAUN
BHOGAON MAINPURI , PIN205262
MAINPURI
MAINPURI
UTTAR PRADESH
91
7388600711
BANK OF' INDIA
BKID0AG0710
BHANWAT
AT,POSTBHANWAT MAINPURI , PIN205120
MAINPURI
MAINPURI
UTTAR PRADESH
91
7388600710
BANK OF' INDIA
BKID0AG0709
BEWAR
BEWAR MAINPURI , PIN206301
MAINPURI
MAINPURI
UTTAR PRADESH
91
7388600709
BANK OF' INDIA
BKID0AG0708
BEELON
VILL FARDPUR PO SULTANGANJ , PIN205267
MAINPURI
MAINPURI
UTTAR PRADESH
91
7388600708
BANK OF' INDIA
BKID0AG0707
BARNAHAL
AT,POSTBARNAHAL MAINPURI , PIN205261
MAINPURI
MAINPURI
UTTAR PRADESH
91
7388600707
BANK OF' INDIA
BKID0AG0706
ASROHI
AT,POSTASHROHI MAINPURI , PIN205264
MAINPURI
MAINPURI
UTTAR PRADESH
91
7388600706
BANK OF' INDIA
BKID0AG0705
ASHOKPUR
AT,POSTASHOKPUR MAINPURI , PIN205265
MAINPURI
MAINPURI
UTTAR PRADESH
91
7388600705
BANK OF' INDIA
BKID0AG0704
AONG
AT,POSTAONG MAINPURI , PIN205262
MAINPURI
MAINPURI
UTTAR PRADESH
91
7388600704
BANK OF' INDIA
BKID0AG0703
ALIPUR KHERA
AT,POSTALIPURKHERA MAINPURI , PIN205262
MAINPURI
MAINPURI
UTTAR PRADESH
91
7388600703
BANK OF' INDIA
BKID0AG0702
AJEETGANJ
AT,POSTAJEETGANJ MAINPURI , PIN205120
MAINPURI
MAINPURI
UTTAR PRADESH
91
7388600702
BANK OF' INDIA
BKID0AG0701
AGRA ROAD MAINPURI
AGRA RD MAINPURI , PIN205001
MAINPURI
MAINPURI
UTTAR PRADESH
91
7388600701
BANK OF' INDIA
BKID0AG0599
R.O. KANNUAJ
ARYAVART BHAWAN, TIRWA CROSSING, SARAIMEERAKANNAUJ , PIN CODE 209727
KANNAUJ
MAINPURI
UTTAR PRADESH
91
7388800598
BANK OF' INDIA
BKID0AG0548
MUGRA
VILL.MUGRA, POST MIRUAN MARHA, BLOCK UMARDA. , PIN209738
KANNAUJ
MAINPURI
UTTAR PRADESH
91
8147785120
BANK OF' INDIA
BKID0AG0547
BEHSORA
FINAL V BAHSORA P BASTAKANNAUJ PIN 209738
KANNAUJ
MAINPURI
UTTAR PRADESH
91
7317799369
BANK OF' INDIA
BKID0AG0546
FAGUHA
FINAL VFAGUHAPLOHAMARH BLOCK TEHSIL KANNAUJPIN 209727
KANNAUJ
MAINPURI
UTTAR PRADESH
91
7317799371
BANK OF' INDIA
BKID0AG0545
MALIKPUR
VILL. MALIKPUR POST SAMDHANKANNAUJ PIN 209722 STD 05691 , PIN209731
KANNAUJ
MAINPURI
UTTAR PRADESH
91
7317799370
BANK OF' INDIA
BKID0AG0544
UMARPUR
VILL. UMERPUR POST TALGRAM KANNAUJ.PIN 209731 STD 05691 , PIN209731
KANNAUJ
MAINPURI
UTTAR PRADESH
91
7317799368
BANK OF' INDIA
BKID0AG0543
BHUNNA
AT,POSTBHUNNA BLOCKUMARDA DISTT KANNAUJ209734 STD 05694 , PIN209734
KANNAUJ
KANNAUJ
UTTAR PRADESH
91
7317799373
BANK OF' INDIA
BKID0AG0542
SATAURA
AT,POST SATAURABLOCK JALALABAD KANNAUJ, 209733 STD 05691 , PIN209731
KANNAUJ
KANNAUJ
UTTAR PRADESH
91
7317799372
BANK OF' INDIA
BKID0AG0541
AMOLAR
GRAM AND POST AMOLAR KANNAUJ , PIN209731
KANNAUJ
KANNAUJ
UTTAR PRADESH
91
7388600541
BANK OF' INDIA
BKID0AG0540
AKBARPUR
GRAM AND POST AKBARPUR KANNAUJ , PIN209721
KANNAUJ
KANNAUJ
UTTAR PRADESH
91
7388600540
BANK OF' INDIA
BKID0AG0539
GOSAIDASPUR
AT,POSTGUGRAT,POST UR KANNAUJ , PIN209733
KANNAUJ
KANNAUJ
UTTAR PRADESH
91
7388600539
BANK OF' INDIA
BKID0AG0538
JALALABAD
GRAM AND POST JALALABAD KANNAUJ , PIN209733
KANNAUJ
KANNAUJ
UTTAR PRADESH
91
7388800538
BANK OF' INDIA
BKID0AG0537
SARAI PRAYAG
GRAM AND POST SARAI PRAYAG KANNAUJ , PIN209735
KANNAUJ
KANNAUJ
UTTAR PRADESH
91
7388800537
BANK OF' INDIA
BKID0AG0536
MAKRAND NAGAR
MAKRAND NAGAR NEAR RAIL STATION , PIN209726
KANNAUJ
KANAUJ
UTTAR PRADESH
91
7388800536
BANK OF' INDIA
BKID0AG0535
UMARDA
AT,POST UMARDA TEH KANNAUJ , PIN209738
KANNAUJ
KANAUJ
UTTAR PRADESH
91
7388800535
BANK OF' INDIA
BKID0AG0534
TIRWAGANJ
TIRWA APTIWARIGANJ , PIN209732
KANNAUJ
KANAUJ
UTTAR PRADESH
91
7388800534
BANK OF' INDIA
BKID0AG0533
TIRWA KHAS
DURGA NAGAR,TIRWA KHAS TIRWA , PIN209732
KANNAUJ
KANAUJ
UTTAR PRADESH
91
7388800533
BANK OF' INDIA
BKID0AG0532
THATHIA
JAINPUR THATHIA , PIN209734
KANNAUJ
KANAUJ
UTTAR PRADESH
91
7388800532
BANK OF' INDIA
BKID0AG0531
TERAJAKET
GRAM AND POST TERAJAKET KANNAUJ , PIN209735
KANNAUJ
KANAUJ
UTTAR PRADESH
91
7388800531
BANK OF' INDIA
BKID0AG0529
TALGRAM
GRAM AND POST TALGRAM KANNAUJ , PIN209731
KANNAUJ
KANAUJ
UTTAR PRADESH
91
7388800529
BANK OF' INDIA
BKID0AG0528
TAHPUR
GRAM AND POST TAHPUR KANNAUJ , PIN209731
KANNAUJ
KANAUJ
UTTAR PRADESH
91
7388800528
BANK OF' INDIA
BKID0AG0527
SIKANDARPUR
GRAM AND POST SIKANDERPUR KANNAUJ , PIN209729
KANNAUJ
KANAUJ
UTTAR PRADESH
91
7388800527
BANK OF' INDIA
BKID0AG0526
SARAIMEERA
NEAR TIRWA CROSSING SARAIMEERA , PIN209727
KANNAUJ
KANAUJ
UTTAR PRADESH
91
7388800526
BANK OF' INDIA
BKID0AG0525
SAMDHAN
GRAM AND POST SAMDHAN KANNAUJ , PIN209748
KANNAUJ
KANAUJ
UTTAR PRADESH
91
7388800525
BANK OF' INDIA
BKID0AG0524
SAKRAWA
AT,POSTSAKRAWA KANNAUJ , PIN209747
KANNAUJ
KANAUJ
UTTAR PRADESH
91
7388800524
BANK OF' INDIA
BKID0AG0522
PREMPUR
G.T.RD PREMPUR , PIN209721
KANNAUJ
KANAUJ
UTTAR PRADESH
91
7388800522
BANK OF' INDIA
BKID0AG0521
NAZRAPUR
GRAM AND POST NAZRAPUR KANNAUJ , PIN209727
KANNAUJ
KANAUJ
UTTAR PRADESH
91
7388800521
BANK OF' INDIA
BKID0AG0520
NADEMAU
GRAM AND POST NADEMAU CHHIBRAMAU , PIN209728
KANNAUJ
KANAUJ
UTTAR PRADESH
91
7388800520
BANK OF' INDIA
BKID0AG0519
NADSIYA
AT,POSTMATAULI NADSIYA , PIN209733
KANNAUJ
KANAUJ
UTTAR PRADESH
91
7388800519
BANK OF' INDIA
BKID0AG0517
MANIMAU
VILL MANIMAU POST SARAIMEERA , PIN209725
KANNAUJ
KANAUJ
UTTAR PRADESH
91
7388800517
BANK OF' INDIA
BKID0AG0516
MS CHHIBRAMAU
OPP. SHANKAR CINEMA CHHIBRAMAU , PIN209721
KANNAUJ
KANAUJ
UTTAR PRADESH
91
7388800516
BANK OF' INDIA
BKID0AG0515
KHAIRNAGAR
AT,POSTKHAIRNAGAR KANNAUJ , PIN209736
KANNAUJ
KANAUJ
UTTAR PRADESH
91
7388800515
BANK OF' INDIA
BKID0AG0514
KHADANI
GRAM AND POST KHADANI KANNAUJ , PIN209728
KANNAUJ
KANAUJ
UTTAR PRADESH
91
7388800514
BANK OF' INDIA
BKID0AG0513
KASAWA
CHHIBRAMAN TALGRAM RD KASAWA , PIN209721
KANNAUJ
KANAUJ
UTTAR PRADESH
91
7388800513
BANK OF' INDIA
BKID0AG0512
JASPURAPUR SARAIYA
AT,POSTJASPURAT,POST UR SARAIA KANNAUJ , PIN209727
KANNAUJ
KANAUJ
UTTAR PRADESH
91
7388800512
BANK OF' INDIA
BKID0AG0511
JALALPUR PANWARA
JALALPUR P.O.PANWARA , PIN209727
KANNAUJ
KANAUJ
UTTAR PRADESH
91
7388800511
BANK OF' INDIA
BKID0AG0509
INDERGARH
GRAM AND POST INDERGARH KANNAUJ , PIN209723
KANNAUJ
KANAUJ
UTTAR PRADESH
91
7388800509
BANK OF' INDIA
BKID0AG0508
HASERAN
AT,POST HASSERAN KANNAUJ , PIN209728
KANNAUJ
KANAUJ
UTTAR PRADESH
91
7388800508
BANK OF' INDIA
BKID0AG0507
GURSAHAIGANJ
TIRWA RD GURSAHAIGANJ , PIN209722
KANNAUJ
KANAUJ
UTTAR PRADESH
91
7388800507
BANK OF' INDIA
BKID0AG0506
JASODA
AT,POSTFATEHPUR JASODA KANNAUJ , PIN209733
KANNAUJ
KANAUJ
UTTAR PRADESH
91
7388800506
BANK OF' INDIA
BKID0AG0505
CHHIBRAMAU
NEAR KOTWALI CHHIBRAMAU , PIN209721
KANNAUJ
KANAUJ
UTTAR PRADESH
91
7388800505
BANK OF' INDIA
BKID0AG0504
BISHUNGARH
BISHUNGARH TEH.CHHIBRAMAU , PIN209720
KANNAUJ
KANAUJ
UTTAR PRADESH
91
7388800504
BANK OF' INDIA
BKID0AG0503
AUSER
AT,POSTAUSER TEH. KANNAUJ , PIN209736
KANNAUJ
KANAUJ
UTTAR PRADESH
91
7388800503
BANK OF' INDIA
BKID0AG0502
ALIPUR SAURIKH
ALIPUR TEH. CHHIBRAMAU , PIN209728
KANNAUJ
KANAUJ
UTTAR PRADESH
91
7388800502
BANK OF' INDIA
BKID0AG0501
AGAUS
AT,POSTAGAUS KANNAUJ , PIN209723
KANNAUJ
KANAUJ
UTTAR PRADESH
91
7388800501
BANK OF' INDIA
BKID0AG0500
KANNAUJ
MOHALLA JAFRI KANNAUJ , PIN209725
KANNAUJ
KANAUJ
UTTAR PRADESH
91
7388800500
BANK OF' INDIA
BKID0AG0460
RAJEPUR SARAIMEDA
VILL.RAJEPUR SARAIMEDA, POST JAHANGANJ, BLOCK KAMALGANJ, TEHSIL BARHPUR. , PIN209739
FARRUKHABAD
KANAUJ
UTTAR PRADESH
91
7007048189
BANK OF' INDIA
BKID0AG0459
BARAKESHAV
AT,POSTBARAKESHAV, BLOCK MOHAMMADABAD, TEHSIL SADAR. , PIN209651
FARRUKHABAD
KANAUJ
UTTAR PRADESH
91
7007048189
BANK OF' INDIA
BKID0AG0458
PILKHANA
AT,POST PILKHANA BLOCK NAWABGANJ, PIN209501
FARRUKHABAD
KANAUJ
UTTAR PRADESH
91
9621536689
BANK OF' INDIA
BKID0AG0457
BAHORIKPUR
AT, BAHORIKPUR PO JAHANGANJ JAHANGANJ FARRUKHABAD 209739, PIN209739
FARRUKHABAD
KANAUJ
UTTAR PRADESH
91
9795374757
BANK OF' INDIA
BKID0AG0456
RAIPUR KHAS
AT, RAIPUR KHAS,PO KAIMGANJ PIN 207502 STD 05690, PIN209505
FARRUKHABAD
KANAUJ
UTTAR PRADESH
91
7317799384
BANK OF' INDIA
BKID0AG0455
NASRATPUR NAUGAWAN
V NASRATPUR NAUGAWAN P KAYAMGANJ STD05690 PIN CODE 207502, PIN209724
FARRUKHABAD
FARRUKHABAD
UTTAR PRADESH
91
7317799383
BANK OF' INDIA
BKID0AG0454
BARARIK
VILL.BARARIK POST JYOTA , PIN209743
FARRUKHABAD
FARRUKHABAD
UTTAR PRADESH
91
9793800454
BANK OF' INDIA
BKID0AG0453
CHILSARA
AT,POSTCHILSARA FARRUKHABAD , PIN209745
FARRUKHABAD
FARRUKHABAD
UTTAR PRADESH
91
7388600453
BANK OF' INDIA
BKID0AG0452
SIWARA MUKUT
AT,POSTSIWARA KHAS FARRUKHABAD , PIN209505
FARRUKHABAD
FARRUKHABAD
UTTAR PRADESH
91
7388800452
BANK OF' INDIA
BKID0AG0451
SANKISA
AT,POSTSANKISA FARRUKHABAD , PIN209652
FARRUKHABAD
FARRUKHABAD
UTTAR PRADESH
91
7388800451
BANK OF' INDIA
BKID0AG0450
LINJIGANJ
LINJIGANJ FARRUKHABAD , PIN209625
FARRUKHABAD
FARRUKHABAD
UTTAR PRADESH
91
7388800450
BANK OF' INDIA
BKID0AG0449
HATHIYAPUR
AT,POSTBARAUN FARRUKHABAD , PIN209625
FARRUKHABAD
FARRUKHABAD
UTTAR PRADESH
91
7388800449
BANK OF' INDIA
BKID0AG0448
MAUDARWAJA
BAZARIA RD FARRUKHABAD , PIN209625
FARRUKHABAD
FARRUKHABAD
UTTAR PRADESH
91
7388800448
BANK OF' INDIA
BKID0AG0447
BHOLEPUR
NEAR BHOLEPUR RAILWAY STATION FARRUKHABAD , PIN209601
FARRUKHABAD
FARRUKHABAD
UTTAR PRADESH
91
7388800447
BANK OF' INDIA
BKID0AG0446
MANDI SAMITI KAIMGANJ
KRISHI UTPADAN MANDI SAMITI FARRUKHABAD , PIN209502
FARRUKHABAD
FARRUKHABAD
UTTAR PRADESH
91
7388800446
BANK OF' INDIA
BKID0AG0445
YAKOOTGANJ
AT,POSTYAKOOTGANJ FARRUKHABAD , PIN209749
FARRUKHABAD
FARRUKHABAD
UTTAR PRADESH
91
7388800445
BANK OF' INDIA
BKID0AG0444
TAJPUR
AT,POSTTAJPUR FARRUKHABAD , PIN209651
FARRUKHABAD
FARRUKHABAD
UTTAR PRADESH
91
7388800444
BANK OF' INDIA
BKID0AG0442
SIROLI
AT,POSTSIROLI FARRUKHABAD , PIN209651
FARRUKHABAD
FARRUKHABAD
UTTAR PRADESH
91
7388800442
BANK OF' INDIA
BKID0AG0441
SHUKRULLAHPUR
AT,POSTSHUKRULLAHPUR FARRUKHABAD , PIN209504
FARRUKHABAD
FARRUKHABAD
UTTAR PRADESH
91
7388800441
BANK OF' INDIA
BKID0AG0440
SHAMSABAD
AT,POSTSHAMSABAD FARRUKHABAD , PIN209503
FARRUKHABAD
FARRUKHABAD
UTTAR PRADESH
91
7388800440
BANK OF' INDIA
BKID0AG0439
SALEMPUR
AT,POSTBHARKHA FARRUKHABAD , PIN209601
FARRUKHABAD
FARRUKHABAD
UTTAR PRADESH
91
7388800439
BANK OF' INDIA
BKID0AG0438
RUNI CHURSAI
BR. POST SITAULI FARRUKHABAD , PIN209602
FARRUKHABAD
FARRUKHABAD
UTTAR PRADESH
91
7388800438
BANK OF' INDIA
BKID0AG0437
RUDAIN
AT,POSTRUDAIN FARRUKHABAD , PIN209505
FARRUKHABAD
FARRUKHABAD
UTTAR PRADESH
91
7388800437
BANK OF' INDIA
BKID0AG0436
ROSHANABAD
AT,POSTROSHANABAD FARRUKHABAD , PIN209745
FARRUKHABAD
FARRUKHABAD
UTTAR PRADESH
91
7388800436
BANK OF' INDIA
BKID0AG0435
RAJPUR
AT,POSTHARSINGHPUR FARRUKHABAD , PIN209622
FARRUKHABAD
FARRUKHABAD
UTTAR PRADESH
91
7388800435
BANK OF' INDIA
BKID0AG0434
RAJIPUR
AT,POSTRAJIPUR FARRUKHABAD , PIN209724
FARRUKHABAD
FARRUKHABAD
UTTAR PRADESH
91
7388800434
BANK OF' INDIA
BKID0AG0433
RAJEPUR
AT,POSTRAJEPUR FARRUKHABAD , PIN209739
FARRUKHABAD
FARRUKHABAD
UTTAR PRADESH
91
7388800433
BANK OF' INDIA
BKID0AG0432
RAJENDRA NAGAR
AT,POSTRAJENDRA NAGAR FARRUKHABAD , PIN209652
FARRUKHABAD
FARRUKHABAD
UTTAR PRADESH
91
7388800432
BANK OF' INDIA
BKID0AG0431
RAIPUR CHINGHATPUR
AT,POSTKAMPIL FARRUKHABAD , PIN209505
FARRUKHABAD
FARRUKHABAD
UTTAR PRADESH
91
7388800431
BANK OF' INDIA
BKID0AG0430
PIPERGAON
AT,POSTPIPERGAON FARRUKHABAD , PIN209625
FARRUKHABAD
FARRUKHABAD
UTTAR PRADESH
91
7388800430
BANK OF' INDIA
BKID0AG0429
NEEBKARORI
AT,POSTNEEBKARORI FARRUKHABAD , PIN209652
FARRUKHABAD
FARRUKHABAD
UTTAR PRADESH
91
7388800429
BANK OF' INDIA
BKID0AG0428
NAWABGANJ
AT,POSTNAWABGANJ FARRUKHABAD , PIN209501
FARRUKHABAD
FARRUKHABAD
UTTAR PRADESH
91
7388800428
BANK OF' INDIA
BKID0AG0427
NARAINPUR
AT,POSTCENTRAL JAIL FARRUKHABAD , PIN209602
FARRUKHABAD
FARRUKHABAD
UTTAR PRADESH
91
7388800427
BANK OF' INDIA
BKID0AG0426
MURHAS
AT,POSTJAITPUR FARRUKHABAD , PIN209602
FARRUKHABAD
FARRUKHABAD
UTTAR PRADESH
91
7388800426
BANK OF' INDIA
BKID0AG0425
MOHAMMADABAD
AT,POSTMOHAMMADABAD FARRUKHABAD , PIN209651
FARRUKHABAD
FARRUKHABAD
UTTAR PRADESH
91
7388800425
BANK OF' INDIA
BKID0AG0424
MERAPUR
AT,POSTMERAPUR FARRUKHABAD , PIN209652
FARRUKHABAD
FARRUKHABAD
UTTAR PRADESH
91
7388800424
BANK OF' INDIA
BKID0AG0423
MANJHANA
AT,POSTMANJHANA FARRUKHABAD , PIN209504
FARRUKHABAD
FARRUKHABAD
UTTAR PRADESH
91
7388800423
BANK OF' INDIA
BKID0AG0422
MADANPUR
AT,POSTMADANPUR FARRUKHABAD , PIN209743
FARRUKHABAD
FARRUKHABAD
UTTAR PRADESH
91
7388800422
BANK OF' INDIA
BKID0AG0421
KUTRA
AT,POSTDISTT. JAIL FARRUKHABAD , PIN209601
FARRUKHABAD
FARRUKHABAD
UTTAR PRADESH
91
7388800421
BANK OF' INDIA
BKID0AG0420
KISROLI
AT,POSTKISROLI FARRUKHABAD , PIN209503
FARRUKHABAD
FARRUKHABAD
UTTAR PRADESH
91
7388800420
BANK OF' INDIA
BKID0AG0419
KHUDAGANJ
AT,POSTKHUDAGANJ FARRUKHABAD , PIN209724
FARRUKHABAD
FARRUKHABAD
UTTAR PRADESH
91
7388800419
BANK OF' INDIA
BKID0AG0418
KHIMSEPUR
AT,POSTKHIMSEPUR FARRUKHABAD , PIN209743
FARRUKHABAD
FARRUKHABAD
UTTAR PRADESH
91
7388800418
BANK OF' INDIA
BKID0AG0417
KAMALGANJ
AT,POSTKAMALGANJ FARRUKHABAD , PIN209724
FARRUKHABAD
FARRUKHABAD
UTTAR PRADESH
91
7388800417
BANK OF' INDIA
BKID0AG0416
KAIMGANJ
AT,POSTKAIMGANJ FARRUKHABAD , PIN209502
FARRUKHABAD
FARRUKHABAD
UTTAR PRADESH
91
7388800416
BANK OF' INDIA
BKID0AG0415
JARARI
AT,POSTJARAI FARRUKHABAD , PIN209739
FARRUKHABAD
FARRUKHABAD
UTTAR PRADESH
91
7388800415
BANK OF' INDIA
BKID0AG0414
JAHANGANJ
AT,POSTJAHANGANJ FARRUKHABAD , PIN209739
FARRUKHABAD
FARRUKHABAD
UTTAR PRADESH
91
7388800414
BANK OF' INDIA
BKID0AG0413
GHATIYAGHAT
AT,POSTGHATIYAGHAT FARRUKHABAD , PIN209601
FARRUKHABAD
FARRUKHABAD
UTTAR PRADESH
91
7388800413
BANK OF' INDIA
BKID0AG0412
GANDHI
AT,POSTGANDHI FARRUKHABAD , PIN209621
FARRUKHABAD
FARRUKHABAD
UTTAR PRADESH
91
7388800412
BANK OF' INDIA
BKID0AG0411
FATEHGARH
MOHALLA JAFARI FARRUKHABAD , PIN209601
FARRUKHABAD
FARRUKHABAD
UTTAR PRADESH
91
7388800411
BANK OF' INDIA
BKID0AG0410
FAIZBAGH
AT,POSTKUIYAN KHERA FARRUKHABAD , PIN209503
FARRUKHABAD
FARRUKHABAD
UTTAR PRADESH
91
7388800410
BANK OF' INDIA
BKID0AG0409
DHEERPUR
AT,POSTDHEERPUR FARRUKHABAD , PIN209743
FARRUKHABAD
FARRUKHABAD
UTTAR PRADESH
91
7388800409
BANK OF' INDIA
BKID0AG0408
CHAURASIYA MAJHOLA
AT,POSTKHINMINI FARRUKHABAD , PIN209504
FARRUKHABAD
FARRUKHABAD
UTTAR PRADESH
91
7388800408
BANK OF' INDIA
BKID0AG0407
BIRAHIMPUR JAGIR
BIRAHIMPUR BR. POST PAITHAN , PIN209502
FARRUKHABAD
FARRUKHABAD
UTTAR PRADESH
91
7388800407
BANK OF' INDIA
BKID0AG0405
BARJHALA
AT,POSTBARJHALA FARRUKHABAD , PIN209502
FARRUKHABAD
FARRUKHABAD
UTTAR PRADESH
91
7388800405
BANK OF' INDIA
BKID0AG0404
AMRITPUR
AT,POSTAMRITPUR FARRUKHABAD , PIN209622
FARRUKHABAD
FARRUKHABAD
UTTAR PRADESH
91
7388800404
BANK OF' INDIA
BKID0AG0403
ACHARA KHALWARA
AT,POSTKHALWARA FARRUKHABAD , PIN209501
FARRUKHABAD
FARRUKHABAD
UTTAR PRADESH
91
7388800403
BANK OF' INDIA
BKID0AG0402
AWAS VIKAS
AWAS VIKAS LOHIYAPURM FARRUKHABAD , PIN209625
FARRUKHABAD
FARRUKHABAD
UTTAR PRADESH
91
7388800402
BANK OF' INDIA
BKID0AG0401
R.O. FARRUKHABAD
ARYAVART BHAWAN, AWAS VIKAS, LOHIYAPURAM, FARRUKHABAD , PIN CODE 209601
FARRUKHABAD
FARRUKHABAD
UTTAR PRADESH
91
7388800498
BANK OF' INDIA
BKID0AG0400
FARRUKHABAD
NAYA KOTA PARCHA209625, PIN209625
FARRUKHABAD
FARRUKHABAD
UTTAR PRADESH
91
7388800400
BANK OF' INDIA
BKID0AG0399
TEERGAON
AT POST TEERGAON TAHSIL NAWABGANJ BARABANKI PIN 225122
BARABANKI
FARRUKHABAD
UTTAR PRADESH
91
8896870096
BANK OF' INDIA
BKID0AG0398
TIKRA
V TIKRAP KHEWRAJPUR BARABANKI 225416STD 05241, PIN225416
BARABANKI
FARRUKHABAD
UTTAR PRADESH
91
7317799343
BANK OF' INDIA
BKID0AG0397
MUSHKABAD
VILL MUSHKABAD BARABANKI , PIN225206
BARABANKI
FARRUKHABAD
UTTAR PRADESH
91
7388600402
BANK OF' INDIA
BKID0AG0396
CHHEDA
VILL CHHEDA BARABANKI , PIN225305
BARABANKI
FARRUKHABAD
UTTAR PRADESH
91
7388600401
BANK OF' INDIA
BKID0AG0395
YAKOOTGANJ
VILL YAKOOTGANJ POST YAKOOTGANJ , PIN225412
BARABANKI
BARABANKI
UTTAR PRADESH
91
8400700395
BANK OF' INDIA
BKID0AG0394
MEHMOODABAD
VILL MEHMOODABAD BARABANKI , PIN225412
BARABANKI
BARABANKI
UTTAR PRADESH
91
8400700394
BANK OF' INDIA
BKID0AG0393
ZAIDPUR
VILL ZAIDPUR POST ZAIDPUR BARABANKI , PIN225414
BARABANKI
BARA BANKI
UTTAR PRADESH
91
7388800393
BANK OF' INDIA
BKID0AG0392
TRIVEDIGANJ
AT,POSTTRIVEDIGANJ BARABANKI , PIN227131
LUCKNOW
BARA BANKI
UTTAR PRADESH
91
7388800392
BANK OF' INDIA
BKID0AG0391
TINDOLA
AT,POST TINDOLA BARABANKI , PIN225003
LUCKNOW
BARA BANKI
UTTAR PRADESH
91
7388800391
BANK OF' INDIA
BKID0AG0390
TERAKALAN
AT,POSTTERAKALAN , PIN225301
LUCKNOW
BARA BANKI
UTTAR PRADESH
91
7388800390
BANK OF' INDIA
BKID0AG0389
SURATGANJ
VILL. SURATGANJ P.O. SURATGANJ , PIN225304
BARABANKI
BARA BANKI
UTTAR PRADESH
91
7388800389
BANK OF' INDIA
BKID0AG0388
SUNDHIAMAU
VILL. SUNDHIAMAU P.O. SUNDHIAMAU , PIN225304
BARABANKI
BARA BANKI
UTTAR PRADESH
91
7388800388
BANK OF' INDIA
BKID0AG0387
SUBEHA
AT,POSTSUBEHA BARABANKI , PIN227302
LUCKNOW
BARA BANKI
UTTAR PRADESH
91
7388800387
BANK OF' INDIA
BKID0AG0386
SHAHPURGWARI
VILL SHAHPUR GWARI P.O. GWARI , PIN225301
LUCKNOW
BARABANKI
UTTAR PRADESH
91
7388800386
BANK OF' INDIA
BKID0AG0385
SATRIKH
VILLSATRIKH P.ONAWABGANJ , PIN225122
BARABANKI
BARA BANKI
UTTAR PRADESH
91
7388800385
BANK OF' INDIA
BKID0AG0384
SARSAWAN
AT,POSTSARSAWAN BARABANKI , PIN225305
LUCKNOW
BARA BANKI
UTTAR PRADESH
91
7388800384
BANK OF' INDIA
BKID0AG0383
SADRUDDEENPUR
VILLSADRUDDEENPUR PO KABOOLPUR , PIN227131
LUCKNOW
BARA BANKI
UTTAR PRADESH
91
7388800383
BANK OF' INDIA
BKID0AG0382
REEWANSEEWAN
VILL REEWAN SEEWAN POKATURIKALAN , PIN225306
LUCKNOW
BARA BANKI
UTTAR PRADESH
91
7388800382
BANK OF' INDIA
BKID0AG0381
POKHARA
AT,POSTPOKHARA BARABANKI , PIN227131
LUCKNOW
BARA BANKI
UTTAR PRADESH
91
7388800381
BANK OF' INDIA
BKID0AG0380
PEEDH
AT,POSTPEEDH BARABANKI , PIN225301
LUCKNOW
BARA BANKI
UTTAR PRADESH
91
7388800380
BANK OF' INDIA
BKID0AG0379
MOHD PUR KHALA
AT,POSTMOHD. PUR KHALA BARABANKI , PIN225303
BARABANKI
BARA BANKI
UTTAR PRADESH
91
7388800379
BANK OF' INDIA
BKID0AG0378
MOHD PUR BISHUNPUR
AT,POSTBISHUNPUR BARABANKI , PIN225301
LUCKNOW
BARA BANKI
UTTAR PRADESH
91
7388800378
BANK OF' INDIA
BKID0AG0377
MITTAI
AT,POSTMITTAI BARABANKI , PIN225301
LUCKNOW
BARA BANKI
UTTAR PRADESH
91
7388800377
BANK OF' INDIA
BKID0AG0376
MATI
VILL MATI P.O. TINDOLA , PIN225301
LUCKNOW
BARA BANKI
UTTAR PRADESH
91
7388800376
BANK OF' INDIA
BKID0AG0375
MAJHGAWAN SHARIF
AT,POSTMAJHGAWANSHARIF BARABANKI , PIN225305
LUCKNOW
BARA BANKI
UTTAR PRADESH
91
7388800375
BANK OF' INDIA
BKID0AG0374
MAHADEWA
VILL. MAHADEWA P.O. LODAUHRA , PIN225304
BARABANKI
BARA BANKI
UTTAR PRADESH
91
7388800374
BANK OF' INDIA
BKID0AG0373
KURSI
AT,POSTKURSI BARABANKI , PIN225302
LUCKNOW
BARA BANKI
UTTAR PRADESH
91
7388800373
BANK OF' INDIA
BKID0AG0372
KOLA
VILLKOLA P.ONAWABGANJ , PIN225414
BARABANKI
BARA BANKI
UTTAR PRADESH
91
7388800372
BANK OF' INDIA
BKID0AG0371
KHINJHNA
AT,POSTKHINJHANA BARABANKI , PIN225306
LUCKNOW
BARA BANKI
UTTAR PRADESH
91
7388800371
BANK OF' INDIA
BKID0AG0370
KHAIRAKANKOO
AT,POSTKHIRAKANKOO LUCKNOW , PIN227131
LUCKNOW
BARA BANKI
UTTAR PRADESH
91
7388800370
BANK OF' INDIA
BKID0AG0369
KANHIPUR
VILL KANHIPUR SHAHPUR MANODHARPUR , PIN227131
LUCKNOW
BARA BANKI
UTTAR PRADESH
91
7388800369
BANK OF' INDIA
BKID0AG0368
KAMELA
AT,POSTKAMELA BARABANKI , PIN227301
LUCKNOW
BARA BANKI
UTTAR PRADESH
91
7388800368
BANK OF' INDIA
BKID0AG0367
IBRAHIMABAD
VILLIBRAHIMABAD P.O.NAWABGANJ , PIN225121
BARABANKI
BARA BANKI
UTTAR PRADESH
91
7388800367
BANK OF' INDIA
BKID0AG0366
HARAK
VILLHARAKH P.ONAWABGANJ , PIN225121
BARABANKI
BARA BANKI
UTTAR PRADESH
91
7388800366
BANK OF' INDIA
BKID0AG0365
HAIDERGARH
AT,POSTHAIDERGARH BARABANKI , PIN227301
LUCKNOW
BARA BANKI
UTTAR PRADESH
91
7388800365
BANK OF' INDIA
BKID0AG0364
GHUNGHTER
VILLGHUNGHTER P.O.BABAGANJ , PIN225302
LUCKNOW
BARA BANKI
UTTAR PRADESH
91
7388800364
BANK OF' INDIA
BKID0AG0363
FTP BUS STAND
AT,POSTFATEHPUR TEHSIL BARABANKI , PIN225305
LUCKNOW
BARA BANKI
UTTAR PRADESH
91
7388800363
BANK OF' INDIA
BKID0AG0362
FATEHPUR
AT,POSTFATEHPUR BARABANKI , PIN225305
LUCKNOW
BARA BANKI
UTTAR PRADESH
91
7388800362
BANK OF' INDIA
BKID0AG0361
DEWA
AT,POSTDEWA BARABANKI BARABANKI , PIN227301
LUCKNOW
BARA BANKI
UTTAR PRADESH
91
7388800361
BANK OF' INDIA
BKID0AG0360
CHAUBISI
AT,POSTCHAUBISI BARABANKI , PIN227301
LUCKNOW
BARA BANKI
UTTAR PRADESH
91
7388800360
BANK OF' INDIA
BKID0AG0359
BHILWAL
VILL BHILWAL P.O.GARHI , PIN227131
LUCKNOW
BARA BANKI
UTTAR PRADESH
91
7388800359
BANK OF' INDIA
BKID0AG0358
BHANMAU
VILL BHANMAU BARABANKI , PIN225121
BARABANKI
BARA BANKI
UTTAR PRADESH
91
7388800358
BANK OF' INDIA
BKID0AG0357
BHAGAULI
AT,POSTBAGAULI BARABANKI , PIN225306
LUCKNOW
BARA BANKI
UTTAR PRADESH
91
7388800357
BANK OF' INDIA
BKID0AG0356
BELHARA
AT,POSTBELHARA BARABANKI , PIN225305
LUCKNOW
BARA BANKI
UTTAR PRADESH
91
7388800356
BANK OF' INDIA
BKID0AG0355
BADDOOPUR
AT,POSTBADDOOPUR BARABANKI , PIN225306
LUCKNOW
BARA BANKI
UTTAR PRADESH
91
7388800355
BANK OF' INDIA
BKID0AG0354
ANWARI
BEHTA BAZAR P.O. BEHTA LUCKNOW , PIN225302
LUCKNOW
BARA BANKI
UTTAR PRADESH
91
7388800354
BANK OF' INDIA
BKID0AG0353
UMAPUR
VILL. UMAPUR P.O. UMAPUR , PIN225406
BARABANKI
BARA BANKI
UTTAR PRADESH
91
7388800353
BANK OF' INDIA
BKID0AG0352
UDHAULI
VILL. UDHAULI P.O. UDHAULI , PIN225405
BARABANKI
BARA BANKI
UTTAR PRADESH
91
7388800352
BANK OF' INDIA
BKID0AG0351
TILOKPUR
VILL. TILOKPUR P.O. TILOKPUR , PIN225208
BARABANKI
BARA BANKI
UTTAR PRADESH
91
7388800351
BANK OF' INDIA
BKID0AG0350
SURWARI
VILL. SURWARI P.O. SIRAULI , PIN225205
BARABANKI
BARA BANKI
UTTAR PRADESH
91
7388800350
BANK OF' INDIA
BKID0AG0349
SURAJPUR
VILL. SURAJPUR P.O. DEVIGANJ , PIN225409
BARABANKI
FAIZABAD
UTTAR PRADESH
91
7388800349
BANK OF' INDIA
BKID0AG0348
SUKHIPUR
VILL. SUKHIPUR P.O. SUKHIPUR , PIN225411
BARABANKI
BARA BANKI
UTTAR PRADESH
91
7388800348
BANK OF' INDIA
BKID0AG0347
SIDDHAUR
VILL. SIDDHAUR P.O. SIDDHAUR , PIN225413
BARABANKI
BARA BANKI
UTTAR PRADESH
91
7388800347
BANK OF' INDIA
BKID0AG0346
SHUJAGANJ
VILL. SHUJAGANJ P.O. SHUJAGANJ , PIN225409
BARABANKI
BARA BANKI
UTTAR PRADESH
91
7388800346
BANK OF' INDIA
BKID0AG0345
SHAHABPUR
VILL. SHAHABPUR P.O. SHAHABPUR , PIN225001
BARABANKI
BARA BANKI
UTTAR PRADESH
91
7388800345
BANK OF' INDIA
BKID0AG0344
SEEMRAWAN
VILL. SEEMRAWAN P.O. SEEMRAWAN , PIN225119
BARABANKI
BARA BANKI
UTTAR PRADESH
91
7388800344
BANK OF' INDIA
BKID0AG0343
SARAI BARAI
AT,POSTSARAI BARAI BARABANKI , PIN225406
BARABANKI
BARA BANKI
UTTAR PRADESH
91
7388800343
BANK OF' INDIA
BKID0AG0342
SAIDPUR
VILL. SAIDPUR P.O. SAIDPUR , PIN225411
BARABANKI
FAIZABAD
UTTAR PRADESH
91
7388800342
BANK OF' INDIA
BKID0AG0341
SAIDANPUR
VILL. SAIDANPUR P.O. SAIDANPUR , PIN225412
BARABANKI
BARA BANKI
UTTAR PRADESH
91
7388800341
BANK OF' INDIA
BKID0AG0340
SAID KHANPUR
AT,POSTSAID KHANPUR BARABANKI , PIN225207
BARABANKI
BARA BANKI
UTTAR PRADESH
91
7388800340
BANK OF' INDIA
BKID0AG0339
SADRUDDINPUR TERA
VILL. SADRUDDINPUR TERA P.O.TERA , PIN225204
BARABANKI
BARA BANKI
UTTAR PRADESH
91
7388800339
BANK OF' INDIA
BKID0AG0338
RUDAULI
VILL. RUDAULI P.O. RUDAULI , PIN225411
BARABANKI
FAIZABAD
UTTAR PRADESH
91
7388800338
BANK OF' INDIA
BKID0AG0337
RANI KATRA
VILL. RANI KATRA P.O. RANI KATRA , PIN225415
BARABANKI
BARA BANKI
UTTAR PRADESH
91
7388800337
BANK OF' INDIA
BKID0AG0336
RANI GANJ
VILL. RANI GANJ P.O. SAFDARGANJ , PIN225412
BARABANKI
BARA BANKI
UTTAR PRADESH
91
7388800336
BANK OF' INDIA
BKID0AG0335
RAM NAGAR
VILL. RAM NAGAR P.O. RAM NAGAR BARABANKI , PIN225205
BARABANKI
BARA BANKI
UTTAR PRADESH
91
7388800335
BANK OF' INDIA
BKID0AG0334
PATRANGA MANDI
AT,POSTPATRANGA MANDI FAIZABAD , PIN225408
BARABANKI
FAIZABAD
UTTAR PRADESH
91
7388800334
BANK OF' INDIA
BKID0AG0333
PALHARI
VILL. PALHARI P.O. PALHARI BARABANKI , PIN225412
BARABANKI
BARA BANKI
UTTAR PRADESH
91
7388800333
BANK OF' INDIA
BKID0AG0332
NEORA
VILL. NEORA P.O. NEORA FAIZABAD , PIN225406
BARABANKI
BARA BANKI
UTTAR PRADESH
91
7388800332
BANK OF' INDIA
BKID0AG0331
NEOLA KARSANDA
AT,POSTNEOLA KARSANDA BARABANKI , PIN225204
BARABANKI
BARA BANKI
UTTAR PRADESH
91
7388800331
BANK OF' INDIA
BKID0AG0330
NAKA PAISAR
FAIZABAD RD, PAISAR CIVILLINES DEWA RD , PIN225001
BARABANKI
FAIZABAD
UTTAR PRADESH
91
7388800330
BANK OF' INDIA
BKID0AG0329
MOTIK PUR
VILL. MOTIK PUR P.O. MOTIK PUR , PIN225416
BARABANKI
BARA BANKI
UTTAR PRADESH
91
7388800329
BANK OF' INDIA
BKID0AG0328
MEERMAU
VILL. MEERMAU P.O. MEERMAU , PIN225407
BARABANKI
FAIZABAD
UTTAR PRADESH
91
7388800328
BANK OF' INDIA
BKID0AG0327
MAWAI
VILL. MAWAI P.O. MAWAI , PIN225406
BARABANKI
BARA BANKI
UTTAR PRADESH
91
7388800327
BANK OF' INDIA
BKID0AG0326
MAU
VILL. MAU P.O. GAURPUR , PIN225409
BARABANKI
BARA BANKI
UTTAR PRADESH
91
7388800326
BANK OF' INDIA
BKID0AG0325
MASAULI
VILL. MASAULI P.O. MASAULI , PIN225204
BARABANKI
BARA BANKI
UTTAR PRADESH
91
7388800325
BANK OF' INDIA
BKID0AG0324
KOTWA SARAK
VILL. KOTWA SARAK P.O. HATAUNDHA , PIN225405
BARABANKI
FAIZABAD
UTTAR PRADESH
91
7388800324
BANK OF' INDIA
BKID0AG0323
KOTHI USMANPUR
VILL. KOTHI P.O. KOTHI , PIN225119
BARABANKI
FAIZABAD
UTTAR PRADESH
91
7388800323
BANK OF' INDIA
BKID0AG0322
KHUTAULI
VILL. KHUTAULI P.O. KHUTAULI , PIN225401
BARABANKI
BARA BANKI
UTTAR PRADESH
91
7388800322
BANK OF' INDIA
BKID0AG0321
KHAJURI
VILL. KHAJURI P.O. KHAJURI , PIN225207
BARABANKI
BARA BANKI
UTTAR PRADESH
91
7388800321
BANK OF' INDIA
BKID0AG0320
KASBA ICHAULI
AT,POSTKASBA ICHAULI BARABANKI , PIN225415
BARABANKI
BARA BANKI
UTTAR PRADESH
91
7388800320
BANK OF' INDIA
BKID0AG0319
JAHANGIRABAD
AT,POSTJAHANGIRABAD BARABANKI , PIN225203
BARABANKI
BARA BANKI
UTTAR PRADESH
91
7388800319
BANK OF' INDIA
BKID0AG0318
GADIA
VILL. GADIA P.O. GADIA , PIN225003
BARABANKI
BARA BANKI
UTTAR PRADESH
91
7388800318
BANK OF' INDIA
BKID0AG0317
DILWAL
VILL. DILWAL P.O. DILWAL , PIN225408
BARABANKI
BARA BANKI
UTTAR PRADESH
91
7388800317
BANK OF' INDIA
BKID0AG0316
DARIYABAD
VILL. DARIYABAD P.O. DARIYABAD , PIN225403
BARABANKI
BARA BANKI
UTTAR PRADESH
91
7388800316
BANK OF' INDIA
BKID0AG0315
DADRA
VILL. DADRA P.O. DADRA , PIN225412
BARABANKI
BARA BANKI
UTTAR PRADESH
91
7388800315
BANK OF' INDIA
BKID0AG0314
CHANDAULI ROAD
930, KRISHNA BHAWAN CIVIL LINES , PIN225001
BARABANKI
BARA BANKI
UTTAR PRADESH
91
7388800314
BANK OF' INDIA
BKID0AG0313
BILAKHIA
VILL. BILAKHIA P.O. BILAKHIA , PIN225208
BARABANKI
FAIZABAD
UTTAR PRADESH
91
7388800313
BANK OF' INDIA
BKID0AG0312
BIBIPUR
VILL. BIBIPUR P.O. BIBIPUR , PIN225120
BARABANKI
BARA BANKI
UTTAR PRADESH
91
7388800312
BANK OF' INDIA
BKID0AG0311
BHITARIA
VILL. BHITARIA P.O. R.S.GHAT , PIN225409
BARABANKI
BARA BANKI
UTTAR PRADESH
91
7388800311
BANK OF' INDIA
BKID0AG0310
BHAYARA
VILL. BHAYARA P.O. BHAYARA , PIN225204
BARABANKI
BARA BANKI
UTTAR PRADESH
91
7388800310
BANK OF' INDIA
BKID0AG0309
BARAULI├╜ JATA
AT,POST JATA , PIN225003
BARABANKI
BARA BANKI
UTTAR PRADESH
91
7388800309
BANK OF' INDIA
BKID0AG0308
BADOSARAI
VILL. BADOSARAI P.O. BADOSARAI , PIN225205
BARABANKI
BARA BANKI
UTTAR PRADESH
91
7388800308
BANK OF' INDIA
BKID0AG0307
ASANDRA
VILL. ASANDRA P.O. ASANDRA , PIN225416
BARABANKI
BARA BANKI
UTTAR PRADESH
91
7388800307
BANK OF' INDIA
BKID0AG0306
ANOOPGANJ
VILL. ANOOPGANJ P.O. SAADATGANJ , PIN225206
BARABANKI
BARA BANKI
UTTAR PRADESH
91
7388800306
BANK OF' INDIA
BKID0AG0305
ALIABAD
VILL. ALIABAD P.O. ALIABAD , PIN225401
BARABANKI
BARA BANKI
UTTAR PRADESH
91
7388800305
BANK OF' INDIA
BKID0AG0304
AIHAR
VILL. AIHAR P.O. AIHAR , PIN225411
BARABANKI
BARA BANKI
UTTAR PRADESH
91
7388800304
BANK OF' INDIA
BKID0AG0303
AHMADPUR NEOCHHANA
VILL. AHMADPUR P.O. AHMADPUR , PIN225405
BARABANKI
BARA BANKI
UTTAR PRADESH
91
7388800303
BANK OF' INDIA
BKID0AG0301
R.O. BARABANKI
C-930 & 931, KRISHNA BHAWAN CIVIL LINES, DEWA ROAD , PIN CODE 225001
BARABANKI
BARA BANKI
UTTAR PRADESH
91
7388800398
BANK OF' INDIA
BKID0AG0300
BARABANKI
SANT SADAN, DHANOKHAR CHAURAHA DEWA RD , PIN225001
BARABANKI
FAIZABAD
UTTAR PRADESH
91
7388800300
BANK OF' INDIA
BKID0AG0299
R.O. HARODI
GANGA NAGAR COLONY, CIRCULAR ROAD, HARDOI , PIN CODE 241001
HARDOI
BARA BANKI
UTTAR PRADESH
91
7388800298
BANK OF' INDIA
BKID0AG0269
PARIHAWAN
AT,PARIHAWAN PO TERIA HARDOI 241204 STD CODE 05854, PIN241204
HARDOI
BARA BANKI
UTTAR PRADESH
91
7376184459
BANK OF' INDIA
BKID0AG0268
VASIT NAGAR
AT,POSTVASITNAGAR HARDOI 241124 STD CODE 05853 , PIN241124
HARDOI
HARDOI
UTTAR PRADESH
91
7317799385
BANK OF' INDIA
BKID0AG0267
BHAINGAON
VBHAINGAON P KALYANMAL HARDOI PIN 241304 STD 05854 , PIN241304
HARDOI
HARDOI
UTTAR PRADESH
91
7317799388
BANK OF' INDIA
BKID0AG0266
BHADEVRA
AT,POST BHADEURA HARDOI 241405 STD 05852 , PIN241405
HARDOI
HARDOI
UTTAR PRADESH
91
7317799389
BANK OF' INDIA
BKID0AG0265
KHAJOHNA
AT,POSTKHAJOHNAHARDOI 241305 STD 05854 , PIN241305
HARDOI
HARDOI
UTTAR PRADESH
91
7317799387
BANK OF' INDIA
BKID0AG0264
PAHUTERA
AT,POSTPAHUTERA HARDOI 241302 STD 05851, PIN241302
HARDOI
HARDOI
UTTAR PRADESH
91
7317799386
BANK OF' INDIA
BKID0AG0263
JANIGAON
AT,POSTJANIGAON HARDOI , PIN241203
HARDOI
HARDOI
UTTAR PRADESH
91
8756700263
BANK OF' INDIA
BKID0AG0262
MIRGAWAN
AT,POSTPITHANPUR HARDOI , PIN241402
HARDOI
HARDOI
UTTAR PRADESH
91
8756700262
BANK OF' INDIA
BKID0AG0261
DSCL ROOPAPUR
DSCL SUGAR FACTORY ROOPAPUR , PIN241123
HARDOI
HARDOI
UTTAR PRADESH
91
7388600261
BANK OF' INDIA
BKID0AG0260
PIHANI CHUNGI
PIHANI CHUNGI HARDOI , PIN241001
HARDOI
HARDOI
UTTAR PRADESH
91
7388600260
BANK OF' INDIA
BKID0AG0259
LONAR
AT,POST LONAR HARDOI , PIN241401
HARDOI
HARDOI
UTTAR PRADESH
91
7388600259
BANK OF' INDIA
BKID0AG0258
JAHANIKHERA
N.H. 24 JAHANI KHERA , PIN241407
HARDOI
HARDOI
UTTAR PRADESH
91
7388600258
BANK OF' INDIA
BKID0AG0257
SITAPUR ROAD
MOHILIYA SHIVPAR, SITAPUR RD , PIN241001
HARDOI
HARDOI
UTTAR PRADESH
91
7388600257
BANK OF' INDIA
BKID0AG0256
GOPAMAU
AT,POST GOPAMAU HARDOI , PIN241404
HARDOI
HARDOI
UTTAR PRADESH
91
7388600256
BANK OF' INDIA
BKID0AG0255
UDHRANPUR
AT,POST UDHARAN PUR HARDOI , PIN241124
HARDOI
HARDOI
UTTAR PRADESH
91
7388800255
BANK OF' INDIA
BKID0AG0254
TODARPUR
AT,POST TODARPUR HARDOI , PIN241125
HARDOI
HARDOI
UTTAR PRADESH
91
7388800254
BANK OF' INDIA
BKID0AG0253
TANDIYAWAN
AT,POSTTANDIYAWAN HARDOI , PIN241404
HARDOI
HARDOI
UTTAR PRADESH
91
7388800253
BANK OF' INDIA
BKID0AG0252
SURSA
AT,POST SURSA HARDOI , PIN241001
HARDOI
HARDOI
UTTAR PRADESH
91
7388800252
BANK OF' INDIA
BKID0AG0251
SHIROMAN NAGAR
AT,POST SHROMAN NAGAR HARDOI , PIN241124
HARDOI
HARDOI
UTTAR PRADESH
91
7388800251
BANK OF' INDIA
BKID0AG0250
SAWAYAZPUR
AT,POST SAWAIZPUR HARDOI , PIN241123
HARDOI
HARDOI
UTTAR PRADESH
91
7388800250
BANK OF' INDIA
BKID0AG0249
SAMODHA
AT,POSTSAMODHA HARDOI , PIN241302
HARDOI
HARDOI
UTTAR PRADESH
91
7388800249
BANK OF' INDIA
BKID0AG0248
SANDILA
TOWN POSANDILA HARDOI , PIN241204
HARDOI
HARDOI
UTTAR PRADESH
91
7388800248
BANK OF' INDIA
BKID0AG0247
SANDI
TOWN POSANDI HARDOI , PIN241403
HARDOI
HARDOI
UTTAR PRADESH
91
7388800247
BANK OF' INDIA
BKID0AG0246
SAHADAT NAGAR
AT,POST SAHADAT NAGAR HARDOI , PIN241407
HARDOI
HARDOI
UTTAR PRADESH
91
7388800246
BANK OF' INDIA
BKID0AG0245
SADARPUR
AT,POST SADARPUR HARDOI , PIN241302
HARDOI
HARDOI
UTTAR PRADESH
91
7388800245
BANK OF' INDIA
BKID0AG0244
RAGHAVPUR
AT,POST RAGHAVPUR HARDOI , PIN241303
HARDOI
HARDOI
UTTAR PRADESH
91
7388800244
BANK OF' INDIA
BKID0AG0243
RABHA
AT,POST RABHA HARDOI , PIN241407
HARDOI
HARDOI
UTTAR PRADESH
91
7388800243
BANK OF' INDIA
BKID0AG0242
PURWAYAN
AT,POST PURWAYAN HARDOI , PIN241303
HARDOI
HARDOI
UTTAR PRADESH
91
7388800242
BANK OF' INDIA
BKID0AG0241
PIHANI
TOWN POPIHANI HARDOI , PIN241406
HARDOI
HARDOI
UTTAR PRADESH
91
7388800241
BANK OF' INDIA
BKID0AG0240
PEEPARGAON
AT,POSTPEEPARGAON HARDOI , PIN241202
HARDOI
HARDOI
UTTAR PRADESH
91
7388800240
BANK OF' INDIA
BKID0AG0239
PANDARWA
AT,POSTPANDARWA HARDOI , PIN241406
HARDOI
HARDOI
UTTAR PRADESH
91
7388800239
BANK OF' INDIA
BKID0AG0238
PALI
TOWN POPALI HARDOI , PIN241123
HARDOI
HARDOI
UTTAR PRADESH
91
7388800238
BANK OF' INDIA
BKID0AG0237
MP BILWARAN
AT,POST M.P.BILWARAN HARDOI , PIN241203
HARDOI
HARDOI
UTTAR PRADESH
91
7388800237
BANK OF' INDIA
BKID0AG0236
MANSOOR NAGAR
AT,POST MANSOOR NAGAR HARDOI , PIN241405
HARDOI
HARDOI
UTTAR PRADESH
91
7388800236
BANK OF' INDIA
BKID0AG0235
MANPUR
AT,POST MANPUR HARDOI , PIN241125
HARDOI
HARDOI
UTTAR PRADESH
91
7388800235
BANK OF' INDIA
BKID0AG0234
MALEHRA
AT,POSTMALHERA HARDOI , PIN241204
HARDOI
HARDOI
UTTAR PRADESH
91
7388800234
BANK OF' INDIA
BKID0AG0232
MAJHIYA
AT,POST MAJHIYA HARDOI , PIN241406
HARDOI
HARDOI
UTTAR PRADESH
91
7388800232
BANK OF' INDIA
BKID0AG0231
MAJHILA
AT,POST MAJHILA HARDOI , PIN241125
HARDOI
HARDOI
UTTAR PRADESH
91
7388800231
BANK OF' INDIA
BKID0AG0230
MAHIGAWAN
AT,POST MAHIGAWAN HARDOI , PIN241202
HARDOI
HARDOI
UTTAR PRADESH
91
7388800230
BANK OF' INDIA
BKID0AG0229
MADHOGANJ
TOWN PO MADHOGANJ HARDOI , PIN241302
HARDOI
HARDOI
UTTAR PRADESH
91
7388800229
BANK OF' INDIA
BKID0AG0227
LALPALPUR
AT,POST LALPAL PUR HARDOI , PIN241001
HARDOI
HARDOI
UTTAR PRADESH
91
7388800227
BANK OF' INDIA
BKID0AG0226
KURSATH BUJURG
TOWN POKURSATH BUJURG HARDOI , PIN241126
HARDOI
HARDOI
UTTAR PRADESH
91
7388800226
BANK OF' INDIA
BKID0AG0225
KOTHAWAN
AT,POST KOTHAWAN HARDOI , PIN241304
HARDOI
HARDOI
UTTAR PRADESH
91
7388800225
BANK OF' INDIA
BKID0AG0224
KHASAURA
AT,POST KHASAURA HARDOI , PIN241402
HARDOI
HARDOI
UTTAR PRADESH
91
7388800224
BANK OF' INDIA
BKID0AG0223
JAGDISHPUR
AT,POST JAGDISHPUR HARDOI , PIN241401
HARDOI
HARDOI
UTTAR PRADESH
91
7388800223
BANK OF' INDIA
BKID0AG0222
HARPALPUR
AT,POST HARPALPUR HARDOI , PIN241402
HARDOI
HARDOI
UTTAR PRADESH
91
7388800222
BANK OF' INDIA
BKID0AG0221
HARIYAWAN
AT,POST HARIYAWAN HARDOI , PIN241405
HARDOI
HARDOI
UTTAR PRADESH
91
7388800221
BANK OF' INDIA
BKID0AG0220
GONDWA
AT,POST GONDWA HARDOI , PIN241203
HARDOI
HARDOI
UTTAR PRADESH
91
7388800220
BANK OF' INDIA
BKID0AG0219
GAUSGANJ
AT,POST GAUSGANJ HARDOI , PIN241305
HARDOI
HARDOI
UTTAR PRADESH
91
7388800219
BANK OF' INDIA
BKID0AG0218
FATIYAPUR
AT,POSTFATIYAT,POST UR HARDOI , PIN241301
HARDOI
HARDOI
UTTAR PRADESH
91
7388800218
BANK OF' INDIA
BKID0AG0217
DURGAGANJ
AT,POST DURGAGANJ HARDOI , PIN241301
HARDOI
HARDOI
UTTAR PRADESH
91
7388800217
BANK OF' INDIA
BKID0AG0216
CHHIBRAMAU
AT,POST CHHIBRAMAU HARDOI , PIN241301
HARDOI
HARDOI
UTTAR PRADESH
91
7388800216
BANK OF' INDIA
BKID0AG0215
BILGRAM
TOWN PO BILGRAM, HARDOI , PIN241301
HARDOI
HARDOI
UTTAR PRADESH
91
7388800215
BANK OF' INDIA
BKID0AG0214
BHARKHANI
AT,POST BHARKHANI, HARDOI , PIN241123
HARDOI
HARDOI
UTTAR PRADESH
91
7388800214
BANK OF' INDIA
BKID0AG0213
BHAGWANT NAGAR
TOWN PO MALLAWAN, HARDOI , PIN241303
HARDOI
HARDOI
UTTAR PRADESH
91
7388800213
BANK OF' INDIA
BKID0AG0212
BHADAICHA
AT,POST BHADAICHA, HARDOI , PIN241101
HARDOI
HARDOI
UTTAR PRADESH
91
7388800212
BANK OF' INDIA
BKID0AG0211
BEHTA GOKUL
AT,POST BEHTA GOKUL HARDOI , PIN241125
HARDOI
HARDOI
UTTAR PRADESH
91
7388800211
BANK OF' INDIA
BKID0AG0210
BAMHNAKHERA
AT,POST BAMHNAKHERA HARDOI , PIN241122
HARDOI
HARDOI
UTTAR PRADESH
91
7388800210
BANK OF' INDIA
BKID0AG0209
BALAMAU
STATION RD KACHHAUNA , PIN241126
HARDOI
HARDOI
UTTAR PRADESH
91
7388800209
BANK OF' INDIA
BKID0AG0208
BEHANDAR
AT,POST BEHENDAR HARDOI , PIN241201
HARDOI
HARDOI
UTTAR PRADESH
91
7388800208
BANK OF' INDIA
BKID0AG0207
BAGHAULI
BAGHAULI BAZAR PO BAGHAULI , PIN241122
HARDOI
HARDOI
UTTAR PRADESH
91
7388800207
BANK OF' INDIA
BKID0AG0206
BAGHRAI
AT,POSTBAGHRAI HARDOI , PIN241403
HARDOI
HARDOI
UTTAR PRADESH
91
7388800206
BANK OF' INDIA
BKID0AG0205
ATRAULI
AT,POSTATARAULI HARDOI , PIN241204
HARDOI
HARDOI
UTTAR PRADESH
91
7388800205
BANK OF' INDIA
BKID0AG0204
ASAHI AZAMPUR
AT,POST ASAHI AZAMPUR HARDOI , PIN241305
HARDOI
HARDOI
UTTAR PRADESH
91
7388800204
BANK OF' INDIA
BKID0AG0203
ANJHI
SHAHABAD PO SHAHABAD , PIN241124
HARDOI
HARDOI
UTTAR PRADESH
91
7388800203
BANK OF' INDIA
BKID0AG0202
ANANGPUR
AT,POST ANANGPUR, HARDOI , PIN241123
HARDOI
HARDOI
UTTAR PRADESH
91
7388800202
BANK OF' INDIA
BKID0AG0201
AHIRORI
AT,POSTAHIRORI HARDOI , PIN241121
HARDOI
HARDOI
UTTAR PRADESH
91
7388800201
BANK OF' INDIA
BKID0AG0200
HARDOI
CINEMA RD HARDOI , PIN241001
HARDOI
HARDOI
UTTAR PRADESH
91
7388800200
BANK OF' INDIA
BKID0AG0199
R.O. UNNAO
B-59 AVAS VIKAS COLONY , PIN CODE 209801
UNNAO
HARDOI
UTTAR PRADESH
91
7388800198
BANK OF' INDIA
BKID0AG0161
DAROGABAGH
GRAMIN BANK OF ARYAVART, MAKAN NO 94, HARDOI RD. KALYANI, DAROGABAG, UNNAO, UP├╜209801
UNNAO
UNNAO
UTTAR PRADESH
91
7317799380
BANK OF' INDIA
BKID0AG0160
ASHA KHEDA
AT,POSTASHAKHERA UNNAO 209859, PIN209859
UNNAO
UNNAO
UTTAR PRADESH
91
7317799378
BANK OF' INDIA
BKID0AG0159
DHAURA
AT,POSTDHAURAMOHANMALIHABAD RDUNNAO 229881, PIN229881
UNNAO
UNNAO
UTTAR PRADESH
91
7317799379
BANK OF' INDIA
BKID0AG0158
JAITIPUR
AT,POSTJAITIPUR UNNAO , PIN209831
UNNAO
UNNAO
UTTAR PRADESH
5544
7388890158
BANK OF' INDIA
BKID0AG0157
PASA KHERA
AT,POSTPASA KHERA UNNAO , PIN209825
UNNAO
UNNAO
UTTAR PRADESH
5544
7388890157
BANK OF' INDIA
BKID0AG0156
BUXER
AT,POST BUXER UNNAO , PIN229501
UNNAO
UNNAO
UTTAR PRADESH
5544
7388890156
BANK OF' INDIA
BKID0AG0155
WASHIRATGANJ
AT,POSTWASIRATGANJ UNNAO , PIN209831
UNNAO
UNNAO
UTTAR PRADESH
5544
7388800155
BANK OF' INDIA
BKID0AG0154
UNCHGAON
AT,POSTUNCHGAON UNNAO , PIN229827
UNNAO
UNNAO
UTTAR PRADESH
5544
7388800154
BANK OF' INDIA
BKID0AG0153
TRIPURARPUR
AT,POSTTRIURARPUR UNNAO , PIN209825
UNNAO
UNNAO
UTTAR PRADESH
5544
7388800153
BANK OF' INDIA
BKID0AG0152
THANA
AT,POSTTHANA UNNAO , PIN209801
UNNAO
UNNAO
UTTAR PRADESH
5544
7388800152
BANK OF' INDIA
BKID0AG0151
SUMERPUR
AT,POST SUMERPUR UNNAO , PIN229504
UNNAO
UNNAO
UTTAR PRADESH
5544
7388800151
BANK OF' INDIA
BKID0AG0150
SOHRAMAU
AT,POSTSOHRAMAU UNNAO , PIN209859
UNNAO
UNNAO
UTTAR PRADESH
5544
7388800150
BANK OF' INDIA
BKID0AG0149
SP KARAN
AT,POST S.P.KARAN UNNAO , PIN209801
UNNAO
UNNAO
UTTAR PRADESH
5544
7388800149
BANK OF' INDIA
BKID0AG0148
SHAHPUR TONDA
AT,POST SHAHPUR TONDA UNNAO , PIN209851
UNNAO
UNNAO
UTTAR PRADESH
5544
7388800148
BANK OF' INDIA
BKID0AG0147
SAFIPUR
AT,POSTSAFIPUR UNNAO , PIN241504
UNNAO
UNNAO
UTTAR PRADESH
5544
7388800147
BANK OF' INDIA
BKID0AG0146
RASOOLABAD
AT,POSTRASOLLABAD UNNAO , PIN241503
UNNAO
UNNAO
UTTAR PRADESH
5544
7388800146
BANK OF' INDIA
BKID0AG0145
RAJEPUR
AT,POSTRAJEPUR UNNAO , PIN241501
UNNAO
UNNAO
UTTAR PRADESH
5544
7388800145
BANK OF' INDIA
BKID0AG0144
PURWA
AT,POSTPURWA UNNAO , PIN209825
UNNAO
UNNAO
UTTAR PRADESH
5544
7388800144
BANK OF' INDIA
BKID0AG0143
PATAN
AT,POSTPATAN UNNAO , PIN229506
UNNAO
UNNAO
UTTAR PRADESH
5544
7388800143
BANK OF' INDIA
BKID0AG0142
PARIYAR
AT,POSTPARIYAR UNNAO , PIN241504
UNNAO
UNNAO
UTTAR PRADESH
5544
7388800142
BANK OF' INDIA
BKID0AG0141
PADRI KALAN
AT,POSTPADRI KALAN UNNAO , PIN209825
UNNAO
UNNAO
UTTAR PRADESH
5544
7388800141
BANK OF' INDIA
BKID0AG0140
NETUA
AT,POSTNETUA UNNAO , PIN209861
UNNAO
UNNAO
UTTAR PRADESH
5544
7388800140
BANK OF' INDIA
BKID0AG0139
NEOTANI
AT,POSTNEOTINI UNNAO , PIN229841
UNNAO
UNNAO
UTTAR PRADESH
5544
7388800139
BANK OF' INDIA
BKID0AG0138
NEWALGANJ
AT,POSTNEWAL GANJ UNNAO , PIN209851
UNNAO
UNNAO
UTTAR PRADESH
5544
7388800138
BANK OF' INDIA
BKID0AG0137
NAWABGANJ
AT,POSTNAWABGANJ UNNAO , PIN209859
UNNAO
UNNAO
UTTAR PRADESH
5544
7388800137
BANK OF' INDIA
BKID0AG0136
NAI SARAI
AT,POSTNAI SARAI UNNAO , PIN209801
UNNAO
UNNAO
UTTAR PRADESH
5544
7388800136
BANK OF' INDIA
BKID0AG0134
MOHAN
AT,POSTMOHAN UNNAO , PIN209851
UNNAO
UNNAO
UTTAR PRADESH
5544
7388800134
BANK OF' INDIA
BKID0AG0133
MIYAGANJ
AT,POSTMIYAGANJ UNNAO , PIN241503
UNNAO
UNNAO
UTTAR PRADESH
5544
7388800133
BANK OF' INDIA
BKID0AG0132
MIRZAPUR
AT,POSTMIRZAT,POST UR UNNAO , PIN241503
UNNAO
UNNAO
UTTAR PRADESH
5544
7388800132
BANK OF' INDIA
BKID0AG0131
MAURAWAN
AT,POSTMAURAWAN UNNAO , PIN229821
UNNAO
UNNAO
UTTAR PRADESH
5544
7388800131
BANK OF' INDIA
BKID0AG0130
MAKHI
AT,POSTMAKHI UNNAO , PIN209801
UNNAO
UNNAO
UTTAR PRADESH
5544
7388800130
BANK OF' INDIA
BKID0AG0129
KURSATH
AT,POSTKURSATH UNNAO , PIN209801
UNNAO
UNNAO
UTTAR PRADESH
5544
7388800129
BANK OF' INDIA
BKID0AG0128
KOTWAR
AT,POSTKOTWAR UNNAO , PIN229821
UNNAO
UNNAO
UTTAR PRADESH
5544
7388800128
BANK OF' INDIA
BKID0AG0127
KHWAZGIPUR
AT,POSTKHWAJGIPUR UNNAO , PIN209801
UNNAO
UNNAO
UTTAR PRADESH
5544
7388800127
BANK OF' INDIA
BKID0AG0126
KANTHA
AT,POSTKANTHA UNNAO , PIN209859
UNNAO
UNNAO
UTTAR PRADESH
5544
7388800126
BANK OF' INDIA
BKID0AG0125
KALUKHERA
AT,POSTKALUKHERA UNNAO , PIN209825
UNNAO
UNNAO
UTTAR PRADESH
5544
7388800125
BANK OF' INDIA
BKID0AG0124
HILAULI
AT,POSTHILAULI UNNAO , PIN229821
UNNAO
UNNAO
UTTAR PRADESH
5544
7388800124
BANK OF' INDIA
BKID0AG0123
HASANGANJ
AT,POSTHASANGANJ UNNAO , PIN229841
UNNAO
UNNAO
UTTAR PRADESH
5544
7388800123
BANK OF' INDIA
BKID0AG0122
GULARIHA
AT,POST GULARIHA UNNAO , PIN229821
UNNAO
UNNAO
UTTAR PRADESH
5544
7388800122
BANK OF' INDIA
BKID0AG0121
FATEHPUR CHAURASI
AT,POST FATEHPUR CHAURASI UNNAO , PIN241504
UNNAO
UNNAO
UTTAR PRADESH
5544
7388800121
BANK OF' INDIA
BKID0AG0120
DHANUHIKHERA
AT,POSTDHANUHI KHERA UNNAO , PIN229501
UNNAO
UNNAO
UTTAR PRADESH
5544
7388800120
BANK OF' INDIA
BKID0AG0119
DEVGAON
AT,POSTDEVGAON UNNAO , PIN241504
UNNAO
UNNAO
UTTAR PRADESH
5544
7388800119
BANK OF' INDIA
BKID0AG0118
CHAMIYANI
AT,POSTCHAMIYANI UNNAO , PIN229827
UNNAO
UNNAO
UTTAR PRADESH
5544
7388800118
BANK OF' INDIA
BKID0AG0117
CHAKALWANSI
AT,POSTCHAKALWANSI UNNAO , PIN241504
UNNAO
UNNAO
UTTAR PRADESH
5544
7388800117
BANK OF' INDIA
BKID0AG0116
BIHAR
AT,POSTBIHAR UNNAO , PIN229504
UNNAO
UNNAO
UTTAR PRADESH
5544
7388800116
BANK OF' INDIA
BKID0AG0115
BIGHAPUR
AT,POSTBIGHAT,POST UR UNNAO , PIN229503
UNNAO
UNNAO
UTTAR PRADESH
5544
7388800115
BANK OF' INDIA
BKID0AG0114
BICHHIYA
AT,POSTBICHHIA UNNAO , PIN209825
UNNAO
UNNAO
UTTAR PRADESH
5544
7388800114
BANK OF' INDIA
BKID0AG0113
BHAGWANT NAGARU
AT,POSTBHAGWANT NAGAR UNNAO , PIN229502
UNNAO
UNNAO
UTTAR PRADESH
5544
7388800113
BANK OF' INDIA
BKID0AG0112
BHAULI
AT,POSTBHAULI UNNAO , PIN209831
UNNAO
UNNAO
UTTAR PRADESH
5544
7388800112
BANK OF' INDIA
BKID0AG0111
BARA
AT,POSTBARA UNNAO , PIN229501
UNNAO
UNNAO
UTTAR PRADESH
5544
7388800111
BANK OF' INDIA
BKID0AG0110
BANGARMAU
AT,POSTBANGARMAU UNNAO , PIN241501
UNNAO
UNNAO
UTTAR PRADESH
5544
7388800110
BANK OF' INDIA
BKID0AG0109
BADARKA
AT,POSTBADARKA UNNAO , PIN209801
UNNAO
UNNAO
UTTAR PRADESH
5544
7388800109
BANK OF' INDIA
BKID0AG0108
AURAS
AT,POSTAURAS UNNAO , PIN241503
UNNAO
UNNAO
UTTAR PRADESH
5544
7388800108
BANK OF' INDIA
BKID0AG0107
ATWAVAIK
AT,POSTATWA VAIK UNNAO , PIN241501
UNNAO
UNNAO
UTTAR PRADESH
5544
7388800107
BANK OF' INDIA
BKID0AG0106
ASOHA
AT,POSTASOHA UNNAO , PIN209859
UNNAO
UNNAO
UTTAR PRADESH
5544
7388800106
BANK OF' INDIA
BKID0AG0104
AKWABAD
AT,POST AKWABAD UNNAO , PIN229503
UNNAO
UNNAO
UTTAR PRADESH
5544
7388800104
BANK OF' INDIA
BKID0AG0103
AKRAMPUR
AT,POST AKRAMPUR UNNAO , PIN209862
UNNAO
UNNAO
UTTAR PRADESH
5544
7388800103
BANK OF' INDIA
BKID0AG0102
AJGAIN
AT,POST AJGAIN UNNAO , PIN209831
UNNAO
UNNAO
UTTAR PRADESH
5544
7388800102
BANK OF' INDIA
BKID0AG0101
ACHALGANJ
AT,POSTACHALGANJ UNNAO , PIN209801
UNNAO
UNNAO
UTTAR PRADESH
5544
7388800101
BANK OF' INDIA
BKID0AG0100
UNNAO
BADA CHAURAHA UNNAO , PIN209801
UNNAO
UNNAO
UTTAR PRADESH
5544
7388800100
BANK OF' INDIA
BKID0AG0098
SERVICE BRANCH
6, COMMERCIAL NEAR 8 NO.CHAURAHA , PIN226020
LUCKNOW
LUCKNOW
UTTAR PRADESH
5544
7388800601
BANK OF' INDIA
BKID0AG0041
SIHALI
VILL SIHALI BLOCK AND TEHSIL FATEHPUR, PIN227131
LUCKNOW
BARABANKI
UTTAR PRADESH
5544
9451615017
BANK OF' INDIA
BKID0AG0040
PAREEWAN
ADDRESS AP PAREEWAN BARABANKI227131, PIN225306
LUCKNOW
BARABANKI
UTTAR PRADESH
5544
7317799381
BANK OF' INDIA
BKID0AG0039
BHADRAS
VILL. BHADRASBLOCK VINDURA BARABANKI 225306, PIN225306
LUCKNOW
BARABANKI
UTTAR PRADESH
5544
7317799374
BANK OF' INDIA
BKID0AG0038
KHARGAPUR
VILL KHARGAPUR POST MALSEMAU , PIN226010
LUCKNOW
LUCKNOW
UTTAR PRADESH
5544
7388700638
BANK OF' INDIA
BKID0AG0037
GANGAGANJ
VILL GANGAGANJ P.O. SALEMPUR , PIN226501
LUCKNOW
LUCKNOW
UTTAR PRADESH
5544
7388600637
BANK OF' INDIA
BKID0AG0036
NABI PANAH
AT,POSTNABI PANAH MALL RD , PIN227115
LUCKNOW
LUCKNOW
UTTAR PRADESH
5544
7388600636
BANK OF' INDIA
BKID0AG0035
LAULAI
AT,POSTMALLHAUR LUCKNOW , PIN226028
LUCKNOW
LUCKNOW
UTTAR PRADESH
5544
7388600635
BANK OF' INDIA
BKID0AG0034
KHURDAHI
AT,POSTKHURDAHI BAZAR LUCKNOW , PIN226002
LUCKNOW
LUCKNOW
UTTAR PRADESH
5544
7388600634
BANK OF' INDIA
BKID0AG0033
KASMANDI KALAN
AT,POST KASMANDI KALAN LUCKNOW , PIN227111
LUCKNOW
LUCKNOW
UTTAR PRADESH
5544
7388600633
BANK OF' INDIA
BKID0AG0032
AMRAI
TAKROHI BAZAR SECT11 INDIRA NAGAR , PIN227105
LUCKNOW
LUCKNOW
UTTAR PRADESH
5544
7388600632
BANK OF' INDIA
BKID0AG0031
KATHWARA
AT,POSTKATHWARA LUCKNOW , PIN227202
LUCKNOW
LUCKNOW
UTTAR PRADESH
5544
7388800631
BANK OF' INDIA
BKID0AG0030
GOSAINGANJ
AT,POSTGOSAINGANJ LUCKNOW , PIN226002
LUCKNOW
LUCKNOW
UTTAR PRADESH
5544
7388800630
BANK OF' INDIA
BKID0AG0029
BIJNAUR
AT,POST BIJNAUR LUCKNOW , PIN227202
LUCKNOW
LUCKNOW
UTTAR PRADESH
5544
7388800629
BANK OF' INDIA
BKID0AG0028
KUMHRAWAN
AT,POSTKUMHRAWAN LUCKNOW , PIN226008
LUCKNOW
LUCKNOW
UTTAR PRADESH
5544
7388800628
BANK OF' INDIA
BKID0AG0027
GAURI BAZAR
SCOOTER INDIA CHURAHA GAURIBAZAR , PIN227205
LUCKNOW
LUCKNOW
UTTAR PRADESH
5544
7388800627
BANK OF' INDIA
BKID0AG0026
CHANDAN
PLOT NO. 2A 2B VIMAL KUNJ FAREEDINAGAR , PIN226015
LUCKNOW
LUCKNOW
UTTAR PRADESH
5544
7388800626
BANK OF' INDIA
BKID0AG0025
BUXI KA TALAB
BUXI KA TALAB SITAPUR RD , PIN227202
LUCKNOW
LUCKNOW
UTTAR PRADESH
5544
7388800625
BANK OF' INDIA
BKID0AG0024
KALYANPUR
NEAR KHURRAM NAGAR CROSSING RING RD , PIN227202
LUCKNOW
LUCKNOW
UTTAR PRADESH
5544
7388800624
BANK OF' INDIA
BKID0AG0023
MOHIBULLAPUR
MOHIBULLAPUR SITAPUR RD , PIN226022
LUCKNOW
LUCKNOW
UTTAR PRADESH
5544
7388800623
BANK OF' INDIA
BKID0AG0022
KAMLABAD
KRISHNA PLAZA LUCKNOW , PIN221060
LUCKNOW
LUCKNOW
UTTAR PRADESH
5544
7388800622
BANK OF' INDIA
BKID0AG0021
ITAUNJA
OPP RPS INTER COLLEGE ITAUNJA , PIN227205
LUCKNOW
LUCKNOW
UTTAR PRADESH
5544
7388800621
BANK OF' INDIA
BKID0AG0020
BHITAULI KHURD
60 FEET RD JANKIPURAM EXT , PIN226021
LUCKNOW
LUCKNOW
UTTAR PRADESH
5544
7388800620
BANK OF' INDIA
BKID0AG0019
MAU MOHANLALGANJ
MAU MOHANLALGANJ RAIBARELLY RD , PIN227305
LUCKNOW
LUCKNOW
UTTAR PRADESH
5544
7388800619
BANK OF' INDIA
BKID0AG0018
SAMESHI
AT,POSTSAMESHI LUCKNOW LUCKNOW , PIN227308
LUCKNOW
LUCKNOW
UTTAR PRADESH
5544
7388800618
BANK OF' INDIA
BKID0AG0017
KALLIPASHCHIM
JAGAT KHERA RAIBARELLY RD , PIN227305
LUCKNOW
LUCKNOW
UTTAR PRADESH
5544
7388800617
BANK OF' INDIA
BKID0AG0016
UTRETHIA
SHRI KRISHNA BIHAR COLONY LUCKNOW , PIN226002
LUCKNOW
LUCKNOW
UTTAR PRADESH
5544
7388800616
BANK OF' INDIA
BKID0AG0015
GUDAMBA
PHOOLBAGH COLONY, KURSI RD P.O. JANKIPURAM , PIN226026
LUCKNOW
LUCKNOW
UTTAR PRADESH
5544
7388800615
BANK OF' INDIA
BKID0AG0014
KHUSHHALGANJ
MOHAN RD KHUSHHALGANJ , PIN227107
LUCKNOW
LUCKNOW
UTTAR PRADESH
5544
7388800614
BANK OF' INDIA
BKID0AG0013
KAKORI
DURGAGANJ CHURAHA KAKORI , PIN227107
LUCKNOW
LUCKNOW
UTTAR PRADESH
5544
7388800613
BANK OF' INDIA
BKID0AG0012
RAKABGANJ
253 127, KUNDARI LUCKNOW , PIN226004
LUCKNOW
LUCKNOW
UTTAR PRADESH
5544
7388800612
BANK OF' INDIA
BKID0AG0011
VIKASNAGAR
H.NO 898 SECT 8 PICNICSPOT RD, VIKAS NAGAR , PIN226022
LUCKNOW
LUCKNOW
UTTAR PRADESH
5544
7388800611
BANK OF' INDIA
BKID0AG0010
RAHEEMABAD
AT,POSTRAHEEMABAD LKO HARDOI RD , PIN227116
LUCKNOW
LUCKNOW
UTTAR PRADESH
5544
7388800610
BANK OF' INDIA
BKID0AG0009
CHINHAT
MATIYARI CHAURAHA LUCKNOW , PIN227105
LUCKNOW
LUCKNOW
UTTAR PRADESH
5544
7388800609
BANK OF' INDIA
BKID0AG0008
NIGOHAN
AT,POSTNIGOHAN RAIBARELLY RD , PIN227309
LUCKNOW
LUCKNOW
UTTAR PRADESH
5544
7388800608
BANK OF' INDIA
BKID0AG0007
MALL
AT,POSTMALL LUCKNOW , PIN227115
LUCKNOW
LUCKNOW
UTTAR PRADESH
5544
7388800607
BANK OF' INDIA
BKID0AG0006
ALIGANJ
892 SHEKHUPURA KURSI RD, VIKAS NAGAR , PIN226022
LUCKNOW
LUCKNOW
UTTAR PRADESH
5544
7388800606
BANK OF' INDIA
BKID0AG0005
RAJAJIPURAM
D 14 SECT D RAJAJIPURAM LUCKNOW , PIN226017
LUCKNOW
LUCKNOW
UTTAR PRADESH
5544
7388800605
BANK OF' INDIA
BKID099BKCB
BHAVASARA KSHATRIYA COOP BANK HO
NO 63 69 SAHAKARA SADANA 24TH CROSS KILARI ROAD 560053
BANGALORE
BANGALORE URBAN
KARNATAKA
80
22972781
BANK OF' INDIA
BKID00KSBCL
CANTONMENT
JYOTHI MAHAL 49 ST MARKS ROAD CANTONMENT BANGALORE 560001
BANGALORE
BANGALORE
KARNATAKA
80
22959473
BANK OF' INDIA
BKID00KICHS
KUNAL ICON CHS
PIMPLE,SAUDAGAR,PUNE
PUNE
PUNE
MAHARASHTRA
BANK OF' INDIA
BKID00HSCOM
NAVANAGAR
MIG 1 SINGAREDDI COMPLEX OPP CANCER HOSPITAL
HUBBALLI
DHARWAD
KARNATAKA
836
2214529
BANK OF' INDIA
BKID00BSCOM
CANTONMEN
JOTHI MAHAL 49 ST MARKS ROAD BANGALORE 560001 KARNATAKA
BANGALORE
BANGALORE URBAN
KARNATAKA
80
229594736
BANK OF' INDIA
BKID000ZO99
THIRUVANANTHAPURAM
SREYAS ,GPO LANE ,VANCHIYOOR P O ,THIRUVANANTHAPURAM
THIRUVANANTHAPURAM
THIRUVANANTHAPURAM
KERALA
471
2703010
BANK OF' INDIA
BKID000ZO98
DHAR ZONAL OFFICE
PLOT NO 58 AND 59 VASANT VIHAR COLONY WARD NO 04 GRA DHAR DIST DHAR MADHYA PRADESH PIN 454001
DHAR
DHAR
MADHYA PRADESH
7879320266
BANK OF' INDIA
BKID000ZO97
DELHI NCR ZONAL OFFICE
BATRA HOUSE, PLOT NO.52, SECTOR-32, GURUGRAM-122003
GURUGRAM
GURUGRAM
HARYANA
124
2388412
BANK OF' INDIA
BKID000ZO96
GORAKHPUR ZONAL OFFICE
GORAKHPUR ZONAL OFFICE NEELAM MISHRA HIG C 227 SIDDHARTH ENCLAVE IN FRONT OF AMBEDKAR PARK TARAMANDAL GORAKHPUR PIN273017
GORAKHPUR
GORAKHPUR
UTTAR PRADESH
551
9616135520
BANK OF' INDIA
BKID000ZO95
HARDOI
BANK OF INDIA, HARDOI ZONAL OFFICE, AWASTHI COMPLEX HOUSE NO. 849, NEAR DM CHAURAHA SHAHJAHANPUR ROAD,HARDOI-241001 UTTAR PRADESH
HARDOI
HARDOI
UTTAR PRADESH
91
5852297602
BANK OF' INDIA
BKID000ZO94
SAMBALPUR ZONAL OFFICE
NEAR ST JOHNS SCHOOL,VIANNEY NAGAR,DHANKAUDA.SAMBALPUR 768006,ORISSA
SAMBALPUR
SAMBALPUR
ODISHA
91
9439778172
BANK OF' INDIA
BKID000ZO93
MADURAI ZONAL OFFICE
BANK OF INDIA ZONAL OFFICE MADURAI S F NO 64 1C SRI RAM COMPLEX UCHAPARAMBU MAIN ROAD IYER BUNGALOW MADURAI 625014
MADURAI
MADURAI
TAMIL NADU
91
9443187835
BANK OF' INDIA
BKID000ZO92
JABALPUR ZONAL OFFICE
1ST 2ND FLOOR,RAJESHWAR BUILDING,MIG 15,SHIVNAGAR,DAMOH ROAD PIN CODE 482002
JABALPUR
JABALPUR
MADHYA PRADESH
91
7974022052
BANK OF' INDIA
BKID000ZO91
NASIK ZONE
1ST FLOOR PLOT NO G1 MIDC SATPUR NASHIK MAHRASHTRA 422007
NASIK
NASIK
MAHARASHTRA
253
2532360439
BANK OF' INDIA
BKID000ZO90
VIJAYAWADA ZONAL OFFICE
BANK OF INDIA , VIJAYAWADA ZONAL OFFICE , DR.NO.31-23-23-1A , P V R COMPLEX , 1ST FLOOR , BESIDE BSNL BHAVAN , VIJAYAWADA – 522004 , ANDHRA PRADESH
VIJAYAWADA
KRISHNA
ANDHRA PRADESH
866
2467777
BANK OF' INDIA
BKID000ZO89
DEHRADUN  ZONAL OFFICE
MAHAVIR TOWERS ST JU SEVLA KALAN
DEHRADUN
DEHRA DUN
UTTARAKHAND
342
2664060
BANK OF' INDIA
BKID000ZO88
BARDHAMAN ZONAL OFFICE
HOLDING NO 446 N ARMST SECTOR 2A BIDHANNAGAR
DURGAPUR
UTTAR DINAJPUR
WEST BENGAL
342
2664060
BANK OF' INDIA
BKID000ZO86
GAYA
RAJLAXMI COMPLEX, OPP VISHAL MEGA MART, BANK OF INDIA, ZONAL OFFICE GAYA-823001
GAYA
GAYA
BIHAR
631
220122
BANK OF' INDIA
BKID000ZO85
JODHPUR  ZONAL OFFICE
YASHODA TOWER AKHLIYA CIRCLE CHOPASANI ROAD
JODHPUR
JODHPUR
RAJASTHAN
BANK OF' INDIA
BKID000ZO84
BARIPADA ZONAL OFFICE
AT BARIPADA PO BARIPADA DIST MAYURBHANJ PIN 757001 ODISHA
BARIPADA
MAYURBHANJ
ODISHA
6792
257143
BANK OF' INDIA
BKID000ZO83
HUBLI DHARWAD  ZONAL OFFICE
SHIVANAGA PLAZA BASAWE GOKUL ROAD HUBBALLI
HUBLI-DHARWAD
DHARWAD
WEST BENGAL
BANK OF' INDIA
BKID000ZO82
BARASAT ZONAL OFFICE
BANK OF INDIA, BARASAT ZO, BLOCK DD 2, SECTOR I, KOLKATA-700064
KOLKATA
NORTH 24 PARGANAS
WEST BENGAL
33
23586488
BANK OF' INDIA
BKID000ZO81
NAVI MUMBAI  ZONAL OFFICE
MDI BUILDING GROUND FL SECTOR 11 CBD BELAPUR
NAVI MUMBAI
THANE
MAHARASHTRA
BANK OF' INDIA
BKID000ZO80
GUWAHATI ZONAL OFFICE
SAIKIA COMMERCIAL COMP SREE NAGAR CHRI BASTY
GUWAHATI
KAMRUP
ASSAM
361
2347995
BANK OF' INDIA
BKID000ZO79
AMRITSAR ZONAL OFFICE
SCO 128 DISTRICT SHOPP NAGPAL TOWER 1 RANJIT
AMRITSAR
SIRSA
PUNJAB
183
5099331
BANK OF' INDIA
BKID000ZO78
VIDHARBHA ZONAL OFFICE
PLOT NO 2072 NEAR MAHAVIR UDYAN RAM NGR
WARDHA
WARDHA
MAHARASHTRA
BANK OF' INDIA
BKID000ZO77
ANDHRA PRADESH ZONAL OFFICE
D NO 28 2 48 1ST FLOOR DASPALLA COMPLEX SURYA
VISAKHAPATNAM
VISHAKHAPATNAM
ANDHRA PRADESH
891
2718378
BANK OF' INDIA
BKID000ZO76
VARANASI  ZONAL OFFICE
B20 44 A 7 BHELPUR VARANASI
VARANASI
VARANASI
UTTAR PRADESH
BANK OF' INDIA
BKID000ZO75
VADODARA  ZONAL OFFICE
1ST FLOOR BOI BUILDING ELLORA PARK VADODARA
VADODARA
GANDHINAGAR
GUJARAT
BANK OF' INDIA
BKID000ZO74
UJJAIN  ZONAL OFFICE
PB NO 10 C2 SHIPRA VIHAR UJJAIN
UJJAIN
UJJAIN
MADHYA PRADESH
BANK OF' INDIA
BKID000ZO73
SOLAPUR  ZONAL OFFICE
OLD EMP EXCHANGE CHAWK SAHYADRI SHOPPING CENT
SOLAPUR
SOLAPUR
MAHARASHTRA
BANK OF' INDIA
BKID000ZO72
SILIGURI  ZONAL OFFICE
PRANAMI MANDIR ROAD SILIGURI
SILIGURI
DARJILING
WEST BENGAL
BANK OF' INDIA
BKID000ZO71
RATNAGIRI  ZONAL OFFICE
NEAR AROGYA MANDIR SHIVAJI NAGAR RATNAGIR
RATNAGIRI
RATNAGIRI
MAHARASHTRA
BANK OF' INDIA
BKID000ZO70
RANCHI  ZONAL OFFICE
PRADHAN TOIWERS NEAR OVERBRIDGE MAIN RAOD R
RANCHI
RANCHI
JHARKHAND
BANK OF' INDIA
BKID000ZO69
RAJKOT  ZONAL OFFICE
BOI BUILDING FIRST FLOOR PARA BAZAAR
RAJKOT
RAJKOT
GUJARAT
BANK OF' INDIA
BKID000ZO68
JAIPUR  ZONAL OFFICE
STAR HOUSE JAWAHAR NAGAR B4 SECTOR 2
JAIPUR
JAIPUR
RAJASTHAN
BANK OF' INDIA
BKID000ZO67
RAIGAD  ZONAL OFFICE
2ND FLOOR HOTEL MEERA MADHAV OPP ALIBAG
RAIGAD
RAIGAD
MAHARASHTRA
BANK OF' INDIA
BKID000ZO66
PUNE  ZONAL OFFICE
592 SADASHIV PETH 4TH FLOOR BOI BUILDING
PUNE
PUNE
MAHARASHTRA
BANK OF' INDIA
BKID000ZO65
PATNA  ZONAL OFFICE
CHANAKYA PALACE FIRST FLOOR BEER CHAND PATEL
PATNA
PATNA
BIHAR
BANK OF' INDIA
BKID000ZO64
NEW DELHI  ZONAL OFFICE
STAR HOUSE H2 CIRCUS MIDDLE CIRCLE N
DELHI
DELHI
DELHI
BANK OF' INDIA
BKID000ZO63
NAGPUR ZONAL OFFICE
BOI BLDG 3RD FLOOR SARDAR VALLABH BHAI
NAGPUR
NAGPUR
MAHARASHTRA
712
2532205
BANK OF' INDIA
BKID000ZO62
MUZAFFARPUR  ZONAL OFFICE
PANKAJ MARKET SARAIYAGANJ
MUZAFFARPUR
MUZAFFARPUR
BIHAR
621
2265550
BANK OF' INDIA
BKID000ZO61
MUMBAI SOUTH  ZONAL OFFICE
70 80 MG ROAD,MEZZANINE FLOOR FORT
MUMBAI
GREATER BOMBAY
MAHARASHTRA
22
22670542
BANK OF' INDIA
BKID000ZO60
MUMBAI NORTH  ZONAL OFFICE
2ND FLOOR MALAD WEST,S V ROAD
MUMBAI
GREATER BOMBAY
MAHARASHTRA
22
28827770
BANK OF' INDIA
BKID000ZO59
MUMBAI LCB OFFICE
70 80 MG ROAD MEZZANINE FLOOR FORT
MUMBAI
GREATER BOMBAY
MAHARASHTRA
BANK OF' INDIA
BKID000ZO58
LUDHIANA  ZONAL OFFICE
SURYA KIRAN COMPLEX 1ST FLOOR PHASE II
LUDHIANA
LUDHIANA
PUNJAB
161
2405977
BANK OF' INDIA
BKID000ZO57
LUCKNOW  ZONAL OFFICE
STAR HOUSE 1 VIBHUTI GOMTI NAGAR
LUCKNOW
LUCKNOW
UTTAR PRADESH
522
2721486
BANK OF' INDIA
BKID000ZO56
KOLKATA  ZONAL OFFICE
5TH FLOOR BTM SARANI BRABOURNE ROAD
KOLKATA
KOLKATA
WEST BENGAL
33
22481973
BANK OF' INDIA
BKID000ZO55
KOLHAPUR  ZONAL OFFICE
1519 C JAYDHAVAL BLDG 2ND FLOOR LAXMIPURI
KOLHAPUR
KOLHAPUR
MAHARASHTRA
231
646371
BANK OF' INDIA
BKID000ZO54
KHANDWA  ZONAL OFFICE
1ST FLOOR ANAND NAGAR
KHANDWA
EAST NIMAR
MADHYA PRADESH
BANK OF' INDIA
BKID000ZO53
KERALA  ZONAL OFFICE
KALOOR TOWERS KALOOR KADAVANTHRA ROAD
COCHI
ERNAKULAM
KERALA
BANK OF' INDIA
BKID000ZO52
KEONJHAR  ZONAL OFFICE
MINING ROAD KEONJHARGA
KEONJHAR
KEONJHAR
ODISHA
BANK OF' INDIA
BKID000ZO51
BANGALORE  ZONAL OFFICE
NO 11 KEMPEGOWDA ROAD
BANGALORE
BANGALORE URBAN
KARNATAKA
BANK OF' INDIA
BKID000ZO50
KANPUR  ZONAL OFFICE
78 A RAJBHAVAN COMPLEX CANAL ROAD NEAR JUHARI
KANPUR
KANPUR CITY
UTTAR PRADESH
BANK OF' INDIA
BKID000ZO49
JAMSHEDPUR  ZONAL OFFICE
BANK OF INDIA BUILDING 2ND FLOOR MAIN ROAD BI
JAMSHEDPUR
PASCHIMI SINGHBHUM
JHARKHAND
BANK OF' INDIA
BKID000ZO48
RAIPUR  ZONAL OFFICE
1ST FLOOR GD SHETH NILAYAM TATYAPARA
RAIPUR
RAIPUR
CHHATTISGARH
BANK OF' INDIA
BKID000ZO47
INDORE  ZONAL OFFICE
345 A PU4 SHEME NO 54 A B ROAD INDORE
INDORE
INDORE
MADHYA PRADESH
BANK OF' INDIA
BKID000ZO46
TELANGANA  ZONAL OFFICE
PTI BUILDING 2ND FLOOR AC GUARDS HYDERABAD
HYDERABAD
HYDERABAD
TELANGANA
BANK OF' INDIA
BKID000ZO45
HOWRAH  ZONAL OFFICE
4TH FLOOR 5 T M SARAN,BRABOURNE ROAD KOLKATA
KOLKATA
KOLKATA
WEST BENGAL
33
22623525
BANK OF' INDIA
BKID000ZO44
HAZARIBAG  ZONAL OFFICE
PB NO 32 SAKETPURI SADANAND MARG
HAZARIBAG
HAZARIBAG
JHARKHAND
6546
227792
BANK OF' INDIA
BKID000ZO43
GOA  ZONAL OFFICE
STAR HOUSE PLOT NO 10 ADC COMPLEX PANAJI
PANAJI
NORTH GOA
GOA
832
2404404
BANK OF' INDIA
BKID000ZO42
BOKARO  ZONAL OFFICE
1ST FLR CITY CENTER SEC IV STEEL CITY
BOKARO
BOKARO
JHARKHAND
6532
226252
BANK OF' INDIA
BKID000ZO41
GHAZIABAD  ZONAL OFFICE
SANDIPANI STC BUILDING B 32 SEC 62 NOIDA
GHAZIABAD
GHAZIABAD
UTTAR PRADESH
120
2404030
BANK OF' INDIA
BKID000ZO40
GANDHINAGAR  ZONAL OFFICE
1ST FLR BOI BUILDING SEC 16
GANDHINAGAR
GANDHINAGAR
GUJARAT
79
23222659
BANK OF' INDIA
BKID000ZO39
DHANBAD  ZONAL OFFICE
S R MANSION 2ND FLR SHASTRI NAGAR
DHANBAD
DHANBAD
JHARKHAND
BANK OF' INDIA
BKID000ZO38
COIMBATORE ZONAL OFFICE
STAR HOUSE 324 OPPANAKARA STREET
COIMBATORE
COIMBATORE
TAMIL NADU
422
2397056
BANK OF' INDIA
BKID000ZO37
CHENNAI ZONAL OFFICE
NEW NO 30 OLD NO 17 ERRABALU STREET
CHENNAI
CHENNAI
TAMIL NADU
44
66777501
BANK OF' INDIA
BKID000ZO36
CHANDIGARH ZONAL OFFICE
SCO 76 82 SECTOR 31A
CHANDIGARH
CHANDIGARH
PUNJAB
172
2704608
BANK OF' INDIA
BKID000ZO35
ORRISA ZONAL OFFICE
1 1 D JAIDEV VIHAR NAYAPALLI
BHUBAN
DHENKANAL
ODISHA
674
2551318
BANK OF' INDIA
BKID000ZO34
BHOPAL ZONAL OFFICE
NEW ZONAL HEADQUARTERS OPP CENTRAL JAIL ROAD
BHOPAL
BHOPAL
MADHYA PRADESH
BANK OF' INDIA
BKID000ZO33
BHAGALPUR ZONAL OFFICE
SECOND FLOOR DEVDOOT C RADHA RANI SINHA ROAD
BHAGALPUR
BHAGALPUR
BIHAR
BANK OF' INDIA
BKID000ZO32
AHMEDABAD ZONAL OFFICE
BANK OF INDIA BUILDING BHADRA AHMEDABAD
AHMEDABAD
AHMADABAD
GUJARAT
BANK OF' INDIA
BKID000ZO31
AGRA ZONAL OFFICE
1ST FLOOR JEEVAN PRAKA,SANJAY PALACE M G ROAD
AGRA
AGRA
UTTAR PRADESH
BANK OF' INDIA
BKID000ZC58
LUDHIANA ZCOD
SCF 35 G BLOCK BHAI RANDHIR SINGH NAGAR, LUDHIANA
LUDHIANA
LUDHIANA
PUNJAB
161
1612450300
BANK OF' INDIA
BKID000ZC46
ZONAL CENTRALISED OPERATIONS DEPARTMENT
10 1 1199 2,2ND FLOOR PTI BUILDING,AC GUARDS,HYDERABAD,TELANGANA 500 004
HYDERABAD
HYDERABAD
TELANGANA
40
23314721
BANK OF' INDIA
BKID000ZA66
PUNE ZONAL AUDIT OFFICE
PUNE ZONAL AUDIT OFFIC
PUNE
PUNE
MAHARASHTRA
BANK OF' INDIA
BKID000ZA65
BIHAR ZONAL AUDIT OFFICE
BIHAR ZONAL AUDIT OFFI
PATNA
PATNA
BIHAR
BANK OF' INDIA
BKID000ZA64
NORTHERN ZONAL AUDIT OFFICE
NORTHERN ZONAL AUDIT O
NEWDELHI
NEWDELHI
DELHI
BANK OF' INDIA
BKID000ZA57
UP ZONAL AUDIT OFFICE
UP ZONAL AUDIT OFFICE
LUCKNOW
LUCKNOW
UTTAR PRADESH
BANK OF' INDIA
BKID000ZA56
EASTERN ZONAL AUDIT OFFICE
EASTERN ZONAL AUDIT OF
KOLKATA
KOLKATA
WEST BENGAL
BANK OF' INDIA
BKID000ZA50
BDM – HARDOI
BDM HARDOI
KANPUR
KANPUR CITY
UTTAR PRADESH
BANK OF' INDIA
BKID000ZA37
SOUTHERN ZONAL AUDIT OFFICE
SOUTHERN ZONAL AUDIT O
CHENNAI
CHENNAI
TAMIL NADU
BANK OF' INDIA
BKID000ZA34
MP ZONAL AUDIT OFFICE
MP ZONAL AUDIT OFFICE
BHOPAL
BHOPAL
MADHYA PRADESH
BANK OF' INDIA
BKID000ZA32
GUJRAT ZONAL AUDIT OFFICE
GUJRAT ZONAL AUDIT OFF
AHMEDABAD
AHMADABAD
GUJARAT
BANK OF' INDIA
BKID000TEAB
TEA BOARD
23A NETAJI SUBHASH ROAD KOLKATA 700 001
KOLKATA
KOLKATA
WEST BENGAL
33
22624136
BANK OF' INDIA
BKID000TC81
MDI TRAINING CENTRE
MDI TRAINING CENTRENAVI MUMBAI
NAVI MUMBAI
THANE
MAHARASHTRA
BANK OF' INDIA
BKID000TC66
ITTC PUNE TRAINING CENTRE
ITTC PUNE TRAINING CEN
PUNE
PUNE
MAHARASHTRA
BANK OF' INDIA
BKID000TC56
STAFF TRAINING CENTRE – KOLKATTA
STAFF TRAINING CENTREKOLKATA
KOLKATA
KOLKATA
WEST BENGAL
BANK OF' INDIA
BKID000TC43
STC GOA
STAR HOUSE BOI BLDG 4TH FL PATTO PLAZA PANAJI GOA 403001
PANAJI
NORTH GOA
GOA
832
91
BANK OF' INDIA
BKID000TC41
STAFF TRAINING CENTRE – NOIDA
STAFF TRAINING CENTRENOIDA
NOIDA
GAUTAM BUDDHA NAGAR
UTTAR PRADESH
BANK OF' INDIA
BKID000TC37
STAFF TRAINING CENTER – CHENNAI
STAFF TRAINING CENTERCHENNAI
CHENNAI
CHENNAI
TAMIL NADU
BANK OF' INDIA
BKID000TC34
STAFF TRAINING CENTRE – BHOPAL
STAFF TRAINING CENTREBHOPAL
BHOPAL
BHOPAL
MADHYA PRADESH
BANK OF' INDIA
BKID000SSCB
SSC BOARD
SHIVAJI NAGAR PUNE
PUNE
PUNE
MAHARASHTRA
20
25538512
BANK OF' INDIA
BKID000SM81
SME CITY CENTRE NAVI MUMBAI
SME CITY CENTERNAVI MUMBAI
NAVI MUMBAI
THANE
MAHARASHTRA
BANK OF' INDIA
BKID000SM66
SME CITY CENTRE – PUNE
SME CITY CENTRE PUNE
PUNE
PUNE
MAHARASHTRA
BANK OF' INDIA
BKID000SM63
SME CITY CENTRE – NAGPUR
SME CITY CENTRENAGPUR
NAGPUR
NAGPUR
MAHARASHTRA
BANK OF' INDIA
BKID000SM60
SME CITY CENTRE – MUMBAI NORTH
SME CITY CENTREMUMBAI NORTH
MUMBAI SOUTH
GREATER BOMBAY
MAHARASHTRA
BANK OF' INDIA
BKID000SM37
SME CITY CENTRE – CHENNAI
SME CITY CENTRECHENNAI
CHENNAI
CHENNAI
TAMIL NADU
BANK OF' INDIA
BKID000S731
SOLAPUR
CITY PRIDE COMPLEX, 1ST FLOOR, SHOP NO. 105 TO 109, OPPOSITE TO HP PETROL PUMP, ASHOK CHOWK, SOLAPUR-413005
SOLAPUR
SOLAPUR
MAHARASHTRA
217
2651834
BANK OF' INDIA
BKID000RS44
RSETI CHATRA HAZARIBAGH
RSETI CHATRA HAZARI
CHATRA
CHATRA
JHARKHAND
BANK OF' INDIA
BKID000RB81
RETAIL BANKING CENTRE – NAVI MUMBAI
RETAIL BANKING CENTRE
NAVI MUMBAI
THANE
MAHARASHTRA
BANK OF' INDIA
BKID000R144
RSETI KODERMA HAZARIBAGH
RSETI KODERMA HAZAR
HAZARIBAGH
HAZARIBAG
JHARKHAND
BANK OF' INDIA
BKID000PIGW
RTGS-HO
MUMBAI
MUMBAI
MUMBAI
MAHARASHTRA
BANK OF' INDIA
BKID000NMUM
PUNE LCB
SHIVAJI NAGAR PUNE
PUNE
PUNE
MAHARASHTRA
9120
25530314
BANK OF' INDIA
BKID000NBXX
NATIONAL BANKING GROUP NORTH II
NATIONAL BANKING GROUP
LUCKNOW
LUCKNOW
UTTAR PRADESH
BANK OF' INDIA
BKID000NB70
NATIONAL BANKING GROUP J C
NATIONAL BANKING GROUPJ&C
RANCHI
RANCHI
JHARKHAND
BANK OF' INDIA
BKID000NB66
NATIONAL BANKING GROUP – WEST -II
NATIONAL BANKING GROUP
PUNE
PUNE
MAHARASHTRA
BANK OF' INDIA
BKID000NB65
NBG BIHAR
NBG BIHAR BANK OF INDIA UDAY BHAWAN 3RD FLOOR FRASER ROAD PATNA 800001
PATNA
PATNA
BIHAR
91
9586958425
BANK OF' INDIA
BKID000NB64
NATIONAL BANKING GROUP NORTH I
NATIONAL BANKING GROUP
DELHI
DELHI
DELHI
BANK OF' INDIA
BKID000NB61
NATIONAL BANKING GROUP – WEST -I
NATIONAL BANKING GROUPWEST I
MUMBAI SOUTH
GREATER BOMBAY
MAHARASHTRA
BANK OF' INDIA
BKID000NB57
NATIONAL BANKING GROUP NORTH II
NATIONAL BANKING GROUPNORTH 2
LUCKNOW
LUCKNOW
UTTAR PRADESH
BANK OF' INDIA
BKID000NB56
NATIONAL BANKING GROUP – EAST
NATIONAL BANKING GROUPEAST
KOLKATA
KOLKATA
WEST BENGAL
BANK OF' INDIA
BKID000NB46
NBG SOUTH II
10 1 1199 2 PTI BUILDING THIRD FLOOR AC GUARDS MASAB TANK
HYDERABAD
HYDERABAD
TELANGANA
500004
4029325562
BANK OF' INDIA
BKID000NB37
NATIONAL BANKING GROUP – SOUTH
NATIONAL BANKING GROUPSOUTH
CHENNAI
CHENNAI
TAMIL NADU
BANK OF' INDIA
BKID000NB34
NBG MPCG
BANK OF INDIA,NBG MP CG,BANK OF INDIA BUILDING,2ND FLOOR,ARERA HILLS,JAIL ROAD,BHOPAL 462011
BHOPAL
BHOPAL
MADHYA PRADESH
755
2999983
BANK OF' INDIA
BKID000NB32
NATIONAL BANKING GROUP – CENTRAL
NATIONAL BANKING GROUPCENTRAL
AHMEDABAD
AHMEDABAD
GUJARAT
BANK OF' INDIA
BKID000MSBP
SSC BOARD
SHIVAJI NAGAR PUNE
PUNE
PUNE
MAHARASHTRA
20
25538512
BANK OF' INDIA
BKID000MPST
PUNE LCB
SHIVAJI NAGAR PUNE
PUNE
PUNE
MAHARASHTRA
9120
25530314
BANK OF' INDIA
BKID000L374
LDM OFFICE RAJGARH
LDM OFFICE RAJGARH UJJAIN ZO
UJJAIN
UJJAIN
MADHYA PRADESH
BANK OF' INDIA
BKID000L363
LDM OFFICE BHANDARA
LDM OFFICE BHANDARA NAGPUR ZO
NAGPUR
NAGPUR
MAHARASHTRA
BANK OF' INDIA
BKID000L344
LDM RAMGARH
LDM OFFICE RAMGARH
RAMGARH
RAMGARH
JHARKHAND
BANK OF' INDIA
BKID000L274
LDM OFFICE SHAJAPUR
LDM OFFICE SHAJAPUR
SHAJAPUR
SHAJAPUR
MADHYA PRADESH
BANK OF' INDIA
BKID000L270
LDM LOHARDAGA
LDM OFFICE LOHARDAGA
LOHAR
LOHAR
JHARKHAND
BANK OF' INDIA
BKID000L263
LDM OFFICE GADCHIROLI
LDM OFFICE GADCHIROL
NAGPUR
NAGPUR
MAHARASHTRA
BANK OF' INDIA
BKID000L249
LDM SERAIKELA KHARSWAN
LDM OFFICE SARAIKELAJAMSHEDPUR
JAMSHEDPUR
JAMSHEDPUR
WEST BENGAL
BANK OF' INDIA
BKID000L244
LDM KODERMA
LDM OFFICE KODERMA
KODERMA
KODERMA
JHARKHAND
BANK OF' INDIA
BKID000L178
LDM OFFICE – WARDHA
LDM OFFICE WARDHA V
WARDH
WARDHA
MAHARASHTRA
BANK OF' INDIA
BKID000L174
LDM OFFICE – UJJAIN
LDM OFFICE UJJAIN
UJJAIN
UJJAIN
MADHYA PRADESH
BANK OF' INDIA
BKID000L170
LDMO GUMLA
LDM OFFICE GUMLA RA
GUMLA
GUMLA
JHARKHAND
BANK OF' INDIA
BKID000L163
LDM OFFICE GONDIA
LDM OFFICE GONDIA
GONDIA
GONDIA
MAHARASHTRA
BANK OF' INDIA
BKID000L157
LDM OFFICE BARABANKI
LDM OFFICE BARABANKI
LUCKNOW
LUCKNOW
UTTAR PRADESH
BANK OF' INDIA
BKID000L150
LDM HARDOI
LDM OFFICE HARDOI
HARDOI
HARDOI
UTTAR PRADESH
BANK OF' INDIA
BKID000L149
LDM EAST SINGHBHUM
LDM OFFICE SINGHBHUM E JAMSHEDPUR
SINGHBHUM
PASCHIMI SINGHBHUM
WEST BENGAL
BANK OF' INDIA
BKID000L144
LDM OFFICE CHATRA
LDM OFFICE CHATRA
CHATRA
CHATRA
JHARKHAND
BANK OF' INDIA
BKID000L142
LDM OFFICE GIRIDIH
LDM OFFICE GIRIDIHBOKARO ZO
GIRIDIH
GIRIDIH
JHARKHAND
BANK OF' INDIA
BKID000L132
LDM OFFICE MAINPURI
LDM OFFICE MAINPURI
MAINPURI
MAINPURI
UTTAR PRADESH
BANK OF' INDIA
BKID000L131
LDM OFFICE FARRUKHABAD
LDM OFFICE FARRUKHAB
FARRUKHABAD
FARRUKHABAD
UTTAR PRADESH
BANK OF' INDIA
BKID000L078
LDM OFFICE CHANDRAPUR
LDM OFFICE CHANDRAPU
CHANDRAPUR
CHANDRAPUR
MAHARASHTRA
BANK OF' INDIA
BKID000L074
LDM OFFICE DEVAS
LDM OFFICE DEVAS UJ
DEVAS
DEVAS (UJJAIN ZO)
MADHYA PRADESH
BANK OF' INDIA
BKID000L070
LDM OFFICE RANCHI
LDM OFFICE RANCHI
RANCHI
RANCHI
JHARKHAND
BANK OF' INDIA
BKID000L067
LDM OFFICE ALIBAGH RAIGAD
LDM OFFICE ALIBAGHRAIGAD
ALIBAGH RAIGAD
ALIBAGH RAIGAD
MAHARASHTRA
BANK OF' INDIA
BKID000L063
LDM OFFICE – NAGPUR
LDM OFFICE NAGPUR
NAGPUR
NAGPUR
MAHARASHTRA
BANK OF' INDIA
BKID000L057
LDM LUCKNOW
LDM OFFICE LUCKNOW
LUCKNOW
LUCKNOW
UTTAR PRADESH
BANK OF' INDIA
BKID000L052
LDM MAYURBHANJ
LDM OFFICE MAYURGHAN
MAYURBHANJ
MAYURBHANJ
ODISHA
BANK OF' INDIA
BKID000L050
LDM UNNAO
LDM OFFICE UNNAO KA
UNNAO
UNNAO
UTTAR PRADESH
BANK OF' INDIA
BKID000L049
LDM WEST SINGHBHUM
LDM OFFICE SINGHBHUM W JAMSHEDPUR
SINGHBHUM
PASCHIMI SINGHBHUM
WEST BENGAL
BANK OF' INDIA
BKID000L047
LDM OFFICE – BARWANI
LDO BARWANI INDORE
BARWANI
BARWANI
MADHYA PRADESH
BANK OF' INDIA
BKID000L044
LDM OFFICE – HAZARIBAGH
LDM OFFICE HAZARIBAG
HAZARIBAGH
HAZARIBAG
JHARKHAND
BANK OF' INDIA
BKID000L042
LDM OFFICE – BOKARO
LDM OFFICE BOKARO
BOKARO
BOKARO
JHARKHAND
BANK OF' INDIA
BKID000L039
LDM OFFICE – DHANBAD
LDM OFFICE DHANBAD
DHANBAD
DHANBAD
JHARKHAND
BANK OF' INDIA
BKID000L034
LDM OFFICE SEHORE
LDM OFFICE SEHORE
SEHORE
SEHORE
MADHYA PRADESH
BANK OF' INDIA
BKID000L031
LDM OFFICE KANNAUJ
LDM OFFICE KANNAUJ
KANAUJ
KANNAUJ
UTTAR PRADESH
BANK OF' INDIA
BKID000KOAG
BOI K.AGROTECH
142 MURARJI PETHSOLAPUR MAHARASHTRA
SOLAPUR
SOLAPUR
MAHARASHTRA
2172
2172728480
BANK OF' INDIA
BKID000DO66
DIVISIONAL OFFICE – PUNE
DIVISIONAL OFFICE PU
PUNE
PUNE
MAHARASHTRA
BANK OF' INDIA
BKID000DO64
DIVISIONAL OFFICE – NEW DELHI
DIVISIONAL OFFICE NE
NEW DELHI
DELHI
DELHI
BANK OF' INDIA
BKID000DO61
DIVISIONAL OFFICE – MUMBAI SOUTH
DIVISIONAL OFFICE MU
MUMBAI SOUTH
MUMBAI SOUTH
MAHARASHTRA
BANK OF' INDIA
BKID000DO58
DIVISIONAL OFFICE – LUDHIYANA
DIVISIONAL OFFICE LU
LUDHIYANA
LUDHIYANA
PUNJAB
BANK OF' INDIA
BKID000DO56
DIVISIONAL OFFICE – KOLKATTA
DIVISIONAL OFFICE KO
KOLKATTA
KOLKATA
WEST BENGAL
BANK OF' INDIA
BKID000DO37
DIVISIONAL OFFICE – CHENNAI
DIVISIONAL OFFICE CH
CHENNAI
CHENNAI
TAMIL NADU
BANK OF' INDIA
BKID000DO32
DIVISIONAL OFFICE – AHMEDABAD
DIVISIONAL OFFICE AH
AHMEDABAD
AHMADABAD
GUJARAT
BANK OF' INDIA
BKID000DCBL
DHAKURIA CO OP BANK LTD DHAKURIA
68 TANUPUKUR ROAD DHAKURIA KOLKATA 700031
KOLKATA
KOLKATA
WEST BENGAL
91
9433408082
BANK OF' INDIA
BKID000CP46
CPC – TELANGANA
CPC TELANGANA
TELANGANA
TELANGANA
TELANGANA
BANK OF' INDIA
BKID000CP44
CENTRAL PROCESSING CELL – HAZARIBAGH
CENTRAL PROCESSING CELHAZARIBAGH
HAZARIBAGH
HAZARIBAGH
JHARKHAND
BANK OF' INDIA
BKID000CC44
CURRENCY CHEST – KUJU
CURRENCY CHEST – KUJU
KUJU
KUJU
JHARKHAND
BANK OF' INDIA
BKID000BD80
BDM – AGARTALLA
BDM AGARTALLA
AGARTALLA
AGARTALLA
KERALA
BANK OF' INDIA
BKID000BD77
BDM – GUNTUR
BDM GUNTUR
GUNTUR
GUNTUR
ANDHRA PRADESH
BANK OF' INDIA
BKID000ASOC
PUNE LCB
SHIVAJI NAGAR PUNE
PUNE
PUNE
MAHARASHTRA
9120
25530314
BANK OF' INDIA
BKID000A776
AMO ANAKAPALLE
3-7-25 , BANK OF INDIA, ANAKAPALLE BRANCH, SRI SAI SOWDHA, OPPO MRO OFFICE, PB N.O.12, MAIN ROAD, ANAKAPALLE, 531001
ANAKAPALLE
VISHAKHAPATNAM
ANDHRA PRADESH
91
8179233168
BANK OF' INDIA
BKID000A561
BASIRHAT AREA OFFICE
AREA OFFICE BASIRHAT COLLEGE PARA TAKI ROAD DISTRICT NORTH 24 PARGANAS
BASIRHAT
NORTH 24 PARGANAS
WEST BENGAL
3217
228310
BANK OF' INDIA
BKID000A511
AMO HUBBALI
AMO OFFICE HUBBALI DHARWAD SIVAGANGA PLAZA GROUND FLOOR BASAVESWARA NAGAR CROSS GOKUL ROAD HUBBALI 580030
HUBLI DHARWAD
DHARWAD
KARNATAKA
836
2337906
BANK OF' INDIA
BKID000A441
KODERMA
JHYMRITELAIYA
JHUMRITILAIYA
KODERMA
JHARKHAND
6534
227636
BANK OF' INDIA
BKID000A422
AMO GIRIDIH
LDM OFFICE COURT ROAD GIRIDIH
GIRIDIH
GIRIDIH
JHARKHAND
6532
250939
BANK OF' INDIA
BKID000A421
AMO BOKARO
NEAR GURUDWARA CHAS BOKARO
BOKARO
BOKARO
JHARKHAND
91
9065515388
BANK OF' INDIA
BKID000A323
AMO NADIAD
1ST FLOOR TOWER OPP CITY GYMKHANA KAPADWANJ ROAD NADIAD DISTRICT KHEDA 387001
NADIAD
KHEDA
GUJARAT
268
91
BANK OF' INDIA
BKID0009975
ATUDKHAS
VILLAGE & POST ATUDKHASVIA NIMAR KHEDI, DIST KHANDWA
ATUDKHAS (DIST. KHANDWA)
ATUDKHAS (DIST. KHANDWA)
MADHYA PRADESH
7323
7323268625
BANK OF' INDIA
BKID0009969
REHTI
BIJASEN COLONYMAIN ROAD SEHORE
SEHORE
SEHORE
MADHYA PRADESH
7564
7564232440
BANK OF' INDIA
BKID0009968
DHABLIKALAN
VILL. DHABLIKALANTEHSIL KHILCHIPUR, DIST RAJGARH
DHABLIKALAN (DIST.RAJGARH)
DHABLIKALAN (DIST.RAJGARH)
MADHYA PRADESH
7370
7370281444
BANK OF' INDIA
BKID0009967
KACHRI
PANCHAYAT BHAVAN, VILL.KACHRIVIA BIAORA, BLOCK & DIST.RAJGARH,
KACHRI (DIST. RAJGARH)
KACHRI (DIST. RAJGARH)
MADHYA PRADESH
7374
7374281488
BANK OF' INDIA
BKID0009966
JETPUR KALA
AT & POST JETPUR KALATEHSIL KHILCHIPUR,DIST RAJGARH
JETPUR KALA (DIST. RAJGARH)
JETPUR KALA (DIST. RAJGARH)
MADHYA PRADESH
7370
7370273781
BANK OF' INDIA
BKID0009965
BAMLABE
KHOORI,AT BAMLABE, POST KHURI,TAHSIL & DIST.RAJGARH
KHURI TAHSIL & DIST.RAJGARH
KHURI TAHSIL & DIST.RAJGARH
MADHYA PRADESH
7374
7374281158
BANK OF' INDIA
BKID0009964
KAREDI
CHOWK, VILLAGE KAREDIDISTRICT RAJGARH (BIAORA),
KAREDI (DIST. RAJGARH)
KAREDI (DIST. RAJGARH)
MADHYA PRADESH
7372
7372256525
BANK OF' INDIA
BKID0009963
BHOJPURIA (PACHORE)
PADAMPURA ROADNEW COLONY,DIST RAJGARH
BHOJPURIA (PACHORE) (DIST. RAJGARH)
BHOJPURIA (PACHORE) (DIST. RAJGARH)
MADHYA PRADESH
7374
7374263392
BANK OF' INDIA
BKID0009962
KARANWAS
KOMAL SADAN,AT & POST KARANWAS,VIA PACHORE, DIST RAJGARH
KARANWAS
KARANWAS
MADHYA PRADESH
7374
7374252231
BANK OF' INDIA
BKID0009961
MACHALPUR
AT & POST MACHALPURDISTRICT RAJGARH, TAL.ZIRAPUR,
MACHALPUR (DIST. RAJGARH)
MACHALPUR (DIST. RAJGARH)
MADHYA PRADESH
7370
7370271234
BANK OF' INDIA
BKID0009960
CHHAPIHEDA
AT & POST CHHAPIHEDATEHSIL KHILCHIPUR, DIST RAJGARH
CHHAPIHEDA (DIST. RAJGARH)
CHHAPIHEDA (DIST. RAJGARH)
MADHYA PRADESH
7370
7370276223
BANK OF' INDIA
BKID0009959
BODA
AT  & POST BODA,TAL. NARSINGHGARHDISTRICT RAJGARH,
BODA (DIST. RAJGARH)
BODA (DIST. RAJGARH)
MADHYA PRADESH
7375
7375243235
BANK OF' INDIA
BKID0009958
NARSINGHGARH
SAM COMPLEX, MAIN BAZARNARSINGHGARH, DIST. RAJGARH
NARSINGHGARH
NARSINGHGARH
MADHYA PRADESH
7375
7375245554
BANK OF' INDIA
BKID0009957
SARANGPUR
A. B. ROADNEAR BUS STAND,SARANGPUR DIST. RAJGARH
SARANGPUR (DIST.RAJGARH)
SARANGPUR (DIST.RAJGARH)
MADHYA PRADESH
7371
737122061
BANK OF' INDIA
BKID0009956
BIAORA SSI
BOMBAY-AGRA ROADBIAORA, DISTRICT RAJGARH,
BIAORA (MP)
BIAORA (MP)
MADHYA PRADESH
7374
7374232054
BANK OF' INDIA
BKID0009955
TALEN
MAIN STREETTALEN,TAL.NARSINGHGARH,
TALEN (DIST. RAJGARH)
TALEN (DIST. RAJGARH)
MADHYA PRADESH
7371
7371224729
BANK OF' INDIA
BKID0009953
KURAWAR
AT & POST KURAWAR,TAL.NARSINGHGARHDISTRICT RAJGARH,
KURAWAR (DIST. RAJGARH)
KURAWAR (DIST. RAJGARH)
MADHYA PRADESH
7375
7375244221
BANK OF' INDIA
BKID0009952
KHUJNER
AT & POST KHUJNER, TAL.RAJGARHDISTRICT RAJGARH,
KHUJNER (DIST. RAJGARH)
KHUJNER (DIST. RAJGARH)
MADHYA PRADESH
7374
7374257229
BANK OF' INDIA
BKID0009951
ZIRAPUR
MACHALPUR ROADZIRAPUR, DIST RAJGARH
ZIRAPUR
ZIRAPUR
MADHYA PRADESH
7370
7370275523
BANK OF' INDIA
BKID0009950
RAJGARH
KILLA ROADRAJGARH (BIAORA), DIST RAJGARH
RAJGARH
RAJGARH
MADHYA PRADESH
7372
7372255064
BANK OF' INDIA
BKID0009941
MAHESHWAR
HOUSE NO. 188, WARD NO. 9,DHAMNOD ROAD, MAHESHWAR
MAHESHWAR(M.P.)
MAHESHWAR(M.P.)
MADHYA PRADESH
7283
7283273173
BANK OF' INDIA
BKID0009940
GANDHI NAGAR INDORE
PLOT NO 81 C ONKAR MARG GANDHI NAGAR INDORE NEAR NEHARU GARDEN DIST INDORE MADHYA PRADESH PIN 453112
INDORE
GORAKHPUR
MADHYA PRADESH
7000774913
BANK OF' INDIA
BKID0009939
PANSEMAL
WARD NO.1 NEAR BUST STANDAT & POST PANSEMAL DISTT BARWANI
PANSEMAL (DISTT BARWANI MP)
PANSEMAL (DISTT BARWANI MP)
MADHYA PRADESH
BANK OF' INDIA
BKID0009938
KHETIA
SUBHASH CHOWK INFRONT OF SBIAT & POST KHETIA, DISTT BARWANI MP
KHETIA (DISTT BARWANI MP)
KHETIA (DISTT BARWANI MP)
MADHYA PRADESH
BANK OF' INDIA
BKID0009937
MANDLESHWAR
HOUSE NO. 3 NEAR BUS STANDAT &POST MANDLESHWAR, DISTT KHARGONE MP
MANDLESHWAR
MANDLESHWAR
MADHYA PRADESH
BANK OF' INDIA
BKID0009936
BEDIYA
PLOT NO. 82 PIPALGONE ROADBEDIYA, DISTT KHARGONE
BEDIYA (DISTT KHARGONE MP)
BEDIYA (DISTT KHARGONE MP)
MADHYA PRADESH
BANK OF' INDIA
BKID0009935
KASRAWAD
PLOT NO. 321/03 MAHESHWAR ROADKASRAWAD
KHARGONE
KHARGONE
MADHYA PRADESH
BANK OF' INDIA
BKID0009934
BHIKANGAON
WARD NO. 1, MG RD, OPP SHAHID SMARAK,BHIKANGAON DISTT KHARGONE
BHIKANGAON (MP)
BHIKANGAON (MP)
MADHYA PRADESH
7288
7288222456
BANK OF' INDIA
BKID0009933
JETAPUR ROAD
BHANDARI FERTILIZERSJETAPUR ROAD
KHARGONE
KHARGONE
MADHYA PRADESH
7282
7282243618
BANK OF' INDIA
BKID0009931
MEHATGAON
AT & P.O. MEHATGAONBLOCK SENDHWA, DIST.BARWANI
MEHATGAON (DIST. BARWANI)
MEHATGAON (DIST. BARWANI)
MADHYA PRADESH
7281
7281283192
BANK OF' INDIA
BKID0009930
RAJPUR
JAWAHAR CHOWK, BADWANI ROADRAJPUR, DISTRICT BARWANI,
RAJPUR (DIST. BARWANI)
RAJPUR (DIST. BARWANI)
MADHYA PRADESH
7284
7284256235
BANK OF' INDIA
BKID0009929
DODWA
VILLAGE & P. O. DODWAINDORE-KHANDWA STATEHIGHWAY, DIST KHARGONE
DODWA (DIST.KHARGONE)
DODWA (DIST.KHARGONE)
MADHYA PRADESH
7280
7280277222
BANK OF' INDIA
BKID0009928
BALAKWADA
AT & P.O. BALAKWADATEHSIL KASRAWAD, DIST KHARGONE
BALAKWADA (DIST. KHARGONE)
BALAKWADA (DIST. KHARGONE)
MADHYA PRADESH
7285
7285268634
BANK OF' INDIA
BKID0009927
NAGZIRI
VILLAGE & POST NAGZIRITEHSIL KHARGONE, DIST KHARGONE
NAGZIRI (DIST.KHARGONE)
NAGZIRI (DIST.KHARGONE)
MADHYA PRADESH
7282
7282262357
BANK OF' INDIA
BKID0009926
BAGOD
AT & POST BAGODTEHSIL BARWAHA, DIST KHARGONE
BAGOD (DIST. KHARGONE)
BAGOD (DIST. KHARGONE)
MADHYA PRADESH
7280
7280261614
BANK OF' INDIA
BKID0009925
TALWADA BUZURG
VILLAGE & POST TALWADA BUZURGTEHSIL BARWANI, DIST BARWANI
TALWADA BUZURG (DIST. BARWANI)
TALWADA BUZURG (DIST. BARWANI)
MADHYA PRADESH
7290
7290255203
BANK OF' INDIA
BKID0009924
BANGARDA
AT & POST BANGARDAVIA NIMARKHEDI, TEHSIL BARWAHA, DIST KHARGONE
BANGARDA (DIST. KHARGONE)
BANGARDA (DIST. KHARGONE)
MADHYA PRADESH
7323
7323289028
BANK OF' INDIA
BKID0009923
BALSAMUD
AT & POST BALSAMUDTEHSIL KASRAWAD, DIST KHARGONE
BALSAMUD (DIST. KHARGONE)
BALSAMUD (DIST. KHARGONE)
MADHYA PRADESH
7285
7285222024
BANK OF' INDIA
BKID0009922
BARWANI
PADMAVATI COMPLEX, NEAR PANJATANIYA SCHOOLJAIN MANDIR CHAURAHA, BARWANI, M.P.
BARWANI
BARWANI
MADHYA PRADESH
7290
7290224665
BANK OF' INDIA
BKID0009921
BARUD (TANDA)
AT & POST BARUDTEHSIL KHARGAON, DIST KHARGONE
BARUD (TANDA) (DIST.KHARGONE)
BARUD (TANDA) (DIST.KHARGONE)
MADHYA PRADESH
7282
7282266726
BANK OF' INDIA
BKID0009920
BALWADA
AT & POST BALWADATEHSIL BARWAHA, DIST. KHARGONE
BALWADA (DIST. KHARGONE)
BALWADA (DIST. KHARGONE)
MADHYA PRADESH
7280
7280261234
BANK OF' INDIA
BKID0009919
DHARGAON
AT & POST DHARGAONTEHSIL MAHESHWAR, DIST. KHARGONE
DHARGAON (DIST. KHARGONE)
DHARGAON (DIST. KHARGONE)
MADHYA PRADESH
7283
7283222432
BANK OF' INDIA
BKID0009917
OON
AT & POST OONTEHSIL & DIST. KHARGONE,
OON (DIST. KHARGONE)
OON (DIST. KHARGONE)
MADHYA PRADESH
7282
7282261326
BANK OF' INDIA
BKID0009916
PIPLIA
AT & POST PIPLIA (BUZURG)TEHSIL MAHESHWAR, DIST KHARGONE
PIPLIA (DIST. KHARGONE)
PIPLIA (DIST. KHARGONE)
MADHYA PRADESH
7280
7280262239
BANK OF' INDIA
BKID0009915
BAMNALA
AT & POST BAMNALA, KHARGONE ROADTEHSIL BHIKANGAON, DIST BAMNALA
BAMNALA (DIST. KHARGONE)
BAMNALA (DIST. KHARGONE)
MADHYA PRADESH
7288
7288260429
BANK OF' INDIA
BKID0009914
BALWADI
AT & POST BALWADITEHSIL SENDHWA, DIST BARWANI
BALWADA (DIST. KHARGONE)
BALWADA (DIST. KHARGONE)
MADHYA PRADESH
7281
7281262223
BANK OF' INDIA
BKID0009913
ANAKWADI
AT ANAKWADIPOST BISTHAN, DIST KHARGONE
ANAKWADI (DIST. KHARGONE)
ANAKWADI (DIST. KHARGONE)
MADHYA PRADESH
7282
7282252225
BANK OF' INDIA
BKID0009912
PATI NIMAR
AT & POST PATIDISTRICT BARWANI,
PATI NIMAR (DIST. BARWANI)
PATI NIMAR (DIST. BARWANI)
MADHYA PRADESH
7290
7290232323
BANK OF' INDIA
BKID0009911
ZIRNIYA
AT & P. O. ZIRNIYADISTRICT KHARGONE,
ZIRNIYA (DIST. KHARGONE)
ZIRNIYA (DIST. KHARGONE)
MADHYA PRADESH
7289
7289247028
BANK OF' INDIA
BKID0009908
ANJAD
JATA SHANKAR CHOWKAT POST ANJAD, DIST BARWANI
ANJAD (DIST. BARWANI)
ANJAD (DIST. BARWANI)
MADHYA PRADESH
7284
7284251042
BANK OF' INDIA
BKID0009907
BARWAHA
109, NARMADA ROADAT & POST BARWAHA, DIST KHARGONE
BARWAHA (DIST. KHARGONE)
BARWAHA (DIST. KHARGONE)
MADHYA PRADESH
7280
7280222085
BANK OF' INDIA
BKID0009905
THIKRI
AT POST THIKRITEHSIL RAJPUR, DIST BARWANI
THIKRI (DIST. BARWANI)
THIKRI (DIST. BARWANI)
MADHYA PRADESH
7284
7284267223
BANK OF' INDIA
BKID0009904
KARHI
AT KARHIDISTRICT KHARGONE,
KARHI (DISTRICT KHARGONE)
KARHI (DISTRICT KHARGONE)
MADHYA PRADESH
7283
7283255222
BANK OF' INDIA
BKID0009903
OZAR
AT & P.O. OZARTEHSIL RAJPUR, DIST BARWANI
OZAR (DIST. BARWANI)
OZAR (DIST. BARWANI)
MADHYA PRADESH
7284
7284264225
BANK OF' INDIA
BKID0009902
SENDHWA SME
DAJI BHAVAN, MOTI BAGH CHOWKSENDHWA,
SENDHWA
SENDHWA
MADHYA PRADESH
7281
7281224843
BANK OF' INDIA
BKID0009901
SANAWAD
LAXMI NIWASSANAWAD, DIST. KHARGONE
SANAWAD
SANAWAD
MADHYA PRADESH
7280
7280234614
BANK OF' INDIA
BKID0009900
KHARGONE SME
BIRLA MARGKHARGONE,  DIST KHARGONE
KHARGONE
KHARGONE
MADHYA PRADESH
7282
7282233161
BANK OF' INDIA
BKID0009824
GARDAWAD
VILL PO GARDAWAD TEHSHIL DHAR DISTRICT DHAR MP 454001
DHAR
DHAR
MADHYA PRADESH
91
BANK OF' INDIA
BKID0009823
LONGSARI
VILL AND PO LONGSARI TEHSHIL DHAR DISTRICT DHAR MP 454221
DHAR
DHAR
MADHYA PRADESH
BANK OF' INDIA
BKID0009822
DHARAMPURI
AT KHALGHAT MANAWAR ROADDHARAMPURI JUNCTION
DHAR
DHAR
MADHYA PRADESH
7291
7291264011
BANK OF' INDIA
BKID0009821
SINGHANA
KUKSHI BARWANI ROAD JUNCTION AT & POST – SINGHANA, DISTT DHAR
SINGHANA (DISTT DHAR) MP
SINGHANA (DISTT DHAR) MP
MADHYA PRADESH
BANK OF' INDIA
BKID0009820
NAGDA (DHAR)
SANKHLA  COMPLEX, MANDI ROAD,  NAGDA,DIST. DHAR, MADHYA PRADESH
NAGDA (DHAR)
NAGDA (DHAR)
MADHYA PRADESH
9893964553
BANK OF' INDIA
BKID0009819
RAJGARH (DHAR)
PALIKA NIDHI COMPLEXRAJGARH (DHAR)
RAJGARH (DHAR)
RAJGARH (DHAR)
MADHYA PRADESH
7296
7296235881
BANK OF' INDIA
BKID0009818
BAGDI
BUS STAND, AT & POST BAGDITEHSIL DHAR, DIST. DHAR,
BAGDI (DIST. DHAR)
BAGDI (DIST. DHAR)
MADHYA PRADESH
7292
7292273743
BANK OF' INDIA
BKID0009817
BARDA
VILLAGE BARDA, POST ALITEHSIL KUKSHI,
BARDA (DIST .DHAR)
BARDA (DIST .DHAR)
MADHYA PRADESH
7297
7297234838
BANK OF' INDIA
BKID0009816
PITHAMPUR INDUSTRIAL ESTATE
402,E/1, SECTORMHOW NEEMUCH ROAD,PITHAMPUR,
INDORE
INDORE
MADHYA PRADESH
7292
7292252438
BANK OF' INDIA
BKID0009815
MULTHAN
TEHSIL BADNAWARDISTRICT DHAR,
MULTHAN (DIST. DHAR)
MULTHAN (DIST. DHAR)
MADHYA PRADESH
7295
7295276424
BANK OF' INDIA
BKID0009814
DHAMNOD
BOMBAY-AGRA ROADAT & POST DHAMNOD, DIST DHAR
DHAMNOD (DIST. DHAR)
DHAMNOD (DIST. DHAR)
MADHYA PRADESH
7291
7291222092
BANK OF' INDIA
BKID0009813
RINGNOD
AT & POST RINGNOD, SADAR BAZARTEHSIL SARDARPUR, DIST DHAR
RINGNOD (DIST.DHAR)
RINGNOD (DIST.DHAR)
MADHYA PRADESH
7296
7296266238
BANK OF' INDIA
BKID0009812
SAGORE
AT & POST SAGORETEHSIL DHAR, DIST DHAR
SAGORE (DIST. DHAR)
SAGORE (DIST. DHAR)
MADHYA PRADESH
7292
7292256684
BANK OF' INDIA
BKID0009811
KANWAN
AT & POST KANWANTEHSIL BADNAWAR, DIST. DHAR
KANWAN (DIST. DHAR)
KANWAN (DIST. DHAR)
MADHYA PRADESH
7295
7295263231
BANK OF' INDIA
BKID0009810
GHATABILLOD
GHATABILLOD, SANWARIYA NAGARBEHIND PETROL PUMP,GHATABILLOD, DIST DHAR
GHATABILLOD (DIST.DHAR)
GHATABILLOD (DIST.DHAR)
MADHYA PRADESH
7292
7292277229
BANK OF' INDIA
BKID0009809
AMZERA
AT & POST AMZERA, SADAR BAZARTEHSIL SARDARPUR,
AMZERA (DIST. DHAR)
AMZERA (DIST. DHAR)
MADHYA PRADESH
7296
7296261436
BANK OF' INDIA
BKID0009808
NISARPUR
AT & POST NISARPURTEHSIL KUKSHI, DIST DHAR
NISARPUR (DIST. DHAR)
NISARPUR (DIST. DHAR)
MADHYA PRADESH
7297
7297266634
BANK OF' INDIA
BKID0009807
DAHI
MAIN ROADAT & POST DAHI, DIST DHAR
DAHI (DIST DHAR)
DAHI (DIST DHAR)
MADHYA PRADESH
7297
7297261463
BANK OF' INDIA
BKID0009806
KESUR
SADAR BAZARAT & P. O. KESUR, DIST. DHAR
KESUR (DIST. DHAR)
KESUR (DIST. DHAR)
MADHYA PRADESH
7292
7292274223
BANK OF' INDIA
BKID0009804
BADNAWAR
27 JAWAHAR MARGBANDNAWAR, DIST DHAR
BADNAWAR (DIST. DHAR)
BADNAWAR (DIST. DHAR)
MADHYA PRADESH
7295
7295232043
BANK OF' INDIA
BKID0009803
KUKSHI
DHAR CHIKHALDA MARGKUKSHI, DIST. DHAR
KUKSHI (DIST. DHAR)
KUKSHI (DIST. DHAR)
MADHYA PRADESH
7297
7297234523
BANK OF' INDIA
BKID0009802
MANAWAR
DHAR ROADNEAR SHRI KRISHNA TALKIES,MANAWAR, DIST DHAR
MANAWAR (DIST. DHAR)
MANAWAR (DIST. DHAR)
MADHYA PRADESH
7294
7294232237
BANK OF' INDIA
BKID0009801
BAGH
33, SADAR BAZARBAGH, DIST DHAR
BAGH (DIST. DHAR)
BAGH (DIST. DHAR)
MADHYA PRADESH
7297
7297267241
BANK OF' INDIA
BKID0009800
DHAR
8,BOHRA BAKHAL, DHARMADHYA PRADESH – 454 001.
DHAR
DHAR
MADHYA PRADESH
7292
7292222311
BANK OF' INDIA
BKID0009730
RAM NAGAR
PLOT NO 2072 MUNICIPAL HOUSE NO 101 137 SUMATI PALACE OPP RANJAN SABHAGRUHA 442001
WARDHA
WARDHA
MAHARASHTRA
91
8806550193
BANK OF' INDIA
BKID0009728
SINDI RAILWAY
H/O MR.DILIP GOPALDAS AGRAWAL MAHALAXMI BHAVASINDI RAILWAY TAHSILSELU, DISTRICT WARDHA. MA
WARDHA
WARDHA
MAHARASHTRA
7155
7155266012
BANK OF' INDIA
BKID0009727
TALEGAON
PLOT NO.8, WARD NO.31, RAMDARA, AT-TALEGAON,TAHSIL-ASHTI, DISTRICT-WARDHA.
TALEGAON
TALEGAON
MAHARASHTRA
BANK OF' INDIA
BKID0009726
BORGAON MEGHE
H/O MRS.HEMLATA ANANDRAO MEGHE,HOUSE NO.2447WARD NO.76,BORGAON (MEGHE)
WARDHA
WARDHA
MAHARASHTRA
7152
BANK OF' INDIA
BKID0009725
KARANJA GHATGE
PLOT NO-36, WARD NO-1, NEAR KALAMBE HOSPITALKARANJA GHATGE DIST: WARDHA
KARANJA GHADGE (DISTT WARDHA)
KARANJA GHADGE (DISTT WARDHA)
MAHARASHTRA
BANK OF' INDIA
BKID0009724
SAMUDRAPUR
NIKHADE BHAWAN, PLOT NO. -5, SURVEY NO. 43/2SAMUDRAPUR, DISTT WARDHA
SAMUDRAPUR (DISTT WARDHA)
SAMUDRAPUR (DISTT WARDHA)
MAHARASHTRA
BANK OF' INDIA
BKID0009723
ARVI
PLOT NO. 1028, WARD NO. 5, JAJOO WADI,BEHIND CIVIL COURT, AT & PO ARVI, DT. WARDHA
ARVI (WARDHA)
ARVI (WARDHA)
MAHARASHTRA
BANK OF' INDIA
BKID0009722
DEOLI
HOUSE OF SHRI DP DAFRE, WARD NO.8DEOLI, AT & PO DEOLI, DISTT WARDHA
DEOLI (DISTT WARDHA) MH
DEOLI (DISTT WARDHA) MH
MAHARASHTRA
7158254336
BANK OF' INDIA
BKID0009721
HINDI VISHWA VIDYALAYA
MAHATMA GANDHI ATARRASTRYAVISHWA VIDYALAYA CAMPUS, PANCHTILA
WARDHA
WARDHA
MAHARASHTRA
7152
7152255948
BANK OF' INDIA
BKID0009720
ARVI NAKA
GAJANAN NAAGAR ARVI RD.ARVINAKA DISTT.WARDHA
WARDHA
WARDHA
MAHARASHTRA
7152
7152243688
BANK OF' INDIA
BKID0009719
ANTORA
AT & POST ANTORATAHSIL ASHTI, DIST WARDHA
ANTORA (DIST. WARDHA)
ANTORA (DIST. WARDHA)
MAHARASHTRA
7157
7157232230
BANK OF' INDIA
BKID0009718
SUKLI (BAI)
AT & POST SUKLI (BAI)TAHSIL SELOO, DIST. WARDHA
SUKLI (BAI) (DIST. WARDHA)
SUKLI (BAI) (DIST. WARDHA)
MAHARASHTRA
7152
7152268032
BANK OF' INDIA
BKID0009717
POHANA
AT & POST POHANATALUKA HINGANGHAT, DIST. WARDHA
POHANA (DIST. WARDHA)
POHANA (DIST. WARDHA)
MAHARASHTRA
7153
7153252630
BANK OF' INDIA
BKID0009716
KANDHALI
AT & POST KANDHALITEHSIL SAMUDRAPUR, DIST WARDHA
KANDHALI (DIST. WARDHA)
KANDHALI (DIST. WARDHA)
MAHARASHTRA
7151
7151270333
BANK OF' INDIA
BKID0009715
MANDGAON
AT & POST MANDGAONTEHSIL SAMUDRAPUR, DIST WARDHA
MANDGAON (DIST. WARDHA)
MANDGAON (DIST. WARDHA)
MAHARASHTRA
7151
7151235320
BANK OF' INDIA
BKID0009714
THANEGAON
AT & POST THANEGAONTALUKA KARANJA (GHADGE), DIST. WARDHA
THANEGAON (DIST. WARDHA)
THANEGAON (DIST. WARDHA)
MAHARASHTRA
7157
7157252230
BANK OF' INDIA
BKID0009713
SAHOOR
AT & POST SAHOORTEHSIL ASHTI, DIST. WARDHA
SAHOOR (DIST. WARDHA)
SAHOOR (DIST. WARDHA)
MAHARASHTRA
7157
7157231124
BANK OF' INDIA
BKID0009712
WADNER
AT & POST WADNERTALUKA HINGANGHAT, DISTT. WARDHA
WADNER (DIST. WARDHA)
WADNER (DIST. WARDHA)
MAHARASHTRA
7153
7153255829
BANK OF' INDIA
BKID0009711
KANGAON
AT & POST KANGAONTALUKA – HINGANGHAT, DIST. WARDHA
KANGAON (DIST. WARDHA)
KANGAON (DIST. WARDHA)
MAHARASHTRA
7153
7153251424
BANK OF' INDIA
BKID0009710
BHIDI
SHRI BAPURAOJI N KALE'S BLDG. NEAR ST STANDMAIN ROAD, TAH DEOLI, DISTT. WARDHA
BHIDI (DIST. WARDHA)
BHIDI (DIST. WARDHA)
MAHARASHTRA
7158
7158252626
BANK OF' INDIA
BKID0009709
NACHANGAON
AT & POST NACHANGAONDISTRICT WARDHA,
NACHANGAON (DIST. WARDHA)
NACHANGAON (DIST. WARDHA)
MAHARASHTRA
7158
7158282134
BANK OF' INDIA
BKID0009708
JAM
JAM BRANCH, TAHSIL  SAMUDRAPURDIST-WARDHA PIN 442305
JAM (DIST-WARDHA)
JAM (DIST-WARDHA)
MAHARASHTRA
7151
7151225437
BANK OF' INDIA
BKID0009707
HINGANI
AT & POST HINGANITEHSIL SELOO, DIST. WARDHA
HINGANI (DIST. WARDHA)
HINGANI (DIST. WARDHA)
MAHARASHTRA
7155
715565522
BANK OF' INDIA
BKID0009706
HINGANGHAT
NEAR KARANJA CHOWKHINGANGHAT, DISTRICT WARDHA,
HINGANGHAT ( MH)
HINGANGHAT ( MH)
MAHARASHTRA
7153
7153244160
BANK OF' INDIA
BKID0009705
ROHANA
ROHANADISTRICT WARDHA,
ROHANA (DIST. WARDHA)
ROHANA (DIST. WARDHA)
MAHARASHTRA
7157
7157230222
BANK OF' INDIA
BKID0009704
ASHTI
AT & POST ASHTI, TAH ASHTIDSTT. WARDHA
ASHTI  (DIST. WARDHA)
ASHTI  (DIST. WARDHA)
MAHARASHTRA
7156
7156225617
BANK OF' INDIA
BKID0009703
PULGAON
CAMP ROADPULGAON, DIST. WARDHA
PULGAON
PULGAON
MAHARASHTRA
7158
7158282091
BANK OF' INDIA
BKID0009702
MORANGANA
AT MORANGANAP. O. KHARANGANA, TALUKA ARVI,  DISTT. WARDHA
MORANGANA (DIST. WARDHA)
MORANGANA (DIST. WARDHA)
MAHARASHTRA
7157
7157235128
BANK OF' INDIA
BKID0009701
SELOO
NAVALCHAND CHOUDHARY BHAVANSWAMI VIVEKANAND MARG,SELOO, DIST. WARDHA
SELOO (MHARASHTRA)
SELOO (MHARASHTRA)
MAHARASHTRA
7155
7155220241
BANK OF' INDIA
BKID0009700
WARDHA
BAJAJ BUILDING, HOSPITAL ROADPOST BOX NO. 7,
WARDHA
WARDHA
MAHARASHTRA
7152
7152243259
BANK OF' INDIA
BKID0009684
DHAMANGAON RAILWAY
KANOJIYA COMPLEX, PLOT NO. 28, WARD NO.16,STATION ROAD, DHAMANGAON RAILWAY
DHAMANGAON RLY
DHAMANGAON RLY
MAHARASHTRA
BANK OF' INDIA
BKID0009683
CHANDUR RAILWAY
CHOKHAT COMPLEX, IN FRONT OF POLICE STATIONAT & POST- CHANDUR RAILWAY, (DIST- AMRAVATI)
CHANDUR RLY
CHANDUR RLY
MAHARASHTRA
7222
7222254123
BANK OF' INDIA
BKID0009682
ACHALPUR
SONAR COMPLEX NEAR BUS STAND-PARATWADAAT PO  ACHALPUR (PARATWADA), DIST- AMARAVAT
AMRAVATI
AMRAVATI
MAHARASHTRA
7223220530
BANK OF' INDIA
BKID0009681
CHANDUR BAZAR
BHARAT KESHAVPRASAD RATHI, C/O GURU KRUPA MAVRINDAVAN COLONY,CHANDUR BAZAR
AMARAVATI
AMARAVATI
MAHARASHTRA
BANK OF' INDIA
BKID0009680
WAROOD
YAVALKAR COMPLEX, APPROACH ROADWAROOD, DISTT AMRAVATI
WARUD
WARUD
MAHARASHTRA
7229
7229233488
BANK OF' INDIA
BKID0009679
V.M.V ROAD
A-1 COMPLEX, RATHI NAGAR(TARANGAN COLONY),VMV ROAD, AMRAWATI, DISTRICT-AMRAWATI
AMRAVATI
AMRAVATI
MAHARASHTRA
721
7212552960
BANK OF' INDIA
BKID0009678
MORSHI
RATHI BUILDING, SHRIKRUSHNPETHMORSHI, DIST. AMRAVATI,
MORSHI, DIST. AMRAVATI
MORSHI, DIST. AMRAVATI
MAHARASHTRA
7228
7228222368
BANK OF' INDIA
BKID0009677
DEORANKAR NAGAR/M.I.D.C.RD.AMR
NEAR  SAMARTH HIGH SCHOOL,BADNERA ROAD,AMRAVATI.
AMARAVATI
AMARAVATI
MAHARASHTRA
721
7212576283
BANK OF' INDIA
BKID0009676
MALKHED
AT & POST MALKHEDTALUKA CHANDUR RAILWAY, MALKHED DIST AMRAVATI
MALKHED (DIST. AMRAVATI)
MALKHED (DIST. AMRAVATI)
MAHARASHTRA
722
722259003
BANK OF' INDIA
BKID0009675
AMRAVATI
JAISTAMBH CHOWKSTATION ROAD,
AMARAVATI
AMARAVATI
MAHARASHTRA
721
7212676805
BANK OF' INDIA
BKID0009662
MANGRULPIR
RATHI COMPLEX, MAIN ROAD, AT & POST- KARANJA
WASHIM (MH)
WASHIM (MH)
MAHARASHTRA
BANK OF' INDIA
BKID0009661
KARANJA LAD
MAIN ROAD, AT & POST- KARANJA LADDIST- WASHIM
KARANJA LAD
KARANJA LAD
MAHARASHTRA
7256
7256224888
BANK OF' INDIA
BKID0009660
WASHIM
PARASANATH BUILDINGNR PATNI CHOWK MAIN ROAD
WASHIM (MH)
WASHIM (MH)
MAHARASHTRA
7252
7252231474
BANK OF' INDIA
BKID0009653
AKOT
PLOT NO.19, WARD NO.8,JAWAHAR ROAD, AKOT (DIST-AKOLA)
AKOT
AKOT
MAHARASHTRA
7258222088
BANK OF' INDIA
BKID0009652
MURTIZAPUR
MAHAJAN TOWERS, HARIYA NAGAR, MAIN ROAD,AT+P, MURTIZAPUR DIST-AKOLA -444107
MURTIZAPUR
MURTIZAPUR
MAHARASHTRA
BANK OF' INDIA
BKID0009651
GORAKSHAN ROAD
SHIRAJ COMPLEX 401 ALSI PLOTGORAKSHAN ROAD, AKOLA
AKOLA
AKOLA
MAHARASHTRA
7242421410
BANK OF' INDIA
BKID0009650
AKOLA
CHANDEKAR BHAVAN, OPP.OPEN THEATREAKOLA, DIST.AKOLA
AKOLA
AKOLA
MAHARASHTRA
724
7242435399
BANK OF' INDIA
BKID0009649
AHERI
OM ANANT BUILDING, NEAR MASJID BUS STOP,POLICE STATION ROAD, AT+POST:- AHERI
AHERI
AHERI
MAHARASHTRA
7133
7133272005
BANK OF' INDIA
BKID0009648
GONDWANA UNIVERSITY
MIDC ROAD COMPLEX, AT &PO:- GADCHIROLI,DIST- GADCHIROLI. PIN-442 605
GADCHIROLI
GADCHIROLI
MAHARASHTRA
7132
7132223101
BANK OF' INDIA
BKID0009647
WADSA
MOTWANI COMPLEX,GADCHIROLI ROAD,WADSA (DESAIGANJ)
GADCHIROLI
GADCHIROLI
MAHARASHTRA
7137
7137272257
BANK OF' INDIA
BKID0009646
CHAMORSHI
PLOT NO. 190 / 2, NEAR MANISH GANDHI,PETROL PUMP, MUL ROAD , CHAMORSHI
GADCHIROLI
GADCHIROLI
MAHARASHTRA
BANK OF' INDIA
BKID0009645
KORCHI
NEAR TAHSIL OFFICE, AT & POST KORCHI, DIST. –
KORCHI (MH)
KORCHI (MH)
MAHARASHTRA
BANK OF' INDIA
BKID0009644
ALAPALLI
GRAM PANCHAYAT BUILDING, MAIN ROAD, ALAPALLI,
ALAPALLI (MH)
ALAPALLI (MH)
MAHARASHTRA
7233
7233266003
BANK OF' INDIA
BKID0009643
YENAPUR
AT & P.O. YENAPURTALUKA CHAMORSHI
NAGPUR
NAGPUR
MAHARASHTRA
7135
7135248051
BANK OF' INDIA
BKID0009642
KURKHEDA
MANUJA COMPLEXMAIN ROAD, KURKHEDA, DIST. GADCHIROLI
KURKHEDA (DIST. GADCHIROLI)
KURKHEDA (DIST. GADCHIROLI)
MAHARASHTRA
7139
7139245841
BANK OF' INDIA
BKID0009641
VAIRAGAD
AT & POST VAIRAGADTEHSIL ARMORI, DIST. GADCHIROLI
VAIRAGAD (DIST. GADCHIROLI)
VAIRAGAD (DIST. GADCHIROLI)
MAHARASHTRA
7137
7137202120
BANK OF' INDIA
BKID0009640
GADCHIROLI
C/O. SHRI DESHMUKH BUILDINGOPP. POST OFFICE, CHAMORSHI ROAD,
GADCHIROLI
GADCHIROLI
MAHARASHTRA
7132
7132232996
BANK OF' INDIA
BKID0009639
CHARGAON
QTR. NO. B/31, EKTA NAGAR COLONY, CHARGAONTAH – BHADRAVATI  DIST – CHANDRAPUR
CHANDRAPUR
CHANDRAPUR
MAHARASHTRA
7175
7175272385
BANK OF' INDIA
BKID0009638
UPPARWAHI
THE GUJARAT AMBUJA CEMENT LTD GATE,AT & PO – UPPARWAHI TAH – KORPANA, DISTT CHAN
CHANDRAPUR
CHANDRAPUR
MAHARASHTRA
7173
7173240316
BANK OF' INDIA
BKID0009637
BABUPETH
RAJIV GANDHI TECH AND RESH ENGG COLLEGEBABUPETH  CHANDRAPUR
CHANDPUR
CHANDPUR
MAHARASHTRA
7172
7172226174
BANK OF' INDIA
BKID0009636
URJAGRAM
B15 WCI CENTRAL WORK SHOP COMPLEXURJAGRAM
URJAGRAM ( MH)
URJAGRAM ( MH)
MAHARASHTRA
7172
7172237109
BANK OF' INDIA
BKID0009635
PADMAPUR
SHAKTI NAGAR, WCL COLONYDURGAPUR, DIST. CHANDRAPUR,
CHANDRAPUR
CHANDRAPUR
MAHARASHTRA
7172
7172220769
BANK OF' INDIA
BKID0009634
MUL
OPP. ADARSH  RICE MILLCHANDRAPUR-GADCHIROLI ROAD,
MUL DIST CHANDRAPUR
MUL DIST CHANDRAPUR
MAHARASHTRA
7174
7174220525
BANK OF' INDIA
BKID0009633
WADHOLI
AT & POST WADHOLITEHSIL GONDPIPARI, DIST. CHANDRAPUR
WADHOLI (DIST. CHANDRAPUR)
WADHOLI (DIST. CHANDRAPUR)
MAHARASHTRA
7171
7171256633
BANK OF' INDIA
BKID0009632
VILAM (VIRUM)
AT & POST VILAMTALUKA NAGBHIR, DIST. CHANDRAPUR
VILAM (VIRUM) (DIST. CHANDRAPUR)
VILAM (VIRUM) (DIST. CHANDRAPUR)
MAHARASHTRA
7179
7179240793
BANK OF' INDIA
BKID0009631
PANDHAR PAUNI
AT PANDHARPAUNITAHSIL RAJURA, DIST. CHANDRAPUR
PANDHAR PAUNI (DIST. CHANDRAPUR)
PANDHAR PAUNI (DIST. CHANDRAPUR)
MAHARASHTRA
7173
7173239025
BANK OF' INDIA
BKID0009630
VIHIRGAON
VIHIRGAON BK.C/O. K.S. NALE'S BUILDING,NEAR S.T. STNAD,AT VIHIRGAON, TAHSIL RAJURA,
VIHIRGAON, TEHSIL RAJURA DIST. CHANRAPURA
VIHIRGAON, TEHSIL RAJURA DIST. CHANRAPURA
MAHARASHTRA
7173
7173223299
BANK OF' INDIA
BKID0009629
CHICHALA
AT CHICHALATAHSIL MUL, DIST. CHANDRAPUR
CHICHALA (DIST. CHANDRAPUR)
CHICHALA (DIST. CHANDRAPUR)
MAHARASHTRA
7174
7174202699
BANK OF' INDIA
BKID0009628
BAMHNI
AT & POST BAMHANIDISTRICT CHANDRAPUR,
BAMHNI (DIST. CHANDRAPUR)
BAMHNI (DIST. CHANDRAPUR)
MAHARASHTRA
7172
7172240252
BANK OF' INDIA
BKID0009627
MINDALA
AT & POST MINDALATAHSIL NAGBHIR, DIST. CHANDRAPUR
MINDALA (DIST. CHANDRAPUR)
MINDALA (DIST. CHANDRAPUR)
MAHARASHTRA
7179
7179256090
BANK OF' INDIA
BKID0009626
GUNJEWAHI
AT & POST GUNJEWAHITAHSIL SINDEWAHI, DIST. CHANDRAPUR
GUNJEWAHI (DIST. CHANDRAPUR)
GUNJEWAHI (DIST. CHANDRAPUR)
MAHARASHTRA
7178
7178251004
BANK OF' INDIA
BKID0009625
CHIKNI
AT & POST CHIKNITAHSIL WARORA, DIST. CHANDRAPUR
CHIKNI (DIST. CHANDRAPUR)
CHIKNI (DIST. CHANDRAPUR)
MAHARASHTRA
7176
7176266001
BANK OF' INDIA
BKID0009624
BRAMHAPURI
ARMORI ROAD, BRAHMAPURITAH. BRAMHAPURI,
CHANDPUR
CHANDPUR
MAHARASHTRA
7177
7177273333
BANK OF' INDIA
BKID0009623
NAWEGAON (MORE)
AT & POST NAWEGAON (MORE)TALUKA GONDPIPARI, DIST. CHANDRAPUR
NAWEGAON (MORE) (DIST. CHANDRAPUR)
NAWEGAON (MORE) (DIST. CHANDRAPUR)
MAHARASHTRA
7171
7171246028
BANK OF' INDIA
BKID0009622
MANORA
AT & POST MANORATEHSIL/DIST.CHANDRAPUR,
MANORA (DIST CHANDRAPUR)
MANORA (DIST CHANDRAPUR)
MAHARASHTRA
7172
7172235033
BANK OF' INDIA
BKID0009621
BHANGARAM TALODHI
BHANGARAM TALADHI, AT & PO BHANGARAM TALODHI,TEHSIL GONDPIPARI, DIST CHANDRAPUR
BHANGARAM TALODHI(DIST. CHANDRAPUR)
BHANGARAM TALODHI(DIST. CHANDRAPUR)
MAHARASHTRA
7171
7171256169
BANK OF' INDIA
BKID0009620
NAGRI (DIST.CHANDRAPUR)
NAGRI, MR. BHAURAO LONARKAR'S BLDG.,AT & POST NAGRI,TALUKA WARORA,DIST CHANDRAPUR
NAGRI
NAGRI
MAHARASHTRA
7176
7176244522
BANK OF' INDIA
BKID0009619
VANSADI
AT & POST VANSADITALUKA KORPANA, DIST. CHANDRAPUR
VANSADI (DIST. CHANDRAPUR)
VANSADI (DIST. CHANDRAPUR)
MAHARASHTRA
7173
7173270037
BANK OF' INDIA
BKID0009618
MADHELI
AT & POST MADHELITALUKA WARORA, DIST. CHANDRAPUR
MADHELI (DIST. CHANDRAPUR)
MADHELI (DIST. CHANDRAPUR)
MAHARASHTRA
7176
7176286029
BANK OF' INDIA
BKID0009617
THERMAL POWER STATION (DURGAPU
OPP. URJANAGAR POST OFFICE,MSEB COMPLEX, DURGAPUR,
DURGAPUR
DURGAPUR
MAHARASHTRA
7172
7172220217
BANK OF' INDIA
BKID0009616
WIRUR
AT & POST WIRUR, GRAM PANCHAYAT BUILDINGWIRUR.,TALUKA RAJURA, DIST CHANDRAPUR
WIRUR (DIST. CHANDRAPUR)
WIRUR (DIST. CHANDRAPUR)
MAHARASHTRA
7173
7173255137
BANK OF' INDIA
BKID0009615
RAJURA
NEAR BUS STANDHYDERABAD ROAD, RAJURA, DIST. CHANDRAPUR
RAJURA
RAJURA
MAHARASHTRA
7173
7173222102
BANK OF' INDIA
BKID0009614
NERI
AT & POST NERITEHSIL WARORA, DIST. CHANDRAPUR
NERI (DIST. CHANDRAPUR)
NERI (DIST. CHANDRAPUR)
MAHARASHTRA
7170
7170262223
BANK OF' INDIA
BKID0009613
NAVARGAON
AT & POST NAVARGAONTAH. SINDEWAHI,DIST : CHANDRAPUR
NAVARGAON (TAL.SHINDEWADI DIST. CHANDRAPUR)
NAVARGAON (TAL.SHINDEWADI DIST. CHANDRAPUR)
MAHARASHTRA
7178
7178258325
BANK OF' INDIA
BKID0009612
JATPURA GATE
NEAR RAILWAY OVERBRIDGECHANDRAPUR,
CHANDPUR
CHANDPUR
MAHARASHTRA
7172
7172255517
BANK OF' INDIA
BKID0009611
RAJOLI
AT & POST RAJOLIDIST. CHANDRAPUR,
RAJOLI (DIST. CHANDRAPUR)
RAJOLI (DIST. CHANDRAPUR)
MAHARASHTRA
7174
7174263324
BANK OF' INDIA
BKID0009610
BHADRAVATI
BHADRAVATITEHSIL BHADRAVATI, DIST. CHANDRAPUR
BHADRAVATI
BHADRAVATI
MAHARASHTRA
7175
7175266049
BANK OF' INDIA
BKID0009609
GHUGUS
AT & POST GHUGUSDIST. CHANDRAPUR,
GHUGUS
GHUGUS
MAHARASHTRA
7172
7172285036
BANK OF' INDIA
BKID0009608
KOTHARI
AT & POST KOTHARIDIST. CHANDRAPUR,
KOTHARI (DIST. CHANDRAPUR)
KOTHARI (DIST. CHANDRAPUR)
MAHARASHTRA
7172
7172244135
BANK OF' INDIA
BKID0009607
WARORA
MAIN ROAD, WARORADIST.CHANDRAPUR,
WARORA
WARORA
MAHARASHTRA
7176
7176282061
BANK OF' INDIA
BKID0009605
GONDPIPARI
NEAR MOTOR STANDAT & POST GONDPIPARI,
GONDPIPARI (DIST. CHANDRAPUR)
GONDPIPARI (DIST. CHANDRAPUR)
MAHARASHTRA
7171
7171220036
BANK OF' INDIA
BKID0009604
NAGBHIR
AT & POST NAGBHIRDIST. CHANDRAPUR,
NAGBHIR (DIST. CHANDRAPUR)
NAGBHIR (DIST. CHANDRAPUR)
MAHARASHTRA
7179
7179240035
BANK OF' INDIA
BKID0009603
CHANDRAPUR
CHANDRAPUR, DR. MUDEY'S BLDG.,MAIN ROAD, POST BOX NO.17, CHANDRAPUR
CHANDRAPUR
CHANDRAPUR
MAHARASHTRA
7172
7172252811
BANK OF' INDIA
BKID0009602
SIRONCHA
P. O. SIRONCHADISTRICT GADCHIROLI,
SIRONCHA (DIST. GADCHIROLI)
SIRONCHA (DIST. GADCHIROLI)
MAHARASHTRA
7131
7131233237
BANK OF' INDIA
BKID0009601
ARMORI
MAIN ROADARMORI, TEHSIL ARMORI, DIST GADCHIROLI
ARMORI
ARMORI
MAHARASHTRA
7137
7137266525
BANK OF' INDIA
BKID0009591
GOGAWAN
NAGRAJ SHAKUNTALAM COMPLEX OPPOSITE KANYA SHALA NAYAPURA KHARGONE SANAWAD MAIN ROAD PIN 451335
GOGAWAN
WEST NIMAR
MADHYA PRADESH
BANK OF' INDIA
BKID0009590
BALAGHAT
KISAN COMPLEX, KALI MANDIR ROADGOULI MOHALLA, BALAGHAT
BALAGHAT, MP
BALAGHAT, MP
MADHYA PRADESH
7632
7632240011
BANK OF' INDIA
BKID0009589
SHAHPUR BURHANPUR
WARD NO 10 SHIVAJI WARD VILLAGE SHAHPUR TEHSIL TALUKA BURHANPUR PIN 450445 STD CODE 07325
SHAHPUR
BURHANPUR
MADHYA PRADESH
BANK OF' INDIA
BKID0009588
PIPALGAON RAIYAT
PIPALGAON RAIYAT BRANCH VILLAGE PIPALGAON RAIYAT 450331
BURHANPUR
BURHANPUR
MADHYA PRADESH
BANK OF' INDIA
BKID0009587
NIMRANI
HOUSE NO 46,OLD AB ROAD,VILLAGE AND POST,NIMRANI TEHSIL,KASRAWAD DISTRICT,KHARGONE
NIMRANI
WEST NIMAR
MADHYA PRADESH
BANK OF' INDIA
BKID0009586
SHAHPUR BETUL
STATION ROAD, VILL AND POST  SHAHPURTEHSIL  SHAHPUR, DISTRICT  BETUL
SHAHPUR
SHAHPUR
MADHYA PRADESH
BANK OF' INDIA
BKID0009585
GHODADONGRI
VILL & POST – GHODADONGRI. TEHSIL  GHODADONGRI, DISTRICT  BETUL (MP).
GHODADONGRI
GHODADONGRI
MADHYA PRADESH
BANK OF' INDIA
BKID0009584
BAGDONA
SARNI GHODADONGRI ROAD VILL & POSTBAGDONA TEHSIL GHODADONGRI DISTRICT BETUL
BAGDONA
BAGDONA
MADHYA PRADESH
BANK OF' INDIA
BKID0009583
BALAJIPURAM -BETUL
RUKMINI BALAJI TEMPLE CAMPUS, OLD BETUL BAZARTEHSIL & DISTRICT – BETUL (MP)
BETUL (MP)
BETUL (MP)
MADHYA PRADESH
BANK OF' INDIA
BKID0009582
KOTHI BAZAR
PLOT NO. 1/1, STREET NO. 11,KOTHI BAZAR
BETUL (MP)
BETUL (MP)
MADHYA PRADESH
BANK OF' INDIA
BKID0009581
CHICHOLI
WARD NO. 5 VIVEKANAND ROADBHIMPUR ROAD CHICHOLI, DIST BETUL
BETUL (MP)
BETUL (MP)
MADHYA PRADESH
BANK OF' INDIA
BKID0009580
BETUL
SHANTI MANSION CIVIL LINES,  GANJBETUL
BETUL (MP)
BETUL (MP)
MADHYA PRADESH
7141
7141234734
BANK OF' INDIA
BKID0009579
CHARUA
MAINROAD, VILL CHARUA, PO CHARUA, TEH KHIRKIYA PIN 461441
CHARUA
HARDA
MADHYA PRADESH
BANK OF' INDIA
BKID0009578
REHATGAON
BAZAR CHOWK, VILLAGE REHATGAON.TEHSIL TIMARNI, DISTRICT  HARDA (MP).
HARDA (MP)
HARDA (MP)
MADHYA PRADESH
7573
7573234005
BANK OF' INDIA
BKID0009577
MASANGAON
HARDA ROAD, VILL & POST  MASANGAON.TEHSIL & DISTRICT HARDA (MP).
HARDA (MP)
HARDA (MP)
MADHYA PRADESH
7577
7577275340
BANK OF' INDIA
BKID0009576
HANDIA
MAIN ROAD, VILLAGE AND POST HANDIA,TEHSIL – HANDIA, DISTRICT – HARDA (MP)
HARDA (MP)
HARDA (MP)
MADHYA PRADESH
7577
7577272130
BANK OF' INDIA
BKID0009575
AMRAVATI ROAD
PLOT NO: 1, MOHANNAGAR
BURHANPUR
BURHANPUR
MADHYA PRADESH
7325
7325242811
BANK OF' INDIA
BKID0009571
LAKHNADAUN
AT AND POST LAKHNADAUN TEHSIL LAKHNADAUN PIN 480886 STD CODE 07690
SEONI
SEONI
MADHYA PRADESH
BANK OF' INDIA
BKID0009570
SEONI
NEAR DESAI TEMPLEPLOT NO. 71, NEHRU ROAD,SEONI, DIST. SEONI
SEONI
SEONI
MADHYA PRADESH
7692
7692222385
BANK OF' INDIA
BKID0009568
SUSNER
NEAR DAK BANGALOW WART NO.121INDORE KOTA ROAD, SUSNER, DIST SHAJAPUR
SUSNER (DISTT SHAJAPUR MP)
SUSNER (DISTT SHAJAPUR MP)
MADHYA PRADESH
BANK OF' INDIA
BKID0009567
NALKHEDA
AMLA ROAD TEHSIL NALKHEDA  NALKHEDA DIST SHAJAPUR  PIN 465445
NALKHEDA ( DIST SHAJAPUR)
NALKHEDA ( DIST SHAJAPUR)
MADHYA PRADESH
BANK OF' INDIA
BKID0009566
KALAPIPAL
OLD MANDI GROUNDAT & PO KALAPIPAL DISTT SHAJAPUR
KALAPIPAL  ( DIST SHAJAPUR)
KALAPIPAL  ( DIST SHAJAPUR)
MADHYA PRADESH
7360
7360268568
BANK OF' INDIA
BKID0009565
BAPCHA BARODE
VILL. & P.O. BAPCHA BARODEVIA BARODE MALWA, DIST SHAJAPUR
BAPCHA BARODE (DIST. SHAJAPUR)
BAPCHA BARODE (DIST. SHAJAPUR)
MADHYA PRADESH
7362
7362280367
BANK OF' INDIA
BKID0009564
CHHIPIYA
VILL.CHHIPIYAPOST LALA, VIA AGAR MALWA, DIST. SHAJAPUR
CHHIPIYA (DIST. SHAJAPUR)
CHHIPIYA (DIST. SHAJAPUR)
MADHYA PRADESH
7362
7362272823
BANK OF' INDIA
BKID0009563
KANAD
SARANGPUR ROAD, KANADDISTRICT SHAJAPUR,
KANAD (DIST. SHAJAPUR)
KANAD (DIST. SHAJAPUR)
MADHYA PRADESH
7362
7362251607
BANK OF' INDIA
BKID0009562
NANDANI
DURGA BHAVANAT & POST NANDANI, DIST. SHAJAPUR
NANDANI (DIST.SHAJAPUR)
NANDANI (DIST.SHAJAPUR)
MADHYA PRADESH
7360
7360266105
BANK OF' INDIA
BKID0009561
TANODIA
AT & POST TANODIAVIA UJJAIN, TESHIL AGAR, DIST. SHAJAPUR
TANODIA (DIST. SHAJAPUR)
TANODIA (DIST. SHAJAPUR)
MADHYA PRADESH
7362
7362255120
BANK OF' INDIA
BKID0009560
JAMNER
DHAKAD SADAN, RAM MANDIR ROADVILL- JAMNER, TEHL – SHUJALPUR DIST SUJALPUR
JAMNER (DIST. SHAJAPUR)
JAMNER (DIST. SHAJAPUR)
MADHYA PRADESH
7360
7360254723
BANK OF' INDIA
BKID0009559
SUNDARSI
VILLAGE & POST SUNDARSITEHSIL SHAJAPUR, DIST. SHAJAPUR
SUNDARSI (DIST. SHAJAPUR)
SUNDARSI (DIST. SHAJAPUR)
MADHYA PRADESH
7363
7363245602
BANK OF' INDIA
BKID0009558
JHONKAR
NAGAR BHAVANAT & POST JHONKAR, DIST. SHAJAPUR
JHONKAR (DIST. SHAJAPUR)
JHONKAR (DIST. SHAJAPUR)
MADHYA PRADESH
7363
7363233047
BANK OF' INDIA
BKID0009557
KALISINDH
AT & POST KALISINDHTEHSIL SHAJAPUR, DIST SHAJAPUR
KALISINDH (DIST. SHAJAPUR)
KALISINDH (DIST. SHAJAPUR)
MADHYA PRADESH
7363
7363245225
BANK OF' INDIA
BKID0009556
BARODE MALWA
SADAR BAZARBARODE, VIA UJJAIN, DIST SHAJAPUR
BARODE MALWA (DIST.SHAJAPUR)
BARODE MALWA (DIST.SHAJAPUR)
MADHYA PRADESH
7362
7362257843
BANK OF' INDIA
BKID0009554
SHUJALPUR
8, LOHIYA MARGSHUJALPUR MANDI,DIST SJAJAPUR
SHUJALPUR
SHUJALPUR
MADHYA PRADESH
7360
7360244812
BANK OF' INDIA
BKID0009553
MOMAN BARODIA
VILLAGE MOMAN BARODIADISTRICT SHAJAPUR,
MOMAN BARODIA (DIST. SHAJAPUR)
MOMAN BARODIA (DIST. SHAJAPUR)
MADHYA PRADESH
7364
7364252623
BANK OF' INDIA
BKID0009552
AGAR MALWA
MAHESHWARI DHARMASHALAAGAR-MALWA, VIA UJJAIN, DIST SHAJAPUR
AGAR MALWA (DIST. SHAJAPUR)
AGAR MALWA (DIST. SHAJAPUR)
MADHYA PRADESH
7362
7362258041
BANK OF' INDIA
BKID0009551
SOYAT KALAN
SOYAT KALANVIA UJJAIN, DIST SHAJAPUR
SOYAT KALAN (DIST. SHAJAPUR)
SOYAT KALAN (DIST. SHAJAPUR)
MADHYA PRADESH
7361
7361232020
BANK OF' INDIA
BKID0009550
SHAJAPUR
JAWAHAR MARGSHAJAPUR, DIST SHAJAPUR
SHAJAPUR
SHAJAPUR
MADHYA PRADESH
7364
7364227877
BANK OF' INDIA
BKID0009549
PATAJAN
MAINROAD VILL PATAJAN, PO PATAJAN, THE KHALWA PIN 450117
KHALWA
EAST NIMAR
MADHYA PRADESH
BANK OF' INDIA
BKID0009548
MATA CHOWK
MATA CHOWK BRANCH BANK OF INDIA JASWADI ROAD MATACHOWK AREA KHANDWA PIN 450001
KHANDWA
EAST NIMAR
MADHYA PRADESH
733
2249416
BANK OF' INDIA
BKID0009547
BISTAN ROAD
BISTAN ROAD BRANCH, BISTAN ROAD,KHARGONE – 451 001.(MP)
KHARGONE
KHARGONE
MADHYA PRADESH
BANK OF' INDIA
BKID0009546
PUNASA
PUNASA BRANCH, AT AND POST PUNASA, TEHSIL PUNDISTRICT KHANDWA – 450 114 (MP).
PUNASA
PUNASA
MADHYA PRADESH
BANK OF' INDIA
BKID0009545
GHANTAGHAR
MAINROAD, GHANTAGHAR CHOWK
HARDA (MP)
HARDA (MP)
MADHYA PRADESH
BANK OF' INDIA
BKID0009544
TIMARNI
WARD NO.4 STATION BSTI ROADTIMARNI, TEHSIL TIMARNI,  DISTT HARDA
TIMARNI (DISTT HARDA MP)
TIMARNI (DISTT HARDA MP)
MADHYA PRADESH
BANK OF' INDIA
BKID0009543
KARTANA
BANK OF INDIA,BUS STAND CHOWK, CHIPANER ROKARTANA TEHSIL: TIMARNI DIST: HARDA 461228
HARDA (MP)
HARDA (MP)
MADHYA PRADESH
7573
7573231828
BANK OF' INDIA
BKID0009542
SIRALI
OLD BUS STANDCHARUVA ROAD
SIRALI (MP)
SIRALI (MP)
MADHYA PRADESH
7571
7571256104
BANK OF' INDIA
BKID0009541
KHIRKIYA
NR KRISHI UPAJ MANDIKHIRKIA
HARDA (MP)
HARDA (MP)
MADHYA PRADESH
7571
7571251021
BANK OF' INDIA
BKID0009540
HARDA
PLOT NO. 1,NEW SABJI MANDI CHOWKHARDA, DIST.: HARDA
HARDA (MP)
HARDA (MP)
MADHYA PRADESH
7577
7577226300
BANK OF' INDIA
BKID0009539
KHALWA
KHALWA BRANCH, MAIN ROAD, AT AND POST KHALWATEHSIL KHALWA, DISTRICT KHANWA (MP) – 450 117
KHANDWA
KHANDWA
MADHYA PRADESH
BANK OF' INDIA
BKID0009538
OMKARESHWAR
MOTAKKA ROAD, OPPOSITE OMKARESHWAR POLICESTATION, OMKARESHWAR – 450 554 (MP)
OMKARESHWAR(M.P.)
OMKARESHWAR(M.P.)
MADHYA PRADESH
BANK OF' INDIA
BKID0009537
MULTAI
PATEL WARD, STATION ROAD,MULTAI, TEHSIL MULTAI DISTT. BETUL (M. P.)
MULTAI (M.P.)
MULTAI (M.P.)
MADHYA PRADESH
BANK OF' INDIA
BKID0009536
AMLA TOWN
WARD NO.1, RAIDAS ROAD, AMLA,TEHSIL AMLA, DISTT. BETUL (M. P.)
AMLA TOWN
AMLA TOWN
MADHYA PRADESH
BANK OF' INDIA
BKID0009535
LAL CHOWKI
MOGHAT ROADKHANDWA – 450 001 (MP)
KHANDWA
KHANDWA
MADHYA PRADESH
BANK OF' INDIA
BKID0009534
CHHAIGAON  MAKHAN
VILLAGE AND POST – CHHAIGAON MAKHANTEHSIL AND DISTRICT – KHANDWA,450771 (M.P)
CHHAIGAON  MAKHAN
CHHAIGAON  MAKHAN
MADHYA PRADESH
BANK OF' INDIA
BKID0009533
PADAWA
PLOT NO.65 DUDTALAI, OPP TO MAIN HOSPITALINDORE ROAD, KHANDWA
KHANDWA
KHANDWA
MADHYA PRADESH
BANK OF' INDIA
BKID0009532
INDIRA NAGAR
ADARSH SEWA SAMITEE, RAJASTHAN BHAWANBAHADARPUR ROAD, BURHANPUR (MP)
BURHANPUR
BURHANPUR
MADHYA PRADESH
7325
7325252811
BANK OF' INDIA
BKID0009531
NHDC SIDHWARKUT
URJA VIHAR, NHDC SIDHWARKUTTEHSIL KHANDWA, DISTT. KHANDWA
KHANDWA
KHANDWA
MADHYA PRADESH
7280
7280271813
BANK OF' INDIA
BKID0009530
KHEDI
AT & P.O. KHEDI,BLOCK KHALWADISTRICT KHANDWA,
KHEDI (DIST. KHANDWA)
KHEDI (DIST. KHANDWA)
MADHYA PRADESH
733
7332283424
BANK OF' INDIA
BKID0009529
KHANDWA CIVIL LINES
JANAPAD PANCHAYAT BHAVANCIVIL LINES, KHANDWA,
KHANDWA
KHANDWA
MADHYA PRADESH
733
7332224640
BANK OF' INDIA
BKID0009528
DABIA KHEDA
AT & POST DABIA KHEDAVIA NEPA NAGAR, DIST. BURHANPUR
DABIA KHEDA (DIST. BURHANPUR)
DABIA KHEDA (DIST. BURHANPUR)
MADHYA PRADESH
7329
7329277843
BANK OF' INDIA
BKID0009526
TUKAITHAD
VILLAGE & POST TUKAITHADDISTRICT BURHANPUR,
TUKAITHAD (DIST. BURHANPUR)
TUKAITHAD (DIST. BURHANPUR)
MADHYA PRADESH
7329
7329296932
BANK OF' INDIA
BKID0009525
KHAR KALAN
AT & POST KHAR KALANTEHSIL HARSUD, DIST KHANDWA
KHAR KALAN (DIST. KHANDWA)
KHAR KALAN (DIST. KHANDWA)
MADHYA PRADESH
7328
7328282942
BANK OF' INDIA
BKID0009524
ASHAPUR
VILLAGE & POST ASHAPURTEHSIL HARSUD, DIST KHANDWA
ASHAPUR (DIST. KHANDWA)
ASHAPUR (DIST. KHANDWA)
MADHYA PRADESH
7328
7328283166
BANK OF' INDIA
BKID0009523
DOIPHODIA
AT & POST DOIPHODIADISTRICT BURHANPUR,
DOIPHODIA (DIST. BURHANPUR)
DOIPHODIA (DIST. BURHANPUR)
MADHYA PRADESH
7325
7325283531
BANK OF' INDIA
BKID0009522
RUSTAMPUR
AT & POST RUSTAMPURDISTRICT KHANDWA,
RUSTAMPUR (DIST. KHANDWA)
RUSTAMPUR (DIST. KHANDWA)
MADHYA PRADESH
7320
7320285054
BANK OF' INDIA
BKID0009521
DEDTALAI
AT POST DEDTALAIDISTRICT BURHANPUR,
DEDTALAI (DIST. BURHANPUR)
DEDTALAI (DIST. BURHANPUR)
MADHYA PRADESH
7329
7329296751
BANK OF' INDIA
BKID0009520
CHHANERA
AT & POST CHHANERADISTRICT KHANDWA,
CHHANERA (DIST. KHANDWA)
CHHANERA (DIST. KHANDWA)
MADHYA PRADESH
7327
7327272135
BANK OF' INDIA
BKID0009519
ANAND NAGAR
PANDIT MAKHANLAL CHATURVEDI MARGANAND NAGAR, KHANDWA,
KHANDWA
KHANDWA
MADHYA PRADESH
733
7332249981
BANK OF' INDIA
BKID0009518
NEPANAGAR
AT & POST NEPANAGARDIST. BURHANPUR,
NEPANAGAR (DIST. BURHANPUR)
NEPANAGAR (DIST. BURHANPUR)
MADHYA PRADESH
7325
7325222172
BANK OF' INDIA
BKID0009516
AHMEDPUR KHAIGAON
AT & POST AHMEDPUR KHAIGAONTEHSIL KHANDWA,
AHMEDPUR KHAIGAON(DIST. KHANDWA)
AHMEDPUR KHAIGAON(DIST. KHANDWA)
MADHYA PRADESH
7320
7320281727
BANK OF' INDIA
BKID0009514
DHANGAON
AT & POST DHANGAONDISTRICT KHANDWA,
DHANGAON (DIST. KHANDWA)
DHANGAON (DIST. KHANDWA)
MADHYA PRADESH
7323
7323289333
BANK OF' INDIA
BKID0009513
SINGOT
AT & POST SINGOTTEHSIL & DIST. KHANDWA,
SINGOT (DIST. KHANDWA)
SINGOT (DIST. KHANDWA)
MADHYA PRADESH
733
7332282123
BANK OF' INDIA
BKID0009512
JAWAR
AT & POST JAWARDISTRICT KHANDWA,
JAWAR (DIST. KHANDWA)
JAWAR (DIST. KHANDWA)
MADHYA PRADESH
733
7332283631
BANK OF' INDIA
BKID0009511
BORGAON BUZURG
AT & POST BORGAON BUZURGDISTRICT KHANDWA,
BORGAON BUZURG (DIST. KHANDWA)
BORGAON BUZURG (DIST. KHANDWA)
MADHYA PRADESH
7320
7320285842
BANK OF' INDIA
BKID0009510
KHAKNAR
AT & POST KHAKNARDISTRICT BURHANPUR,
KHAKNAR (DIST. BURHANPUR)
KHAKNAR (DIST. BURHANPUR)
MADHYA PRADESH
7329
7329276328
BANK OF' INDIA
BKID0009509
PHOPHNAR
AT & POST PHOPHNARDISTRICT BURHANPUR,
PHOPHNAR (DIST. BURHANPUR)
PHOPHNAR (DIST. BURHANPUR)
MADHYA PRADESH
7325
7325281325
BANK OF' INDIA
BKID0009507
BARUD
AT & POST BARUDBLOCK CHHEGAON MAKHAN, DIST KHANDWA
BARUD (DIST. KHANDWA)
BARUD (DIST. KHANDWA)
MADHYA PRADESH
7320
7320285436
BANK OF' INDIA
BKID0009506
BURHANPUR
SANWARA ROADPOST BOX NO. 30,
BURHANPUR
BURHANPUR
MADHYA PRADESH
7325
7325255488
BANK OF' INDIA
BKID0009505
DAPORA
AT & POST DAPORADISTRICT BURHANPUR,
DAPORA (DIST. BURHANPUR)
DAPORA (DIST. BURHANPUR)
MADHYA PRADESH
7325
7325287378
BANK OF' INDIA
BKID0009504
BAHADARPUR
AT & P.O. BAHADARPURDISTRICT BURHANPUR, DIST BURHANPUR
BAHADARPUR (DIST. BURHANPUR)
BAHADARPUR (DIST. BURHANPUR)
MADHYA PRADESH
7325
7325247065
BANK OF' INDIA
BKID0009503
MUNDI
JAISWAL BHAVANTHANE ROAD, MUNDI, DIST KHANDWA
MUNDI (DIST. KHANDWA)
MUNDI (DIST. KHANDWA)
MADHYA PRADESH
7326
7326286754
BANK OF' INDIA
BKID0009502
KHANDWA
MANDI AREABURHANPUR ROAD,
KHANDWA
KHANDWA
MADHYA PRADESH
733
7332223152
BANK OF' INDIA
BKID0009492
SANCHI
BHOPAL VIDISHA MAIN ROAD SANCHI
SANCHI
RAISEN
MADHYA PRADESH
7482
292311
BANK OF' INDIA
BKID0009491
ITARSI
BHARDWAJ COMPLEX, NEAR GOVT. REST HOUSENEHRUGANJ, ITARSI, DIST. HOSHANGABAD, M.P.
ITARSI (MP)
ITARSI (MP)
MADHYA PRADESH
7572
7572240820
BANK OF' INDIA
BKID0009490
BIJADANDI
VILL PO BIJADANDI JABALPUR MANDLA ROAD TEHSIL NARAYANGANG 481674
MANDLA
MANDLA
MADHYA PRADESH
91
9303488818
BANK OF' INDIA
BKID0009487
NAMLI
NEAR POLICE STATION  AT & POST NAMLIDIST  RATLAM (MP)  PIN 457222
RATLAM
RATLAM
MADHYA PRADESH
9425937842
BANK OF' INDIA
BKID0009486
MANASA
USHAGANJ RAMPURA ROAD, WARD NO.15NEAR SBI MANSA, DISTT NEEMUCH
NEEMUCH
NEEMUCH
MADHYA PRADESH
BANK OF' INDIA
BKID0009485
MANDLA
AT & POST MANDLA, DISTT. MANDLAMP.
MANDLA (MADHYA PRADESH)
MANDLA (MADHYA PRADESH)
MADHYA PRADESH
7642
7642250124
BANK OF' INDIA
BKID0009484
ALOT
GURUKRIPA, STATION ROAD, WARD NO.1NEAR ANAJ MANDI
ALOT
ALOT
Madhya Pradesh
BANK OF' INDIA
BKID0009483
JAORA
27 STATION ROAD, JAORADISTT RATLAM
UJJAIN
UJJAIN
MADHYA PRADESH
7414220483
BANK OF' INDIA
BKID0009482
SAILANA
RISHABHDEO JAIN S MURTIPUJAK UJJAIN TRUST,SAILANA  KALKA MATHA ROAD DIST RATLAM
SAILANA  (DIST RATLAM)
SAILANA  (DIST RATLAM)
MADHYA PRADESH
7413
7413278220
BANK OF' INDIA
BKID0009481
KRISHI UPAJ MANDI(RATLAM)
MHOW NEEMUCH ROADRATLAM
RATLAM
RATLAM
MADHYA PRADESH
7412
7412267739
BANK OF' INDIA
BKID0009480
RATLAM
MOHSIN HOUSE84/85/86, BAJAJ KHANA,
UJJAIN
UJJAIN
MADHYA PRADESH
7412
7412236083
BANK OF' INDIA
BKID0009478
NARAYANPUR BEMETARA
MAIN ROAD, VILLAGE NARAYANPUR, TAHSIL NAWAGARH
NARAYANPUR
BEMETARA
CHHATTISGARH
563101
7751299322
BANK OF' INDIA
BKID0009477
CHAKARBHATA
HOUSE OF MRS. SOBHA VERMA WARD NO.13, INFRONT OF POST OFFICE POST CHAKARBHATA CAMP,BILHA
CHAKARBHATA
BILASPUR
CHHATTISGARH
BANK OF' INDIA
BKID0009476
KARRA-BILASPUR
VILL KARRA J.K.COLLEGE CAMPUS NEAR GATORA RLY. STATION CHHATTISGARH. 495 009
BILASPUR
BILASPUR
CHHATTISGARH
91
9039406609
BANK OF' INDIA
BKID0009475
JABALPUR SERVICE
ASHIRVAD MARKET 1ST FLOORLORDGANJ, JABALPUR
JABALPUR
JABALPUR
MADHYA PRADESH
761
7614060531
BANK OF' INDIA
BKID0009474
GURU GHASIDAS VISWAVIDYALAYA
D-01, GURU GHASIDAS VISWAVIDYALAYA CAMPUSVILL . – KONI
BILASPUR
BILASPUR
Chhattisgarh
7752
7752260073
BANK OF' INDIA
BKID0009473
RAJENDRA NAGAR (BILASPUR)
MANISHA  BLDG NO. 414, LINK ROADWARD #8, RAJENDRA NAGAR
BILASPUR
BILASPUR
Chhattisgarh
7752222355
BANK OF' INDIA
BKID0009472
VYAPAR VIHAR
ZONE – 1, PLOT NO. 22VYAPAR VIHAR, MAIN ROAD,
BILASPUR
BILASPUR
Chhattisgarh
9826453232
BANK OF' INDIA
BKID0009471
KORBA
VIKASH COMPLEXTRANSPORT NAGAR, POWER HOUSE ROAD,
KORBA
KORBA
Chhattisgarh
7759
7759245717
BANK OF' INDIA
BKID0009470
BILASPUR
DAYALBAND,NEAR MPEB OFFICEBILASPUR,
BILASPUR
BILASPUR
Chhattisgarh
7752
7752410472
BANK OF' INDIA
BKID0009469
MANGLA
HOUSE NO. – 701, MAIN MANGLA ROAD
BILASPUR
BILASPUR
Chhattisgarh
9406113750
BANK OF' INDIA
BKID0009468
RANISAGAR
DR. C.V.RAMAN UNIVERSITY CAMPUS,VILL : RANISAGAR,  KARGI ROAD (KOTA)
BILASPUR (CHHATTISGARH)
BILASPUR (CHHATTISGARH)
Chhattisgarh
BANK OF' INDIA
BKID0009467
BANARI
HOUSE OF MR RAHUL AGRAWAL VILLAGE BANARI POST JANJGIR DIST JANJGIR CHAMPA STATE CHHATTISGARH
CHAMPA
JANJGIR-CHAMPA
CHHATTISGARH
7817
9479009820
BANK OF' INDIA
BKID0009466
KOSMANDA
VILLAGE AND POST  KOSMANDADISTT. JANJGIR CHAMPA
KOSMANDA
KOSMANDA
Chhattisgarh
9993977877
BANK OF' INDIA
BKID0009465
CHAMPA
OPP. TRIMURTY TALKIES, KORVA PARAAT & P.O. CHAMPA, CHHATTISGARH
CHAMPA (MP)
CHAMPA (MP)
Chhattisgarh
7819
7819245800
BANK OF' INDIA
BKID0009464
GOLE KA MANDIR
BHADORIA COMPLEX, GOLE KA MANDIR, MORAR ROAD,
GWALIOR
GWALIOR
MADHYA PRADESH
BANK OF' INDIA
BKID0009463
NAYA BAZAR (GWALIOR)
DEV VILLA BHAVAN, NEAR THORAT PALACENAYA BAZAR, GWALIOR, M.P.
GWALIOR
GWALIOR
MADHYA PRADESH
BANK OF' INDIA
BKID0009462
IIITM CAMPUS
IIITM CAMPUS, NEAR CHAAR SHAHAR KA NAKA, MOREMORENA LINK ROAD
GWALIOR
GWALIOR
MADHYA PRADESH
751
7512450334
BANK OF' INDIA
BKID0009461
SAKET NAGAR
M 30,9 A SECTOR,SAKET NAGAR,BHOPAL,M.P 462024
BHOPAL
BHOPAL
MADHYA PRADESH
BANK OF' INDIA
BKID0009460
DAMOH
RAJA COMPLEX, DHAGAT, CHOURAHA, NAYA BAZARNO. 1, DAMOH, DIST DAMOH
DAMOH
DAMOH
MADHYA PRADESH
7812
7812223159
BANK OF' INDIA
BKID0009459
PURANI CHHAWANI
MORENA LINK ROAD TIRAHAA B ROAD, PURANI CHHAWANI
GWALIOR
GWALIOR
MADHYA PRADESH
8817512200
BANK OF' INDIA
BKID0009458
CITY CENTRE
12-C RAMA PLAZA KAILASH VIHARNEAR AAYKAR BHAWAN CITY CENTRE
GWALIOR
GWALIOR
MADHYA PRADESH
751
7512349351
BANK OF' INDIA
BKID0009457
DABRA
DABRA BRANCH, 18/3, BALAJI SHOPPING COMPLEX,AGRASEN CHOUAHA, WARD NO. 18- DABRA
DABRA
DABRA
MADHYA PRADESH
BANK OF' INDIA
BKID0009456
BERJA
VILLAGE BERJAPOST RATWARI, DIST GWALIOR
BERJA (DIST. GWALIOR)
BERJA (DIST. GWALIOR)
MADHYA PRADESH
751
7512566256
BANK OF' INDIA
BKID0009455
PT. DEEN DAYAL NAGAR
DELHI PUBLIC ACADEMY CAMPUSOPP. M.P. HOUSING BOARD OFFICE,
GWALIOR
GWALIOR
MADHYA PRADESH
751
7512470957
BANK OF' INDIA
BKID0009454
ST. PAUL SCHOOL
5, HUKSAR COLONY, KALPI ROAD7 NO. CHOURAHA, MORAR,
GWALIOR
GWALIOR
MADHYA PRADESH
751
7512362860
BANK OF' INDIA
BKID0009453
PHOOL BAG
MOHANIA CHARITABLE TRUST BLDG.M.L.B.ROAD, LASHKAR,
GWALIOR
GWALIOR
MADHYA PRADESH
751
7512373596
BANK OF' INDIA
BKID0009452
MORAR
MALL ROADMORAR,
GWALIOR
GWALIOR
MADHYA PRADESH
751
7512368449
BANK OF' INDIA
BKID0009451
JIWAJI CHOWK
JIWAJI CHOWK BRANCH,PINGLE KA BADA,OPP. JANAKJANAKGANJ, JIWAJI CHOWK, LASHKAR,GWALIOR (M.P
GWALIOR
GWALIOR
MADHYA PRADESH
751
7512451636
BANK OF' INDIA
BKID0009450
GWALIOR
INDERGANJ-LASHKARPOST BOX NO. 61,
GWALIOR
GWALIOR
MADHYA PRADESH
751
7512370872
BANK OF' INDIA
BKID0009444
TIKAMGARH
OPPOSITE M.P.E.B OFFICE,CIVIL LINES, JHANSIROAD,TIKAMGARH,MADHYA PRADESH
TIKAMGARH (MP)
TIKAMGARH (MP)
MADHYA PRADESH
7683
7683244790
BANK OF' INDIA
BKID0009443
PANNA
OPP HOTEL MAYA DELUX,CIVIL LINES, PANNA
PANNA-MP
PANNA-MP
MADHYA PRADESH
7732250096
BANK OF' INDIA
BKID0009442
CHHATARPUR
HOUSE NO. – 1 , WARD NO. – 24JAWAHAR ROAD
CHHATARPUR (MP)
CHHATARPUR (MP)
MADHYA PRADESH
7682
7682241911
BANK OF' INDIA
BKID0009441
REWA
IST FLOOR AMBEDKHAR BHAWANNEAR SHILIP PLAZA, MAIN ROAD, REWA
REWA
REWA
MADHYA PRADESH
7662
7662254105
BANK OF' INDIA
BKID0009440
SATNA
KANODIYA COMPLEXCITY KOTWALI CHOWK
SATNA
SATNA
MADHYA PRADESH
7672
7672233788
BANK OF' INDIA
BKID0009439
GANGAI
VILL AND POST GANGAI
NARSIMHAPUR
NARSIMHAPUR
MADHYA PRADESH
91
9713367034
BANK OF' INDIA
BKID0009438
KARELI
BARMAN ROAD, NEAR BARMAN CHOURAHAKARELI, DIST NARSINGHPUR
KARELI MP
KARELI MP
MADHYA PRADESH
7793
7793272030
BANK OF' INDIA
BKID0009437
GADARWARA
HOSPITAL ROAD OPP SBI, DIST NARSINGHPUR
GADARWARA
GADARWARA
MADHYA PRADESH
7791
7791254545
BANK OF' INDIA
BKID0009436
NARSINGHPUR
PURNKALA, OPP LIC OF INDIA, CIVIL LINESNARSINGHPUR
NARSINGHPUR MP
NARSINGHPUR MP
MADHYA PRADESH
7792235200
BANK OF' INDIA
BKID0009435
GOTEGAON
RUDRA WARD RAILWAY STATION ROAD NEAR BPCL PETROL PUMP PO GOTEGAON SHREEDHAM 487118
NARSIMHAPUR
NARSIMHAPUR
MADHYA PRADESH
91
9425836648
BANK OF' INDIA
BKID0009434
SHAHPURA
SHAHPURA BRANCH VILLAGE SHAHPURA TEHSIL SHAHPURA 481990 07641
SHAHPURA
DINDORI
MADHYA PRADESH
BANK OF' INDIA
BKID0009430
MUNGELI
HOUSE OF SWARN SINGH CHHABRA, DAAUPARA CHOWK, MUNGELI, DIST MUNGELI
MUNGELI, CHATTISGARH
MUNGELI, CHATTISGARH
Chhattisgarh
9407600010
BANK OF' INDIA
BKID0009429
NAYAGAON
NAYAGOAN BRANCH MR.SHIVRAM PRASAD MISHRA NEAR PANCHAYAT BHAWAN NAYA GAON AJAYGARH
NAYAGAON
PANNA
MADHYA PRADESH
91
9340146966
BANK OF' INDIA
BKID0009428
MAKRONIA BUZURG
BESIDE HOTEL PARADISE MAKRONIA MAIN ROAD MAKRONIA BUZURG 470004
SAGAR
SAGAR
MADHYA PRADESH
91
9713436643
BANK OF' INDIA
BKID0009427
KHURAI
NEAR JHANDA CHOWK MAIN MARKET AT PO KHURAI DISTT SAGAR
KHURAI
SAGAR
MADHYA PRADESH
91
9752518595
BANK OF' INDIA
BKID0009426
KHARSIA
NO 13/2/1 TILAK MARG, WARD NO. 10,RAMNAIK GALI NR RAILWAY STN, KHARSIA
KHARSIA (RAIPUR)
KHARSIA (RAIPUR)
Chhattisgarh
7762
7762272770
BANK OF' INDIA
BKID0009425
RAIGARH (CHHATTISGARH)
CITY PLAZA, 1ST FLOORKOTRA ROAD, RAIGARH,
RAIGARH
RAIGARH
Chhattisgarh
7762
7762231077
BANK OF' INDIA
BKID0009424
COLLECTORATE SAGAR
COLLECTORATE COMPLEX, 10, CIVIL LINESSAGAR MP
SAGAR
SAGAR
MADHYA PRADESH
7582
7582222576
BANK OF' INDIA
BKID0009423
BINA
1ST FLOOR, SAHU SAMAJ BHAVANSARVODAYA CHOWK, BINA, DIST SAGAR
BINA
BINA
MADHYA PRADESH
7580
7580224002
BANK OF' INDIA
BKID0009422
BERKHEDI
VILL. BERKHEDI(SADAK)P.O.MARDANPUR, DIST SAGAR
BERKHEDI (DIST. SAGAR)
BERKHEDI (DIST. SAGAR)
MADHYA PRADESH
7584
7584290372
BANK OF' INDIA
BKID0009421
RAHATGARH
RAHATGARHDISTRICT SAGAR,
RAHATGARH (DIST. SAGAR)
RAHATGARH (DIST. SAGAR)
MADHYA PRADESH
7584
7584254225
BANK OF' INDIA
BKID0009420
SAGAR
1ST FLOOR, SHRI GENDA JI TRUST PARISARGUJRATI BAZAR, SAGAR(MP)-470002
SAGAR
SAGAR
MADHYA PRADESH
7582
7582222582
BANK OF' INDIA
BKID0009418
MADHAVNAGAR
HOUSE NO.- 750, MADHAVNAGAR GATE, BARGAWAN,
KATNI
KATNI
MADHYA PRADESH
762471001
BANK OF' INDIA
BKID0009417
UMARIA
UMA PALACE BESIDE SBIUMARIA
UMARIA (MP)
UMARIA (MP)
MADHYA PRADESH
9425624143
BANK OF' INDIA
BKID0009416
ANUPPUR
HOSPITAL ROADNEAR RAILWAY CROSSING, ANUPPUR
ANUPPUR (MP)
ANUPPUR (MP)
MADHYA PRADESH
7659
7659222185
BANK OF' INDIA
BKID0009415
SHAHDOL
SHABJI MANDI GANJ ROAD WARD NO.9SHAHDOL MP
SHAHDOL (M.P.)
SHAHDOL (M.P.)
MADHYA PRADESH
7652
7652248930
BANK OF' INDIA
BKID0009414
SINGAUDI
AT & POST SINGAUDIVIJAYRAGHOGARH BLOCK, DIST KATNI
SINGAUDI (DIST. KATNI)
SINGAUDI (DIST. KATNI)
MADHYA PRADESH
7626
7626200233
BANK OF' INDIA
BKID0009413
KATNI
17/358, SUBHASH CHOWKKATNI,
KATNI
KATNI
MADHYA PRADESH
7622
7622230144
BANK OF' INDIA
BKID0009412
KHAMARIA
WEST LAND, NR GURUDWARAKHAMARIA, DT JABALPUR
JABALPUR
JABALPUR
MADHYA PRADESH
761
7612337788
BANK OF' INDIA
BKID0009411
PANAGAR
MAIN ROAD, NEAR KAMANIA GATEPANAGAR, DIST JABALPUR
PANAGAR (DIST. JABALPUR)
PANAGAR (DIST. JABALPUR)
MADHYA PRADESH
761
7612350034
BANK OF' INDIA
BKID0009409
DEENDAYAL CHOWK
DAMOH ROAD, DEENDAYAL CHOWK,
JABALPUR
JABALPUR
MADHYA PRADESH
BANK OF' INDIA
BKID0009408
KAMLA NEHRU NAGAR
J.D.A. SCHEME NO. 11, LABOUR CHOWK,KAMLA NEHRU NAGAR,
JABALPUR
JABALPUR
MADHYA PRADESH
761
7612417497
BANK OF' INDIA
BKID0009407
SUHGI
MAIN ROAD NH-7, OPPOSITE J N K  V V VILL & POSUHAGI
JABALPUR
JABALPUR
MADHYA PRADESH
761
7612353200
BANK OF' INDIA
BKID0009406
KINGSWAY CANTT.
DR. R.C.KUMAR'S BUILDING,11A,ASHOK NAGAR,SADAR,CANTONMENT
JABALPUR
JABALPUR
MADHYA PRADESH
761
7612628894
BANK OF' INDIA
BKID0009405
NARAMADA ROAD
50 NARAMADA ROADJABALPUR
JABALPUR
JABALPUR
MADHYA PRADESH
761
7614035767
BANK OF' INDIA
BKID0009404
PADARIYA
VILLAGE PADARIYA, PADARIYA-GANGAI KUNDAMROAD, KUNDAM BLOCK, DISTRICT JABALPUR
PADARIYA (DIST. JABALPUR)
PADARIYA (DIST. JABALPUR)
MADHYA PRADESH
761
7612901520
BANK OF' INDIA
BKID0009403
NAPIER TOWN
NEAR RUSSEL CHOWKGOVIND KUNJ COLONY,
JABALPUR
JABALPUR
MADHYA PRADESH
761
7612625490
BANK OF' INDIA
BKID0009402
CIVIL LINES
797, SOUTH CIVIL LINESUNIVERSITY ROAD,
JABALPUR
JABALPUR
MADHYA PRADESH
761
7612623005
BANK OF' INDIA
BKID0009401
MADAN MAHAL
NAGPUR ROADNEAR L.I.C. BUILDING,
JABALPUR
JABALPUR
MADHYA PRADESH
761
7612423815
BANK OF' INDIA
BKID0009400
JABALPUR
ASHIRWAD MARKET1ST FLOOR,LORDGANJ,
JABALPUR
JABALPUR
MADHYA PRADESH
761
7612411482
BANK OF' INDIA
BKID0009386
MANENDRAGARH
SBI ROAD MAIN MARKETMANENDRAGARH
MANENDRAGARH (RAIPUR)
MANENDRAGARH (RAIPUR)
Chhattisgarh
7771
7771243101
BANK OF' INDIA
BKID0009385
BAIKUNTHPUR
BAI SAGAR COMPLEX, WARD NO.08,BAIKUNTHPUR,  DIST. KORIA, CHHATTISGARH.
BAIKUNTHPUR (CG)
BAIKUNTHPUR (CG)
Chhattisgarh
59611
BANK OF' INDIA
BKID0009382
SURAJPUR (CHHATTISGARH)
MAIN ROAD  SURAJPUR TOWN
SURAJPUR (CHHATTISGARH)
SURAJPUR (CHHATTISGARH)
Chhattisgarh
7775
7775266409
BANK OF' INDIA
BKID0009381
JASHPUR
GROUND FLOOR, OLD PALACE, B S MARKETJASHPUR
JASHPUR (CHHATTISGARH)
JASHPUR (CHHATTISGARH)
Chhattisgarh
7763
7763220024
BANK OF' INDIA
BKID0009380
AMBIKAPUR
HOUSE OF MRS.SATYAVATI GOYEL, OPP. SHYAMLALSINGHAL COMPLEX, MANINDRAGARH ROAD,
AMBIKAPUR
AMBIKAPUR
Chhattisgarh
7774
7774231133
BANK OF' INDIA
BKID0009375
GARIABANDH
RAJIM-DEOBHOG STATE HIGHWAY 2AB,NEAR FOREST NAKA,
GARIABANDH
GARIABANDH
Chhattisgarh
7706
7706200700
BANK OF' INDIA
BKID0009371
SARAIPALI
BESIDE GAYATRI SHAKTI PEETH POST SARAIPALI TEHSIL/BLOCK SARAIPALI DISTRICT MAHASAMUND PIN 493558 STATE CHATTISGARH
SARAIPALI
MAHASAMUND
CHHATTISGARH
BANK OF' INDIA
BKID0009370
MAHASAMUND
NEAR SAIFY SHOP (PETROL PUMP)BAGHBAHARA ROAD, MAHASAMUND
MAHASAMUND (CG)
MAHASAMUND (CG)
Chhattisgarh
7723
7723224688
BANK OF' INDIA
BKID0009367
NARDAHA
BANK OF INDIA NARDAHA BRANCH KH NO 161819 NEAR PETROL PUMP AT POST NARDAHA DISTRICT RAIPUR PIN CODE 493111 STATE CHHATTISGARH
RAIPUR
RAIPUR
CHHATTISGARH
BANK OF' INDIA
BKID0009366
KHILORA
HOUSE NUMBER LIG 155 KHILORA HOUSING BOARD COLONY DEEN DAYAL AWAS YOJANA TEHSIL ABHANPUR PIN 493661
ABHANPUR
RAIPUR
CHHATTISGARH
BANK OF' INDIA
BKID0009365
KANKER
RAZA COMPLEX, NH-43, SHEETALA PARAKANKER
KANKER (CG)
KANKER (CG)
Chhattisgarh
7868
7868222143
BANK OF' INDIA
BKID0009364
RAKHI
VILL RAKHI SHOPPING COMPLEX AT POST RAKHI PIN CODE 492 015
RAIPUR
RAIPUR
CHHATTISGARH
BANK OF' INDIA
BKID0009363
TATIBANDH
HOUSE OF RAKESH BHATT,NEAR RAILWAY OVERBRIDGEWARD – 13,G.E. ROAD,TATIBANDH,RAIPUR (C.G.)
RAIPUR
RAIPUR
Chhattisgarh
771
7714062503
BANK OF' INDIA
BKID0009362
ABHANPUR
DHAMTARI ROAD, WARD NO. – 9ABHANPUR, DISTT. : RAIPUR
ABHANPUR, DIST.RAIPUR
ABHANPUR, DIST.RAIPUR
Chhattisgarh
771
7712774570
BANK OF' INDIA
BKID0009361
SEJBAHAR
HOUSE OF BHUPENDRA SAHUCOLLEGE ROAD, SEJBAHAR RAIPUR
RAIPUR
RAIPUR
Chhattisgarh
BANK OF' INDIA
BKID0009360
DHAMTARI
NEAR MAHAWAR SHARMSHJALA SIHAWA CHOWKMAIN ROAD, DHAMTARI
DHAMTARI
DHAMTARI
Chhattisgarh
7722
7722236522
BANK OF' INDIA
BKID0009359
TILDA NEORA
NEAR OLD PANI TANKIWARD NO – 10
TILDA (CG)
TILDA (CG)
Chhattisgarh
7721
7721234023
BANK OF' INDIA
BKID0009358
NEW RAJENDRA NAGAR
WARD NO. 46, RAJENDRA PRASAD WARDSECTOR-7, PLOT NO. C1-1137 OPP VIJETA COMPLEX
RAIPUR
RAIPUR
Chhattisgarh
771
7714080053
BANK OF' INDIA
BKID0009357
RAIPUR MCB
OFFICE NO.- 1, 1ST FLOOR,MARUTI BUSINESS PARK, G.E.ROAD, RAIPUR
RAIPUR
RAIPUR
Chhattisgarh
8085727001
BANK OF' INDIA
BKID0009356
BHATAPARA
GIRIRAJ PLAZA,SADAR BAZARBHATAPARA , CHHATTISGARH, 493118
BHATAPARA, CHATISGARH
BHATAPARA, CHATISGARH
Chhattisgarh
7726
7726221199
BANK OF' INDIA
BKID0009355
VIDHAN SABHA ROAD
C.G. ELITE , OPP DT HOSPITALMANDI GATE
RAIPUR
RAIPUR
Chhattisgarh
771
7713082320
BANK OF' INDIA
BKID0009354
TATYAPARA
G.D. SHESH NILAYAM,KANKALI PARA ROAD, TATYAPARA, RAIPUR
RAIPUR
RAIPUR
Chhattisgarh
771
7712229400
BANK OF' INDIA
BKID0009353
TELIBANDHA BRANCH
GE ROAD NEAR RAILWAY CROSSINGTELIBANDHA
RAIPUR
RAIPUR
Chhattisgarh
771
7714013227
BANK OF' INDIA
BKID0009352
PACHPEDI NAKA
REENA APARTMENTPATWA BUILDING,
RAIPUR
RAIPUR
Chhattisgarh
771
7712411903
BANK OF' INDIA
BKID0009351
DEVENDRA NAGAR, RAIPUR
RAJENDRA COMPLEXIGVP, CLOTH MARKET,
RAIPUR
RAIPUR
Chhattisgarh
771
7712582242
BANK OF' INDIA
BKID0009350
RAIPUR
SAMVET SHIKHAR BUILDING, INFRONT OF EKATMAPARISAR,RAJBANDHA [email protected]
RAIPUR
RAIPUR
Chhattisgarh
771
7713195301
BANK OF' INDIA
BKID0009340
BALODA BAZAR
MAIN ROADBALODA BAZAR
BALODA BAZAR (CG)
BALODA BAZAR (CG)
Chhattisgarh
7727
7727223690
BANK OF' INDIA
BKID0009325
BEMETARA
NEAR NEW BUS STAND,BEMETARA-KAWARDHA ROAD
BEMETARA (CHHATTISGARH)
BEMETARA (CHHATTISGARH)
Chhattisgarh
96916
9691611966
BANK OF' INDIA
BKID0009320
KAWARDHA
SURJEET SINGH KHANUJA  COMPLEXOPP. BUS STAND, KAWARDHA (KABIRDHAM).
KAWARDHA (CHATTISGARH)
KAWARDHA (CHATTISGARH)
Chhattisgarh
7741
7741233601
BANK OF' INDIA
BKID0009316
GUNDERDEHI
PAYAL PLAZA OPPOSITE BUS STAND AT POST GUNDERDEHI DIST BALOD STATE CHHATTISGARH
BALOD
DURG
CHHATTISGARH
788681
7415675768
BANK OF' INDIA
BKID0009315
BALOD
DILLIRAJHARA ROAD,AMAPARA,
BALODA BAZAR (CG)
BALODA BAZAR (CG)
Chhattisgarh
98269
9826970724
BANK OF' INDIA
BKID0009312
BHADSENA
GRAMPANCHAYAT OFFICE PREMISES VILL POST BHADSENA TEHSI CHOWKI CHHATTISGARH PIN 491 665
RAJNANDGAON
RAJNANDGAON
CHHATTISGARH
91
8720810079
BANK OF' INDIA
BKID0009311
SUPELA
HOUSE OF HARI DALAI TULSI COMPLEX KOHKA ROAD INDIRA NAGAR MOUZA NO 5 SUPELA BHILAI PIN 490023
BHILAINAGAR
DURG
CHHATTISGARH
BANK OF' INDIA
BKID0009310
CHARODA
HOUSE OF RADHESHYAM CHANDRAKAR SIRSA GATE CHOWK G E ROAD BHILAI PIN 490021
CHARODA
DURG
CHHATTISGARH
7826
8878965825
BANK OF' INDIA
BKID0009309
ANJORA
INSIDE APOLLO COLLAGE,OPP.VETERINARY COLLEGE,VILL:ANJORA,DIST : DURG. CHHATTISGARH  (491 0
DURG
DURG
Chhattisgarh
BANK OF' INDIA
BKID0009308
PADMANABHAPUR
MAHARAJA CHOWK,BORSI ROAD ,PADMANABHAPUR,
DURG
DURG
Chhattisgarh
788
7884340961
BANK OF' INDIA
BKID0009307
BHILAI MCB
SHOP NO.-111, 1ST FLOOR, GRACE PLAZA,NEHRU NAGAR SQUARE,
BHILAI
BHILAI
Chhattisgarh
9424137323
BANK OF' INDIA
BKID0009306
UTAI
PRERNA COMPLEX ,SADBHAVANA CHOWK,PATAN POOL,
DURG
DURG
Chhattisgarh
788
7882673699
BANK OF' INDIA
BKID0009305
POWER HOUSE BHILAI
G.E. ROAD, POWER HOUSE CHOWKBHILAI, DIST. DURG,
BHILAI
BHILAI
Chhattisgarh
788
7884050040
BANK OF' INDIA
BKID0009304
PATHARIA
VILL. PATHARIAPOST MEDSARA, DIST DURG
PATHARIA (DIST. DURG)
PATHARIA (DIST. DURG)
Chhattisgarh
7821
7821292286
BANK OF' INDIA
BKID0009303
RAJNANDGAON
DIGVIJAY COLLEGE ROAD, NEWR GURUDWARAPHAWWARA CHOWK
RAJNAND GAON
RAJNAND GAON
Chhattisgarh
7744
7744224143
BANK OF' INDIA
BKID0009302
DURG
INDIRA MARKET1ST FLOOR,
DURG
DURG
Chhattisgarh
788
7882323449
BANK OF' INDIA
BKID0009301
DHAMDHA
DURG – BEMETARA ROADDHAMDHA, DISTRICT DURG,
DHAMDHA (CG)
DHAMDHA (CG)
Chhattisgarh
7821
7821234232
BANK OF' INDIA
BKID0009300
BHILAI
PLOT NO. 6CIVIC CENTRE,
BHILAI
BHILAI
Chhattisgarh
788
7882224517
BANK OF' INDIA
BKID0009250
MEHKAR
RAJIV GANDHI NAGAR PARISHAD COMMERCIAL COMPLEX SEAT NO 13 SURVEY NO 6 BLOCK NO 3 TAH MEHKAR443301
MEHKAR
BULDHANA
MAHARASHTRA
BANK OF' INDIA
BKID0009249
JATHARPETH (AKOLA)
SHUBHMANGAL KARYALAY,TAPADIYA NAGAR, BIRLA ROAKOLA (M.S.), PIN- 444005
AKOLA
AKOLA
MAHARASHTRA
BANK OF' INDIA
BKID0009248
ANJANGAON SURJI
KUSUM PLAZA, SHANIVARPETH, MAIN ROAD, ANJANGAON SURJI
ANJANGAON (DIST -AMRAVATI)
ANJANGAON (DIST -AMRAVATI)
MAHARASHTRA
BANK OF' INDIA
BKID0009247
DEULGAON RAJA
CHIKHALI-DEULGAON RAJA ROAD,OPP. POST OFFICENATIONAL HIGHWAY,AT & POST-DEULGAON RAJA
BULDHANA(MH)
BULDHANA(MH)
MAHARASHTRA
7261
7261231085
BANK OF' INDIA
BKID0009246
RISOD
WARD NO.3, NEAR BAZAR SAMITI, LOHI ROAD, ATAND POST -RISOD; DIST  WASHIM
RISOD(MAHARASHTRA)
RISOD(MAHARASHTRA)
MAHARASHTRA
7251
7251222444
BANK OF' INDIA
BKID0009245
NANDURA
WEEKLY MAIN MARKET ROAD , C/O TARACHANDLADDH- NANDURA DIST – BULDHANA
NANDURA
NANDURA
MAHARASHTRA
7265
7265220104
BANK OF' INDIA
BKID0009244
CHIKHALI
JANKI COMPLEX, D.P.ROAD,OPP.BUS STAND,CHIKHALI (DIST-BULDHANA) STATE-MAHARASHTRA,
BULDHANA(MH)
BULDHANA(MH)
MAHARASHTRA
7264
7264243123
BANK OF' INDIA
BKID0009243
BULDANA
DSD CITY MALL ,BUS STAND TO TEUSUK ROADDALAL LAYOUT
BULDHANA(MH)
BULDHANA(MH)
MAHARASHTRA
BANK OF' INDIA
BKID0009242
MALKAPUR
HOTEL RADHEYA BUILDING,DAWLE COMPLEX ,NEAR BUS STAND,MALKAPUR
BULDHANA(MH)
BULDHANA(MH)
MAHARASHTRA
7267222828
BANK OF' INDIA
BKID0009241
KHAMGAON
GOKUL ARCADE, PLOT NO. 18, BALAJI PLOTMAIN ROAD, KHAMGAON, DIST BULDHAN
KHAMGAON (DISTT BULDHANA) MH
KHAMGAON (DISTT BULDHANA) MH
MAHARASHTRA
7263
7263256600
BANK OF' INDIA
BKID0009228
PALANDUR
GRAM PANCHAYAT BHAVAN, MAIN ROAD, KAWLEWADI,AT & POST- PALANDUR, (DIST- BHANDARA)
PALANDUR
PALANDUR
MAHARASHTRA
7186
7186234300
BANK OF' INDIA
BKID0009227
SAKOLI
NURSERY COLONY, NEAR BUS-STAND, N.H.6, SAKOLI
BHANDARA
BHANDARA
MAHARASHTRA
7186
7186237444
BANK OF' INDIA
BKID0009226
RAJIV GANDHI CHOWK
ZINZARDE SHOPPING COMPLEXBHANDARA , NAGPUR
NAGPUR
NAGPUR
MAHARASHTRA
7184259088
BANK OF' INDIA
BKID0009224
THANA (AMGAON)
AT & P.O. THANATALUKA AMGAON, DIST BHANDARA
THANA (AMGAON) (DIST.GONDIA)
THANA (AMGAON) (DIST.GONDIA)
MAHARASHTRA
7189
7189246230
BANK OF' INDIA
BKID0009223
MURMADI (TUPKAR)
AT & POST MURMADI (TUPKAR)TAH. LAKHANI, DIST. BHANDARA
MURMADI (TUPKAR) (DIST.BHANDARA)
MURMADI (TUPKAR) (DIST.BHANDARA)
MAHARASHTRA
7186
7186241144
BANK OF' INDIA
BKID0009222
ANDHALGAON
ANDHALGAON, AHIRKAR'S HOUSE,AT & PO ANDHALGAON, TAL MOHADI, DIST BHANDARA
ANDHALGAON (DIST. BHANDARA)
ANDHALGAON (DIST. BHANDARA)
MAHARASHTRA
7197
7197245126
BANK OF' INDIA
BKID0009221
DONGRI BUZRUK
AT & POST DONGRI BUZRUKTEHSIL TUMSAR, DIST. BHANDARA
DONGRI BUZRUK (DIST. BHANDRA)
DONGRI BUZRUK (DIST. BHANDRA)
MAHARASHTRA
7183
7183220245
BANK OF' INDIA
BKID0009220
POHARA
AT & POST POHARATALUKA SAKOLI, DIST BHANDARA
POHARA (DIST. BHANDARA)
POHARA (DIST. BHANDARA)
MAHARASHTRA
7186
7186242010
BANK OF' INDIA
BKID0009219
PANDHARABODI
AT & POST PANDHARABODITALUKA GONDIA, DIST GONDIA
PANDHARABODI (DIST. GONDIA)
PANDHARABODI (DIST. GONDIA)
MAHARASHTRA
7182
7182280022
BANK OF' INDIA
BKID0009218
PARASWADA
AT & POST PARASWADATALUKA TIRORA, DIST GONDIA
PARASWADA (DIST. GONDIA)
PARASWADA (DIST. GONDIA)
MAHARASHTRA
7198
7198254812
BANK OF' INDIA
BKID0009217
BEMBAL
AT & POST BEMBALTALUKA MULL, DIST. CHANDRAPUR
BEMBAL (DIST. CHANDRAPUR)
BEMBAL (DIST. CHANDRAPUR)
MAHARASHTRA
7174
7174267743
BANK OF' INDIA
BKID0009216
AGRASEN MARG BRANCH
7/2, AGRASEN MARG, LAXMIBAI WARDNEAR GORAKSHAN MARKET
GONDIA
GONDIA
MAHARASHTRA
7182
7182233186
BANK OF' INDIA
BKID0009215
SHAHAPUR
MAIN ROADAT & POST SHAHAPUR, DIST BHANDARA
SHAHAPUR (DIST. BHANDARA)
SHAHAPUR (DIST. BHANDARA)
MAHARASHTRA
7174
7174282122
BANK OF' INDIA
BKID0009214
ARJUNI MORGAON
ARJUNI MOREGAON, AT.MR. CHAURASIA'S HOUSE,MAIN ROAD, ARJUNI MORGAON, DIST GONDIA
ARJUNI MORGAON (DIST. GONDIA)
ARJUNI MORGAON (DIST. GONDIA)
MAHARASHTRA
7196
7196220150
BANK OF' INDIA
BKID0009213
DEORI
BAZAR LANEAT & POST DEORI, DIST. GONDIA
DEORI (DIST. GONDIA)
DEORI (DIST. GONDIA)
MAHARASHTRA
7199
7199225118
BANK OF' INDIA
BKID0009212
EKODI
MAIN ROADAT & POST EKODI, DIST GONDIA
EKODI (DIST.GONDIA)
EKODI (DIST.GONDIA)
MAHARASHTRA
7182
7182285036
BANK OF' INDIA
BKID0009211
SIHORA
AT & POST SIHORATEHSIL TUMSAR, DIST.BHANDARA)
SIHORA (DIST. BHANDARA)
SIHORA (DIST. BHANDARA)
MAHARASHTRA
7183
7183238428
BANK OF' INDIA
BKID0009210
KAMTHA
AT & POST KAMTHATALUKA – GONDIA,
KAMTHA (DIST. GONDIA)
KAMTHA (DIST. GONDIA)
MAHARASHTRA
7182
7182283023
BANK OF' INDIA
BKID0009209
KONDA KOSRA
MAIN ROADAT & POST KONDA KOSRA, DIST. BHANDARA
KONDA KOSRA (DIST. BHANDARA)
KONDA KOSRA (DIST. BHANDARA)
MAHARASHTRA
7185
7185253727
BANK OF' INDIA
BKID0009207
WARTHI
STATION ROADWARTHI, DIST BHANDARA
WARTHI
WARTHI
MAHARASHTRA
7197
7197285531
BANK OF' INDIA
BKID0009206
GONDIA
KOUSHALYA NIKETANVALLABHBHAI WARD, RAIL TOLI,
GONDIA
GONDIA
MAHARASHTRA
7182
7182251413
BANK OF' INDIA
BKID0009205
LAKHANDUR
MAIN ROADAT & POST LAKHANDUR, DIST. BHANDARA
LAKHANDUR (DIST. BHANDARA)
LAKHANDUR (DIST. BHANDARA)
MAHARASHTRA
7181
7181260022
BANK OF' INDIA
BKID0009204
MOHADI
NEAR S. T. STANDTILAK WARD, MOHADI, DIST. BHANDARA
MOHADI
MOHADI
MAHARASHTRA
7197
7197241139
BANK OF' INDIA
BKID0009203
BHANDARA
P.B.NO 30, GAJANAN CHOWK, BARA BAZARMAIN ROAD, BHANDARA
BHANDARA
BHANDARA
MAHARASHTRA
7184
7184254200
BANK OF' INDIA
BKID0009202
LAKHANI
MAIN ROADPOST LAKHANI, DIST. BHANDARA
LAKHANI (DIST. BHANDARA)
LAKHANI (DIST. BHANDARA)
MAHARASHTRA
7186
7186245644
BANK OF' INDIA
BKID0009201
TUMSAR
POST BOX NO. 17MAIN ROAD, TUMSAR, DIST BHANDARA
TUMSAR
TUMSAR
MAHARASHTRA
7183
7183232295
BANK OF' INDIA
BKID0009200
AMGAON
STATION ROADAMGAON, DIST GONDIA
AMGAON (DIST. GONDIA)
AMGAON (DIST. GONDIA)
MAHARASHTRA
7189
7189225368
BANK OF' INDIA
BKID0009146
MAHAKAAL MANDIR
MADHAV SEWA NYAS BHARAT MATA MANDIR MAHAKAAL MAIDAN
UJJAIN
UJJAIN
MADHYA PRADESH
BANK OF' INDIA
BKID0009145
KHATAMBA
KHATAMBA BRANCH HO OF SHRI SARPANCH AT AND POST KHATAMBA DEWAS BHOPAL ROAD
UJJAIN
UJJAIN
MADHYA PRADESH
BANK OF' INDIA
BKID0009144
LEKODA
VILL LEKODA DIST UJJAIN
UJJAIN
UJJAIN
MADHYA PRADESH
91
9796146439
BANK OF' INDIA
BKID0009143
COLLECTORATE, AGAR MALWA
COLLECTORATE, AGAR MALWA,
AGAR MALWA (DIST. SHAJAPUR)
AGAR MALWA (DIST. SHAJAPUR)
MADHYA PRADESH
9425984990
BANK OF' INDIA
BKID0009142
BHANPURA
C/O BHANDARI COMPLEXGARODH ROAD
BHANPURA
BHANPURA
MADHYA PRADESH
94257
9425773375
BANK OF' INDIA
BKID0009141
GAROTH
C/O RAJENDRA PATIDHAROPP PWD OFFICE,BHANPURA ROAD  DIST MANDSAUR
GAROTH
GAROTH
MADHYA PRADESH
BANK OF' INDIA
BKID0009140
SUWASARA
1105,DHANMANDI, DISTT-MANDSOUR,SUWASARA
SUWASARA(M.P.)
SUWASARA(M.P.)
MADHYA PRADESH
7426
7426220132
BANK OF' INDIA
BKID0009139
SHAMGARH
4442,GOVIND MILL COMPOUND, SHAMGARH GAROTH ROAD, DISTT MANDSOUR,SHAMGARH 458883 MP
SHAMGARH
SHAMGARH
MADHYA PRADESH
BANK OF' INDIA
BKID0009138
SURASA
C/O  BHAVANA RESTAURANT, NEAR R.D. GARDICOLLEGE AGAR ROAD THE. GHATIA  DIST UJJAIN
UJJAIN
UJJAIN
MADHYA PRADESH
BANK OF' INDIA
BKID0009137
NARWAR
UJJAIN-DEWAS MAIN ROADAT & POST NARWAR
NARWAR(UJJAIN)
NARWAR(UJJAIN)
MADHYA PRADESH
BANK OF' INDIA
BKID0009136
NAGZIRI (UJJAIN)
WARD NO. 45, INFRONT OF OILFED GATENAGZIRI, DEWAS ROAD
UJJAIN
UJJAIN
MADHYA PRADESH
BANK OF' INDIA
BKID0009135
UJJAIN SERVICE
7/2 SHREE PAL MARGNAIPETH, UJJAIN
UJJAIN
UJJAIN
MADHYA PRADESH
7342
7342562275
BANK OF' INDIA
BKID0009134
CHANDUKHEDI
SURVEY NO.200/1, UJJAIN BARNAGAR ROADAT & POST CHANDUKHEDI
UJJAIN
UJJAIN
MADHYA PRADESH
BANK OF' INDIA
BKID0009133
SITAMAU
RANAWAT BHAWAN, MANDSAOUR ROAD,SITAMAU  ,DIST. MANDSAOUR
SITA MAU (M.P)
SITA MAU (M.P)
MADHYA PRADESH
7426
7426222003
BANK OF' INDIA
BKID0009132
PIPLIYA MANDI
MARKETING SOCIETY, MANASA ROAD,PIPLIYA MAND, IDIST MANDSAUR (MP)
PIPLIYA MANDI (MP)
PIPLIYA MANDI (MP)
MADHYA PRADESH
9630980645
BANK OF' INDIA
BKID0009131
DALODA
G 2072, NEAR MANDI COMPLEX  MHOW-NEEMUCH ROADDIST MANDSAUR PIN 458 667
DALODA (DIST. MANDSAUR)
DALODA (DIST. MANDSAUR)
MADHYA PRADESH
BANK OF' INDIA
BKID0009130
NEEMUCH
49 TAGORE MARGNEEMUCHDIST NEEMUCH
NEEMUCH
NEEMUCH
MADHYA PRADESH
7423228186
BANK OF' INDIA
BKID0009129
MANDSAUR
99 OIL MILL RDAFEEM GODAM RD,  NAI ABADI
MANDSAUR
MANDSAUR
MADHYA PRADESH
7422
7422245331
BANK OF' INDIA
BKID0009128
MOULANA
PANCHAYAT BHAVANMOULANA, DIST. UJJAIN
MOULANA (DIST. UJJAIN)
MOULANA (DIST. UJJAIN)
MADHYA PRADESH
7367
7367262188
BANK OF' INDIA
BKID0009127
PANBIHAR
AT & POST PANBIHARTEHSIL GHATIA, DIST UJJAIN
PANBIHAR (DIST. UJJAIN)
PANBIHAR (DIST. UJJAIN)
MADHYA PRADESH
7368263320
BANK OF' INDIA
BKID0009126
INDIRA NAGAR (UJJAIN)
NAYA BAZARP. O. BHERAVGARH,
UJJAIN
UJJAIN
MADHYA PRADESH
734
7342581050
BANK OF' INDIA
BKID0009125
PANTH PIPLAI
AT & POST PANTH PIPLAITEHSIL UJJAIN, DIST UJJAIN
PANTH PIPLAI (DIST. UJJAIN)
PANTH PIPLAI (DIST. UJJAIN)
MADHYA PRADESH
734
7342506238
BANK OF' INDIA
BKID0009124
DHABLA HARDU
AT & POST DHABLA HARDUVIA GHATIA, DIST UJJAIN
DHABLA HARDU (DIST. UJJAIN)
DHABLA HARDU (DIST. UJJAIN)
MADHYA PRADESH
7369
7369267232
BANK OF' INDIA
BKID0009123
GHATIA
AT & POST GHATIADISTRICT UJJAIN,
GHATIA (DIST. UJJAIN)
GHATIA (DIST. UJJAIN)
MADHYA PRADESH
7368
7368265229
BANK OF' INDIA
BKID0009122
NAGDA
244, JAWAHAR MARG, 1ST FLR.NAGDA, DISTRICT UJJAIN,
NAGDA
NAGDA
MADHYA PRADESH
7366
7366241691
BANK OF' INDIA
BKID0009121
KAYATHA
KAYATHATEHSIL TARANA, DIST UJJAIN
KAYATHA (DIST. UJJAIN)
KAYATHA (DIST. UJJAIN)
MADHYA PRADESH
7369
7369262129
BANK OF' INDIA
BKID0009120
TARANA
74, KHANDERAO BAZARTARANA, DIST UJJAIN
TARANA (DIST. UJJAIN)
TARANA (DIST. UJJAIN)
MADHYA PRADESH
7369
7369236126
BANK OF' INDIA
BKID0009119
BARNAGAR
M. G. ROADBARNAGAR, DIST UJJAIN
BARNAGAR (DIST. UJJAIN)
BARNAGAR (DIST. UJJAIN)
MADHYA PRADESH
7367
7367220368
BANK OF' INDIA
BKID0009118
BALEDI (UJJAIN)
BALEDITEHSIL BARNAGAR, DIST UJJAIN
BALEDI (UJJAIN)
BALEDI (UJJAIN)
MADHYA PRADESH
7367
7367227038
BANK OF' INDIA
BKID0009116
JHARDA
AT & P.O. JHARDATEHSIL MAHIDPUR, DIST. UJJAIN,
JHARDA (DIST. UJJAIN)
JHARDA (DIST. UJJAIN)
MADHYA PRADESH
7365
7365264220
BANK OF' INDIA
BKID0009115
MAHIDPUR ROAD
SADAR BAZARMAHIDPUR ROAD, DIST UJJAIN
MAHIDPUR ROAD(DIST. UJJAIN)
MAHIDPUR ROAD(DIST. UJJAIN)
MADHYA PRADESH
7365
7365243535
BANK OF' INDIA
BKID0009114
BHAT PACHLANA
BHAT PACHLANATEHSIL BADNAGAR, DIST UJJAIN
BHAT PACHLANA (DIST. UJJAIN)
BHAT PACHLANA (DIST. UJJAIN)
MADHYA PRADESH
7367
7367263630
BANK OF' INDIA
BKID0009113
MAHIDPUR
GANDHI MARGMAHIDPUR, DIST UJJAIN
MAHIDPUR
MAHIDPUR
MADHYA PRADESH
7365
7365231065
BANK OF' INDIA
BKID0009112
KHACHRAUD
JAWAHAR MARGKHACHRAUD, DIST UJJAIN
KHACHRAUD
KHACHRAUD
MADHYA PRADESH
7366
7366231199
BANK OF' INDIA
BKID0009111
UNHEL
MAIN ROADUNHEL, DIST UJJAIN
UNHEL (DIST. UJJAIN)
UNHEL (DIST. UJJAIN)
MADHYA PRADESH
7366
7366240140
BANK OF' INDIA
BKID0009110
VEDNAGAR
A-1/5 VED NAGARNANA KHEDA, UJJAIN
UJJAIN
UJJAIN
MADHYA PRADESH
734
7342526693
BANK OF' INDIA
BKID0009109
MAHANANDA NAGAR
B/5 SAI NIKUNJ, BHARTIYA GYANPEETH,MAHANANDA NAGAR,UJJAIN, DIST : UJJAIN
UJJAIN
UJJAIN
MADHYA PRADESH
734
7342519626
BANK OF' INDIA
BKID0009108
SETHI NAGAR
216,A, SHETHI NAGAR,UJJAIN, MP
UJJAIN
UJJAIN
MADHYA PRADESH
734
7342519763
BANK OF' INDIA
BKID0009107
ARVIND NAGAR
66, LALA LAJPATRAI MARGFAJALPUR,
UJJAIN
UJJAIN
MADHYA PRADESH
734
7342552734
BANK OF' INDIA
BKID0009106
AMLA
AT & POST AMLATEHSIL BARNAGAR, DIST UJJAIN
AMLA TOWN
AMLA TOWN
MADHYA PRADESH
7367
7367260128
BANK OF' INDIA
BKID0009105
NAINAVAD
AMIN MANZILVILLAGE & POST NAINAVAD, DIST. UJJAIN
NAINAVAD (DIST. UJJAIN)
NAINAVAD (DIST. UJJAIN)
MADHYA PRADESH
7363
7363246624
BANK OF' INDIA
BKID0009104
KHEDA KHAJURIA
AT & POST KHEDA KHAJURIATEHSIL MAHIDPUR, DIST UJJAIN
KHEDA KHAJURIA (DIST. UJJAIN)
KHEDA KHAJURIA (DIST. UJJAIN)
MADHYA PRADESH
7365
7365265221
BANK OF' INDIA
BKID0009103
DASHEHRA MAIDAN
PLOT NO. 1SUPPLEMENTARY, DASHEHRA MAIDAN
UJJAIN
UJJAIN
MADHYA PRADESH
734
7342530930
BANK OF' INDIA
BKID0009102
MAXI ROAD
MAXI ROAD INDUSTRIAL ESTATEUJJAIN,
UJJAIN
UJJAIN
MADHYA PRADESH
734
7342518814
BANK OF' INDIA
BKID0009101
FREEGANJ
NARANG COMPLEX25, VARAVADI MARG,
UJJAIN
UJJAIN
MADHYA PRADESH
734
7342521785
BANK OF' INDIA
BKID0009100
UJJAIN
144, GOPAL MANDIR ROADPOST BOX NO. 119,
UJJAIN
UJJAIN
MADHYA PRADESH
734
7342550292
BANK OF' INDIA
BKID0009089
BAWADIAKALA
PLOT NO 28 29 CHANDRIKA SOCIETY BAWADIA KALAN 80 FEET MAIN ROAD BAWADIA KALAN BHOPAL 462039
BHOPAL
BHOPAL
MADHYA PRADESH
BANK OF' INDIA
BKID0009088
AIRPORT ROAD
PLOT NO 9 28 DATA COLONY AIRPORT ROAD WARD NO 2 BHOPAL TEHSIL HUZUR PINCODE 462016
BHOPAL
BHOPAL
MADHYA PRADESH
BANK OF' INDIA
BKID0009087
BORKHEDAKALAN
AT INDORE BHOPAL MAIN ROAD.BORKHEDA KALAN TEHSIL NASRULLAGANJ
BHOPAL
BHOPAL
MADHYA PRADESH
BANK OF' INDIA
BKID0009086
BHITERWAR
KHASRA NO 3308/1 MIN NEAR GOVT HOSPITAL BHITARWAR MAIN ROAD WARD NO 08 VILLAGE BHITARWAR
BHITERWAR
GWALIOR
MADHYA PRADESH
91
9424017114
BANK OF' INDIA
BKID0009085
KARERA
KARERA BRANCH NEW COLONY NEAR KALI MATA TEMPLE KARERA TEHSIL KARERA M P PINCODE 473660
KARERA
SHIVPURI
MADHYA PRADESH
91
9977457615
BANK OF' INDIA
BKID0009084
SINDHI COLONY
KUSHWAHA BUILDING SIKANDAR KAMPOO CHOURAHA SINDHI COLONY ROAD LASHKAR GWALIOR 474001
GWALIOR
GWALIOR
MADHYA PRADESH
91
9425619216
BANK OF' INDIA
BKID0009083
MISROD HOSANGABAD
GOUR BHAWAN MAIN ROAD NEAR PETROL PUMP VILLAGE MISROD TEHSIL DOLARIA MP
BHOPAL
BHOPAL
MADHYA PRADESH
91
9977772447
BANK OF' INDIA
BKID0009082
GAIRATGANJ
NAYAK BHAWAN 7 MAIN BHOPAL SAGAR ROAD WARD NO 15 TEKPAR COLONY GAIRATGANJ TEHSIL GIRATGANJ MP
RAISEN
RAISEN
MADHYA PRADESH
91
8109523553
BANK OF' INDIA
BKID0009081
RAMPUR
MAIN MARKET VILLAGE AND POST RAMPUR TEHSIL ITARSI MP
BHOPAL
BHOPAL
MADHYA PRADESH
91
7869843622
BANK OF' INDIA
BKID0009080
HIRENKHEDA
VILLAGE AND POST HIRENKHEDA TEHSIL SEONI MALWA MP
BHOPAL
BHOPAL
MADHYA PRADESH
91
8821859189
BANK OF' INDIA
BKID0009079
CHARNAL
GANGA KUNJ NEAR NEW BUS STAND VILLAGE AND POST CHARNAL TEHSIL SHAMPUR
SEHORE
SEHORE
MADHYA PRADESH
91
9752750908
BANK OF' INDIA
BKID0009078
RAMPURA CHAKALDI
NEAR BUS STAND VILLAGE RAMPURA CHAKALDI TEHSIL REHTI MP
SEHORE
SEHORE
MADHYA PRADESH
91
7879205227
BANK OF' INDIA
BKID0009077
BASUDEO BANSDEO
BAJRANG KUTI ASHRAM NO 16 VILLAGE BASUDEO TEHSIL NASRULLAGANJ 466331
SEHORE
SEHORE
MADHYA PRADESH
91
7748812550
BANK OF' INDIA
BKID0009076
BALAGAON
WARD NO 20 MAIN ROAD TALAV VILLAGE BALAGAON TEHSIL NASRULLAGANJ MP
SEHORE
SEHORE
MADHYA PRADESH
91
9713644669
BANK OF' INDIA
BKID0009075
SHEOPUR
PALI ROAD, NEAR LIC OFFICE, SHEOPUR DISTRICT
SHEOPUR (M P)
SHEOPUR (M P)
MADHYA PRADESH
7530
7530222156
BANK OF' INDIA
BKID0009074
KHILCHIPUR
KHANDELWAL COMPOUND, NH-12, NEAR BUS STAND,WARD NO.14, KHILCHIPUR, DIST. RAJGARH, M.P.-4
KHILCHIPUR
KHILCHIPUR
MADHYA PRADESH
BANK OF' INDIA
BKID0009073
ICHHAWAR
NANDAN MAIN ROAD, ICHHAWAR, DIST SEHORE, M.P. – 466115
ICHHAWAR
ICHHAWAR
MADHYA PRADESH
BANK OF' INDIA
BKID0009072
BAIRAGARH
NEW B-51/524, KALKA CHOWK, MAIN ROAD,BAIRAGARH, BHOPAL(M.P) 462030
BHOPAL
BHOPAL
MADHYA PRADESH
BANK OF' INDIA
BKID0009071
TARA SEWANIYA
BLOCK TEHSIL  FANDA,DIST  BHOPAL M.P  462036
TARA SEWANIYA
TARA SEWANIYA
MADHYA PRADESH
BANK OF' INDIA
BKID0009070
RATIBAD
VILL & PO RATIBAD, POLICE THANA CHAURAHABIRTHARIA MARKET ROAD, RATIBAD, DIST BHOPAL
RATIBAD (DISTT BHOPAL MP)
RATIBAD (DISTT BHOPAL MP)
MADHYA PRADESH
9893503340
BANK OF' INDIA
BKID0009069
BHIND
MAIN MARKET, LASHKAR ROAD, BHIND, M.P.-477001
BHIND
BHIND
MADHYA PRADESH
7534
7534233339
BANK OF' INDIA
BKID0009068
LEEMA CHOUHAN
SARANGPUR SANDAWATA ROAD, VILL  AND POSTLEEMA CHOUHAN, DIST RAJGARH
LEEMA CHOUHAN( M.P.)
LEEMA CHOUHAN( M.P.)
MADHYA PRADESH
BANK OF' INDIA
BKID0009067
DATIA
RATAN BHAVAN, CIVIL LINES ROAD,NEAR PITAMBARA PEETH, DATIA M.P 475661
DATIA (M.P.)
DATIA (M.P.)
MADHYA PRADESH
7522
7522233053
BANK OF' INDIA
BKID0009066
GANJBASODA
BAJAJ TOWER, SUBHASH CHOWK, STATION ROAD,GANJBASODA, DIST-VIDISHA PIN- 464221
GANJBASODA
GANJBASODA
MADHYA PRADESH
BANK OF' INDIA
BKID0009065
CHANDERI
GURU KRIPA PLOT NO.9 KATRA BAZARCHANDERI, DISTT ASHOK NAGAR MP
CHANDERI (DISTT ASHOK NAGAR MP)
CHANDERI (DISTT ASHOK NAGAR MP)
MADHYA PRADESH
7547
7547252011
BANK OF' INDIA
BKID0009063
OBEDULLAGANJ
KOTHARI CAMPUS, HOSHANGABAD ROAD,OBEDULLAGANJ, DIST-RAISEN(M.P) PIN-464993
OBEDULLAGANJ (DISTT RAISEN MP)
OBEDULLAGANJ (DISTT RAISEN MP)
MADHYA PRADESH
9981006634
BANK OF' INDIA
BKID0009062
MANDIDEEP
NEAR PRIYANKA LODGE, GALLA MANDIMANDIDEEP, DISTT RAISEN
MANDIDEEP
MANDIDEEP
MADHYA PRADESH
7480
7480231050
BANK OF' INDIA
BKID0009061
BARELI
3 NEW RATHI COLONY, COLLEGE ROADWARD NO. 7, BARELI
BARELI ( DISTT RAISEN MP)
BARELI ( DISTT RAISEN MP)
MADHYA PRADESH
7486
7486232200
BANK OF' INDIA
BKID0009060
RAISEN
6 MUKHARJEE NAGAR, SAGARHIGHWAY ROAD, DISTT RAISEN MP
RAISEN (MP)
RAISEN (MP)
MADHYA PRADESH
9425125652
BANK OF' INDIA
BKID0009059
GANERA
NASIRABAD ROAD, POST & VILLAGE GANERA, TEHSILDIST HOSHANGABAD, M.P. – 46166
GANERA
GANERA
MADHYA PRADESH
BANK OF' INDIA
BKID0009058
SHOBHAPUR
MAIN ROAD, SHOBHAPUR, POST & TEHSIL SHOBHAPURDIST HOSHANGABAD, M.P. – 461772
SHOBHAPUR
SHOBHAPUR
MADHYA PRADESH
BANK OF' INDIA
BKID0009057
BABAI
HOSHANGABAD-PIPARIYA MAIN ROAD, SHRI HIT COMPBABAI, DISTT HOSHANGABAD
BABAI (DISTT HOSHANGABAD MP)
BABAI (DISTT HOSHANGABAD MP)
MADHYA PRADESH
7574
7574259053
BANK OF' INDIA
BKID0009056
SOHAGPUR
NEAR CIVIL COURT MAIN ROADSOHAGPUR, DISTT HOSHANGABAD, MP
SOHAGPUR (MP)
SOHAGPUR (MP)
MADHYA PRADESH
BANK OF' INDIA
BKID0009054
SHINDE KI CHHAWANI
1330,RAMDAS GHATI ROAD,SHINDE KI CHHAWANI,GWALIOR,M.P 474001
GWALIOR
GWALIOR
MADHYA PRADESH
BANK OF' INDIA
BKID0009053
ANAND NAGAR (BHOPAL)
HOUSE NO: 664, WARD 59, RAISEN ROAD, ANAND NAGAR, BHOPAL, M.P.-462021
BHOPAL
BHOPAL
MADHYA PRADESH
BANK OF' INDIA
BKID0009052
CHUNABHATTI
PLOT NO 1, ARANYA VIHAR,CHUNABHATTI
BHOPAL
BHOPAL
MADHYA PRADESH
BANK OF' INDIA
BKID0009051
BHADRADRI-KOTHAGUDEM
3-1-6/7, WARD NO 10 S S COMPLEX, CHAITANYA SCHOOL,VIDYANAGAR COLONY,CHUNCHUPALLY ,KOTHAGUDEM, TELANGANA-507101
NBG SOUTH
BHADRADRI
TELANGANA
91
6205448472
BANK OF' INDIA
BKID0009050
KOMMUCHIKKALA
DOOR NO 3 NEAR SAI BABA TEMPLE MAIN ROAD KOMMUCHIKKALA VILLAGE PODURU MANDAL WEST GODAVARI DIST
KOMMUCHIKKALA
WEST GODAVARI
ANDHRA PRADESH
91
8555018214
BANK OF' INDIA
BKID0009044
BALENGA
PURANA PRATHAMIK SCHOOL FRNGPARA IN FRONT OF MASZID VILLAGE BALENGA PIN 494347
BASTAR
BASTAR
CHHATTISGARH
91
860260210
BANK OF' INDIA
BKID0009043
BADE DONGAR
PRIMARY SCHOOL ANDHYARIKOT VILL BADE DONGAR PHARASGAON CHHATTISGARH PIN 494228
KONDAGAON
BASTAR
CHHATTISGARH
91
9993241985
BANK OF' INDIA
BKID0009042
JAGDALPUR
NEAR JHANKAR TALKIES BALAJI WARDOLD JAYPUR ROAD
JAGDALPUR
JAGDALPUR
Chhattisgarh
7782
7782226386
BANK OF' INDIA
BKID0009041
CHIPAWAND
P.O.MULMULA, CHIPAWANDSUB.DIV.KONDAGAON, DIST BASTAR
CHIPAWAND (DIST. BASTAR)
CHIPAWAND (DIST. BASTAR)
Chhattisgarh
7786
7786261555
BANK OF' INDIA
BKID0009040
KONDAGAON
VIKAS NAGAR, BEHIND BUS STANDKONDAGAON, DIST BASTAR
KONDAGAON
KONDAGAON
Chhattisgarh
7786
7786242275
BANK OF' INDIA
BKID0009039
SEONI MALWA
OPP. BUS STAND, SEONI MALWADIST – HOSHANGABAD
HOSHANGABAD
HOSHANGABAD
MADHYA PRADESH
7570
7570224030
BANK OF' INDIA
BKID0009037
NEHRU NAGAR
MIG- 144 NEAR NEHRU NAGAR CHAURAHAKOTRA
KOTRA (BHOPAL)
KOTRA (BHOPAL)
MADHYA PRADESH
BANK OF' INDIA
BKID0009036
PIPARIYA
PURANA GALLA BAZAR, ZAKIR HUSSAIN WARD,PIPARIYA, DISTRICT HOSHANGABAD
PIPARIYA  (MP)
PIPARIYA  (MP)
MADHYA PRADESH
7576
7576224055
BANK OF' INDIA
BKID0009035
VIDISHA
GOPAL COMPLEX 1, RAJIV NAGARCIVIL LINES OPP DAHAL THANA WARD NO. 36
VIDISHA
VIDISHA
MADHYA PRADESH
7595
7595232440
BANK OF' INDIA
BKID0009034
MISROD
OPPOSITE MISROD POLICE STATIONBHOPAL-HOSHANGABAD ROAD AT & PO MISROD
BHOPAL
BHOPAL
MADHYA PRADESH
755
7552499322
BANK OF' INDIA
BKID0009033
AWADHPURI
HOUSE NO-10/A,AWADHPURI,OPP-VIVEKANAND SCHOOLNEAR BHEL KALIBARI, PIPLANI
BHOPAL
BHOPAL
MADHYA PRADESH
755
7552620002
BANK OF' INDIA
BKID0009032
BAGHMUGALIA
4-7  1ST FLOOR SARVODAYA SHOPPING COMPLEXCARMEL SCHOOL, ARVIND VIHAR, BAGHMUGALIA
BHOPAL
BHOPAL
MADHYA PRADESH
755
7552481300
BANK OF' INDIA
BKID0009031
KOLAR ROAD
MANDAKINI HSG SOCIETYNR GURUKUL PUBLIC SCHOOL KOLAR ROAD
BHOPAL
BHOPAL
MADHYA PRADESH
755
7552493846
BANK OF' INDIA
BKID0009030
HOSHANGABAD
NEAR PALASH RESTAURENT, ANAND NAGARBABAI ROAD, HOSHANGABAD[MP]
HOSHANGABAD
HOSHANGABAD
MADHYA PRADESH
7574
7574278612
BANK OF' INDIA
BKID0009029
BHOPAL RECOVERY BRANCH
BANK OF INDIA BHAWANAREAA HIILS, JAIL ROAD,
BHOPAL
BHOPAL
MADHYA PRADESH
755
7552555169
BANK OF' INDIA
BKID0009028
MORENA
JIWAJI GANJ KI PULIAM.S. ROAD, MORENA, DIST MORENA
MORENA
MORENA
MADHYA PRADESH
7532
7532230950
BANK OF' INDIA
BKID0009027
CATEGORISED MARKET
45, RAJDEV COL.NEW KABADKHANA,INFRONT OF BHOPAL EYE HOSPITAL,BHOPAL
BHOPAL
BHOPAL
MADHYA PRADESH
755
7552745536
BANK OF' INDIA
BKID0009026
DODI
VILLAGE DODIPOST FUDERA, TEHSIL ASHTA, DIST SEHORE
DODI (DIST. SEHORE)
DODI (DIST. SEHORE)
MADHYA PRADESH
7560
7560281821
BANK OF' INDIA
BKID0009025
BHOPAL SERVICE BRANCH
JAIL ROAD, ARERA HILLSBHOPAL, MADHYA PRADESH – 462 011.
BHOPAL
BHOPAL
MADHYA PRADESH
755
7552573918
BANK OF' INDIA
BKID0009024
SATRANA
AT & POST SATRANATEHSIL NASRULLAGANJ, DIST. SEHORE
SATRANA
SATRANA
MADHYA PRADESH
7563
7563290475
BANK OF' INDIA
BKID0009023
NAZIRABAD
AT & POST NAZIRABADTEHSIL BERASIA, DIST BHOPAL
NAZIRABAD (DIST.BHOPAL)
NAZIRABAD (DIST.BHOPAL)
MADHYA PRADESH
7565
7565286722
BANK OF' INDIA
BKID0009022
GOPALPUR
AT & POST GOPALPURTEHSIL NASRULLAGANJ,M DIST SEHORE
GOPALPUR (DIST. SEHORE)
GOPALPUR (DIST. SEHORE)
MADHYA PRADESH
7274
7274278403
BANK OF' INDIA
BKID0009021
SONDA
VILLAGE SONDAPOST MUSKARA, DIST SEHORE
SONDA (DIST. SEHORE)
SONDA (DIST. SEHORE)
MADHYA PRADESH
7561
7561281436
BANK OF' INDIA
BKID0009020
AHMEDPUR
SHREE AMAR SINGH MEENA BHAWANMAIN ROAD,AHMEDPUR, DIST SEHORE
AHMEDPUR (DIST. SEHORE)
AHMEDPUR (DIST. SEHORE)
MADHYA PRADESH
7562
7562265822
BANK OF' INDIA
BKID0009019
PACHAMA
POST PACHAMADISTRICT SEHORE,
PACHAMA (DIST. SEHORE)
PACHAMA (DIST. SEHORE)
MADHYA PRADESH
7562
7562264448
BANK OF' INDIA
BKID0009018
KRISHI UPAJ MANDI
KRISHI UPAJ MANDINARSINGHGARH ROAD,
SEHORE
SEHORE
MADHYA PRADESH
7562
7562224098
BANK OF' INDIA
BKID0009017
ASHTA
NAZARGANJ, ASHTADISTRICT SEHORE, DIST SEHORE
ASHTA (DIST. SEHORE)
ASHTA (DIST. SEHORE)
MADHYA PRADESH
7560
7560242026
BANK OF' INDIA
BKID0009016
BERASIA
SHRI MAHESH SARAF BHAWANVIDISHA ROAD, BERASIA,
BERASIA (MP)
BERASIA (MP)
MADHYA PRADESH
7565
7565282234
BANK OF' INDIA
BKID0009015
NASRULLAGANJ
PURANI MANDINASRULLAGANJ, DIST SEHORE
NASRULLAGANJ(DIST.SEHORE)
NASRULLAGANJ(DIST.SEHORE)
MADHYA PRADESH
7563
7563276038
BANK OF' INDIA
BKID0009014
SHAHAGANJ
NAYA BUS STANDBAKTARA ROAD, SHAHAGANJ, DIST SEHORE
SHAHAGANJ (DIST.SEHORE)
SHAHAGANJ (DIST.SEHORE)
MADHYA PRADESH
7564
7564238223
BANK OF' INDIA
BKID0009013
MAINA
AT & POST MAINATEHSIL ASHTA, DIST. SEHORE
MAINA (DIST SEHORE)
MAINA (DIST SEHORE)
MADHYA PRADESH
7560
7560258225
BANK OF' INDIA
BKID0009012
SHAMPUR
SAHU BHAWAN, NARISHGARH MAIN ROADSHAMPUR, DISTRICT SEHORE,
SHAMPUR (DIST. SIHORE)
SHAMPUR (DIST. SIHORE)
MADHYA PRADESH
7562
7562260234
BANK OF' INDIA
BKID0009011
BUDNI
BUDNIDISTRICT SEHORE,
BUDNI (MP)
BUDNI (MP)
MADHYA PRADESH
7564
7564234536
BANK OF' INDIA
BKID0009010
SEHORE
SITA BHAWANSEHORE,
SEHORE
SEHORE
MADHYA PRADESH
7562
7562226098
BANK OF' INDIA
BKID0009009
GULMOHAR COLONY
G- 3/333 GULMOHAR COLONYE-8 EXTENSION, ARERA COLONY,BHOPAL,
BHOPAL
BHOPAL
MADHYA PRADESH
755
7552427538
BANK OF' INDIA
BKID0009008
SAIFIA COLLEGE
AHMEDABAD PALACEKCH E FIZA
BHOPAL
BHOPAL
MADHYA PRADESH
755
7552530913
BANK OF' INDIA
BKID0009007
ARERA HILLS
BANK OF INDIA BHAVANARERA HILLS, BHOPAL,
BHOPAL
BHOPAL
MADHYA PRADESH
755
7552553778
BANK OF' INDIA
BKID0009006
PROFESSORS COLONY
64, KILOL PARKNEAR PETROL PUMP,
BHOPAL
BHOPAL
MADHYA PRADESH
755
7552660180
BANK OF' INDIA
BKID0009005
MAHARANA PRATAPNAGAR
PLOT NO. 228, ZONE IMAHARANA PRATAP NAGAR,
BHOPAL
BHOPAL
MADHYA PRADESH
755
7552555137
BANK OF' INDIA
BKID0009004
BHOPAL HEL AREA
PLOT NO. 114,B' BLOCK, INDRAPURI,BHOPAL.
BHOPAL
BHOPAL
MADHYA PRADESH
755
7552584694
BANK OF' INDIA
BKID0009003
HAMIDIA ROAD
31, HAMIDIA ROADBHOPAL,
BHOPAL
BHOPAL
MADHYA PRADESH
755
7552745017
BANK OF' INDIA
BKID0009002
ARERA COLONY
E-271 ARERA COLONYBHOPAL,
BHOPAL
BHOPAL
MADHYA PRADESH
755
7552466883
BANK OF' INDIA
BKID0009001
TATYA TOPE NAGAR
PLOT NO. 4, SHOPPING CENTRESOUTH TATYA TOPE NAGAR,
BHOPAL
BHOPAL
MADHYA PRADESH
755
7552554118
BANK OF' INDIA
BKID0009000
BHOPAL
MODH SAMAJ BHAWANMARWARI ROAD,
BHOPAL
BHOPAL
MADHYA PRADESH
755
7552548084
BANK OF' INDIA
BKID0008986
KOLAR
NAS COMPLEX GROUND FLOOR NEAR SHARADA TALKIES DODDAPETE ROAD KOLAR
BANGALORE
KOLAR
KARNATAKA
BANK OF' INDIA
BKID0008985
SARJAPURA ROAD
NO 40 KAIKONDANAHALLI BENGALURU EAST TALUK SARJAPURA ROAD KARNATAKA BENGALURU 560035
NBG SOUTH
BANGALORE URBAN
KARNATAKA
91
9434222323
BANK OF' INDIA
BKID0008984
NAVANAGAR
PLOT NO 70 MIG I WARD NO22 B NAVANAGAR MAIN ROAD NAVNAGAAR HUBLI CITY DHARWAD DIST PIN 580025
HUBLI-DHARWAD
DHARWAD
KARNATAKA
BANK OF' INDIA
BKID0008983
RANEBENNURU
RANEBENNURU AT DEVI HEIGHTS OPP KEP P B ROAD DIST HAVERI STATE KARNATAKA PIN CODE 581115
HAVERI
HAVERI
KARNATAKA
BANK OF' INDIA
BKID0008982
ADHYAPAK NAGAR
ADHYAPAK NAGAR 15 CTS 1 2 52 A NEAR SUB JAIL AND MARUTHI MANDIR PIN CODE 580032
AMARGOL
DHARWAD
KARNATAKA
BANK OF' INDIA
BKID0008981
KEMPANAHALLI
OPP PETROL BUNK MAIN ROAD VENKATESWARA CAMP KEMPANAHALLI PIN CODE 577544
DAVANGERE
DAVANGERE
KARNATAKA
BANK OF' INDIA
BKID0008980
KAMAKERI
KAMAKERI NEAR PANDURANGA TEMPLE TALUK RAMADURG DIST BELGAUM STATE KARNATAKA 591160
BELGAUM
BELGAUM
KARNATAKA
BANK OF' INDIA
BKID0008979
RANJANAGI
RANJANAGI TALUK MUDHOL DIST BAGALKOT STATE KARNATAKA PIN CODE 587313
HAVERI
HAVERI
KARNATAKA
BANK OF' INDIA
BKID0008978
DAMBAL
BANK OF INDIA DAMBAL GRAM PANCHAYAT BUILDING TAQ MUNDARAGI PIN CODE 582 113
DAMBAL
GADAG
KARNATAKA
8371
9535471143
BANK OF' INDIA
BKID0008977
MARANABEED
MARANABEED GRAM PANCHAYAT BUILDING TAH HANAGAL
HAVERI
HAVERI
KARNATAKA
8379
9538315502
BANK OF' INDIA
BKID0008976
BADANAHATTI
BADANAHATTI NEAR BUS STAND TAH BALLARI STATE KARNATAKA PIN CODE 583 116
BELLARY
BELLARY
KARNATAKA
8393
8971734141
BANK OF' INDIA
BKID0008975
KOLHAR
KOLHAR NEAR MAHATMA GANDHI CIRCLE PIN CODE 586210
KOLHAR
BIJAPUR
KARNATAKA
8359
9972575809
BANK OF' INDIA
BKID0008974
INDI
INDI PLOT SY NO 618 8 INDI MAIN ROAD DIST BIJAPUR STATE KARNATAKA 586211
INDI
BIJAPUR
KARNATAKA
BANK OF' INDIA
BKID0008973
MADIKERI
CHILTON BUILDING RACE COURSE ROAD MADIKERI KODAGU DISTRICT
MADIKERI
KODAGU
KARNATAKA
91
8971734141
BANK OF' INDIA
BKID0008972
JAMAKHANDI
SIDDESHWAR PLAZA PLOT NO. 46-48 & 52-54 R S NO. 639/1 KUNCHANUR ROAD NEAR DANAMMA DEVI TEMPLE JAMAKHANDI DIST BAGALKOT
JAMAKHANDI
BAGALKOT
KARNATAKA
91
9964742760
BANK OF' INDIA
BKID0008971
BILGI
PLOT NO 1324 AND 1325 GANDHINAGAR WARD NO 2 BAGALKOT ROAD BILAGI 587116
BILGI
BAGALKOTE
KARNATAKA
91
9535948818
BANK OF' INDIA
BKID0008970
MALAGHAN
AT AND POST MALAGHAN BASAVANABAGEWADI TALUK 586203
MALAGHAN
BIJAPUR
KARNATAKA
91
9880715289
BANK OF' INDIA
BKID0008969
KHAJJIDONI
AT AND POST KHAJJIDONI BAGALKOT TALUK AND DISTRICT 587204
BAGALKOT
BAGALKOTE
KARNATAKA
91
9448205926
BANK OF' INDIA
BKID0008968
KAMBAGI
AT AND POST KAMBAGI BIJAPUR TALUK AND DISTRICT 586125
BIJAPUR
BIJAPUR
KARNATAKA
91
9448230959
BANK OF' INDIA
BKID0008967
CHITRADURGA
WARD NO 28 5TH BLOCK JCR EXTENSION MAIN ROAD CHITRADURGA 577501 KA
CHITRADURGA
CHITRADURGA
KARNATAKA
91
8884543559
BANK OF' INDIA
BKID0008966
YADAGIRI
BANK OF INDIA YADGIR BRANCH
YADGIRI
GULBARGA
KARNATAKA
91
7204604771
BANK OF' INDIA
BKID0008965
KARWAR
SY NO 3A2 BAAD VILLAGE SHAN COMPLEX GREEN STREET KARWAR 581 301
KARWAR
UTTAR KANNAD
KARNATAKA
91
9845519690
BANK OF' INDIA
BKID0008964
CHAMARAJANAGAR
V V COMPLEX MUNICIPAL ASSESSMENT NO 1142 A DOUBLE ROAD IN C DIVISION CHAMARAJANAGAR 571313
GUNDLUPET
CHAMARAJANAGAR
KARNATAKA
91
9036825120
BANK OF' INDIA
BKID0008963
JIGANI
ESHWAR  COMPLEX, PLOT NO.3A-1, JIGANI II PHASINDUSTRIAL AREA, JIGANI, ANEKAL TALUK,BANGALO
BANGALORE
BANGALORE
KARNATAKA
BANK OF' INDIA
BKID0008962
RAMANAGARA
JAGGESH COMPLEX BESIDE GOVT COCCON MARKET WABM ROAD RAMANAGARA
RAMANAGARA
RAMANAGARA
KARNATAKA
BANK OF' INDIA
BKID0008961
CITY ENGINEERING COLLEGE
CITY ENGINEERING COLLEGE BRANCH, PIPELINE ROAVASANTHAPURA BANGALORE, KARNATAKA, PIN – 5600
BANGALORE
BANGALORE
KARNATAKA
BANK OF' INDIA
BKID0008956
ITPL MAIN ROAD
ITPL MAIN ROAD BRANCH,NO 304,OPPOSITE BRIGADE COSMOPOLIS,WHITEFIELD MAIN ROAD,WHITEFIELD,BENGALURU,560066,KARNATAKA STATE
WHITEFIELD
BANGALORE URBAN
KARNATAKA
91
9972494545
BANK OF' INDIA
BKID0008955
SOMAPURA
BANK OF INDIA SOMAPURA BRANCH GROUND FLOOR SANDS GATEWAY SOMAPURA GATE SARJAPUR MAIN ROAD ANEKAL TALUK
ANEKAL
BANGALORE URBAN
KARNATAKA
91
9035451306
BANK OF' INDIA
BKID0008954
KOTEHUNDI
NO 88 HD KOTEHUNDI JUNCTION MYSORE TALUK
MYSORE
MYSORE
KARNATAKA
BANK OF' INDIA
BKID0008953
BTM LAYOUT
NO 1384 JAYANAGAR EAST END 100 FEET ROAD BTM LAYOUT BENGALURU PIN 560069
BANGALORE
BANGALORE URBAN
KARNATAKA
91
9986979911
BANK OF' INDIA
BKID0008952
ELECTRONIC CITY
NO 110 02 BMA MDC BUILDING DODDATHOGUR BEGUR HUBLI ELECTRONIC CITY BENGALURU 560100
BEGUR
BANGALORE URBAN
KARNATAKA
91
9845527396
BANK OF' INDIA
BKID0008951
HESARAGHATTA
NO 23 V G COMPLEX WARD NO 14 BAGALAGUNTE HESARAGHATTA ROAD BENGALURU 560073
HESARAGHATTA
BANGALORE URBAN
KARNATAKA
91
9480082925
BANK OF' INDIA
BKID0008950
BYRANAHALLI
AT MAROHALLI POST T BEGUR TALUKA NELAMANGAL PIN 562123
BANGALORE
BANGALORE URBAN
KARNATAKA
91
9535866948
BANK OF' INDIA
BKID0008941
DAMUA
AT & POST DAMUADISTRICT CHHINDWARA,
DAMUA
DAMUA
MADHYA PRADESH
7160
7160264047
BANK OF' INDIA
BKID0008940
CHHINDWARA
6/1, 1ST FLOOR, PARASIA ROAD, OPP. PATNICOMPLEX, CHHINDWARA, DIST. CHHINDWARA
CHHINDWARA
CHHINDWARA
MADHYA PRADESH
7162
7162222544
BANK OF' INDIA
BKID0008927
BAIJAGWADA
AT & POST BAIJAGWADATEHSIL KANNOD, DIST DEWAS
BAIJAGWADA (DIST. DEWAS)
BAIJAGWADA (DIST. DEWAS)
MADHYA PRADESH
7273
7273265333
BANK OF' INDIA
BKID0008926
TONK KURD
VILLAGE AMONA, POST AGRODTEHSIL TONK KHURD, DIST DEWAS
AMONA (DIST. DEWAS)
AMONA (DIST. DEWAS)
MADHYA PRADESH
7270
7270270400
BANK OF' INDIA
BKID0008925
KUMARIA RAO
VILLAGE KUMARIA RAOTAHSIL SONKUTCH, DIST. DEWAS
KUMARIA RAO (DIST. DEWAS)
KUMARIA RAO (DIST. DEWAS)
MADHYA PRADESH
7270
7270278654
BANK OF' INDIA
BKID0008924
KAMLAPUR(DIST.DEWAS)
AT & POST KAMLAPURTEHSIL BAGLI, DIST DEWAS
KAMLAPUR(DIST.DEWAS)
KAMLAPUR(DIST.DEWAS)
MADHYA PRADESH
7271
7271273742
BANK OF' INDIA
BKID0008923
NEMAWAR
AT & POST NEMAWARTEHSIL KHATEGAON, DIST DEWAS
NEMAWAR (DIST. DEWAS)
NEMAWAR (DIST. DEWAS)
MADHYA PRADESH
7274
7274277827
BANK OF' INDIA
BKID0008922
NEVRI
AT & POST NEVRITEHSIL BAGLI, DIST DEWAS
NEVRI (DIST. DEWAS)
NEVRI (DIST. DEWAS)
MADHYA PRADESH
7271
7271271323
BANK OF' INDIA
BKID0008921
SATWAS
NAGAR PANCHAYAT SATWASMAIN ROAD, NEAR BUS STAND,
DEWAS
DEWAS
MADHYA PRADESH
7273
7273263229
BANK OF' INDIA
BKID0008920
PANIGAON
AT & POST PANIGAONTEHSIL KANNOD, DIST. DEWAS
PANIGAON (DIST. DEWAS)
PANIGAON (DIST. DEWAS)
MADHYA PRADESH
7273
7273261244
BANK OF' INDIA
BKID0008917
KARNAWAD
AT & POST KARNAWADBHAGATSINGH WARD, DIST DEWAS
KARNAWAD (DIST. DEWAS)
KARNAWAD (DIST. DEWAS)
MADHYA PRADESH
7271
7271276143
BANK OF' INDIA
BKID0008916
KANNOD
254, M. G. ROADKANNOD, DIST. DEWAS
KANNOD (DIST. DEWAS)
KANNOD (DIST. DEWAS)
MADHYA PRADESH
7273
7273222327
BANK OF' INDIA
BKID0008915
SONKUTCH
110, M.G. ROAD SONKUTCHDISTRICT DEWAS,
SONKUTCH
SONKUTCH
MADHYA PRADESH
7270
7270222246
BANK OF' INDIA
BKID0008914
KHATEGAON
KHATEGAON, SHREE KRISHNA BHAVANVEER SAVARKAR MARG, DIST. DEWAS
KHATEGAON
KHATEGAON
MADHYA PRADESH
7274
7274232256
BANK OF' INDIA
BKID0008913
TONK KALAN
AT & POST TONK KALANDISTRICT DEWAS,
TONK KALAN (DIST.DEWAS)
TONK KALAN (DIST.DEWAS)
MADHYA PRADESH
7270
7270279010
BANK OF' INDIA
BKID0008912
KATAPHOD
KATAPHODDISTRICT DEWAS,
KATAPHOD (DIST. DEWAS)
KATAPHOD (DIST. DEWAS)
MADHYA PRADESH
7273
7273262226
BANK OF' INDIA
BKID0008911
HATPIPLAYA
38, NEVRI-BAGLI MARGHATPIPLAYA, DIST DEWAS
HATPIPLAYA (DIST. DEWAS)
HATPIPLAYA (DIST. DEWAS)
MADHYA PRADESH
7271
7271272239
BANK OF' INDIA
BKID0008903
BAGLI
H. NO. 33  WARD NO. 3  BAGLI  THE BAGLIDIST DEWAS PIN 455227
BAGLI (DISTT DEWAS MP)
BAGLI (DISTT DEWAS MP)
MADHYA PRADESH
7271
7271275926
BANK OF' INDIA
BKID0008902
VIJAYGANJ MANDI
AT & POST VIJAYGANJ MANDIVIA UJJAIN, VIJAYGANJ MANDI, DIST DEWAS
VIJAYGANJ MANDI (DIST.DEWAS)
VIJAYGANJ MANDI (DIST.DEWAS)
MADHYA PRADESH
7272
7272262729
BANK OF' INDIA
BKID0008901
DEWAS INDUSTRIAL ESTATE
3-A, INDUSTRIAL AREAA. B. ROAD,
DEWAS
DEWAS
MADHYA PRADESH
7272
7272258104
BANK OF' INDIA
BKID0008900
DEWAS
KIBE TOWERS102, A.B.ROAD,
DEWAS
DEWAS
MADHYA PRADESH
7272
7272225321
BANK OF' INDIA
BKID0008894
GURUDWARA ROAD
WARD NO. 17, GOPALGANJNEAR GURUDWARA, PO & DISTT ASHOKNAGAR
ASHOKNAGAR (MP)
ASHOKNAGAR (MP)
MADHYA PRADESH
7543
7543222774
BANK OF' INDIA
BKID0008893
MALANPUR SSI BRANCH
VIKAS BHAWAN PARISAR MPAKVNMALANPUR, DIST. BHIND
MALANPUR
MALANPUR
MADHYA PRADESH
7539
7539283229
BANK OF' INDIA
BKID0008892
KUMBHARAJ
VIVEK TALKIES BHAWANBEHIND 1, KRISHI MANDI, KUMBHARAJ, DIST GUNA
KUMBHARAJ (DIST.GUNA)
KUMBHARAJ (DIST.GUNA)
MADHYA PRADESH
7546
7546243203
BANK OF' INDIA
BKID0008891
BINAGANJ
CHACHODA BINAGANJ, SHREE MALL PLAZAAGRA BOMBAY ROAD, BINAGANJ, DIST. GUNA
BINAGANJ (DIST. GUNA)
BINAGANJ (DIST. GUNA)
MADHYA PRADESH
7546
7546240241
BANK OF' INDIA
BKID0008890
GUNA
SHASTRI PARK ROADGUNA,
GUNA
GUNA
MADHYA PRADESH
7542
7542407403
BANK OF' INDIA
BKID0008882
KAROND
PLOT NO 182, WARD NO.66, DEVAKI NAGAR,BERASIAIN FRONT OF KRISHI UPAJ MANDI MAIN GATE
BHOPAL
BHOPAL
MADHYA PRADESH
BANK OF' INDIA
BKID0008881
KOLARAS
A.B. ROAD, KOLARASDIST SHIVPURI
KOLARAS (DISTT SHIVPURI MP)
KOLARAS (DISTT SHIVPURI MP)
MADHYA PRADESH
7494
7494242080
BANK OF' INDIA
BKID0008880
SHIVPURI
GOKUL NIWASA. B. ROAD, SHIVPURI, DIS. SHIVPURI
SHIVPURI (MP)
SHIVPURI (MP)
MADHYA PRADESH
7492
7492230179
BANK OF' INDIA
BKID0008868
SCHNO ONE THIRTY FOUR INDORE
SCH.NO.134, PLOT NO. 9
INDORE
INDORE
MADHYA PRADESH
BANK OF' INDIA
BKID0008867
DONGERGAON
MARUTI SHOWROOM OLD A.B. ROAD DONGARGAON TEH MHOW DIST INDORE 453441STD CODE 07324
MHOW
INDORE
MADHYA PRADESH
BANK OF' INDIA
BKID0008866
NAGPUR VILLAGE
NAGPUR SQUARE NAGPUR POST AJNOD TEH SANWER DIST INDORE 453551 STD CODE 07321
SAWER
INDORE
MADHYA PRADESH
BANK OF' INDIA
BKID0008865
NIPANIYA
13 SAMAR PARK NIPANIYA NEAR APOLO D B CITY INDORE M P 452010 STD CODE 0731
INDORE
INDORE
MADHYA PRADESH
BANK OF' INDIA
BKID0008864
KESAR BAGH
5 VINAY NAGAR KESAR BAUG ROAD OPPOSITE GHOONGAT GARDEN INDORE 452001
INDORE
INDORE
MADHYA PRADESH
BANK OF' INDIA
BKID0008863
LABRIYA BHERUDHAR ROAD
227 TONGYA COMPOUND LABRIYA BHERU DHAR ROAD INDORE M P 452002 STD CODE 0731
INDORE
INDORE
MADHYA PRADESH
BANK OF' INDIA
BKID0008862
COLLECTORATE INDORE
PRABHAT HEIGHTS 3 LALBAGH MAIN ROAD INDORE 452001
INDORE
INDORE
MADHYA PRADESH
BANK OF' INDIA
BKID0008861
MUSAKHEDI
H B 73 SCHEME NO 94 MUSAKHEDI MAIN ROAD RING ROAD INDORE 452001
INDORE
INDORE
MADHYA PRADESH
91
BANK OF' INDIA
BKID0008860
MALWA MILL
PLOT NO.190, SCHEME NO.91, MALWA MILL,ANAJ MANDI, INDORE 452003
INDORE
INDORE
MADHYA PRADESH
BANK OF' INDIA
BKID0008859
PARDESIPURA
122/2, PARDESIPURA, NEARSUGNADEVI COLLEGE, INDORE
INDORE
INDORE
MADHYA PRADESH
BANK OF' INDIA
BKID0008858
PETLAWAD
410, WARD NO.8, BAMNIYA ROAD,PETLAWAD, DIST. JHABUA.
PETLAWAD(M.P.)
PETLAWAD(M.P.)
MADHYA PRADESH
7391
7391265400
BANK OF' INDIA
BKID0008857
KANADIYA ROAD
SHAGUN RESIDENCY, SHOP NO. 1-6,KANADIYA ROAD, BANGALI SQUARE, INDORE
INDORE
INDORE
MADHYA PRADESH
BANK OF' INDIA
BKID0008856
INDEX MEDICAL COLLEGE
VILLAGE MORODHATTEHSIL INDORE, DISTT. INDORE
MORODHAT(M.P.)
MORODHAT(M.P.)
MADHYA PRADESH
BANK OF' INDIA
BKID0008855
ATAHEDA
VILL. AND P.O. ATAHEDA,THE. DEPALPUR, DISTT. INDORE.
ATAHEDA
ATAHEDA
MADHYA PRADESH
BANK OF' INDIA
BKID0008854
RANGWASA
592,MAIN ROAD, GROUND FLOOR,RANGWASA, DISTT. INDORE
INDORE
INDORE
MADHYA PRADESH
BANK OF' INDIA
BKID0008853
DEWAS NAKA
4/F/F-1/S-3, SCH.NO.78, OPPOSITE MAHINDRAMOTORS, INDORE. (MP) 452010
INDORE
INDORE
MADHYA PRADESH
BANK OF' INDIA
BKID0008852
KHURDA
GRAM PANCHAYAT OFFICE, KHURDA, TEHSIL MHOWDISTT. INDORE 453661
KHURDA(MP)
KHURDA(MP)
MADHYA PRADESH
BANK OF' INDIA
BKID0008850
INDORE SERVICE
POONGALIA BHAWAN, 2ND FLOOR1ST SANTHA BAZAR, INDORE
INDORE
INDORE
MADHYA PRADESH
731
7312540712
BANK OF' INDIA
BKID0008849
GOPUR SQUARE
VIJAY LAXMI TOWER 3126 E SECTOR SUDAMA NAGAR INDORE 452009
INDORE
INDORE
MADHYA PRADESH
BANK OF' INDIA
BKID0008848
RAJOD
ZEEN COMPOUND S.B. ROAD, NEAR POLICE STATIONRAJOD. DIST. DHAR. 454648
RAJOD
RAJOD
MADHYA PRADESH
BANK OF' INDIA
BKID0008847
GANDHWANI
354, BUS STAND, GANDHWANIDISSTT – DHAR, M.P. PIN 454350
DHAR
DHAR
MADHYA PRADESH
BANK OF' INDIA
BKID0008846
TRIMURT