Trends
ByteDance, TikTok's Parent Company, Is Not An Agent Of China: CEO Chew
For the company, which has 150 million US consumers but is under increasing pressure from American regulators, the timing of Shou Zi Chew's statement was crucial.
Before the House Energy and Commerce Committee, TikTok CEO Shou Zi Chew gave a testimony titled "TikTok: How Government Can Preserve American Data Privacy and Protect Children from Internet Harms." For the company, which has 150 million US consumers but is under increasing pressure from American regulators, the timing of Shou Zi Chew's statement was crucial. TikTok and its parent company ByteDance are now involved in a bigger geopolitical spat between Beijing and Washington over trade and technology.
Republican and Democratic lawmakers interrogated Chew on a wide range of issues, including TikTok's content moderation procedures, how the company plans to protect American data from Beijing, and its eavesdropping on journalists, in a rare bipartisan effort to rein in the power of a significant social media platform.
The committee's Republican chair, Cathy McMorris Rodgers, began by saying, "Mr. Chew, you are here because the American people need the truth about the threat TikTok poses to our national and personal security." TikTok has consistently made decisions that lead to increased surveillance, manipulation, and control. The House Committee on Energy and Commerce heard testimony from Singaporean native Chew, 40, who claimed that TikTok prioritizes the safety of its young users and refuted claims that it is a pornographic website.
He reaffirmed the corporation's intention to safeguard customer information from the United States by keeping it all on servers run and controlled by the huge software company Oracle. "Please understand that ByteDance does not speak for China or any other country", Chew said. On Wednesday, the company sent several well-known TikTokers to Capitol Hill to lobby on behalf of the app.
Additionally, it has been plastering ads all over Washington with the assurance that it will protect user data and privacy and provide a secure environment for its youthful customers. The app has been dogged by allegations that TikTok may be used to disseminate stories that support the nation's Communist leadership or that user data may fall into the hands of the Chinese government. The Guardian reported in 2019 that TikTok was giving its moderators instructions to restrict any videos that contain references to Tiananmen Square and other imagery that are critical of the Chinese government. The site asserts that it has since changed its moderating practices.
Internal Decisions Of TikTok
ByteDance dismissed four employees last summer to find the author of a leaked article about the business. These staff members had access to details about two journalists and anyone connected to them. To separate itself from its Chinese heritage, TikTok claims that 60% of its parent company ByteDance is owned by international institutional investors, including the Carlyle Group. In reaction to a Wall Street Journal article, China stated that it will oppose any efforts made by the US to compel ByteDance to sell the app. Chew disputed the notion that TikTok's ownership was a problem in and of itself.
Trust is based on our behavior, "added Chew. "To address these issues, ownership is not the main focus. One of the most dramatic moments occurred when Republican Rep. Kat Cammack aired a TikTok video with a commentary that contained both the name of the House committee holding the hearing and the precise date before it was officially disclosed. The video featured a shooting gun and a caption.
When you can't even safeguard the people in this room, you expect us to think that you can keep the data security, privacy, and security of 150 million Americans, Cammack told Chew.
TikTok was portrayed by lawmakers as a Chinese-influenced business out to make money at the expense of the mental and physical well-being of Americans. Members of the committee played a variety of TikTok videos that urged viewers to injure themselves or end their lives. Several people questioned why the Chinese version of the platform, Douyin, did not include the same content that was contentious and potentially harmful as the US version.
Chew retorted that it depends on the legal framework of the nation in which the software is being used. He claimed that the business has an algorithm that flags stuff as well as roughly 40,000 moderators that monitor hazardous content.
"I don't think I can sit here and say that we are perfect in accomplishing this, Chew said. We made a significant effort".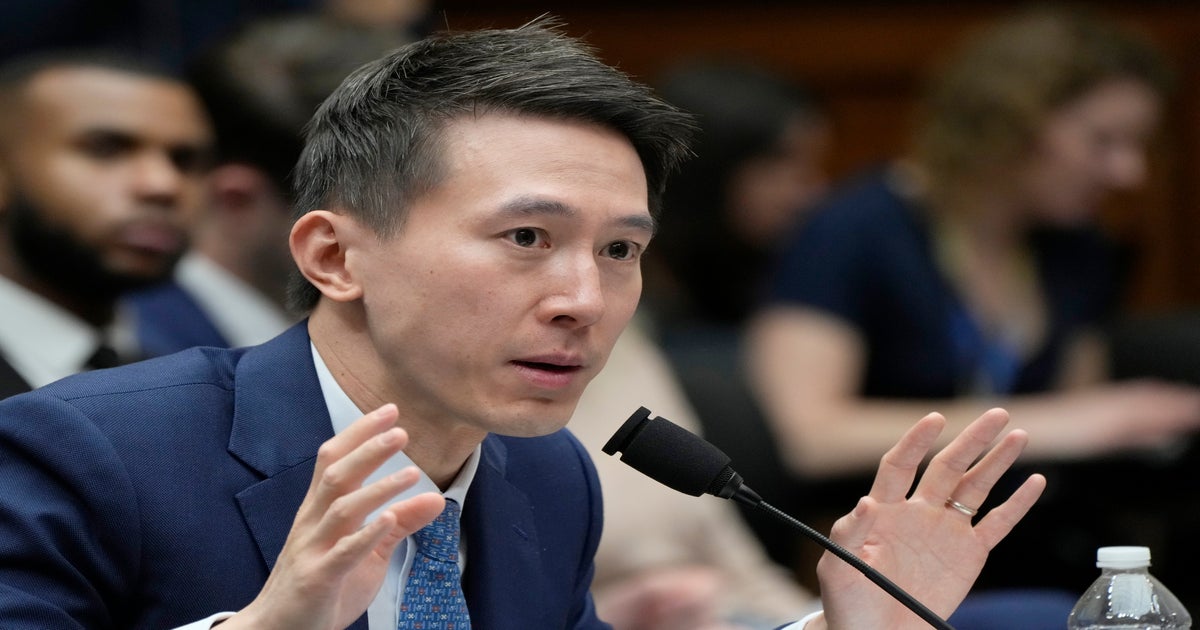 It is unclear how the government would enact such an extraordinary prohibition in the United States. According to analysts, authorities may try to convince Apple and Google to remove TikTok from their app stores. Criminal law and computer security expert Ahmed Ghappour, a professor of law at Boston University School of Law, claims that the US could also seize TikTok's domain names, block access to its infrastructure and data, and order internet service providers like Comcast and Verizon to filter TikTok data traffic. Yet, he added, a tech-savvy user might still get around restrictions by utilizing a virtual private network to give the impression that they were in a different nation where the website was not prohibited.
To escape a ban, TikTok has been pitching officials on a $1.5 billion scheme known as Project Texas, which sends all user data from the United States to domestic servers that are run and maintained by Oracle. As part of the project, TikTok U.S., a different organization, controls access to American data under the supervision of American staff employees. Data Security, which is run independently of ByteDance and would be under third parties' scrutiny, employs 1,500 people.
All fresh user data from Americans were kept there as of October. In a procedure that is anticipated to be finished later this year, the company began erasing all historical U.S. user data on non-Oracle servers this month, according to Chew.
The organization Citizen Lab at the University of Toronto discovered TikTok and Facebook capture comparable quantities of user data in an investigation published in 2021.
The use of the software on government-issued devices has been outlawed by Congress, the White House, the US armed forces, and more than half of the US state to prevent such tracking. In a report published this month, the cybersecurity firm Feroot claimed that ByteDance's so-called tracking pixels, which gather user data, were discovered on 30 state websites in the United States, including somewhere the app has been outlawed.
Together with the European Union, several nations like Denmark, Canada, Great Britain, and New Zealand have already outlawed TikTok on devices provided to public servants. Since government-issued phones may contain sensitive information, David Kennedy, a former government intelligence officer and current CEO of the cybersecurity firm TrustedSec, supports limiting TikTok access on those devices. Yet he cautioned that a total prohibition might be overboard. Apple, Microsoft, and Tesla are all available in China. Will they now begin to forbid us? Kennedy uttered. "It might soon get out of hand."
TikTok usage and revenue figures
The next year, the parent company, ByteDance, introduced an international version due to its rapid rise in popularity in China. TikTok was first introduced as a platform for sharing short-form videos, especially dance and lipsyncing videos, but it has since developed into a full-fledged video service with material suitable for all kinds of users.
Being the owner of the AI-driven news aggregation platform Toutiao, ByteDance had prior experience managing immensely successful apps. ByteDance creator and CEO Zhang Yiming integrated a similar AI framework into TikTok, which can recognize a user's interests and provide them with more pertinent videos. While several Chinese apps, most notably Tencent's WeChat, have failed to gain traction outside of China, TikTok has succeeded in doing so thanks to its $1 billion purchase of Musical.ly in November 2017.
80 million additional users—mostly from the US—were added as a result, which TikTok then added to its platform. As a result, TikTok quickly became the most used app in 2019 and 2020. TikTok, although having only been released in 2017, was the seventh-most downloaded app of the 2010s and appears to be a serious rival to Facebook's dominance in social networking in the West.
Despite its phenomenal rise, TikTok has encountered several difficulties. It was prohibited in India and Pakistan in 2019 due to "morality issues," though both bans were later lifted. As tensions between China and India increased in June 2020, India once more blocked the app along with several other Chinese-based apps.
Once India affirmed the ban in January 2021, various other TikTok clones began to gain market share there. Additionally, Walmart and Oracle would have owned the holding company to which TikTok would have had to sell its US operations. However, the Biden Administration has scrapped President Trump's executive order.
Even with the slowdown in downloads brought on by India's ban and the release of TikTok clones by Facebook and Snapchat, the app continues to have one of the highest growth rates worldwide. By the end of 2021, it's anticipated to have more than 1 billion active users each month. TikTok's popularity makes it extremely difficult for legislators to make the case that the app's threat to national security surpasses the desires of millions of users and companies.
Since its August 2018 merger with American lip-syncing app Musical.ly, the TikTok app has received more downloads in the United States than any other social media platform. According to eMarketer, the app is anticipated to outperform competitors like Snapchat, Pinterest, and Twitter by generating more than $11 billion in U.S. ad revenue by 2024. According to Apptopia, TikTok has outperformed its rivals in terms of revenue from in-app purchases, such as the coins that users can use to tip their favorite producers.
Officials confirmed to Axios that the company has increased from the 100 million users it first claimed in 2020 to more than 150 million monthly active users in the U.S. Chew will probably also highlight TikTok's contribution to small businesses, a point that rival internet companies Meta and Google have previously used in response to government pressure. According to polls, opinion on whether the government should outlaw TikTok is still largely divided, but Republicans are significantly more likely to approve such a move than Democrats.
To force TikTok's Chinese parent business ByteDance to sell to a U.S. corporation or risk a ban, lawmakers who oppose the measure contend that the government must first establish more evidence that the app poses a threat to national security.
As a result of Chinese legislation requiring Chinese businesses to disclose user data with the Chinese government, lawmakers who support actions against TikTok claim the app poses a threat to the privacy of U.S. user data.
Edited by Prakriti Arora