Every year, several parts of the Konkan and Western Maharashtra region experiences flood during the monsoon. The state gets devastated during the rainy season as the rains cause extreme flooding and several other problems associated with it. Among them, collapsing of buildings has become a reason for major concern in recent times. A few days back, seven people were killed when a house wall collapsed in Navi Mumbai's Vashi area. Three people died after their houses collapsed at 2:30 am following a landslide in Mumbai's Vikhroli suburb.

In another incident, 24 people died after walls collapsed in Mumbai's Chembur, Vikhroli areas. Rainfall in the Pune district has also raised concerns owing to quickly rising levels of dam waters. Though officials claim that the situation is completely under control now, the administration remains to be alert as the rains continue to threaten to flood the dams and rivers in the district.
An account of rivers and dams in Pune
Pune has a total of 19 rivers crisscrossing through its territory. With 300 km in length, the Bhima is the longest river followed by the 190 km long Nira river and the 125 km long Ghod river. Among the 19 rivers, only six of them have a length less than 50 km before they join larger rivers. Most of the rivers originate from Bhor, Velhe, Mulshi and Purandar tehsil of the district. Later, they pass through Baramati, Khed, Haveli, Junnar, Shirur, Ambegaon, Indapur tehsils and Pune city. 
Pune has a total of 24 dams of varied sizes on different rivers. Among them, the largest in the Ujjani dam that has a water storage capacity of 109.98 TMC. Ujjani is followed by Bhatnagar dam having a capacity of 23.77 TMC and Mulshi dam with 18.47 TMC. There are five other dams with a capacity of more than 10 TMC, they are Dimbhe, Manikdoh, Panshet, Varasgaon and Pavna.
Which are the flood-prone areas in Pune?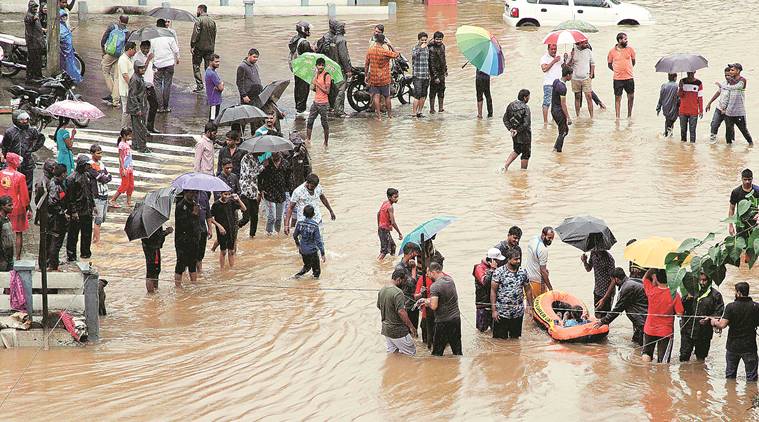 In Pune and Pimpri Chinchwad area, as many as 84 villages are flood-prone. These villages are vulnerable to floods because they are located on the banks of 12 different rivers and downstream of 14 dams. 17 villages are at the highest risk of getting flooded, that includes 16 villages in Daund tehsil and one in Indapur tehsil, along the banks of Bhima river and downstream of Ujjani dam. 16 villages that include 9 in Shirur tehsil and 7 in Haveli tehsil falling on the banks of Bhima river are extremely flood-prone.

Further, 10 villages alongside the Indrayani river that crosses Khed, Haveli and Maval tehsil region are prone to floods. Nine villages that are located along the banks of the Mutha river and Ghod river are flood-prone. The Mutha river is located downstream of four dams- Varasgaon, Temghar, Panshet and Khadakwasla- travels through Mulshi, Haveli, Velhe tehsil as well as Pune city. The Ghod river that falls downstream of the Dimbhe dam, crosses Shirur and Ambegaon tehsil.
Worst flood-hit areas in Pune, Pimpri Chinchwad
In the Pune district, the worst flood-hit places are located in the urban areas. The Pune city administration remains highly alert during the rainy season as the water gushes into low-lying territories lying along the banks of the Mula, Pavna and Mutha rivers.
The overflowing of the Mutha river floods Hinges Khurd, Vithalwadi, and Pulachiwadi in Erandwane, Patil Estate in Shivajinagar, Shanti Nagar and Indiranagar slums in Yerwada and Sangamwadi in Pune city. Whereas the Mula river floods the regions of Aundh, Sangvi, Dapodi, Hingangaon, Baner, Chinchwad and Pimpri. The Pavana river travels through Pimpri Chinchwad and affects Kasarwadi, Phugewadi, Pimple Gurav, Pimple Saudagar, Chovisawadi, Rahatani, Sangvi and Nirgudi. 
Water discharge from Khadakwasla dam and its impact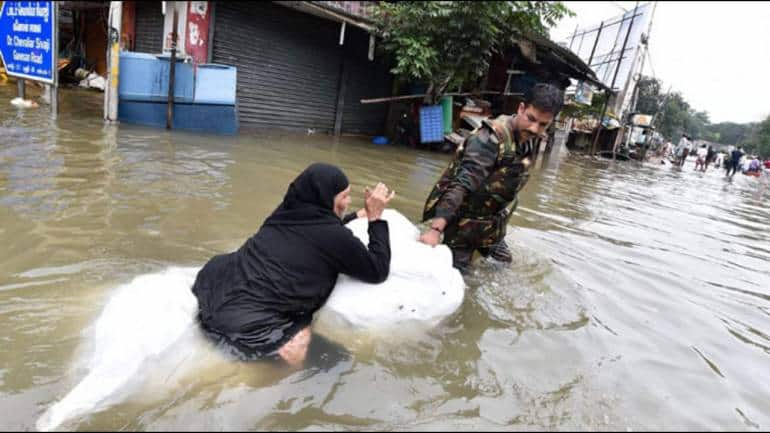 The closest dam to Pune city is the Khadakwasla dam. The wall of this dam is marked as the new boundary of the Pune Municipal Corporation (PMC). The Khadakwasla dam feeds on water from the Varasgaon and Temghar dams. The discharge of water from those 3 dams starts as soon as it fills to its full capacity or water is released from dams upstream of the Mutha river. After the water is discharged from the Khadakwasla dam, it takes almost three hours to reach the Sangam bridge. 
A few days back, the water discharged from the Khadakwasla dam was highest at 25,000 cusecs. However, the alert system starts sounding when the discharge crosses 40,000 cusecs. Furthermore, the actual process of shifting the inhabitants from the low-lying areas starts when the water discharged crosses 50,000 cusecs. The area that gets affected first is the Kamgar Putla slums in Shivajinagar after the discharge of 30,000 cusec water. Pollachi wadi in Deccan comes next in line after the release of 35,000 cusecs of water while Khilarewasti in Erandwane. PMT Terminus backside at Deccan and Tofkhana in Shivajinagar gets flooded after discharge of 40,000 cusec water.
With a discharge of up to 45,000 cusecs, the areas that are mostly flooded are located behind the Poona hospital, Sitabaug colony in Narayan Peth, Ashtbhuja Mandir in Narayan Peth, the area near Amruteshwar mandir in Shaniwar Peth, PMC colony in Kasba Peth, Dangle bridge in Kasba Peth, Gadital locality in Mangalwar Peth, Barne Road, Tadiwala road slum and area closed to Ambil Odha experience flooding. As the water discharge is increased to 50,000 cusecs, the areas near Shivane is flooded.
Other areas in Pune that are affected by floods
When the Mula river overflows, it affects the areas of Indiranagar, Sadalbaba Durga and Shantinagar area in Yerawada, Kalas, Anudh, Bopodi, Sangamwadi, Patil Estate in Shivajinagar and Mula road slum. In the city, there are as many as 12 nullahs present. The flooding of these nullahs happens if there is excessive rainfall in the city. It floods the areas and slums alongside the nullahs.
Areas in Pimpri Chinchwad that are flood-prone
The Mula and Pavna river flooding impacts the low-lying regions of Pimpri Chinchwad. The region that gets affected is Bhat Nagar, Ambedkar colony, Boudhnagar, Milind Nagar, Ramabai Nagar, Gulab Nagar in Dapodi, Pravar Wasti, Anandvan Ashram in Fugewadi, Kasarwadi, Hirabai Landge slum, Sangvi Mula Nagar, Kasarwadi, Sangam Nagar, Madhuban society, Panchshil Nagar. Shikshak Society, Kaspate wasti, Pimple Gurav and Sanjay Gandhi Nagar. 
Urban flooding
It has been an annual event for cities like Mumbai, Pune and Hyderabad getting flooded that disrupts the normal life of people. Sometimes, floods have been proved to be fatal to human life. Urban floods are man-made disasters that are caused due to overburdened drainage, unauthorized and unregulated construction, and hydro-geomorphology. Rapid urbanization in cities and suburbs led to the rapid construction of buildings and roads without proper planning. Cities like Mumbai and Hyderabad depends on a century-old drainage system that covers only a limited part of the main city.

For immediate relief to such harassment, drainage lines need to be restructured and governments of respective states should invest more on focused projects. The development of Sponge Cities should be encouraged for long term solutions. Sponge cities absorb rainwater that gets naturally filtered by the soil and then it is sent to urban aquifers.
Wetland Policies should be revisited and must be made more functional with help from local communities. With the global climate changing drastically, such extreme climate actions are to be seen more often. These are some of the measures that need to be taken by the respective state governments to avoid such frequent devastations.

Edited by Shreedatri Banerjee