Trends
Liz Truss resigns: The Prime Minister's resignation sparks a new Tory leadership election.
Liz Truss, the Prime Minister, has resigned after a tumultuous 45 days in office, triggering the second Tory leadership election in four months. Lizz Truss resigns: The Prime Minister's resignation sparks a new Tory leadership election.
Following her resignation from a Tory MP revolt, Ms. Truss stated that her successor would be chosen by next week. Boris Johnson is said to be thinking about running, but Chancellor Jeremy Hunt has ruled himself out.
Tory MPs revolted against Ms. Truss after she reversed her economic plan, depriving her of the new position. In a brief-speech outside Downing Street, Ms. Truss stated that the Conservative Party elected her on a promise to cut taxes and boost economic growth.
Ms. Truss stated, "Given the circumstances, I recognize that I cannot deliver the mandate for which the Conservative Party elected me." Following Ms. Truss' resignation speech, Labour-leader Sir Keir Starmer and other opposition parties called for a general election to be held immediately.
Ms. Truss stated that she would stay in office until a successor-formally took over as party leader and was appointed prime minister by King Charles.
While Mr. Hunt, appointed ChancellorChancellor last week, has stated that he will not run for prime minister, none of the candidates who ran against Ms. Truss in the previous election have indicated that they will run.
Conservative sources say Business Secretary Jacob Rees-Mogg has encouraged colleagues to back Mr. Johnson in the race.
Sir Graham Brady, chairman of the Conservative backbenchers' 1922 committee, said a new leader could be chosen by the next day of Friday. According to party rules, to compete, leadership candidates must secure the support of 100 MPs, which means only three candidates can run.
If there are three candidates, the person with the fewest votes will be eliminated in the first ballot among MPs.
MPs can cast an indicative vote to express their preference if a second ballot is required. If both candidates stay in the race, party members will vote online. When she steps down, Ms. Truss will be the British Prime Minister with the shortest tenure in history.
Allies, including US President Joe Biden and French President Emmanuel Macron, thanked Ms. Truss for her cooperation, saying the next UK prime minister should provide "stability."
Ms. Truss stated in her speech that she took office "at a time of the great economic, and then international instability" as the war in Ukraine rages on and living costs soar.
According to the prime minister, her government delivered on providing energy bill relief and reversing a rise in National-Insurance, a tax on workers and businesses.
Ms. Truss' resignation, however, comes after a period of a political and economic turmoil that forced her government to abandon tax cuts, sending financial markets into a tailspin.
In an attempt to calm markets, the prime minister fired close political ally Kwasi Kwarteng as ChancellorChancellor and replaced him with Mr. Hunt.
During Prime Minister's Questions on Wednesday, Ms. Truss then insisted that she was a "fighter, not even a quitter," after Labour's leader questioned why she hadn't resigned. However, more upheaval ensued when Suella Braverman resigned as home secretary, and a fracking vote fell through, with some Tory MPs accused of bullying.
Ms. Truss' resignation sets off a scramble to find a replacement to lead a deeply divided party that, after 12 years in power, is trailing Labour in the polls.
Ms. Braverman, International Trade-Secretary Kemi Badenoch, Commons Leader Penny Mordaunt, and then former Chancellor Rishi Sunak were all candidates in the recent leadership election.
Their supporters promote them as possible candidates to succeed Ms. Truss, but no one have confirmed their intention to run. Neither has former Prime Minister Boris Johnson, whose good supporters have not denied the reports that he is considering a re-election bid for the Conservative Party.
According to a source close to Mr.. Johnson, they are currently "not saying anything either way."
Theresa May, another former prime minister, stated in a tweet, "MPs must now be willing to make concessions. "At this critical juncture in our country's history, it is our responsibility to provide sensible, competent government," she wrote.
As the Conservatives assessed their chances of winning the main leadership, opposition parties mocked the idea of another prime minister taking office without a general election.
"The British people deserve so so much better than this never-ending cycle of chaos," Sir Keir said, adding that the Conservative Party "no longer has the mandate to govern." Following Ms. Truss' resignation, Nicola Sturgeon, the First Minister of Scotland, declared a general election a "democratic imperative."
The Liberal Democrats leader, Sir Ed Davey, stated that his party would be willing to collaborate with Labour to "get the general-election our country needs to let all the British people have their say."
After the Conservatives won a landslide victory in the previous election in 2019, the next general election will not be held until at least 2024.
The Liberal-Democrats have also urged Ms. Truss to decline the £115,000-a-year allowance that former prime ministers are entitled to.
The purpose of the Public Duty Costs-Allowance is to help with "necessary office costs and then with secretarial costs arising from their special position in public life."
"Liz Truss will forever be known and called as the 50-day prime-minister  there is no other way she should be allowed to access the old same £115,000-a-year for life fund as her recent-predecessors – all of whom all served for well over two years," said Christine Jardine, cabinet office spokesperson for the Liberal Democrats.
Liz Truss, the Prime-Minister of the United Kingdom, was forced to resign for five reasons:
Liz Truss probably realized as she stepped away from the main lectern outside No.10 Downing Street after then resigning as Prime Minister that her time in office would be limited to the length of the leadership campaign that got her there.
Truss' sea legs have proven remarkably shaky, and she has pulled-off arguably the biggest coup in the British political history by making Johnson's tenure look boring in comparison.
Truss took office in September with a radical agenda that she claimed would jump-start economic growth, but she was forced to backtrack almost immediately after the polar opposite occurred: her proposals precipitated an immediate economic-meltdown from which she never recovered.
Because of her brief tenure, it is relatively easy to pinpoint where everything went wrong; I believe there were five key factors at work in her rise and fall.
Politics is a calamity.
Truss practiced poor politics from the start of her tenure, refusing to appoint anyone into government who had not still supported her campaign, then then leaving her with a limited-pool of talent. Her stance that you were either a good friend or an real enemy (and the enemies were out) gave her a fake reputation for vengeance.
Inadequate party planning
However, cracks were appearing even before Truss took off office as a direct resulted of the way the Conservative party elects its leaders. Truss ended-up in the final-round of the old contest as much by the default as anything else and did not enjoy the enthusiastic big support of her parliamentary party.
In terms of presentation, she adopted an awkward Thatcherite persona and a "red meat" policy strategy, resulting in a new prime-minister who was badly misaligned with both the public and her parliamentary-party.
Policy that is ineffective
The level of the misalignment was clear from the moment Truss announced his self-mutilating mini-budget: removing barriers to banker bonuses and lowering business-taxes was never ever going to land very well in the middle of a cost-of-living crisis, as any first-year politics student would know.
Presentation is ineffective.
At the end of the old day, politics is a people business; you must be able to communicate, resonate, connect, and empathise. As a result, the most important-form of intelligence for a prime-minister is not intellectual (we have experts) or the financial (they have advisers), but emotional. Truss has never seemed to be able to relate or relax.
Insufficient positioning
If Truss's difficulties reveal anything, it is most likely the dangers of the British constitution, which continues to be a power-hoarding constitution in which an incredibly smaller number of people can make massive decisions with little, if any, scrutiny, as her dismissal of the Office for Budgetary Responsibility demonstrates.
"Poor, poor, poor" might be a fitting epitaph for Truss's tenure, but I can't help but wonder if her new experience is symptomatic of a larger problem; is it too easy to blame Truss? Filling this void in a post-Brexit world must be the number one priority for whoever is given the keys to No. 10.
Rishi Sunak, as PM, quickly reversed a Liz Truss decision.
Incoming British Prime Minister Rishi Sunak's first decision was to remove Liz Truss's lectern, which was designed to look like a twisted stack of wooden blocks.
When Truss used the lectern to deliver her first speech in front of the prime minister's residence at 10 Downing Street last month, it caught people off guard.
Each British prime minister has had their own personalized lectern in recent decades.
However, because Sunak was chosen as party leader and prime minister so quickly after Liz Truss's brief and disastrous tenure, Downing Street was forced to look for a position left over from a previous administration.
The lecterns, which have a metal core to prevent them from blowing over, typically take at least three weeks to manufacture and can cost up to 4,000 pounds ($4,500), according to The Daily Telegraph.
Former Prime Minister David Cameron's lectern, according to the newspaper, was designed to look "statesmanlike," whereas Theresa May's was designed to look "feminine."
Boris Johnson's had the first two-tiered base and was dark brown in color. Gordon Brown took over Tony Blair's "basic floating shelf design."
Despite the fact that Truss's failed tenure as Prime Minister lasted only seven weeks, the newspaper noted that her lectern had been "well used."
Darth Vader's Theme
Meanwhile, outside Downing Street, demonstrators delivered an amplified musical message as Sunak took the stage to address the nation.
One of the songs they chose for the arrival of "Star Wars" fan Sunak was "The Imperial March," Darth Vader's theme.
Neil Horan was also present, a serial protester who has previously claimed Brexit figurehead Nigel Farage was "sent by Christ" to save Britain from Europe.
Police questioned Horan while he held a sign that read: "Britain is a Christian country. It should be led by a Christian, not a Hindu, Prime Minister." The audience booed and yelled at Horan despite its vocal anti-Conservative sentiments.
But, 11 years into his reign as mouser-in-chief, Larry the Downing Street cat remained calm and carried on, taking a leisurely morning stroll ahead of his fifth prime minister's arrival.
Leaders come and go, but Larry has become a feline fixture in British politics, with his own satirical Twitter account. "His family is loaded, so caviar and lobster on the menu for me starting tomorrow," Larry tweeted, anticipating Sunak's arrival.
Liz Truss' reaction to Rishi Sunak becoming the first British Prime Minister of Indian origin-
Rishi Sunak, known as one of Westminster's wealthiest politicians, became Britain's first Indian-origin Prime Minister on Monday (October 24, 2022), becoming the country's youngest leader in modern times – and its third in less than two months. Sunak, who will be appointed as the new UK PM by King Charles on Tuesday, takes over during one of Britain's most turbulent periods in political history.
Truss, in particular, served only 44 days before resigning, citing the need to restore stability to a country reeling from years of political and economic turmoil.
We now need stability and unity, says Rishi Sunak, the United Kingdom's new Prime Minister. Following his selection, Hindu Rishi Sunak informed the country of a "significant economic challenge."
"We now require stability and unity, and I will make uniting our party and our country my top priority," he said.
"I pledge to serve you with integrity and humility, and I will work tirelessly to deliver for the British people," he said in a brief public statement.
Rishi Sunak's Indian connection
Rishi Sunak is the son of Yashvir, an Indian-origin general practitioner, and Usha, a pharmacist who immigrated to the United Kingdom from East Africa in the 1960s.
Rishi Sunak was born in southern England and attended Oxford and Stanford Universities, where he met his wife Akshata Murthy, the daughter of Indian billionaire NR Narayana Murthy, founder of outsourcing behemoth Infosys Ltd.
Sunak had also spoken extensively about his migrant roots during the previous campaign, referencing making history as the first Indian-origin ChancellorChancellor of the Exchequer by lighting Diwali diyas at 11 Downing Street.
He regularly visits the Southampton temple where he was born, and his daughters, Anoushka and Krishna, are also deeply rooted in Indian culture.
Sunak's political career began in 2015, when he was elected to a safe Conservative seat in Richmond, Yorkshire, and he rose through the Treasury ranks to become Chancellor of the Exchequer when his former boss, Sajid Javid, resigned in February 2020.
Meanwhile, the announcement that the United Kingdom's new Prime Minister will be a Hindu son of Indian immigrants has elicited applause from Diwali-celebrating crowds in Indian streets.
Rishi Sunak promises to correct the errors in Liz Truss's first speech as Prime Minister.
Rishi Sunak pledged in his first speech as Prime Minister to correct "mistakes" made under Liz Truss' leadership and warned of "difficult decisions" ahead.
He promised to rebuild trust and guide the UK through "a profound economic crisis."
Mr Sunak promised to deliver the Conservative manifesto that helped them win a landslide victory in the 2019 election.
His speech outside No. 10 followed King Charles' appointment of him as Prime Minister.
Mr Sunak, the UK's first Asian prime minister, announced his cabinet this afternoon after warning Tory MPs that failure to unite would result in electoral oblivion. Dominic Raab was re-appointed as Deputy Prime Minister, Grant Shapps was named Business Secretary, and Jeremy Hunt was retained as ChancellorChancellor.
Mr Sunak was overwhelmingly supported by MPs, and when his only remaining opponent, Penny Mordaunt, withdrew, there was no need for a Tory membership ballot.
Following Mr Sunak's speech, opposition-parties called for an immediate general election, claiming that Mr Sunak lacked public support.
Ms Truss' turbulent premiership, which began only 49 days ago, came to an end on Monday with Mr Sunak's effective coronation as Tory leader.
Ms Truss was elected prime minister after evenly defeating Mr. Sunak in a ballot of various Tory members earlier this summer, with her tax-cutting economic agenda gaining support.
Her government, however, was destabilized by political and economic turmoil, which was exacerbated by her mini-budget, which included an unfunded tax cut package that was mostly abandoned.
In her farewell speech, Ms Truss then defended her economic-policies, saying her time as prime-minister convinced her of the need to be "bold."
In his own speech, Mr Sunak paid a tribute to his predecessors Boris Johnson and then Ms Truss, saying she "was not even wrong to want to improve the growth in this country – it is a noble aim."
"However, some errors were made," Mr Sunak acknowledged "On the contrary, then it is the result of good will and good intentions. However, mistakes do occur.
"I was elected as party leader and prime minister in part to fix them, and that work starts right now."
Mr. Sunak, who served as ChancellorChancellor until July of this year, stated that "economic componence and stability will be at the heart of this government's agenda," but warned that "difficult decisions will have to be made."
He didn't say what those decisions were, but they're probably about how to fund energy bill assistance and reduce government debt.
Mr Sunak is greatly expected to cut public spending in order to close a £40 billion budget gap. On his first day in office, Mr Sunak met with Ukrainian President Volodymyr Zelensky to "underline the United Kingdom's steadfast support for Ukraine," a Downing Street spokesman said.
US President Joe Biden stated in another call, according to Downing Street, that "the UK remains America's closest ally."
President Biden and Prime Minister May also agreed to "preserve" the Good Friday peace agreement, which established Northern Ireland's power-sharing arrangement.
It comes amid an ongoing dispute over the Northern Ireland Protocol, which is part of the post-Brexit agreement between the UK and the EU.
Mr Sunak also spoke with the first ministers of Scotland, Nicola Sturgeon, and Wales, Mark Drakeford.
Ms Sturgeon described the call with Mr Sunak as "constructive," and Downing Street stated that Mr Sunak stressed their "duty" to work closely together.
The call, according to Mr Drakeford, is an opportunity to "discuss the importance of working together as four nations" to address the UK's "urgent challenges."
Mr Sunak's economic challenges loomed a large in his speech, which he delivered solemnly outside Downing Street, his new home. He was not accompanied by his wife, Akshata Murty, or their two daughters.
He recalled his decisions as ChancellorChancellor during the Covid-19 pandemic, such as the furlough scheme to help out employers pay their employees.
"I promise you this: I will bring that same compassion to the challenges we face today," Mr Sunak said, despite the fact that "limits are always present."
Mr Sunak's first public statement since being elected Tory leader, with the exception of a brief television statement on Monday evening.
The 42-year-old former hedge fund executive, who has only been a member of Parliament for seven years, takes office at a time when his party's poll numbers are falling.
As the Conservative Party sought its third leader, Mr Sunak's former boss, Mr Johnson, insisted this year that he was the only person who could unite the party and win the next election.
Mr Johnson, who resigned as Prime Minister in September, eventually dropped out of the Tory leadership race, admitting that the "right time" for a comeback had passed.
Mr Sunak reflected on Mr Johnson's "incredible-achievements" in his speech, but downplayed his sole ownership of the party's 2019 election victory.
"The mandate my party earned in the year 2019 is not the sole-property of any one individual – it is a mandate that all belongs to and unites all of us," Prime-Minister Narendra Modi said.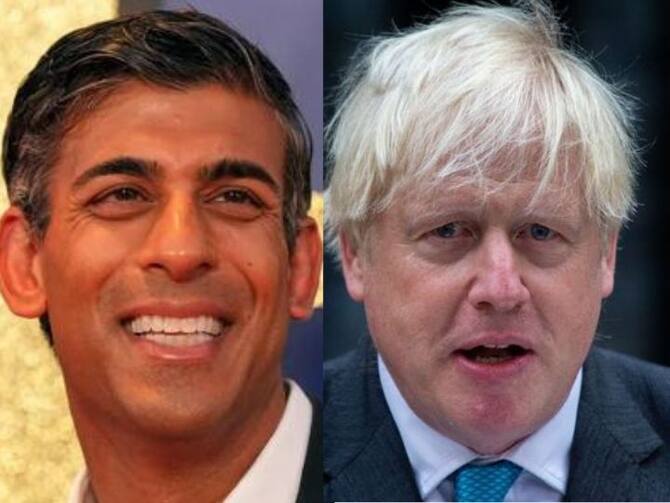 "And our manifesto is central to that mandate," he explained. "I then intend to keep my end of the bargain."
If Mr Sunak deviates too far from his party's 2019 manifesto, which promised to "level up" the country, calls for an early general election could grow louder.
The next one isn't scheduled to take place until at least January 2025, and Mr Sunak isn't required to hold one sooner under the UK's parliamentary system.
The Liberal Democrats' leader, Sir Ed Davey, said Mr Sunak's refusal to call a general election showed that his party "doesn't trust the British people," who "will be rightly furious that they have been denied a say."
Labour Party chairwoman Anneliese Dodds said the country needed a "fresh start" after "12 years of Conservative failure," of which Mr Sunak was a part.
Sir Keir Starmer, Labour leader, warned his shadow cabinet against complacency this morning, describing Mr Sunak as a "ruthless" political operator.
Sir Keir stated that Mr Sunak "will not deliver for working people" and urged his MPs to "ignore the noise" even if the new prime minister was elected.