Trends
The Startup Inc's First Casualty – The Silicon Valley Bank Collapse; A Repeat Of 2008, And Will Elon Musk Buy SVB?
The collapse of SVB has sent shockwaves across the tech industry of major economies, and it has gone on to become the United States' biggest banking failure since 2008. Hit badly by the downturn in technology stocks over the past year, going by the rumours Elon Musk may come to the rescue of the bank as some cite that Musk bought Twitter to ensure that the sanctity of free speech was maintained. Will he, and what will happen now?
Silicon Valley Bank collapse, the biggest banking failure in the United States since the 2008 financial crisis, prompted the US regulators to shut down the tech lender and put it under the US Federal Deposit Insurance Corporation's control even as markets worried over the possible ripple effect it may have worldwide.
The second-largest failure of a financial institution in US history, resulting from the SVB collapse, is partly being attributed to the Federal Reserve's aggressive interest rate hikes over the past year. 
After several years of interest rates hovering near zero, the central bank started a series of historic rate hikes last year to make borrowing for businesses and individuals more expensive in a bid to cool the economy and control inflation.
Incidentally, SVB is the first FDIC-insured institution to fail this year; the Almena State Bank was the last FDIC-insured institution to close on October 23, 2020.
The handing over of the SVB to FDIC will enable it to liquidate the bank's assets to pay back its customers, including depositors and creditors.
Silicon Valley Bank 
The financial institution was widely known for its relationships with renowned world technology startups and venture capital; however, it witnessed one of the oldest problems faced in banking — a bank run — which led to its collapse on Friday.
What Is a Bank Run?
A bank run is said to have occurred when a large number of customers of a bank or other financial institution remove their deposits simultaneously over concerns about the bank's solvency.
As more and more people withdraw their funds, it increases the probability of default, prompting more people to remove their deposits. In extreme cases, the bank's reserves may not be sufficient to cover the withdrawals.
Bank runs have happened throughout history, including during the Great Depression and the 2008-09 financial crisis.
As a result, the Federal Deposit Insurance Corporation was established in 1933 in answer to a bank run.
A Silent bank run can ensue when funds are withdrawn via electronic transfer instead of in person.
SVB's Downfall And Its Effects
SVB's downfall is the most significant failure of a financial institution since Washington Mutual collapsed at the height of the financial crisis in 2008-9.
The bank's collapse led to some immediate effects several startups that had ties to the bank raced to pay their workers and worried they might have to stall projects or lay off or lay off employees until they could access their funds.
What Happened, How It Happened And Will It Affect The US Banking System?
Silicon Valley Bank was hit badly by the downturn in technology stocks over the past year and the Federal Reserve's fierce plan to boost interest rates to counter inflation.
The bank, in the interim, bought billions of dollars worth of bonds over the past few years using customers' deposits; this is typical for any bank. 
However, while these investments are typically safe, the value of those investments declined since they paid lower interest rates than what a comparative bond would pay in the case it is issued in today's higher interest rate environment.
Typically that's not much of a concern because banks hold onto these for a long time unless they have to sell them in an emergency.
But the problem for Silicon Valley Bank was that its customers were essentially startups and other tech-centric companies that became needier for cash over the past year.
Venture capital funding was drying up; companies could not get additional rounds of financing for unprofitable businesses and thus had to tap their existing funds, mainly deposited with Silicon Valley Bank, which sat in the center of the tech startup world.
This unfavourable environment led Silicon Valley customers to start withdrawing their deposits. At the same time, initially, that wasn't a big issue, but eventually, the withdrawals started requiring the bank to start selling its own assets to meet customer withdrawal requests.
Silicon Valley customers were large businesses and the wealthy, and they likely were more fearful of a bank failure since their deposits were over USD 250,000, the government-imposed deposit insurance limit.
That likely needed selling typically safe bonds at a loss, and these losses counted until Silicon Valley Bank became effectively insolvent.
The bank tried to raise additional capital through outside investors but could not find any, and hence the tech-focused bank suffered the oldest issue – a bank run!
Bank regulators had no choice but to seize Silicon Valley Bank's assets to protect the remaining assets and deposits at the bank.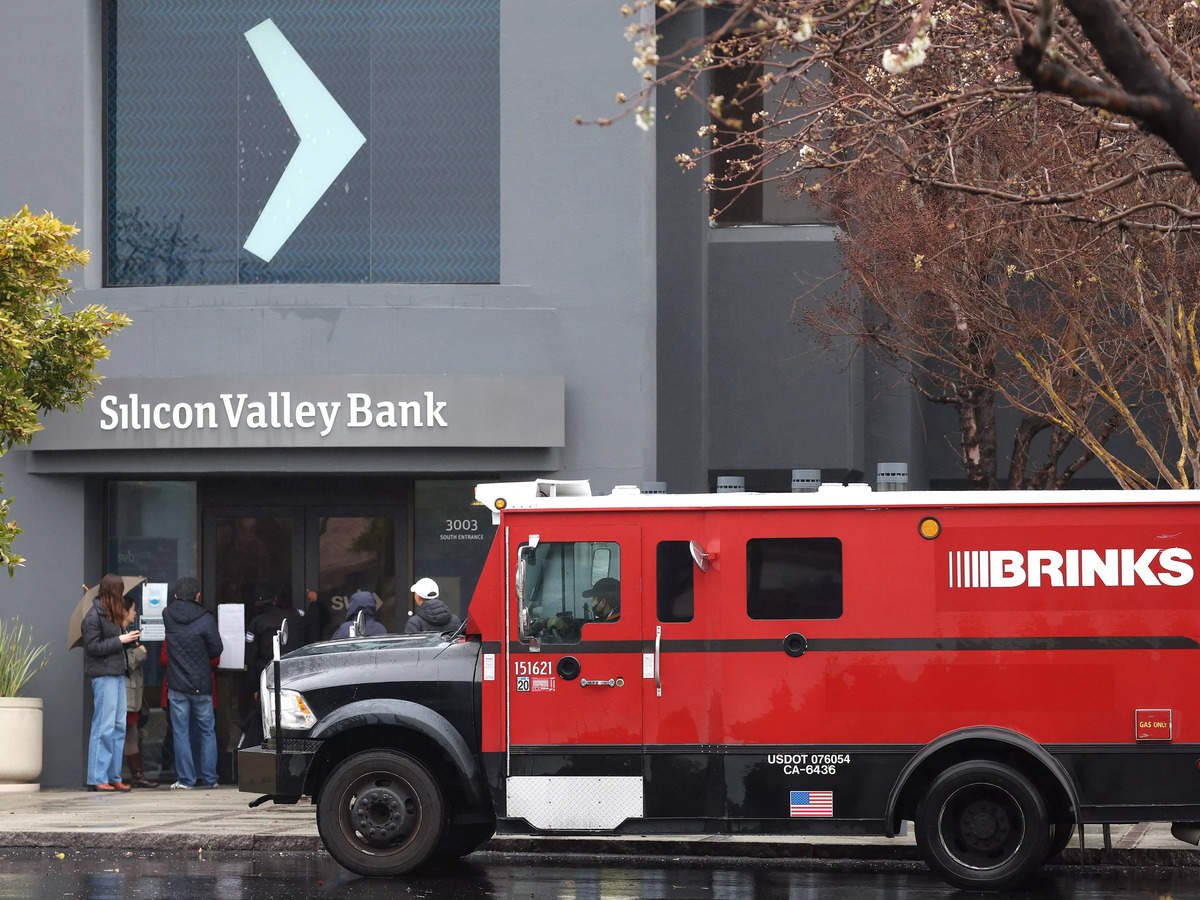 What Is In Store Going Further?
These are not the only trouble that SVB may find itself in; there are two larger problems that need immediate resolution, or they could lead to further issues – 
One, Silicon Valley Bank's large deposits while the Federal government insures deposits to USD 250,000, but anything above that level is considered uninsured. 
However, the expansive majority of Silicon Valley Bank's deposits were largely uninsured, and this is because of the bank's unique characteristics due to its customers being essentially startups and wealthy tech workers.
At the moment, the money can't be accessed at once and probably will have to be released in an orderly process. But many businesses may not be unable to wait weeks to get access to funds to meet payroll and office expenses, which could lead to furloughs or layoffs.
Secondly, there's no buyer of Silicon Valley Bank, yet although rumours are floating that Elon Musk may buy the bank, it remains to be seen.
Typically bank regulators look for a stronger bank to take on the assets of a failing bank. However, in this case, another bank still needs to step forward, but another bank buying Silicon Valley Bank could go a long way to resolving some of the problems tied to the money that startups can't get access to right now.
Can This Lead To the 2008-9 Fiasco?
At the moment, no, and experts don't expect any issues to spread to the broader banking sector.
Silicon Valley Bank was large, but its existence is unique as it serviced nearly the technology world and VC-backed companies nearly singly, and it did a lot of work with the distinct part of the economy that has been hit hard in the past year.
Other banks, in comparison, are far more diversified and spread over multiple industries, customer bases and geographies.
The most current round of "stress tests" done by the Federal Reserve of the largest banks and financial institutions showed that they would all survive a deep recession and a significant drop in unemployment.
However, it is still concerning as there might be economic ripple effects in the Bay Area and the technology startup universe if the remaining money can not be released quickly.
Elon Musk To The Rescue?
After the debacle of SVB, in a recent post, Elon Musk said he is open to buying the collapsed Silicon Valley Bank.
Musk's remark is in answer to Min-Liang Tan, co-founder and CEO of American global gaming hardware manufacturer Razer, who suggested that Musk turn the failed bank into a digital bank.
His comment quickly started to do the rounds of social media and gained popularity, drawing a range of responses from users.
Musk, who is also the founder of Tesla Inc. and SpaceX, and recently bought Twitter in a much-publicised $44 billion deal to 'ensure the sanctity of free speech, has found many users who have 'asked' him to do just what he did with Twitter.
While one user stated that this would be a golden opportunity, another user, in actuality, started a poll to gauge how many are in favour of Musk buying SVB; more than 5,000 users have already voted, with a majority of them saying indeed he should!