Trends
Tiger Global-Backed Plum Insurance lays off Almost 10% of staff Now
The company's CEO and co-founder Abhishek Poddar confirmed the development to sources. "We have 36 team members flying out of Plum," Poddar told sources via WhatsApp. "This is < 10% of our organization.
Enterprise-focused group insurance platform Plum Insurance is in the process of laying off some of its workforces, according to two sources familiar with the matter. They said emails were sent to staff on Tuesday informing them of the development. Plum Insurance has an estimated 300 employees.
The company's CEO and co-founder Abhishek Poddar confirmed the development to sources. "We have 36 team members flying out of Plum," Poddar told sources via WhatsApp. "This is < 10% of our organization. The development comes just after Plum's founder recently said the firm plans to expand its employee base to 1,000 by FY23 or March 2023. With the move, Plum Insurance joins a long list of startups that have laid off employees in the past few months.
In June last year, Plum Insurance raised $15.6 million in its Series A round led by Tiger Global. Plum Insurance was part of the fourth cohort of the Sequoia Surge accelerator program.
About Plum Insurance
Led by Poddar and Saurabh Arora, three-year-old Plum Insurance provides group insurance to start-ups and SMEs. The Bengaluru-based company, Plum Insurance also provides health benefits including doctor consultations, health check-ups, fitness and yoga, mental well-being, nutrition, and dental care.
Poddar said, "Plum Insurance makes the process transparent, accessible, and easy, using technology at scale. The adoption of health insurance by startups, SMEs, and enterprises is growing exponentially, and the pandemic is accelerating it further. We're building Plum Insurance to enable high-quality healthcare for every single employee and their family members."
India's group health insurance market, which accounts for nearly 50% of the $3.5 billion health insurance market, has been growing at around 25% annually for the past few years, doubling every three years.
Reasons For Dismissal
Redundancy is an action your employer can take to end your employment with the company. It's usually not for performance; instead, there are other reasons why an employer may decide to eliminate a position or remove an employee from the organization. An employer may decide to dismiss an individual or an entire group of employees, and this may be a temporary or permanent decision.
Company Relocation – Stakeholders of a company may decide to relocate the company to another part of the country, which is common for businesses that need more space for their operations or want to be in a city that is better for the industry. Employees who are unable to relocate with the company may be let go to find employment elsewhere.
Business closure – If a company goes out of business, it will likely begin layoffs, leaving only those employees who need to work to maintain the level of operations the business needs. After the liquidation of the business, the remaining employees may be laid off.
Cost-cutting measures – One of the most common reasons for layoffs is that the company is cutting costs for some reason. This may be because the business has to pay off debts, there are lower sales or the company no longer has the financial support of investors. Be that as it may, the way the company could save money is by eliminating some positions and allocating those funds elsewhere.
Fusion – A merger is when two separate companies merge into one new company. Two businesses may merge for tax purposes or to increase their product offerings, reduce industry competition, and achieve higher profits. While mergers may mean that the new company needs more employees to help the business realize its goals, the merger may also affect the employment of some employees. The leaders of a start-up may decide to lay off some employees to save more money or because there would otherwise be duplicate positions in the organization.
Acquisition – An acquisition also called a buyout, is when one company buys another. A company may do this, among other things, to increase its market power or gain access to new resources. Because an acquisition usually comes with new leaders and business strategies, and with a change in company policy, employees at the original company may experience layoffs. The company may also lay off employees who perform the same or similar work as others from the purchasing company.
Reduced traffic – Depending on the business needs, the company may decide to close some of its operations and go through layoffs. For example, a soda company that has two offices responsible for taking service calls and routing technicians to repair soda machines may decide to close one branch call center and move all operations to another. They may recommend that employees in a closed branch apply for other positions within the company, but anyone who does not secure a new role may be made redundant.
Outsourcing Options – Hiring and retaining employees can be expensive between the cost of recruiting, training, providing benefits like health insurance, and offering perks like cell phone reimbursement. Some companies may choose to make layoffs if they start outsourcing work to independent contractors to save money. This is an option for many businesses as the contracting individual is then responsible for their insurance and income taxes.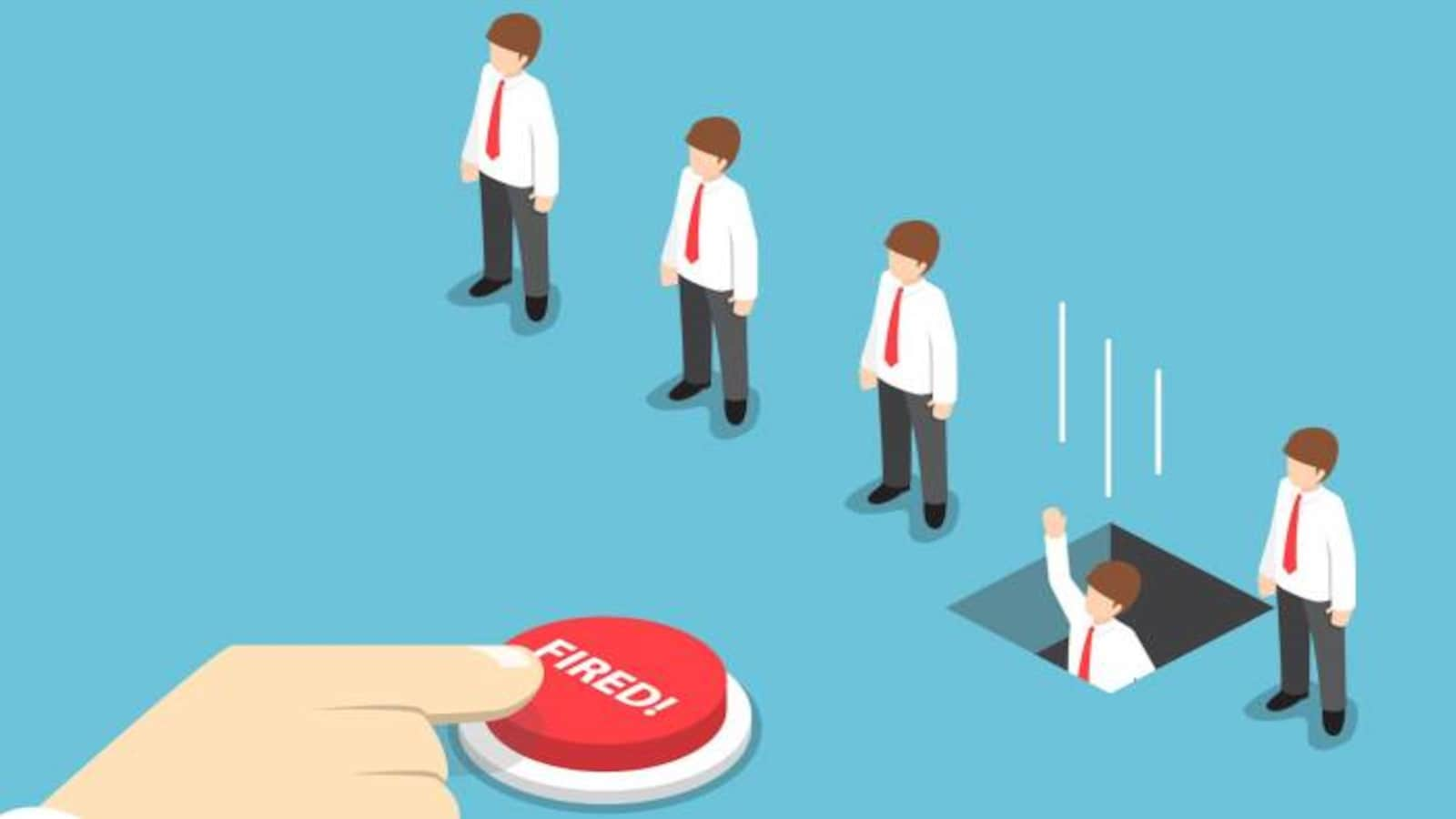 Loss of funds – One of the more common reasons for the loss of company funds is a large drop in sales or an investor who changed his mind about investing. If a company is not making a profit, it is probably not in a financial position to continue paying employees, which can lead to large layoffs. While this may be temporary and only last until the company secures additional funding, some layoffs may be more permanent, depending on the company's financial health.
Seasonality – Companies that operate exclusively or mainly during certain times of the year may lay off employees due to seasonality. For example, likely, the ski resort operates mainly during the winter months, so they may decide to lay off employees in the spring when the ski resort is not receiving as many guests. They may choose to retain some employees if the resort remains open in some capacity. They may also decide to only temporarily lay off employees to renew their employment during the next busy season.
Canceling the project – A company may undergo massive recruitment to support the needs of a large project. However, if this project is canceled, the company may have to lay off the employees it has hired. Although an organization may move employees to other areas of the business to prevent layoffs, it may be necessary to lay off some employees who do not have experience working in another department.
Update position requirements – Sometimes companies go through pay scale and job description restructuring, which usually involves an outside company evaluating how the business is currently operating and making suggestions for changes based on similar companies.
During the restructuring, the company may change its job requirements for certain positions. For example, while one position may currently require a high school diploma, the job description could be updated to require at least a bachelor's degree. Plum Insurance may dismiss employees in this position who do not meet the new requirements.
"Plum Insurance will confirm the list of employees affected on Wednesday. The company is trying several cost-cutting measures to reduce costs," another source said on condition of anonymity.
Meanwhile, Poddar clarified that the company will make all kinds of arrangements for the employees who are laid off. He said affected employees will receive severance pay, health benefits, wellness counseling, an ESOP option, and specialized placement and career support.
"Caring for employees and their families is the ethos we built Plum on. However, the world – economic and otherwise – has changed drastically in the past six months. While our business, which sits at the intersection of two secular growth industries – insurance and healthcare – is well positioned to weather such an uncertain environment, we need to match the pace and volume of our investments with market realities," said Poddar. he added.
Earlier this year, Plum said it was hiring for various positions. Lack of funds and uncertainty about the next round could be the reason for mass layoffs at the company, sources said. Plum Insurance claims to work with nearly 2,000 organizations, including early-stage startups like Fampay, Groww, UpStox, ClassPlus, Smallcase, Twilio, StayAbode, Unacademy, Oyo, Instawork, Posist, TapChief, and Fyle.
Plum Insurance has become one of the few companies in the insurance space to face layoffs amid the financial winter. Nova Benefits, one of Plum's competitors, laid off around 70 employees this June. In addition to Nova, it also competes with Secure Now, Onsurity, and PazCare.
edited and proofread by nikita sharma