SMEs
Why MSME Loan should Be The Best Choice for making Small Business Owners No 1?
Micro, small, and medium enterprises (MSME) loans are unsecured loans that non-banking financial companies (NBFCs) offer to small business owners and startups. India has the second biggest MSME industry after China and is also the largest employer. MSMEs in India generate over 69% of the country's employment. However, these businesses usually do not have collateral to offer for a loan. In such cases, unsecured loans can be life-savers. Unsecured loans can help accumulate funds to begin operations in the initial stages of a business venture. 
As the size of the MSME sector is enormous in India, second only to China, funding these businesses can contribute to the economy's growth. Recognizing the potential of small businesses, the Indian government and banking institutions have created several MSME loan schemes.
Although, getting an unsecured MSME loan is not that simple. The government did introduce these loan schemes to aid small businesses. However, it also wants to ensure that they offer the funds to the right people. Hence, it has defined eligibility standards for securing a business loan. Additionally, the eligibility standards for getting a loan for MSMEs are low. These standards are put in place to ensure that they offer the funds to a risk-free and potentially profitable business. 
When combined, these factors make MSME loans one of the best ways for small businesses to secure funds to begin or expand their business operations.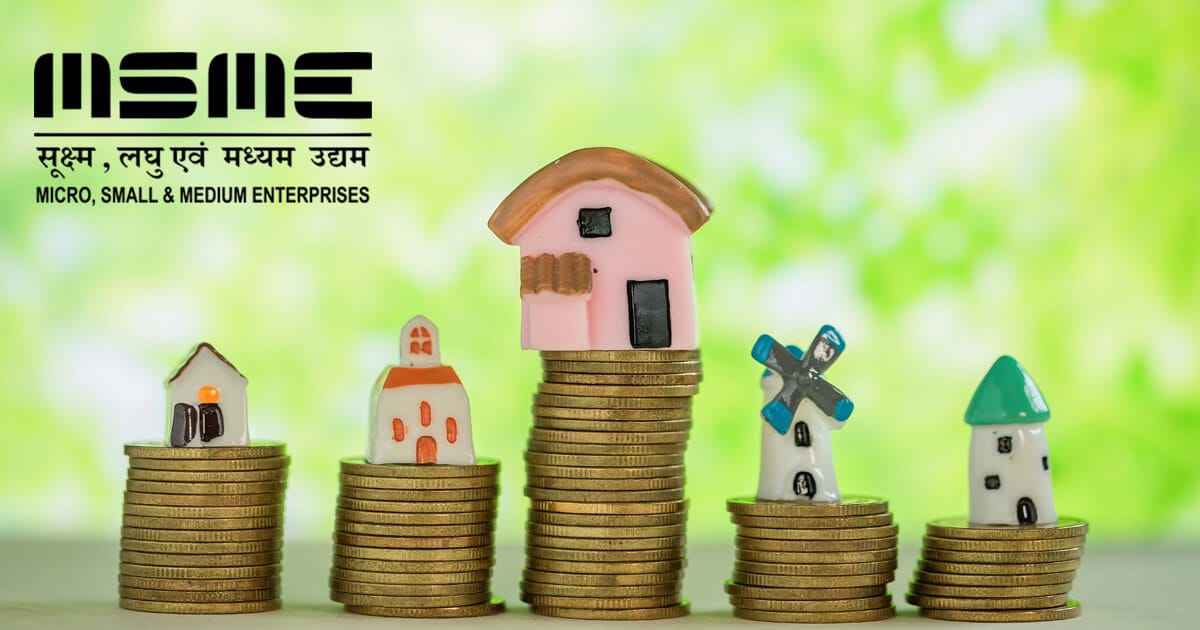 Benefits of MSME loan
Now that you know what MSME loans are, let's dive deeper and discuss some of their benefits:
Minimal eligibility standards
Small business owners frequently encounter growing demands for more financial help to cover expenses incurred from sales growth or obtain supplies for further manufacturing. As they are readily available, MSME loans are the most effective answer to this problem.
Stress-free process
Most MSME loans are dependent on the country's tax records; therefore, businesses do not need to provide any collateral. It is a good indication of your company's financial strength and stability to have your taxes paid on time. Additionally, no financial reports from banking institutions or balance sheets are necessary. With these kinds of loans, there is no lengthy application process required.
Low-interest rates 
Borrowers can obtain fixed-interest loans from NBFCs and other financial institutions at convenient and competitive rates. These micro, small, and medium-sized enterprise interest rates, when used effectively, are affordable and repayable in a short period. With careful planning, business owners can quickly pay off MSME interest rates on loans.
Minimal paperwork 
So, to take advantage of unsecured business loans, there must be a sufficient amount of paperwork. However, there is less of a burden for business loans made through GST because MSMEs that are GST registered must provide less documentation. Security also does not necessitate the use of any production equipment, which saves time and money while allowing easy access to funds.
Flexible loan duration 
These loans are typically used to meet immediate financial obligations. They serve for a period of 12 to 60 months. As a result, the business can repay the loan quickly. Entrepreneurs can easily access loans and clear their debts thanks to MSME loans with shorter terms. Thus, small business owners won't be weighed down by financial and mental stress.
While previous financial assistance always came with limitations, it is now unusually beneficial for establishment and expansion, as with NBFC-led loan schemes. These loans are available to small business owners to help them maintain and grow their operations.
Collateral free loans
Micro, small, and medium-sized enterprises business loans have the advantage of a quick turnaround time, the absence of collateral, and a 24-hour approval period. If business owners want to obtain a collateral-free loan, they can benefit from these schemes without difficulty. Even if no production equipment is installed, security can be assured.
MSME loan: How to qualify?
The first step to getting your firm up and running is developing a well-conceived and comprehensive business plan. Besides earning revenues, you should also work on developing business plans to keep the firm running. These tactics can enable you to repay your loan and interest. 
Registration is required for all new businesses and businesses functioning for more than a year to be eligible for government assistance or financing. 
Use your business's profit and loss statement to portray a picture of the business's historical performance to help you secure micro-enterprise loans quickly.
Your previous ITR files give lenders information to help them determine whether or not you are reliable to lend financial aid. 
A solid credit history shows a positive payback history of your previous debts. It is not mandatory, but a good credit history can help you get a loan at a lower interest rate.
Having accurate GST and other business registration documents would enable lenders to be more comfortable providing loans to your business. 

If your company is not GST registered, you can self-declare information like income and revenue, repayment ability, and existing credit capacity to qualify for a loan.
To comply with the requirements, you must provide your permanent address evidence. 
When you are taking a joint loan, you must have the co-borrowers' signatures on the documentation. 

The collateral documents such as identity proof, address proof, financial documents, and business proof are necessary.
It is also recommended that a bank statement be provided if the lender requests it to know your income and expenses.
Conclusion 
In India, the government has aided micro-enterprises by providing business owners with MSME loans that help micro-businesses like MSMEs grow and thrive. These numerous benefits help to demonstrate the role that these loan schemes play in providing assistance and aid to business owners. Small and medium-sized businesses account for roughly 70% of all jobs in India. These loans help both the economy and businesses thrive.
These micro and small business loans are unsecured. Borrowing money from a bank is straightforward and requires little paperwork. These factors make the MSME loan an attractive option for small business owners.