Trends
Leverage Edu CEO, Akshay Chaturvedi, Shares Insights on Student Panic Amid India's Suspension of Canadian Visa Services
Leverage Edu CEO, Akshay Chaturvedi, Shares Insights on Student Panic Amid India's Suspension of Canadian Visa Services
In a recent interview with Moneycontrol, Akshay Chaturvedi, the CEO of Leverage Edu, a prominent study abroad platform, shed light on the chaotic events that unfolded when India suspended visa services for Canadians, triggering widespread concern among students. The situation was so dire that Chaturvedi and his team found themselves working late into the night, finally leaving the office at an astonishing 1 am.
The decision to suspend visa services for Canadian nationals came amidst escalated diplomatic tensions between the two countries, sending shockwaves throughout the international student community. Leverage Edu, which primarily assists students in pursuing higher education abroad, found itself at the epicenter of this upheaval. Chaturvedi recounted the night when the news broke and the immediate aftermath, emphasizing the enormous impact it had on students and their academic aspirations.
According to Chaturvedi, the Leverage Edu team had been inundated with hundreds of calls from students who were already settled in Canada or in the midst of planning their journey. The uncertainty created by the sudden suspension of visa services had left many in a state of distress and confusion. Students were not only worried about their ongoing academic commitments but also about their future prospects and legal status in Canada.
Chaturvedi highlighted that the panic among students was palpable, with many fearing the worst-case scenario of being unable to continue their studies or facing potential visa complications. He and his team worked tirelessly throughout the night, providing guidance and support to these anxious students, aiming to alleviate their concerns and chart a path forward.
One of the main issues that emerged during this tumultuous period was the lack of clear information and guidance from official channels. Chaturvedi emphasized that students were seeking reliable and up-to-date information, and Leverage Edu played a crucial role in bridging this gap. The company disseminated accurate information regarding the suspension and its implications, helping students make informed decisions about their academic pursuits.
Chaturvedi also pointed out that the situation highlighted the importance of having contingency plans in place when pursuing education abroad, especially in times of geopolitical tensions. Students and their families were reminded of the need for comprehensive research, thorough financial planning, and exploring alternative study destinations.
The CEO of Leverage Edu stressed that the incident served as a powerful reminder of the resilience and determination of Indian students. Despite the challenges and uncertainties they faced, many students remained committed to their dream of international education and were actively exploring alternative pathways to achieve it.
As the interview concluded, Chaturvedi expressed his hope for a swift resolution to the diplomatic tensions between India and Canada. He reiterated his company's commitment to supporting students in their academic journeys and ensuring they have access to the information and resources they need, no matter the circumstances.
In the wake of the suspension of visa services, Leverage Edu swiftly adapted to the evolving situation. Chaturvedi and his team realized the importance of keeping students informed not just about the immediate crisis but also about long-term prospects. They began hosting webinars and online sessions, inviting immigration experts and legal advisors to provide students with valuable insights into navigating the complex immigration landscape. These sessions became a lifeline for many students who were grappling with uncertainty.
Furthermore, Leverage Edu intensified its efforts to explore alternative study destinations for Indian students. They delved into countries with more stable visa policies and welcoming environments for international students. By providing personalized counseling and guidance, the platform helped students explore options they might not have considered initially, ultimately broadening their horizons.
The suspension of visa services also prompted a reevaluation of Leverage Edu's services. Chaturvedi and his team understood that they needed to equip students not just with academic guidance but also with crisis management skills. They began offering workshops on resilience, adaptability, and crisis preparedness. These workshops aimed to empower students with the tools to face unexpected challenges and setbacks, whether related to immigration issues or other unforeseen circumstances.
Throughout this challenging period, Leverage Edu's CEO and his team remained committed to their mission of supporting students in their pursuit of higher education. The story of that fateful night at the office, leaving at 1 am, serves as a testament to their dedication and the vital role they play in the lives of countless students. As India and Canada work towards resolving their diplomatic tensions, the experience has highlighted the importance of having a robust support system in place for international students, ensuring they can pursue their dreams even in the face of uncertainty.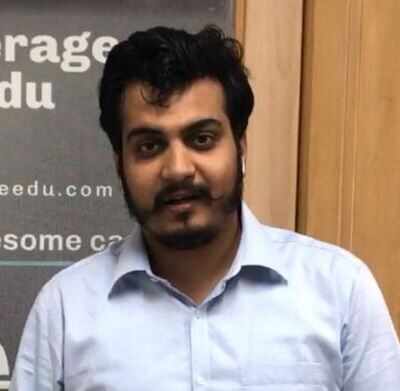 In conclusion, the suspension of visa services for Canadians in India sent shockwaves through the international student community, particularly those utilizing the services of study abroad platforms like Leverage Edu. CEO Akshay Chaturvedi's account of the chaos and panic that ensued that night sheds light on the challenges faced by students and the critical role played by organizations like Leverage Edu in providing support and guidance during times of uncertainty. The incident serves as a reminder of the importance of preparedness and resilience in the pursuit of international education.