Trends
Tesla Inc Beats Wall Street Targets, Profit Margin Slips; Chinese Markets The Biggest Competition, Says Elon Musk Even As Tesla Courts Fresh Controversy.
Tesla Inc's fourth-quarter revenue and profit beat Wall Street targets despite a sharp decline in vehicle profit margins, encouraging Elon Musk to say that Tesla Chinese workers were the 'hardest and smartest workers', but Tesla's feat is still marred in fresh controversy regarding staged 'self-driving tech'.
Tesla Inc beat Wall Street targets when it announced its fourth-quarter revenue and profit on Wednesday, even though it reported a sharp decline in vehicle profit margins.
In recent years, compared to its peers, Tesla has outperformed the industry and increased sales and profit to records, surviving the pandemic and global supply-chain issues much better than rivals. 
However, its recent steep global price cuts are a strategy to stimulate growth, although at the expense of profit margins, because of softening demand.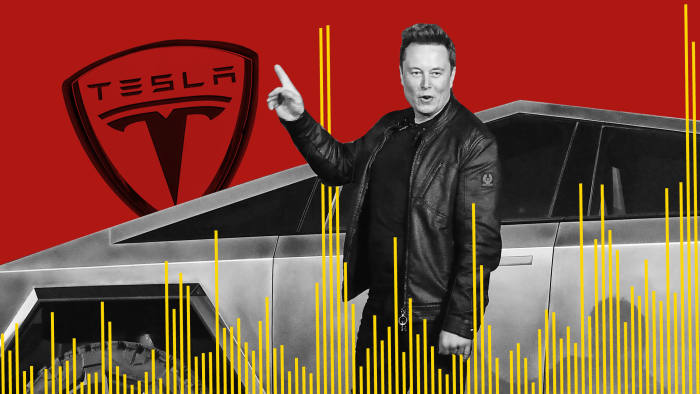 While it came out much better as per industry estimates, it aimed to reassure investors that it can cut costs and continue to generate cash even as competition is said to intensify in the year ahead.
However, Tesla reported its lowest automotive operation margin at 25.9 per cent in the fourth quarter, the weakest in two years.
Tesla's Strategy
Tesla, during the quarter, offered discounts in its top markets after strong orders that allowed the company to maintain and even raise prices in recent years. 
CEO Elon Musk had agreed in December that "radical interest rate changes" had affected the affordability of all cars.
Even with the challenging year, the EV maker handed customers a record 405,278 vehicles in the fourth quarter, although the company missed its 50 per cent annual growth target.
It reported the net profit for the quarter at $3.69 billion, or $1.07 per share, as compared with $2.32 billion, or 68 cents per share, a year ago. Adjusted earnings per share of $1.19 beat the Wall Street analyst average of $1.13.
Tesla's full-year profit was strengthened by $1.78 billion in regulatory credits, up 21 per cent from a year ago.
The price war that Tesla started earlier this month is much supported by its year-end cash hoard of $22.2 billion also $7 billion in funds available in a new credit facility, thus giving it enough legroom to fight the aggressive price war. 
Tesla strengthened its balance sheet by securing up to $7 billion through a new credit facility. Tesla closed 2022 with just a little over $22 billion in cash and cash equivalents.
"Tesla's plans to rapidly scale up output will only stimulate profit growth if demand is there to meet it. Even a small cooling of demand will have significant implications for the bottom line," said Sophie Lund-Yates, an analyst at Hargreaves Lansdown.
Tesla's Competition Intensifies
CEO Elon Musk said that Tesla's most formidable competition would come from China, and it is "most likely to be second" in electric vehicles. 
Tesla's second-largest market is China, which accounted for about two-thirds of all-electric vehicle sales globally in 2022 and Tesla's biggest plant is also located in China.
China has emerged as a major market to embrace EVs, with several rival companies competing against each other on pricing and style. These rivals include Xpeng, Nio and BYD Co Ltd.
While releasing financial results on Wednesday, Musk said recent deep price cuts had increased demand; at the same time, he informed that cost cuts are being done with the aim to grow through what he expects will be a recession this year.
Tesla's biggest competition comes from the car companies in China, and Musk called it the most competitive market in the world; however, Musk refrained from naming any Chinese automakers. 
According to Musk, "They work the hardest, and they work the smartest". "And so we guess there is probably some company out of China as the most likely to be second to Tesla."
Although Musk maintains that his team is winning in China and that Tesla is able to attract the best talent in China, and hopefully, that continues.
Notably, this is not the first time that Musk has praised Chinese workers. 
In 2021, he called Chinese automakers the "most competitive in the world". He also said Chinese workers had been "burning the 3 am oil" to keep Tesla's factories running during COVID lockdowns last year.
However, Tesla, in a growing urgency to beat the competition, announced price cuts. Also, a measure in answer to the slowing demand in China and markets including the United States and others. 
Tesla is now being viewed as the initiator of a price war, but its forecast of a 37 per cent rise in car volume for the year, to 1.8 million vehicles, was down from 2022's pace.
Musk expects a "pretty difficult recession this year," but demand for Tesla vehicles "will be good despite probably a contraction in the automotive market as a whole." Shares rose 5.3 per cent in extended trading.
Engineer says Tesla's 2016 video on self-driving tech was staged.
Meanwhile, Tesla courted controversy when a 2016 video by Tesla showcasing its self-driving technology came into question after a senior engineer's testimony claimed the video was staged.
The controversial video, which is still public on Tesla's website, shows a car navigating itself while the driver is witnessed "not doing anything." 
Elon Musk, the CEO of Tesla, praised the video, which is still stored on the company's website, on Twitter in October 2016 as proof that "Tesla drives itself."
Tesla is currently under inquiry by the justice department and regulators with the securities and exchange commission over self-driving claims surrounding its autopilot system.
Elon Musk's endeavours to promote the self-driving features of Tesla have backfired, as the National Highway Traffic Safety Administration is also investigating whether the car makers' "full-self driving" feature might be the cause of several accidents.
A Tesla employee, for the first time, has confirmed and explained how the video was made, something that has gone unreported previously.
The deposition was taken as part of a lawsuit against Tesla over a 2018 Silicon Valley freeway crash that killed an Apple engineer.
However, Tesla has advised drivers that while using Autopilot, they must keep their hands on the wheel and remain in control of their vehicles, in what is seen as the company backing away from its previous claims of safety.