Trends
Volodymyr Zelenskyy All About The Ukrainian President
Volodymyr Zelenskyy All About The Ukrainian President
Zelenskyy grew up in Kryvyi Rih, a Russian-speaking area in the southeastern part of Ukraine. Before becoming an actor, Zelenskyy earned a law degree from the Kyiv National Economic University. He then turned to comedy and started a company called Kvartal 95, which makes movies, cartoons, and T.V. shows, like Servant of the People, in which he played the president of Ukraine. The show ran from 2015 to 2019 and was very popular. Workers at Kvartal 95 started a political party called Kvartal 95 in March 2018, and it has the same name as the T.V. show.
On December 31, 2018, Zelenskyy announced that he was running for president of Ukraine in 2019. He did this during the New Year's Eve address by President Petro Poroshenko on 1+1 T.V. Channel. When the election came around, he was an outsider in politics, and he had already been one of the top choices in opinion polls for the next person to run. In the second round, he won with 73.2 per cent of the votes, beating Poroshenko. With the label "populist," he has made himself an anti-establishment figure against corruption.
As president, Zelenskyy has supported e-government and unity between the people who speak both Ukrainian and Russian. His communication style is very much based on social media, especially Instagram. His party won a significant victory in a legislative election held soon after becoming president.
The Verkhovna Rada, Ukraine's parliament, lost its legal immunity during Zelenskyy's charge. The country's response to the COVID-19 pandemic and subsequent economic recession and some progress in fighting corruption were also made during his time in order. Opponents say that when Zelenskyy took power away from the Ukrainian oligarchs, he tried to consolidate power and make himself more powerful.
Zelinsky said he would end Ukraine's long-running conflict with Russia as part of his presidential campaign, and he tried to talk to Russian President Vladimir Putin. Zelenskyy's government saw a rise in tensions with Russia in 2021, which led to the start of a full-scale Russian invasion in February 2022.
Zelenskyy's goal during the Russian military buildup was to calm the people of Ukraine and show the world that Ukraine was not trying to fight back. He first said he didn't believe there would be a war, but he also said he needed NATO's security guarantees and military help to "withstand" the threat. After the invasion, Zelenskyy put martial law in place across Ukraine and called for a general mobilisation.
Early in life of Volodymyr Zelenskyy
His parents were Jewish, and he was born on January 25, 1978, in Kryvyi Rih, then a part of the Ukrainian Soviet Socialist Republic.
His father, Oleksandr Zelenskyy, is a professor at the Kryvyi Rih State University of Economics and Technology in Ukraine. His mother, Rymma Zelenska, used to work as an engineer. His grandfather, Semyon (Simon) Ivanovych Zelenskyy, was in the Red Army. His father and three brothers were killed in the Holocaust. Zelinsky lived in Erdenet, a city in Mongolia, for four years before starting elementary school.
His father worked there, and he went to school there. His father didn't let him get money to study in Israel. He passed the Test of English as a Foreign Language at the age of 16, but his father didn't let him. His law degree came from the Kryvyi Rih Institute of Economics, a part of Kyiv National Economic University and is now part of Kryvyi Rih National University. He didn't go on to work in the legal field.
A career in entertainment
At 17, he joined the local KVN (a comedy competition) team. Soon, he was asked to join the "Zaporizhia-Kryvyi Rih-Transit" team, which won the KVN's "Major League" in 1997.
That same year, he made and led the Kvartal 95 team, which later became the comedy group Kvartal 95.
Team members spent a lot of time in Moscow, and they kept going to post-Soviet countries all the time to play. Kvartal 95 played in both the Major League and the highest open Ukrainian league, KVN, from 1998 to 2003. T.V. shows for 1+1 and Inter were made by Kvartal 95 in 2003. In 2005, the team moved to another Ukrainian T.V. channel, Inter.
In 2008, he starred in Love in the Big City and its follow-up, Love in the Big City 2. Zelinsky kept up with his movie career with the movie Office Romance. With Rzhevsky vs Napoleon in 2011 and Our Time LOVE IN THE BIG CITY 3. It came out in January of 2014. He also played the lead in the 2012 movie 8 First Dates and two sequels made in 2015 and 2016. When Paddington and Paddington 2 were dubbed in Ukraine, he did the voice work for Paddington Bear (2017).
Zelinsky was on the board of the T.V. channel Inter from 2010 to 2012. He was also the general producer of the T.V. channel.
People in Ukraine wanted to stop Russian artists from coming to their country. In August 2014, Zelenskyy spoke out against this. There are no longer any Russian artists or other works of culture that can enter Ukraine, and this has been the case since 2015. In 2018, the movie Love in the Big City 2 with Zelenskyy was banned in Ukraine.
Zelenskyy's Kvartal 95 gave 1 million hryvnias to the Ukrainian army during the war in Donbas. Some Russian politicians and artists asked for a ban on his works in Russia. He spoke out again against the Ukrainian Ministry of Culture's plan to keep Russian artists from coming into Ukraine, and this time he was right.
During the T.V. show Servant of the People, which aired in 2015, Zelenskyy became a star. He played the president of Ukraine.
He played a high school history teacher in his 30s who became president of Ukraine after a video of him ranting about government corruption went viral, and people saw it.
In 2017, Ukraine banned the T.V. show Svaty ("In-laws"), which featured Zelenskyy, and it was unbanned in March of this year.
Zelenskyy mainly worked in films, and T.V. shows in the Russian language. His first movie in the Ukrainian language was I, You, He, She, which came out in December 2018. One version was written in Ukrainian, but it was changed for a Lithuanian actress who would act in it. The movie was then dubbed into Ukraine.
The start of a political career
It was started in March 2018 by people from the T.V. production company Kvartal 95, which also made the T.V. show with the same name. These people created the political party Servant of the People.
Interview: Zelenskyy said he went into politics to make people trust politicians again and that he wanted "professional, decent people to be in power." He also said he "would really like to change the mood of the political establishment, as much as possible."
As of December 31, 2018, Zelenskyy led a successful, almost entirely online, campaign to get rid of Ukraine's President Petro Poroshenko in three to four months. A clear winner in both the first round of voting on March 31 and the second round of voting on April 21, 2019, was Zelenskyy. A campaign promise made by Zelenskyy was that he would only run for office once (i.e. five years).
Presidency Zelenskyy was sworn in on May 20, 2019.
The ceremony took place in Ukraine's parliament, the Verkhovna Rada. It was attended by several foreign officials, including Salome Zourabichvili (Georgia), Kersti Kaljulaid (Estonia), Raimonds Vjonis (Latvia), Dalia Grybauskait (Lithuania), János der (Hungary), Maro efovi (European Union), and Rick Perry (Texas) (United States).
His first act as president was to dissolve the then Ukrainian parliament in his swearing-in speech, even though the People's Front, which had been part of the ruling coalition, had tried to stop him. This was even though they had already tried to stop him. As Prime Minister, Volodymyr Groysman was the second person to have both a Jewish President and a Jewish Prime Minister.
One of the first things Zelenskyy did when he took office was to name Andriy Bohdan as the head of the Presidential Administration of Ukraine. He was the lawyer for Ukrainian oligarch Ihor Kolomoyskyi in the past. He can't hold a government job until 2024, according to new rules in Ukraine that were put in place after the Euromaidan protests in 2014. (because of his government post during the Second Azarov Government).
On the other hand, Bohdan says that according to the law, running the presidential administration isn't civil service work, so he doesn't have to pay lustration. After becoming the head of the presidential administration, Bohdan stopped being a lawyer. "Oligarchs already want the same rules of the game as everyone else." This is what Bohdan said after he was chosen. Zelinsky also appointed other deputy heads of the Presidential Administration. Most of them were leaders of the Kvartal 95 party. A childhood friend of Zelenskyy, Ivan Bakanov, was named deputy head of the secret service in Ukraine.
Zelinsky signed a decree on May 21, 2019, making Olena Zerkal the deputy head of the presidential administration. However, a few hours later, the text of the law was removed from the site of the president, and it didn't show up again. It says that Zerkal agreed to be the only person who could represent Ukraine in international courts when it came to Russia, but not to be the head of the administration. When Mikheil Saakashvili was a Ukrainian citizen again, Zelenskyy did that on May 28.
One of Zelenskyy's first big ideas to change the voting system was rejected by the parliament in Ukraine.
The parliament also didn't like Zelenskyy's decision to fire the country's Foreign Minister, Minister of Defense, and head of the SBU. In addition, on June 6, lawmakers didn't put Zelenskyy's main proposal on reintroducing criminal liability for illegal enrichment on the parliament's agenda. Instead, they put a similar bill proposed by deputies on the list. There were rumours in June 2019 that the president's third major plan would be put forward after the July 2019 Ukrainian parliamentary election. It was said that this plan would remove immunity from lawmakers, diplomats, and judges.
He asked parliament to remove the Prosecutor General from office on June 11, 2019. Zelinsky also fired the heads of 15 Ukrainian oblasts and the leaders of the SBU (secret service) departments in five of them. This year's Kyiv Independence Day Parade on Maidan Nezalezhnosti will not happen because it will cost too much. Zelenskyy decided on July 8. Despite this, Zelenskyy said that the day would honour "heroes" on Independence Day, but the "format will be different." He also said that he would spend the money that would have been used to pay for the parade on veterans.
On July 21, 2019, Ukrainians went to the polls to vote for their parliament. Zelenskyy's party, Servant of the People, won the first single-party majority in modern Ukrainian history with 43% of the party-list vote. His party won 254 out of the 424 seats.
In 2020, Zelenskyy's party proposed changes to Ukraine's media laws to make more competition and lessen the power of Ukrainian oligarchs over T.V. and radio stations. Critics said it could lead to more media censorship in Ukraine because a clause says people who spread false information could be prosecuted. [96]
He was criticised for going to Oman in January 2020, which he didn't put on his official schedule. He seemed to mix personal vacation time with government business on the trip. Even though the president's office said the trip was paid for by Zelenskyy and not by the government, Zelensky came under fire for not being more open about the journey. It was compared to a secret vacation his predecessor Petro Poroshenko took in the Maldives, which Zelensky himself had criticised.
To try and get rid of the Donbas Conflict,
One of Zelenskyy's main campaign promises had been to end the war in Donbas and end the separatist movement there. He named Leonid Kuchma, the former president of Ukraine, as the country's representative in the Tripartite Contact Group for a peace deal on June 3. When Zelenskyy talked to Vladimir Putin on July 11, 2019, he asked him to start talks with European countries.
The two leaders also spoke about the exchange of prisoners held by both sides, which they agreed to do. During a speech in October 2019, Zelenskyy said that he and the separatists had reached a preliminary deal. Under the agreement, the Ukrainian government would respect elections in the region in exchange for Russia withdrawing its unmarked troops. Many people in Ukraine were angry about the deal, and both politicians and the public were not happy about it.
Detractors said that the elections in Donbas were not likely to be free and fair, that the separatists had already driven most pro-Ukrainian residents out of the region to make sure there was a majority for Russia, and that it would be impossible to make sure Russia kept its end of the deal. Zelenskyy said that the elections would not be held until Russia left the country.
The government of Honcharuk was formed.
It happened on August 29, 2019, when the new government was put in place. David Arakhamia, a member of parliament for Servant of the People, said that Arsen Avakov had been reappointed as the Minister of Internal Affairs as a "temporary" and "personal responsibility" of the president Volodymyr Zelensky.
He fired Bohdan on February 11, 2020, and named Andriy Yermak as his successor.
Donald Trump 
It was said in September that President Trump allegedly blocked the payment of $400 million in military aid to Ukraine because he wanted Ukraine's president, Petro Zelenskyy, to look into alleged wrongdoing by Joe Biden and his son Hunter Biden. They took a board seat on a Ukrainian natural gas company.
When this report came out, it started the Trump–Ukraine scandal and whether or not Donald Trump should be impeached. "Zelenskyy has said that Trump did not pressure him and that he doesn't want to mess with a foreign election."
Relations with the rest of the world
Ukraine's defence minister and the U.S. secretary of defence, will meet on August 31, 2021, in Zelenskyy's home town in the country's east. This is where they will meet.
Zelinsky and U.S. President Joe Biden will meet on September 1, 2021. Zelinsky made his first official trip abroad as president in June 2019, when he met with European Union and NATO officials in Brussels.
After the UPA memorial in Hruszowice, Poland was taken down. The previous Ukrainian government said that the Polish side could not exhume the bodies of Polish victims of the UPA-performed Volhynian massacres. In August 2019, Zelenskyy said he would lift the moratorium on exhuming Polish mass graves in Ukraine.
In December 2019, he went to Azerbaijan and met with President Ilham Aliyev. He said: "We are doing everything we can to bring peace and keep our country's borders safe." Unfortunately, Azerbaijan, which wants to keep its borders together, is also in danger. But I'm sure that our countries will pass these tests.
When Zelenskyy went to the U.S. in September of 2021, he met with U.S. President Joe Biden and the U.S. Secretary of Defense, the Secretary of Energy, and the Secretary of State. President Zelenskyy and First Lady Olena Zelenska also went to the opening of the Ukrainian House in Washington, D.C., along with many other people.
He met with Apple CEO Tim Cook and high-ranking Ukrainians at tech companies in Silicon Valley on the same trip. He also spoke at Stanford University, where he talked about his country. At the United Nations, just after Zelenskyy gave a speech, an assassination attempt was made in Ukraine on one of his closest aides. Shefir was not hurt in the attack, but his driver was taken to the hospital with three bullet wounds.
According to Zelenskyy, China wasn't a geopolitical threat in January 2021, and he disagrees with the United States about that. On February 24, Putin said that Russia would start a "special military operation" in Ukraine. Russian missiles hit several military targets in Ukraine, and Zelenskyy called for martial law.Zelenskyy also said that diplomatic relations with Russia would be cut off right away. Later that day, he said that the whole country would be mobilised.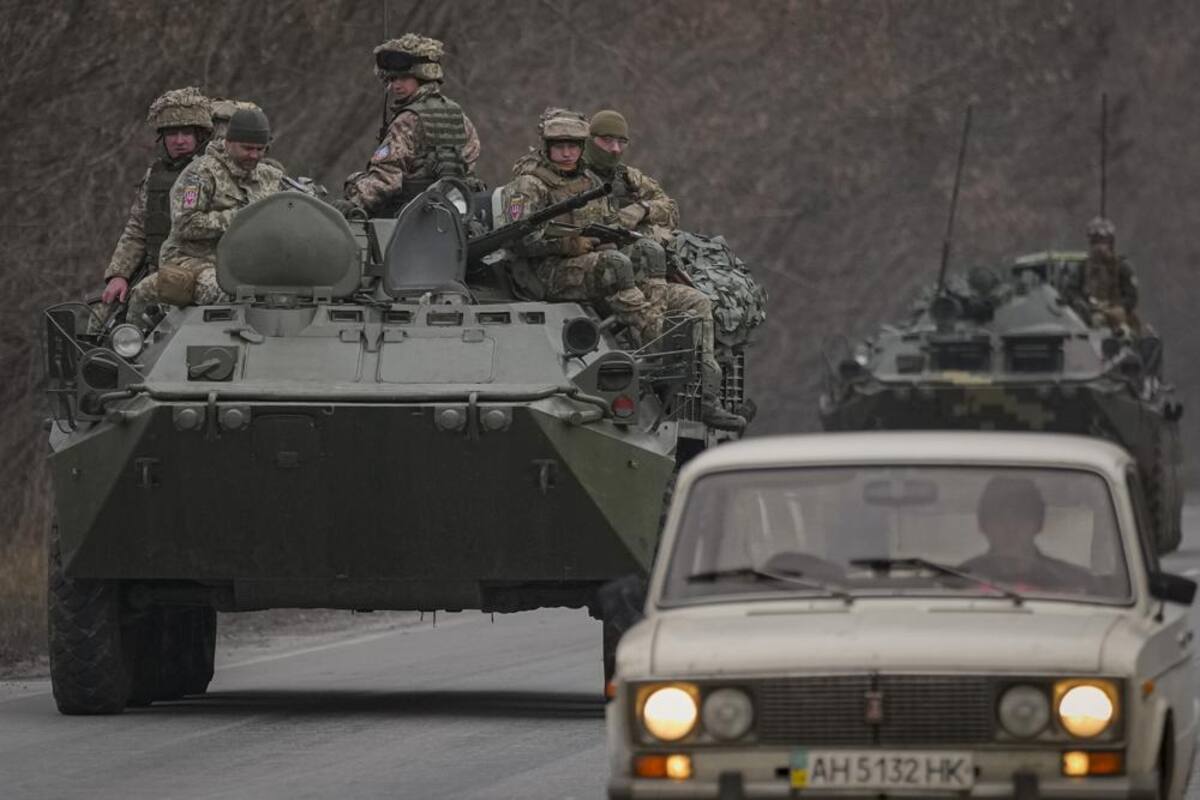 On February 25, Zelenskyy said that even though Russia was only targeting military sites, civilian sites were also being hit by the airstrikes.
Early Friday, Zelenskyy said that his intelligence services had identified him as Russia's top target. He said he would stay in Kyiv and stay in Ukraine. He said that by killing the head of state, they want to make Ukraine less politically stable.
U.S. officials told Zelenskyy to flee to a safe place in the early hours of February 26. They said they were ready to help him do so. They turned down the offer and stayed in Kyiv with Ukraine's defence forces, saying that "the fight is here [in Kyiv]. I need ammunition, not a ride." 
Zelinsky became famous worldwide as the leader of Ukraine during the Russian invasion. Historian Andrew Roberts likened him to Winston Churchill, and he has been called a national hero in Ukraine. He helped make the salute Slava Ukraini a symbol of resistance more popular again, making it more widespread.