India's recently launched Rs 100-lakh-crore infrastructure master plan,'Gati Shakti', digitisation and the 'Make in India' initiative were among the main topics discussed as Finance Minister Nirmala Sitharaman connected with the world's leading business officers at the Big Apple here on Saturday.
After the launch of the Rs.100 lakh crore master plan to notch up the infrastructure standards of the country, Finance Minister of India, Nirmala Sitharaman, paid a visit to New York on 15th October 2021 to get in touch with leading business tycoons from all over the world and discuss the initiative.
Other initiatives like 'Gati Shakti' Digitization and "Make in India" were present in the discussion. After she visited Washington DC, she successfully attended the Annual Meetings of the World Bank and The International Monetary Fund on Friday, 15th October.
Later on Saturday, 16th October, she met Mastercard Executive Chairman Ajay Banga and Mastercard CEO Michael Miabech. The Ministry of Finance tweeted, " The initiatives and progress #FinancialInclusion and #DigitalTransformation formed part of the discussion.
Later on this day, in her meeting with Raj Subramaniam, the President and Chief Operating Officer of FedEx Corporation, the recent National Infrastructure Master Plan "Gati Shakti" initiative, India's third-largest start-up ecosystem, and the unicorn base were addressed and were the highlights of the discussion.
PM Gati Shakti is meant to reduce logistic expenses, raise cargo handling capacity, and reduce the turnaround time, as announced by Prime Minister Modi on the day he launched the plan. This plan targets the assimilation of all the concerned departments for the project to be a successful execution with more speed and power for the expected accomplishments. According to this plan, all the Central and State Government initiatives related to infrastructure schemes must be planned, designed.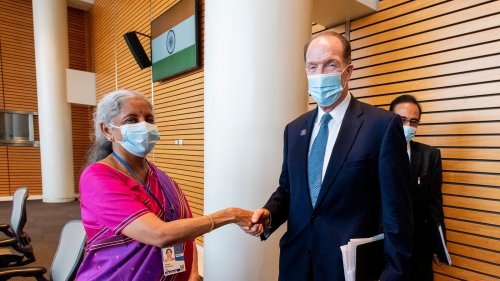 According to the tweet by The Ministry of Finance, in the meeting with Jane Fraser, CEO of Citigroup, the discussion was based on the bank company's "commitment towards #MakeinIndia and focus on #'Gati Shakti'digitization and Partnerships with #Fintechs towards #DigitalTransformation,"
Sitharaman conducted a meeting with IBM Chairman and CEO Arvind Krishna. The details of this meeting were tweeted by the Ministry and quoted as per, " IBM's interest in India in the areas of hybrid cloud , automation , 5Gg , cybersecurity , data , and Artificial Intelligence formed the part of the discussion."
On the very auspicious day of Dussehra, our Finance Minister Nirmala Sitharaman's venture shows blessings upon the post-pandemic economic conditions of our country. On her trip to New York, she successfully met with many business magnates, CEOs of leading companies, and various important people. She conducted roundtable meetings and discussed all possible economic issues and initiatives that could benefit the country financially.
Article Proof Read & Edited By Shreedatri Banerjee