Business
List of Top 5 Ethanol Producers in India
List of Top 5 Ethanol Producers in India
Even if invisible and not immediately apparent, many products have a significant impact on our lives. Ethanol is one such substance. We will all be exposed to this little-known poison from 2020 and will continue. Yes, many of us are unaware that hand sanitiser contains ethanol. Ethanol is a powerful weapon in the fight against Covid bacteria. For this reason, research on ethanol producers in India is fascinating. But first, let's take a closer look at what ethanol is in its basic form.

Ethanol is often used as a solvent or additive in manufacturing. It is used in the manufacture of plastics, varnishes, plasticizers, and other materials and cosmetics, pharmaceuticals, alcoholic beverages such as beer and wine. According to
experts, ethanol is a chemical belonging to a class of chemicals characterized by a hydroxyl group (OH) attached to a carbon atom in the molecule.

Ethanol is produced primarily in India as a by-product of the sugar industry and is used as a fuel. As a result, all major sugar producers in India are also India's top ethanol producers. As a result, most ethanol producers must be concentrated in sugarcane-growing countries. About half of the Indian sugar mills are in Uttar Pradesh, Maharashtra, Tamil Nadu, Karnataka, Andhra Pradesh and Bihar, with the other half in other states.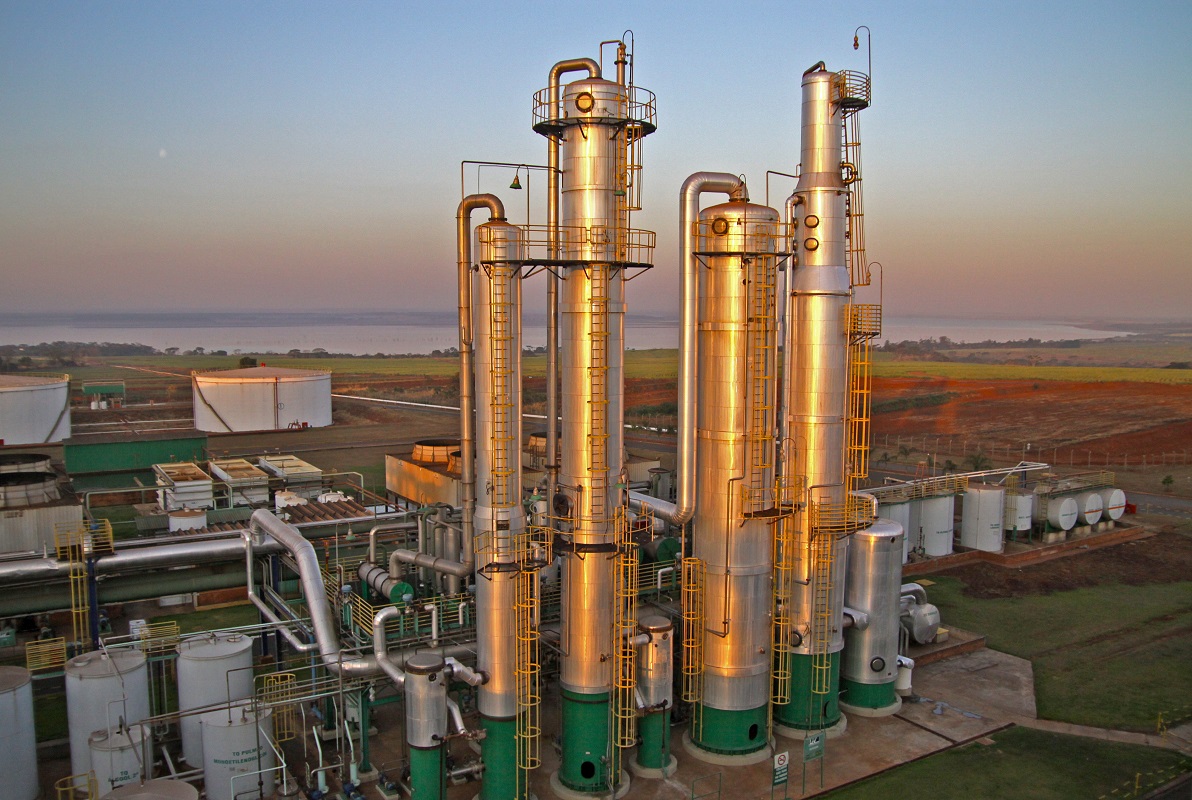 Ethanol producers use three feedstocks in India: corn, sugarcane, and wheat.
Sugar and Molasses Sweetener. Use of second-generation materials (biomass, agricultural waste, mixed grain).
Bajaj Hindusthan Limited is a grain company based in India. Bajaj Hindusthan Sugar Ltd (BHSL), India's largest sugar and ethanol producer, is headquartered in Mumbai. Founded in 1931, it is one of India's oldest and best-known sugar producers.
At the time of establishment, Golagokornath in the Lakhimpur district of Uttar Pradesh had a capacity of 400 tonnes/day (TCD) (tonne of canes per day). Today, the same cane crushing plant can handle 13,000 tonnes of cane in one shift, significantly increasing its previous production capacity.

According to historical records, in 1944, the Gogokarnanat Combine produced ethanol as a by-product. BHSL currently has a cane grinding capacity of 136,000 TCD and an ethanol distillation capacity of 800,000 litres per day, both of which are significant. Company's ethanol is produced in 14 sugar factories in Uttar Pradesh. During fiscal year 21, the facility increased its ethanol production by more than 50%. Business Horizon Co., Ltd. It's growing fast. With the government's current blended gasoline policy in mind, BHSL aims to become one of the world's largest ethanol producers. The company had sales of Rs 6,688 crore in the fiscal year 2019.

Banaras Hindustan Textiles Limited is a textile company headquartered in Banaras, India.
Balarampur Cini was founded in 1975. Large-scale sugar and ethanol production facility in Kolkata, India, employs many people. Currently, the sugar cane grinding capacity of the plant is 76,500 tons per day, and the ethanol distillation capacity is 520,000 litres per day, which is sufficient for the current demand.

Distilleries can be found in Balarampur, Manakapur and Gularia (all in Uttar Pradesh state). A new distillery with a capacity of 320,000 litres per day is under construction in Mayapur. In fiscal year 21, the company generated revenue of Rs 4,812 crore.

As a result of this strategy, the company plans to increase ethanol production from sugar-free molasses and sugar cane syrup and increase sugar cane syrup production.
It also contributes to the company's environmental strategy, which aims to minimize and neutralize its carbon footprint from its distillery.

Indian steel industry
Indian shoe manufacturer
Indian ceramic tile manufacturer
Dalmia Bharat Sugar and Industries Limited Dalmia Bharat Sugar and Industries Limited Dalmia Bharat Sugar and Industries Limited (DBSICL)

Ramgarh, Uttar Pradesh, sugar and ethanol production built in the same year The first factory for Since then, the company has increased its ethanol production capacity by making Greenfield facilities in Uttar Pradesh and Maharashtra, Jawaharpur, Nigohi and Kolhapur. Currently, the company has an ethanol distillation capacity that can purchase 305,000 litres per day (kiloliters per day).
The Dalmia Bharat Sugar molasses distillation process produces a variety of ethanol-based products used in various applications. Various products are available, including Refined Alcohol (RS), Extra Neutral Alcohol (ENA) and Tasting Triple Distilled Alcohol. Denatured alcohol used as a solvent in the chemical industry and absolute ethanol for gasoline are also mentioned in the Chemicals List.
The company operates in the sugar industry, with a total grinding capacity of 35,000 ft. A clear plan has been developed to reduce the company's environmental impact, and you have been financially rewarded for saving water and reducing emissions. The company's total revenue is expected to be 10 billion won and 270 billion in FY21.

SR Sugars Limited Shree Renuka Sugars is a global agricultural and bioenergy conglomerate operating in more than 100 countries. Each of these companies is one of the largest sugar and ethanol producers in the United States. The five factories in Karnataka are named Munoli, Atani, Hawalga, Gokak and Ratbag. The company's two factories in Maharashtra, called Ratnaprabha and Panchaganga, are located in Karnataka.

Sher Renuka is one of India's largest and most technologically advanced ethanol producers, with an annual grinding capacity of 35,000 tonnes and a distillation capacity of 930 kL/d. The company's main product is ethanol, used in the petroleum sector. The company expects a profit of 10 billion won—Rs, and five thousand one hundred sales in fiscal year 21.
Industries such as Triveni Engineering and Sugar are examples.
Triveni Sugar Corporation Ltd. was founded in 1932 as Ganga Sugar Corporation Ltd. quickly climbed the corporate ladder to become one of the nation's leading integrated sugar producers. The company's two plants in Muzaffarnagar and Sabitgarh, Uttar Pradesh, can produce a total of 320 kiloliters of ethanol per day.
The company hopes to start selling fuel in the same year after increasing its ethanol production capacity to 660,000 litres per day next year. Two other breweries are also in the planning stages. The company is a significant ethanol supplier to Indian oil companies for mixing with gasoline. The company's sales for fiscal year 21 were Rs 466.4 billion.

Capital Goods (also known as Capital Goods) There are two main processes in manufacturing products by ethanol producers in India: fermentation and distillation.
When ethylene and steam are combined and passed through an acid catalyst at high pressure and high temperature, this process is called ethylene hydrogenation.

Ethanol is produced by fermenting basic raw materials such as sugar cane and corn with yeast and then distilling them. The biological process by which ethanol is formed is called fermentation.

The following table shows the consumption trends of various ethanol products produced in India by ethanol producers. In conclusion, ethanol as a fuel additive is a piece of cake for Indian ethanol producers. Ethanol is currently added to gasoline by 8% due to high crude oil prices. Although it is a short-term goal, the government is actively raising it to around 20% (up to 1 litre) shortly.
Necessary legal support will enable ethanol producers in India to ramp up production quickly. But perhaps more importantly, these moves will help alleviate sugar overproduction in the industry.