The best iPhone lenses can improve the photographs taken by the most recent iPhone cameras. So, if you want to take your images to the next level or get a more vivid view of your preferred topic, several of the iPhone lenses listed below are worth considering.
Although the iPhone camera is excellent, you can maximize its photographic potential by attaching a secondary iPhone lens to achieve that professional DSLR-style snap. Sure, you could get a DSLR camera someday, but considering the connection and convenience of your iPhone, it is a far better alternative to consider. That means it's worthwhile to invest in the best iPhone lenses to take the most outstanding photos possible. There are now a variety of iPhone lens attachments available that you can connect to your smartphone, regardless of model, to improve your photographic talents while maintaining the ability to upload and share your photographs.
Here are some of the top iPhone lenses on the market, which you might want to consider purchasing based on the sort of photos you prefer to shoot.
Signi Pro 2 in 1 by SKYVIK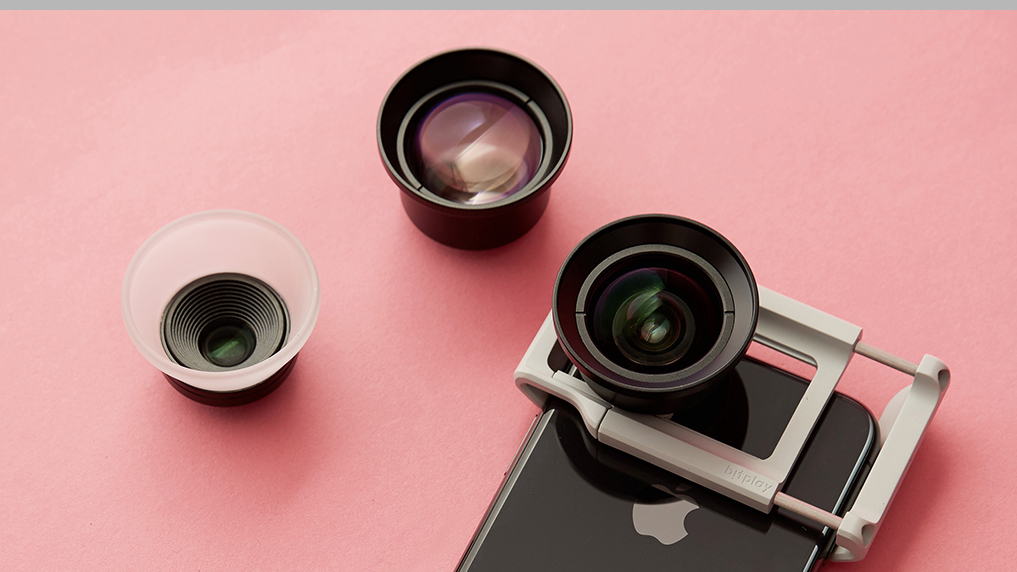 This SKYVIK Sign Pro lens kit includes a 0.45 x Wide Angle Lens and 15 x Macro Lens. You can record 45 percent more views without vignetting with this lens, and the laser-cut convex lens is ideal for both novices and professionals. The SIGNI lens is carved from aluminum alloy and covered with glass to eliminate reflections and light flares. The soft rubber clip on the removable clip protects your smartphone from scratches.
 To utilize a wide-angle lens, clip the Complete lens and the Macro lens to the clip, and you're good to go. To use a macro lens, rotate the macro lens anti-clockwise from the wide-angle lens, connect it to the pin, and you're good to go.
The Moment Wide Lens 
The photographs captured with the Moment Wide Lens are among the finest available from any camera lens. This comprehensive 18mm M-series lens for mobile photographers and filmmakers is an everyday, go-to wide-angle lens. Your phone can take 2x more photographs because of the cinema-quality glass and wide-angle design.
 The Wide 18mm lens is our most sophisticated lens yet, capturing gorgeous, sharp, and straight smartphone images and videos with no fisheye distortion.
Moment Anamorphic Lens 
For filmmakers, the Moment Anamorphic Lens is regarded as one of the most excellent iPhone lenses. It can be adjusted to hold your phone in landscape or portrait mode, and it can't be quickly jolted out of place because it's secured in place. The lens adds a broader theatrical effect to your smartphone recordings as well as stunning lens flares. It also aids in the creation of impressive videos.
 Moment lenses are definitely worth the money for smartphone photographers looking for high-quality photos and a well-designed mounting method. Large glass optics are used in these lenses, resulting in clear pictures with little to no distortion over the entire frame.
4-in-1 Photo Lens from Olloclip
The Olloclip 4-in-1 Lens are pocket-sized lenses with a patented design that operate on front and back-facing cameras, enabling you to play around with your selfies and photos. It moreover comes with three interchangeable pendants, since the best camera is the one that always has with you.
 The two macro lenses allow you to snap extreme closeups from a relatively short distance, such as a few millimeters. The asymmetrical construction of the lenses produces a better image with less distortion than some of its competitors.
RhinoShield 2 in 1 Camera Add-On Lens
The RhinoShield 2 in 1 Add-On Camera Lens is simple to install and uninstall from your iPhone, making it an excellent photographer choice. The professional 0.62 x 105 degrees Vast Angle lens is ideal for photographing broad areas and capturing travel vistas and landscapes. The Macro lens brings you four times closer to the subjects, allowing you to capture very detailed closeups.
 The RhinoShield 4K HD Wide + Macro lens is built to excellent standards, with little distortion and no dark corners. Each lens goes through a multi-layer coating process, resulting in immaculate photos at an affordable price.
Xeno Pro Lens Kit
For those seeking a universal set of capable picture enhancers, the Xenvo two-in-one lens kit is an ideal starting point. The package includes a Super Wide lens and a 15X Macro lens, and it attaches to your camera using a universal clip that works with any smartphone. Naturally, the image quality will fall short of Moment and other more costly options. Still, an inbuilt LED light expands closeup camerawork options, and both lenses are housed in a sturdy aluminum casing. The Xeno Pro Lens Kit is an attractive, risk-free entry-level solution for such a low price.
Apexel 36x Telephoto
 The Apexel 36x telephoto zoom lens is a monster. Not just in terms of appearance but also in terms of its capacity to turn your phone into a formidable long-range shooter. It also has a handy mini-tripod for steady pictures and a (though finicky) remote shutter for capturing images from afar. Although some consumers have complained about vignetting in their photographs, the Apexel 36x Telephoto is hard to surpass at such a low price.
iPhone 11 Pro ElitePack
The Olloclip iPhone 11 Pro ElitePack, admittedly, caters to a niche market, but it has some of the most remarkable camera technology for, you guessed it, the iPhone 11 Pro. A 2x telephoto lens and a lens that is two lenses in one: a 180-degree fisheye and a 15x Macro are included in the set to offer you extra reach. Sure, it's pricey, but Olloclip's lenses are industry-leading glass technology, and this is an investment worth making if you want to maximize the iPhone 11 Pro's already excellent camera capabilities.
Article Proofread and Edited by Shreedatri Banerjee