Stories
Coronavirus, Affects 199 Countries Around The World, 34,572 People Dead Due To The Pandemic
Coronavirus, which has spread to 199 countries around the world, is spreading like havoc. So far, 34 thousand 572 people have died due to the virus. More than seven lakhs are still infected. More than one lakh 51 thousand have been cured. In the US, 518 people died in 24 hours. The number of deaths in New York has exceeded one thousand. There are 7200 new cases of infection in 24 hours. With this, the number of infected cases has exceeded 59 thousand. This includes 33,768 cases in New York City only which is the most affected city in the country. 
The death toll around the world due to Coronavirus
America: 101 people died in California.
2,489 people have lost their lives in the US so far. More than one lakh 42 thousand people are infected here. In Los Angeles, 26 police and 6 fire department employees received coronavirus positive reports. All have isolated themselves. Los Angeles is a large city in California. There are 4,643 cases of coronavirus in the state. In this, 101 people have died.
Britain: 1,228 people have died from COVID-19
Britain's deputy chief medical officer Jenny Harries warned on Sunday that Corona was in the second phase in the country. A lockdown of 6 months can be imposed here. The UK government said that it will review the lockdown imposed on Monday for three weeks. Harris said- It will soon be known, what effect this lockdown had in UK on reducing the virus. So far 1,228 people have died of coronavirus in Britain. The number of infected here has been 19,522.
China: 31 new cases of infection
China's health official said on Monday – 31 new cases of coronavirus have been confirmed in the country. 30 of them are from outside the country. The National Health Comission said that four deaths occurred in Hubei province on Sunday, according to the commission. At the same time, the lockdown will continue in Wuhan city till 8 April. So far, 3304 people have died in China from Corona. The number of infected has reached 81470.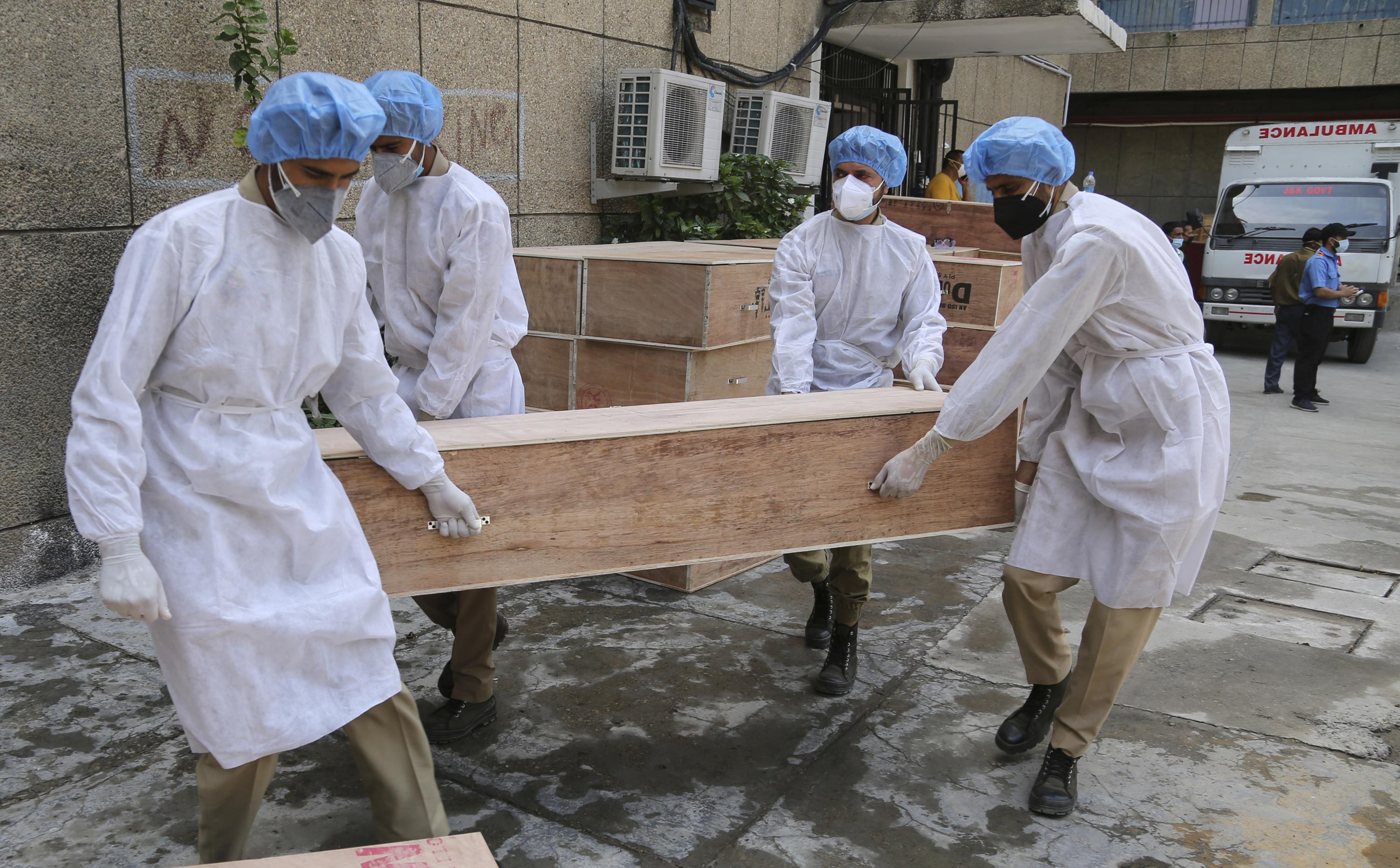 Italy: Lockdown may be extended
According to Italy's National Civil Protection Agency, 756 people have died in the country in 24 hours. With this, the death toll has gone up to 10,779. There have been more than 97 thousand cases of infection with the coronavirus in the country. Given the growing case of coronaviruses, the government may extend the lockdown deadline in the country. The lockdown was imposed in Italy from March 9 to April 3.
France: 292 people died on Sunday.
France's National Health Service said on Sunday that 292 people have died in the country in 24 hours. The death toll has reached 2,606. Earlier on Saturday, 319 people died. 40 thousand 174 people are still infected here.
Canada: PM Trudeau will still be in isolation
Canadian Prime Minister Justin Trudeau will remain in isolation even after wife Sophie Trudeau recovers from the coronavirus. His wife's recovery was reported on March 28. Sophie was found infected on 12 March. Trudeau has been in isolation since then. So far 65 people have died in Canada, while 6 thousand 320 are infected.
Spain: Number of dead 6,803
The lockdown has been tightened in Spain since Monday. To prevent the spread of coronavirus, everyone except medical and other essential employees has been barred from leaving their homes. The official order was not issued until late Sunday, so some institutions have been given a day off. So far, more than 80 thousand cases have been reported in the country and 6,803 people have died.
Pakistan: Karachi Lockdown

Karachi, Pakistan's largest city, has been locked down. There is silence all around the city. The government of Pakistan has claimed that 27% of the cases of infection from coronavirus in the country are due to local transmission. So far 1,625 cases of infection have been reported in Pakistan. 18 people have died. Special Assistant to Prime Minister Mr. Zafar Mirza said that 120 cases of infection have been reported in the last 24 hours. Sindh province has the highest number of 508 cases reported in Pakistan.
Nepal: Lockdown extended for a week
5 cases of infection with coronavirus have been reported in Nepal. According to Nepal Tourism Board data, a total of 1255 tourists have been evacuated from 19 places in the country amid the coronavirus epidemic. At the same time, the government has extended the lockdown in the country for a week on Sunday evening. The country will now have a lockdown till 7 April.
Iran: 123 people died in one day
Iran has temporarily released one lakh prisoners in the country till Sunday. 123 people have died in a day here. So far 2,901 people have died, while 38 thousand 309 people have been infected.
Japan: 70-year-old comedian Ken Shimura dies
Japan's comedian Ken Shimura died on Sunday night due to Corona. He was 70 years old. On March 17, he was admitted to the hospital on March 20 after showing symptoms of the corona. His report came out positive on 23 March. The Government of Japan is considering a complete ban on people coming from the US, China, South Korea, and most European countries. So far 1,866 cases of infection have been confirmed in Japan. At the same time, 54 people have died.
Russia: 1534 infected

Three such antiviral drugs have been made in Russia that may be helpful in treating corona. These have been prepared by researchers from the Russian Academy of Sciences. Their names are triazavirin, favipiravir, and fortepren. Triazavirin and favipiravir tests have been completed. Testing of Fortepren continues. This was informed by Vladimir Checkhonin, Vice President of the Academy's Biomedical Sciences Unit. Triazavirin was prepared only a few years ago, now Chinese scientists are investigating its effect on the corona. Along with this, the Academy has also prepared a special inhalant. So far 8 people have died in Russia and 1534 people are infected.
Bolivia: First death from Corona
Coronavirus killed a 78-year-old woman in Bolivia on Sunday. This is the first death due to the virus in the country. So far 81 cases have been reported here.
SEO optimisation-Pavitra