Stories
List of IFSC Code of JANA SMALL FINANCE BANK LTD for 2022
JANA SMALL FINANCE BANK LTD is a small finance bank headquartered in Bangalore, India, that began operations on March 28, 2018. The Reserve Bank of India granted the bank a licence under Section 22 (1) of the Banking Regulation Act, 1949. Janalakshmi Financial Services, India's largest microfinance institution before becoming a bank, was founded on July 24, 2006.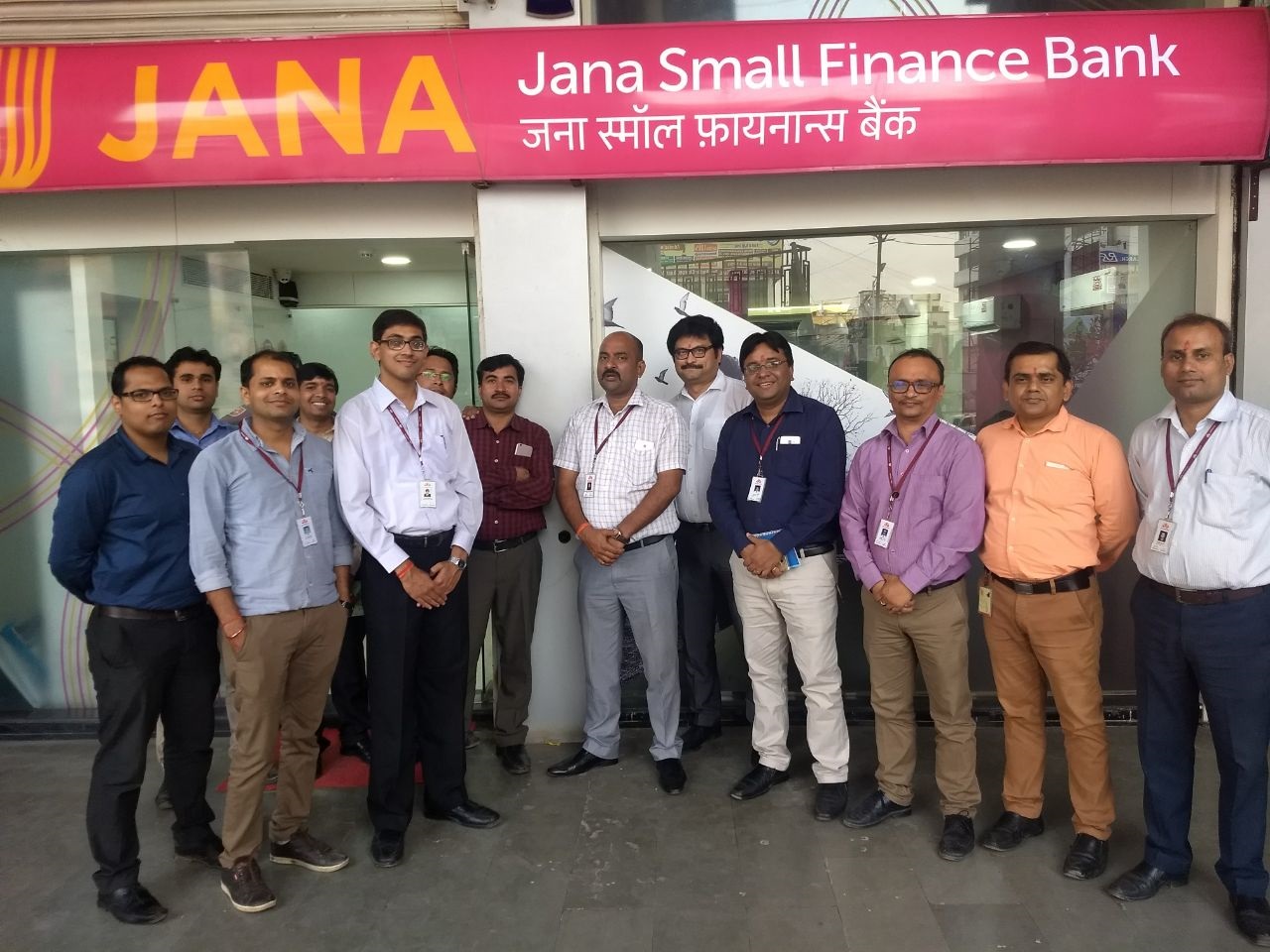 The company survived large losses as a microfinance lender following the 2016 Indian banknote demonetisation, reporting total losses of 2,504 crore (US$338 million) at the time of its conversion to a small finance bank. In November 2019, Jana reported that the September 2019 quarter was its first profitable quarter since demonetisation.
Original Website: https://www.janabank.com/
Customer Care: 080-46020100
Email id: [email protected]
Today, we present the IFSC Code of all JANA SMALL FINANCE BANK LTD.
IFSC CODE OF JANA SMALL FINANCE BANK LTD
| | | | | | | | | |
| --- | --- | --- | --- | --- | --- | --- | --- | --- |
| BANK | IFSC | BRANCH | ADDRESS | CITY1 | CITY2 | STATE | STD CODE | PHONE |
| JANA SMALL FINANCE BANK LTD | JSFB0CPC002 | CPC | DIVYASREE CHAMBERS 11,OSHAUGHNESSY ROAD,5TH FLOOR,A WING OFF LANGFORD ROAD, BENGALURU – 560 025 | BANGALORE | BANGALORE | KARNATAKA | | |
| JANA SMALL FINANCE BANK LTD | JSFB0362SSB | SREE BHYRAVESHWARA SAHAKARA BANK NIYAMITHA | S S Puram Main Road, Tumkur  – 572102 | TUMAKURU | TUMAKURU | KARNATAKA | 816 | 2278806 |
| JANA SMALL FINANCE BANK LTD | JSFB00TR001 | TREASURY | 5TH FLOOR, CEEJAY HOUSE, DR.ANNIE BESANT ROAD,MARKANDESHWAR NAGAR,SHIV SAGAR ESTATE,WORLI, MUMBAI-400018 | MUMBAI | UBI | MAHARASHTRA | | |
| JANA SMALL FINANCE BANK LTD | JSFB0006247 | HAMIDIA ROAD | SECOND FLOOR,S-1& 5-2,PLOT NO.8/1,SURBHI RAGHU PLAZA,HAMIDIYA ROAD BHOPAL-462001 | BHOPAL | BHOPAL | MADHYA PRADESH | | |
| JANA SMALL FINANCE BANK LTD | JSFB0006050 | BORIVALI JPC | GROUND FLOOR SHOP NO 1,2,&3,SHREE GOVIND APARTMENTS DATTAPADA SCHOOL ROAD BORIVALI,MUMBAI,400066,INDIA | GREATER MUMBAI | MUMBAI SUBURBAN | MAHARASHTRA | | |
| JANA SMALL FINANCE BANK LTD | JSFB0006043 | KOLKATA TWO SODEPUR | JANA SMALL FINANCE BANK LTD., GROUND FLOOR, BUILDING KNOWN AS NANANI APPARTMENT, 27, P N CHATTERJEE ROAD, WARD NO 22, P.S., KHARDAH PANIHATI MUNICIPALITY, KOLKATTA, 700110, INDIA | SODEPUR | BURDWAN | WEST BENGAL | | |
| JANA SMALL FINANCE BANK LTD | JSFB0005084 | RAMPURA | A/P RAMPURA, NEAR RAMPURA BUS STOP, MALEGAON, NASIK, 423206 | MALEGAON | NASIK | MAHARASHTRA | | |
| JANA SMALL FINANCE BANK LTD | JSFB0005015 | DAULATPUR | S/O SURESH SHARMA,UPHRAUL,VAISALI-844504 | VAISHALI | VAISHALI | BIHAR | | |
| JANA SMALL FINANCE BANK LTD | JSFB0005014 | DADUPUR | S/O RAMCHANDRA CHAUDHARY,O150,WARD NO 09,BACHHWARA,DADUPUR,BHAGWANPUR,BEGUSARAI-851111 | BEGUSARAI | BEGUSARAI | BIHAR | | |
| JANA SMALL FINANCE BANK LTD | JSFB0005013 | KUTUBPUR | S/O BRAJ BHUSAN SINGH,MIRPURJUARA,MIRPUR JUARA,SARAN-841216 | SARAN | SARAN | BIHAR | | |
| JANA SMALL FINANCE BANK LTD | JSFB0005012 | SABNIYAN | WARD NO-02,LUNKARANASAR,JAITPURA,BIKANER,RAJASTHAN | BIKANER | BIKANER | RAJASTHAN | | |
| JANA SMALL FINANCE BANK LTD | JSFB0005011 | JAMUNA | SUNDARGARH,JAMUNA,ODHISA-770014 | SUBDEGA | SUBDEGA | ODISHA | | |
| JANA SMALL FINANCE BANK LTD | JSFB0005010 | DIBYASINGHPUR | ABHAYAPUR,BIRAKESHARPUR,PURI,ODISHA-752020 | KANAS | PURI | ODISHA | | |
| JANA SMALL FINANCE BANK LTD | JSFB0005009 | PEMASAR | NARSING SAGAR ROAD,SARVODAY BASTI,VISHAL NAGAR,BIKANER,RAJASTHAN-334004 | BIKANER | BIKANER | RAJASTHAN | | |
| JANA SMALL FINANCE BANK LTD | JSFB0005008 | BIRAMSAR | BIKANER | BIKANER | BIKANER | RAJASTHAN | | |
| JANA SMALL FINANCE BANK LTD | JSFB0005007 | BAKRI | H-NO 419,KAZITOLA,CHOWK ARA POST,BHOJPUR DISTRICT,BIHAR-802301 | BHOJPUR | BHOJPUR | BIHAR | | |
| JANA SMALL FINANCE BANK LTD | JSFB0005006 | CHANDRASAN | VANKARVAS,PO VIROCHAN NAGAR,KADI,CHANDRASAN,GUJARAT-382170 | KADI | KADI | GUJARAT | | |
| JANA SMALL FINANCE BANK LTD | JSFB0005005 | CHADASNA | 37-B,MAHAMMADI PARK SOCIETY,OPP.C.N.ARTS COLLEGE,KADI,MAHESANA,GUJARAT-382715 | KADI | KADI | GUJARAT | | |
| JANA SMALL FINANCE BANK LTD | JSFB0005004 | SHELA | BELIM VAS,SHELA,AHMEDABAD,GUJARAT-380058 | SANAND | SANAND | GUJARAT | | |
| JANA SMALL FINANCE BANK LTD | JSFB0005003 | NANDOLI | 205,PANCHMUKHI ELIGANCE,KAMLAPARK SOCIETY,AUDA LAKE,BOPAL,DPS SCHOOL,BOPAL,AHMEDABAD | GANDHINAGAR | GANDHINAGAR | GUJARAT | | |
| JANA SMALL FINANCE BANK LTD | JSFB0005002 | ANKRIAPADAR | PO BUBEL,BOLANGIR,ODISHA-767002 | BOLANGIR | BOLANGIR | ODISHA | | |
| JANA SMALL FINANCE BANK LTD | JSFB0005001 | BAHALPADAR | BANDHANBAHALI THELKOMUNDA,BOLANGIR DISTRICT,ODHISA-767016 | PUITALA | PUITALA | ODISHA | | |
| JANA SMALL FINANCE BANK LTD | JSFB0004906 | BADABERENA | JANA SMALL FINANCE BANK,GRAM PANCHAYAT OFFICE,AT PO-BADABERENA,DIST KHORDHA,ODISHA 752061 | KHORDHA | KHORDHA | ODISHA | | 7.01E+09 |
| JANA SMALL FINANCE BANK LTD | JSFB0004905 | SINDHOLA | JANA SMALL FINANCE BANK,SINDOLA GRAMAPANCHAYAT OFFICE,PO SINDOLA,VIA TIHIDI,DIST BHADRAK,ODISHA 756130 | BHADRAK | BHADRAK | ODISHA | | 9.94E+09 |
| JANA SMALL' FINANCE BANK LTD | JSFB0004903 | CHANDANPUR | JANA SMALL FINANCE BANK,CHANDANPUR GRAMAPANCHAYAT OFFICE,PO KATARA CHANDAN PUR,VIA BANGRIPOSI,DIST MAYUR BHANJ 757032 | MAYUR BHANJ | MAYUR BHANJ | ODISHA | | 8.25E+09 |
| JANA SMALL' FINANCE BANK LTD | JSFB0004902 | LUHASILA | JANA SMALL FINANCE BANK,LUHASILA GRAMAPANCHAYAT,PO LUHASILA,VIA BIJATALA,MAYUR BHANJ,ODISHA 757048 | MAYUR BHANJ | MAYUR BHANJ | ODISHA | | 9.34E+09 |
| JANA SMALL' FINANCE BANK LTD | JSFB0004897 | BERKHEDI | JANA SMALL FINANCE BANK,HARIOM SAHU GOVIND SAHU,KHASRA NO 81 8,PH NO 5,BERKHEDI CHORAHA,SALAMATPUR BHOPAL STATE HIGHWAY,VILLAGE BERKHEDI,RAISEN DISTRICT,464651 | RAISEN | RAISEN | MADHYA PRADESH | | 9.02E+09 |
| JANA SMALL' FINANCE BANK LTD | JSFB0004896 | SARUGAA | JANA SMALL FINANCE BANK,GRAMYAPANCHAYAT OFFICE,SARUGAA,PO SARUGAA,VIA KHAIRA,D BALESORE,ODISHA 756049 | BALESORE | BALESORE | ODISHA | | 9.44E+09 |
| JANA SMALL' FINANCE BANK LTD | JSFB0004895 | DULAMPUR | JANA SMALL FINANCE BANK,NEAR RI OFIICE,AT DULAMPUR PO DULAMPUR,DIST BARGARH,ODISHA 768111 | BARGARH | BARGARH | ODISHA | | 9.44E+09 |
| JANA SMALL' FINANCE BANK LTD | JSFB0004894 | DHUMUCHAI | GRAM PANCHAYAT OFFICE DHUMCHAI,PO DHUMCHAI,DIST GANJAM,STATE ODISHA 761140 | GANJAM | GANJAM | ODISHA | | 8.92E+09 |
| JANA SMALL' FINANCE BANK LTD | JSFB0004893 | BARAGRAM | JANA SMALL FINANCE BANK,GRAM PANCHAYAT OFFICE BARAGAM,PO BD PUR,DIST GANJAM,STATEODISHA,PIN 761120 | GANJAM | GANJAM | ODISHA | | 8.64E+09 |
| JANA SMALL' FINANCE BANK LTD | JSFB0004892 | RABIGADIA | JANA SMALL FINANCE BANK,GRAM PANCHAYAT OFFICE RABIGADIA,PO KAIBALYAPUR,DIST NAYAGARH,ODISHA 752081 | NAYAGARH | NAYAGARH | ODISHA | | 7.98E+09 |
| JANA SMALL' FINANCE BANK LTD | JSFB0004889 | JITENDRA NAYAK | JANA SMALL FINANCE BANK,GRAM PANCHAYAT OFFICE,BADAJAMAPASI,PO-BADAJAMAPASI,VIA-GHATAGON,DIST-KENDUJHAR -758027,ODISHA | KENDUJHAR | KENDUJHAR | ODISHA | | |
| JANA SMALL' FINANCE BANK LTD | JSFB0004888 | LALIT KUMAR NAYAK | JANA SMALL FINANCE BANK,AYARA GRAM PANCHAYAT OFFICE,AT-AYARA,PO-SADEIPUR,PS DIST – JAGATSINGHPUR-754132,ODISHA | JAGATSINGHPUR | JAGATSINGHPUR | ODISHA | | |
| JANA SMALL' FINANCE BANK LTD | JSFB0004886 | MANOJ KUMBHAR | GRAMPANCHYAT OFFICE,BATHARLA,PO – BATHARLA,DIST-BALANGIR,ODISHA,PIN-767025 | BALANGIR | BALANGIR | ODISHA | | |
| JANA SMALL' FINANCE BANK LTD | JSFB0004885 | KUIKEDA | JANA SMALL FINANCE BANK,GRAMPANCHYAT OFFICE,KUIKEDA,PO KAMARLAJ,DIST BALANGIR,ODISHA 767032 | BALANGIR | BALANGIR | ODISHA | | 8.92E+09 |
| JANA SMALL' FINANCE BANK LTD | JSFB0004884 | BUROMAL | JANA SMALL FINANCE BANK,GRAMPANCHYAT OFFICE,BUROMAL,PO BICHHUBAHALI,DIST BALANGIR,ODISHA,PIN 767039 | BALANGIR | BALANGIR | ODISHA | | 9.94E+09 |
| JANA SMALL' FINANCE BANK LTD | JSFB0004883 | GUNGARAMALE | JANA SMALL FINANCE BANK,C/O MR NANDISHAGOWDA G T S O LATE THUPEGOWDA 113 RESIDING AT GUNGARAMALE VILLAGE,GUNGARAMALE POST,TIPTURU TALUK,TUMKUR 572224 | TUMKUR | TUMKUR | KARNATAKA | | 9.96E+09 |
| JANA SMALL' FINANCE BANK LTD | JSFB0004882 | SENJERI | JANA SMALL FINANCE BANK LTD,SURVEY NO 15 7,THURAIYUR MAIN ROAD,SENJERI,SH-142,PERAMBALUR(DIST),TAMILNADU 621107 | PERAMBALUR | PERAMBALUR | TAMIL NADU | | 7.82E+09 |
| JANA SMALL' FINANCE BANK LTD | JSFB0004881 | MEMATHUR | JANA SMALL FINANCE BANK LTD,DOOR NO 3 614,MAIN ROAD,KANDIYAN KADALI,MEMATHUR,THARANGAMBADI(T K),NAGA-PATTINAM(DIST ) TAMILNADU 609309 | NAGAPATTINAM | NAGAPATTINAM | TAMIL NADU | | 7.82E+09 |
| JANA SMALL' FINANCE BANK LTD | JSFB0004880 | BADABHUIN | JANA SMALL FINANCE BANK,BADABHUIN GRAM PANCHAYAT PONARSINGHPUR,PS/BLOCK NARSINGHPUR,DIST CUTTACK 754032 | CUTTACK | CUTTACK | ODISHA | | 8.64E+09 |
| JANA SMALL' FINANCE BANK LTD | JSFB0004878 | GNYAN RANJAN ROUT | DHARINA GRAM PANCHAYAT,PO-JASAPADA,PS BLOCK-CUTTACK,DIST-CUTTACK-754130 | CUTTACK | CUTTACK | ODISHA | | |
| JANA SMALL' FINANCE BANK LTD | JSFB0004877 | KANSINGHA | KANSINGHA GRAM PANCHAYAT,PO KANSINGHA,VIA PADAMPUR,PS BLOCK PADAMPUR,DIST BARGARH,ODISHA 768036 | BARGARH | BARGARH | ODISHA | | 7.01E+09 |
| JANA SMALL' FINANCE BANK LTD | JSFB0004875 | WILLIAM KAJUR | JANA SMALL FINANCE BANK,PO SAGARA GP OFFICE,SAGARA,BLOCK BAMRA,DIST SAMBALPUR-768224,ODISHA | SAMBALPUR | SAMBALPUR | ODISHA | | |
| JANA SMALL' FINANCE BANK LTD | JSFB0004872 | GHODACH | JANA SMALL FINANCE BANK LTD,NEAR GHODACH POST OFFICE,PANCHAYAT GHODACH,TEH NATHDWARA,DISTT RAJSAMAD,RAJASTHAN 313011 | RAJSAMAD | RAJSAMAD | RAJASTHAN | | 7.01E+09 |
| JANA SMALL' FINANCE BANK LTD | JSFB0004871 | NIMODIYA | JANA SMALL FINANCE BANK,OLD PANCHAYAT BHAWAN,ADJOINING NEW PANCHAYAT BHAWAN,VILLAGE NIMODIYA,TEHSIL CHAKSU,DISTT JAIPUR,RAJASTHAN 303901 | JAIPUR | JAIPUR | RAJASTHAN | | 9.06E+09 |
| JANA SMALL' FINANCE BANK LTD | JSFB0004870 | GARADIYA | JANA SMALL FINANCE BANK,MOJE GARADIYA,KHATA NO 287,PO GADA,GARADIYA,TALUKA SANTRAMPUR,DISTRICT MAHISAGAR,389260 | MAHISAGAR | MAHISAGAR | GUJARAT | | 8.14E+09 |
| JANA SMALL' FINANCE BANK LTD | JSFB0004869 | TILIA | GP OFFICE TILIA,LAKHANPUR BLOCK,JHARSUGUDA DIST,PIN 768234 | TILIA | TILIA | ODISHA | | |
| JANA SMALL' FINANCE BANK LTD | JSFB0004868 | SALAPADA | AT/PO-SALAPADA,VIA-BADACHANA,DIST-JAJAPUR,PIN-754082 | SALAPADA | SALAPADA | ODISHA | | |
| JANA SMALL' FINANCE BANK LTD | JSFB0004867 | BHATAPADA | AT-BHATAPADA,POST-CHANDABALI,DIST-BHADRAK,PIN-756133 | BHATAPADA | BHATAPADA | ODISHA | | |
| JANA SMALL' FINANCE BANK LTD | JSFB0004866 | ANJIO | AT-/PO-ANIJO,VIA-B T PUR,DIST-AGARAPADA,DIST-BHADRAK,PIN-756115 | ANJIO | ANJIO | ODISHA | | |
| JANA SMALL' FINANCE BANK LTD | JSFB0004865 | RAJGHARAPOKHARI | AT-RAJGHARAPOKHARI,PO-RAJGHARAPOKHARI,VIA-BASUDEV PUR,DIST-BHADRAK,PIN-756131 | RAJGHARAPOKHARI | RAJGHARAPOKHARI | ODISHA | | |
| JANA SMALL' FINANCE BANK LTD | JSFB0004864 | JATESINGA | GRAM PANCHAYAT OFFICE JATESINGA,PO-JATESINGA,DIST-SONEPUR,PIN-767018 | JATESINGA | JATESINGA | ODISHA | | |
| JANA SMALL' FINANCE BANK LTD | JSFB0004863 | SINDOL | GRAM PANCHAYAT OFFICE SINDOL,PO-SINDOL,DIST-SONEPUR,PIN-767062 | SINDOL | SINDOL | ODISHA | | |
| JANA SMALL' FINANCE BANK LTD | JSFB0004862 | KALINGA | GRAM PANCHAYAT OFFICE KALINGA,PO-KALINGA,DIST-KANDHAMAL,PIN-762022 | KALINGA | KALINGA | ODISHA | | |
| JANA SMALL' FINANCE BANK LTD | JSFB0004861 | SAGOLA | AT-PURUNAHAT PANCHAYAT OFFICE,PO-PURUNAHAT,PS – KISHANNAGAR,DIST-CUTTACK-754131 | SAGOLA | SAGOLA | ODISHA | | |
| JANA SMALL' FINANCE BANK LTD | JSFB0004860 | DAMAL | AT – DAMOL PANCHAYAT OFFICE,PO – DAMOL,PS-PARJANG,DIST-DHENKANAL-759120 | DAMAL | DAMAL | ODISHA | | |
| JANA SMALL' FINANCE BANK LTD | JSFB0004859 | MANIKAMARA | AT-MANIKAMARA PANCHAYAT OFFICE,VIA-SARANG,PS – PARJANG,DIST-DHENKANAL-759146 | MANIKAMARA | MANIKAMARA | ODISHA | | |
| JANA SMALL' FINANCE BANK LTD | JSFB0004858 | KALURIA | AT – KALURIAPATANA GRAM PANCHAYAT,PO-KALURIA,VIA-MAHIMAGADI,DIST-DHENKANAL-759014 | KALURIA | KALURIA | ODISHA | | |
| JANA SMALL' FINANCE BANK LTD | JSFB0004857 | BAINSIA | AT – BAINSIA GRAM PANCHAYAT,PO – BAINSIA,VIA-MAHIMAGADI,PS/BLOCK-GONDIA,DIST-DHENKANAL-759014 | BAINSIA | BAINSIA | ODISHA | | |
| JANA SMALL' FINANCE BANK LTD | JSFB0004855 | SALEPALI | GRAM PANCHAYAT OFFICE,SAMLEICHUAN,PO-SAMLEICHUAN,DIST-SONEPUR,PIN-767023 | RAMPUR | OEU UU | ODISHA | | 7.01E+09 |
| JANA SMALL' FINANCE BANK LTD | JSFB0004854 | PETUPALI | GRAM PANCHAYAT OFFICE,PETUPALI,PO-GHESS,DIST-BARGARH,ODISHA,PIN-768034 | MELCHHAMUNDA | BARGARH | ODISHA | | 8.26E+09 |
| JANA SMALL' FINANCE BANK LTD | JSFB0004853 | HARADKHOL | GRAM PANCHAYAT OFFICE,HARADOKHOL,PO-BAIDYANATH,DIST-SONEPUR,PIN-767017 | SONAPUR | OEU UU | ODISHA | | 9.78E+09 |
| JANA SMALL' FINANCE BANK LTD | JSFB0004852 | SARGAJ | GRAM PANCHAYAT OFFICE,SARGAJ,PO-SARGAJ,DIST-SONEPUR,PIN-767016 | TARBHA | OEU UU | ODISHA | | 9.56E+09 |
| JANA SMALL' FINANCE BANK LTD | JSFB0004851 | THAKPALI | GRAM PANCHAYAT OFFICE THAKAPALI,PO-GANDAMER,DIST-NUAPADA,PIN-766106 | NAUPADA | NAUPADA | ODISHA | | |
| JANA SMALL' FINANCE BANK LTD | JSFB0004849 | CHHAMUNDIA | GRAM PANCHAYAT OFFICE CHAMUNDIA,DIST-NAYAGARH,PIN-752085 | GANIA | NAYAGARH | ODISHA | | 7.74E+09 |
| JANA SMALL' FINANCE BANK LTD | JSFB0004848 | NASIGAON | GRAM PANCHAYAT OFFICE NASIGAON,PO-PASTIKUDI,DIST-KALAHANDI,PIN-766011 | KALAHANDI | KALAHANDI | ODISHA | | |
| JANA SMALL' FINANCE BANK LTD | JSFB0004847 | KANKHINDA | GRAM PANCHYAT OFFICE,KANKHINDA,BLOCK DHAKAUDA,DIST SAMBALPUR PIN 768200 | SAMBALPUR | SAMBALPUR | ODISHA | | |
| JANA SMALL' FINANCE BANK LTD | JSFB0004846 | DAKARA | PANCHAYAT OFFICE,DAKARA,BLOCK MANESWAR,DIST SAMBALPUR,ODISHA,768113 | DHAMA | SAMBALPUR | ODISHA | | 7.44E+09 |
| JANA SMALL' FINANCE BANK LTD | JSFB0004845 | BHAGIPUR DOMPADA | AT – BHAGIPUR GRAM PANCHAYAT,PO-BAMARA,PS – BANKI,BLOCK – DOMPADA,DIST.- CUTTACK-754006 | BANKI | CUTTACK | ODISHA | | 7.06E+09 |
| JANA SMALL' FINANCE BANK LTD | JSFB0004844 | KANKALU HINDOL | AT – NUAGAON GRAM PANCHAYAT,PO – KANKALU,PS – KANTABANIA,VIA – MERAMUNDALI,DIST.- DHENKANAL – 759121 | BHUSAN STEEL LIMITED | DHENKANAL | ODISHA | | 9.66E+09 |
| JANA SMALL' FINANCE BANK LTD | JSFB0004843 | BAIKALA | AT-BAIKALA,PO-BAIKALA,VIA-KARANJIA,DIST-MAYURBHANJA,PIN-758045 | TURUMUNGA | KENDUJHAR | ODISHA | | 8.25E+09 |
| JANA SMALL' FINANCE BANK LTD | JSFB0004842 | SADHA | AT-SADHA,PO-SADHA,VIA-HATADHI,DIST – KENDUJHAR,PIN-758023 | SOSO | KENDUJHAR | ODISHA | | 9.86E+09 |
| JANA SMALL' FINANCE BANK LTD | JSFB0004841 | KHUDIA MAJHI SAHI K M SAHI | AT – KM SAHI,POST-RAIBANIA,VIA-JALESWAR,DIST-BALESORE,PIN-756033 | RAIBANIA | BALESHWAR | ODISHA | | 9.51E+09 |
| JANA SMALL' FINANCE BANK LTD | JSFB0004840 | JASHIPUR | AT-JASHIPUR,PO-SARODA JASHIPUR VIA-BAHALADA,DIST-MAYURBHANJA,PIN-757054 | TIRING | MAYURBHANJ | ODISHA | | 9.87E+09 |
| JANA SMALL' FINANCE BANK LTD | JSFB0004839 | LABANYDEIPUR | AT-LABANYADEIPUR,PO-KATURIA,VIA-KAPTIPADA DIST-MAYURBHANJA,PIN-757079 | SHARATA | MAYURBHANJ | ODISHA | | 7.06E+09 |
| JANA SMALL' FINANCE BANK LTD | JSFB0004838 | NARENDRAPUR | JANA SMALL FINANCE BANK 1 ST FLOOR RAMAKRISHNA MISSON ASHRAMA NARENDRAPUR,RAJPUR SONARPUR,WEST BENGAL 700103 | NARENDRAPUR | KOLKATA | WEST BENGAL | | |
| JANA SMALL' FINANCE BANK LTD | JSFB0004837 | HALOL | JANA SMALL FINANCE BANK PLOT NO.208,1ST FLOOR,ABOVE IDBI BANK,MOUJE VITTHALPURA,TALUKA HALOL,DISTRICT PANCHMAHAL,GUJARAT,PIN CODE -389350 | HALOL | PANCH MAHALS | GUJARAT | | |
| JANA SMALL' FINANCE BANK LTD | JSFB0004836 | VADALI | JANA SMALL FINANCE BANK GROUND FLOOR,SHOP NO.3,PLOT NO.1,GALAXY – 2 COMPLEX,NEAR SABARKANTHA BANK,RAILWAY STATION ROAD,MOUJE VADALI,TAL.VADALI,DIST.SABARKANTHA,PIN CODE -383235 | VADALI | SABARKANTHA | GUJARAT | | |
| JANA SMALL' FINANCE BANK LTD | JSFB0004835 | LIMKHEDA | JANA SMALL FINANCE BANK GROUND FLOOR,OPP PRAGATI GIRLS HR SECONDARY SCHOOL,ZALOD ROAD,LIMKHEDA,PIN CODE -389140 | LIMKHEDA | DAHOD | GUJARAT | | |
| JANA SMALL' FINANCE BANK LTD | JSFB0004834 | BAYAD | JANA SMALL FINANCE BANK GROUND FLOOR,JANMANGAL COMPLEX,SHOP NO.4,5,6,OPP.RELIANCE PETROL PUMP,BAYAD,PIN CODE 383325 | BAYAD | SABARKANTHA | GUJARAT | | |
| JANA SMALL' FINANCE BANK LTD | JSFB0004833 | AGARTALA | AASMALLFIACEBAKHOLDIGNO391,DHIREDRAKUTIRGROUDFLOORNETAJICHOWMOHI,MATRIBARIROADEXTAGARTALA | WEST TRIPURA | WEST TRIPURA | TRIPURA | 799001 | 9.07E+09 |
| JANA SMALL' FINANCE BANK LTD | JSFB0004832 | SHILLONG | GROUND FLOOR,RPG COMPLEX,KEATING ROAD,SHILLONG 793001,MEGHALAYA | EAST KHASI HILLS | EAST KHASI HILLS | MEGHALAYA | | |
| JANA SMALL' FINANCE BANK LTD | JSFB0004831 | ABOHAR | JANA SMALL FINANCE BANK GROUND FLOOR,KHASRA NO2065,MUNICIPAL NO -A-9,237,237/01,237/02,237/03,237/04& 237/05,LAJPAT NAGAR,ABOHAR,DIST FAZILKA-152116 | FAZILKA | FAZILKA | PUNJAB | | 7.03E+09 |
| JANA SMALL' FINANCE BANK LTD | JSFB0004830 | ROPAR | JANA SMALL FINANCE BANK GROUND FLOOR,KHASRA NO.46/24/1,NATIONAL INSURANCE BUILDING,NANGAL CHOWK,ROPAR,PUNJAB 140001 | RUPNAGAR | RUPNAGAR | PUNJAB | | 7.31E+09 |
| JANA SMALL' FINANCE BANK LTD | JSFB0004829 | JIND | JANA SMALL FINANCE BANK PLOT NO 206,SEC DSC,URBAN ESTATE,JIND,HARYANA – 126101 | JIND | JIND | HARYANA | | 9.03E+09 |
| JANA SMALL' FINANCE BANK LTD | JSFB0004828 | KAITHAL | JANA SMALL FINANCE BANK GROUND FLOOR,1369 C / 11,AMBALA ROAD,C/O DEEP PALACE,WARD NO 15,MODEL TOWN KAITHAL,HARYANA-136027 | KAITHAL | KAITHAL | HARYANA | | 7.03E+09 |
| JANA SMALL' FINANCE BANK LTD | JSFB0004827 | BORABHATTA | GRAMAPANCHAYAT OFFICE,BORABHATA,DIST-KALAHANDI-766036 | BHAWANIPATNA | BHAWANIPATNA | ODISHA | | |
| JANA SMALL' FINANCE BANK LTD | JSFB0004826 | ORABARSINGH | RAJIV GANDHI SEVA SADAN,ORABARASINGH,AT/PO-RAYPUR,JANKIA,DIST-KHORDA-752020 | KHURDA | KHURDA | ODISHA | | |
| JANA SMALL' FINANCE BANK LTD | JSFB0004825 | GADABANDHOGODA | GRAMAPANCHAYAT OFFICE,GODABANDHAGODA,THANA-RAMACHANDRAPUR,PO-GODABANDHAGODA,DIST-KEONJHAR-758043 | KEONJHAR | KEONJHAR | ODISHA | | |
| JANA SMALL' FINANCE BANK LTD | JSFB0004824 | SRIPURUSOTTAMPUR | RAJIV GANDHI SEVA SADAN,SRIPURSHOTTAMPUR,DELANGA,PURI-752016 | PURI | PURI | ODISHA | | |
| JANA SMALL' FINANCE BANK LTD | JSFB0004823 | NATUGAON | GRAMAPANCHAYAT OFFICE,NATUGAON,PO-CHAMPATIPUR,DIST-NAYAGARH-752068 | NAYAGARH | NAYAGARH | ODISHA | | |
| JANA SMALL' FINANCE BANK LTD | JSFB0004805 | Ramnagar | No.19 34, No.117┬á Shasthri Road, Ram Nagar, Coimbatore,Tamilnadu – 641009 | Coimbatore | Coimbatore | TAMIL NADU | | |
| JANA SMALL' FINANCE BANK LTD | JSFB0004804 | T Nagar | No.28/36,South West Boag road,T.Nagar,Chennai-600017 | Chennai | Chennai | TAMIL NADU | | |
| JANA SMALL' FINANCE BANK LTD | JSFB0004800 | Banashankari | #571,sy.no.17,situated at katriguppe layout,30th main road,Near devegowda petrol bunk,Banshankari 3rd stage,Next to south indian bank,Banashankari,Bangalore-560085 | Bangalore | Bangalore | KARNATAKA | | |
| JANA SMALL' FINANCE BANK LTD | JSFB0004798 | Shimli | H.NO.117, VILLAGE SHIMLI, TEHSIL ROHTAK, DISTRICT ROHTAK, HARYANA, 124001 | Rohtak | Rohtak | HARYANA | | |
| JANA SMALL' FINANCE BANK LTD | JSFB0004797 | Humayunpur | House No. 351, Village Humayunpur, Tehsil and District: Rohtak,Haryana, 124406 | Rohtak | Rohtak | HARYANA | | |
| JANA SMALL' FINANCE BANK LTD | JSFB0004796 | Kamalpur | House No. 56, Village: Kamalpur, PO. Mundanwas, Tehsil: Bawal and District: Rewari, Haryana. 123501 | Rohtak | Rewari | HARYANA | | |
| JANA SMALL' FINANCE BANK LTD | JSFB0004795 | Gothara Tappa Khori | MR. RAMCHANDRA, No. 127,  VPO Village Gothra Tappakhori,Rewari Haryana, 123101 | Rewari | Rewari | HARYANA | | |
| JANA SMALL' FINANCE BANK LTD | JSFB0004794 | Baliar Kalan | House No. 21, Village: Baliyar Kalan, PO. Sheoraj Majra, Tehsil and District: Rewari, Haryana. 123401 | Rewari | Rewari | HARYANA | | |
| JANA SMALL' FINANCE BANK LTD | JSFB0004793 | UTTAM NAGAR | FIRST FLOOR,PROPERTY NO.C-3,HASTSAL VILLAGE,MILAP NAGAR COLONY,NEW DELHI,110059,INDIA | NEW DELHI | DELHI | DELHI | | |
| JANA SMALL' FINANCE BANK LTD | JSFB0004792 | BHADRAK | GROUND& 1ST FLOOR,BISWAL SALES CORPORATION,BEARING PLOT NO.1221,1222,3057,1232,2592,CHAPULIA BYPASS,OPP.FEDERAL BANK,TAHSIL,BHADRAK756101 | BHADRAK | BHADRAK | ODISHA | | |
| JANA SMALL' FINANCE BANK LTD | JSFB0004791 | YAMUNANAGAR | GROUND FLOOR,SCO 188-189,SECTOR – 17,HUDA,TEHSIL -JAGADHRI,YAMUNA NAGAR,HARYANA135003 | YAMUNANAGAR | YAMUNANAGAR | HARYANA | | |
| JANA SMALL' FINANCE BANK LTD | JSFB0004789 | MAJITHA ROAD | GROUND FLOOR PROPERTY NO 1 SSSS CHOWK,MAJITHA ROAD,AMRITSAR,143001 | AMRITSAR | AMRITSAR | PUNJAB | | |
| JANA SMALL' FINANCE BANK LTD | JSFB0004786 | Gaya | Gayatri  Complex, Laheria Tola, Laheria  Tola Road,P.S :- Kotwali Thana, Distt. Gaya -823001( Bihar) | Gaya | Gaya | BIHAR | | |
| JANA SMALL' FINANCE BANK LTD | JSFB0004785 | RANCHI | TDGSFVASMSGDKDC-3(JD) | RANCHI | ACI | JHARKHAND | | |
| JANA SMALL' FINANCE BANK LTD | JSFB0004784 | JORHAT | CRYSTAL S.R.PLAZA,1ST FLOOR,NEAR ELEYE CINEMA HALL,GAR-ALI ROAD,JORHAT,ASSAM,PIN – 785001 | JORHAT | JORHAT | ASSAM | | |
| JANA SMALL' FINANCE BANK LTD | JSFB0004783 | Jaynagar Mazilpur | Jaynagar Mazilpur Municipality, Jaynagar Mazilpur, West Bengal, PIN- 743337 | Joynagar | South 24 Parganas | WEST BENGAL | | |
| JANA SMALL' FINANCE BANK LTD | JSFB0004782 | Tamluk | Holding No. 474, Vill. Salgechia, P.O. and P.S. Tamluk, Dist. Purba Midnapore, West Bengal, PIN- 721636 | Tamluk | Purba Medinipur | WEST BENGAL | | |
| JANA SMALL' FINANCE BANK LTD | JSFB0004781 | Bagnan | COSMO BAZAR, Bagnan Station Road, Bagnan, West Bengal, PIN- 711303 | Howrah | Haora | WEST BENGAL | | |
| JANA SMALL' FINANCE BANK LTD | JSFB0004780 | Anna Nagar | Priyox Apts,Q block  plot no. 104,3rd Avenue, Anna Nagar, Opp to HDFC Bank Chennai-600040 | Chennai | Chennai | TAMIL NADU | | |
| JANA SMALL' FINANCE BANK LTD | JSFB0004775 | Labhara Kalan | House of Digendra Kumar Giri, Labhra Kala, P.O. Tusada, Dist. Mahasamund, Chhattisgarh, Pin- 493445 | DHAMTARI | Mahasamund | CHHATTISGARH | | |
| JANA SMALL' FINANCE BANK LTD | JSFB0004772 | Kendujhar | Ground Floor, Market Place, NH-49,Near Bank of Baroda,Sirajudin Chowk,Keonjhar,Odisha | Keonjhar | Keonjhar | ODISHA | | |
| JANA SMALL' FINANCE BANK LTD | JSFB0004763 | Powai | G001, A-104, 105 AND 106, Cypress CHS. LTD, Centeral Avenue Road, Powai, Hiranandani Gardens, Mumbai – 400 076 | Mumbai | Mumbai | MAHARASHTRA | | |
| JANA SMALL' FINANCE BANK LTD | JSFB0004762 | GANGTOK | GROUND& 1ST FLOOR,CENTRAL HOTEL,N.H.WAY,GANGTOK-737101 | GANGTOK | GANGTOK | SIKKIM | | |
| JANA SMALL' FINANCE BANK LTD | JSFB0004761 | Kalyan | ShopNo.A-1B,GroundANDMezzanineFloor,Charm Star,BailBazaar,NearForties,Kalyan(W)-421301 | Mumbai | Mumbai | MAHARASHTRA | | |
| JANA SMALL' FINANCE BANK LTD | JSFB0004760 | Chembur | Ground and First Floor, Parijat Building, Atur Park, Sion Trombay Road, Chembur East – 400 071 | Mumbai | Mumbai | MAHARASHTRA | | |
| JANA SMALL' FINANCE BANK LTD | JSFB0004759 | Andheri East | Shop No. 6, Ground Floor, Hubtown Sunmist, N. S. Phadake Marg, Opp Telli Gali, Andheri East, Mumbai – 400 069 | Mumbai | Mumbai | MAHARASHTRA | | |
| JANA SMALL' FINANCE BANK LTD | JSFB0004757 | Lokhandwala | Unit No. 1, 2 AND 104 , Ground AND First Floor, Raj Griha Co-Op Hsg Society, Lokhandwala, Andheri, Mumbai – 400 053 | Mumbai | Mumbai | MAHARASHTRA | | |
| JANA SMALL' FINANCE BANK LTD | JSFB0004755 | BehramjiTown | SKTower,GroundFloor,NexttoAxisBank,ByramjiTown,Nagpur-440013 | Nagpur | Nagpur | MAHARASHTRA | | |
| JANA SMALL' FINANCE BANK LTD | JSFB0004754 | Sohna Road | Shop no. 11 AND 12 AND 12 A , Park View Business Towers, Sohna Road, Gurgaon ,Haryana – 122001 | Gurgaon | Gurgaon | HARYANA | | |
| JANA SMALL' FINANCE BANK LTD | JSFB0004753 | RAJOURI GARDEN | PROPERTY BEARING NO.A-61,GROUND FLOOR,SITUATED AT RAJOURI GARDEN NEW DELHI-110027 | NEW DELHI | DELHI | DELHI | | |
| JANA SMALL' FINANCE BANK LTD | JSFB0004752 | Malad | Ground and First Floor, Ninnad, Link Road, Malad West, Mumbai – 400 064 | Mumbai | Mumbai | MAHARASHTRA | | |
| JANA SMALL' FINANCE BANK LTD | JSFB0004751 | HSR layout | #140L,HSR Layout ,5th Main, 6th Sector, Bangalore -560034 | Bangalore | Bangalore | KARNATAKA | | |
| JANA SMALL' FINANCE BANK LTD | JSFB0004748 | Hyderabad | H.No 6-3-200/B/6, Banjara Hills Road No.1, Hyderabad – 500034 | Hyderabad | Hyderabad | TELANGANA | | |
| JANA SMALL' FINANCE BANK LTD | JSFB0004747 | Shyambazar | 121A, 1st Floor, Bidhan Sarani, Kolkata – 700004 | Kolkata | Kolkata | WEST BENGAL | | |
| JANA SMALL' FINANCE BANK LTD | JSFB0004746 | Kamanahalli | Ground Floor of the premises, on land bearing No.7M-414,PID NO :88-250-7M-414, Situated at HRBR 1ST Block Extension, Bangalore 560043 | Bangalore | Bangalore | KARNATAKA | | |
| JANA SMALL' FINANCE BANK LTD | JSFB0004742 | Bahali Anandpur | MR. SATWEER SINGH, No. 146, VPO Bahali  Anandpur  District , Rohtak Haryana 124001 | Rohtak | Rohtak | HARYANA | | |
| JANA SMALL' FINANCE BANK LTD | JSFB0004741 | Kabulpur | Mrs. Rajwanti, Khewat No. 15, Khatauni No. 22, Dagar Beej Bhandar VPO kabulpur district Rohtak Haryana-124201 | Rohtak | Rohtak | HARYANA | | |
| JANA SMALL' FINANCE BANK LTD | JSFB0004739 | Karawara Manakpur | Mr. Raghubir Singh, S/o Sh. Ramdhan, H. No. 333, Karawara Manakpur,(253), Palhawas,District: Rewari, Rewari, Haryana- 123035 | Rewari | Rewari | HARYANA | | |
| JANA SMALL' FINANCE BANK LTD | JSFB0004736 | Sonarda | Ground Floor,  Patelvas  village Sonarda, Tal and Dist: Gandhinagar – 382 355 | Gandhinagar | Gandhinagar | GUJARAT | | |
| JANA SMALL' FINANCE BANK LTD | JSFB0004735 | Jaspura | Ground Floor, Opp. Gram Panchayat, At. Post : Jaspura, Situated at Village-Jaspura, Taluka-Detroj, Rampura, Dist:- Ahmedabad, Pin-382120 | Ahmedabad | Ahmedabad | GUJARAT | | |
| JANA SMALL' FINANCE BANK LTD | JSFB0004734 | Borisana | Ground Floor, Opp. Gram Panchayat, At. Post : Borisana, Village Borisana, Tal-Kadi, Dist – Mehsana-382715 | Mehsana | Mehsana | GUJARAT | | |
| JANA SMALL' FINANCE BANK LTD | JSFB0004733 | Sarandi | Ground Floor, Post Sarandi, Taluka-Dholka, Dist:-Ahmedabad-378810 | Ahmedabad | Ahmedabad | GUJARAT | | |
| JANA SMALL' FINANCE BANK LTD | JSFB0004731 | Udan | Unit No. 393, Ground Floor, Nr.Primary School, At Post:- Udan, Taluka- Dahegam, Pin:- 382315 | Udan | Gandhinagar | GUJARAT | | |
| JANA SMALL' FINANCE BANK LTD | JSFB0004730 | Nogama | Ground Floor, 315 Mota Nogama, Tal – Mandvi, Dist – Surat – 394 170 | Surat | Surat | GUJARAT | | |
| JANA SMALL' FINANCE BANK LTD | JSFB0004729 | Vadoli | Ground Floor,  Dairy Faliyu, Village Vadoli TAL – Mangrol, Dist – Surat – 394 110 | Surat | Surat | GUJARAT | | |
| JANA SMALL' FINANCE BANK LTD | JSFB0004728 | Vadi | Ground Floor (C/O Indiraben J Vasava) Village,  Vadi, Taluka : Umarpada, Dist : Surat – 394440 | Surat | Surat | GUJARAT | | |
| JANA SMALL' FINANCE BANK LTD | JSFB0004727 | Narthan | First Floor, At-Post- Patel Mohallo Narthan, Tal – Olpad dandi road, Dist : Surat -395005 | Surat | Surat | GUJARAT | | |
| JANA SMALL' FINANCE BANK LTD | JSFB0004726 | Orma | Ground Floor, Near Gram Panchayat Office, Village : Orma, Taluka : Olpad, Dist : Surat 394540 | Surat | Surat | GUJARAT | | |
| JANA SMALL' FINANCE BANK LTD | JSFB0004725 | Puni | Ground  Floor,  At Post Village Puni, Taluka-Palsana, Dist:- Surat, Pin:-394352 | Surat | Surat | GUJARAT | | |
| JANA SMALL' FINANCE BANK LTD | JSFB0004723 | Hoshangabad | Khasra No. 381/4, Village Raipur, Tehsil- Hoshangabad, MP, Pin- 461001 | Hoshangabad | Hoshangabad | MADHYA PRADESH | | |
| JANA SMALL' FINANCE BANK LTD | JSFB0004722 | Gujarwada | Survey No. 641/1,2,3 Village Gujarwada Tehsil:Babai Distt. Hoshangabad-461661 | Hoshangabad | Hoshangabad | MADHYA PRADESH | | |
| JANA SMALL' FINANCE BANK LTD | JSFB0004717 | Rupakhedi | Chandrapal Singh Chauhan, S/O Sardar Singh Chauhan, 243/1, Ground Floor, Rupakhedi, Post- Rupakhedi, pin- 456663, Tehsil- Tarana, Dist- Ujjain MP | Ujjain | Ujjain | MADHYA PRADESH | | |
| JANA SMALL' FINANCE BANK LTD | JSFB0004715 | Sundargarh | Upper Ground floor, Mishra complex Mission Chowk,Hospital Road,Sundergarh,Odisha | Sundargarh | Sundargarh | ODISHA | | |
| JANA SMALL' FINANCE BANK LTD | JSFB0004709 | Bisalavadi  | GF- 282/282. Shanthamallappa, S/O. Late R Basappa,Grampanchayath, Heradan Halli Hobli,Bisalvadi Main Road, Bisalvadi Village. Chamarajnagar Dist -571127 | Chamarajanagar | Chamarajanagar | KARNATAKA | | |
| JANA SMALL' FINANCE BANK LTD | JSFB0004707 | Mangala | Khata No:423,First Floor,Kollegala-Mangala Main Road,Near Mangala Grampanchayat Office,Mangala Village, Kollegala Talluk.Dist; Chamaraj Nagara.- 571126 | Mangala | Chamarajanagar | KARNATAKA | | |
| JANA SMALL' FINANCE BANK LTD | JSFB0004706 | Gujra | Gram Panchayat Bhawan, Old Dhamtari Road, Gujra Village, Dist. Dhamtari, Chhattisgarh, Pin- 493773 | DHAMTARI | Dhamtari | CHHATTISGARH | | |
| JANA SMALL' FINANCE BANK LTD | JSFB0004705 | Cheeluru | Ground Floor Kumar; 95/145 Cheeluru Vilage, Hosahalli, S/O Late Basawe Gowda,Mandala Maralavadi Hobli; Kanak pura Taluk; Ramanagara – 562112, Karnataka | Ramnagar | Ramnagar | KARNATAKA | | |
| JANA SMALL' FINANCE BANK LTD | JSFB0004704 | Marala Bekuppe | GF 227/205 RCC building, Shivarudrappa Building; Maral Bykuppe;Gram panchayat, Kanak Pura Taluk ; Ramanagara Dt.-562117 | Ramnagar | Ramnagar | KARNATAKA | | |
| JANA SMALL' FINANCE BANK LTD | JSFB0004703 | Maralakunte | No.116, Ground Floor, Maralakunte Village, Somapura Hobli, Nelamangala Taluk, Bengaluru Rural – 562111, Karnataka | Maralakunte | Bangalore Rural | KARNATAKA | | |
| JANA SMALL' FINANCE BANK LTD | JSFB0004701 | K. Sathyavara | Survey no.58/51,Site No.49, K Sathyvara, Nandagudi Hobli Hoskote Talluk, Bangalore Rural District. Pin-562122 | K. Sathyavara | Bangalore Rural | KARNATAKA | | |
| JANA SMALL' FINANCE BANK LTD | JSFB0004700 | Arasakuppam | Reddy Building 2/3A; , Kalligopasandra Village; Kelamangala Main Road; Opp To Govt High School, NGR building, Dankanikottai Taluk, Krishnagiri Dt; Pin: 635107 | Arasakuppam | Krishnagiri | TAMIL NADU | | |
| JANA SMALL' FINANCE BANK LTD | JSFB0004699 | Thalikothanur | 88/2, Nagarathnamma; W/O Lingappa; Thali Kothanooru; Denkanikottai Tq;Krishnagiri Dt. | Thalikothanur | Krishnagiri | TAMIL NADU | | |
| JANA SMALL' FINANCE BANK LTD | JSFB0004698 | Dod Ballapur | #66, Khatha No :865/66, Rojipura Village, Kasaba Hobli, Doddaballapura Taluk, Bangalore -561203 | Dod Ballapur | Bangalore Rural | KARNATAKA | | |
| JANA SMALL' FINANCE BANK LTD | JSFB0004697 | Guddapatti | Panchayath Office,Guddapatti, Krishnagiri | Guddapatti | Krishnagiri | TAMIL NADU | | |
| JANA SMALL' FINANCE BANK LTD | JSFB0004696 | Ghodari | Nadi Mod, Main Sq, Ghodari, Dist – Mahasamund, Ghodari- 493445 | Ghodari | Mahasamund | CHHATTISGARH | | |
| JANA SMALL' FINANCE BANK LTD | JSFB0004695 | Addakurakki | #2/89/2,AVK Complex,Addakurrakki,Main village,Krishnagiri dist. | Addakurakki | Krishnagiri | TAMIL NADU | | |
| JANA SMALL' FINANCE BANK LTD | JSFB0004694 | Bandarapalli | Bandarapalli, 11/2;Billanakuppm Po; Krishnagiri Dt-635115 | Bandarapalli | Krishnagiri | TAMIL NADU | | |
| JANA SMALL' FINANCE BANK LTD | JSFB0004693 | Panjakalipatti | Dr-8/131, Panjakalipatti, Nachuvayanur, Mettur Main Road, Panakattur (Post), Omalur (Tk), Salem – 636455. | Salem | Salem | TAMIL NADU | | |
| JANA SMALL' FINANCE BANK LTD | JSFB0004692 | Sukkampatti | Door # 4/59 Harur main road,Sukampatti, Salem-636122 | Salem | Salem | TAMIL NADU | | |
| JANA SMALL' FINANCE BANK LTD | JSFB0004691 | Nirmullikuttai | Ground Floor #20, Neermullaikuttai,Koottathupatti via,Valapadi (Tk), Salem- Land mark-Nrrrmullikuttai ellai near Water tank | Salem | Salem | TAMIL NADU | | |
| JANA SMALL' FINANCE BANK LTD | JSFB0004690 | Parapatti | Door # 1st Floor, Parapatti bus stop,Parapatti(po),Salem-636203. Opp Govt school | Salem | Salem | TAMIL NADU | | |
| JANA SMALL' FINANCE BANK LTD | JSFB0004689 | Ammampalayam | 185/2, Cuddalore Mani Road, Ammampalayam(Po), Amman Nagar, Attur(Tk), Salem – 636141. | Salem | Salem | TAMIL NADU | | |
| JANA SMALL' FINANCE BANK LTD | JSFB0004688 | Chinnakavundapuram | AVR Complex, Chinnakavundapuram Road, Ramalingapuram (Post), Karipatti via Salem – 636106.┬á Land Mark – Opp- Mahindra College of Engineering. | Salem | Salem | TAMIL NADU | | |
| JANA SMALL' FINANCE BANK LTD | JSFB0004687 | Periyakrishnapuram | Door # 95, Periyakrishnapuram panchayat, Pethanayakanpalayak, Periyakrishnapuram (po),636115 | Salem | Salem | TAMIL NADU | | |
| JANA SMALL' FINANCE BANK LTD | JSFB0004686 | Jittandahalli | Door # 202 ,RajaComplex,Jittandhalli(po),Palacode TK,Dharmapuri-636805 | Dharmapuri | Dharmapuri | TAMIL NADU | | |
| JANA SMALL' FINANCE BANK LTD | JSFB0004685 | H. Pudupatti | H.NO: 3/156, first floor, Papireddy patti (taluk), near Sivalakshmi electricals, H. Pudupatti (post), , Dharmapuri (Dist). | Dharmapuri | Dharmapuri | TAMIL NADU | | |
| JANA SMALL' FINANCE BANK LTD | JSFB0004684 | Pagalahalli | Door # 1/364, Kengalapuram, Pagalahalli ( PO), Dharmapuri, TamilNadu-636807 | Dharmapuri | Dharmapuri | TAMIL NADU | | |
| JANA SMALL' FINANCE BANK LTD | JSFB0004682 | Adagapadi | Door # 2/359, Seliamman kovil near,Adagapadi bus stop, Adagapadi,Dharmapuri-636803 | Dharmapuri | Dharmapuri | TAMIL NADU | | |
| JANA SMALL' FINANCE BANK LTD | JSFB0004681 | Somenahalli | 1/350,SNC complex, Papparapatti pirivu,Somenahalli, Pappinaikenahalli (po), Palacode Tk, Dharmapuri-636808 | Dharmapuri | Dharmapuri | TAMIL NADU | | |
| JANA SMALL' FINANCE BANK LTD | JSFB0004680 | Adhiyamankotai | Door # 7/216, A. Jettihalli Village, Dharamapuri taluk, Dharmapuri, -636705 | Dharmapuri | Dharmapuri | TAMIL NADU | | |
| JANA SMALL' FINANCE BANK LTD | JSFB0004679 | Kuchaman city | Ground Floor Ward No. 2, Deedwana Road, Near Karni Petrol Pump, Kuchaman , Nagour,(Rajasthan) Pin 341508 | Nagaur | Nagaur | RAJASTHAN | | |
| JANA SMALL' FINANCE BANK LTD | JSFB0004678 | Chomu | Ground Floor, Rawat Complex, Near Ravan Gate Circle, chomu, Rajasthan-303702 | Jaipur | Jaipur | RAJASTHAN | | |
| JANA SMALL' FINANCE BANK LTD | JSFB0004676 | Bagru | Ground floor, Plot No. 17, Shree Balaji Plaza, Baba Market, Bagru Dak Bell, Bagru, Rajasthan – 303007 | Jaipur | Jaipur | RAJASTHAN | | |
| JANA SMALL' FINANCE BANK LTD | JSFB0004675 | Kotputli | Ground Floor, Building no. 17,20, Bachari, Krishna Talkies Road,Bank Gali, Kotputli, Ra jasthan-303108 | Jaipur | Jaipur | RAJASTHAN | | |
| JANA SMALL' FINANCE BANK LTD | JSFB0004672 | Diamond Harbour | Abirami Plot No – 225/422 Vill- Madhabpur PO- Diamond Harbour. Dist- South 24 Pgs . WB – 743331 | Diamond Harbour | South 24 Parganas | WEST BENGAL | | |
| JANA SMALL' FINANCE BANK LTD | JSFB0004671 | Memari | Nabapally More, Opposite PWD Office, Near New Bus Stand, Memari, Pin – 713146 | Memari | Barddhaman | WEST BENGAL | | |
| JANA SMALL' FINANCE BANK LTD | JSFB0004670 | Katwa | Mira Plaza, Nazrul Sarani, Circus Maidan, Katwa, Pin- 713130 | Katwa | Barddhaman | WEST BENGAL | | |
| JANA SMALL' FINANCE BANK LTD | JSFB0004668 | Baduria muncipality | Baduria Chowmatha, Near SBI, P.O. Baduria, First Floor, Dist. 24 Parganas (N), West Bengal, PIN- 743437 | Baduria muncipality | North 24 Parganas | WEST BENGAL | | |
| JANA SMALL' FINANCE BANK LTD | JSFB0004667 | Rampurhat | Plot No. 314, Lotus Press More, Ward No. 9, opp. Relax Hotel, Rampurhat, PIN- 731224. | Rampurhat | Birbhum | WEST BENGAL | | |
| JANA SMALL' FINANCE BANK LTD | JSFB0004665 | DEVANAHALLI | GROUND FLOOR,NO.5 NEW KHATA NO.839/3735/3735/5,OLD KHATA NO.3735/3735/5,S.NARASIMHAIAH LAYOUT,BOODIGERE ROAD DEVANAHALLI TOWN-BANGALORE-562110 | BANGALORE | BANGALORE | KARNATAKA | | |
| JANA SMALL' FINANCE BANK LTD | JSFB0004662 | PADRAUNA | GROUND FLOOR,LARI MANZIL,CHHAWANI KASIA ROAD,PANDRAUNA,274304,INDIA | PADRAUNA | PADRAUNA | UTTAR PRADESH | | |
| JANA SMALL' FINANCE BANK LTD | JSFB0004661 | Punjaipuliampatti | #607,Jawahar Main road,Opposite Vishnu Tvs, Punjaipuliampatti-638459. | ERODE | Erode | TAMIL NADU | | |
| JANA SMALL' FINANCE BANK LTD | JSFB0004660 | Gobichettipalayam | No. 235, Door no. 47 D5, Jawaharlal Nehru Street, Veerapandi Village, Muthuvelappan Street,Gobichettipalayam-638452 | Gobichettipalayam | Erode | TAMIL NADU | | |
| JANA SMALL' FINANCE BANK LTD | JSFB0004659 | Tiruchengode | No: 29, Sankagiri Main Road, Selvam Sadan, Opp To Government Higher Secondary Girls School,Thiruchengode,Namakkal Dist, Tamilnadu-637211. | Tiruchengode | Namakkal | TAMIL NADU | | |
| JANA SMALL' FINANCE BANK LTD | JSFB0004657 | Omalur | 482/5, Shrishanmuga Arcade ,Dharmapuri Main Road, Omalur(Taluk) – Salem -636455 | Salem | Salem | TAMIL NADU | | |
| JANA SMALL' FINANCE BANK LTD | JSFB0004656 | Chengalpattu | Plot No -23, Ward no. 3, GST Road, Alagesan nagar Extention,Chengalpattu, Kancheepuram District ,Pin : 603001. | Chengalpattu | Kancheepuram | TAMIL NADU | | |
| JANA SMALL' FINANCE BANK LTD | JSFB0004655 | Pollachi | 7/1, Venkatramana Round Road, Mahalingapuram, Pollachi – 642 001 | Coimbatore | Coimbatore | TAMIL NADU | | |
| JANA SMALL' FINANCE BANK LTD | JSFB0004654 | Balangir | Plot No- 926 and 926/1054, Near Idbi Bank, K.Mart, Bolangir, Odisha-767001 | Balangir | Balangir | ODISHA | | |
| JANA SMALL' FINANCE BANK LTD | JSFB0004653 | Khordha | Laxmi Narayan Kalayn Mandap, Plot No: 997/4237 and 34/4363, Uparsahi, 1st Floor, Khordha, Pin-752055, Odisha | Khordha | Khurda | ODISHA | | |
| JANA SMALL' FINANCE BANK LTD | JSFB0004652 | Bargarh | Plot No-789/1704 and 789/1705,First Floor,C/O Jyoti Eyecare,Khajuritikra,Bargarh,Odisha,Pin-768028 | Bargarh | Bargarh | ODISHA | | |
| JANA SMALL' FINANCE BANK LTD | JSFB0004651 | Pipariya | Plot No. 172/14 and 172/13 Village HathvasTehsil Pipariya Distt Hoshangabad MP-461775 | Hoshangabad | Hoshangabad | MADHYA PRADESH | | |
| JANA SMALL' FINANCE BANK LTD | JSFB0004650 | Ashta | Shri Krishna Agro Industries Astha Kannod Road, Talkies Chowraha, Astha, 466116 | Sehore | Sehore | MADHYA PRADESH | | |
| JANA SMALL' FINANCE BANK LTD | JSFB0004649 | RAJPURA | GROUND FLOOR,SHOP NO.4&5,A BLOCK,CALIBRE MARKET,RAJPURA,PUNJAB – 140401 | RAJPURA | RAJPURA | PUNJAB | | |
| JANA SMALL' FINANCE BANK LTD | JSFB0004648 | Mandideep | Plot No. 23 A, Ward no. 12,Indira Nagar,  Dist-Raisen Mandideep – 462046 | Raisen | Raisen | MADHYA PRADESH | | |
| JANA SMALL' FINANCE BANK LTD | JSFB0004645 | Hosakote | # 2, Haneshumari No. 2434/2, S.A Complex,Ramakrishna Road,,M.v Extension,Hoskote: 562114 | Hosakote | Bangalore Rural | KARNATAKA | | |
| JANA SMALL' FINANCE BANK LTD | JSFB0004644 | Chamarajanagar | No:1809/1810;First floor , Rama samudra, Town "F" division, BR Hills Road, , Chamarajanagara;Pin:571313 | Chamarajanagar | Chamarajanagar | KARNATAKA | | |
| JANA SMALL' FINANCE BANK LTD | JSFB0004638 | Palghar | Shop No. 3, Ground Floor, opp. Anand Ashram, Mahim Road, Palghar – 401404 | Palghar | Palghar | MAHARASHTRA | | |
| JANA SMALL' FINANCE BANK LTD | JSFB0004636 | Bardoli muncipality | UG1,2,3 and LG 1,2,3, Ground  First Floor, Shreeji Complex, National Highway No. 6, Surat – Dhulla Road, Opp. Manik Moti Complex, Bardoli ┬û 394601 | Bardoli | Surat | GUJARAT | | |
| JANA SMALL' FINANCE BANK LTD | JSFB0004634 | Dongargarh | Gandhi Ward no 18, Near Goal Bazar, Dongargarh , Pin – 491445. | Rajnandgaon | Rajnandgaon | CHHATTISGARH | | |
| JANA SMALL' FINANCE BANK LTD | JSFB0004633 | Champa Muncipality | Ground Floor, Didwania Complex, Sadar Bazar Road, Beside Bank of Baroda, Champa, Chhattisgarh. Pin- 495671 | JANJGIR CHAMPA | Janjgir Champa | CHHATTISGARH | | |
| JANA SMALL' FINANCE BANK LTD | JSFB0004632 | Dhamtari Muncipality | Devendra Mishra's House, Beside Gali No. 2, Daak Bangla Ward, Gunder Devi Road, Vivekanand Nagar, Dhamtari, Chhattisgarh, Pin- 493773 | Dhamtari | Dhamtari | CHHATTISGARH | | |
| JANA SMALL' FINANCE BANK LTD | JSFB0004631 | Mahasamund Municipality | Opposite Railway Station Beside Vijaya Bank Mahasumund 493445 | MAHASAMUND | Mahasamund | CHHATTISGARH | | |
| JANA SMALL' FINANCE BANK LTD | JSFB0004630 | Bhatapara | Ground Floor ,City Center Main Road Bhatapara- 493118 | Bhatapara | Raipur | CHHATTISGARH | | |
| JANA SMALL' FINANCE BANK LTD | JSFB0004629 | Golaghat Municipal Board | OM Arav, Thana Road, Ward No. 7, Golaghat, PIN- 785621, Assam | Golaghat | Golaghat | ASSAM | | |
| JANA SMALL' FINANCE BANK LTD | JSFB0004628 | Sivasagar | Lohit Tower, Kanak Nagar A.T. Road, Sibsagar, PIN-785640 | Sivasagar | Sibsagar | ASSAM | | |
| JANA SMALL' FINANCE BANK LTD | JSFB0004627 | Bongaigaon Municipality | SANGRAM NILOY, MAIN ROAD, BORPARA, BONGAINGAON, PIN- 783380 | Bongaigaon | Bongaigaon | ASSAM | | |
| JANA SMALL' FINANCE BANK LTD | JSFB0004625 | Siliguri | M-Square, Lower Ground Floor, Opp Sachitra Hotel, Sevoke Road, Siliguri, PIN-734003 | Siliguri | Darjiling | WEST BENGAL | | |
| JANA SMALL' FINANCE BANK LTD | JSFB0004624 | Howrah Maidan | GROUND FLOOR, 23/2, MAULANA ABUL KALAM AZAD ROAD,P.S. GOLABARI HOWRAH – 711101, WEST BENGAL | KOLKATA | Howrah┬á | WEST BENGAL | | |
| JANA SMALL' FINANCE BANK LTD | JSFB0004623 | Garia | Rajat Windsor, 362/1A, N.S.C. Bose Rd, Kol-700047 | Kolkata | Kolkata | WEST BENGAL | | |
| JANA SMALL' FINANCE BANK LTD | JSFB0004622 | SALT LAKE | ANDROMEDA,FIRST FLOOR,DD-30,SECTOR -L,SALT LAKE,KOLKATA – 700 064 | KOLKATA | KOLKATA | WEST BENGAL | | |
| JANA SMALL' FINANCE BANK LTD | JSFB0004621 | VIP ROAD | UNIT NO.6 ( PART )& UNIT NO.7/ ( FULL),GROUND FLOOR,SITUATED AT ALCOVE GLORIA MALL,VIP ROAD,KOLKATA,PIN – 700048 | KOLKATA | KOLKATA | WEST BENGAL | | |
| JANA SMALL' FINANCE BANK LTD | JSFB0004620 | Diamond Heritage, Strand Road | Diamond Heritage, 16 Strand Road Kolkata- 700001 | Kolkata | Kolkata | WEST BENGAL | | |
| JANA SMALL' FINANCE BANK LTD | JSFB0004619 | New Alipore | Gajraj Pearls,First Floor, 26, Bankim Mukherjee Sarani, Ward No. 81, PS. New Alipore, Kolkata – 700053 | Kolkata | Kolkata | WEST BENGAL | | |
| JANA SMALL' FINANCE BANK LTD | JSFB0004618 | Asansole | 85 G T Road,Murgashol, Asansol- 713303 | Asansole | Asansole | WEST BENGAL | | |
| JANA SMALL' FINANCE BANK LTD | JSFB0004617 | THAKURPUKUR | RIDDHI-SIDDHI SREE,GROUND& FIRST FLOOR,203,M.G.ROAD,KOLKATA,PIN – 700063 | THAKURPUKUR | KOLKATA | WEST BENGAL | | |
| JANA SMALL' FINANCE BANK LTD | JSFB0004616 | RAJPUR ROAD DEHRADUN | GROUND FLOOR,NO.74,RAJPUR ROAD,SHRI RAM ARCADE,DEHRADUN,248001,INDIA | DEHRADUN | DEHRADUN | UTTARAKHAND | | |
| JANA SMALL' FINANCE BANK LTD | JSFB0004614 | SIGRA, VARANASI | D64/98-A1,NEAR BSNL OFFICE,MADHOPUR SIGRA,VARANASI -221002 | VARANASI | VARANASI | UTTAR PRADESH | | |
| JANA SMALL' FINANCE BANK LTD | JSFB0004613 | KK NAGAR | JANA SMALL FINANCE BANK LTD, MID TOWN HOTEL,KHANKA CHOWK , NEAR UMA CINEMA, DARBHANGA -846001 | TIRUCHIRAPALLI | TIRUCHIRAPALLI | TAMIL NADU | | |
| JANA SMALL' FINANCE BANK LTD | JSFB0004612 | Meerut | shop No. GF 39A, GF 40, PVS Mall, Shashtri Nagar, Meerut, UP-250004 | Meerut | Meerut | UTTAR PRADESH | | |
| JANA SMALL' FINANCE BANK LTD | JSFB0004610 | Lucknow | Ground Floor, Cyber Heights Building, Shop No. G-01, municipal number TC/G-2/2 and TC/G-5/5, Vibhuti Khand, Gomti Nagar, Lucknow (U.P.) – 226010 | Lucknow | Lucknow | UTTAR PRADESH | | |
| JANA SMALL' FINANCE BANK LTD | JSFB0004609 | Ghaziabad | GroundFloor,D-45,PocketD,RajnagarDistrictCentre,Ghaziabad–201001,UP | Ghaziabad | Ghaziabad | UTTARPRADESH | | |
| JANA SMALL' FINANCE BANK LTD | JSFB0004608 | KURUKSHETRA | GROUND FLOOR,KHASRA NO.-150-151,PIPLI ROAD,OPP.CANARA BANK,NR.SYNDICATE BANK,KURUKSHETRA132118 | KURUKSHETRA | KURUKSHETRA | HARYANA | | |
| JANA SMALL' FINANCE BANK LTD | JSFB0004607 | Allahabad | ground floor, part of office premises no. 66/2B/2A, Lal bahadur shashtri Marg, civil station Allahabad-211002 | Allahabad | Allahabad | UTTAR PRADESH | | |
| JANA SMALL' FINANCE BANK LTD | JSFB0004606 | Kanpur | Ground Floor, First Floor, Second Floor, Property no. 14/121-A, Parade, Kanpur, UP-208001 | Kanpur | Kanpur Nagar | UTTAR PRADESH | | |
| JANA SMALL' FINANCE BANK LTD | JSFB0004605 | SANJAY PLACE, AGRA | B-7,B-8& G-7,G-8,BASEMENT& GROUND FLOOR OF UP TOWER,SANJAY PLACE,AGRA,UTTAR PRADESH -121001,INDIA | AGRA | AGRA | UTTAR PRADESH | | |
| JANA SMALL' FINANCE BANK LTD | JSFB0004604 | Tiruchirappalli | 74ASaliRoad,ThillaiNagar,Trichy-620018 | Tiruchirappalli | Tiruchirappalli | TAMILNADU | | |
| JANA SMALL' FINANCE BANK LTD | JSFB0004603 | Salem | D.No.259/4/129, Saradha College Road, Opp To Anna Salai, Alagapuram, Salem -636007 | Salem | Salem | TAMIL NADU | | |
| JANA SMALL' FINANCE BANK LTD | JSFB0004602 | Tirunelveli | No.13,South Bye Pass Road, Vannarapettai, Tirunelveli – 627003 | Tirunelveli | Tirunelveli | TAMIL NADU | | |
| JANA SMALL' FINANCE BANK LTD | JSFB0004601 | Madurai | No.10KrishnapuramColonyMainRoad,MahatmaGandhiNagar,Madurai-625014 | Madurai | Madurai | TAMILNADU | | |
| JANA SMALL' FINANCE BANK LTD | JSFB0004600 | Puducherry | GKM┬áArcade, No. 2 AND 4, West cross, 100 feet ECR road, Anna nagar, Pondicherry – 605005 | Puducherry | Puducherry | PUDUCHERRY | | |
| JANA SMALL' FINANCE BANK LTD | JSFB0004599 | Kodambakkam | Old No. 38, New no. 165, Arcot Road, Kodambakkam, Chennai – 600024 | Chennai | Chennai | TAMIL NADU | | |
| JANA SMALL' FINANCE BANK LTD | JSFB0004598 | Coimbatore | 272B, VKS complex, NSR Road, Saibaba Colony, Coimbatore – 641011, Tamilnadu | Coimbatore | Coimbatore | TAMIL NADU | | |
| JANA SMALL' FINANCE BANK LTD | JSFB0004597 | Mogappair | Plot No 12/559, SVK plaza, MIG type,Thiruvallur Street, JJ Nagar, 12th Block, East Mogappair Chennai 600037 | Chennai | Chennai | TAMIL NADU | | |
| JANA SMALL' FINANCE BANK LTD | JSFB0004596 | Kilpauk | Windsor Palace Door No.34,Balfour road,Kilpauk,Chennai-10 | Chennai | Chennai | TAMIL NADU | | |
| JANA SMALL' FINANCE BANK LTD | JSFB0004595 | Mandavali | Door No.38,Sri ram niwas, Venkatakrishna Iyer Road, Mandaveli,Chennai-600028 | Chennai | Chennai | TAMIL NADU | | |
| JANA SMALL' FINANCE BANK LTD | JSFB0004594 | Velachery | Plot No.354,Plot No.355 and Plot No.356 Gothavari Street, 100 feet road, Bharathi Nagar, Chennai-600113 | Chennai | Chennai | TAMIL NADU | | |
| JANA SMALL' FINANCE BANK LTD | JSFB0004593 | Udaipur | Ground Floor, Ridhi Sidhi complex, Panchsil Market, Sector-5, Hiran Magri,Main Road, Udaipur, Rajasthan-313001 | Udaipur | Udaipur | RAJASTHAN | | |
| JANA SMALL' FINANCE BANK LTD | JSFB0004592 | Kota | Ground floor, Plot No. 389,Shopping Centre, Near Ghore wala Baba Circle, Kota-324007 | Kota | Kota | RAJASTHAN | | |
| JANA SMALL' FINANCE BANK LTD | JSFB0004591 | JODHPUR | GROUND FLOOR PLOT NO.87-B/4,BACHHRAJ JI KA BHAGH,SARDARPURA,CHOPASANI ROAD,JODHPUR,RAJASTHAN -342001 | JODHPUR | JODHPUR | RAJASTHAN | | |
| JANA SMALL' FINANCE BANK LTD | JSFB0004590 | Jaipur | G-2, Ground floor, Green House, plot no. O-15, Ashok Marg, Jaipur-302001 | Jaipur | Jaipur | RAJASTHAN | | |
| JANA SMALL' FINANCE BANK LTD | JSFB0004589 | Alwar | Ground┬á Floor, Jayanti Mall, Near Ashok Circle, Alwar, Rajasthan – 301001 | Alwar | Alwar | RAJASTHAN | | |
| JANA SMALL' FINANCE BANK LTD | JSFB0004588 | Bhilwara | Gopal Plaza, Ajmer Road, Opp. BioScope Theatre, Bhilwara,Raj-311001 | Bhilwara | Bhilwara | RAJASTHAN | | |
| JANA SMALL' FINANCE BANK LTD | JSFB0004587 | Bikaner | Ground Floor and First Floor, ┬áPlot no. 18┬á and Plot no. 19, ┬áOld Industrial Area, Rani Bazar, Bikaner, Rajasthan – 334001 | Bikaner | Bikaner | RAJASTHAN | | |
| JANA SMALL' FINANCE BANK LTD | JSFB0004586 | Patiala | Ground Floor, SCO – 6, Leela Bhawan Chowk, Patiala – 147001 | Patiala | Patiala | PUNJAB | | |
| JANA SMALL' FINANCE BANK LTD | JSFB0004585 | Ludhiana | Ground Floor, Shanghai Tower, Shop cum Flat No. 13, Feroz Gandhi Market, Municipal Council no. B-26, Ludhiana (Punjab),Pin: 141001 | Ludhiana | Ludhiana | PUNJAB | | |
| JANA SMALL' FINANCE BANK LTD | JSFB0004584 | Bathinda | G.F, 2907/A/1, Swadesh Complex, G. T. Road, Bathinda,┬á Near Zila Parishad, Bathinda Punjab┬á – 151005 | Bathinda | Bhatinda | PUNJAB | | |
| JANA SMALL' FINANCE BANK LTD | JSFB0004583 | Jalandhar | Ground Floor and  First Floor, property No. 258-L, Model Town, Jalandhar -144003 | Jalandhar | Jalandhar | PUNJAB | | |
| JANA SMALL' FINANCE BANK LTD | JSFB0004582 | Sambalpur | Unit # 14, Danipali, Budharaja, Sambalpur, Odisha – 768004 | Sambalpur | Sambalpur | ODISHA | | |
| JANA SMALL' FINANCE BANK LTD | JSFB0004581 | Raurkela | H-1, Civil Township,Panposh,  Rourkela, Pin- 769004 | Raurkela | Sundargarh | ODISHA | | |
| JANA SMALL' FINANCE BANK LTD | JSFB0004580 | Bapujinagar | Plot No: 3-Bapuji Nagar, Janpath, Bhubaneswar, Pin- 751009 | Bhubaneshwar | Khurda | ODISHA | | |
| JANA SMALL' FINANCE BANK LTD | JSFB0004579 | Solapur | Unit No. 114/12, Ground Floor, Parth Chowk, opposite to Shubhray Art Gallary,  Near to Dhanraj Girji Hospital ,Radhakrishna Colony, Muraji Peth Solapur 413 001 | Solapur | Solapur | MAHARASHTRA | | |
| JANA SMALL' FINANCE BANK LTD | JSFB0004578 | Nanded | Ground Floor, Situated at Sahakar Sanjavani, Near Buldhan Urban Socity Vip Road Nanded – 431 602 | Nanded | Nanded | MAHARASHTRA | | |
| JANA SMALL' FINANCE BANK LTD | JSFB0004577 | Ghatkopar | Shop  No. 17,18,19 and 20,  Ground Floor,  Neelkant Regent,  R N Narkar Road, Ghatkopar-77 | Mumbai | Mumbai | MAHARASHTRA | | |
| JANA SMALL' FINANCE BANK LTD | JSFB0004576 | Vashi | Unit No. 17 (A), Ground Floor, Ganesh Tower, Sector – 1, Plot No.9, Vashi (W), Mumbai – 400 703 | Navi Mumbai | Thane | MAHARASHTRA | | |
| JANA SMALL' FINANCE BANK LTD | JSFB0004575 | Wardhamanagar | Poonam Mall shop no. 8 ,beside Dominos pizza, wardhman nager Nagpur – 440008 | Nagpur | Nagpur | MAHARASHTRA | | |
| JANA SMALL' FINANCE BANK LTD | JSFB0004574 | Lakshminagar | Ground Floor, Plot No.08, House No.245, 8 Rasta Sqare, Lakshmi Nagar, Mouza-Ajni, Tahsil and Dist Nagpur, Maharashtra – Pin – 440022 | Nagpur | Nagpur | MAHARASHTRA | | |
| JANA SMALL' FINANCE BANK LTD | JSFB0004573 | Worli Naka | 87, Atur House, Shop No. 6, "G" ward of MCGM Annie Besant Road, Worli Naka, Mumbai –400018 | Mumbai | Mumbai | MAHARASHTRA | | |
| JANA SMALL' FINANCE BANK LTD | JSFB0004572 | PURI | 1ST FLOOR,VIP PLAZA,PLOT NO.19,MOUZA -PURI,SAMANTA CHANDRASEKHAR NAGAR,VIP ROADPURI752001 | PURI | PURI | ODISHA | | |
| JANA SMALL' FINANCE BANK LTD | JSFB0004570 | Chinchwad | Unit No. 2,  Ground Floor, Situated at The Hub, Dange Chowk, Thergaon, Pune-411033 | Pune | Pune | MAHARASHTRA | | |
| JANA SMALL' FINANCE BANK LTD | JSFB0004569 | Pune | S.No.32/1,Basement Ground Floor 1,2,3  Floors,  Unecha House, Opp.Raja Mantri Udyan, Karve Road, Pune-411004 | Pune | Pune | MAHARASHTRA | | |
| JANA SMALL' FINANCE BANK LTD | JSFB0004568 | Nashik | Plot No. 3 to 10, Room No. 4, Mezzanine and Ground Floor, Nexus Point, Near Bhosale Military School Gate, Mahatma Nagar, Nashik 422007 | Nasik | Nasik | MAHARASHTRA | | |
| JANA SMALL' FINANCE BANK LTD | JSFB0004567 | Thane | Shop NO. 4 and 5, ground floor, India bulls mint Near Hiranandani Meadows, Gladys road, Pokhran road no. Thane west Mumbai-400610 | Navi Mumbai | Thane | MAHARASHTRA | | |
| JANA SMALL' FINANCE BANK LTD | JSFB0004566 | Latur | Ground Floor,  Bhima Bhanu Bhavan, Patanjali Aarogya Kendra, Rushikesh Agency, Near Vishwa Super Market, Barshi Road, Latur – 413 531 | Latur | Latur | MAHARASHTRA | | |
| JANA SMALL' FINANCE BANK LTD | JSFB0004565 | Mormugao | UNIT NO. 12 13, GROUND AND MEZZANINE FLOOR, KURTARKAR PLAZA, KURTARKAR LANDMARK, MARGOA, GOA- 403601 | Margao | South Goa | GOA | | |
| JANA SMALL' FINANCE BANK LTD | JSFB0004564 | Sambhaji Nagar | Unit No. 324,  Upper Ground Floor,  Revolution, C.S.No.324, E Ward, Station Road,  Kolhapur – 416 003 | Kolhapur | Kolhapur | MAHARASHTRA | | |
| JANA SMALL' FINANCE BANK LTD | JSFB0004563 | Jalgaon | Unit No. 175, Ground and Mezzanine Floor, Situated at Jilhapeth,Visanji Nagar,Jalgaon 425001 | Jalgaon | Jalgaon | MAHARASHTRA | | |
| JANA SMALL' FINANCE BANK LTD | JSFB0004562 | BALASORE | GROUND& 1ST FLOOR,PADMALAYAM COMPLEX,NO.476/1722,PLOT NO.566,OPP.BUS STOP,SHAHADEV KHUNTABALASORE756001 | BALASORE | BALASORE | ODISHA | | |
| JANA SMALL' FINANCE BANK LTD | JSFB0004560 | Aurangabad | 5 and 16, Ground Floor,  Sai Business Park, 7 Hills, Surana Nagar, Jalna Road, Aurangabad, Pin 431 003 | Aurangabad | Aurangabad | MAHARASHTRA | | |
| JANA SMALL' FINANCE BANK LTD | JSFB0004558 | Ratlam | Upper Ground Floor, Ratlam Plaza, Shop No. 16/45, Situated New Road, Jawhar Marg, Ratlam, MP. Pin- 457001 | Ratlam | Ratlam | MADHYA PRADESH | | |
| JANA SMALL' FINANCE BANK LTD | JSFB0004557 | Ujjain | Plot No. A Vishala Kshetra Commercial Cum Residential Youja Ujjain,Divine Vally, b block Ujjian MP, 456010 | Ujjain | Ujjain | MADHYA PRADESH | | |
| JANA SMALL' FINANCE BANK LTD | JSFB0004555 | ARRAH | APPORVA TOWER,MAHAJAN TOLI,NEAR SADAR HOSPITAL ROAD,ARRAH,802301,INDIA | ARRAH | ARRAH | BIHAR | | |
| JANA SMALL' FINANCE BANK LTD | JSFB0004553 | Bhavarkuan | VedaShopNo5AND6SurveyNo.1619/3,1619/4AND1619/5,KasbaIndore,DistIndore | Indore | Indore | MADHYAPRADESH | | |
| JANA SMALL' FINANCE BANK LTD | JSFB0004552 | Vijaynagar | Plot No. 306A, Scheme No. 54, PU-4, Near Country Inn Hotel, Main AB Road,Vijaynagar, Indore-452001 | Indore | Indore | MADHYA PRADESH | | |
| JANA SMALL' FINANCE BANK LTD | JSFB0004551 | Gwalior | House No. 35/305 Falke Ki Ganth Rammandir Gali Iashkar Gwalior -474001 | Gwalior | Gwalior | MADHYA PRADESH | | |
| JANA SMALL' FINANCE BANK LTD | JSFB0004549 | M P Nagar Zone 2 | Plot no. 131/01 MP Nagar, Zone-2 ,Ground Floor, Near Vodafone, Bhopal, Pin 462011 | Bhopal | Bhopal | MADHYA PRADESH | | |
| JANA SMALL' FINANCE BANK LTD | JSFB0004548 | Raichur | #1-4-380(old),1-4-154/35(New),H.K Dumba nursing Home,Orthopedic Centre,I.B.road,Near Railway station,Raichur-584101. | Raichur | Raichur | KARNATAKA | | |
| JANA SMALL' FINANCE BANK LTD | JSFB0004547 | Mysore | No.1, Sathvik Splendor building OR HSBC building, Ground Floor, Kalidasa Road, 3rd Block, Jayalakshmipuram, VV Mohalla,Mysore -570012, Karnataka | Mysore | Mysore | KARNATAKA | | |
| JANA SMALL' FINANCE BANK LTD | JSFB0004546 | Tumkur | No.27, Ground Floor,Hajee Basha Sab Arcade-I, Gangothri Road, Tumkur – 572101 | Tumkur | Tumkur | KARNATAKA | | |
| JANA SMALL' FINANCE BANK LTD | JSFB0004545 | GULBARGA | 1ST FLOOR GROUND FLOOR,H NO 2-907/23/2DR SAVITA COMMERCIAL COMPLEX OPP BASAWESHWARA HOSPITAL SEDAM ROAD,GULBARGA-585105 | GULBARGA | GULBARGA | KARNATAKA | | |
| JANA SMALL' FINANCE BANK LTD | JSFB0004544 | Hubli | Upper Ground Floor, Vidya Nagar,unkal village, Opp BVB Engg College, Hubli taluk,Dharwad -580021, Karnataka | Hubli | Dharwad | KARNATAKA | | |
| JANA SMALL' FINANCE BANK LTD | JSFB0004543 | Davangere | #3365/5B, Near to Lakshmi floor mill, Shamanur road, Davanagere | Davanagere | Davangere | KARNATAKA | | |
| JANA SMALL' FINANCE BANK LTD | JSFB0004542 | Bijapur | 9, MIG, KHB Colony;Sholapur Road;Bijapur,pin: 586103 | Bijapur | Bijapur | KARNATAKA | | |
| JANA SMALL' FINANCE BANK LTD | JSFB0004541 | MOTIHARI | 1ST FLOOR BUILDING NAME PRIYA COMPLEX,RAJA BAZAR KHAYHA NO 2 KHESARA NO 241,MOTIHARI,845401,INDIA | MOTIHARI | MOTIHARI | BIHAR | | |
| JANA SMALL' FINANCE BANK LTD | JSFB0004539 | Belgaum | 2714/1 ,Ground Floor, Unique Tower, Next To Big Bazar; Opposite to Axis bank,Khanapur Road;Angol Extension;  Belgaum-590003 | Belgaum | Belgaum | KARNATAKA | | |
| JANA SMALL' FINANCE BANK LTD | JSFB0004538 | Malleshwaram | Dharma Vijeth.N;Ground Floor, #231; 2nd Main Road (Sampige Main Road); 15th Cross; Malleshwaram; BLR-560003 | Bangalore | Bangalore | KARNATAKA | | |
| JANA SMALL' FINANCE BANK LTD | JSFB0004537 | Jeevanbhema Nagar | Gr Meznine, SECTOR XI, M-25, 10TH MAIN ROAD, HAL 3RD STAGE, JEEVANBHIMA NAGAR, BANGALORE 560075 | Bangalore | Bangalore | KARNATAKA | | |
| JANA SMALL' FINANCE BANK LTD | JSFB0004536 | Koramangala | 001, 80 Feet Road, Koramangala, 4 Th block, Bangalore-560034. | Bangalore | Bangalore | KARNATAKA | | |
| JANA SMALL' FINANCE BANK LTD | JSFB0004535 | Kengeri | 558,BDA,1StMainRoad,KengeriUpanagara/Satellite,OppTyoVidyaGanapathiTemple,NextToJanalakshmi,Pincode-560060 | Bangalore | Bangalore | KARNATAKA | | |
| JANA SMALL' FINANCE BANK LTD | JSFB0004534 | Jayanagar | Nandini Complex, Ground Floor, No. 300/A-70, 10th Main, 36th Cross,5th Block, Jayanagara, Bangalore 560041, Karnataka | Bangalore | Bangalore | KARNATAKA | | |
| JANA SMALL' FINANCE BANK LTD | JSFB0004533 | MEENAKSHI SHOPPING MALL | SHOP NO F016,FIRST FLOOR,NEXT TO METRO SHOES MUFTI CLOTH SHOPS,BANNERGHATTA ROAD,MEENAKSHI MALL,OPPOSITE TO MEENAKSHI TEMPLE,HULIMAVU,BANGALORE 560076 | BANGALORE | BANGALORE | KARNATAKA | | |
| JANA SMALL' FINANCE BANK LTD | JSFB0004532 | Ranchi | Gallaxia Mall, Ratu Road, Ranchi, PIN- 834005. Jharkhand | Ranchi | Ranchi | HARKHAND | | |
| JANA SMALL' FINANCE BANK LTD | JSFB0004531 | Jamshedpur | SWAMY Building, Ground Floor, Bistupur Main Road,Opposite Ram Mandir Jamshedpur, PIN- 831001 | Jamshedpur | Purbi Singhbum | JHARKHAND | | |
| JANA SMALL' FINANCE BANK LTD | JSFB0004530 | Hazaribagh | M. R. Complex, Office No-1, 1St Floor, Near Indrapuri Chowk, Opp. Paper House, Hazaribagh, Pin- 825301, Jharkhand | Hazaribagh | Hazaribagh | JHARKHAND | | |
| JANA SMALL' FINANCE BANK LTD | JSFB0004529 | Dhanbad | Savitri Appartment, First Floor, Shastri Nagar, Bank More, Jharia Road, Dhanbad, Pin- 826001 | Dhanbad | Dhanbad | JHARKHAND | | |
| JANA SMALL' FINANCE BANK LTD | JSFB0004528 | Panipat | Ground floor, building: Hotel Green INN, Plot no 2and3, Lajpat Nagar, On main G.T Road, Near UCO Bank, Panipat, Haryana-132103 | Panipat | Panipat | HARYANA | | |
| JANA SMALL' FINANCE BANK LTD | JSFB0004527 | Chandigarh | Ground Floor, bearing No. SCO Site No- 172-173, Sector-9C, Chandigarh – 160017 | Chandigarh | Chandigarh | PUNJAB | | |
| JANA SMALL' FINANCE BANK LTD | JSFB0004526 | Faridabad | GroundFloor,SCONo-97,Sector-16,Faridabad-121002,Haryana | Faridabad | Faridabad | HARYANA | | |
| JANA SMALL' FINANCE BANK LTD | JSFB0004525 | Adajan | Unit No. G-3, Proton Plus, Nr. Croma Store, L P Savani Road, Adajan Surat-395009 | Surat | Surat | GUJARAT | | |
| JANA SMALL' FINANCE BANK LTD | JSFB0004524 | Udhna Darwaja | Shop No 1 and 2, Ground and 1st floor, Shhlok Business Centre, Ring Road, Udhana Darwaja, Surat PIN -  395 002, Gujarat | Surat | Surat | GUJARAT | | |
| JANA SMALL' FINANCE BANK LTD | JSFB0004523 | REWARI | GROUND AND 1ST FLOOR NO 3123/C AND PART OF PROPERTY NO 3089,MOHALLA RAMBAS REWARI,REWARI123401 | REWARI | REWARI | HARYANA | | |
| JANA SMALL' FINANCE BANK LTD | JSFB0004522 | Rajkot | First Floor,Business Avenue, Near K.K.V Circle, Kalawad Road, Rajkot  360 005 | Rajkot | Rajkot | GUJARAT | | |
| JANA SMALL' FINANCE BANK LTD | JSFB0004521 | CHAPRA | RAMLILA MATHIA,PARAGANA – MAJHI,P.S-BHAGWAN BAZAR,CHAPRA PO,SARAN DISTRICT,CHAPRA,841301,INDIA | CHAPRA | CHAPRA | BIHAR | | |
| JANA SMALL' FINANCE BANK LTD | JSFB0004520 | NAGAON | 1ST FLOOR,NO.176(F),NAGAON MUNICIPALITY,WARD NO.11,ADP ROAD,NEAR RELAX HOTEL,OPP.UTI OFFICE,NAGAON,ASSAM 782001 | NAGAON | NAGAON | ASSAM | | |
| JANA SMALL' FINANCE BANK LTD | JSFB0004519 | Bhavnagar | GF Shop No. 4 and FF – Shop No. 113 and 114,┬á Sapphire Elegance, Sant Kanwar Ram Chowk, Waghawadi Raod, Bhavnagar, Pin 364 002 | Bhavnagar | Bhavnagar | GUJARAT | | |
| JANA SMALL' FINANCE BANK LTD | JSFB0004518 | Alkapuri | Jana Small Finance Bank Ltd,02 Ground floor, Pancham high street, Opp: Bankers heart institute, Old padra road, Vadodara-390024,ana Small Finance Bank Ltd | Vadodara | Vadodara | GUJARAT | | |
| JANA SMALL' FINANCE BANK LTD | JSFB0004517 | Mithakali | GF, Auram Avenue (Sun City House), Opp. Kotak Mahindra Bank, Near Gruh Finance,Mithakhali, Ahmedabad – 380006 | Ahmedabad | Ahmedabad | GUJARAT | | |
| JANA SMALL' FINANCE BANK LTD | JSFB0004515 | South Extension | Ground Floor, 12, Block-N, South Extensions Part-I, New Delhi -110049 | Delhi | Delhi | DELHI | | |
| JANA SMALL' FINANCE BANK LTD | JSFB0004514 | Gurgaon | Shop No. GF-03, Upper ground floor, MGF Megacity Mall, MG Road, Gurgaon, Haryana 122002 | Gurgaon | Gurgaon | HARYANA | | |
| JANA SMALL' FINANCE BANK LTD | JSFB0004513 | Meerabagh | Ground Floor, Building No.333, Block A, The Janta Co-operative house building society Ltd. Meera Bagh, Pashim Vihar, New Delhi-110087 | Delhi | Delhi | DELHI | | |
| JANA SMALL' FINANCE BANK LTD | JSFB0004512 | Karol Bagh | 1st floor, 16/12, Aryasamaj Road, Karolbagh, New Delhi – 110005 | Delhi | Delhi | DELHI | | |
| JANA SMALL' FINANCE BANK LTD | JSFB0004511 | Raipur | Jana Small Finance Bank,Krishna Complex, Main Road, Sadar Bazar,Opp. Arbindo Netralaya, Raipur Chhattisgarh – 492001,Jana Small Finance Bank | Raipur | Raipur | CHHATTISGARH | | |
| JANA SMALL' FINANCE BANK LTD | JSFB0004510 | Raigarh | Indian School Building, Opp Camel Girls High School, Near IDBI Bank,  Jagatpura Road, Raigarh-496110 | RAIGARH | Raigarh | CHHATTISGARH | | |
| JANA SMALL' FINANCE BANK LTD | JSFB0004509 | Bilaspur | Ground Floor Situated at Taramani Parisar, Viyapar vihar Road, Bilaspur- 495001 | Bilaspur | Bilaspur | CHHATTISGARH | | |
| JANA SMALL' FINANCE BANK LTD | JSFB0004508 | Bhilai | Ground Floor, Plot no. 28, Shivnath Complex, Beside Bhilai Nagar Nigam, GE Road, Supela, Bhilai, Dist. Durg, Chhattisgarh- 490023 | Bhilai | Durg | CHHATTISGARH | | |
| JANA SMALL' FINANCE BANK LTD | JSFB0004507 | Hariharchamber | Harihar Chamber, Upper Ground Floor, Near Boring road chauraha, Boring Road, Sri Krishna Puri, Patna- 800001 | Patna | Patna | BIHAR | | |
| JANA SMALL' FINANCE BANK LTD | JSFB0004506 | Begusarai | Sushila Complex, Kachahari Road, Begusarai, Bihar- 851101 | Begusarai | Begusarai | BIHAR | | |
| JANA SMALL' FINANCE BANK LTD | JSFB0004505 | Muzaffarpur | YAMUNA Complex, Ground Floor, Mithanpura Chowk Muzaffarpur, Pin- 842002 | Muzaffarpur | Muzaffarpur | BIHAR | | |
| JANA SMALL' FINANCE BANK LTD | JSFB0004504 | Kankarbagh | 150/B and 151, Block A, Type B, Arya Kumar Road,Rajendra  Nagar,Patna-800016 | Patna | Patna | BIHAR | | |
| JANA SMALL' FINANCE BANK LTD | JSFB0004503 | Bhagalpur | SumanPlaza,Tilkamanjhi,JailRoad,NH80,AnandgarhColony,Bhagalpur,Bihar812001 | Bhagalpur | Bhagalpur | BIHAR | | |
| JANA SMALL' FINANCE BANK LTD | JSFB0004502 | Fancy Bazar | Dugar Building, 1st Floor, TR Phookan Road, P.O. Fancy Bazar, P. S. Pan Bazar Guwahati, PIN – 781001 | Guwahati | Kamrup Metropolitan | ASSAM | | |
| JANA SMALL' FINANCE BANK LTD | JSFB0004501 | G.S. Road, Dispur | Arunudai Path, Chistian Basti, G.S.Road, Guwahati-781007 | Guwahati | Kamrup Metropolitan | ASSAM | | |
| JANA SMALL' FINANCE BANK LTD | JSFB0003660 | KADAMTALA | JANA SMALL FINANCE BANK LTD,1ST FLOOR,HOLDING NO.142/1/1,NARASINGHA DUTTA ROAD,WARD NO.23,P.S BANTRA,HOWRAH DISTRICT,WEST BENGAL -711101,INDIA | KADAMTALA | ORH | WEST BENGAL | | |
| JANA SMALL' FINANCE BANK LTD | JSFB0003652 | MANJALPUR | 1ST FLOOR NO 101,102,103 SHIV SUNDRAM COMPLEX,OPP AXIS BANK,DEEP CHAMBERS CROSS ROAD MANJALPUR -390011 | VADODARA | VADODARA | GUJARAT | | |
| JANA SMALL' FINANCE BANK LTD | JSFB0003651 | HADAPSAR | JANA SMALL FINANCE BANK LTD,OFFICE NO.310,SHOPPERS ORBIT,VISHRANTWADI,PUNE-411015 | PUNE M CORP | PUNE | MAHARASHTRA | | |
| JANA SMALL' FINANCE BANK LTD | JSFB0003649 | RAJKOT | AASMALLFIACEBAKLTD,FIRSTFLOOR,NO113,114,115&116,LOTUSARCADE,BHAKTIAGARSTATIOPLOT,OPPSTYAVIJAYICECREAM,GODALROAD,RAJKOT-360002,IDIA | RAJKOT | RAJKOT | GUJARAT | | |
| JANA SMALL' FINANCE BANK LTD | JSFB0003647 | AMBEDKAR CHOWK-RAJNANDANGAON | FIRST FLOOR,RISHABH HEIGHTS,KH.NO.74/107 AND 74/149,WARD NO.19,SANDEV NAGAR,KOURIN BHATA,AMBEDKAR CHOWK,RAJNANDGAON ( C.G. ) 491441 | RAJNANDGAON | RAJNANDGAON | CHHATTISGARH | | |
| JANA SMALL' FINANCE BANK LTD | JSFB0003646 | G N CHETTY ROAD | JANA SMALL FINANCE BANK LTD,147 SUCON SIVAGAMI SQUARE GN CHETTY ROAD T NAGAR 600017 | CHENNAI | CHENNAI | TAMIL NADU | | |
| JANA SMALL' FINANCE BANK LTD | JSFB0003641 | NAGDA | AASMALLFIACEBAKLTD,GROUDFLOOR,BHOOMISURVEY,NO.605/2AD606/1SITUATEDATWARDO.14,VILLAGEPADLYAKALA,NAGDA-456331,UJJAIDISTRICT,MADHYAPRADESH,IDIA | UJJAIN | UJJAIN | MADHYA PRADESH | | |
| JANA SMALL' FINANCE BANK LTD | JSFB0003637 | SINGUR | JANA SMALL FINANCE BANK,S.N.MALLICK ROAD,PURUSOTTAMPUR,SINGUR,OPPOSITE OF SINGUR POLICE STATION,712409 | HOOGHLY | HOOGHLY | WEST BENGAL | | |
| JANA SMALL' FINANCE BANK LTD | JSFB0003624 | ARAMBAGH | JANA SMALL FINANCE BANK,PASCHIM KRISHNAPUR,WARD NO.5,P.O. & P.S.ARAMBAGH,HOOGHLY,712601 | HOOGHLY | HOOGHLY | WEST BENGAL | | |
| JANA SMALL' FINANCE BANK LTD | JSFB0003596 | AVADI | JANA SMALL FINANCE BANK LTD,GROUND FLOOR,DOOR NO.265,MTH ROAD,AVADI,POONAMALLEE REVENUE TALUK,THIRUVALLUR,CHENNAI – 600054,INDIA | AVADI | CHENNAI | TAMIL NADU | | |
| JANA SMALL' FINANCE BANK LTD | JSFB0003594 | MKB NAGAR | JANA SMALL FINANCE BANK LTD,GROUND FLOOR,SURYVEY NO.765,VYASARPADI CO-OPERATIVE INDUSTRIAL ESTATE,VYASAR PADI,PERAMBUR VILLAGE,ERUKKANCHERRY HIGH ROAD,CHENNAI – 600039,INDIA | CHENNAI | CHENNAI | TAMIL NADU | | |
| JANA SMALL' FINANCE BANK LTD | JSFB0003593 | PERUNGULATHUR | DOORNO.30,SARDARADHIKESAVALUNAGAR,PARTI,NO.107,PRESENTLYNO.28,PERUMALSANNITHISTREET,PERUNGULATHUR,CHENNAI-600063,INDIA | PERUNGULATHUR | CHENNAI | TAMIL NADU | | |
| JANA SMALL' FINANCE BANK LTD | JSFB0003592 | RAMAPURAM | JANA SMALL FINANCE BANK LTD,1ST FLOOR,DOOR NO.3/6,KAMARAJAR SALAI,GANGAIYA AVENUE,RAMAPURAM,CHENNAI – 600089,INDIA | RAMAPURAM | CHENNAI | TAMIL NADU | | |
| JANA SMALL' FINANCE BANK LTD | JSFB0003543 | RAMGARH | JANA SMALL FINANCE BANK LTD,1ST FLOOR,NEAR ICICI BANK,MAIN ROAD NH-33,MOKARARILSTAMMARARI,RAMGARH CANT,JHARKHAND – 829122,INDIA | RAMGARH | RAMGARH | JHARKHAND | | |
| JANA SMALL' FINANCE BANK LTD | JSFB0003527 | RED HILLS | JANA SMALL FINANCE BANK LTD,1ST FLOOR,NO.14,NETHAJI STREET,KAMARAJ NAGAR,REDHILLS,NAVARIKUPPAM VILLAGE,MADHAVARAM TALUK -600052,CHENNAI,INDIA | RED HILLS | CHENNAI | TAMIL NADU | | |
| JANA SMALL' FINANCE BANK LTD | JSFB0003510 | SWARUPNAGAR | JANA SMALL FINANCE BANK,JANA SMALL FINANCE BANK LTD,GROUND FLOOR,MOUZA KACHUA,SWARUPNAGAR,JL.NO.14,BASHIRHAT P.S,DIST – NORTH24 PARGANAS,SWARUPNAGAR – PIN-743411 | NORTH 24 PARGANAS | NORTH 24 PARGANAS | WEST BENGAL | | |
| JANA SMALL' FINANCE BANK LTD | JSFB0003509 | GARIA KOLKATA | JANA SMALL FINANCE BANK LTD,ADONIS ARCHISA,GROUND & FIRST FLOOR GARIA STATION ROAD,FARTABAD MORE,KOLKATA -700084,INDIA | GARIA KOLKATA | KOLKATA | WEST BENGAL | | |
| JANA SMALL' FINANCE BANK LTD | JSFB0003507 | SALEM SIVATHAPURAM | JANA SMALL FINANCE BANK LTD,NO.3/222,AMAANI VEDAKATHAMPATTI VILLAGE,SIDDHAR KOIL ROAD,SIVATHAPURAM,SALEM -636307 | SALEM2 SIVATHAPURAM | SALEM | TAMIL NADU | | |
| JANA SMALL' FINANCE BANK LTD | JSFB0003469 | ULUBERIA | JANA SMALL FINANCE BANK,AMTA ROAD,GROUND FLOOR VILL& PO JADUBERIA PS ULUBERIA HOWRAH 711316 | ULUBERIA | HOWRAH | WEST BENGAL | | |
| JANA SMALL' FINANCE BANK LTD | JSFB0003467 | SITHI | JANA SMALL FINANCE BANK LTD,240 B T ROAD,WARD NO 21,UNDER P S BARANAGAR,BT ROAD – 700036,INDIA | SITHI | KOLKATA | WEST BENGAL | | |
| JANA SMALL' FINANCE BANK LTD | JSFB0003466 | INDORE-DEPAL PUR | AASMALLFIACEBAKLTD,GROUDFLOOR,NO.33,KHASRANO.1056/8&1056/2,PATWARIHALKA,DEPALPUR,IDORE-453115,IDIA | INDORE | INDORE | MADHYA PRADESH | | |
| JANA SMALL' FINANCE BANK LTD | JSFB0003462 | GWALIOR | JANA SMALL FINANCE BANK LTD,UNIT NO.101& 102,1ST FLOOR,LAXMIGANJ,AGRA BABBI MARG,AB ROAD PARGANA DIST,GWALIOR – 474011,INDIA | GWALIOR | GWALIOR | MADHYA PRADESH | | |
| JANA SMALL' FINANCE BANK LTD | JSFB0003457 | RAMPURA PHUL | GROUND FLOOR,KHASRA NO.591/2,592/2 AND 592/1/1,FARID NAGAR,BATHINDA ROAD,RAMOURA PHUL,RAMPURAPHUL-BATHINDA-2,151103 | BATHINDA | RAMPURA PHUL | PUNJAB | | |
| JANA SMALL' FINANCE BANK LTD | JSFB0003442 | NAZAFGARH | AASMALLFIACEBAKLTD,1STFLOOR,KHASRAO.52O.46-A,MASOODABAD,EARCHARAMADI,AAFGARH,EWDELHI-110043,IDIA | NEW DELHI | NEW DELHI | DELHI | | |
| JANA SMALL' FINANCE BANK LTD | JSFB0003423 | SELAIYEAR | JANA SMALL FINANCE BANK LTD,1ST FLOOR,R.S NO.376/2C& 376/1C3A,OLD DOOR NO.4,NEW DOOR NO.18,NATRAJ STREET,SELAIYUR VILLAGE,KANCHIPURAM,SELAIYUR – 600073,INDIA | SELAIYEAR | CHENNAI | TAMIL NADU | | |
| JANA SMALL' FINANCE BANK LTD | JSFB0003422 | THIRUVETTRIYUR | JANA SMALL FINANCE BANK LTD,1ST FLOOR,S.NO.173/75B,R.S NO.173/20,OLD DOOR NO.23,24,NEW DOOR NO.43,THIRUVOTTIYUR HIGH ROAD,SANTHAKADU,KALADIPET,THIRUVOTTIYUR – 600019 | THIRUVETTRIYUR | CHENNAI | TAMIL NADU | | |
| JANA SMALL' FINANCE BANK LTD | JSFB0003421 | PERUNDORAI | 1ST FLOOR,NEW S.F.NO.823/11OLD S.F.NO.86,PERUNDURAI VILLAGE,PERUNDURAI,ERODE,PIN-638052 | SALEM | SALEM | TAMIL NADU | | |
| JANA SMALL' FINANCE BANK LTD | JSFB0003420 | CHENGALPATTU | BEARINGS.N.NO.1246/2,WARDNO.A,BLOCKNO.25,G.S.T.ROAD,MADHURANTAKAMTK,KANCHEEPURAM-603306,INDIA | MADHURANTHAGAM | CHENGALPATTU | TAMIL NADU | | |
| JANA SMALL' FINANCE BANK LTD | JSFB0003411 | KK NAGAR | 1ST FLOOR,DOOR NO.110,PLOT NO.369,VASANTHAM ARCADERAJARAM SALAI,K K NAGAR,TRICHY-620021 | TRICHY | TRICHY | TAMIL NADU | | |
| JANA SMALL' FINANCE BANK LTD | JSFB0003403 | BADARPUR | JANA SMALL FINANCE BANK LTD,GROUND 1ST FLOOR,PROPERTY BEARING NO.KHASRA NO.1621/2,SCHEDULE ROAD NO-3,DELHI MATHURA ROAD NH-2,MAUJA ANANGPUR,FARIDABAD DISTRICT,FARIDABAD – 121101,INDIA | FARIDABAD | FARIDABAD | HARYANA | | |
| JANA SMALL' FINANCE BANK LTD | JSFB0003402 | BHOPAL FOUR AYODHYA BYPASS | JANA SMALL FINANCE BANK LTD,1ST FLOOR,PLOT NO.H -11,SECTOR – A,SONAGIRI,BHOPAL DISTRICT,MADHYA PRADESH – 462021,BHOPAL,INDIA | BHOPAL FOUR AYODHYA BYPASS | BHOPAL | MADHYA PRADESH | | |
| JANA SMALL' FINANCE BANK LTD | JSFB0003401 | AMRUTHAHALLI | JANA SMALL FINANCE BANK LTD,GROUND FLOOR,NO.362 PID NO.007-W0377-73-1,TALAKAVERI LAYOUT,AMRUTHAHALLI MAIN ROAD,BATARAYANAPURA,AMRUTHAHALLI – 560092,INDIA | AMRUTHAHALLI | BANGALORE | KARNATAKA | | |
| JANA SMALL' FINANCE BANK LTD | JSFB0003399 | AHMEDABAD | JANA SMALL FINANCE BANK LTD,GROUND FLOOR,SURVREY NO.421,OPP.VED BUNGLOWS AIRPORT ROAD,NAN CHILODA AHEMADABAD,NARODA – 382361,INDIA | AHMEDABAD | AHMEDABAD | GUJARAT | | |
| JANA SMALL' FINANCE BANK LTD | JSFB0003398 | PUNE | JANA SMALL FINANCE BANK LTD,1ST FLOOR,NEAR GANESH TEMPAL,GANESH NAGAR,DAPODI,(W),PUNE – 411012,INDIA | PUNE | PUNE | MAHARASHTRA | | |
| JANA SMALL' FINANCE BANK LTD | JSFB0003397 | NIGADI- TALEGON | JANA SMALL FINANCE BANK LTD,N SQARE,NAVALE ESTATE,TALEGAON CHAKAN MAIN ROAD,NEAR BALADOR ENTRANCE GATE,TALEGAON DABHADE,MAVAL PUNE-410507,TELEGAON,INDIA | NIGADI2 – TALEGON | PUNE | MAHARASHTRA | | |
| JANA SMALL' FINANCE BANK LTD | JSFB0003391 | SHATABDI NAGAR | JANA SMALL FINANCE BANK LTD,1ST FLOOR,GARDEN VIEW APARTMENT,DELHI MEERUT ROAD,UTTAR PRADESH – 250002 | MEERUT | MEERUT | UTTAR PRADESH | | 7.25E+09 |
| JANA SMALL' FINANCE BANK LTD | JSFB0003390 | VILLANOOR | JANA SMALL FINANCE BANK LTD,1ST FLOOR,NO.32,8A WEST CAR STREET,SURVEY NO.63/12,MEALANDAI ROAD,VILLIANUR REVENURE VILLAGE,VILLIYANUR – 605110,PONDICHERRY,INDIA | VILLANOOR | PUDUCHERRY | PUDUCHERRY | | |
| JANA SMALL' FINANCE BANK LTD | JSFB0003387 | BANGALORE | JANA SMALL FINANCE BANK LTD,GROUND FLOOR,NO.33/34,KHATA NO.159,PID NO.14-23-33-/34,1ST CROSS,MUNESHWARA BLOCK,BANGALORE – 560086,INDIA | BANGALORE | BANGALORE | KARNATAKA | | |
| JANA SMALL' FINANCE BANK LTD | JSFB0003381 | DAVANGERE | JANA SMALL FINANCE BANK LTD,GROUND FLOOR,DOOR.604/B,KHATA NO.23/19,SIDDELINGESWARA COMPLEX,HADADI ROAD NEAR AXIS BANK,DAVANGERE – 577005,INDIA | DAVANGERE | DAVANGERE | KARNATAKA | | |
| JANA SMALL' FINANCE BANK LTD | JSFB0003372 | UDUMALAPATTAI | 1ST FLOOR,NO 30C PESENT MUNICIPAL NO.10C,RAVI TOWERS DHARAPURAM ROAD,UDUMELPET-642126 | COIMBATORE | COIMBATORE | TAMIL NADU | | |
| JANA SMALL' FINANCE BANK LTD | JSFB0003371 | GANAPATHY | JANA SMALL FINANCE BANK LTD,NO.126,1-2,1ST FLOOR,DIVINE CENTRE,KRG NAGAR,SATHY ROAD,OPP TO CMS SCHOOL,GANAPATHY,COIMBATORE-641006 | GANAPATHY | COIMBATORE | TAMIL NADU | | |
| JANA SMALL' FINANCE BANK LTD | JSFB0003370 | THONDAMUTHUR | JANA SMALL FINANCE BANK LTD,NO.11/10,KULATHUPALAYAM,THALIYUR PANCHAYAT,COIMBATORE 641109 | THONDAMUTHUR | COIMBATORE | TAMIL NADU | | |
| JANA SMALL' FINANCE BANK LTD | JSFB0003369 | PATAUDI | JANA SMALL FINANCE BANK LTD,KHANA NO.1005/1038,WARD NO-05,BILASPUR ROAD,GROUND FLOOR,OPP-AXIS BANK,NEAR-SABJIMANDI.HARYANA,PATAUDI,PIN-122503,INDIA | GURGAON | GURGAON | HARYANA | | 7.03E+09 |
| JANA SMALL' FINANCE BANK LTD | JSFB0003368 | BILASPUR | JANA SMALL FINANCE BANK LTD,GROUND FLOOR,PROPERTY NO.68/10/2,KAPAL MUCHAN ROAD,CHOTA BUS STAND,BILASPUR,YAMUNA NAGAR,HARYANA – 135102 | BILASPUR | YAMUNA NAGAR | HARYANA | | |
| JANA SMALL' FINANCE BANK LTD | JSFB0003367 | MANSAROVAR | JANA SMALL FINANCE BANK LTD,PLOT NO.-119/483,MADHYAM MARG,WARD NO – 27,SECTOR-6,MANSAROVAR-302020,JAIPUR,RAJASTHAN | MANSAROVAR | JAIPUR | RAJASTHAN | | |
| JANA SMALL' FINANCE BANK LTD | JSFB0003364 | PAPA REDDI PALYA | JANA SMALL FINANCE BANK LTD,1ST FLOOR,NO 12,RING ROAD,ABOVE INDIAN OVERSEAS BANK,NAGARBHAVI II STAGE,11 TH BLOCK,PAPAREDDY PALYA,BANGALORE – 560072,INDIA | PAPA REDDI PALYA | BANGALORE | KARNATAKA | | |
| JANA SMALL' FINANCE BANK LTD | JSFB0003363 | BANGALORE | JANA SMALL FINANCE BANK LTD,1ST FLOOR,2/1,NEAR TO METRO STATION,MAGADI MAIN ROAD,BANGALORE – 560023,INDIA | BANGALORE | BANGALORE | KARNATAKA | | |
| JANA SMALL' FINANCE BANK LTD | JSFB0003361 | WARJE | JANA SMALL FINANCE BANK LTD,GROUND FLOOR,SAVITRI APARTMENT,WARJE MALWADI,PUNE – 411041,INDIA | WARJE | PUNE | MAHARASHTRA | | |
| JANA SMALL' FINANCE BANK LTD | JSFB0003358 | SATNA | AASMALLFIACEBAKLTD,1STFLOOR,KAODIYACOMPLEX,PLOTNO.22/1,SHEETNO.15-C,CITYSURVEYNO.2931,WARDNO.41,MOUZAKOTWALICHOWK,SATA-485001,MADHYAPRADESH,IDIA | SATNA | SATNA | MADHYA PRADESH | | |
| JANA SMALL' FINANCE BANK LTD | JSFB0003354 | VADODARA | JANA SMALL FINANCE BANK LTD,1ST FLOOR,SHOP NO.1,A TOWER,SIGNET PLAZA,KRUNAL CHAR RASTA GOTRI,VADODARA – 390021,INDIA | VADODARA | VADODARA | GUJARAT | | |
| JANA SMALL' FINANCE BANK LTD | JSFB0003352 | JADAVPUR | JANA SMALL FINANCE BANK LTD,GROUND & 1ST FLOORS,6/17,SAHID NAGAR,PO HATLU P.S GARFA,KOLKATTA – 700078,INDIA | JADAVPUR | KOLKATA | WEST BENGAL | | |
| JANA SMALL' FINANCE BANK LTD | JSFB0003350 | AYOTHIPATTINAM | 1ST FLOOR,MASINAICKNAPATTI VILLAGE,AYOTHIPATTINAM,VALAPADDY,SALEM-636103 | SALEM | SALEM | TAMIL NADU | | |
| JANA SMALL' FINANCE BANK LTD | JSFB0003349 | PADI | JANA SMALL FINANCE BANK LTD,GROUND FLOOR,MIG 67,KORATTUR VILLAGE,NEW DOOR NO 25,2ND STREET,PERIYAR NAGAR,CHENNAI – 600080,INDIA | PADI | CHENNAI | TAMIL NADU | | |
| JANA SMALL' FINANCE BANK LTD | JSFB0003348 | AURANGABAD | JANA SMALL FINANCE BANK LTD,1ST FLOOR,BHAGYA NAGAR,NEAR BABA PETROL PUMP,AURANGABAD – 431001 | AURANGABAD | AURANGABAD | MAHARASHTRA | | 7.04E+09 |
| JANA SMALL' FINANCE BANK LTD | JSFB0003347 | SOLAPUR | JANA SMALL FINANCE BANK LTD,NO.52,MANTRI CHANDAK VIHAR,HOTGI ROAD,ASRA CHOWK,SOLAPUR,MAHARASHTRA – 413003,INDIA | SOLAPUR | SOLAPUR | MAHARASHTRA | | |
| JANA SMALL' FINANCE BANK LTD | JSFB0003346 | SHAHIBAUG | 1ST FLOOR SHOP NO 115&116,NEAR NAMASKAR CIRCLE OPP SWAMI NARAYAN TEMPLE,SHAHIBAUG -380004 | AHMEDABAD | AHMEDABAD | GUJARAT | | |
| JANA SMALL' FINANCE BANK LTD | JSFB0003345 | MYSORE | JANA SMALL FINANCE BANK LTD,1ST FLOOR,NO 730,HINKAL HUNSOOR MAIN ROAD,MYSORE – 570017,INDIA | MYSORE | MYSORE | KARNATAKA | | |
| JANA SMALL' FINANCE BANK LTD | JSFB0003344 | CHENNAI | JANA SMALL FINANCE BANK LTD,1ST FLOOR,S NO 924/3,PLOT NO 23,DOOR NO 227,KILBURN NAGAR,MADHAVARAM,CHENNAI – 600060,INDIA | CHENNAI | CHENNAI | TAMIL NADU | | |
| JANA SMALL' FINANCE BANK LTD | JSFB0003343 | PALLADAM | GROUND FLOOR PALLADAM VILLAGE WARD NO 13,DOOR NO 10B3 B-NEW EXTENSION STREET,PALLADAM,COIMBATORE – 641664 | COIMBATORE | COIMBATORE | TAMIL NADU | | |
| JANA SMALL' FINANCE BANK LTD | JSFB0003341 | DOMBIVALI | JANA SMALL FINANCE BANK LTD,KUNDLIK DHARSHAN,BEARING NO.20,204,205 NUMBER,SITUATED AT NANDIVLI,MANDAPA ROAD,NEAR BIG BAZAAR MALL,OPP SAI SHARDA HALL,DOMBIVILI.-421201 | THANE | THANE | MAHARASHTRA | | 8.11E+09 |
| JANA SMALL' FINANCE BANK LTD | JSFB0003340 | VIRAR | JANA SMALL FINANCE BANK LTD,1ST FLOOR,SURBHI APARTMENT,BOLINJ NAKA,BOLINJ,VIRAR – 401303,INDIA | VIRAR | MUMBAI | MAHARASHTRA | | |
| JANA SMALL' FINANCE BANK LTD | JSFB0003339 | MIRA BHAYANDER | JANA SMALL FINANCE BANK LTD,1ST FLOOR,M B TRADE CENTER,NEAR RAILWAY PHATAK,OPP HDFC BANK,ABOVE INDUSIND BANK,BHAYANDER ( EAST),THANE – 401105 | THANE | THANE | MAHARASHTRA | | 9.46E+09 |
| JANA SMALL' FINANCE BANK LTD | JSFB0003336 | AHMEDABAD | JANA SMALL FINANCE BANK LTD,SHOP NO 101 AND 102,GANESH PLAZA,AJIT MILL CROSS ROAD,RAKHIYAL,AHMEDABAD – 380023,INDIA | AHMEDABAD | AHMEDABAD | GUJARAT | | |
| JANA SMALL' FINANCE BANK LTD | JSFB0003333 | MALAD | JANA SMALL FINANCE BANK LTD,PROPERTY BEARING SURVEY NO.147,2ND FLOOR,PATEL COMPLEX,MAMLATDARWADI,MALAD WEST,MUMBAI – 400064 | MUMBAI SUBURBAN | MUMBAI SUBURBAN | MAHARASHTRA | | 8.69E+09 |
| JANA SMALL' FINANCE BANK LTD | JSFB0003331 | PURNIA | JANA SMALL FINANCE BANK LTD,BHARAT TOWERS,NH -31,JAIL CHOWK,PURNEA PO,PURNEA -854301,BIHAR,INDIA | PURNIA | PURNIA | BIHAR | | |
| JANA SMALL' FINANCE BANK LTD | JSFB0003330 | ATTUR | 1ST FLOOR SURVEY NO 472/2 OLD WARD NO 20 NEW WARD NO 24,PLOT NO A/1 GANDHI ROAD 1ST STREET,ATTUR-636112 | SALEM | SALEM | TAMIL NADU | | |
| JANA SMALL' FINANCE BANK LTD | JSFB0003329 | THIRUVANMIYUR | JANA SMALL FINANCE BANK,OLD NO 89,NEW NO 12,SOUTH MADA STREET,THIRUVANMIYUR,CHENNAI -600041 | THIRUVANMIYUR | CHENNAI | TAMIL NADU | | |
| JANA SMALL' FINANCE BANK LTD | JSFB0003327 | KHARGAON | AASMALLFIACEBAKLTD,1STFLOOR,AHILYATOWER,GURUKRIPA,BISTAROAD,KHARGOE-451001,IDIA | KHARGAON | KHARGAON | MADHYA PRADESH | | |
| JANA SMALL' FINANCE BANK LTD | JSFB0003326 | SURAT | JANA SMALL FINANCE BANK LTD,PLOT NO.29A,SHOP NO.UG 43,UG – 44,UG-45,1ST FLOOR,SIDDHIVINAYAK PLATINUM,OPPOSITE HANUMAN MANDIR,BAMBROLI,VIP ROAD,PANDESARA,SURAT 394221 | SURAT | SURAT | GUJARAT | | |
| JANA SMALL' FINANCE BANK LTD | JSFB0003325 | PANVEL | OFFICE NO 105106107108.PLOT NO 120 FINAL PLOT NO 205/74 1ST FLOOR SHREE SAHAYYA GALAXY PANVEL – 410206INDIA | PANVEL | MUMBAI | MAHARASHTRA | | |
| JANA SMALL' FINANCE BANK LTD | JSFB0003324 | HADAPSAR-II | FORTUNE PLAZA OFFICE,NO.1,2,3 SASANE NAGAR,NEAR RAILWAY STATION CROSSING,NEXT TO DOMINOS PIZZA,HADAPSAR,PUNE | PUNE | PUNE | MAHARASHTRA | | |
| JANA SMALL' FINANCE BANK LTD | JSFB0003322 | CUTTACK | JANA SMALL FINANCE BANK LTD,PLOT NO.105,WARD NO.30,MADHUPATANA,CUTTACK,ODISHA -753010,WARD NO 30,MADHUPATAN – 753010,INDIA | CUTTACK | CUTTACK | ODISHA | | |
| JANA SMALL' FINANCE BANK LTD | JSFB0003320 | CHANDKHEDA | ROOM NO 101 1ST FLOOR SIGMA ARCADE,SERVEY NO 224A B T P NO 21,FINAL PLOT NO 141/04,BODAKDEV,CHANDKHEDA -380015 | AHMEDABAD | AHMEDABAD | GUJARAT | | |
| JANA SMALL' FINANCE BANK LTD | JSFB0003319 | NANDED-WAGHALA | JANA SMALL FINANCE BANK LTD,1ST FLOOR,CHATRAPATI CHOWK,BESIDE ESSAR PETROL PUMP,PAWADEWADI BK,NANDED,431601,INDIA | NANDED-WAGHALA | NANDED | MAHARASHTRA | | |
| JANA SMALL' FINANCE BANK LTD | JSFB0003318 | RANCHI | JANA SMALL FINANCE BANK LTD,1ST FLOOR,ABOVE CANARA BANK,NEAR BIRSA CHAWK,KHUNTI ROAD,RANCHI -834002,JHARKHAND,INDIA | RANCHI | RANCHI | JHARKHAND | | |
| JANA SMALL' FINANCE BANK LTD | JSFB0003317 | RANGIA | JANA SMALL FINANCE BANK LTD,HOUSE NO 6,NT ROAD,NEAR JAMA MASJID,RANGIA – 781354 | RANGIA | KAMRUP | ASSAM | | |
| JANA SMALL' FINANCE BANK LTD | JSFB0003316 | GUWAHATI SIXMILE | JANA SMALL FINANCE BANK LTD,2ND FLOOR,MALLICK ARCADE,SIXMILE,GUWAHATI – 781022 | GUWAHATI | KAMRUP METROPOLITAN | ASSAM | | |
| JANA SMALL' FINANCE BANK LTD | JSFB0003314 | AMTALA | JANA SMALL FINANCE BANK,VILL-KRIPARAMPUR,P.O-SUKHDEVPUR,AMTALA,SOUTH 24 PGS WB-743503 | AMTALA | SOUTH 24 PGS | WEST BENGAL | | |
| JANA SMALL' FINANCE BANK LTD | JSFB0003310 | DURG | JANA SMALL FINANCE BANK LTD,1ST FLOOR,GURUDWARA ROAD,STATION ROAD,NEAR SBI STATION ROAD BRANCH,DURG – 491001,CHATTISGARH,INDIA | DURG | DURG | CHHATTISGARH | | |
| JANA SMALL' FINANCE BANK LTD | JSFB0003308 | JAMSHEDPUR | JANA SMALL FINANCE BANK LTD,1ST FLOOR,GEETA TOWERS,PLOT NO 36,KASIDIH BASIDIH LINE NO 1,SAKCHI,JAMSHEDPUR – 831001,INDIA | JAMSHEDPUR | JAMSHEDPUR | JHARKHAND | | |
| JANA SMALL' FINANCE BANK LTD | JSFB0003306 | BOKARO | JANA SMALL FINANCE BANK LTD,1ST FLOOR,FLOT NO 5,CITY CENTRE,BOKARO,SECTOR IV,BOKARO STEEL CITY – 827004,INDIA | BOKARO | BOKARO | JHARKHAND | | |
| JANA SMALL' FINANCE BANK LTD | JSFB0003304 | INDORE- PITHAMPUR | AASAFAEALDSN178N11314(AR)IDRASATWERGRAAURTADSDARMADYARADES-454775 | INDORE | INDORE | MADHYA PRADESH | | |
| JANA SMALL' FINANCE BANK LTD | JSFB0003303 | INDORE-VIJAYNAGAR | JANA SMALL FINANCE BANK LTD,PLOT NO.13,RADHIKA PALACE,1ST FLOOR,ABOVE ICIC BANK,TULSI NAGAR,MAHALAXMI NAGAR,INDORE -452010,INDIA | INDORE | INDORE | MADHYA PRADESH | | |
| JANA SMALL' FINANCE BANK LTD | JSFB0003302 | NAROL AHMEDABAD | JANA SMALL FINANCE BANK LTD,1ST FLOOR,NO 21,22,23,RUDRA GREEN COMPLEX,NEAR OLD NAROL COURT NAROL,AHMEDABAD – 382405 | NAROL AHMEDABAD | NAROL AHMEDABAD | GUJARAT | | |
| JANA SMALL' FINANCE BANK LTD | JSFB0003301 | BIHAR SHARIF | 1ST FLOOR CITY CENTRE MOH BHAROPAR,PATNA – RANCHI ROAD ANCHAL BIHARSARIF,NALANDA,803101,INDIA | BIHAR SHARIF | BIHAR SHARIF | BIHAR | | |
| JANA SMALL' FINANCE BANK LTD | JSFB0003300 | PATNA | JANA SMALL FINANCE BANK LTD,GROUND FLOOR,N LAL TOWER,BADI BADAL PUR,LAKHPAR,KHAUGAL,PHULWARISARIF MAIN ROAD,THANA PHULWARI,KHAGUAL,PATNA,BIHAR – 801105,INDIA | PATNA | PATNA | BIHAR | | |
| JANA SMALL' FINANCE BANK LTD | JSFB0003298 | RAJARHAT | JANA SMALL FINANCE BANK,BABLATALA,RAJARHAT GOPALPUR,KOLKATA-700136 | KOLKATA | NORTH 24 PARGANAS | WEST BENGAL | | |
| JANA SMALL' FINANCE BANK LTD | JSFB0003297 | LATUR | JANA SMALL FINANCE BANK LTD,GROUND FLOOR,PARVATI PLAZA,PINATENAGAR,SHOP NO 1,2,3,4,5,BASWESHWAR CHOWK RING ROAD,LATUR – 413512,INDIA | LATUR | LATUR | MAHARASHTRA | | |
| JANA SMALL' FINANCE BANK LTD | JSFB0003295 | LUDHIANA BRS NAGAR | JANA SMALL FINANCE BANK LTD,SCF-43,1ST FLOOR,G-BLOCK,BRS NAGAR,LUDHIANA-141012 | LUDHIANA | LUDHIANA | PUNJAB | | 9.92E+09 |
| JANA SMALL' FINANCE BANK LTD | JSFB0003292 | JALANDHAR CANTT | JANA SMALL FINANCE BANK LTD,1ST FLOOR KRISHNA TOWER,HOSHIARPUR ROAD,RAMA MANDI,ABOVE P.N.B BANK,JALANDHAR CANTT PB-144005 | JALANDHAR | JALANDHAR | PUNJAB | | 7.25E+09 |
| JANA SMALL' FINANCE BANK LTD | JSFB0003290 | BANGALORE | JANA SMALL FINANCE BANK LTD,1ST FLOOR,SITE NO 10,KATHA NO 269/3,BBMP KATHA NO 500/408/269/3,KAGGADASPURA,ABBAIAH LAYOUT,BANGALORE – 560093,INDIA | BANGALORE | BANGALORE | KARNATAKA | | |
| JANA SMALL' FINANCE BANK LTD | JSFB0003289 | GHAZIABAD | JANA SMALL FINANCE BANK LTD,1ST FLOOR,BUILDING NO.10-A,BALRAM NAGAR,LONI,GHAZIABAD -201102,INDIA | GHAZIABAD | GHAZIABAD | UTTAR PRADESH | | |
| JANA SMALL' FINANCE BANK LTD | JSFB0003288 | MINT | JANA SMALL FINANCE BANK LTD,GROUND FLOOR,DOOR NO.58&59,HUNTERS ROAD,PURASAWALKAM VILLAGE,CHENNAI – 600112,INDIA | CHENNAI | CHENNAI | TAMIL NADU | | |
| JANA SMALL' FINANCE BANK LTD | JSFB0003287 | MADURAI-PUDUR | JANA SMALL FINANCE BANK LTD,1ST FLOOR,SURVEY NO 103/1 & 103/2,YASIN TOWER,120FT ROAD,VIVEKANANDA NAGAR,SAMBAKULAM,K.PUDU,MADURAI -625 007,INDIA | MADURAI-PUDUR | MADURAI | TAMIL NADU | | |
| JANA SMALL' FINANCE BANK LTD | JSFB0003286 | BARUIPUR | JANA SMALL FINANCE BANK LTD,PLOT NO 336,1ST FLOOR,BADYA MANSION,246/A,S D CHATTERJET ROAD,BARUIPUR,KOLKATA – 700144,INDIA | BARUIPUR | SOUTH 24 PARGANAS | WEST BENGAL | | |
| JANA SMALL' FINANCE BANK LTD | JSFB0003285 | KALYANI | JANA SMALL FINANCE BANK,251/A-BLOCK-F,FIRST FLOOR,KALYANI,NADIA,WEST BENGAL-741235 | KALYANI | NADIA | WEST BENGAL | | |
| JANA SMALL' FINANCE BANK LTD | JSFB0003281 | LAKSHMI NAGAR | JANA SMALL FINANCE BANK LTD,1ST FLOOR,U-182/A,UPADHYAY BLOCK,NEAR LAKSHMI NAGAR METRO STATION,LAXMI NAGAR,SHAKARPUR,EAST DELHI -110092,INDIA | NEW DELHI | NEW DELHI | DELHI | | |
| JANA SMALL' FINANCE BANK LTD | JSFB0003278 | BODLA | JANA SMALL FINANCE BANK LTD,PLOT NO 111&112,RAJPUT MARKET,BAGAVATI VIHAR,BICHPURI BODLA ROAD,MAUZA BODLA,AGRA – 282007 | AGRA | AGRA | UTTAR PRADESH | | 8.65E+09 |
| JANA SMALL' FINANCE BANK LTD | JSFB0003277 | CUDDALORE | JANA SMALL FINANCE BANK LTD,1ST FLOOR,NO.13A,NETAJI ROAD,MANJA KUPPAM,CUDDALORE -607001,INDIA | CUDDALORE | CUDDALORE | TAMIL NADU | | |
| JANA SMALL' FINANCE BANK LTD | JSFB0003276 | UJJAIN- MOHAN NAGAR | AASMALLFIACEBAKLTD,1STFLOOR,7,MOHANAGAR,AGRAROAD,UJJAI-456001,IDIA | UJJAIN | UJJAIN | MADHYA PRADESH | | |
| JANA SMALL' FINANCE BANK LTD | JSFB0003272 | SAMBALPUR | JANA SMALL FINANCE BANK LTD,PLOT NO.944,1ST FLOOR,BESIDE INCOME TAX BUILDING,ANUGULIAPADA,NH-6,PS-AINTHAPALLI,SAMBALPUR,ODISHA -768004 | SAMBALPUR | SAMBALPUR | ODISHA | | 7.06E+09 |
| JANA SMALL' FINANCE BANK LTD | JSFB0003270 | BULANDSHAHR | JANA SMALL FINANCE BANK LTD,GROUND FLOOR,VILL BAHLEEPURA,PARGANA,BARAN,NEAR PALAK MARRIAGE HALL,PANNI NAGAR,KHURJA ROAD,BULANDSHAR – 203001 | BULANDSHAHR | BULANDSHAHR | UTTAR PRADESH | | 8.65E+09 |
| JANA SMALL' FINANCE BANK LTD | JSFB0003269 | POONAMALLEE | JANA SMALL FINANCE BANK LTD,1ST FLOOR,NO 311/2 A1 A2,DOOR NO 32,TRUNK ROAD,PONAMALEE VILLAGE,CHENNAI – 600056,INDIA | POONAMALLEE | CHENNAI | TAMIL NADU | | |
| JANA SMALL' FINANCE BANK LTD | JSFB0003267 | TRICHY-SAMAYAPURAM TOLLAGE | JANA SMALL FINANCE BANK LTD,1ST FLOOR,SURVEY NO 64/3D1,64/3D2,S F NO 64/3,BIKSHANDRA KOVIL VILLAGE,MANNACHANALLUR TALUK,TRICHY – 621216,INDIA | TRICHY | TRICHY | TAMIL NADU | | |
| JANA SMALL' FINANCE BANK LTD | JSFB0003266 | SUNDARAPURAM | JANA SMALL FINANCE BANK LTD,NO B-1,1ST FLOOR,RAVI RAM COMPLEX,ANNAI INDRA NAGAR CROSS II,MADHUKKARAI ROAD,INDUSTRIAL ESTATE POST,SUNDARAPURAM,COIMBATORE-641021 | SUNDARAPURAM | COIMBATORE | TAMIL NADU | | |
| JANA SMALL' FINANCE BANK LTD | JSFB0003265 | PALLAVARAM | JANA SMALL FINANCE BANK LTD,1ST FLOOR,DOOR NO.89,SURVEY NO.26/2B2A2A,GST ROAD ESSA PALLAVARAM,PALLAVARAM – 600043,INDIA | CHENNAI | CHENNAI | TAMIL NADU | | |
| JANA SMALL' FINANCE BANK LTD | JSFB0003263 | JAHANGIR PURI | JANA SMALL FINANCE BANK LTD,1ST FLOOR,A-7-8/88,RAMGARH,JAHANGIRPURI,KARNAL ROAD,CORPORATION BANK BUILDING,DELHI -110009,INDIA | NEW DELHI | NEW DELHI | DELHI | | |
| JANA SMALL' FINANCE BANK LTD | JSFB0003262 | MUZAFFARNAGAR | JANA SMALL FINANCE BANK LTD.GROUND FLOOR,NO.425,KAMBAL WALA BAUGH,JANSANTH ROAD OPP HDFC BANK NEW MANDI,MUZZAFFAR NAGAR-251002 | MUZAFFARNAGAR | MUZAFFARNAGAR | UTTAR PRADESH | | 8.39E+09 |
| JANA SMALL' FINANCE BANK LTD | JSFB0003258 | ROURKELA | JANA SMALL FINANCE BANK LTD,1ST FLOOR,PLOT NO.13,KATHA NO.1& 45,CIVIL TOWNSHIP,ROURKELA – 769004 | SUNDARGARH | SUNDARGARH | ODISHA | | 7.06E+09 |
| JANA SMALL' FINANCE BANK LTD | JSFB0003256 | ANEKAL | JANA SMALL FINANCE BANK LTD,1ST FLOOR,CKR COMPLEX,KHATHA 68/63 KSRTC BUS STOP NEARANEKAL-562106 | BANGALORE URBAN | BANGALORE URBAN | KARNATAKA | | 9.74E+09 |
| JANA SMALL' FINANCE BANK LTD | JSFB0003255 | MALDA | GROUND FLOOR,PLOT NO.831,R.S.NO.665,663&664,SUBHASH PALLY,JHALIJHALIA,MALDA-732102 | MALDA | MALDA | WEST BENGAL | | |
| JANA SMALL' FINANCE BANK LTD | JSFB0003254 | BAHARAMPUR | JANA SMALL FINANCE BANK LTD,GROUND FLOOR,MALANCHA,RADHIKA NAGAR,JOLONGI ROAD,BAHARAMPUR,MURSHIDABAD -742102,INDIA | BAHARAMPUR | BAHARAMPUR | WEST BENGAL | | |
| JANA SMALL' FINANCE BANK LTD | JSFB0003253 | RAIPUR | JANA SMALL FINANCE BANK LTD,GROUND FLOOR,PLOT NO.C-50,DAGIL COMPLEX,DEVENDRA NAGAR BESIDE SHRI NANAK HOSPITAL URLA ROAD,RAIPUR – 492003,INDIA | RAIPUR | RAIPUR | CHHATTISGARH | | |
| JANA SMALL' FINANCE BANK LTD | JSFB0003252 | BHUWANESHWAR | JANA SMALL FINANCE BANK LTD,1ST FLOOR,PLOT NO.159/1,SECTION-A,ZONE-A,MANCHESWAR INDUSTRIAL ESTSTE,BHUBANESHWAR – 751010,INDIA | BHUWANESHWAR 2 | BHUWANESHWAR | ODISHA | | |
| JANA SMALL' FINANCE BANK LTD | JSFB0003251 | VARTHUR | JANA SMALL FINANCE BANK LTD,1ST FLOOR,NO.101& 102,KATHA NO.87& 88 OLD KATHA NO.68& 69,THUBARAHALLI VILLAGE,RAMAGONDANAHALLI,BANGALORE – 560066,INDIA | VARTHUR | BANGALORE | KARNATAKA | | |
| JANA SMALL' FINANCE BANK LTD | JSFB0003250 | BOMMANHALLI | JANA SMALL FINANCE BANK LTD,NO 543/4 1ST FLOOR,ABOVE OM COLLECTIONS,NEAR JOCKY SHOWROOM,JWALAMALA INDUSTRIAL ESTATE,DEVERACHIKKANA HALLI ROAD,BOMMANAHALLI,BANGALORE-560068 | BOMMANHALLI | BANGALORE | KARNATAKA | | |
| JANA SMALL' FINANCE BANK LTD | JSFB0003249 | GULBARGA | JANA SMALL FINANCE BANK LTD,GROUND FLOOR,PLOT NO.3056,OPP.ABBAS TOWERS,OSMAMA COLONY RING ROAD,M B NAGAR,GULBARGA – 585101,INDIA | GULBARGA 2 | GULBARGA | KARNATAKA | | |
| JANA SMALL' FINANCE BANK LTD | JSFB0003248 | KHANDAGIRI | JANA SMALL FINANCE BANK LTD,2ND FLOOR,PLOT NO.352P,KOLOTHIA CHOWK,KHANDAGIRI,BHUBANESWAR,ODISHA – 751030 | KHORDHA | KHORDHA | ODISHA | | 7.44E+09 |
| JANA SMALL' FINANCE BANK LTD | JSFB0003246 | DHANBAD | JANA SMALL FINANCE BANK LTD,1ST FLOOR,PLOT NO.204,HARIMANGAL PLAZA,DHANSAR,DHANBAD,JHARKHAND -828106,INDIA | DHANBAD | DHANBAD | JHARKHAND | | |
| JANA SMALL' FINANCE BANK LTD | JSFB0003244 | HOSHANGABAD | JANA SMALL FINANCE BANK LTD,2ND FLOOR,SAI SHOPPING COMPLEX,PLOT NO.234,SHEET NO.26,WARD NO.9,NARMADA MARG,SATRASTA,TEHSIL & DIST.HOSHANGABAD – 461001,MADHYAPRADESH,INDIA | HOSHANGABAD | HOSHANGABAD | MADHYA PRADESH | | |
| JANA SMALL' FINANCE BANK LTD | JSFB0003243 | DURGAPUR | JANA SMALL FINANCE BANK LTD,GROUND FLOOR,RUMA SWEETS BUILDING,NACHAN ROAD,BENACHITY,DURGAPUR,DURGAPUR -713213,INDIA | DURGAPUR | KOLKATA | WEST BENGAL | | |
| JANA SMALL' FINANCE BANK LTD | JSFB0003242 | BURDWAN | JANA SMALL FINANCE BANK LTD,1ST FLOOR,LAXMIPUR MATH,COLLEGE MORE,BUDWAN – 713101,INDIA | BURDWAN | BURDWAN | WEST BENGAL | | |
| JANA SMALL' FINANCE BANK LTD | JSFB0003241 | ASANSOL | JANA SMALL FINANCE BANK,192(N),WEST APCAR GARDEN,SEN RALEIGH ROAD,(NEAR E.RLY CULVERT),OPPOSITE OF NEW EVELAND NURSINGH HOME& BANDHAN BANK.ASANSOL-713304 | ASANSOL | BARDHAMAN | WEST BENGAL | | |
| JANA SMALL' FINANCE BANK LTD | JSFB0003240 | VALSAD | JANA SMALL FINANCE BANK LTD,2ND FLOOR,OFFICE NO 14 TO 17,NEAR T.V.S SHOWROOM,CITY POINT,ABRAMA,VALSAD – 396001 | VALSAD | VALSAD | GUJARAT | | |
| JANA SMALL' FINANCE BANK LTD | JSFB0003238 | OSMANABAD | JANA SMALL FINANNCE BANK LTD,2ND FLOOR,SURVEY NO.236,CST NO.313/A,MINAKSHI COMPLEX,NR BUS STAND,OSMANABAD,413501 | OSMANABAD | OSMANABAD | MAHARASHTRA | | 7.04E+09 |
| JANA SMALL' FINANCE BANK LTD | JSFB0003237 | BARSHI | JANA SMALL FINANCE BANK LTD,1ST FLOOR,CST NO.739/3 21& PLOT NO.46(A),NEELAI COMPLEX,SHIVAJI NAGAR,BARSHI -413411,INDIA | BARSHI | SOLAPUR | MAHARASHTRA | | |
| JANA SMALL' FINANCE BANK LTD | JSFB0003236 | NASHIK | JANA SMALL FINANCE BANK LTD,GROUND FLOOR,DATAMANTIC SUYYOJIT KNOWELDGE CENTRE,ST-1 NATIONAL HIGH WAY SERVICE ROAD 3,MUMBAI NAKA,NASHIK – 422009,INDIA | NASHIK | NASIK | MAHARASHTRA | | |
| JANA SMALL' FINANCE BANK LTD | JSFB0003233 | SILIGURI | JANA SMALL FINANCE BANK LTD,2ND FLOOR PNB BUILDING,LANDMARK-HDFC BANK,SF ROAD,SILIGURI,WEST BENGAL.PIN-734005 | SILIGURI | DARJILING | WEST BENGAL | | |
| JANA SMALL' FINANCE BANK LTD | JSFB0003231 | ARUMBAKKAM | JANA SMALL FINANCE BANK LTD,1ST FLOOR,DOOR NO.36/37,PLOT NO.3 OLD S.NO165/1A.2,ARUMBAKKAM – 600106,INDIA | CHENNAI | CHENNAI | TAMIL NADU | | |
| JANA SMALL' FINANCE BANK LTD | JSFB0003229 | GONDIA | JANA SMALL FINANCE BANK LTD,GROUND FLOOR 4,5,16,17,6,14,&15 SAI COMPLEX,BALAGHAT ROAD,MOUZA GONDIA,441614 | GONDIA | GONDIA | MAHARASHTRA | | 8.69E+09 |
| JANA SMALL' FINANCE BANK LTD | JSFB0003226 | PATIALA | JANA SMALL FINANCE BANK LTD,SCF-151,1ST FLOOR,DLF COLONY,PATIALA-147001 | PATIALA | PATIALA | PUNJAB | | 9.99E+09 |
| JANA SMALL' FINANCE BANK LTD | JSFB0003223 | DEORIA | JANA SMALL FINANCE BANK LTD,1ST FLOOR,H.NO.543,KOTWALI ROAD,MOHALLA BANSH,OPP.GOVT INTER COLLEGE,DEORIA -274001 | DEORIA | DEORIA | UTTAR PRADESH | | 7.83E+09 |
| JANA SMALL' FINANCE BANK LTD | JSFB0003222 | GUNA | JANA SMALL FINANCE BANK LTD,PLOT NO.75,MAYA COMPLEX,1ST FLOOR,OPP.HDFC LIFE,WARD NO.17,PUNJABI MOHALLA,GUNA -473001,INDIA | GUNA | GUNA | MADHYA PRADESH | | |
| JANA SMALL' FINANCE BANK LTD | JSFB0003221 | DARBHANAGA | JANA SMALL FINANCE BANK LTD,1ST FLOOR,INFRONT OF UMA THEATRE,KHANKA CHOWK,DARBHANGA -846004,INDIA | DARBHANAGA | DHARBANGA | BIHAR | | |
| JANA SMALL' FINANCE BANK LTD | JSFB0003220 | UDGIR | JANA SMALL FINANCE BANK LTD,1ST FLOOR,HOUSE NO.3-2-487 PLOT NO.35,NIDEBAN,LATUR,UDGIR – 413517 | UDGIR | LATUR | MAHARASHTRA | | |
| JANA SMALL' FINANCE BANK LTD | JSFB0003218 | ICHALKARANJI | JANA SMALL FINANCE BANK LTD,2ND FLOOR,SUYOG CHAMBERS,NEAR SHIVAJI STATUE,KOLHAPUR ROAD,ICHALKARANJI -416115,INDIA | ICHALKARANJI | KOLHAPUR | MAHARASHTRA | | |
| JANA SMALL' FINANCE BANK LTD | JSFB0003214 | MODASA | JANA SMALL FINANCE BANK LTD,3RD FLOOR,HALL NO.4,PLOT NO.24,25,26,SURVEY NO.63,HET BUILD CARE,NALANDA ARCADE,PAIKIM,MOJE KHAIKPUR,TALUKA,MODASA – 383315 | MODASA | MODASA | GUJARAT | | |
| JANA SMALL' FINANCE BANK LTD | JSFB0003213 | BHANDUP W | JANA SMALL FINANCE BANK LTD,SKICITY,1ST FLOOR,NO 101 TO 103& 137 TO 139,LAKE ROAD,OFF LBS MARG,BHANDUP WEST,MUMBAI – 400078,INDIA | BHANDUP W | MUMBAI | MAHARASHTRA | | |
| JANA SMALL' FINANCE BANK LTD | JSFB0003211 | PALANPUR | JANA SMALL FINANCE BANK LTD,2ND FLOOR,MEGHADARSHAN COMPLEX,OFFICE NO.3& 4,MEHAL PARK OPP.CIRCUIT HOUSE HIGHWAY,PALANPUR – 385001,INDIA | PALANPUR | PALANPUR | GUJARAT | | |
| JANA SMALL' FINANCE BANK LTD | JSFB0003210 | PATAN | JANA SMALL FINANCE BANK LTD,3RD FLOOR,KRUSHNAM PLAZA,OFFICE NO.T-11,T-12,T-13,T-14,R.S.NO.1040,INFRONT OF DISTRICT COURT,PATAN – 384265 | PATAN | PATAN | GUJARAT | | |
| JANA SMALL' FINANCE BANK LTD | JSFB0003207 | BHATINDA | JANA SMALL FINANCE BANK LTD,20240,12 NO.STREET,OPP.ICICI BANK,100 FT.ROAD,BATHINDA-151001 | BATHINDA | BATHINDA | PUNJAB | | 9.65E+09 |
| JANA SMALL' FINANCE BANK LTD | JSFB0003206 | SONIPAT | JANA SMALL FINANCE BANK LTD,2ND FLOOR,PL HOUSE,204-R,MODEL TOWN,SUBHASH CHOWK,SONIPAT-131001 | SONIPAT | SONIPAT | HARYANA | | 9.05E+09 |
| JANA SMALL' FINANCE BANK LTD | JSFB0003205 | ROHTAK | GROUND FLOOR,15 KHATAUNI,NO.22,NEAR DAGAR BEEJ BHANDAR,VPO KABULPUR,ROHTAK | ROHTAK | ROHTAK | HARYANA | | |
| JANA SMALL' FINANCE BANK LTD | JSFB0003203 | KARNAL | JANA SMALL FINANCE BANK LTD,SECTOR 12,SCO 216,NEAR IDBI BANK,KARNAL – 132001 | KARNAL | KARNAL | HARYANA | | 7.03E+09 |
| JANA SMALL' FINANCE BANK LTD | JSFB0003202 | AMBALA | JANA SMALL FINANCE BANK LTD,2ND FLOOR,5365-66,NICHOLSON ROAD,AMBALA CANTT.- 133001 | AMBALA | AMBALA | HARYANA | | 7.03E+09 |
| JANA SMALL' FINANCE BANK LTD | JSFB0003201 | BAGALKOTE | JANA SMALL FINANCE BANK LTD,NO,239/2A,2B/1D,ST FLOOR,PLOT NO 5 NADAGOUDA ROAD,NEAR KERUDI HOSPITAL VINAYAKNAGAR,BAGALKOTE-587101 | BAGALKOT | BAGALKOT | KARNATAKA | | 8.15E+09 |
| JANA SMALL' FINANCE BANK LTD | JSFB0003199 | GODHRA | JANA SMALL FINANCE BANK LTD,2ND FLOOR,SAI DARSHAN COMPLEX,PLOT NO.5 PAIKI,OPP TO RELIANCE PETROL PUMP,LUNAWALA HIGHWAY,BHURVAV ROAD,GODHRA – 389001 | GODHRA | GODHRA | GUJARAT | | |
| JANA SMALL' FINANCE BANK LTD | JSFB0003198 | BELLARY | JANA SMALL FINANCE BANK LTD.1ST FLOOR,MARUTHI PLAZA,PID NO 315/29& HOUSE NO 143,MOKA ROAD,GANDHINAGAR MARKET,BELLARY – 583101,INDIA | BELLARY | BELLARY | KARNATAKA | | |
| JANA SMALL' FINANCE BANK LTD | JSFB0003196 | MEHSANA | JANA SMALL FINANCE BANK LTD,OFFICE NO.9,2ND FLOOR,PADMAVATI COMPLEX,CITY MAL GODOWN ROAD,NEAR URBAN BANK OF MEHSANA,MEHSANA – 384002 | MEHSANA | MEHSANA | GUJARAT | | |
| JANA SMALL' FINANCE BANK LTD | JSFB0003195 | BHUJ | JANA SMALL FINANCE BANK LTD,1ST FLOOR,RTO RELOCATION SITE,KATIRA COMPLEX,HALL NO.7,BHUJ – MADHAPAR RING ROAD,BHUJ – 370001 | BHUJ | BHUJ | GUJARAT | | |
| JANA SMALL' FINANCE BANK LTD | JSFB0003194 | SATARA | AASMALLFIACEBAKLTD,SHOPO.UG-2,UG-3ADUG-4,UPPERGROUD,MASTERPRIDE,SADARBAZAR,UTTEKARNAGAR,SATARA-415001,IDIA | SATARA | SATARA | MAHARASHTRA | | |
| JANA SMALL' FINANCE BANK LTD | JSFB0003192 | BILASPUR | JANA SMALL FINANCE BANK LTD,FIRST FLOOR OF THE BUILDING R-SQUARE OPPOSITE RK PETROL PUMP SEEPAT ROAD SARKANDA BILASPUR -495001 | BILASPUR | BILASPUR | CHANDIGARH | | 7.69E+09 |
| JANA SMALL' FINANCE BANK LTD | JSFB0003190 | KHANDWA | JANA SMALL FINANCE BANK LTD,2ND FLOOR,OLD PLOT NO.79& NEW PLOT NO.97,NEAR HOTEL CHANDRA SHREE,RASHTRAKAVI RASKHAN,WARD NO.19,SHIVAJI MARG,NAZUL BLOCK NO.38,KHANDWA -450001,MADHYA PRADESH,INDIA | KHANDWA | KHANDWA | MADHYA PRADESH | | |
| JANA SMALL' FINANCE BANK LTD | JSFB0003189 | KAMAKSHIPALYA | JANA SMALL FINANCE BANK LTD,1ST FLOOR,NO 48,4TH BLOCK,4TH STAGE,SIDDHAIAH PURANIK ROAD,BASAVESHWARANAGAR,ABOVE UNION BANK,BANGALORE – 560079,INDIA | KAMAKSHIPALYA | BANGALORE | KARNATAKA | | |
| JANA SMALL' FINANCE BANK LTD | JSFB0003188 | FRAZER TOWN | DOOR NO.22/1,GROUND& FIRST FLOOR,MSR BUILDING,22/1 WHEELER ROAD,FRAZER TOWN,BANGALORE-560005 | BANGALORE | BANGALORE | KARNATAKA | | |
| JANA SMALL' FINANCE BANK LTD | JSFB0003187 | MATHIKERE | JANA SMALL FINANCE BANK LTD,1ST FLOOR,NO 273-B,CO-OPERATIVE HOUSE BUILDING SOCIETY,OPP CHOWDESHWARI BUS STOP,MATHIKERE,BANGALORE – 560078,INDIA | MATHIKERE | BANGALORE | KARNATAKA | | |
| JANA SMALL' FINANCE BANK LTD | JSFB0003186 | YAVATMAL | JANA SMALL FINANCE BANK LTD,PLOT NO.17,WADGAON ROAD,YAWATMAL -445001 | YAVATMAL | YAVATMAL | MAHARASHTRA | | 7.45E+09 |
| JANA SMALL' FINANCE BANK LTD | JSFB0003185 | SANGLI | 1ST FLOOR,SIDDHIVINAYAK HOUR,NR AMBASSADOR HOTEL,SANGLI -MIRAJ ROAD,SANGLI | SANGLI | SANGLI | MAHARASHTRA | | |
| JANA SMALL' FINANCE BANK LTD | JSFB0003183 | KONANAKUNTE | JANA SMALL FINANCE BANK LTD,1ST FLOOR,ABOVE DENA BANK,SITE NO.22,KATHA NO.25,SHARADA NAGAR,VASANTHPURA MAIN ROAD,UTTARAHALLI HOBLI,BANGALORE – 560061,INDIA | KONANAKUNTE | BANGALORE | KARNATAKA | | |
| JANA SMALL' FINANCE BANK LTD | JSFB0003180 | NADIAD | JANA SMALL FINANCE BANK LTD,106-107,DUTT ARCADE,NR.TGB HOTEL,PETLAD ROAD,NADIAD 387001 | NADIAD | KHEDA | GUJARAT | | |
| JANA SMALL' FINANCE BANK LTD | JSFB0003179 | HIMATNAGAR | JANA SMALL FINANCE BANK LTD,R.S.NO.871/11,PLOT NO.51 TO 73,RATNASAGAR COMPLEX,2ND FLOOR,SHOP NO.51 TO 55,SAHAKAR JIN ROAD,KANKNOL VILLAGE,HIMMATNAGAR – 383001 | HIMATNAGAR | HIMATNAGAR | GUJARAT | | |
| JANA SMALL' FINANCE BANK LTD | JSFB0003178 | HASSAN | JANA SMALL FINANCE BANK LTD,GROUND FLOOR,CHANDANA COMPLEX,AR NO.103 AND NEW NO.210,HARSHA MAHAL ROAD,HASSAN – 573201,INDIA | HASSAN | HASSAN | KARNATAKA | | |
| JANA SMALL' FINANCE BANK LTD | JSFB0003176 | BIDAR | AASMALLFIACEBAKLTD.BELOWSHIVSHAKTITOWER,SHIVAGARNORTH,BIDAR-585401 | BIDAR | BIDAR | KARNATAKA | | |
| JANA SMALL' FINANCE BANK LTD | JSFB0003175 | THANJAVUR | JANA SMALL FINANCE BANK LTD,GROUND FLOOR,NRS KINGDOM SQUARE,NO.2851/16P,NEAR KTP SHANMUGA SUNDARAM COMPLEX,ARULANANDHA NAGAR,THANJAVUR – 613007,INDIA | THANJAVUR | THANJAVUR | TAMIL NADU | | |
| JANA SMALL' FINANCE BANK LTD | JSFB0003173 | KUMBAKONAM | JANA SMALL FINANCE BANK LTD,2ND& 3RD FLOOR,DOOR NO 59,6TH WARD,KAMARAJ ROAD,KUMBAKONAM,THANJAVUR – 612001,INDIA | KUMBAKONAM | KUMBAKONAM | TAMIL NADU | | |
| JANA SMALL' FINANCE BANK LTD | JSFB0003172 | MANDAVELI R K MUTT ROAD | JANA SMALL FINANCE BANK LTD,NO 179/86 1ST FLOOR RK MUTT ROAD MANDAVELI CHENNAI 600028 | CHENNAI | CHENNAI | TAMIL NADU | | |
| JANA SMALL' FINANCE BANK LTD | JSFB0003171 | THENI | 2ND FLOOR,WARD NO.16,NEHRUJI ROAD,SALESOCIETY STREET,ALLINAGARAM VILLAGE,SRO THENITHENI625531 | THENI ALLINAGARAM | THENI ALLINAGARAM | TAMIL NADU | | |
| JANA SMALL' FINANCE BANK LTD | JSFB0003170 | NAGERCOIL | SLDNDDN3TPUDCPRDN-691 | NAGERCOIL | NAGERCOIL | TAMIL NADU | | |
| JANA SMALL' FINANCE BANK LTD | JSFB0003169 | DINDIGUL | JANA SMALL FINANCE BANK LTD,1ST FLOOR,74,THADIKOMBU ROAD,MVM COLLEGE NEAR,DINDIGUL – 624001,INDIA | DINDIGUL | DINDIGUL | TAMIL NADU | | |
| JANA SMALL' FINANCE BANK LTD | JSFB0003168 | HOSUR | PROPERTY NO.17/19,SAI VASAVI ENCLAVE,1ST FLOOR,NEAR TO BSNL OFFICE,NEAR TO BSNL OFFICE,OPP.HOSUR BUS STAND,HOSUR TALUKKRISHNAGIRI635109 | HOSUR | HOSUR | TAMIL NADU | | |
| JANA SMALL' FINANCE BANK LTD | JSFB0003164 | SION | JANA SMALL FINANCE BANK LTD,1ST FLOOR,CIVIC CENTRE,DADAR EAST,MUMBAI -400014 | MUMBAI | MUMBAI | MAHARASHTRA | | 7.62E+09 |
| JANA SMALL' FINANCE BANK LTD | JSFB0003163 | MUMBAI | JANA SMALL FINANCE BANK LTD.GROUND FLOOR,ARJUN CENTER,GALA NO.8,DEONAR ON GOVANDI STATION ROAD,BOMBAY,KURLA TALUKA.MUMBAI – 400088,INDIA | MUMBAI | MUMBAI | MAHARASHTRA | | |
| JANA SMALL' FINANCE BANK LTD | JSFB0003161 | GHATKOPAR | JANA SMALL FINANCE BANK LTD,BLOCK NO.105,1ST FLOOR,HILL VIEW IND.EST,AMRUT NAGAR ROAD,OFF L B S ROAD,GHATKOPAR WEST,MUMBAI – 400086 | MUMBAI | MUMBAI | MAHARASHTRA | | 8.42E+09 |
| JANA SMALL' FINANCE BANK LTD | JSFB0003160 | AMBERNATH | JANA SMALL FINANNCE BANK LTD,BS2 -2ND FLOOR,JAI LAXMI SAGAR CO.OPP.SOCIETY,NEAR COMMISSIONER BUNGLOW,STATION ROAD,AMBERNATH -EAST -THANE -421501 | THANE | THANE | MAHARASHTRA | | 9.87E+09 |
| JANA SMALL' FINANCE BANK LTD | JSFB0003159 | NALLASOPARA | NO.7/8,SWARNHANSTOWER,2NDROAD,SHRIPRASTHACOMPLEX,NALLASOPARA(WEST)VASAITALUK,THANE-401203,INDIA | NALLASOPARA | MUMBAI | MAHARASHTRA | | |
| JANA SMALL' FINANCE BANK LTD | JSFB0003157 | PAVNAR | JANA SMALL FINANCE BANK LTD,GROUND FLOOR,HADKE LAYOUT,WARD NO.2,PAWNAR VILLAGE,WARDHA DIST& TAL -442001 | WARDHA | WARDHA | MAHARASHTRA | | 8.09E+09 |
| JANA SMALL' FINANCE BANK LTD | JSFB0003156 | AKOLA | JANA SMALL FINANCE BANK LTD,GROUND FLOOR,PLOT NO.3,SHILPA TOWERS,GORAKSHAN ROAD,TUKARAM CHOWK,MALKAPUR ROAD,AKOLA – 440104 | AKOLA | AKOLA | MAHARASHTRA | | 7.77E+09 |
| JANA SMALL' FINANCE BANK LTD | JSFB0003155 | AMRAVATI | JANA SMALL FINANCE BANK LTD,MOUJE -WADALI,PRAGANE BADNERA,AMRAVATI – 444602 | AMRAVATI | AMRAVATI | MAHARASHTRA | | 9.15E+09 |
| JANA SMALL' FINANCE BANK LTD | JSFB0003153 | KOLHAPUR | JANA SMALL FINANCE BANK LTD,PLOT NO.4,SURVEY NO.762,WARD A,KARVIR,KOLHAPUR – 416012 | KOLHAPUR | KOLHAPUR | MAHARASHTRA | | 7.04E+09 |
| JANA SMALL' FINANCE BANK LTD | JSFB0003152 | JUNAGADH | JANA SMALL FINANCE BANK LTD,2ND FLOOR,SHOP NO.203& 204,PRISAM COMPLEX,S.T.ROAD,JUNAGADH -362001 | JUNAGADH | JUNAGADH | GUJARAT | | |
| JANA SMALL' FINANCE BANK LTD | JSFB0003151 | BHARUCH | JANA SMALL FINANCE BANK LTD,1ST FLOOR,SHOP NO.1& 2,GAJANAN COMPLEX,ZADESHWAR CHOKRI,ZADESHWAR,BHARUCH DIST -392002 | BHARUCH | BHARUCH | GUJARAT | | |
| JANA SMALL' FINANCE BANK LTD | JSFB0003149 | WAGHWADI RD BHAVNAGAR | JANA SMALL FINANCE BANK LTD,201/202,SHREE ASHTHVINAYAK CITY MALL,OPP.MADHAV DARSHAN,WAGHAWADI ROAD,BHAVNAGAR -364001 | BHAVNAGAR | BHAVNAGAR | GUJARAT | | |
| JANA SMALL' FINANCE BANK LTD | JSFB0003148 | SURENDRANAGAR | JANA SMALL FINANCE BANK LTD,2ND FLOOR,SURVODAYA COMPLEX,OPP.SOMNATH TRAVELS,SURENDRANAGAR 363001 | SURENDRANAGAR DUDHREJ | SURENDRANAGAR | GUJARAT | | |
| JANA SMALL' FINANCE BANK LTD | JSFB0003147 | KALOL | JANA SMALL FINANNCE BANK LTD,SHOP NO.104 TO 106,C WING,NAVJIVAN SHOPPING CENTER,KHOONI BANGLA CROSS ROAD,B/H COURT,MAHENDRA MILL ROAD,KALOL -382721 | KALOL | KALOL | GUJARAT | | |
| JANA SMALL' FINANCE BANK LTD | JSFB0003144 | BARRACKPORE | JANA SMALL FINANCE BANK LTD,1ST FLOOR,AKASHDEEP,HOLDING NO.M-1,NANA – CHANDRAPUKUR,BARASAT ROAD,BARRACKPORE,KOLKATA -700122,INDIA | KOLKATA TWO SODEPUR BARRACKPORE | BURDWAN | WEST BENGAL | | |
| JANA SMALL' FINANCE BANK LTD | JSFB0003141 | ADITYAPUR – JAMSHEDPUR | JANA SMALL FINANCE BANK LTD,2ND FLOOR,SUMAN TOWER,ABOVE ICICI BANK,NEAR SHERE PUNJAB CHOWK,INFRONT OF AIDA,ADITYAPUR,JAMSHEDPUR,JHARKHAND -831013 | PURBI SINGHBHUM | PURBI SINGHBHUM | JHARKHAND | | 7.36E+09 |
| JANA SMALL' FINANCE BANK LTD | JSFB0003139 | KORBA | JANA SMALL FINANCE BANK LTD,GROUND& 1ST FLOOR,PLOT NO.17,WARD NO.13,KHASRA NO.188/1K OF MOUZA-TRANSPORT NAGAR,KORBA – 495677,INDIA | KORBA | KORBA | CHHATTISGARH | | |
| JANA SMALL' FINANCE BANK LTD | JSFB0003138 | SUNDER NAGAR-RAIPUR | 1ST FLOOR,MALAY HEIGHT,FRONT OF RESERVE BANK OF INDIA,MAHADEO GHAT ROAD,SUNDER NAGAR,RAIPUR ( CG ) – 492001 | RAIPUR | RAIPUR | CHHATTISGARH | | |
| JANA SMALL' FINANCE BANK LTD | JSFB0003137 | MUZAFFARPUR | JANA SMALL FINANCE BANK LTD,1ST FLOOR,WARD NO.49,THANA NO.410,INFRONT OF SHIVA MANDIR,BELA ROAD,MITHANPUR MUZAFFARPUR PO,P.S. & DIST.BIHAR – 842002,INDIA | MUZAFFARPUR | MUZAFFARPUR | BIHAR | | |
| JANA SMALL' FINANCE BANK LTD | JSFB0003136 | BHAGALPUR | JANA SMALL FINANCE BANK LTD,GROUND FLOOR,INDU MOHAN SMRITI,R.B.S.S SAHAI ROAD,BHAGALPUR – 812001,INDIA | BHAGALPUR | BHAGALPUR | BIHAR | | |
| JANA SMALL' FINANCE BANK LTD | JSFB0003135 | GAYA | JANA SMALL FINANCE BANK LTD,2ND FLOOR,25-A,K.P.ROAD,ABOVE GITANJALI JEWELLS,GAYA -823001,INDIA | GAYA | GAYA | BIHAR | | |
| JANA SMALL' FINANCE BANK LTD | JSFB0003134 | MACHUATOLI – PATNA | JANA SMALL FINANCE BANK LTD,1ST FLOOR,MOTHERS BUILDING,OPP.UNION BANK,MACHUATOLI,PATNA – 800004 | PATNA | PATNA | BIHAR | | 8.41E+09 |
| JANA SMALL' FINANCE BANK LTD | JSFB0003133 | DANAPUR | 1ST FLOOR,MOTHERS BUILDING,OPP.UNION BANK,MACHUATOLI,PATNA – 800004,INDIA | DANAPUR | PATNA | BIHAR | | |
| JANA SMALL' FINANCE BANK LTD | JSFB0003132 | GORAKHPUR | JANA SMALL FINANCE BANK LTD,UPPER GROUND FLOOR,NO.120 -C,DOUDPUR HIWAY NH,29,GORAKHPUR – 273007 | GORAKHPUR | GORAKHPUR | UTTAR PRADESH | | 8.65E+09 |
| JANA SMALL' FINANCE BANK LTD | JSFB0003130 | ALIGARH | JANA SMALL FINANCE BANK LTD,HARKUT COMPLEX,GROUND FLOOR,OPP.38 PAC,RAMGHAT ROAD,ALIGARH – 202001 | ALIGARH | ALIGARH | UTTAR PRADESH | | 8.85E+09 |
| JANA SMALL' FINANCE BANK LTD | JSFB0003129 | BAREILLY | JANA SMALL FINANCE BANK LTD,2ND FLOOR,35-A/8,RAMPUR GARDEN,OPP.PRABHA CINEMA,BAREILLY -243001 | BAREILLY | BAREILLY | UTTAR PRADESH | | 7.83E+09 |
| JANA SMALL' FINANCE BANK LTD | JSFB0003128 | BALLABHGARH | JANA SMALL FINANCE BANK LTD,1ST FLOOR,FCA-57,CHAWLA COLONY,100FT ROAD,ABOVE IDBI BANK,BALLABHGARH,HARYANA – 121004,INDIA | BALLABHGARH | FARIDABAD | HARYANA | | |
| JANA SMALL' FINANCE BANK LTD | JSFB0003126 | BAHADURGARH | AASMALLFIACEBAKLTD,NO.14/78,1STFLOOR,MODELTOW,SAIIMARKET,BAHADURGARH,HAJJAR-124507,IDIA | BAHADURGARH | JHAJJAR | HARYANA | | |
| JANA SMALL' FINANCE BANK LTD | JSFB0003125 | HAPUR-GHAZIABAD BR | JANA SMALL FINANCE BANK LTD,GROUND FLOOR,MUNICIPAL HOUSE NO.1086,MEERUT ROAD,HAPUR – 245101 | GHAZIABAD | GHAZIABAD | UTTAR PRADESH | | 7.83E+09 |
| JANA SMALL' FINANCE BANK LTD | JSFB0003124 | DELHI | JANA SMALL FINANCE BANK LTD,GROUND FLOOR,PROPERTY BEARING NO.2152,BAWANA ROAD,NARELA MADI,DELHI – 110040,INDIA | DELHI | NEW DELHI | DELHI | | |
| JANA SMALL' FINANCE BANK LTD | JSFB0003123 | ALLAHABAD | JANA SMALL FINANCE BANK LTD.326A/167A,BAI KA BAGH,ALLAHABAD – 211003 | ALLAHABAD | ALLAHABAD | UTTAR PRADESH | | 7.25E+09 |
| JANA SMALL' FINANCE BANK LTD | JSFB0003122 | GWALIOR | JANA SMALL FINANCE BANK LTD,1ST FLOOR,PLOT NO.6,MORAR ENCLAVE,GOLE KA MANDIR,GWALIOR -474005,MADHYA PRADESH,INDIA | GWALIOR | GWALIOR | MADHYA PRADESH | | |
| JANA SMALL' FINANCE BANK LTD | JSFB0003120 | MADAN MAHAL, JABALPUR | GROUND FLOOR,SHIVAHRE,COMPLEX,NEAR GULZAR HOTEL,NURINGH WARD,MADAN MAHAL,NAGPUR ROAD,JABALPUR MP-482002 | JABALPUR | JABALPUR | MADHYA PRADESH | | |
| JANA SMALL' FINANCE BANK LTD | JSFB0003118 | KATNI | JANA SMALL FINANCE BANK LTD,NO.998& 1000,1ST FLOOR,JABALPUR ROAD,NEHUR WARD,BARGAWAN,KATNI – 483501,INDIA | KATNI | KATNI | MADHYA PRADESH | | |
| JANA SMALL' FINANCE BANK LTD | JSFB0003117 | RATLAM | JANA SMALL FINANCE BANK LTD,UPPER GROUND FLOOR,RATLAM PLAZA,SHOP NO.16/45,SITUATED NEW ROAD,JAWAHAR MARG,RATLAM,MADHYA PRADESH -457001 | RATLAM | RATLAM | MADHYA PRADESH | | |
| JANA SMALL' FINANCE BANK LTD | JSFB0003116 | MANDIDEEP | JANA SMALL FINANCE BANK LTD,NO.109,1ST FLOOR,BLOCK B,CHINAR INCUBE BUSINESS CENTRAL,CHINAR FORTUNE CITY,HOSHANGABAD ROAD,BHOPAL -462026 | RAISEN | RAISEN | MADHYA PRADESH | | 7.44E+09 |
| JANA SMALL' FINANCE BANK LTD | JSFB0003115 | KALANINAGAR | JANA SMALL FINANCE BANK LTD,1ST FLOOR,SHOP NO 3,SITA SHREE RESIDENCY,6-B AIRPORT ROAD,MOHTA BAGH GANGA COLONY VINDHYANCHAL NAGAR,INDORE -452006,MADHYA PRADESH,INDIA | KALANINAGAR | INDORE | MADHYA PRADESH | | |
| JANA SMALL' FINANCE BANK LTD | JSFB0003113 | BIJAPUR | JANA SMALL FINANCE BANK LTD,CTS NO 1334/A,2ND FLOOR,ABOVE JAYALAXMI TRANSPORT CO,NEAR – GANAPATHI CHOWK,SHAHAPET,BIJAPUR – 586101 | BIJAPUR | BIJAPUR | KARNATAKA | | 9.51E+09 |
| JANA SMALL' FINANCE BANK LTD | JSFB0003112 | SHIVAMOGGA | JANA SMALL FINANCE BANK LTD,2ND FLOOR,NO.880-343/342/344,SS COMPLEX,BH ROAD,SHIMOGA – 577202,INDIA | SHIVAMOGGA | SHIMOGA | KARNATAKA | | |
| JANA SMALL' FINANCE BANK LTD | JSFB0003111 | NARASIMANAYAKAN PALAYAM | JANA SMALL FINANCE BANK LTD,NO.47,1ST FLOOR SIVA SAKTHI COMPLEX,NARASHIMANAICKENPALYAM,COIMBATORE-641031,INDIA | COIMBATORE | COIMBATORE | TAMIL NADU | | |
| JANA SMALL' FINANCE BANK LTD | JSFB0003106 | PONDICHERRY | JANA SMALL FINANCE BANK LTD,1ST FLOOR,PLOT NO 22,100 FT ROAD,GAYATHRI NAGAR,ULANDAI REVENUE VILLGE,MUDALIYARPET,PONDICHERRY – 605004,INDIA | PONDICHERRY | PUDUCHERRY | PUDUCHERRY | | |
| JANA SMALL' FINANCE BANK LTD | JSFB0003105 | ROYAPURAM | JANA SMALL FINANCE BANK LTD,2ND FLOOR,NO.184/28,M.S.KOVIL STREET,ROYAPURAM,CHENNAI – 600089,INDIA | CHENNAI | CHENNAI | TAMIL NADU | | |
| JANA SMALL' FINANCE BANK LTD | JSFB0003104 | AMBATTUR | 1ST FLOOR,NO 594/3,OLD SL.NO.3/202,DOOR NO.9/5,PLOT NO.43/1,NO.89,AMBATTUR VILLAGE,SAIDAPET TALUKCHENNAI600053 | CHENNAI | CHENNAI | TAMIL NADU | | |
| JANA SMALL' FINANCE BANK LTD | JSFB0003102 | VARACHA | JANA SMALL FINANCE BANK LTD,PLOT NO.407,408,4TH FLOOR,SWASTIC PLAZA,WARD NO.356,YOGI CHOWK,VARACHHA,SURAT,GUJARAT -395006 | SURAT | SURAT | GUJARAT | | |
| JANA SMALL' FINANCE BANK LTD | JSFB0003100 | PUNE- -NIGADI | JANA SMALL FINANCE BANK LTD,FLAT NO.A -9& A-10,1ST FLOOR,OM SAI MARKET CHIKHALI VILLAGE,HAVELI TALUK,PUNE – 411044,INDIA | PUNE-4-NIGADI | PUNE | MAHARASHTRA | | |
| JANA SMALL' FINANCE BANK LTD | JSFB0003099 | THANE | JANA SMALL FINANCE BANK LTD,FIRST FLOOR AND FIRST FLOOR GAVDEVI APARTMENT,OPP HOTEL NITIN RAJ PUNE LINK ROAD KATEMANIVALI,KALYAN EAST,421306,INDIA | THANE | MUMBAI | MAHARASHTRA | | |
| JANA SMALL' FINANCE BANK LTD | JSFB0003098 | MUMBAI- -THANE | JANA SMALL FINANCE BANK LTD,OFFICE NO.101& 102,1ST FLOOR,PRESTIGE PRECINT,NEAR TO NITIN COMPANY,ALMIRA ROAD,THANE -400601 | THANE | THANE | MAHARASHTRA | | 8.69E+09 |
| JANA SMALL' FINANCE BANK LTD | JSFB0003097 | GATLODIYA | JANA SMALL FINANCE BANK LTD,1SR FLOOR,SHIVALIK COMPLEX,SHOP NO.F-1 AND F-2,SITUATED IN NARAYANPURA,AMI KUNJ CROSS ROAD,NR.NARAYANPURA POST OFFICE,AHMEDABAD – 380013 | GATLODIYA | GATLODIYA | GUJARAT | | |
| JANA SMALL' FINANCE BANK LTD | JSFB0003095 | DAVANGERE | JANA SMALL FINANCE BANK LTD,1ST FLOOR,NO 273/14,JAYADEVA CIRCLE ROAD,DAVANGERE – 577002,INDIA | DAVANGERE | DAVANGERE | KARNATAKA | | |
| JANA SMALL' FINANCE BANK LTD | JSFB0003094 | MYSORE | 2NDFLOOR,NO.2391/1,KANTHARAJURSROAD,KGKOPPALU,MYSORE-570009,INDIA | MYSORE | MYSORE | KARNATAKA | | |
| JANA SMALL' FINANCE BANK LTD | JSFB0003090 | MALVIYA NAGAR | JANA SMALL FINANCE BANK LTD,GROUND FLOOR,PLOT NO.74,BLOCK NO.D ( D-74),MALVIYA NAGAR,NEW DELHI -110017,INDIA | NEW DELHI | NEW DELHI | DELHI | | |
| JANA SMALL' FINANCE BANK LTD | JSFB0003089 | BEAWAR | JANA SMALL FINANCE BANK LTD.2ND FLOOR,BALAJI TOWER,BAL MANDIR MARG,HOUSE NO.34& 35,SENDARA ROAD,BEAWAR,AJMER – 305901 | AJMER | AJMER | RAJASTHAN | | 7.23E+09 |
| JANA SMALL' FINANCE BANK LTD | JSFB0003086 | ROORKEE | JANA SMALL FINANCE BANK LTD,NO.65,65 1-2 GOUND FLOOR,PURWA BALI,GANESH PUR,PERGANA AND TEHSIL-ROORKEE,HARIDWAR DISTRICT -247667 | HARIDWAR | HARIDWAR | UTTARAKHAND | | 8.65E+09 |
| JANA SMALL' FINANCE BANK LTD | JSFB0003085 | RAMPUR MANIHARAN | JANA SMALL FINANCE BANK LTD,GROUND FLOOR,SHOP NO.11/262,263,264,DELHI ROAD NR.TVS AGENCY RAMPUR MANIHARAN,UTTAR PRADESH,247451 | SAHARANPUR | SAHARANPUR | UTTAR PRADESH | | 7.83E+09 |
| JANA SMALL' FINANCE BANK LTD | JSFB0003082 | CHHUTMALPUR | JANA SMALL FINANCE BANK LTD,GROUND FLOOR,SHIVCOLONY,FATEHPUR BHADO,OPP PNB DEHRADUN ROAD,CHHUTMALPUR,SAHARANPUR – 247662 | SAHARANPUR | SAHARANPUR | UTTAR PRADESH | | 8.65E+09 |
| JANA SMALL' FINANCE BANK LTD | JSFB0003080 | SAHADHAR | JANA SMALL FINANCE BANK LTD,1ST FLOOR,PROPERTY NO.B-109,JYOTI COLONY,NEAR DURGAPURI CHOWK,SHAHDARA,DELHI – 110032,INDIA | NEW DELHI | NEW DELHI | DELHI | | |
| JANA SMALL' FINANCE BANK LTD | JSFB0003079 | JODHPUR | AASMALLFIACEBAKLTD,GROUDFLOOR,P.N.183,184,185,MAAIKAHATHA,BEHIDSATHOSHGUESTHOUSE,PAOTA,ODHPUR-342001,IDIA | JODHPUR | JODHPUR | RAJASTHAN | | |
| JANA SMALL' FINANCE BANK LTD | JSFB0003078 | RAU | GROUND FLOOR,BALAJI TRADE CENTER,WARD NO.6,NEAR KOTAK MAHINDRA BANK,AB ROAD RAU,INDORE,MP-453331 | INDORE | INDORE | MADHYA PRADESH | | |
| JANA SMALL' FINANCE BANK LTD | JSFB0003077 | BHOPAL-BITTAN MARKET | JANA SMALL FINANCE BANK LTD,1ST FLOOR,B.M.TOWER,PLOT NO.45/A,BANJARI CO-OPERATIVE HOUSING SOCIETY,BANJARI VILLAGE,KOLAR ROAD,BHOPAL – 462042,INDIA | BHOPAL | BHOPAL | MADHYA PRADESH | | |
| JANA SMALL' FINANCE BANK LTD | JSFB0003074 | JAMNAGAR | JANA SMALL FINANCE BANK LTD,RIDDHI SIDDHI COMPLEX,101-102,1ST FLOOR,MAHILA COLLEGE ROAD,OPP.SHRI VIKAS GRUH,PATEL COLONY,JAMNAGAR -361001,INDIA | JAMNAGAR | JAMNAGAR | GUJARAT | | |
| JANA SMALL' FINANCE BANK LTD | JSFB0003073 | SAHARANAPUR | JANA SMALL FINANCE BANK LTD,GROUND FLOOR,NAGAR PALI NO.3/2120,KHAN ALAMPURA,HADUD NAGAR PALIKA,JANAK NAGAR,SAHRANPUR – 247001 | SAHARANPUR | SAHARANPUR | UTTAR PRADESH | | 7.41E+09 |
| JANA SMALL' FINANCE BANK LTD | JSFB0003071 | SURAT | JANA SMALL FINANCE BANK LTD,1ST FLOOR,SHOP NO.120-121,SHREEJI ARCADE,NR.ASPAS TEEN RASTA,GODADARA-DINDOLI ROAD,SURAT ( GUJARAT)- 394210 | SURAT | SURAT | GUJARAT | | |
| JANA SMALL' FINANCE BANK LTD | JSFB0003070 | AHMADNAGAR | JANA SMALL FINANCE BANK LTD,FLAT NO.201& 212,2ND FLOOR,AADISH PLAZA,SAVEDI VILLAGE,NAGAR-MANMAD ROAD,SAVEDI,AHMEDNAGAR-414003 | AHMEDNAGAR | AHMEDNAGAR | MAHARASHTRA | | 8.61E+09 |
| JANA SMALL' FINANCE BANK LTD | JSFB0003069 | LATUR | JANA SMALL FINANCE BANK LTD,1ST FLOOR,MAULIK SANKUL COMPLEX,R-195A,AUSA ROAD,OPP.ICICI BANK,LATUR – 413531 | LATUR | LATUR | MAHARASHTRA | | |
| JANA SMALL' FINANCE BANK LTD | JSFB0003068 | GHAZIABAD | JANA SMALL FINANCE BANK LTD,NO.100,1ST FLOOR,NEW ARYA NAGAR,GHAZIABAD – 201001,INDIA | GHAZIABAD | GHAZIABAD | UTTAR PRADESH | | |
| JANA SMALL' FINANCE BANK LTD | JSFB0003066 | BELGAUM | JANA SMALL FINANCE BANK LTD,2ND FLOOR,CTS NO.4830/27ABC,DHAMANEKAR ARCADE,OPP.DISTRICT CIVIL HOSPITAL,DR.B R AMBEDKAR ROAD,BELGAUM – 590001,INDIA | BELGAUM | BELGAUM | KARNATAKA | | |
| JANA SMALL' FINANCE BANK LTD | JSFB0003063 | KANCHIPURAM | SFLS.W.5/.YSN.229MYVKH-I. | KANCHIPURAM | KANCHEEPURAM | TAMIL NADU | | |
| JANA SMALL' FINANCE BANK LTD | JSFB0003062 | MADURAI | SFL2&3FPRG.PVGYPSSRU200I. | MADURAI | MADURAI | TAMIL NADU | | |
| JANA SMALL' FINANCE BANK LTD | JSFB0003061 | THIRUVERUMBUR | GROUND FLOOR,RE-SURVEY NO.45/5APRAKASH NAGAR LAYOUT,AGARAM VILLAGE,THIRUVERUMBUR TALUK,TRICHY-620013 | TRICHY | TRICHY | TAMIL NADU | | |
| JANA SMALL' FINANCE BANK LTD | JSFB0003060 | DEWAS | JANA SMALL FINANCE BANK LTD,2ND FLOOR,PLOT NO.A-07,KATANI BAGH,AB ROAD,DEWAS – 455001,MADHYA PRADESH,INDIA | DEWAS | DEWAS | MADHYA PRADESH | | |
| JANA SMALL' FINANCE BANK LTD | JSFB0003058 | PERAMBUR | JANA SMALL FINANCE BANK,NO 24,KENNEDY SQUARE,3RD STREET,PALLAVAN SALAI,PERAMBUR,CHENNAI – 600011 | PERAMBUR | CHENNAI | TAMIL NADU | | |
| JANA SMALL' FINANCE BANK LTD | JSFB0003057 | BHOPAL | JANA SMALL FINANCE BANK LTD,1ST FLOOR,NO.9 & 28,1ST FLOOR,DATA COLONY,AIRPORT ROAD,TEHSIL-HUZUR,BHOPAL -462030,MADHYA PRADESH,INDIA | BHOPAL | BHOPAL | MADHYA PRADESH | | |
| JANA SMALL' FINANCE BANK LTD | JSFB0003055 | RAJKOT | JANA SMALL FINANCE BANK LTD,3RD FLOOR,ORBIT CENTRE,MOTI TANKI CHOWK,RAJKOT – 360001 | RAJKOT | RAJKOT | GUJARAT | | |
| JANA SMALL' FINANCE BANK LTD | JSFB0003054 | PUNE- -KHARADI | JANA SMALL FINANCE BANK LTD,SR.NO.21/4,1ST FLOOR,RUBY HOUSE,ABOVE HDFC BANK,OPP.COLUMBIA ASIA HOSPITAL,KHARADI BYE PASSROAD,KHARADI,PUNE – 411014 | PUNE | PUNE | MAHARASHTRA | | 8.43E+09 |
| JANA SMALL' FINANCE BANK LTD | JSFB0003052 | JALANDHAR | JANA SMALL FINANCE BANK LTD.PLOT NO.13,TARA SINGH AVENUE,BASTI PEER DAADA,NEAR PUNJAB& SINDH BANK,BASTI BAWA KHEL,JALANDHAR 144021 | JALANDHAR | JALANDHAR | PUNJAB | | 9.99E+09 |
| JANA SMALL' FINANCE BANK LTD | JSFB0003050 | POLLACHI | JANA SMALL FINANCE BANK LTD,1ST FLOOR,RAMANATHAN COMPLEX,NEW SCHEME ROAD,POLLACHI,COIMBATORE – 642002,INDIA | POLLACHI | POLLACHI | TAMIL NADU | | |
| JANA SMALL' FINANCE BANK LTD | JSFB0003048 | DHARWAD | BUILDINGNO.14089/A/3,KALAGHATAGIMAINROAD,SARASWATHPUR,DHARWAD-580002,INDIA | DHARWAD | DHARWAD | KARNATAKA | | |
| JANA SMALL' FINANCE BANK LTD | JSFB0003047 | SOLAPUR- | JANA SMALL FINANNCE BANK LTD,NO.8328/B/2,1ST FLOOR,ORCHID COMPLEX,UNIT NO.47,70 RAILWAY LINES,OPP.MAYOR S BUNGALOW,SOLAPUR – 413001 | SOLAPUR | SOLAPUR | MAHARASHTRA | | 8.42E+09 |
| JANA SMALL' FINANCE BANK LTD | JSFB0003046 | LUDHIANA | JANA SMALL FINANCE BANK LTD,B-XXI 14632/3C,GANDHI NAGAR,NR.LML SHOWROOM,DHOLEWAL,LUDHIANA-141003 | LUDHIANA | LUDHIANA | PUNJAB | | 9.65E+09 |
| JANA SMALL' FINANCE BANK LTD | JSFB0003045 | SALEM | JANA SMALL FINANCE BANK LTD,DOOR NO.50/1,NELSON TOWERS,1ST& 2ND FLOOR,RAJAJI ROAD,SALEM -636007,INDIA | SALEM | SALEM | TAMIL NADU | | |
| JANA SMALL' FINANCE BANK LTD | JSFB0003044 | URAPAKKAM | JANA SMALL FINANCE BANK LTD,DOOR NO.89,GST ROAD,ESSAR PALLAVARAM,CHENNAI -600043,INDIA | URAPAKKAM | CHENNAI | TAMIL NADU | | |
| JANA SMALL' FINANCE BANK LTD | JSFB0003043 | NANDED | JANA SMALL FINANCE BANK LTD,1ST FLOOR,SURVEY NO.2954,CHIKHALWADI,NANDED – 631606,INDIA | NANDED | NANDED | MAHARASHTRA | | |
| JANA SMALL' FINANCE BANK LTD | JSFB0003042 | PUNE | JANA SMALL FINANCE BANK LTD,NO.04,LOWER GROUND FLOOR,MODI PLAZA,PUNE SATARA ROAD,PLOT NO.408/03,GULTEKDI,PUNE – 411037,INDIA | PUNE | PUNE | MAHARASHTRA | | |
| JANA SMALL' FINANCE BANK LTD | JSFB0003041 | FARIDABAD | AASMALLFIACEBAKLTD,GROUDADFIRSTFLOORTOWER115,2A/115,NITFIRDABAD,FARIDABAD,121001,IDIA | FARIDABAD | HARYANA | HARYANA | | |
| JANA SMALL' FINANCE BANK LTD | JSFB0003040 | UDAIPUR | JANA SMALL FINANCE BANK LTD,NO.5,2ND FLOOR,BAPU BAZAR,NEAR DELHI GATE,UDAIPUR – 313001,INDIA | UDAIPUR | UDAIPUR | RAJASTHAN | | |
| JANA SMALL FINANCE BANK LTD | JSFB0003039 | BORIVILI | JANA SMALL FINANNCE BANK LTD.NO.113,114,115,HARI OM PLAZA,NEAR OMKARESHWAR TEMPLE,M G ROAD,BORIVALI ( E),MUMBAI – 400066,INDIA | MUMBAI | MUMBAI | MAHARASHTRA | | |
| JANA SMALL FINANCE BANK LTD | JSFB0003037 | PALLIKARANAI | NO.36,KOMAKODI NAGAR MAIN ROAD,THAMBARAM TK,KANCHIPURAM DISTRICT,PALLIKARANAI,CHENNAI600100 | CHENNAI | CHENNAI | TAMIL NADU | | |
| JANA SMALL FINANCE BANK LTD | JSFB0003036 | INDORE | JANA SMALL FINANCE BANK LTD,NO.105-106,1ST FLOOR,A-BLOCK,SILVER MALL,8-A,RNT MARG,OPP.DAV UNIVERSITY,INFRONT OF SBI,INDORE -452001,MADHYA PRADESH,INDIA | INDORE | INDORE | MADHYA PRADESH | | |
| JANA SMALL FINANCE BANK LTD | JSFB0003033 | NAGPUR | GROUND FLOOR,PLOT NO.37,HOUSE NO.3011 / E/37,KAILAS SAHAKARI GRUHNIRMAN SANSTHA LTD LAYOUT,GURUDEV NAGAR,OPP.GURUDEV PETROL PUMP,NANDANWAN,NAGPUR,TAHSIL & DISTRIC,NAGPUR – 440009,MAHARASHTRA,INDIA | NAGPUR NANDANVAN | NAGPUR | MAHARASHTRA | | |
| JANA SMALL FINANCE BANK LTD | JSFB0003031 | HUBLI | JANA SMALL FINANCE BANK LTD,1ST FLOOR,IB PATIL COMPLEX,KUSUGAL MAIN ROAD,KESHVAPUR,HUBLI,KA,HUBLI – 580023,INDIA | HUBLI | DHARWAD | KARNATAKA | | |
| JANA SMALL FINANCE BANK LTD | JSFB0003030 | TRICHY MAIN | JANA SMALL FINANCE BANK LTD,55/2,PLOT NO.1,1ST FLOOR,RAMALINGA NAGAR,SOUTH EXTN,VAYALOOR ROAD,THIRUCHIRAPPALLI – 620017,INDIA | TRICHY MAIN | TRICHY | TAMIL NADU | | |
| JANA SMALL FINANCE BANK LTD | JSFB0003028 | JAIPUR | AASMALLFIACEBAKLTD,NO.101&102,1STFLOOR,GUMATOWER-II,ABLOCK,VAISHALINAGAR,AIPUR-302021,IDIA | JAIPUR | JAIPUR | RAJASTHAN | | |
| JANA SMALL FINANCE BANK LTD | JSFB0003027 | PORUR | JANA SMALL FINANCE BANK LTD,1ST FLOOR,DOOR NO.4/230,KALIAMMAN KOIL STREET,VIRUGAMBAKKAM,CHENNAI – 600092,INDIA | CHENNAI | CHENNAI | TAMIL NADU | | |
| JANA SMALL FINANCE BANK LTD | JSFB0003026 | ALANDUR | JANA SMALL FINANCE BANK LTD,GROUND& 1ST FLOORS,NEW DOOR NO.11,OLD DOOR NO.14,THIRUVALLUR MAIN ROAD,ADAMBAKKA,CHENNAI,600088,INDIA | CHENNAI | CHENNAI | TAMIL NADU | | |
| JANA SMALL FINANCE BANK LTD | JSFB0003022 | ERODE | JANA SMALL FINANCE BANK LTD.2ND FLOOR,PMB COMPLEX,BEARING NO.19,NACHIAPPA STREET,NEAR DAILY THANTHI OFFICE,ERODE -638001,INDIA | ERODE | ERODE | TAMIL NADU | | |
| JANA SMALL FINANCE BANK LTD | JSFB0003021 | MANGOLPURI | JANA SMALL FINANNCE BANK LTD.NO.8,PASCHIM ENCLAVE,ROHTAK ROAD,NEAR PEERA GAHRI CHOWK,OPP.MARUTHI SHOW ROOM,PASCHIM VIHAR,NEW DELHI – 110087,INDIA | NEW DELHI | NEW DELHI | DELHI | | |
| JANA SMALL FINANCE BANK LTD | JSFB0003020 | GURGAON | JANA SMALL FINANCE BANK LTD,GROUND FLOOR,BUILDING NO.54/9,NEW RAILWAY ROAD,NEAR IDBI BANK,GURGAON – 122001,INDIA | GURGAON | GURGAON | HARYANA | | |
| JANA SMALL FINANCE BANK LTD | JSFB0003019 | BANGALORE | JANA SMALL FINANCE BANK LTD,NO.39/2,GROUND FLOOR,2ND MAIN,2ND FLOOR,C K C GARDEN,MISSION ROAD CROSS,BANGALORE – 560027,INDIA | BANGALORE | BANGALORE | KARNATAKA | | |
| JANA SMALL FINANCE BANK LTD | JSFB0003018 | SINGANALLUR | JANA SMALL FINANCE BANK LTD,NO.1/1,BHARATHY NAGAR,3RD STREET,VARATHARAJAPURAM,COIMBATORE -641015,INDIA | COIMBATORE | COIMBATORE | TAMIL NADU | | |
| JANA SMALL FINANCE BANK LTD | JSFB0003017 | JAIPUR | JANA SMALL FINANCE BANK LTD,PLOT NO.101,102,112& 113,BRIJ ANUKAMPA TOWER,K-13,ASHOK MARG C-SCHEME,JAIPUR 302001 | JAIPUR | JAIPUR | RAJASTHAN | | 8.59E+09 |
| JANA SMALL FINANCE BANK LTD | JSFB0003013 | K R PURAM | JANA SMALL FINANCE BANK LTD,5C-408,YOGA SPANDANA COMPLEX,FIRST FLOOR,OPPOSITE RAMAMURTHYNAGAR POLICE STATION,RAMAMURTHYNAGAR MAIN ROAD,BANGALORE – 560016,INDIA | K R PURAM | BANGALORE | KARNATAKA | | |
| JANA SMALL FINANCE BANK LTD | JSFB0003009 | SAIBABA COLONY | JANA SMALL FINANCE BANK LTD,NO.29,2ND& 3RD FLOORS,CHINTHAMANI NAGAR,KK PUDUR,NSR ROAD,SAI BABACOLONY,COIMBATORE -641038 | COIMBATORE | COIMBATORE | TAMIL NADU | | 9.18E+0 |