Stories
Top 12 Tourists attractions and places to visit in the Tricity – Chandigarh, Panchkula, and Mohali
India is home to some incredible sights and places that one can visit either with family or friends.
One of such places is the Tricity of Chandigarh, Panchkula, and Mohali (now officially called Ajitgarh)
Chandigarh takes the title of the 'first-ever planned city.' It is the essence of urbanization and green spaces that give the city a unique balance of modernization and planning.
Chandigarh also is the gateway to the lively green hills of Himachal, Uttarakhand, and further North.
Located at the foothill of Shivalik or the lesser Himalayas, Chandigarh is India's union territory and the capital of Punjab and Haryana.
Also called the city beautiful, Chandigarh was designed by the Swiss-French modernist architect, Le Corbusier. 
Apart from the city's architecture and buildings like Capitol Complex, High Court, Secretariat, Legislative Assembly, and the giant Open Hand Monument, it is also famous for its immaculate roads and greenery. Chandigarh is also recognized as the third cleanest city in the country under the Swachh Bharat survey of 2018.
Panchkula and Mohali (Ajitgarh), and Chandigarh offer some fantastic places to see and experience. Mohali is a place for cricket fanatics. The Punjab Cricket Association Stadium is also situated there and is home to many cricket matches.
Attractions and places to visit in Chandigarh, Panchkula, and Mohali
BharatSthali Sarees Emporium

 

Its a one stop place for all states sarees of India. You may find some good variety of sarees from various Indian states. Its a good place to go around with your family and friends. You may visit this place for best sarees collection and you can purchase them too. The Bharatsthali team goes to rural areas, trains and thereby promotes skill development in these community. Of course, all of them now have smartphone and internet plans, but making the most of it requires sustained efforts, constant guidance and regular presence. With Bharatsthali, they learn the trick of this trade. From sourcing the handloom sarees online to helping them match pace with contemporary sensibilities, Bharatsthali opens up new avenues of livelihood that don't depend on third-party or geographical proximity. You can click here to see their online sarees collection also.

Leisure valley – derives its name from the vast expanse of green land surrounded by trees. It is a perfect getaway from the city's hustle and bustle to either enjoy some quiet time alone or with friends and family. Various cultural events and fairs are hosted in the valley. It is much appreciated by photo enthusiasts as the green expanse and open spaces make for a great photo opportunity.
Cactus Garden: A few minutes' drive from Chandigarh is the National Cactus and Succulent Botanical Garden and Research Centre in Panchkula. It features a rare variety of cactus and other plants. Nine glass houses display the cactus collection and host more than 3500 exotic plants. It is also credited with keeping the most extensive collection of Indian succulents in the world. Its Bonsai collection is another highlight of the place. It is an ideal place to visit with children as it is both educational and exciting.
Rock Garden: It is an exciting place to be; it is nothing short of fantasy land. It is one of a kind, open-air exhibition and is also internationally acclaimed for its art objects created from industrial and urban waste. The rock garden is divided into various phases, each designed on the fantasy of a lost kingdom. One cannot but be awed at the multiple courtyards, chambers, doorways, vestibules, archways and concealed gateways, water streams, and bridges dotted with statues made out of broken bangles, colorful tubes, and such. It is indeed a land of dreams and a delight for kids and adults alike.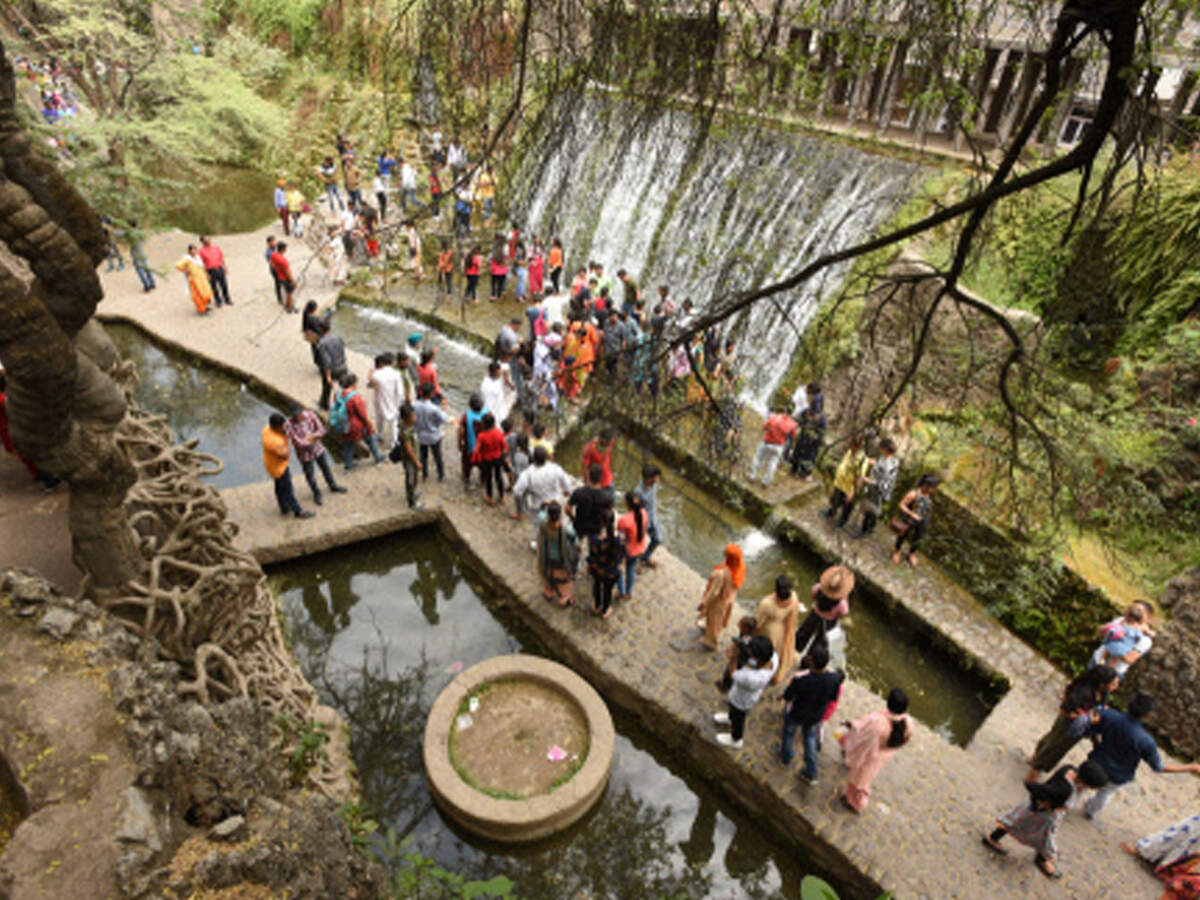 Sukhna lake – is one of the most notable tourist attractions in Chandigarh. It is a beautiful man-made lake that stretches over 3km. This vast man-made lake surrounded by blue skies and the Shivalik mountain range presents a sight to behold. Right at the dead-end of the lake, one passes through a grand boulevard of trees. There is a golf course on one side and on the other staircases to separate entry points to the lake. One can hire a boat or simply sit by the lake and enjoy the ripples in the water.
Mata Mansa Devi Mandir – located in the foothills of the Shivalik range is this place of worship dedicated to the goddess 'Mansa,' a form of Shakti (power). The temple sees thousands of devotees from different parts of the country, especially during the Navratri festival. This 100-acre temple, apart from the main goddess temple, also has a Patiala temple and many other small shrines dedicated to Lord Hanuman, Lord Ram, Goddess Sita, Lord Shiva, and Goddess Parvati on the premises. There is a Yajna Shala inside the complex, too, where Havanas are performed on auspicious days. At Mata Mansa Devi Mandir, devotees are also served langar (free meals) during the day.
Nirjhar Vatika – is famous for its green ambiance and is a favorite of people of all ages. It has an artificial waterfall and forms a small lake, which is a great attraction, especially for children. There is also a bridge on the lake made with boulders, and it is fun to watch people and children crossing it with great apprehension and in a playful manner. One can take a walk around its gardens, rest and enjoy a picnic in this beautiful place.
Morni Hills – is a tourist attraction and is known for its rich flora and fauna and also its views of the Himalayas. It is about 40 minutes' drivefrom Chandigarh and is located at the height of 1267 meters. It lies on the mountainside and hosts two lakes, the bigger of which is called Tikkar Taal, and the smaller lake is called Chota Tikkar. It is believed that the two lakes are connected via a hidden channel. If one is looking for a good drive and pleasant weather, and beauty at the end of the drive, this is the destination for you.
Nada Sahib Gurdwara – is a revered Sikh shrine located in the Shivalik foothills and on the left bank of the river Ghaggar. Situated at a distance of about 10 Km from Chandigarh, it celebrates the 10th Sikh Guru Guru Gobind Singh visit. He halted here while traveling from Paonta Sahib to Anandpur after the battle of Bharigam in 1688. It is said that the Guru and his disciples were served food and milk at this location from one Nadu Shah Lubana of the adjoining village. 
Pinjor Gardens – presents a captivating display of Mughal architecture and garden scape and is located at a distance of 20 Km from Chandigarh. Sprawling over an area of 100 acres, it has been laid in seven terraces.The garden's main gate opens into the highest first terrace from where you can see the park's water fountains. This terrace has been created in Rajasthani–Mughal style and works like a window that opens to green space. Adjoining it is the Shish Mahal and a romantic Hawa Mahal.
      You see Rang Mahal on the second terrace of this attraction near Chandigarh, which        is also famous by Yadavindra Gardens' name. On the third terrace, cypress trees            and flower beds await you, whereas the fourth features Jal Mahal, which has a                square fountain bed and a platform to relax. Fountains and tree groves adorn the            next terrace, followed by the lowermost deck having an open-air theatre. 
Shanti Kunj – just as the name states is a pollution-free environment, with a species of plants and trees that serve medicinal purposes. A water stream runs naturally through the garden. It is visited by families for picnics, as it offers open spaces for kids to run. It is also popular with joggers and nature enthusiasts. 
Zakir Hussain Rose Garden – spread over 30 acres of land and is Asia's largest rose garden. With more than 1600 different species of roses and beautiful flower beds and lawns, one can take a stroll in the garden, appreciate its beauty and clean environment. It also makes for a picture-perfect photo opportunity as colorful flowers fill the backdrop. Chandigarh Tourism department hosts an annual Rose Festival during the month of February at the Rose Garden that sees enormous flower arrangements and cultural events. During the festival, the garden is decorated beautifully, and you get the chance to wear hats made from real flowers. Rose Garden is also an ideal picnic spot for families.
The Tricity of Chandigarh, Panchkula, and Mohali has something to offer to all. It provides ideal getaways with families, friends, kids and enjoyed by couples alike. Visiting any of the places here is an experience that one can cherish and value for a long time to come.
SEO optimization-Pavitra Katyal