Stories
Unlock 5.0 – Cinema Halls To Reopen On 15th October | Will The New Normal Workout? 
The month of March brought the dawn of lockdown in India. We faced such a severe lockdown that not even a single local shop was open or a person was seen passing by. But today after 6 months of tough lockdown with initial step by step unlock phases, India has officially moved to Unlock 5.0. Unlock 5.0 has brought more ease and livelihood to the country but we still need to remember that India is sitting in the top two worst-hit countries in the world. As of today, the total number of cases in India is 6,757,131, with America still claiming the first spot. The government of India has provided guidelines and measures to maintain during the course of unlock 5.0 and one the biggest and most awaited news was the opening of the entertainment centers. Schools and colleges which remained shut since March will now be allowed to reopen from the 15th of October, but the States get to decide which schools and colleges will be open or if at all they will open. Gyms, salons, restaurants will be allowed to open. Apart from that, a big opening has been that of cinema halls, multiplexes, exhibition halls but with staggered entry and with only 50 % seating. Swimming pools are open but only for the athletes who are heading for competitions.
Wearing masks, using hand sanitizers, and maintaining social distance still remains the strict rule that is to be followed. The government has eased lockdown for our purpose hence we should not take advantage of this but every individual is responsible for themselves so safety is in our hands and in how we manage it. Since the lockdown, with schools and colleges been shut and traveling literally at a full stop, people are completely out of things to do at home. Whether trying out of a new cookie or watching new movies on Netflix, everything is done, everything is seen. But the fun factor is still missing. Yes, the cinema hall. The pleasure of hanging out with a bunch of friends or going with a family, that's a spot we opt for. Everyone has been so stomped off at homes that they are waiting for some big things or some good news to come. And for the people of India, what better news than the opening of the cinema halls. And because the government does know about excitement, they also do know that this freedom might lead to some bizarre activities to come by. Hence strict guidelines to theatre halls executives and employees have been given and need to be maintained. From the seating arrangement to the cleaning of the entire halls so to maintain a complete hygiene government has brought a 'Formula'. 
A 3 rule 'Formula' guidelines.
50% seating arrangement to be maintained. 

Every individual who enters the hall needs to wear a mask

After every shift, the entire hall should be sanitized.
With the protocol being laid, many multiplexes have begun the work and have already implemented plans to maintain basic hygiene across all cinemas. The halls have been sanitized, there's been chemical treatment done across all surfaces of the cinema, availability of hand sanitizers and masks all that has been put into place with a lot of training for the staff has gone in. UV cabinets are placed in some halls for thorough sterilization. Measures like this are being taken by all cinema halls and multiplexes across the broad to ensure that both consumers and their employees are absolutely safe. One of the concerns most medical health professionals point out is the enclosed space, the constant rotation of air condition in those spaces which they say could be more dangerous and could lead to a lot of spread. But the first and foremost thing we need to understand is there's been no validated news around such spaces and cinema is actually a double to triple ceiling height spaces, so in terms of circulation of air, it's very spacious because of the sheer volume that cinema provides is very big. 
Cinemas will conform to the 24-degree temperature which has been notified by the government to be maintained. So, it's safe if all protocols are followed accordingly. One thing many cinema boards highlight is that cinema inherently when people come, they do not talk much with each other. Normally, people eat and they watch because that's the only thing two activities people like to engage in cinema halls. Eating is the one big activity that is most engaged in and there is no fun without it! So to even ensure that people get their foods in safe ways, many cinemas are indulging in the purchase of UV cabinets to completely sterilize the food as well as packages. Whether you buy yourself a popcorn with Pepsi and nachos, the entire food and packaging will be sterilized for about 8 seconds before being hand over to the customer and that will ensure heat safety.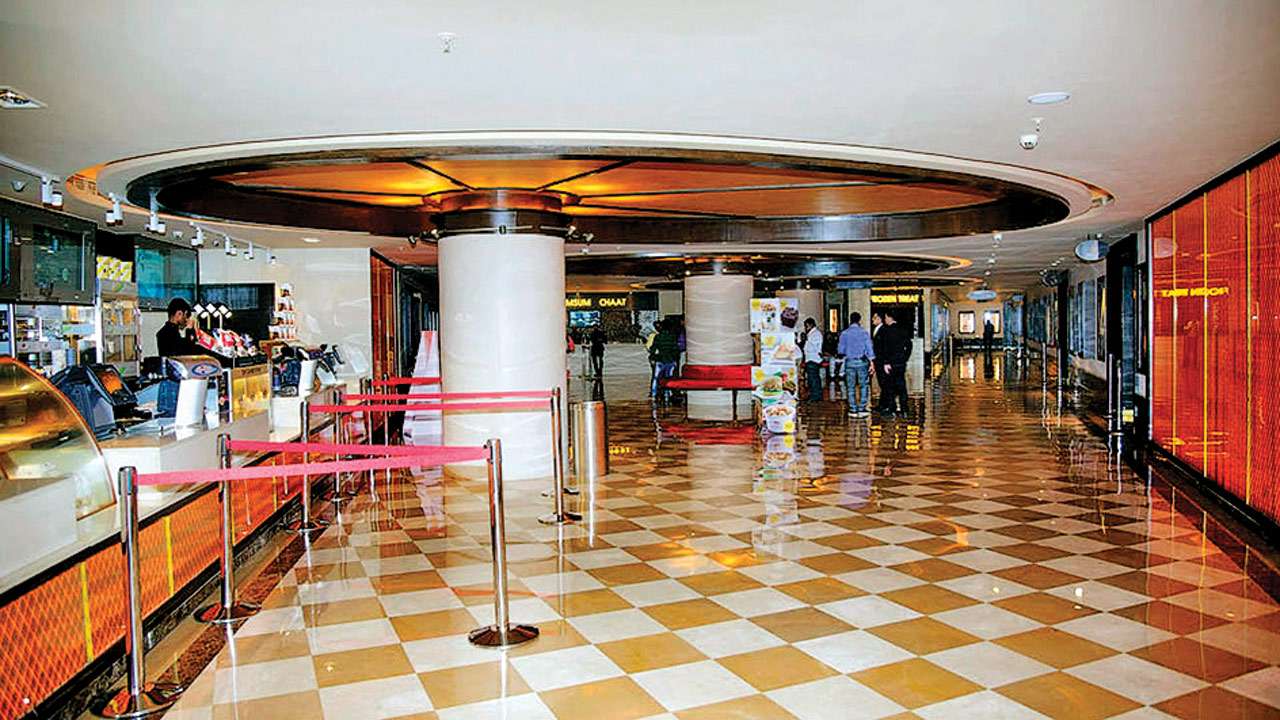 As per the new normal, step one in most cinema halls is the availability of tickets through the app which can be easily booked, or even if you want to buy it right then and there, social distancing circles have been placed for people to follow it. You stand at a distance, wait for your turn and you go to the counter. Simple as that. The QR code is easily checked in and then it's free to enter and watch your favorite movie. Disinfectant mats have been placed, dispenser and a hand sanitizer are readily available for use, and before stepping in you will be scanned to check your temperature. But when you enter the hall, the theatre will not look anything like you remember it. With only 50% seating, between every two families or friends, a seat will be left in the center and the back and front row will also be left unoccupied. All movie lovers missing the theatre experience waiting to get back to the theatre to catch up on their favorite movie with popcorn or two with their families and friends are now relatively safe to go out and enjoy their time and experience this new normal of the cinema hall.