Facebook, uh Meta, has recently unveiled its grand ambitions for the metaverse, which will merge the capabilities of virtual reality, augmented reality, and mixed reality to bring the entire world to the internet. Next year, Microsoft would integrate the Mesh, a collaborative platform for virtual experiences, into Microsoft Teams. 
Virtual avatars of users, which they can use everywhere, including conferences and meetings, are essential for the metaverse. It's part of the company's more significant attempt to integrate its mixed and hybrid reality somehow. HoloLens works with many meetings and video interactions and conference calls that anybody can join, many thanks to animated avatars. On the other hand, that will take a little bit of time.
Hybrid work goes Everywhere!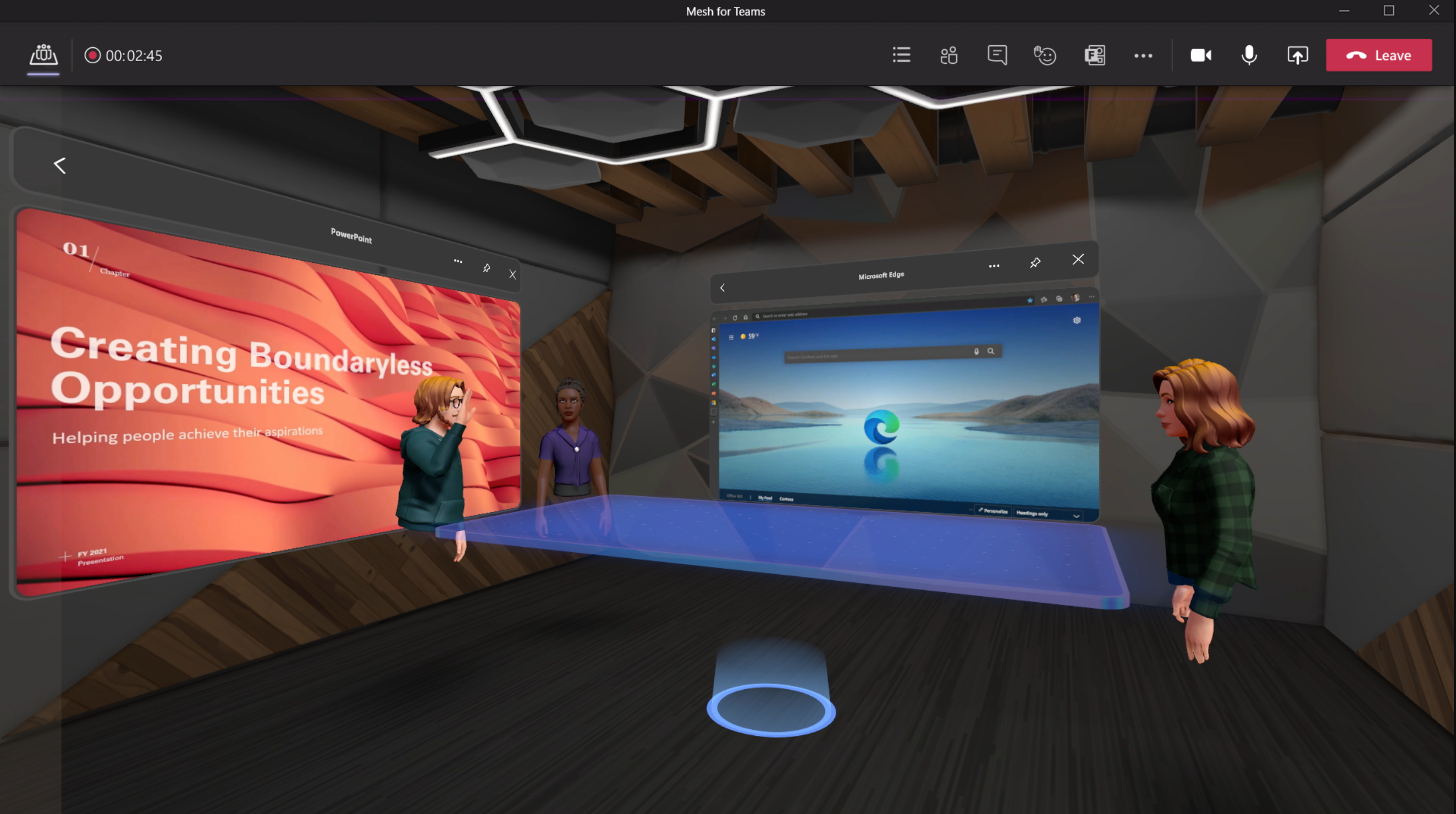 As hybrid work grows increasingly widespread worldwide, Mesh for the Microsoft Teams would preferably allow users in remote places to join collaborative and shared holographic experiences using the video-calling application's productivity capabilities. 
It has launched Mesh, a virtual reality version of the metaverse that delivers collaborative tools to Team users. The Mesh platform, according to Microsoft, would allow users and their team members to meet in a virtual space without having to turn on their webcams.
Mesh for Microsoft Teams was entirely introduced during Microsoft's Ignite at the 2021 conference. Mesh will employ HoloLens headsets and Microsoft's mixed reality technology for virtual meetings, discussions, and video conversations that Teams members will be able to attend in avatars, which, at the moment, appear to be a little less entertaining than Meta's metaverse version. 
In the first half of next year, i.e. 2022, Mesh for their Teams will be available in preview. It would better integrate this technology with all Microsoft 365 apps and services, similar to the Meta Horizon Workrooms. So, for example, if you want to work on a document remotely, you can put it on your VR headsets and do so in your virtual avatars. 
Microsoft and Metaverse era

'As a firm that focuses on productivity and knowledge workers, it's something that customers have been asking for for a long time, and it fits in with our 12-year-old vision of mixed reality.' According to Microsoft Technical Fellow Alex Kipman, "it's all coming together." While virtual reality avatars are being heralded as the next big thing for collaboration among coworkers and friends, Microsoft's Mesh platform will allow users to attend regular web or app-based Teams meetings as both their VR avatars and themselves.
Thanks to customizable avatars, Microsoft Teams members may ensure their presence in meetings without turning on their webcams. They will be quite able to establish and join Teams meetings as a distinct, personalized avatar. Other meeting participants could also be considered avatars. Attendees can present themselves on camera by using a static image or a bubble with their initials. We can also personalize the avatar, and Artificial Intelligence can mimic movements and gestures (AI). 
Mesh for the Teams
Organizations can also develop immersive spaces — their metaverse – using Teams. There will be a 3D avatar for Teams video conversations that you can personalize for yourself, and it will be available even if you don't have a headset. Your avatar will appear in both 3D and 2D, depending on the meeting.
 Users of Mesh for Teams can enter these places with their avatars to mingle, collaborate on projects, and enjoy "serendipitous encounters," according to Microsoft. At first, no VR headset will be required. Mesh may be accessed using any Mesh-enabled app on HoloLens 2, VR headsets, regular mobile phones, tablets, or PCs. However, the 3D avatars will be more engaging. Microsoft will employ artificial intelligence to listen to your speech and animate your avatar to represent you saying the exact words. 
Mesh is based on Microsoft Teams features like Together Mode and others, which the company claims have been developed to make hybrid working cultures more effective. The foundation was laid during the epidemic when Teams and platforms grew popular as people were trapped in their houses.
Mesh is a cloud computing system first launched in March of this year and is powered by Azure cloud computing systems. Meeting weariness has emerged as a result of the rising use of meeting and collaboration platforms. Microsoft's campaign for the metaverse follows Facebook's announcement of virtual chat rooms as part of its rebranding as Meta. 
Wrap-up
In the metaverse era, Microsoft and Meta will undoubtedly compete fiercely. Microsoft has teamed up with Accenture to establish 'Nth Floor,' a virtual campus that allows employees to meet for coffee, presentations, parties, and events regardless of their location. Many businesses are turning to platforms like Spatial to provide virtual venues for events, meetings, and networking. Microsoft intends to construct a metaverse with Mesh that is better and more complete than the one being built by Meta, Facebook's parent company.
The war for your digital avatars in the metaverse is just getting started. Accenture's new hires meet on Teams and are given instructions on building a digital avatar and accessing One Accenture Park, a virtual area. Microsoft has millions of daily Teams users and integration into Office to make the metaverse a reality for businesses. In contrast, Meta has billions of daily users across Facebook and Instagram to leverage its metaverse goals. Users will have more access and flexibility, which is why Microsoft's avatars will be non-binary, allowing anyone to look as they wish to represent themselves.
Article Proofread and Edited by Shreedatri Banerjee