Trends
Top 10 Best Blog Writing Companies In India 2022
Top 10 Best Blog Writing Companies In India 2022
The digital world has hooked us all; we search, browse the web, and google a lot. It's hard not to open articles, websites, and whatnot. Perhaps you stumbled upon another blog while doing so, or you might have read something while searching the web for terms like "healthy vegan food recipe" or "healthy lifestyle."
The opposite could be said of your use of a blog for finding SEO (Search Engine Optimization) strategies.
Here's a fun fact about you, if you're reading this: you have a blog of your own.
Writing a blog is a basic method of building your online presence, proving your expertise and the worth of your services, and even attracting more like-minded people through the internet so that traffic to your website increases.
Consider reading on if you are still unsure whether writing blogs for business is a good idea or not.
What is a Blog?
Let's start with an overview of when the blog was invented, or just a brief history-Swarthmore College professor Justin Hall was credited with the first blog creation in 1994. In any case, it was more of a personal homepage than a blog at that time.
Secondly, in 1997, Jorn Barger, who blogged for Robot Wisdom, coined the term "weblog", which describes any process or event recorded on the web. In 1999, a programmer named Peter Merholz shortened the word to "Blog".
However, in the early stages of blogging, they were only considered personal weblogs or journals to share their journeys, information, and opinions. Reverse chronological posting used to be the order of posting, which meant that recently shared posts appeared first.
Currently, bloggers can provide any business or personal information through their blogs, regularly updated websites or web pages. Blogs have become an important tool in every digital marketing campaign. As a result, it is a good option as your company's digital presence is also established on social media platforms. It can help build your brand, attract more visitors to the website, and offer you more visibility in search engines.
The above may appear fancy and easy to attain, but that isn't always the case, as a blog needs to be engaging all of the time and relevant to your business, as well, for your content to be viewed by the audience you want are trying to attract. As a result, all these require consistency in blogging, with regular updates and publishing quality articles, answering questions from potential visitors and even requesting feedback so that the audience engagement chain is not broken.
This will not be possible without an expert writer who can consistently do all this with the required material, such as proper research, regular updates with new information, and publishing excellent articles. A study finds that even well-established companies require approximately 34 to 40 hours a month to ensure their social media platforms are functioning properly.
A company's reputation and credibility can be damaged if a blog is not done properly and efficiently. If not done in the right way, it can harm its reputation. Having a blog is more than just writing; it is an art of engaging audiences, so they read your lengthy paragraph of content and then do something with it, such as shopping, logging in, or sharing your blog with others.
In this case, it is necessary to find a blog writing service that will help you write your blog and communicate with your readers. Quite a few blog writing services are provided in India, but let me help you by putting together a list of the best Blog Writing Services in India that you can use to improve your blog writing skills.
With the help of Blog writers, you can create the blog, maintain it online, and add your personal touches. These services can provide regular content for you if you lack the time.
The blog writing format is something that anyone can do, but there is a vast difference between a blog written by an inexperienced blogger and one written by a professional.
Top 10 Blog Writing Companies
Write Right
In India, Write Right, a top-rated and recognized content writing agency, has been registered and licensed since 1998. Having more than 50 experts and experienced writers, Write Right is one of India's leading content writing service providers. Write Right offers web content writing, marketing content, resume writing, email writing, and ebook writing services. Write Right's sister companies include Estorytellers, Kalam Kagaz, and Taletel, which create content across various industries. The company was founded in mid-2016 by Bhavik Sarkhedi. Growth has been 10x since then. 
In addition to Pepper Content, Brafton, Express Writers, Scatter, and Verbilo, it competes with some other sharks. Projects are planned with the client's requirements in mind, and they adhere strictly to deadlines, making it one of India's most successful content companies. As a result of its 100% client satisfaction, the company has been one of the top content companies in the country within a short period.
Write Bhavik Sarkhedi founded right with the sole intent of providing 'Quality per Word' to completely abolish the mundane 'Cents per Word' routine. Write Right is India's most reviewed and rated content marketing and writing company. Over 1500 positive reviews, over 570 satisfied clients, and over 2000 positive reviews make Write Right one of the top content writing agencies in the world. 
Content Flip
The company's hand-picked team of experienced writers are based in the United States and are experts in various fields. They provide the same writing services as a full-time writer but at a fraction of the cost. Content Flip also offers a money-back guarantee. Their first article will be fully refunded if you aren't satisfied.
NO contracts or hidden fees. They will start writing about your topic by submitting it through their internal dashboard. They begin writing the next article as soon as they finish one. As the clear leader in the best content writing service category of 2019, Content Flip was chosen due to the simplicity of their model and the skill of their writers.
Stellar SEO
The company was founded by Travis Bliffen and offers top-tier link building and content marketing services. 
Either you need a large in-house team or an agency with a proven process that includes layers of quality control to scale content without losing quality.
Travis described the service as follows – "Our blog writing service is geared toward creating engaging, informative content.". All of their writers are U.S. citizens and have earned a Bachelor's degree, and they must have completed a content marketing certification course. This, combined with our quality control process, gives us a big advantage over similar services."
Their website allows users to order their blog posts directly and create linkable content under their custom link building program.
With the most common lengths (500, 1000, & 1500 words) available directly through their website, Stellar SEO's blog writing service is priced at $.010/word:
500-word blog posts: $50

1000-word blog post: $100

1500-word blog post: $150
Blog Hands
With over a decade of experience in digital marketing, Chris Hornak is the founder and leader of Blog Hands. His digital marketing experience gave him firsthand experience of one of the biggest challenges in modern content marketing – the scalability of quality content. While hiring in-house copywriters is expensive, they usually produce the best writing. However, the problem with outsourcing to writing agencies is that they scale like crazy, but they almost always suffer from problems with quality control.
Chris Hornak created a service that consistently delivers high-quality content to businesses and agencies to solve the' scale quality problem. A Blog Hands writer would provide you with the quality of work of an in-house professional writer at a fraction of the cost and flexibility of outsourcing writing.
Content Runner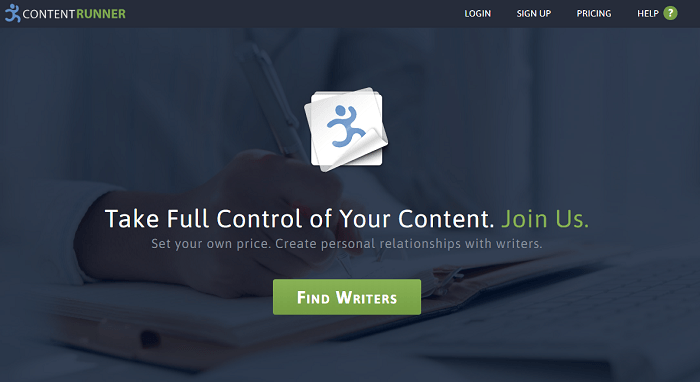 The founders of Content Runner were using email and spreadsheets to manage writers at the beginning of 2013, and they wondered, "Why not build something to alleviate the pain?" After those early conversations, the founders came up with the idea for Content Runner to create topics, assign tasks to writers, edit and publish content, pay writers, collect W-9s, and use Copyscape. The fee structure of Content Runner is unique.
Content Runner takes a sliding percentage fee starting at 15% from its clients, and they set the blog post fee with the writers. Content Runner's process is more transparent than typical crowdsourced blog writing services.
Ghost Blog Writers
Ghost Blog Writers provides regular posts for businesses through a blog writing service. Dedicated blog writers are assigned to your account with Ghost Blog Writers. Your blog titles, posts, and every blog entry will be uploaded and formatted by this service. For a blog post of 600 to 800 words, you will have to spend $60 instead of $40. Read the fine print despite the "per post" listing on the website; one-time orders are not accepted. Almost all of these sites request payments in advance or charge you regularly.
WriterAccess
As a free cloud-based platform, WriterAccess has access to 14,000 writers, editors, translators, and content strategists, screened and located in the United States. Since 2014 and 2015, WriterAccess has been listed on the Inc. 5000 list of fastest-growing U.S. companies.
Ordering blog writing services from Writer Access is a very organized process. The cost per word can range between .02/word and .20/word depending on the quality of the blog writer. For a 500-word blog post, you will pay $30 for a four-star writer at .06/word. Over 14,000 writers make it impossible for the service to be very personal, so expect some variability in the quality of the work.
Scripted
Scripted stands out as the only company on this list to have received substantial venture capital funding. The company raised 4.5 million in its Series A round led by Redpoint Ventures. According to the company, all writers go through an extensive vetting process, and they also promise to keep a close eye on quality to keep only the most qualified writers on staff. Scripted allows you to choose between a standard writer (as with many other similar services) and a more expensive "specialist writer". 
In addition to the chat feature, Scripted also enables you to communicate over the phone or even via a telephone call with your writer(s).
Express Writers
It was founded in 2011 by Julia McCoy as an American writing team. There are over 40 writers and editors at this blog writing and copywriting company, all based in the USA, with degrees ranging from a Master's degree in English to a background in engineering and marketing. Thousands of written projects have been completed by this blog writing company.
Textbroker
Since Textbroker's authors are freelancers, they can offer their services wherever there is an Internet connection. Each platform is guaranteed to have authors from the target country. Textbroker.com, for example, only accepts authors based in the United States. From small local companies to travel portals and publishing houses to some of the world's largest companies, Textbroker serves a wide range of clients.
With Textbroker, clients can choose a service level and price point that fits their needs, so they can handle most aspects of the request, review, and post themselves or allow Textbroker to handle it all. Besides having thousands of webmasters and advertising agencies as clients, Textbroker has relationships with thousands of search and web design agencies. With Textbroker, agencies can focus on more strategic activities for their clients while Textbroker handles content creation.
What Is the Importance Of Blog Writing
Blogs are important for a number of reasons. You are likely confused with the whole process of how to write a blog, and what is important is it according to Content-Range, if you have not yet begun. To answer the question, it is a good idea to understand what blogging is. Simply put, blogging is sharing information through text or using online resources, such as RSS feeds and emails.
When it comes to blogging, what is its purpose? Considering that people search for information more than ever before, including blogs, is important. Blogs can now be read by search engines, which rank them based on the keywords they contain. As a result, a blog post that appears in a particular category or contains certain keywords will most likely appear when someone searches for that item. Then why is blogging important? Your main purpose should be the first thing you identify. 
The purpose of your blog should be known before you create content, whether it is to share information or promote a product or service. Setting goals and deciding how often the blog will be updated is also important, and it will guide how to write a blog. What others will read on your blog is another important factor in determining the importance of blogging. What search engine will readers use to locate you? A huge number of websites exist on the Internet. It is your choice where you post. However, your readers may want to read other people's posts about your topic if it's relevant to your expertise.
Why is it important to write blogs then? Your blog should engage your readers and keep them coming back for more. Making yourself and your blog accessible to your readers will help you achieve this goal. Making your website visible in search engine results will help you achieve this goal. Keep updating your blog regularly, but not every single day or every week. It is also important to keep it interesting when writing a blog. Your readers will be more likely to return for more content if you keep it fresh and interesting. People are more likely to tell friends about interesting content.
Maintain an easy-to-read format for your blog posts as well. As a result, people would be able to read the titles and articles easily if they want to know the importance of blog writing.
Last but not least, why is blogging important? Finally, you need to have interesting and high-quality content for your blog. Those who read your blog content will become bored with it quickly if it has a lot of the same old information. Your blog should be unique and fun to read, so be creative and think outside the box. 
Conclusion
Creating a successful blog for your company takes time and effort, but when you write one that adds value to your customers, you will increase sales and improve your brand awareness. It isn't simply because everyone else writes blogs, but it is based on a deep understanding of business that makes successful companies.
Consider what your customers need and what you can provide them with when creating high-quality, in-depth content. It can be a pleasure and can be financially and personally rewarding to write a business blog. Obtaining a result requires effort.
As I explained, blogging has a vital role in company growth, so it's not the best place to cut back on spending. Once one realizes their marketing strategies are becoming more successful, blogging becomes necessary. Blog writers allow you to have an effective business without doing a lot of writing yourself, so you can save time and energy.
When hiring a blog writing service, look out for these features:
Conducting thorough research on the topic will help you give your leads quality information they're likely to find useful and build your brand's credibility as a result

High conversion rates

maintain quality while remaining cost-effective and affordable

They are dedicated to delivering their content on time.

A friendly and informal style of writing that grabs the reader's attention and gets them to accept it easily.

It's enough to trust them if they have degrees in creative writing and five years of experience under their belts.
Despite its seeming simplicity, professional blog writing services are needed to gain full benefits from branding, attracting customers, and boosting sales; as such, they provide businesses with an edge due to their expertise and access to qualified resources to cause an impact on your brand, trade, or website.