Trends
Top 10 Best Facility Management Companies In USA 2023
Top 10 Best Facility Management Companies In USA 2023
INTRODUCTION
Facility management companies in the USA in 2023 are companies that specialize in managing and operating buildings, such as office buildings, hospitals, schools, hotels, government facilities, and more.
These companies provide services such as maintenance, repair, cleaning, security, catering, landscaping, and much more. Facility managers use their expertise to ensure that all aspects of a building are functioning optimally and efficiently.
The facility management industry is expanding rapidly in the USA due to the increasing demand for their services among businesses. Facility management companies have become an integral part of most large organizations, providing expert services that can help reduce costs and improve productivity.
Companies such as G4S, ABM, Cushman & Wakefield, ISS, Sodexo, JLL, and CBRE are some of the leading international facility management companies in the USA.
These companies leverage their experience, knowledge, and resources to provide customized solutions to meet the unique needs of each client. They offer a variety of services such as construction management, energy management, sustainability, and more. In addition, they have the latest technology, equipment, and processes to ensure the highest quality standards.
Facility management companies also understand the importance of employee wellbeing, safety, and satisfaction. They use advanced technologies and systems to optimize workflows and create safe and healthy working environments.
Given the ever-changing business landscape, facility management companies in the USA must adhere to the highest standards of professional practice. Companies must maintain rigorous levels of accuracy and quality while delivering the best customer service possible. With their comprehensive approach, these companies are a valuable asset to any organization.
IMPORTANCE
In 2023, facility management companies in the US will be more important than ever. Facility management is a wide-ranging industry responsible for managing buildings and their associated infrastructure, such as plumbing, security systems, HVAC, and electrical grids.
As technology advances and becomes increasingly efficient, these companies will continue to provide important services that make businesses run more smoothly. Along with this, they will also be instrumental in helping companies maintain compliance with safety regulations and standards.
In addition to their traditional duties, there will likely be an increase in demand for companies that specialize in green solutions and energy efficiency, both of which are becoming increasingly important topics.
Facility managers will be expected to understand the latest trends in the industry and be able to provide expert advice on implementing them. This could include things like utilizing renewable energy sources, creating new energy-efficient designs, and correctly disposing of hazardous materials.
As these services become increasingly vital to business success, facility management companies will become an even more integral part of the US economy.
Here are the top 10 best facility management companies in USA 2023.
Cushman & Wakefield – Cushman & Wakefield is a leading global real estate services firm that helps clients transform the way people work, shop, and live. They provide strategic advice and execution for property sales and leasing; corporate services; property, facility and project management; mortgage banking; appraisal and valuation; development services; investment management; and research and consulting.
Founded in 1917, Cushman & Wakefield has 250 offices in 60 countries and more than 16,000 employees who specialize in providing integrated services to clients around the world. Their mission is to be the preeminent provider of commercial real estate services globally. Cushman & Wakefield is renowned for its long-term client relationships, commitment to creating value through innovation, and deep industry knowledge.
They strive to deliver exceptional results through their expertise across all sectors, including office, industrial, retail, hotels, healthcare, education, and special use. Cushman & Wakefield also works with investors, developers, occupiers, landlords, and public sector entities to help them optimize their real estate portfolios and maximize returns on their investments.
For more than a century, they have been a trusted advisor and have provided innovative solutions to their clients' needs. Cushman & Wakefield is committed to driving positive change in the industry by helping to create sustainable workplaces and communities.
Jones Lang LaSalle (JLL) – Jones Lang LaSalle (JLL) is a leading professional services and investment management firm specializing in real estate. Founded in 1783, it has over 230 years of experience in the industry and is one of the world's largest and most diversified real estate service providers.
JLL offers comprehensive services across the entire real estate lifecycle from advice to investment, property management and project management. They have a presence in more than 80 countries and manage more than 4 billion square feet of property on behalf of its clients.
With a focus on delivering cost savings, operational efficiency, enhanced asset values and driving innovation, JLL helps organizations unlock the potential of their real estate portfolio to drive their business objectives.
Their services include strategy and advice, asset management, leasing and sales, capital markets, finance and accounting, facilities management, project management, research, development and more. JLL also provides sustainability solutions that help clients reduce their environmental impact, meet regulatory requirements and create healthier work environments.
In addition, they provide value-added services such as corporate real estate consulting and advisory services, retail services, hospitality services and technology solutions.
CBRE Group, Inc. – CBRE Group, Inc. is a Fortune 500 and S&P 500 company headquartered in Los Angeles, California that provides commercial real estate services around the world. Their global platform is made up of over 90,000 employees in more than 470 offices across 40 countries.
CBRE offers services such as capital markets, project management, consulting, strategic planning, leasing, investment management, research & analytics, appraisals, property management, asset services, and development. CBRE also has a robust portfolio of software and technology offerings to help clients make better-informed decisions about their real estate investments.
CBRE is recognized as a leader in its industry and has won numerous awards including being named one of the World's Most Admired Companies by Fortune Magazine. They believe in putting clients first, creating value for their stakeholders, and making the world a better place. CBRE is committed to sustainability and is actively researching ways to reduce their environmental footprint.
They are also focused on creating opportunities for growth and development in their communities through social impact initiatives. With their expansive presence and innovative approach, CBRE is well-positioned to be a global leader in the commercial real estate market.
Colliers International – Colliers International is a global commercial real estate services provider with over 15,000 professionals located in more than 100 countries around the world. The company offers a comprehensive range of services to investors, owners, tenants and developers, including brokerage and leasing, investment sales, property management, project management, consulting, and valuation.
Colliers International's clients benefit from their extensive experience in commercial real estate and their market-leading intelligence. Their insights can help clients make informed decisions about their investments, purchases, leases, and operations. Colliers International provides unparalleled knowledge about markets, trends and developments for all types of property, providing clients with an edge in the marketplace.
Their advice helps clients maximize returns on their investments and minimize risk in their endeavors. They also aim to provide exceptional service to each of their clients, offering customized solutions that will help them achieve their goals and objectives.
As one of the world's leading commercial real estate companies, Colliers International is committed to excellence, offering clients superior quality services, insight, and expertise.
ISS Facility Services – ISS Facility Services is a global leader in providing integrated facility services, such as cleaning and janitorial services, security services, property and technical maintenance, landscaping and green space management, waste and recycling services, sustainability and energy solutions, food service, event support and much more.
With over 500,000 employees in more than 70 countries, ISS provides innovative facility solutions to customers across all industries and sectors.
Our approach is focused on delivering tailored solutions that meet the unique needs of our customers and create exceptional value for their businesses. We are committed to helping our customers create great places to work, shop, and play. We strive to be the world's leading facility services company by creating innovative solutions, leveraging technology, and providing excellent customer service.
We also seek to be an employer of choice by offering competitive salaries, comprehensive benefits, and meaningful career development opportunities. As a company, we are dedicated to sustainable business practices and environmental stewardship.
Sodexo – Sodexo is a global leader in Quality of Life Services, providing food services, facilities management, and other services to clients in over 80 countries. Founded in 1966, Sodexo has grown to become the world's 22nd largest employer, serving 75 million consumers each day.
Sodexo provides high-quality, on-site services that improve quality of life in private homes, businesses, educational institutions, government entities, and remote sites around the world. Sodexo's focus is on creating an environment where people are healthy, safe, productive, and engaged in their work.
The company strives to make sure its services are tailored to meet the needs of its clients and customers. Sodexo offers food services, catering, sanitation and green solutions, health and well-being programs, energy and environmental solutions, facility management, and support services. Sodexo's commitment to its customers and clients is demonstrated by its dedication to sustainability and continuous innovation.
Sodexo is also committed to diversity and inclusion, as well as investing in local communities. Sodexo is dedicated to making a positive difference in the lives of its customers, employees, and the community at large.
ABM Industries – ABM Industries is a leading provider of specialized facility solutions, bringing together a wide range of services and integrated facility solutions. Founded in 1909, ABM has grown to become one of the largest facility solutions providers in North America.
With over 130,000 employees working in over 400 locations across the US, Canada and Puerto Rico, ABM provides full-service maintenance and energy solutions for a variety of industries, including education, healthcare, commercial, industrial, airports, and government. ABM's comprehensive portfolio of services includes janitorial, electrical, HVAC/mechanical, landscaping, parking and security, engineering, and energy.
ABM offers extensive expertise in critical areas such as integrated building management, green buildings, sustainability initiatives, process engineering, construction, lighting retrofits, and equipment maintenance. ABM is committed to providing innovative and cost-effective facility solutions that make a positive impact on customers' bottom line.
By leveraging its local market knowledge, technical expertise, and best practices, ABM is able to deliver customized solutions that help organizations increase efficiency, reduce costs, improve safety, and maintain a clean, comfortable, and productive environment. ABM also takes pride in being an industry leader in promoting green initiatives to ensure that its customers reduce their environmental footprint.
ABM is proud to have been recognized by Forbes Magazine as #1 in their list of the World's Most Innovative Companies for the past five years. Additionally, the company has been named one of Fortune's 100 Best Companies to Work For every year since 2012.
ABM is also accredited by the U.S. Environmental Protection Agency as a Leadership in Energy and Environmental Design (LEED) Certified Professional and by the Building Owners and Managers Association International (BOMA) as an Energy Star Service and Product Provider. ABM is committed to providing superior customer service and delivering quality services to its clients.
GCA Services Group – GCA Services Group is a full service global business services company that has been providing innovative solutions and exceptional customer service to businesses around the world since 1953. We offer a variety of services ranging from facilities management, security services, janitorial services, administrative support, staffing solutions, and more.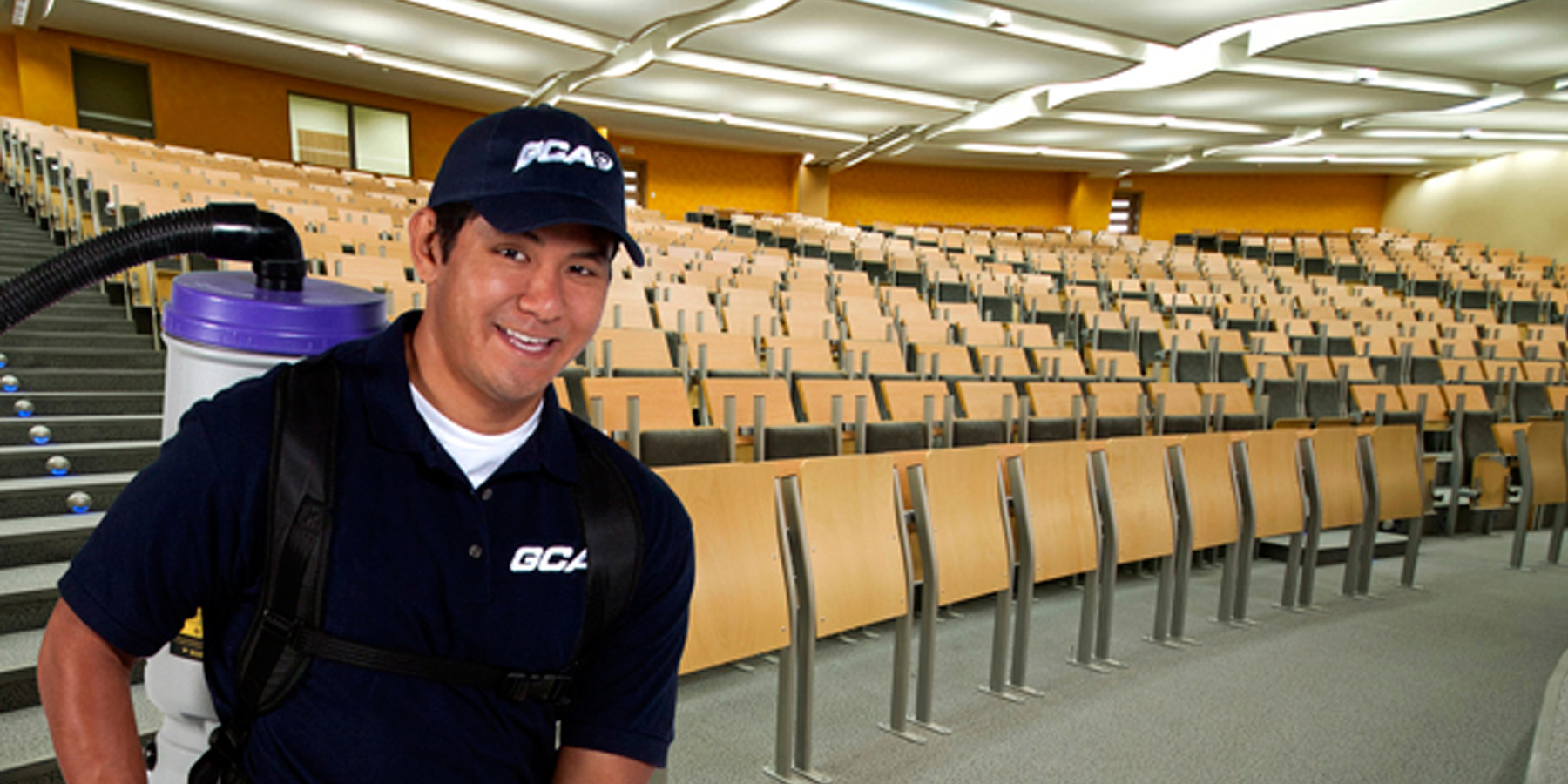 Our mission is to provide our clients with top-notch services that are tailored to their specific needs while also meeting their budget requirements. With over 65 years of experience, we have the expertise to develop custom solutions that are designed to fit any particular need or goal.
Whether it's providing effective facility management services, supplying reliable janitorial staff, or assisting with administrative tasks, GCA Services Group can offer the right solution for you.
Our services are delivered by highly trained professionals who are dedicated to meeting your business goals and objectives. By leveraging the latest technologies, we can deliver cost-effective solutions that help boost productivity and reduce operational costs.
Additionally, our commitment to customer satisfaction means that we always strive to exceed your expectations. At GCA Services Group, we are committed to helping you succeed.
Aramark – Aramark is a global leader in food, hospitality, and facilities services, providing innovative solutions and services to more than 2 billion customers across 19 countries. With over 200,000 team members, Aramark offers a variety of services including catering, food service operations, and facility maintenance services. Aramark prides itself on its commitment to sustainability, which includes sourcing locally produced products, reducing energy consumption, and reducing waste.
The company also utilizes cutting-edge technologies to improve the customer experience. These include mobile ordering, online reservations, and automated checkout systems. Aramark is dedicated to creating a positive and efficient work environment for their employees. This includes providing competitive wages, comprehensive benefits, and opportunities for career growth and development.
Additionally, the company focuses on promoting diversity, equity, and inclusion in the workplace. In addition to their services, Aramark takes part in community building projects such as mentorship programs and fundraising initiatives. Their goal is to create meaningful connections between customers and the communities they serve.
Compass Group – Compass Group is one of the world's leading food service companies, providing food and support services in workplaces, schools, hospitals, at leisure and in remote environments. Founded in 1941, Compass Group has more than 600,000 employees working in over 50 countries around the world.
The company has a wide range of products and services that include dining for business and industry, hospitality, healthcare, travel and leisure, sales and retailing.
Compass Group operates the largest contract catering network in the world, with over 18,500 clients in more than 20 countries. The company serves customers in all sectors including government, education, healthcare, defense, offshore and onshore oil and gas, leisure and sports, international, transport and logistics, retail, finance and professional services.
Compass Group is committed to delivering high-quality, locally sourced ingredients and innovative menu options that are tailored to each customer's individual needs. The company has an experienced team of chefs and nutritionists who work together to develop unique recipes and menus.
The company offers a wide range of sustainability initiatives, such as reducing energy and water use, limiting food waste, recycling, composting and investing in renewable energy sources. In addition, they have implemented a number of programs to reduce their carbon footprint and increase their environmental responsibility.
Compass Group also takes a strong stance against human rights and works to ensure that employees are treated fairly. The company has established a program to ensure the protection of human rights, safety and health in their global supply chain operations.
Overall, Compass Group's commitment to providing excellent customer service, high quality food and sustainable practices makes it one of the leading food service providers in the world.
CONCLUSION
The facility management market in the US has grown significantly since 2023, and there are now many companies providing services ranging from building and grounds maintenance to energy management and janitorial services. Many of these organizations have become highly specialized in their offerings, enabling them to better serve the needs of their clients. Companies such as GDI, CBRE, JLL, Sodexo, ISS, and SFS are some of the most prominent providers of facility management solutions in the US.
These companies offer a variety of services, such as designing and constructing facilities, managing buildings and grounds, providing energy efficient solutions, and cleaning and maintaining office buildings. They also provide services related to waste management and security. With the rise of technology, facility management companies are also using various software solutions to streamline operations, improve efficiency, and reduce costs.