Trends
Top 10 Best Fan Merchandise Companies In USA 2023
Top 10 Best Fan Merchandise Companies In USA 2023
INTRODUCTION
In the United States, fan merchandise companies have been increasing in popularity since the early 2000's. In the past few years, this trend has accelerated and there are now many fan merchandise companies operating across the country. These companies provide fans with a wide range of items including apparel, collectibles, home goods and more.
Many fan merchandise companies offer exclusive items that can only be purchased from them, making them ideal for collectors who want something unique. They also tend to specialize in certain properties, such as comic books or video games. This allows them to create items tailored to specific fan bases.
For example, the company Funko produces a variety of Pop! figures based on popular characters from various franchises. The company has an expansive line of products ranging from t-shirts to action figures. It also licenses its products to other companies, allowing fans to show their love for their favorite characters in other ways.
Fan merchandise companies also produce limited edition items that are often highly sought after. Many companies run special promotions and events to celebrate the release of new products. Fans often flock to these events to get their hands on exclusive items.
The demand for fan merchandise has grown significantly over the last few years and it is expected to continue growing in the future. As more companies enter the space, consumers will have an ever increasing number of options when looking for ways to express their fandom.
IMPORTANCE
In 2023, fan merchandise companies in the USA will continue to be an important part of the sports and entertainment industry. Fan merchandise companies are responsible for creating and selling merchandise that is related to sports teams, celebrities, and characters.
They provide fans with a way to show their support for their favorite athletes or idols. By purchasing merchandise, fans can display their loyalty to a particular team or celebrity.
In addition, fan merchandise companies also help generate revenue for the venues hosting these events. Many stadiums and arenas have exclusive partnerships with fan merchandise companies, allowing them to sell their products at the venue. This provides extra income for the venue, which helps to keep ticket prices down and attract more people to the event.
Finally, fan merchandise companies play an important role in promoting sports teams, celebrities, and characters. By creating attractive and popular merchandise, they help to raise awareness of certain teams, celebrities, and characters. This increases their popularity, which can lead to increased ticket sales and higher ratings for televised games.
In turn, this may lead to more sponsorships for the teams or celebrities, resulting in increased revenue for the teams, which can then be used to improve the quality of their product and services.
Here are the top 10 best fan merchandise companies in USA 2023.
5th Avenue Merchandise Company – The 5th Avenue Merchandise Company is a global retail store headquartered in New York City. Founded in 2002, they specialize in selling unique and fashionable items from around the world. The company grew quickly and now has stores in over 50 countries across the globe.
The 5th Avenue Merchandise Company offers clothing, accessories, jewelry, and beauty products from top designers that are sure to turn heads. They also offer a wide selection of home decor items, including furniture and kitchenware. Many of their items come with free shipping, so you can shop from the comfort of your own home.
The 5th Avenue Merchandise Company values quality above all else. All of their products go through rigorous testing before being put on the shelves, ensuring only the best for customers. They also work hard to keep up with the latest trends, giving shoppers fresh looks year-round.
The 5th Avenue Merchandise Company makes customer service a priority. Their staff is friendly and helpful, always willing to answer questions or provide advice. They also offer an array of payment options, making it easy to find the perfect fit for any budget.
Finally, the 5th Avenue Merchandise Company puts a lot of emphasis on sustainability. They source their materials from responsible suppliers, take steps to reduce energy consumption, and strive to minimize their impact on the environment. From the packaging and transportation of their items to the production of their clothes, everything is done with the utmost respect for the environment.
Emporium Apparel Company – Emporium Apparel Company is a leader in fashion and lifestyle apparel. Established in 2021, the company quickly gained traction with its trendy designs and quality fabrics. Their products are designed to fit every body type, making them an ideal choice for fashion-conscious individuals. From classic silhouettes to modern cuts, Emporium Apparel has something for everyone.
They offer a wide selection of clothing items such as shirts, pants, dresses, and jackets. Along with their stylish apparel, Emporium Apparel also offers shoes, bags and accessories.
Emporium Apparel prides itself on its customer service, offering free shipping and returns on all orders, along with easy returns and exchanges. The company's website is user-friendly and provides detailed product information. Customers can also take advantage of special discounts and promotions. Emporium Apparel also offers an easy-to-use app that allows customers to keep track of their purchases.
The company is committed to providing quality clothes and accessories, and they always strive to stay ahead of the latest trends. They continually update their collections to reflect the newest styles. Emporium Apparel is considered one of the top apparel companies in the world, and it continues to grow each year.
Superhero Stuff – Superhero Stuff is a company that specializes in creating and selling products related to superheroes and comic book heroes. They offer a wide variety of merchandise ranging from apparel, accessories, collectibles, toys, and more. Their products feature iconic characters such as Batman, Superman, Wonder Woman, Spider-Man, and many others. The company was founded in 2018 with the mission to bring joy and delight to superhero fans everywhere.
Their website offers a great selection of products, with new items added regularly. Customers can shop by character, product type, or check out their limited edition collections. All orders are shipped quickly, securely, and conveniently. Superhero Stuff also offers free shipping on orders over $50. Additionally, they have an active social media presence, participating in events and providing exclusive discounts and deals.
One of the unique aspects of Superhero Stuff is their commitment to supporting local charities. They donate a portion of all proceeds to regional charities, including those focused on children's health, education, animal welfare, and veterans' issues. This effort has earned them recognition from organizations like the United Way and the Red Cross.
The team at Superhero Stuff is passionate about what they do, and it shows in every product they create. Their designers use only premium materials and craftsmanship to ensure quality and attention to detail. Every item is hand-selected for its unique style and appeal. Superhero Stuff truly offers something special for every fan of superheroes or comic books.
Redbubble – Redbubble is a global online marketplace for independent artists and designers, founded in 2006 in Melbourne, Australia. It offers an extensive range of apparel, stationery, stickers, home decor, face masks, phone cases, and other custom-made products. Users can purchase items directly from the site and upload artwork to create their own unique designs.
Redbubble upholds copyright laws by allowing users to set their own pricing while compensating artists appropriately. The company operates on a print-on-demand model, meaning that orders are only printed after they have been placed.
Redbubble has been praised for its commitment to sustainability, sourcing materials produced in an environmentally conscious way and shipping items via carbon-neutral methods. The company also has a strong focus on quality customer service and provides support through live chat and email.
Redbubble's mission is to create a safe and supportive online community for artists and creatives to reach a wider audience, make money from their work and foster meaningful connections with their fans.
Hot Topic – Hot Topic is a leading retailer of pop culture-inspired clothing and accessories. Founded in 1989, the company has grown to offer more than 1,000 stores across the United States, Canada, Australia, Mexico, and Puerto Rico. Hot Topic offers a wide variety of licensed music, movie, television, and comic book apparel, as well as popular and limited edition items from collectibles, graphic tees, hats, and jewelry.
The company also carries unique merchandise from popular brands such as Disney, Marvel, DC Comics, Star Wars, Doctor Who, and many others. Hot Topic has become an iconic destination for teens and young adults who want to express their personal style and interests through fashionable clothes, accessories, and gifts.
Hot Topic also works with emerging artists and independent fashion designers to bring original, hard-to-find products to its customers. With a focus on quality and value, Hot Topic provides a retail experience unlike any other. Whether shopping online or at one of its brick-and-mortar locations, Hot Topic's selection of pop culture-inspired items is sure to appeal to those looking to make a statement.
Teepublic – Teepublic is a company that specializes in creating and selling custom apparel, accessories, and home and living items. They offer a wide variety of products, including t-shirts, hoodies, mugs, phone cases, notebooks, posters, stickers, and more.
Teepublic uses a unique digital printing process to create high-quality products with vibrant colors and detailed designs. The company works with independent artists from all over the world to create unique and creative designs that customers can personalize with their own text and images.
Teepublic also offers free shipping on orders over $45, as well as other promotions and discounts. Teepublic is committed to sustainable practices, using only eco-friendly ink and recycled paper where possible. The company also partners with organizations around the world to promote education and development, donate to charities, and raise awareness about global causes.
By combining quality, creativity, sustainability, and giving back, Teepublic is redefining how people shop for custom apparel, accessories, and home and living items.
Popcultcha – Popcultcha is a rapidly growing e-commerce company that specializes in pop culture collectables. Established in 2018, they offer an extensive range of products including action figures, statues, plush toys, apparel, and more from some of the world's most iconic franchises.
With a huge selection of licensed items from popular properties like Marvel, Disney, Star Wars, Harry Potter, and more, Popcultcha has something for any fan. They also have a wide variety of exclusives, limited editions, and rare finds that you won't find anywhere else.
Their customer service is top notch as well, with fast shipping and friendly live chat support. Popcultcha prides itself on offering an incredible diversity of products at competitive prices, catering to fans around the world. From comic books to movie posters, Popcultcha is the ultimate destination for all your pop culture needs.
Box Lunch – BoxLunch is a fan merchandise company based in City of Industry, California. It was founded in 2015 as a subsidiary of Hot Topic, and has since grown to become a popular destination for pop culture and fan merchandise.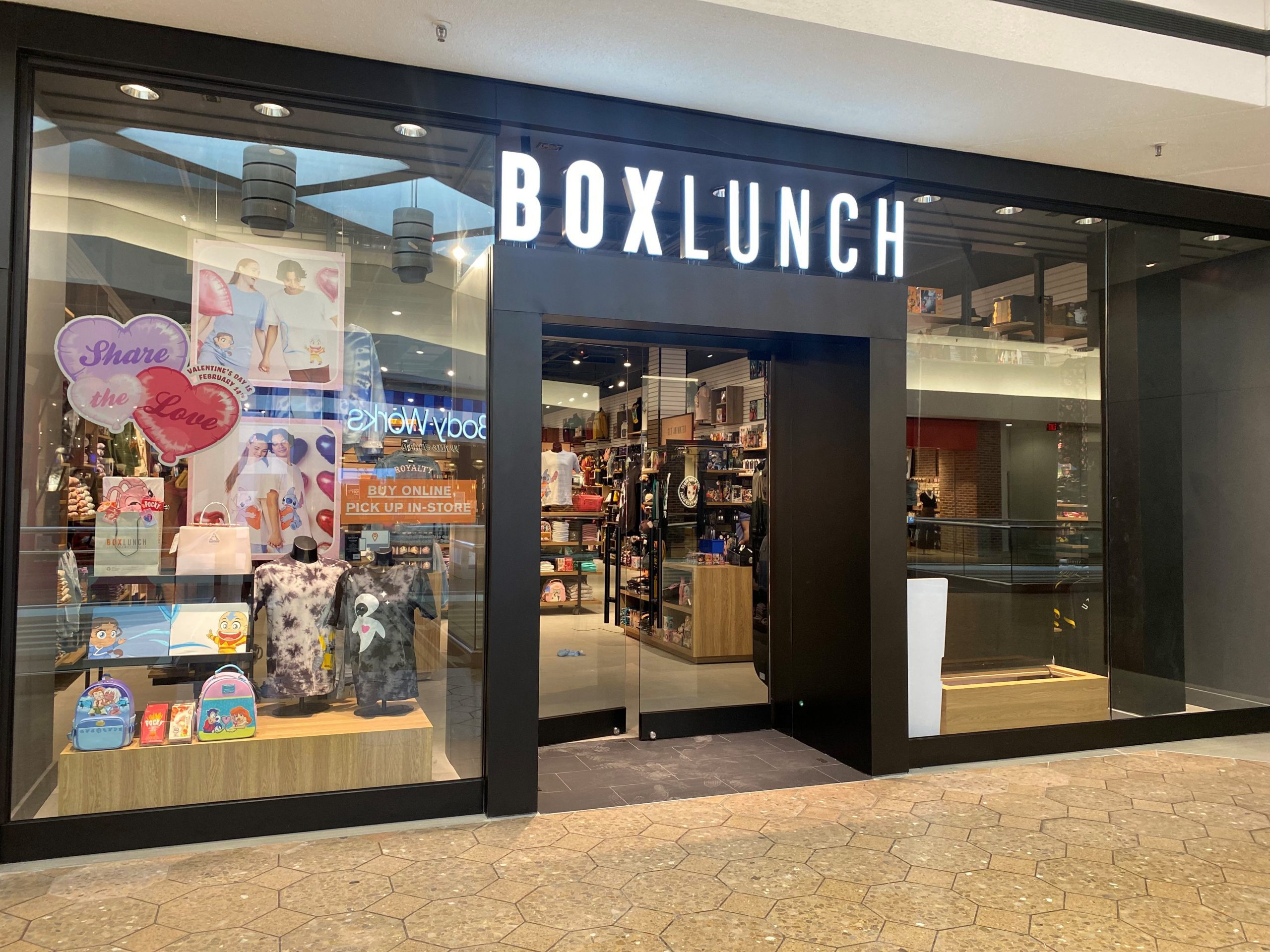 The company specializes in apparel, accessories, collectibles, and home goods inspired by popular franchises such as Harry Potter, Marvel, Disney, and Star Wars. In addition to its wide selection of licensed merchandise, BoxLunch is also committed to social responsibility and charitable giving.
For every $10 spent in its stores or online, the company donates a meal to Feeding America, a nonprofit organization that works to combat hunger in the United States. Since its inception, BoxLunch has donated over 70 million meals to those in need.
BoxLunch operates more than 120 physical stores across the United States, as well as a strong online presence. The company offers free shipping on orders over $75, and a loyalty program for frequent customers. BoxLunch also partners with various organizations and events to offer exclusive merchandise, such as its collaboration with San Diego Comic-Con in 2019.
With its focus on fan merchandise and charitable giving, BoxLunch has become a popular destination for fans who want to make a difference while expressing their love for their favorite franchises.
Fanatics- Fanatics is a leading online retailer of officially licensed sports merchandise and apparel, based in Jacksonville, Florida. It was founded in 1995 and has grown to become one of the largest retailers of licensed sports merchandise in the world.
The company offers a wide selection of products for a variety of sports, including NFL, NBA, MLB, NHL, and college sports. In addition to its online presence, Fanatics operates more than 300 brick-and-mortar stores, including flagship locations in New York City and Chicago. Fanatics has exclusive licensing agreements with many of the top sports leagues and teams, which allows them to offer a unique selection of merchandise that cannot be found anywhere else.
They also offer a wide variety of customization options, allowing fans to create their own personalized jerseys, hats, and other apparel.
Rockabilia – Rockabilia is a company founded in 1997 that specializes in selling rock and roll merchandise. They offer a wide selection of t-shirts, hats, hoodies, mugs, posters, and more from bands from all eras and genres. Their goal is to provide customers with the best selection of rock and roll products at an affordable price.
They strive to create high-quality products and stand behind their merchandise with a satisfaction guarantee. Rockabilia has become the go-to source for many fans to find authentic items from their favorite bands. They have a huge selection of merchandise, from classic rock bands such as Led Zeppelin, AC/DC, and Pink Floyd, to modern rock icons like Green Day, Foo Fighters, and Paramore.
Rockabilia also provides custom printing services for those who want to create unique, personalized products. With their experienced staff, they can handle any project no matter how big or small. They can help design logos and artwork, print t-shirts and other apparel, create business cards and flyers, and even put together books and magazines. For those looking for something outside of the ordinary, Rockabilia can help make it happen.
Rockabilia is passionate about music and strives to give their customers the best possible experience when shopping on their website or in their stores. They are constantly working to improve their products and range and keep up to date with the latest trends in music and fashion.
Every purchase helps support the bands and artists whose music they love, so customers can feel proud that their purchases are helping support and promote the music they love.
CONCLUSION
In 2023, fan merchandise companies in the USA have seen an increase in success and popularity. Products such as t-shirts, hats, bags, mugs, and many other items are being purchased by fans of all types. Companies are catering to different fandoms, creating custom merchandise for any group or individual.
This has created a lot of competition in the market, with each company trying to come up with the best designs and most attractive items. The rise in online sales has also been a contributing factor to the success of these businesses.
With the right marketing strategy, fan merchandise companies have been able to create a large customer base and ensure their success in the coming years.