Trends
The Booming Gaming Industry Creates New Career Opportunities In India. By 2025, Analysts Predict The Industry Will Generate More Than $260 Billion In Revenue.
The booming gaming industry creates new career opportunities in India
Students who take a game design course will not be limited to the gaming industry alone but could also pursue animation, graphic design, and even special effects classes.
2.7 billion. Combining the populations of India and China, it only comes out to a tad under 1.3 billion people. In 2021, approximately the same number of players worldwide will type and tap their way to glory. 
With about half a billion players added to the industry in just the past three years, gaming has become a thriving industry. Accenture estimates that the global gaming industry will generate a direct and indirect value of more than $300 billion by 2021, more than the international movies and music industry combined. 
Indian parents have, for the longest time, been in denial about a career in gaming being feasible for their children. A career in this field is lucrative, given the industry's fast growth. 
The Number Game
According to a 2021 report by the Boston Consulting Group and Sequoia India, despite some of the industry's size, India's gaming market is growing faster than China's ($45 billion) and the USA's ($40 billion). 
According to the report, India's mobile gaming market, which now stands at $1.5 billion and accounts for about 1 per cent of the global pie, is forecast to grow three times to over $5 billion by 2025. Over 300 million people use Facebook in India. 
Both mobile and nonmobile segments of the sunrise industry saw CAGRs in 2019-2020 above those of media subsectors such as OTT video, cinema, and home entertainment, as well as audio. According to the report, India's gaming market has been boosted by smartphones, cheaper and faster broadband, influencers, and Covid-19, along with more affordable, quicker, and better access to the Internet.
People shot up the number of hours spent on games after the pandemic held them hostage, for months together. Lumikai Capital and RedSeer found that the average time spent playing video games increased from about 2.5 hours a day before the Covid lockdowns to approximately 3.6 hours during the lockdown months.
With total revenue of $858.37 million, Avengers Endgame was the highest-grossing Hollywood movie ever, according to IMDB. In comparison, Call of Duty: Modern Warfare, released that year, generated 1.95 billion dollars in revenue.  
"The gaming industry is expected to grow 113% by 2025," says Manoj Singh, CEO of Rubika, a private institution dedicated to video games, 3D animations, and industrial design. There are estimated to be 667 million gamers in India by 2027, and the gaming industry will need a skilled and trained workforce to keep up with the growth."
Gaming as a career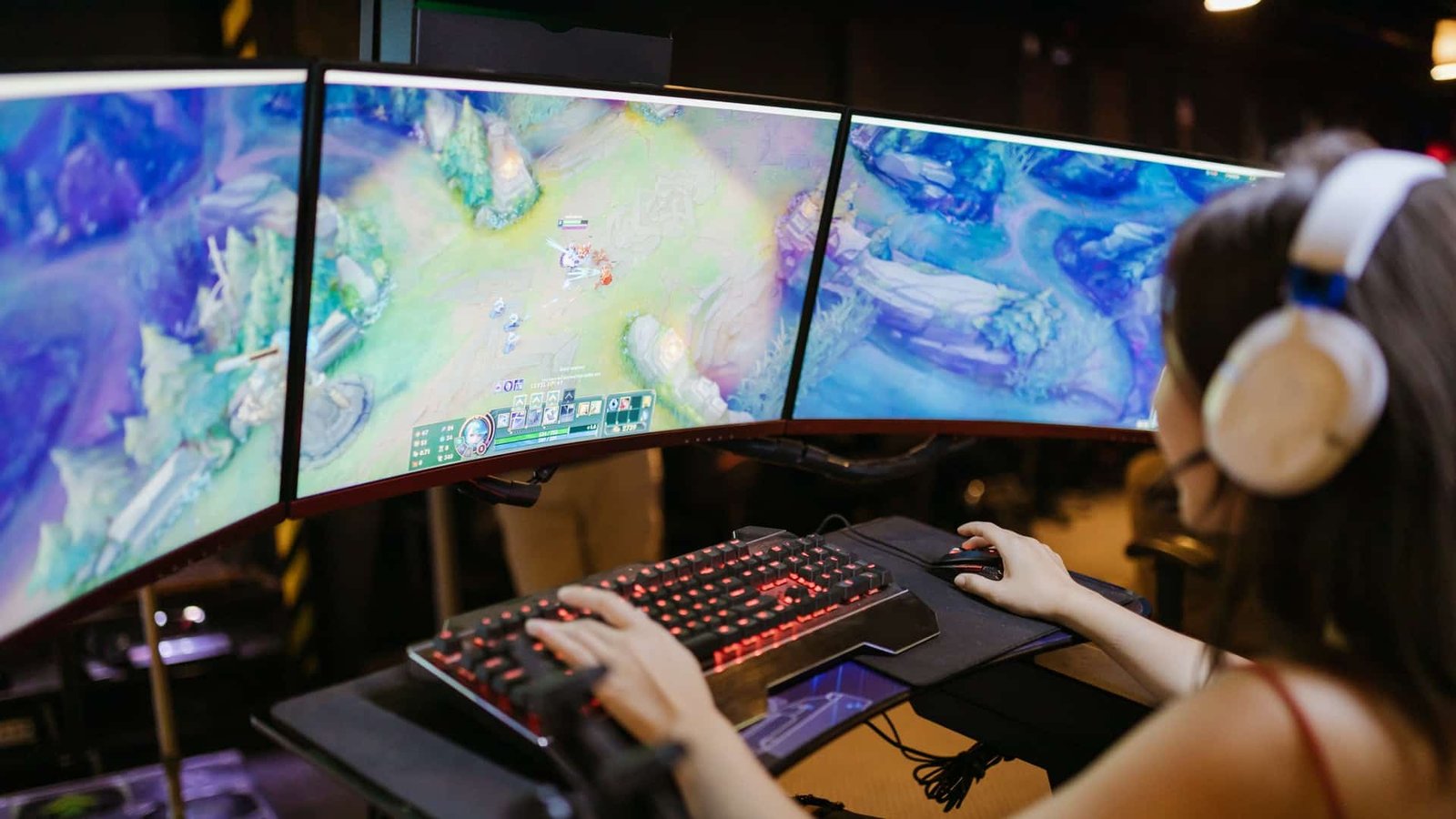 According to experts, those thinking about gaming as a career path shouldn't be concerned. Rubika's Singh explains how it works: "Companies offering stipends to fresh graduates usually begin with a salary of around Rs 3 lakh per year for freshers.
Experienced candidates with 2 to 3 years of experience can earn between 5 to 7 lakh per year. With skills and knowledge, salaries can significantly increase. Many jobs are outsourced internationally and offer lucrative incentives so that freelancers can earn Rs 10-15 lakh per year.
There are still plenty of opportunities for individual game designers and freelancers to thrive in the gaming industry.  
How to get there
Despite its fun and fast pace, this industry is incredibly technical and hectic, so those wishing to enter the gaming world must undergo specialized education. Educational institutes across the globe offer full-time bachelor's and master's degrees and specific diploma and certificate courses.
India has several institutes offering courses in game design, including Pune's Bharati Vidyapeeth (Deemed University), Mumbai's Maya Academy of Advanced Cinematics (MAAC), New Delhi's Arena Animation, and Bengaluru's Zee Institute of Creative Arts (ZICA).
Internationally, some of the top educational institutions that offer top-tier courses in the gaming field include the Massachusetts Institute of Technology, the University of Central Florida, and Carnegie Mellon University.
The government does not currently offer any courses in the field. Nirmala Sitharaman, Finance Minister, announced in the Union Budget 2022 plans to set up a task force focused on animation, visual effects, gaming, and comics (AVGC) promotion to promote and develop the industry's ethos in India.
There are several specializations graduates can choose from when taking a game design course. They may specialize in animation or graphics (3D and 2D) or even special effects.
In today's games industry, new professions are needed to provide players with an immersive experience incorporating audio, video, and storytelling in addition to pixels. Consequently, animation artists and designers work together with audio engineers, special effects specialists, creative directors, actors, writers, programmers and testers to complete the project. 
The budding industry and aspiring gamers will likely continue its growth, especially since different modes like cloud and online gaming complement traditional video games.
As one of the world's top gaming markets, India's video gaming market is emerging. Due to solid growth in online gaming, India is one of the world's leading markets for video gaming. Since the 1990s, the Indian gaming industry went from close to nonexistent to becoming one of the biggest markets worldwide by the decade's end.
A total of 300 million gamers were estimated to be playing online gaming in India in 2019, increasing 41.6% over 2018. The online gaming market was estimated to be worth *6,200 crores (US$820 million). According to estimates for 2021, it will rank among the top five global mobile gaming markets. By 2022, 510 million gamers are expected to be playing mobile games.
Compared with other Asian nations, such as China and South Korea, video game development in India is underdeveloped. Video game companies worldwide are interested in India because of the growing number of gamers.
With the increase in investment from international video game companies, more global game studios are opening offices in India, including Ubisoft and Microsoft. In addition, local Indian game studios are experiencing steady growth. Between 2009 and 2021, India had 275 game development studios. Indian government regulations and bans on video games have been imposed due to the growing presence of video games.
The Nascent gaming Industry of India is on the rise

.
With 40% growth in 2019-20, the gaming industry is one of India's fastest-growing sunrise industries. Net revenue in this industry amounted to US$ 1,5 billion during this period and is estimated to reach US$ 5 billion by 2025. Over the past year, India's gaming industry has surpassed the US for a user base exceeding 300 million.
India's gaming industry is dominated by mobile phones, and the amount of gaming apps on mobile phones is expected to reach 86% by 2021. Additionally, mobile games were adopted by 22% of the population in 2021. Affordable Internet access and increasing smartphone penetration are indicators of the industry's potential.
India's gaming industry: key growth drivers
The boom in gaming is driven by the demand for virtual entertainment as well as:
Currently, India has 502.2 million smartphone users with a market share of 36.7%. Shipments of smartphones to India increased by 23% year over year to over 38 million devices in the first quarter of 2021, and shipments peaked at a record high in the first quarter. A new generation of gaming-friendly smartphones with faster processors has led to an increase in the use of smartphones. These smartphones have increased in RAM by three to four times over the last five years, for instance.
Compared with the global average of US$ 8.53, 1 GB of data costs US$ 0.26 in India. Users have become increasingly reliant on the Internet, as 46% use it regularly. According to statistics, Indians consume 14.6 gigabytes of mobile data per month compared to 11 gigabytes per month in the US.
With 46% of the population under 25 and 67% in the working class (ages 15-24), India enjoys significant demographic advantages. The gaming industry depends heavily on demographics. Almost 75–80% of people between 18–24 and 25–36 reported playing one to three times a week in a KPMG survey. Nearly 50% of people in the 37-50 age bracket are said to play more than four times a week, which is considered an indication of higher engagement.
A shorter learning curve for increasingly sophisticated games
Due to the increasing availability of first-tier games such as PUBG and Fortnite, Indians are increasingly familiar with more sophisticated games. Over 50 million Indians play PUBG every month, accounting for 25% of the downloads.
Several Indian games have been downloaded more than 100 million times, such as Ludo King, Dream 11, and MPL. Additionally, Indians have always been at the forefront of modern complex games, so when these games appeared online, they had a faster learning curve than Chinese players.
Rise of the Indian gaming industry
With 40% revenue growth in 2020, gaming will be the fastest-growing industry in India. New jobs have been created as a result. The sector directly or indirectly employs 3,000-4,000 people and generated advertising revenues of 2,500 million rupees (US$ 33 million) in May 2019 and recorded foreign direct investment of 200 million dollars. It is estimated that over 15,000 game developers are working in the country.
Electronic Arts (EA), Ubisoft, and Zynga are some studios that have opened gaming development centres in India since 2010. Nearly 275 gaming companies are estimated to exist by 2020, a 10x increase since 2010. The list includes companies such as MPL, which was valued at US$ 950 million within three years of going public.
In 2020, MPL had over 70 million active users, including WINZO and Paytm First, which each had over 20 million active users. With over 88% of all Venture Capitalist (VC) funds invested into casual genres, the Indian gaming industry is a top investment priority for investors.
Gaming's explosive rise has contributed to the growth of the individual content creator industry. YouTube gaming has reached over 100 million users in India, opening up a new revenue stream. According to this estimate, streamers earn approximately $1 million per year. Monetization and YouTube gaming, coupled with the growth in mobile gaming in India, played a significant role in the development. The esports market also experienced strong growth. More than 17% of the country's total gamers watch esports, generating 97 million dollars in revenue.
Gaming companies that are emerging
The top gaming companies in India are headquartered in Mumbai, where 920 start-ups operate. Nazara Technologies, Dream11, and Halaplay are some of the leaders. New funding of US$ 320,000 was recently received by GameEon Studios, which is developing India's first triple-A title, Mumbai Gullies.
Boosting growth through government initiatives
To boost the growth of the domestic gaming industry, the Indian government has introduced several initiatives.
AVGC Centre for Excellence and Collaboration with IIT Bombay was established.

Gaming can also accept 100% foreign direct investment (FDI).

An industry consultation program was held by the NITI Aayog on September 14, 2020, to facilitate sound governance, growth, and innovation.

Gaming has also benefited from India's flagship program, Digital India.

As part of its Digital Village scheme, the Indian government aims to increase smartphone penetration and Internet usage in rural areas.

To enhance the employment opportunities for students in online gaming and toys, the Union Ministry of Education is developing policies. Students from India were encouraged to showcase their online gaming skills at Smart India Hackathon.

The country's data centre parks and other initiatives aim to provide gaming companies with digital infrastructure.
Growth of gaming devices
Coin-operated machines used to be the only way to play video games in India. Indians were introduced to 64-bit cartridge-based game consoles in the 1990s, and games such as Super Mario Bros. or Contra were included on each cartridge. As a result of such game consoles, many Indians began playing video games at home, which sparked the initial growth of the video game industry.
By the mid-to-late 1990s, sales of personal computers and Sony Playstations had skyrocketed, and 64-bit consoles had been replaced. Moreover, PC gamers now could download games such as The Sims rather than purchasing them in cartridges. A recent survey found that 87% of surveyed gamers prefer playing games on the PC over mobile devices. PlayStation games typically cost more than PC games, so they aren't as popular as PC games.
The popularity of mobile devices in India grew in the 2000s. Due to the availability of mobile games on most smartphones, this caused massive growth in gaming. India expects to reach 970 million smartphone users by 2025, up from 76 million in 2013.
Growth of the gaming industry
India's video game market has been growing thanks to cyber cafes, which offer public internet access. In 2006, more than 100,000 cyber cafes were open in Japan, 40% dedicated to playing online games. By 2017, there were fewer than 50,000 cyber cafes, down from 180,000 in 2008. In addition to licensing issues and other restrictions, one of the primary reasons for this decline was the IT Act.
In 2009, India had only 15 studios dedicated to game development, most of them in Bangalore, often known as the Silicon Valley of India. There are 15,000 game developers in India and 275 game development companies as of 2021.
India's gaming industry began attracting investors after technology and gaming companies saw its potential. When India's gaming industry was projected to earn $560 million (US$4,200 crore) in 2014, large game conventions began to be held in the country. The creation of game design and development courses at Indian colleges has boosted in-game developers and younger generations joining the industry.
Local industry:
Video games produced in India
Hanuman: Boy Warrior, invented on the PlayStation 2, is based on Hindu mythology and follows the story of God Hanuman. Located in Hyderabad, Aurora Technologies Limited developed this game. In addition to being criticized for disrespecting Hinduism, the game's release was controversial, and several Hindu leaders have criticized the game, including Rajan Zed.
Most Indian studios derive most of their income from outsourcing their work to other countries. Several studios work on PC and console games, such as Networks Interactive, based in Bangalore. At the EGX gaming expo, Tent works Interactive revealed City Block Builder, the first major PC game in India to come out in 2021.
Cultured Vulture's Best of EGX (2019) in London awarded City Block Builder the title, the first time an Indian game has been recognized for such a feat.
Integration of Indian history and culture
As more indie studios create games based on Indian history and culture, the indie game scene in India has grown. Game developer Ogre Head Studio's 2017 game Asura draws much inspiration from Indian mythology, and India, China, and Japan are among the countries where the game is popular. At the 2017 NASSCOM Game Development Conference, Asura was named Game of the Year.
Two Indian-based game studios, Holy Cow Productions and Nodding Heads Games create games based on Indian culture and history. Narendra Modi said that video games based on Indian culture could promote national pride when developed more frequently. In November 2016, Nodding Heads Games released Raji: An Ancient Epic for Nintendo Switch, an adventure game inspired by Indian folklore. The game received positive reviews across the globe.
Political and social commentary
Chala-based studio Studio Oleomingus creates video games on India's politics and history. The games evoke Indian children's literature through surreal and fantastical visuals and environments.
In India, Leena Kejriwal and Satyajit Chakraborty have produced the role-playing video game Missing-Game for a Cause. A storyline in the game provides players with an experience of living as a person who has been trafficked. Human trafficking is a significant problem in India, where 98 million people have been trafficked. In 2016, NASSCOM awarded the game its Indie Game of the Year award, and it has been downloaded over 500,000 times.
Mobile gaming
A cheap smartphone, a high-speed internet connection, and convenient access have led to the exponential growth of mobile gaming in India. With over 1 billion users worldwide, India is among the world's top five mobile gaming markets as of 2019. Online gaming was estimated to gross USD 820 million (US$6,200 crore) in India in 2019, with 300 million gamers. From $8.900 crore (US$1.2 billion) in 2021 to $22,300 crore (US$3.0 billion) by 2023, India's gaming market is expected to increase.
Even for sports betting, the number of players on mobile is far exceeding users on other devices. According to this site, betting apps in India are more popular than ever, and players prefer sites with mobile apps accessible. 
Last year, the most popular mobile game in India was PUBG Mobile (PlayerUnknown's Battlegrounds Mobile), a battle royale game published by Tencent Games. The country has 175 million downloads, or 24 per cent of the worldwide PUBG Mobile player base, making it the biggest market for the game.
A rise in the number of Indian mobile gamers was observed during the COVID-19 pandemic, as orders were made while the patient was at home. As a result of COVID, mobile game downloads in the Google Play Store increased by 51% and those in the iOS App Store by 20%.
Esports
A Twitter hashtag trending in February 2021 called for the Indian government to recognize e-sports in India. Esports was officially recognized as an official sport by the Indian Olympic Association (IOA) a few weeks later. The Esports Federation of India (ESFI) was established as its governing body. Esports was initially considered a demonstration sport in India before this announcement.
A 5-year-old boy from Bhuj, Gujarat, Tirth "gcttirth" Mehta took home India's first esports medal in Asia Games 2018 for Hearthstone, one of six selected for the competition. A bronze medal was his reward for coming in third place. 
Karan "Jin Kazama" Manganani from Jaipur finished 4th in the same tournament for Clash Royale. The ESFI chose them to represent the country at global competitions and Moinuddin Amdani and Abhinav Tejan.
The first Battlegrounds Mobile India (BGMI) esports tournament was held to celebrate Battlegrounds Mobile India's official release by Krafton, a Korean video game company. The tournament took place during the weekend of July 8 and 9, 2021. The event featured 18 teams of four gamers, including Adii "Dynamo" Sawant, Chetan "Kronten" Chandgude, and many popular Indian gamers. This live-streamed event attracted at least 547,888 viewers at a time on BGMI's Facebook and YouTube pages.
Players played three matches on the three maps, Erangel, Miramar, and Vikendi, in order on both days. Team Snax won all three games on the first day, leading with 76 points. Team Snax won the first match of the second day, Team Jonathan won the second, and Team Maxtern won the third. Snax was first place with 127 points, a total of 3.3 lakh (US$4,400) from the *6 lakh (US$8,000) prize pool. Team Snax consisted of Raj "Snax" Varma, Samir "Kratos" Choubey, Randeep "Attanki" Bhallar, and Daljit "Daljit SK" Singh. A total of 63 points put Team Kronten in second place.
BGMI India Series esports tournament will be Krafton's first after the success of the Launch Party. It was initially scheduled for July 2021, but it has been delayed due to increasing hacker activity. Indian residents aged 16 and older who are platinum-ranked or better are eligible for the India Series. However, the app is only available for Android devices at the moment. 
The prize pool amounts to 1 crore (US$130,000). First place will earn US$66,000, while the top 16 teams will receive *50 lakh (Rs 50 lakh). As well as four individual awards to recognize outstanding players, there will also be an award for the most kills and one for the longest survival time: MVP, The Lone Ranger, The Rampage Freak, and The Redeemer. 
Each round will comprise three matches: In-Game Qualifiers, Online Qualifiers (consisting of three games), Quarterfinals, Semifinals, and the Grand Finale. Losers will also be allowed to compete in a Loser Bracket to qualify for the Semi-Finals if they do not advance from the Quarter-Finals. Except for the In-Game Qualifiers, the teams will be divided into several groups, and the teams with the highest total will go to the next stage. The tournament will begin with qualifying events and run for three months.
Government Regulations:
The Gujarat government banned PUBG Mobile in March 2019 as being "too addictive and violent" during exam time and a distraction. Several students caught the game, were arrested, and some cities lifted the ban after the exam season ended.
Following a military stand-off between China and India in Galwan Valley in September 2020, the Indian government banned PUBG Mobile, PUBG Mobile Lite, and over 100 other Chinese applications. In their opinion, the apps have been "stealing and transmitting user data without authorization to hosts outside of India."
India banned PUBG Mobile under the Information Technology (IT) Act Section 69A in 2020. Pakistan, Afghanistan, Korea, Jordan, Nepal, Israel, and Iraq have also banned PUBG Mobile.
The South Korean video game company Krafton created Battlegrounds Mobile India in response to the 2020 ban on PUBG mobile. The new PUBG mobile game may differ slightly from the original cosmetic changes.
However, the previous Chinese-developed app has been eliminated. Players under 18 are not allowed to play Battlegrounds Mobile India for more than three hours without their parents' permission. The game's store also prohibits minors from spending more than 7000 INR per day.
China and India are currently engaged in a year-long skirmish, and on June 29, 2020, Mobile Legends: Bang Bang and 58 other Chinese apps were banned in India. These apps include TikTok, UC Browser, and Xender. Among the top-grossing mobile games in India was Mobile Legends: Bang Bang.
Online skill games are banned.
The Indian government has imposed a ban on online gaming that involves betting money in several states. To prevent gamers from resorting to suicide due to financial debts from online gaming, Andhra Pradesh created regulations in 2020. An announcement by the Tamil Nadu government in 2021 bans online versions of skill games like Chess, Trivia, Fantasy, Rummy & Poker (which is later ruled to be unconstitutional by the Madras High Court). Several bans on online betting games have been proposed in the Indian tech hub of Karnataka. 
Online games that charge an entry fee have been included in Karnataka's ban. Since Karnataka plays a crucial role in India's tech and gaming industries, this ban has triggered protests over its effect on the industry.
Interruption
Globally, India has the highest number of pirated games. Video game publishers hadn't recognized India as a challenging market before India's game industry boomed. Since international game companies had little control in India, pirated, secondhand, and knockoff cartridge games spread.
Due to the low cost and limited access to original games. Piracy rates in India have been steadily declining as PC and console gaming has become increasingly popular, and plays on those platforms cannot be pirated. Due to easy software updates and multiple game modes, many people prefer original games now.
Overview
Several factors are driving the gaming industry in India's high growth trajectory, including digitalization and transformation, a rise in internet usage, and increased smartphone penetration. By 2023, the gaming industry will create 10,000-12,000 direct and indirect jobs in the United States.
We anticipate that foreign direct investment (FDI) will amount to 100 million dollars over the next two years. All these factors suggest that the industry has bright prospects. India's gaming industry is expected to reach US$ 5 billion by 2025, with conglomerates like Reliance entering the sector and creating India's first triple-A title.