Trends
Economic Growth Of Sri Lanka Stood At -11% In 2022: President
Overall economic growth of Sri Lanka in 2022 was minus 11 percent and could be -3.5 to -4 percent this year, President Ranil Wickremesinghe said on Saturday, as the island nation struggled to come out of its economic crisis.
Overall economic growth was higher than expected in 2022 at -8 percent, and in 2023 the growth rate could be somewhere around -3.5 percent to – 4 percent, said Wickremesinghe.
In mid-2022, Sri Lanka faced its worst economic crisis, leading to several months of public protests leading to a political crisis. Last April, Sri Lanka declared its first-ever debt default in its history as an economic crisis triggered by a shortage of forex sparked public protests. Sri Lanka's central bank governor Nandalal Weerasinghe told reporters on Wednesday that overall negative growth in 2022 will be around 8 percent. The International Monetary Fund (IMF) predicted that growth in 2022 would be minus 8 percent.
Wickremesinghe criticized his predecessor's tax breaks offered in 2020. He said there were about 1.6 million tax filers in 2019, which had drastically reduced to 400,000 filers by December 2021. "The decline in government revenue, as a result, is the main cause of the economic crisis," Wickremesinghe said. He said that the current talks with the global lender, the IMF on a 2.9 billion bailout were crucial.
Until Sri Lanka turned to the IMF for a bailout, it was credit lines from India that helped Sri Lanka import its essentials.
India's economic aid package was $4 billion. Corruption, preferential treatment of connections, dependence on debt financing, and explosive borrowing from China have combined to lead Sri Lanka to economic collapse. Political instability only prolonged the crisis and fueled violence. What is perhaps most remarkable is the pace of the country's economic decline, almost unprecedented outside of wartime.
Not surprisingly, the economic collapse was accompanied by a deep political crisis.
In May, the Prime Minister of Sri Lanka was forced out of office. After massive pressure from the street, including an invasion of the presidential palace, he left the post.
How Did Sri Lanka Get Here?
The short-term triggers for the current crisis have been a litany of bad recent policy decisions. Gotabaya Rajapaksa administration in the 2019 elections introduced sharp tax cuts in personal and corporate taxes as well as VAT; the latter decreased to 8% from 15%. Sri Lanka's foreign debt has also spiraled out of control. As early as the second half of 2020, rating agencies downgraded Sri Lanka to near-default status, resulting in the country being largely excluded from international capital markets. Previously, the government had resisted any debt restructuring program or IMF assistance.
In 2021, an ill-advised and immediate ban on the import of products – especially rice, which fell by more than 39% – and a spiraling increase in imports (Paddy Statistics, Department of Census and Statistics). The ban also led to a sharp decline in the production of tea and rubber, two of the country's key exports, and dwindling sources of foreign exchange. These horrendous policy mistakes have compounded the adverse effects of the COVID-19 pandemic, which has affected the tourism.
As a result of the combined effects, GDP growth, which in the previous decade averaged just over 5% per year, in 2020 became strongly negative. GDP is currently projected to decline by almost 8% in 2022 (and this estimate may well turn out to be optimistic. While recent policies have certainly worsened the country's economic situation, the current collapse also reflects the culmination of deeper, longer-term problems.
Indeed, a significant feature of recent decades has been China's emergence as a lender – especially for infrastructure projects. 70% of projects of public infrastructure in Sri Lanka were financed and built by China, between 2005 and 2015, These included Norochcholai Coal Power Plant, Hambantota Port, and International Airport, Colombo International Container Terminal, and Lotus Tower.
Under the Belt and Road Initiative (BRI), introduced in 2013, other projects have been funded – including the port city of Colombo, and several other water and highway projects (according to aid data that measures Chinese state-funded projects in different countries, between 2000 and 2018, China financed 163 projects in Sri Lanka with a total amount of $13.8 billion). The explosion in funding from China reveals many serious problems. One of the concerns is how the money was spent and the criteria by which projects were selected.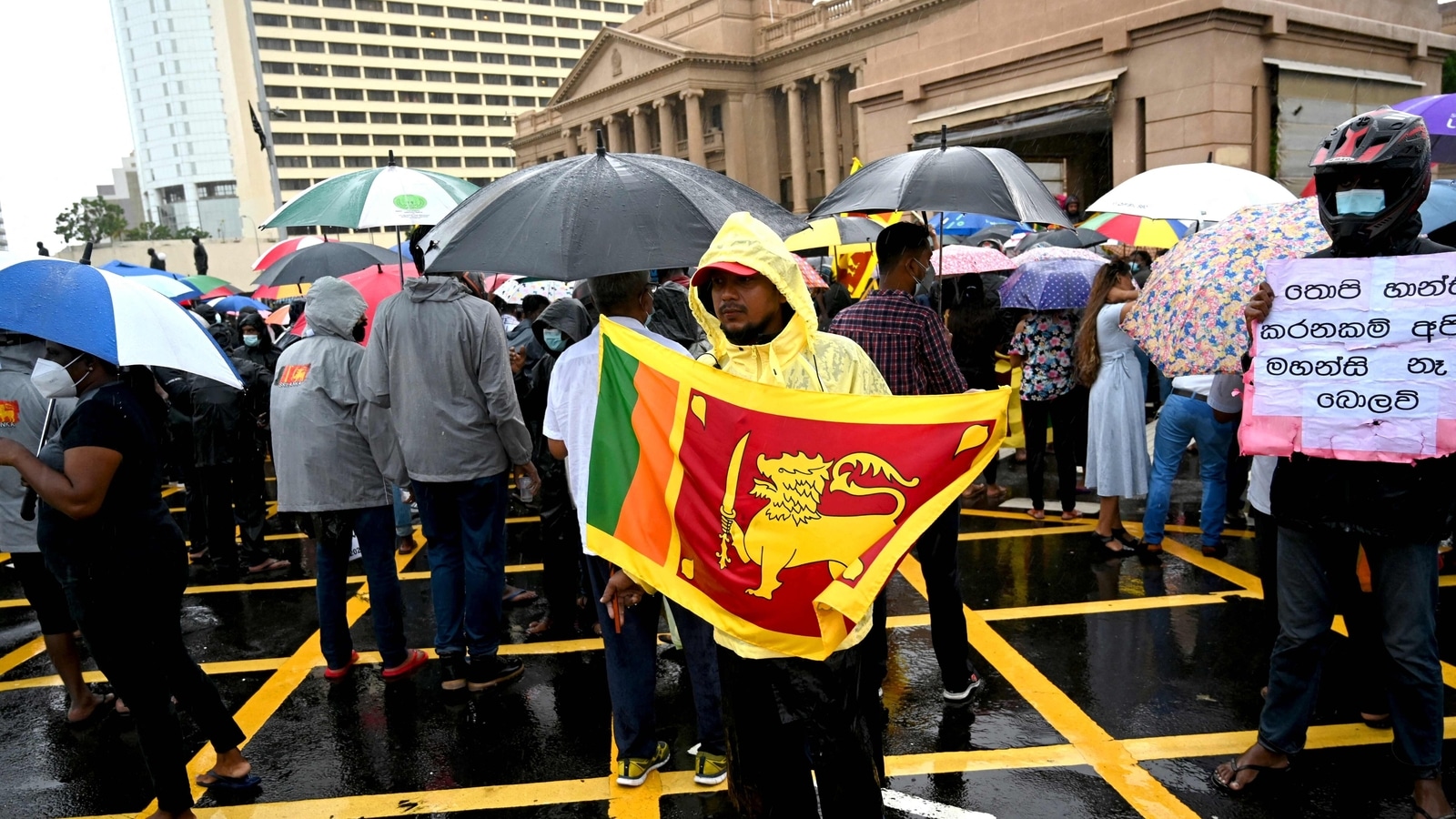 Both problems are illustrated by the way Mahinda Rajapaksa's plans to transform his hometown of Hambantota to a better place. Hambantota port had to be ceded to China for 99 years in 2017 due to its inability to pay its debts. In the last eight years, the Mattala Rajapaksa International Airport had a revenue of around Rs. 474 crores and an expenditure of over Rs. 14.4 billion (Sunday Times, 5 June 2022). 
The average interest rate for these Chinese projects was around 3.2% with an average maturity of 16.5 years (calculated using Aid Data Global China Development Finance Dataset, version 2.0, which covers projects from 2000 to 2017, with 54 projects to Sri Lanka listing the interest rate).
Conclusion
Political upheaval and economic collapse of Sri Lanka can be because of several factors – corruption and preferential treatment of connections, over-reliance on debt financing – not least the explosion of loans from China and others. This wretched combination is compounded by the failure thus far to initiate a much-needed political transition. This political instability only prolonged the crisis and fueled unrest and violence. There is a requirement of formation of a government of national unity and in due course elections. But there are political disagreements between the individual parties, antipathy towards politicians, and a crisis of political stability .
edited and proofread by nikita sharma