Trends
Expected Prices of The Upcoming Most Powerful Top Notch High-end 7-Seater SUVs.
A high-end SUV car must have contemporary technology, a stylish look, and reliable performance. For several years or longer, the leather interior should keep its brand-new car aroma. It should be flexible enough to transition between a country club and a school celebration without losing its elegant appeal.
A fully functional third row, all-wheel drive or four-wheel drive, and driver safety measures are examples of high-tech features (blind-spot monitors, adaptive cruise control, lane departure assist, and pre-crash mitigation systems should be the starting point). This is a true luxury.
Demand for 7-seater SUV in India
Most Indians prefer 7-seater cars because of their practical and durable character and because they have a large boot and spacious cabin. No matter how attractive you find those sports cars to be, let's not lose sight of that comfort and safety should always come first.
Since hatchbacks and sedans have slowly lost market share to SUVs over the past five years, SUVs have taken the lead for all domestic automakers. Going large or going home is the next evolutionary step for mid-size SUVs in a utility-conscious market like India. The seven-seater SUV is now present. Everyone seems to want a piece of the 7-seater pie, judging by the recent addition of vehicles like the Kia Carens, Hyundai Alcazar, and now the Jeep Meridian. Here are the products that give the most value for your money.
As more and more people opt for comfortable family cars, the demand for 6- and 7-seater vehicles has been continuously increasing in the Indian market. A few manufacturers are getting ready to release some appealing three-row vehicles here soon because of the high demand; some of these vehicles are already creating a lot of noise.
Expected Prices of The Upcoming Most Powerful Top Notch High-end 7-Seater SUVs.
1. Toyota Land Cruiser
The 7-seat Toyota Land Cruiser is an SUV. In March 2023, the Toyota Land Cruiser is estimated to debut in India. The Phantom, Aventador, and Ghost will be rivalled by the Toyota Land Cruiser. Prices should begin at 1.50 Cr.
The Toyota Land Cruiser is ready to give its passengers the best level of safety possible. The full-size SUV's features include active traction control, crawl control, full-view panoramic monitor, Multi-Terrain monitor, Multi-Terrain Select and Turn assists, and parking sonars. Additional features include hill-start assist, hill descent assist control, pre-collision system car control, and adaptive cruise control. The top-spec car would include a Torsen differential with rear torque sensing and an adaptive high-beam system.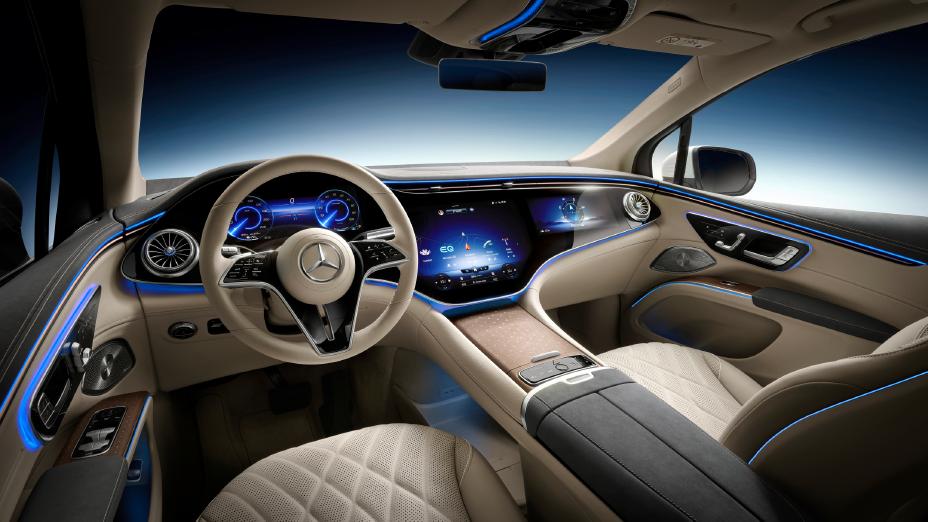 2. Mercedes-Benz EQS SUV
After the release of the EQS sedan in India in October 2022, it is estimated to be introduced there sometime in June 2023 with an estimated price of Rs. 2.00 Cr.
Seating for the Mercedes-Benz EQS SUV is available with an optional third row that can accommodate up to seven passengers.
Battery, Charging, and Range of the Mercedes-Benz EQS SUV: The EQS comes with a 107.8kWh battery pack that can be with either a single motor system or a dual motor. While the dual motor arrangement (360PS/800Nm) has an all-wheel drivetrain with a range of 613km, the single motor setup (360PS/568Nm) that drives the rear wheels has a WLTP-certified range of 660km. The highest-spec 580 4MATIC model has an output of 544PS and 858Nm.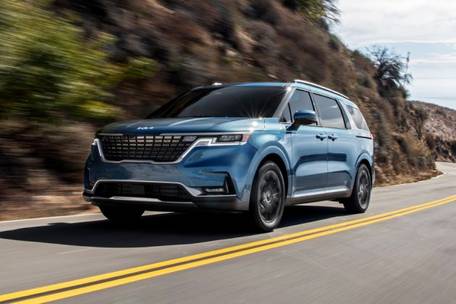 3. Kia Carnival 2022
In this country, the fourth-generation Carnival is scheduled to debut in 2022.
The pricing of the Kia Carnival is unknown, but it is expected to be higher than that of the current-generation model, which ranges from Rs 24.95 lakh to Rs 33.95 lakh (ex-showroom pan-India)
Design of the Kia Carnival
It features sharper lines and design influences from SUVs. Updated headlamps with built-in LED DRLs and LED parts in the rear lightbar are standard on the fourth-generation Carnival.
Interior of the Kia Carnival
The touchscreen infotainment system and 12.3-inch digital instrument cluster are connected by a panoramic digital console on the dashboard that takes after that of a Mercedes. Additionally, the fourth-generation Carnival provides second-row passengers with access to USB chargers at the back of their seats, device storage nets, and a brand-new storage area with a phone tray in the base of the back console. The shift-by-wire transmission's standard drive choose lever has been swapped out for a rotary dial.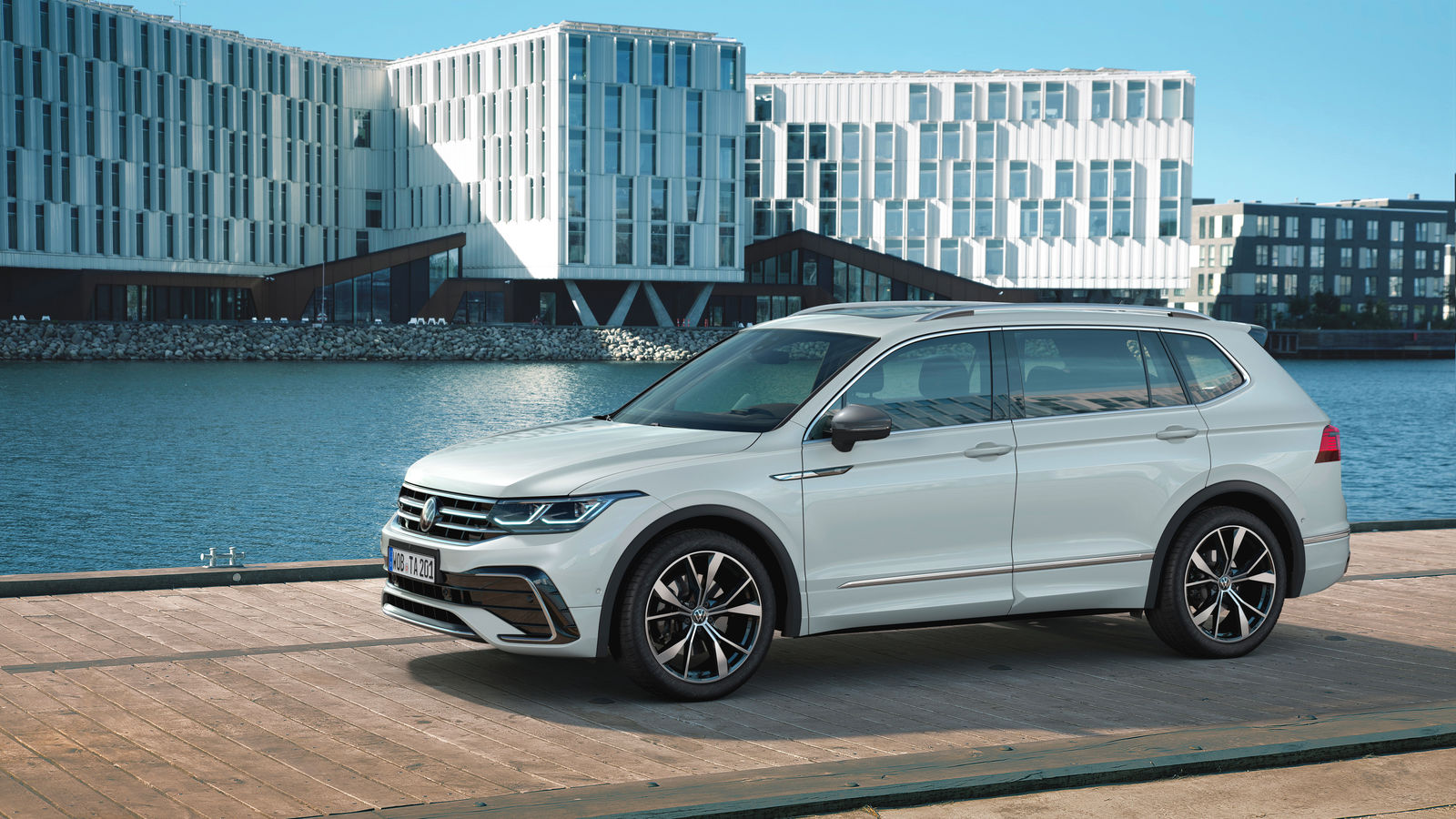 4. Volkswagen Tiguan Allspace
The new SUV is estimated to cost starting at Rs. 35 lakhs (ex-showroom). It will have a seating size of seven.
Volkswagen is estimated to give the Tiguan Allspace the same 2.0-liter turbo-petrol engine (190PS/320Nm) paired to an All-wheel drive and is probably still going to be used.
A new touchscreen infotainment system with wireless Android Auto and Apple CarPlay, ambient lighting, a digital driver's display, rain-sensing wipers, and three-zone climate control are included with the facelifted SUV.
5. Jeep Grand Cherokee
The pricing of the luxury SUV is estimated to be approximately Rs 75 lakh (ex-showroom). Jeep gives both 6- and 7-seat configurations of the fifth-generation Grand Cherokee.
Jeep has two gasoline engines available, a 3.7-liter V6 with 294PS and 348Nm of torque and a 5.7-liter V8 with 364PS and 520Nm. 8-speed automatic transmission is connected to both. It is available with the Quadra-Trac I, II, and Quadra-Drive II 4×4 systems. The five drive settings available on Jeep's upscale SUV are Auto, Sport, Rock, Snow, and Mud/Sand.
6. Hyundai Palisade
The upcoming luxury car is estimated to be priced at around Rs.40.00 Lakh.
The brand's latest flagship SUV is the Hyundai Palisade. The SUV made its debut at the 2018 Los Angeles Auto Show and is built on a new platform. In certain international countries, including the US, it started showing up at dealerships in the summer of 2019.
The Palisade can accommodate up to eight people and has three rows of chairs. It's a high-end car with high-end features, including leather upholstery, a twin-panel sunroof, motorized folding and reclining second and third-row seats, ventilated front seats, and second-row captain chairs.
Edited by Prakriti Arora