Trends
FIR Against Assam CM And Renowned Sadhguru For Latest Kaziranga Night Safari
On Sunday an FIR was registered against the spiritual leader Sadhguru, Assam Chief Minister Himanta Biswa Sarma, and others for allegedly violating wildlife laws during their jeep safari in Kaziranga National Park after dark on Saturday. Soneswar Narah and Prabin Pegu have filed the complaint. They are the inhabitants of Morongiyal and Balijan villages near the Kaziranga National Park. They alleged that the jeep safari with the vehicle's headlights blazing after dark violated the Act.
They demanded the immediate arrest of Sadhguru Jagdish 'Jaggi' Vasudev, Sarma, Minister of State for Tourism Jayanta Malla Baruah, and others who were part of the jeep safari. Assam Chief Minister Himanta Biswa Sarma dismissed baseless allegations by activists that he and Sadhguru Jaggi Vasudev had violated the Wildlife Protection Act by entering Kaziranga National Park for a night safari. "There is no violation. According to the Wildlife Act, the warden can grant permission to enter the protected area even at night.
There is no law to prevent people from entering at night. Yesterday we had the official inauguration of the park for this period. As now Sadhguru and Sri Sri Ravi Shankar have arrived and also have thousands of followers, we expect a very good tourism season for Kaziranga this time," Sarma told reporters on Sunday evening.
About Kaziranga And Connection With Sadhguru And Assam CM
Kaziranga is considered one of the best wildlife sanctuaries in the world. The Kaziranga park's contribution to saving the Indian one-horned rhinoceros from the brink of extinction at the turn of the 20th century to protecting the single prime and largest inhabitants of the kind is remarkable preservation attainment. As we all are aware the Ancient history of the jungle called Kaziranga began in the seventeenth century.
Some regional folklores relate to the source of its title, but historiographers advocate that the title of the national park is related to Karbi, a lady who once governed the area. The Big Five of the Kaziranga park include; an Asian Goliath i.e., elephant, wild water buffalo, royal Bengal tiger, one-horned rhinoceros, and wetland stags (deer). Kaziranga national park is one of the few wild breeding zones other than the African continent for many species of big cats such as leopards and Bengal tigers.
Talking about Sadhguru, he was born in Mysore, on September 3, 1957. Sadhguru's father was an ophthalmologist for the Indian Railways. Because of his father's work, they often move from place to place.
Sadhguru loves nature and would often make his escape to the jungle and observe wild creatures and snakes. When Sadhguru was of 11 years, he made a profession in yoga and meditation. Malladihalli Sri Raghavendra Swamiji, a renowned yoga guru trained him in a sequence of asanas, other procedures, and methods of yoga.
After completing his schooling, he began his graduation with a BA in English Literature. In college, he showed an interest in motorcycles and rode a lot with his friends.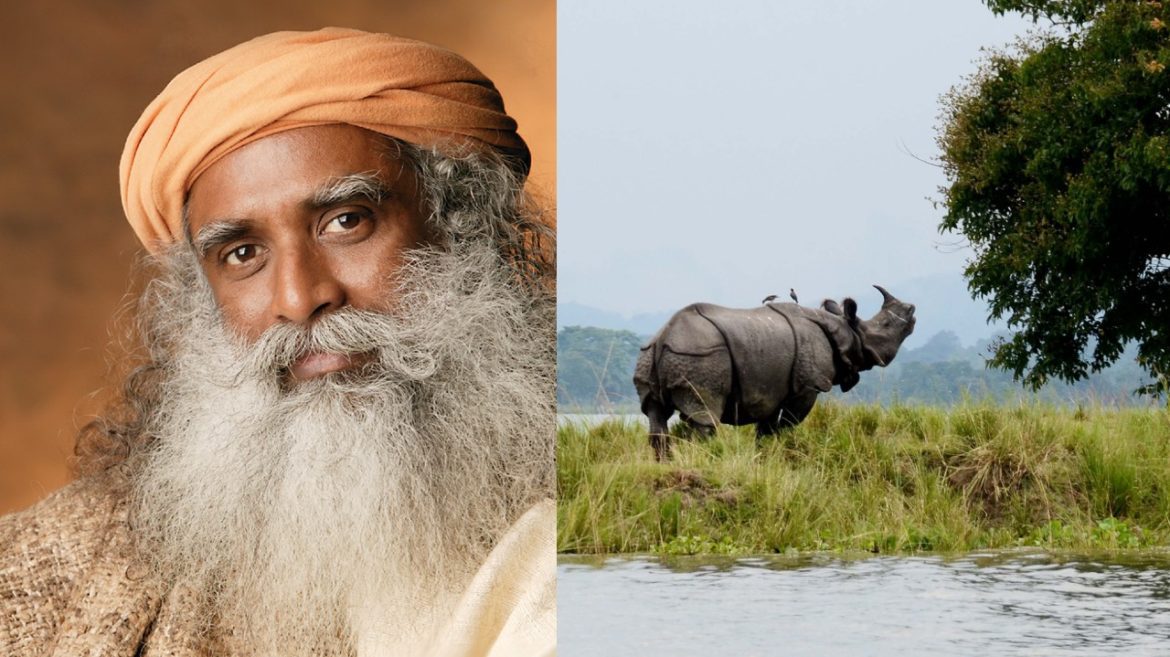 After completing his college studies, Sadhguru started a career as a businessman. An all-rounder, he opened his business in various fields, including construction, a brickyard, and a poultry farm. Sadhguru is known worldwide for his Isha Foundation. He spread knowledge about yoga and the welfare of people.
Isha Foundation is the main institution through which it implements all its yoga programs, and various social and community development activities. Sadhguru Jaggi Vasudev reasons, "When something works, it's called a method, and I can teach people to use that method or process."
Himanta Biswa Sarma is an Indian politician from the BJP party. He is serving as the 15th and obligatory Chief Minister (CM) of Assam. He was ex fellow of the Indian National Congress political party. Sarma then joined the BJP on 23 August 2015. Himanta Biswa Sarma was first elected to the Assam Legislative Assembly from the Jalukbari Assembly constituency in 2001 and was re-elected from the same constituency in 2006 and 2011 on a Congress ticket and 2016 and 2021 on a BJP ticket.
Born on 1 February 1969 in Mission Hospital, Assam, Himanta Biswa Sarma's parents were Kailash Nath Sarma and Mrinalini Devi. In 1985, he passed his final secondary examination at Guwahati's Kamrup Academy School. He graduated and post-graduated in the years 1990 and 1992 in Political Science from Cotton College, Guwahati. He received his L.L.B. degree from Government Law College, Guwahati, and received his Ph.D. degree from Gauhati University.
Between 2002 and 2021, he held several portfolios (both state and cabinet) such as Minister of State for Agriculture, Planning and Development, Finance, Health, Education, and Assam Accord Implementation.
In many yearly reports, the Government of India has remarkably emphasized the accomplishments of Assam's Health and Education Departments, India. Throughout his occupation, not less than 50,000 educators were prearranged through TET for the first time after he eliminated the interview system.
The complainants also demanded strict action against Sadhguru for entering the park after the allotted time for tourists and driving a jeep with headlights on. Narah and Pegu claimed that the marginal people sacrificed their land, and cattle and endured many hardships to protect the park, and always obeyed the rules and laws.
Kaziranga National Park was opened for tourists for the upcoming season the previous day. Sarma also publicized a short video on Twitter of the safari. Sadhguru, leader of the Isha Foundation, was in Kaziranga to inaugurate the three-day 'Chintan Shivir' for ministers, legislators, and bureaucrats of the state.
edited and profread by nikita sharma