Flipkart is merging departments to form a single growth organisation led by Prakash Sikaria
Flipkart is a Bangalore, Karnataka-based Indian e-commerce company and incorporated in Singapore as a private limited company. Flipkart had a 39.5 per cent as of March 2017 market share in India's e-commerce business.
Due to its acquisition of Myntra, Flipkart has a strong position in the clothing sector. In the sale of gadgets and mobile phones, it is "neck and neck" with Amazon. Walmart purchased a 77 per cent controlling stake in Flipkart for US$16 billion in August 2018, valuing the company at roughly $20 billion.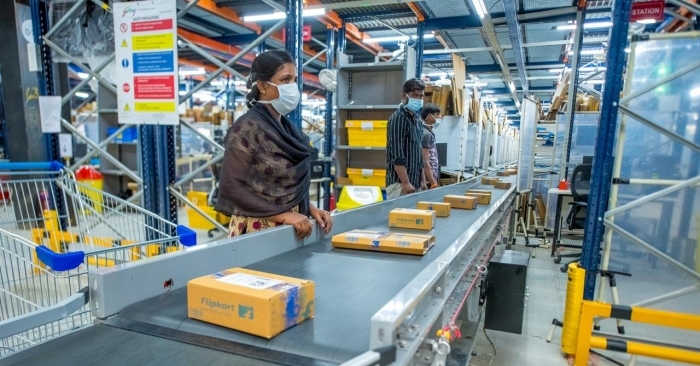 According to CEO Kalyan Krishnamurthy in a message to employees, Flipkart is integrating its 'Customer & Marketing Org' with its 'Growth & Monetisation Org' to form a single Flipkart Growth charter led by senior business executive Prakash Sikaria. Flipkart CEO Kalyan Krishnamurthy announced in a letter to the company's employees. Sikaria has been with the company since 2015 as Senior Vice President – Growth and Monetization.
"As a result of the aforementioned adjustment, Kartik Rajeshwaran, Priyanka Bhargav, Manjari Singhal, Rizwan Syed, and Prasanth Naidu will report to Prakesh (Sikaria)," Krishnamurthy said, adding that the changes will take effect on January 1, 2022.
During his time at the company, Sikaria has had a significant impact by creating successful initiatives such as Ads, Plus, Super coins, Games, Video, Travel, and the social commerce platform Shopsy. In addition, ClearTrip, a travel site acquired by Flipkart, would continue to report to Sikaria.
Sikaria attended IIT Kanpur and the Kellogg School of Management at Northwestern University. Under his leadership, Flipkart is thriving in social commerce, leveraging social network communities to boost e-commerce sales. According to reports, social commerce will be a $70 billion business opportunity in the next few years. Sikaria has worked with Flipkart as Senior Vice President of Growth and Monetization since 2015. During that time, he has pioneered and launched innovative projects such as Ads, Plus, Super coins, Games, Video, Travel, and the social commerce platform Shopsy. In addition to this, Sikaria will continue to be responsible for the travel portal ClearTrip, which Flipkart recently acquired.
Flipkart released Shopsy this year, allowing Indians to build their own online companies for free.
Shopsy, from Flipkart, is a brand new 0% commission platform for sellers. Thanks to the platform, they can now reach out to an additional 200-500 million budget-conscious customers. Sellers may cater to this market segment through Shopsy's Resellers, who the customers trust and earn from a trust-based selling platform. Resellers serve as a bridge between the vendor and the buyer.
Through resellers, Shopsy adds a layer of distribution between e-commerce sellers and buyers. It allows merchants to target the correct audience looking for affordable products by leveraging a platform to generate revenue. Consumers, merchants, and resellers from around the country continue to support Shopsy's growth. With the support of the holiday season, the platform has seen a 3.6x spike in new app downloads, exceeding the 10 million mark on the Google Play Store just five months after its launch. According to Flipkart, Shopsy has had a tremendous response from users and resellers across the country, who have been flocking to the platform for their "shop and earn" needs since July 2021.
Shopsy, the country's most popular social commerce network, had a 4X boost in revenue over the holiday season compared to the non-holiday season. When compared to non-holiday times, the platform's active user base surged doubled. In October, Shopsy's development was led by fashion, beauty, general merchandise, and home (BGMH). In the social commerce arena, Flipkart competes with SoftBank-backed Meesho, DealShare, BulBul, GlowRoad, Mall91, and simsim. Flipkart thinks that by partnering with Shopsy, it would be able to empower over 100 million online entrepreneurs to realise the benefits of digital commerce in the future years.
In the letter seen by Business Standard, Krishnamurthy wrote, "I would also like to take this opportunity to congratulate Nandita Sinha (new Myntra CEO) and Amitesh Jha for their great contribution to the Customer & Marketing Org." "Over the past year, Nandita and Amitesh have led a number of programmes that have greatly aided our business growth and delivered yet another successful BBD (Big Billion Days) festive event."
Flipkart's Big Billion Days 2021 sale provides significant discounts on a variety of smartphones, laptops, televisions, and other electronic products. During the event, Flipkart will offer a series of small flash sales, bundled exchange and payment incentives, and other deals.
Myntra has appointed Nandita Sinha, a senior executive in the customer and marketing teams, to CEO. From next year, she will be in charge of her new position. Amitesh Jha of Flipkart will continue to report to Sikaria and oversee the marketplace's supply chain.