Trends
Gautam Adani – Is the 3rd richest man a mean takeover Mughal or CEO of Change?
By the age of 60 years, Gautam Adani is all set to become the richest man in Asia. He overtook the CEO of Louis Vuitton Bernard Arnault in the ranking on Bloomberg's Billionaires Index. Now, He is trailing merely two steps behind Amazon owner Jeff Bezos and Tesla owner Elon Musk, in terms of wealth and fortune. His net worth is estimated at $137.4 billion with a corpus of $60.9 billion added in 2022 alone.
Adani owns a diversified business empire. Apart from his previous investments in ports, logistics, mining, power, etc. He has ventured into aerospace, infrastructure, 5G, and cement. In terms of the stock market, Adani's shares are skyrocketing. Adani's market cap has hit an all-time high on Dalal Street.
It has steeply risen by 17.44 lakh crore since April 2020. Adani's stocks have risen by 1300% in two years. 2022 seems to be his golden year, since is on a buying spree.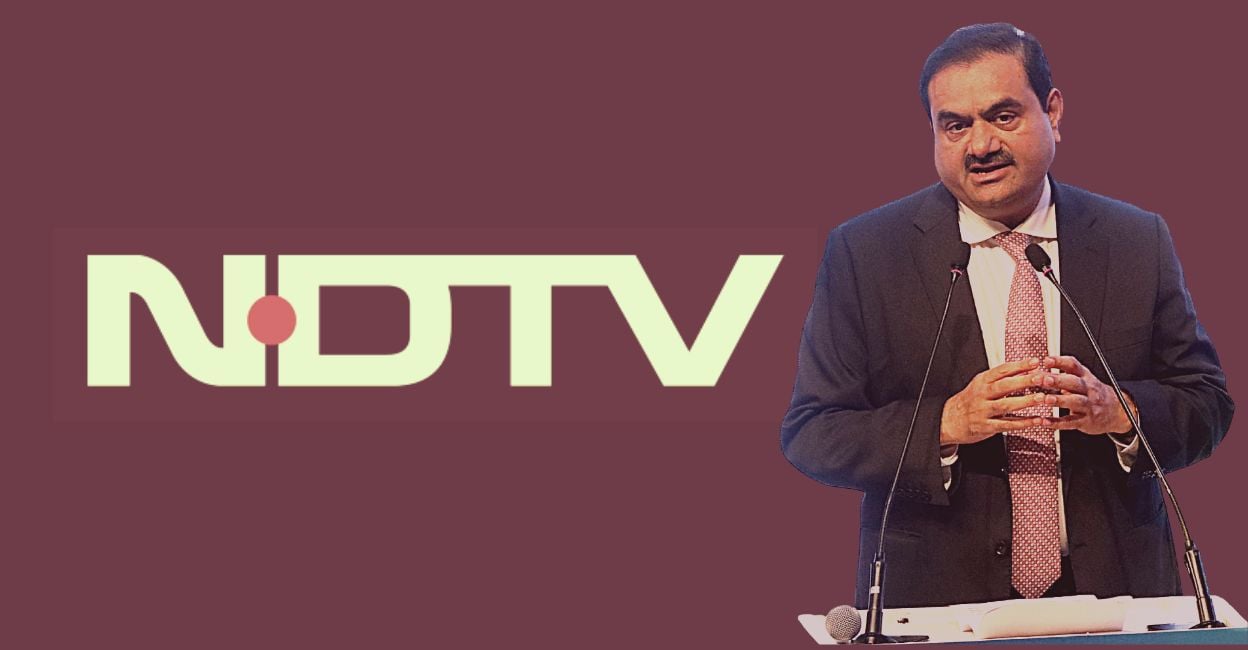 The takeover battle – Gautam Adani V/S NDTV
Adani's acquisition marked "a significant milestone" for AMG Media Networks Ltd. that aims to "pave the path of new age media across platforms," says Sanjay Pugalia, the company's chief executive officer said in a statement. "NDTV is the most suitable broadcast and digital platform to deliver on our vision."
Last Tuesday the Adani group announced an indirect acquisition of 29.18% shareholding of NDTV. The group launched an open offer to acquire an additional 26% stake in NDTV Ltd. However the takeover announcement is Adani's second media bet in 2022.
Vishvapradhan Commercial Pvt. Ltd (VCPL) issued a debt to the owners of NDTV to repay a loan they had taken from ICICI bank, for convertible warrants (warrants providing conversion from debt to equity). RRPR Holding, a promoter group took the loan in two tranches on behalf of NDTV from VCPL Pvt. Ltd.
The agreement stated that warrants had to be issued to VCPL in the form of convertible equity shares summing up to 99.9% share capital of the company. The agreement highlighted that Prannoy and Radhika Roy to transfer a certain amount of shares to RRPR Holdings. As a result, the stake of RRPR Holdings increased to 29.18%.
VPCL, a shell company with no assets and a meager turnover of 1lakh is rumored to be a subsidiary of the Reliance Group owned by Mukesh Ambani. However, it was acquired by the Adani group from Nextwave Televentures and Eminent Networks.
Also read – https://www.inventiva.co.in/trends/indian-origin-laxman-narasimhan-named-new-starbucks-ceo/
Another angle has been projected. It states that Adani requires approval from the Securities Exchange Board of India SEBI to take forward with the acquisition. To halt Adani's takeover spree NDTV stated that the owners Prannoy and Radhika Roy have been barred to purchase or sell securities in the Indian market. Hence the owner duo will be unable to transfer the shares demanded by Adani.
However, according to the latest reports The Adani group rejected claims made by NDTV. They rubbished the false claims stating that the founder's investment entity was not part of regulatory restrictions.
The founders are bound to comply and are obliged to allot equity shares with immediate effect. As of now, both parties have approached SEBI to check any regulatory restrictions that prevent NDTV from transferring the shares to Adani Group.
Is it a hostile takeover?
Reports claim that NDTV is paying for its past sins. The deal may cause Prannoy and Radhika Roy to lose their most precious news channel. On August 22, NDTV said in a stock exchange meeting that a query related to founders Prannoy Roy and wife Radhika Roy selling their stake in the company held through RRPR.
Also read https://www.inventiva.co.in/events/markets-settle-flat-in-choppy-trade/
How will the takeover benefit the Adani Group?
Adani's media arm AMG Media Networks is growing manifold. Earlier this year in May they announced the acquisition of Quintillion Media Ltd. They announced an acquisition of a 49% stake for an undisclosed sum, subject to requisite approvals. As a result, the share price of Quint digital media surged and touched higher upper circuit limits. With another media channel under its roof, Adani Group and AMG Media Network will get a stronghold in the media industry.
It will become a cutthroat competitor for his rival Reliance Industries owned by Billionaire and eminent businessman Mukesh Ambani. An additional venture in the media sector might transform the industry, fix existing glitches and boost revenue. The takeover might improve its listing in the stock markets. It will generate an extra stream of revenue for Adani industries, generating funds for his upcoming projects.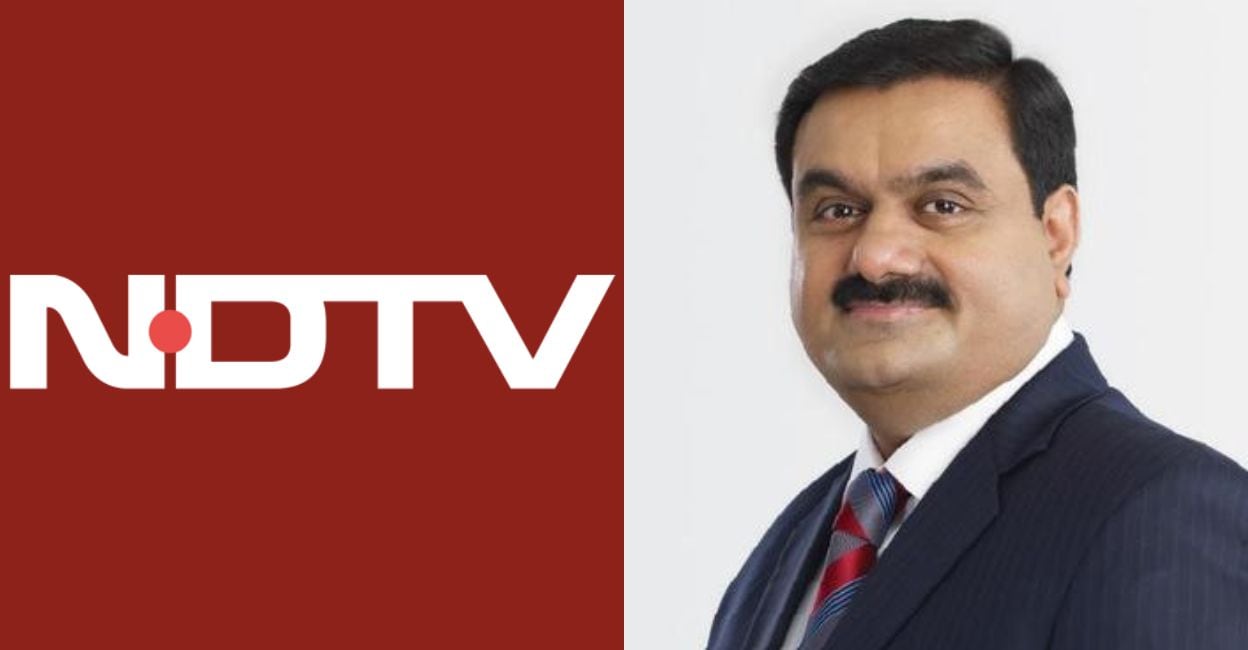 Is Adani's NDTV takeover bid a boon or a curse?
For NDTV, the takeover is a hard gamble. For years it has been considered an independent voice in a briskly polarizing media landscape. It has spent years trying to build an image and a unique voice for itself.
The acquisition may or may not be in the favor of the owners. They may have to part with their stake. However looking at the performance of the NDTV shares in the days following the big announcement, it seems to be doing really well.
However, which may seem like a hostile takeover for the majority of the crowd it will be a boon to the minority shareholders of the firm.
Amidst the tough battle between Adani and NDTV, we must not forget his contribution to the nation and his commitment to its progress. The reason for him, receiving respect and special honors even from The PM is related to his cats of philanthropy. It has been reported that he works on the lines of the celebrated philanthropist Azim Premji.
In Adani group's AGM 2022, the company announced that it will be investing $70 billion to aid the country's green transition. The family has pledged to donate 60,000 crores towards altruistic activities related to health, education, and sustainable development.
Founded in 1996, Adani Foundation is one of the leading company-funded charitable organizations involved in charitable work advocating real change. All activities of the foundation are funded and operated by the Adani group. As of today, the Adani Foundation has 33 lac beneficiaries across India.
Also read https://www.inventiva.co.in/trends/gmr-group-to-divest-stake-in-philippines-cebu-airport-to-receive-rs-1330-cr-upfront-payment/
Saksham is a skill development project run by the Adani Foundation. The Adani Skill Development Corporation (ASDC) is partnered with the National Skill Development Corporation (NSDC). The organizations provide skill-based training to people that help them in scoring secure jobs, to help them lead a life of self-reliance. Programs like computer courses, crane operation, and beautician courses are designed for the holistic development of the beneficiaries.
In terms of community infrastructure, the Adani Group never misses an oppurtunity to plant a seed of welfare and kindness in society. The key aims of the foundation are to provide unaltered access to clean drinking water in villages, reduce morbidity, maintain cleanliness and generate avenues of livelihood for the growth of the country. The foundation has built over 20 dams and deepened over 350 ponds for provision drinking water and generation of hydroelectricity. Residential units have been constructed for the fisher folk community and Below Poverty Line (BPL) families.
Apart from that, the project Udaan inspires youth to dream big. Field trips and visits to Adani's ports, refineries, power plants, etc. help them understand the working of this colossal corporation. It teaches them how they can replicate the success of the company through sheer determination and hard work.
The project SuPoshan is aimed at fighting mortality due to malnutrition among 0-5-year-old children. 'Swachagraha' is inspired by the Gandhian philosophy of 'Satyagraha' a movement that won us our independence. It is a mass movement promoting cleanliness drives and civic consciousness amidst the citizens of India.
Apart from its welfare projects the Adani Foundation organizes employee volunteer programs, healthcare for its worker, and other benefits as part of their job package.
"At a very fundamental level, programs related to all these three areas should be seen holistically and they collectively form the drivers to build an equitable and future-ready India," Adani said. "Our experience in large project planning and execution and the learning from the work done by the Adani Foundation will help us uniquely accelerate these programs."
"I am very touched by Gautam bhai's commitment to a very important milestone in his life – his 60th. I have always admired him for his deep family values and commitment to see India prosper," said Uday Kotak, managing director of Kotak Mahindra Bank.
Whether he is labeled mogul of contentious takeovers or a righteous man committed to the growth of the country, It is safe to say, his presence has been good for India's Economy.