Trends
How France left England wondering what might have been?
The defending champions France repelled England's attacks and broke English hearts on a patch of lush grass that seemed out of place in the middle of a parched Qatari desert.
After France defeated their longtime rivals England 2-1 on Saturday to advance to mainly the World Cup semifinals and send their neighbours home, the French cockerel crooned loudly into the night.
The defending champions repelled England's attacks and broke English hearts on a patch of lush grass that seemed out of place in the middle of a parched Qatari desert.
Ironically, a wild and horribly mishit penalty shot by England's typically dependable goal machine Harry Kane into the stands ultimately decided the outcome of a closely contested game of millimetres.
Few people in the enormous Al Bayt Stadium would have predicted that the striker would miss his opportunity to tie the game at 2-2 and set the record for most goals scored by an Englishman after earlier sending an unstoppable penalty kick past Hugo Lloris.
But that's the nature of sport, and rather than leading the comeback, the man the English media refer to as "King Harry" instead walked off the field in despair.
Gareth Southgate, the England coach who missed the deciding penalty in a shootout against Germany in the Euro 96 semifinals, said, "It's a game of fine margins."
"For me, our team wins and loses together, and we've allowed a few goals in and missed a few opportunities. Harry has been outstanding for us and incredibly dependable in those kinds of circumstances. Without the goals he scored for us, we wouldn't be where we are today.
In this first-ever World Cup knockout match between two countries with such a long-standing rivalry, such drama was perhaps predictable.
Extreme Drama of France and England
The stage was set for major drama before the game even started. After a pre-match fireworks display, smoke hung in the air.
Both teams of athletes were more than prepared and attacked each other with little restraint if this sporting contest was, as English essayist, novelist, and journalist George Orwell put it, "war without the shooting."
Early exchanges were heated, and appropriately, France took the lead as England griped about a foul that wasn't called on Bukayo Saka. Aurelien Tchouameni received a perfectly weighted pass from Antoine Griezmann as the English were yelling and waving their arms.
An exercise in millimetres. Jude Bellingham would have been hit if Tchouameni's shot had been a millimetre off, as opposed to perfectly passing through the space between his extended legs.
In either case, Jordan Pickford would have pushed the ball around the post rather than removing it from the goal.
Jules Kounde and Raphael Varane of France made a physical tackle right away, and Theo Hernandez eventually received a booking for repeatedly bringing down England's attacking threat, particularly Saka, who had beaten him down the right wing earlier in the game.
Not to be outdone, lanky striker Griezmann received a booking in the first half for repeatedly colliding with England's players.
When Saka was fouled by Tchouameni, it was only fitting that England got back into the game. Kane scored the ensuing penalty high and beyond Hugo Lloris to tie Wayne Rooney for the current most goals scored by an Englishman with 53.
When Olivier Giroud scored his fourth goal of the competition to restore France's lead, it was all thanks to that man Griezmann and another flawless assist.
But once more, French disregard for the law allowed England to escape when Hernandez destroyed Mason Mount. But as the entire stadium prepared for the game to end in a draw, Kane missed the penalty kick – and this time, it wasn't by a small margin; it was by a wide margin.
This outcome will haunt England and Kane.
Gareth Southgate, Harry Kane, and the rest of the England team will all be hurt for a very long time if they lose this one.
They are now a much stronger team than they were in 2018, when they advanced to the World Cup semifinals, but this time, they faced France in the quarterfinals. and that despite playing on par with the world champions for the majority of the match, they lost their chance to force extra time when Kane blasted his second penalty of the evening over the crossbar.
Kane will be haunted by that moment—he appeared distraught after the final buzzer—but he won't be the only one. England has made it to a World Cup semi-final, a European Championship final, and now a World Cup quarter-final in the past four years, but they have all lost by slim margins. There are many reasons to regret rather than many to criticise.
We had questioned whether England would lose when they faced a stronger opponent. The big question regarding Southgate and his team has always been that, but it is difficult to consider what they could and should have done differently in the immediate aftermath.
They performed admirably that night, if not brilliantly. Though so close, they were ultimately so far away.
Lloris sets a record and leads France
The player with the most caps for France is currently Hugo Lloris. The world champions' goalkeeper and captain made his 143rd appearance for his country, breaking Lilian Thuram's previous mark. Considering that he has been playing at this level for 15 years, it may not have been surprising that he performed admirably.
The veteran Spurs player was at his very best during this game. Midway through the first half, Harry Kane, a clubmate turned rival and fellow captain, was rolling Dayot Upamecano and advancing at a tight angle. This caused a sharp dart from his line. In the dead-center of the goal, Kane tried to flick a right-foot finish over the advancing goalkeeper, but Lloris spread out well and stopped him.
His adjustment seven minutes later, when Kane's attempt was deflected off Adrien Rabiot and palmed behind for a corner, was equally as impressive. In addition, just after the break, Jude Bellingham made a leap to tip his scorching volley.
Lloris would likely contend that he out-psyched Kane on that second penalty, which was blazed so horribly over the crossbar six minutes from time. He dove to his right after going left on the first, and may have jokingly encouraged his Spurs teammate to thump it harder than the one earlier in the half. The other French players' response undoubtedly indicated that they were aware of his contribution to the miss.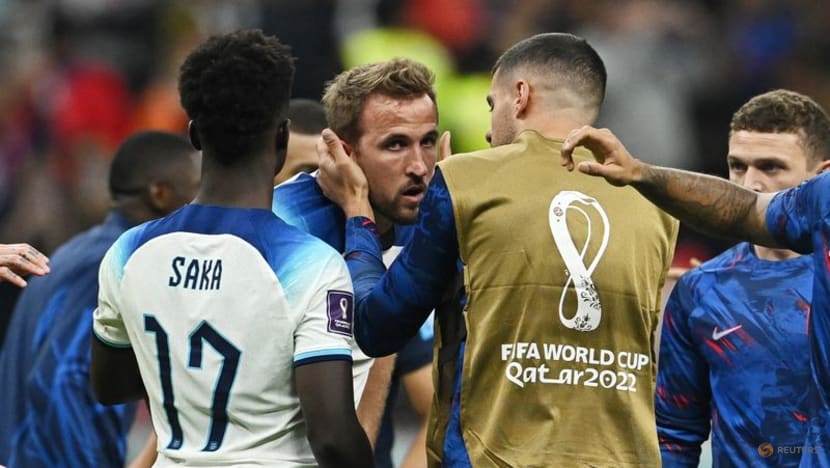 Lloris provided comfort as English pressure increased.
The 35-year-old was warned prior to this match that he might be this lineup of champions' weakest link. Understandably, he was not impressed by the suggestion. He retorted, "I'll do my talking on the pitch." Lloris kept his promise.
A tale of three penalties and Harry Kane
Harry Kane is well-known for his accuracy from the penalty spot, especially when wearing an England jersey.
With six minutes remaining in regulation, he missed a penalty that would have made it 2-2 after earlier equalising from 12 yards. This was his fifth missed penalty in 21 attempts.
The England captain and also talisman is no stranger to a knockout-phase penalty; in their round of 16 match against Colombia in 2018, he lifted the ball down the middle to give England the lead.
With the first penalty kick against France, Kane once again ran up to the spot as usual, flexed his muscles, and fired across Tottenham teammate Hugo Lloris into the middle of the goal.
But his poise was the best part. After lining up to take it, Kane looked over at the referee and then took the time to reposition the ball. These margins matter for such a psychological event, and the No. 9 didn't rush the kick either, underscoring how at ease he was and reflecting England's shift from viewing penalties as a lottery to having a "systematic focus." Additionally, it highlighted his significance to his nation in the big picture.
With just 40 fewer games played, Kane has tied Wayne Rooney for the most goals scored for England with his 53rd goal in 80 appearances.
But the second one he missed. After another penalty appeal was denied in the first half after England's captain was brought down by Upamecano, France's left-back Theo Hernandez tripped up Mason Mount, a substitute, to give Kane a chance to equalise with five minutes remaining.
In an effort to make the penalty more unstoppable but with the added requirement of perfection, the run-up appeared to be slightly shorter than it was the first time, and Kane went higher. Lloris made the correct assumption this time, and it was overhit.
Mbappe still has an impact on a dull day
Even when not fully himself, Kylian Mbappe is a leader. If not completely invisible, Mbappe was at least not very threatening for the majority of this game.
England's usual possessional formation, with Kyle Walker dropping into the main back line from the right-back slot, provided them with natural defence against Mbappe's counterattack. France were happy to allow England to advance the ball so they could attempt to attack the space behind them.
Mbappe spent a lot of main time drifting inside to mainly receive in front of Walker and also then wait for his left-back, Theo Hernandez, to mainly sprint up the wing, as opposed to receiving the ball on the left wing and aslo dribbling up the sideline or also running in behind for balls over the top, as he has done throughout this World Cup so far.
Over the course of 100 minutes, including stoppage time, Mbappe only twice beat Walker up the current wing on the dribble, and while one of those did result in a risky cutback for Ousmane Dembele in front of the main penalty spot, he was unable to catch it for a shot.
And yet, Mbappe launched the attack that resulted in France's first goal.
After Walker's attack left the right flank of England's defence open in the 17th minute, Mbappe dribbled across a vacant midfield to pass the ball to Dembele, and England's defence never recovered its shape as mainly Aurelien Tchouameni finished the move with a main wide-open shot from the main top of the box.
Another Mbappe dribble between Walker and also Bukayo Saka in the 77th minute set up an enormous Olivier Giroud chance in front of goal. That shot was blocked by Jordan Pickford, but none were after the ensuing corner kick, and France went ahead once more.
Mbappe also had the potential to change the game in the other direction. His total lack of interest in playing defence allowed the typically left-leaning England to find space for Saka and Henderson to create danger up the right side all day. England's first penalty was as a result of a Saka dribble in the space behind Mbappe and Hernandez during a transition.
But it wasn't enough; French supporters continued to chant loudly even on Mbappe's quiet days.
Tchouameni vs. Bellingham: Who made a bigger impact?
Aurelien Tchouameni, a gifted young midfielder from France, moved for a significant sum of money last summer. Jude Bellingham of England is most likely the one doing it next summer.
Naturally, both took part in some of the key events of the game.
After a deft, patient run, Tchouameni shot through the legs of the midfielder for England and into the bottom corner to put France ahead.
Bellingham's pass to Bukayo Saka caused Tchouameni to bring the Arsenal winger down, which allowed Harry Kane to score the equaliser from the spot.
The two play very distinct roles. In the first half of tonight's game, Tchouameni was outstanding. He sat in front of his back four, kept things simple in possession, and put out fires. As a result, England had trouble involving their star players, like Bellingham, in dangerous situations.
Bellingham triumphed in the second half if Tchouameni won the first. His influence grew. In order to be a constant option, he floated away from his position as the left-sided central midfielder and demanded the ball. His off-the-ball movement disrupted France's defensive positioning while opening up the game for others. Early in the second half, he also came close to scoring a goal that was on par with Tchouameni's, but Hugo Lloris stopped him.
Tchouameni, in contrast, started to struggle after giving up the penalty and then lost Harry Maguire when he erratically headed a free kick wide. He didn't exert any pressure on Saka's risky cross from Luke Shaw.
But since he's in the semifinals, he won't care. As England focuses on the right side, Saka shines. Compared to their match in the last 16, England's strategy was different.
England overloaded the left side in wide areas during that 3-0 victory over Senegal, with 49% of their attacking touches coming from that side. The opposite was true against France, with 39% of England's attacking touches coming from their right wing, and Bukayo Saka's magical feet serving as the game's primary threat the entire time.
With Jordan Henderson or Jude Bellingham frequently shifting across and providing numerical superiority on the right side, England frequently got the ball out to Saka. Saka's defensive focus off the ball matched his offensive vigour as he frequently retreated to help right-back Kyle Walker and fend off the threat of Kylian Mbappe.
Saka's excellent dribbling was the key to the equaliser. In a one-v-one situation with Saka, Adrien Rabiot pulled out to the left-back position as England transitioned, exposing France's lopsided structure. Saka was able to play a one-two with Bellingham as he entered the room, but Tchouameni was only able to bring him to the ground because of how quickly Saka's feet moved.
The threat posed by Saka persisted the entire time, and England's decision to focus on that flank was undoubtedly intentional. He wasn't entitled to be on the losing team.
edited and proofread by nikita sharma