Trends
Indian Short Video Platforms To See A Market Boom In Upcoming Years: Around $8 To $12 Billion Market By 2030.
According to research, the Indian short-form video market is poised to break out and present an $8–$12 billion opportunity by 2030.
Indian Short Video Platforms To See A Market Boom In Upcoming Years: Around $8 To $12 Billion Market By 2030.
Since TikTok, a short-form video app owned by ByteDance, entered the Indian market in 2017, the market of short video platforms has experienced rapid development.
With the Indian government's prohibition on TikTok, international behemoths YouTube Shorts and Instagram Reels together with domestic platforms like Moj, Josh, MX TakTaka, Chingari, and Roposo among others filled the hole.
According to sources, short-form video platforms have seen a rise in content consumption, with 300 million active users.
Businesses are investing more ad dollars in the short-video area as the platforms for these videos gain more viewers.
According to research, the Indian short-form video market is poised to break out and present an $8–$12 billion opportunity by 2030.
According to a Redseer Strategic Consultants survey, Indian apps can now compete positively with foreign short-form apps and outpace them in terms of the depth of their content in three of the top five content categories. There are also notable differences between the offers for music/dance and dialogue/acting content.
Many Indian apps have been released in competition with Chinese apps when famous short video apps like TikTok, Likee, Vigo Video, etc. were banned. Instagram has introduced its own short video section called Reels. Since TikTok was banned in India, Youtube offered a similar feature called Youtube Shorts, and other apps were also released.
In India, influencer marketing is rising in popularity as a tactic for brands. According to the analysis, influencer marketing spending would increase from its current level of $0.35 to $0.4 billion to $2.8 to $3.5 billion by 2028.
Short-form videos currently make up 7–10% of the total content time yet receive less than 1% of digital ad spending.
In contrast to worldwide app users, who are over-indexed in metros and tier-one cities, Indian app users are representative of the entire population. In India, tier-two towns and beyond are where 83 percent of users are from. Regional languages are popular throughout India, although they are especially popular in tier-two + cities.
Leading players in Indian Short Form Video (SFV) apps have scaled up to levels that are comparable to those of global players while experiencing a steady increase in adoption and engagement. For an average Indian player or a global organization, the average time per day active user was 26 minutes.
India's needs are met by the content library for SFVs, with 51% of users preferring music and dance-related content on such apps.
Short video platforms offer consumers and artists an engaging experience and plenty of stimulus in the fast-paced world of today. These platforms are used by users from all over the world to advertise their businesses, forums, concepts, and aspirations.
Fashion is one of the most popular product categories being offered, and influencer marketing has a high conversion rate for brand commercials. Because influencer marketing is more effective than traditional advertising, brands that previously produced extended commercials have begun to rely more heavily on influencers.
Influencer marketing through short videos is a powerful strategy for increasing brand awareness, generating high-quality traffic, and reaching a business's target demographic with messages.
Influencer marketing, now a multibillion-dollar industry force, is a prerequisite for every company wishing to experience long-term growth.
At the moment, the majority of interactions between brands and influencers take place through intermediary agencies, a flawed and ineffective arrangement, Redseer Strategic Consultants partner Mohit Rana said in a statement.
He added that influencers may receive less money because agencies may take a sizable portion of the payment for their efforts. A tech-enabled, transparent, and scalable approach is therefore required. Marketplaces for creators can close this gap.
According to a survey, many e-commerce platforms are putting more of an emphasis on video commerce by integrating short-form video capabilities to improve user engagement and increase sales.
For example, before the holiday season, Amazon India and Meesho introduced the video commerce option. To provide video and video commerce experiences at scale, Flipkart teamed with the domestic short-form video platform Moj in October 2021. According to the estimate, the market for online video sales would grow to $3 to $4 billion by 2030.
A $1.7 billion market is expected for virtual gifts on short-form video platforms in India by 2030, according to the analysis.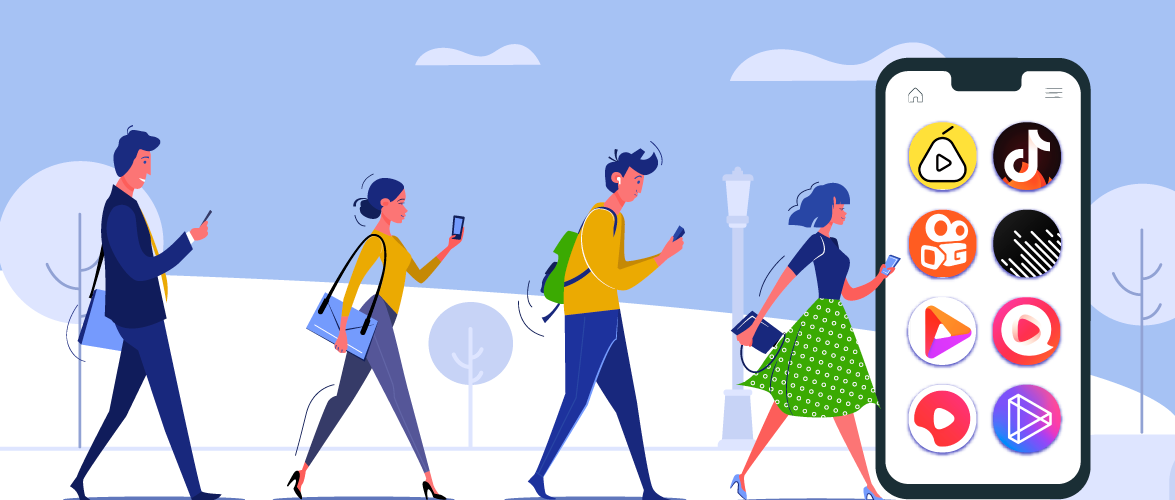 Short-form video platforms popularity in India
The selfie fad has passed, and now that short video clips can be shared immediately across many apps, people are swarming streets, malls, Metro coaches, and other public spaces in an effort to stand out and create interesting material, which is causing all kinds of headaches for law enforcement.
Most of the people taking a short video of themselves in front of their selfie cameras are unable to generate any money. This trend is affecting people of all ages.
Several short-video platforms, including Josh, Moj, MX Taka Tak, and many others, have entered the market and are rapidly expanding. The cost of mobile data has decreased since the launch of Jio, which is the cause.
Moreover, inexpensive android phones with good cameras have increased both the demand for and production of short video content in India.
Anyone who has a strong internet connection and a smartphone with a decent camera can produce and upload brief video content. The short video platforms offer a wide variety of economic structures, and how each company makes money varies. Additionally, these platforms offer their users free services that need testing of the business model.
Udit Sharma, Chief Revenue Officer at ShareChat & Moj, said that today's users are continuously looking for new, interesting information in their native language. These needs are met by Moj and ShareChat.
He added, even if a user has never consumed a certain genre of material, our algorithm still enables us to predict the type of content they could enjoy, enabling us to continually surprise and please our users. Customers are afraid of wasting time trying to decide what to watch, which is not a concern on short-form video platforms like Moj.
Sujata Dwibedy, Chief Investment Officer of Dentsu India-owned Amplifi, said that while short format videos benefit from user-generated content, their biggest advantage over traditional OTT and video content is the availability of talented content creators and enablers who are adept at connecting with the most specialized audiences that many businesses today target.
She stated that when Tiktok was banned in India in 2020, locally developed short video applications like Moj, MX TakaTak, Josh, etc. seized the opportunity and advanced significantly over the course of one and a half years. Although YouTube has also begun to offer short videos, Instagram Reels has more popularity.
Short videos are typically watched in leisure time or at a more convenient period. With the help of simpler AI and camera technologies, anyone can now easily develop and produce a wide variety of material with little effort, she added.
edited and proofread by nikita sharma