Trends
Veteran BJP Leader Kailash Vijayvargiya's Candidacy Adds Humor and Determination to MP Polls
Veteran BJP Leader Kailash Vijayvargiya's Candidacy Adds Humor and Determination to MP Polls
In an unexpected twist of humor and dedication, veteran BJP leader Kailash Vijayvargiya has joined the fray for the Madhya Pradesh Assembly elections. His light-hearted remark, "I'm a big leader now. I will fold hands?" reflects his seasoned political experience and his readiness to embark on a challenging electoral journey.
Vijayvargiya, a six-time legislator, expressed candidly that he had never harbored more than a 1% wish to contest elections. However, it appears that destiny had other plans for him. With his ticket secured, he is gearing up for a rigorous campaign, complete with a unique strategy involving daily 'sabhas' and the use of helicopters and cars.
The announcement of Kailash Vijayvargiya's candidacy has added a refreshing touch of humor to the Madhya Pradesh political landscape. His tongue-in-cheek comment about being a "big leader" now showcases his humility despite his extensive political experience. It's a reminder that even seasoned politicians can find humor in the midst of a hectic campaign.
Kailash Vijayvargiya's decision to hold eight 'sabhas' daily is a testament to his dedication to connect with the people of Madhya Pradesh. Five of these 'sabhas' will be conducted via helicopters, emphasizing his commitment to reaching even the remotest corners of the state. The remaining three will be traditional ground-level events, demonstrating his desire to engage directly with his constituents.
While many politicians might rely solely on conventional campaign methods, Vijayvargiya's innovative approach is undoubtedly attention-grabbing. The use of helicopters for campaign events is a bold and strategic move, ensuring that his message reaches far and wide. It underlines his determination to leave no stone unturned in his pursuit of electoral success.
Vijayvargiya's assertion that "god wanted me to contest elections" adds a spiritual dimension to his campaign. It reflects his faith and conviction, suggesting that he sees his political journey as part of a larger divine plan. This sentiment resonates with many in a country where spirituality often intertwines with politics.
As the Madhya Pradesh Assembly elections draw nearer, Kailash Vijayvargiya's unique blend of humor, humility, and determination promises to make this electoral contest one to watch. His unconventional campaign strategy, complete with helicopter 'sabhas,' showcases his willingness to go the extra mile to connect with the people he hopes to represent.
In a time when politics can often be characterized by seriousness and divisiveness, Vijayvargiya's lighthearted remark serves as a reminder that humor can be a unifying force. It breaks down barriers, making him more relatable to voters from all walks of life.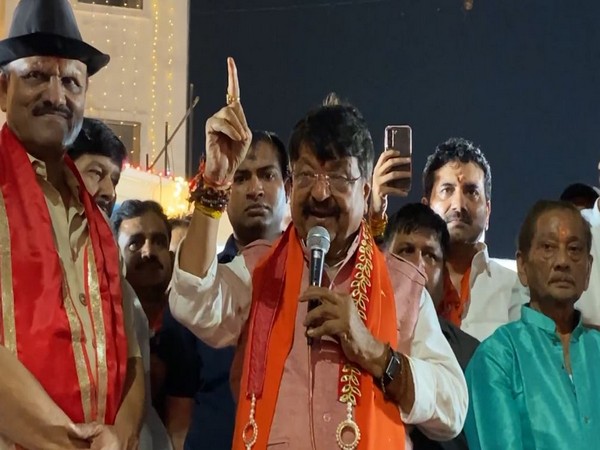 Ultimately, only time will tell whether Kailash Vijayvargiya's campaign strategy, coupled with his humility and determination, will resonate with the electorate of Madhya Pradesh. However, one thing is certain: his candidacy has injected a refreshing dose of humor and enthusiasm into the political arena, making this election season one to remember.
Kailash Vijayvargiya's decision to contest the Madhya Pradesh Assembly elections is a testament to the unpredictable nature of politics. His initial reluctance followed by a humorous acceptance of the challenge highlights the fact that politicians, like anyone else, can be taken by surprise by the twists and turns of their careers. This relatable aspect of his candidacy could endear him to voters who appreciate authenticity in their representatives.
The use of helicopters for campaign events also symbolizes a broader shift in political campaigning in India. It reflects the ever-increasing importance of technology and mobility in reaching voters across vast territories. By employing helicopters, Vijayvargiya is not only showcasing his determination but also his adaptability to the changing dynamics of political communication. It's a departure from traditional ground-level campaigning and a nod to the modern era.
Moreover, Vijayvargiya's statement about divine intervention in his candidacy resonates with a significant section of the Indian electorate who often perceive politics as a calling. Many politicians, regardless of their party affiliations, have cited a sense of destiny or divine will in their political journeys. This connection between spirituality and politics is deeply ingrained in the cultural fabric of India, and Vijayvargiya's acknowledgment of it aligns with this sentiment.
In conclusion, Kailash Vijayvargiya's entry into the Madhya Pradesh Assembly elections adds an intriguing mix of humor, determination, and spirituality to the political landscape. His unconventional campaign strategy and willingness to embrace humor in politics could set a unique precedent for future electoral contests. As the election season unfolds, observers and voters alike will be watching closely to see how this veteran leader's journey unfolds and whether his innovative approach resonates with the people he aspires to serve.