Trends
Rapido: Swiggy leads an investment round to raise $175 million for Rapido at an $850 million valuation.
$850 million valuation and fast-growing, bike-taxi company, 'Rapido' is invested in, by TVS Motor and Swiggy
Swiggy leads an investment round to raise $175 million for Rapido at an $850 million valuation.
Rapido has raised $180 million in this round, according to an update.
Rapido, a bike-taxi platform, has secured around $175 million in a fresh round led by foodtech giant Swiggy, with participation from WestBridge, TVS Motor, Shell Ventures, and Nexus Ventures. WestBridge led a $52 million investment in the Bengaluru-based business in August last year.
Entrackr initially reported on Rapdio's latest round in December. Rapido raised Rs 1292.7 crore (about $175 million) by issuing 284,730 Series D CCPS and 10 Equity shares, according to regulatory records. Swiggy alone committed $124 million in this round, followed by WestBrdige and TVS Motors, contributing $29.8 million and $14.9 million.
Shell Ventures and Nexus Ventures provided the remaining funds.
Swiggy and TVS Motor are new additions to the Aravind Sanka-led company's directors.
According to Fintrackr, Rapido has won the latest round with a post-money valuation of more than $800 million. This is a substantial increase in the company's worth, which was $235 million in the previous round. The business, which has raised nearly $300 million since its founding, may obtain additional money in this round.
At seven years old, Rapido has also discussed a fresh round with Zomato and Ola. However, as previously reported by Entrackr, the conversations did not take place. Rapido claims to have over 15 million clients and over 1.5 million driver-partners and is now active in over 100 locations.
According to Entrackr's sources, it handles around 10 million rides each month, with 80 per cent of the volume coming from the bike taxi sector and the remainder coming from vehicle services, logistics, and on-demand deliveries.
Rapido competes directly with Ola in the bike taxi and vehicle market.
Despite the pandemic, Rapido's revenue increased by more than 77 per cent during FY21, to Rs 75.6 crore from Rs 42.61 crore in FY20. According to regulatory filings, the company's overall costs were cut by 15.5 per cent to Rs 254.36 crore in FY21, and it managed to contain its losses by roughly 32 per cent in the fiscal year ending March 2021.
Are you having trouble getting to work on time every day? Don't want to go with the group and want to travel alone to your destination? Since the driver is not home, is it too late to meet your buddies outdoors? Is it true that neither your mother nor your father is prepared to drive you to your classes? Does the thought of going outside make you bored at home?
Yes, I no longer need to be concerned since Rapido has arrived to alleviate their different headaches. All you have to do now is install the app, and you may securely travel across the city. Even in the middle of the night because everything can be tracked online. Westbridge Capital is particularly interested in supporting them as they seek to develop further.
There are problems and facts everywhere! Read on to learn more about Rapido's success story and other little-known facts.
Rapido – Company Highlights
Startup Name – Rapido
Headquarters – Bengaluru, Karnataka, India
Sector – Mobility Tech
Founders – Pavan Guntupalli, Rishikesh SR and Aravind Sanka
Founded – November 2015
Revenue/Turnover – $11.51 mn (Rs 87.9 crore in FY21)
Total Funding – $309.8 million (April 2022)
Valuation – $800 mn (as of April 2022)
Parent Organization – Roppen Transportation Services
Website – rapido.bike.com
About
Rapido is an online bike taxi aggregator founded in Bangalore in 2015. It runs in over 100 cities around the country and travels to various locations within and surrounding them. Every day, it has around 15000 registered riders.
Industry
The Indian bike taxi market was last evaluated at $50.5 million in 2021. According to Allied Market Research, the same sector is predicted to increase at a CAGR of 48.5 per cent from 2022 to 2030, reaching $1478 million by 2030. In another analysis, Ola Mobility Institute (OMI), its policy research arm, stated that the earning potential of bike taxis in India is $5 billion. 
Founders And Team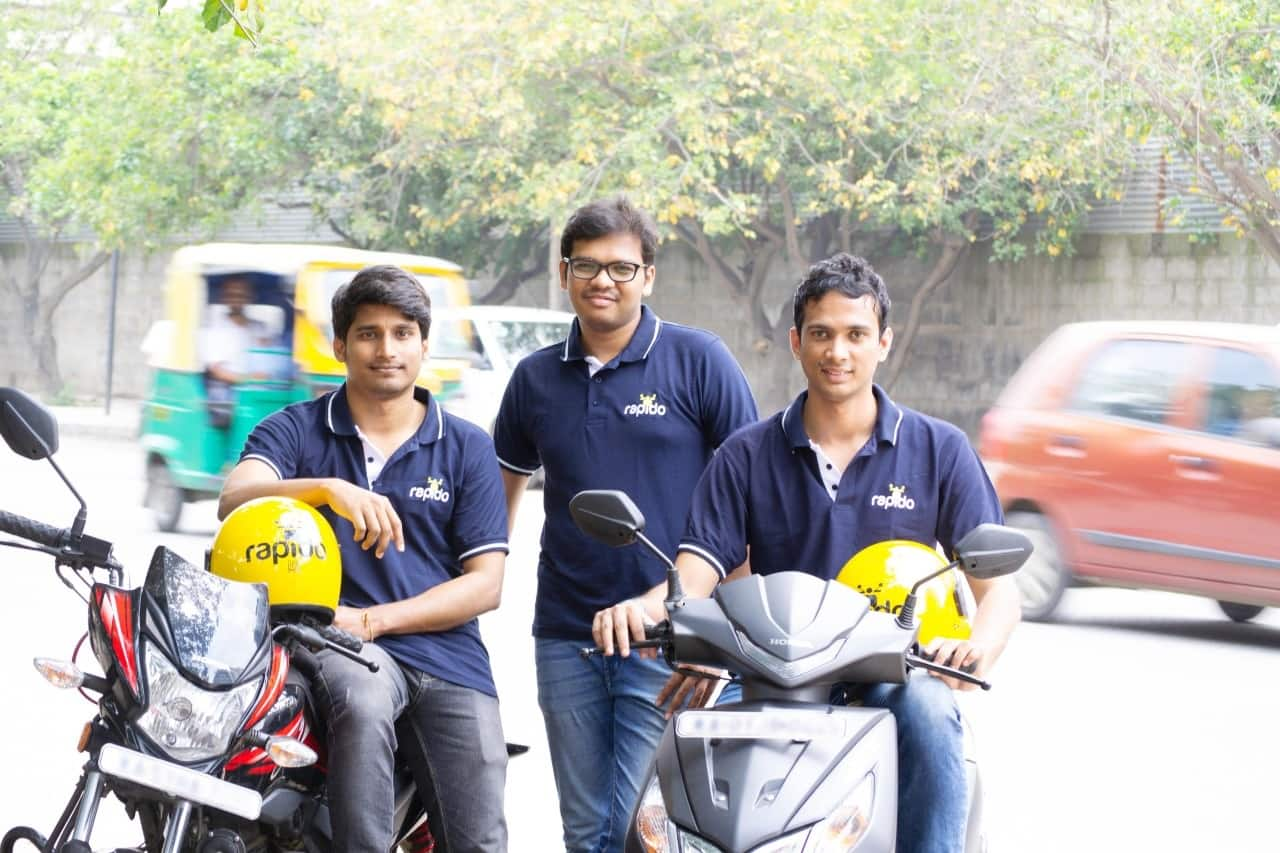 Rapido was founded by Pavan Guntupalli, Rishikesh SR, and Aravind Sanka.
Pavan Guntupalli co-founded Rapido after being a co-founder of Roppen Labs. He earned a Btech degree in Electronics and Electrical Communications from the Indian Institute of Technology, Kharagpur. Guntupalli then worked for Reliance Communications and Breakthrough Management Group for two summers. He is fluent in Korean in addition to his home language. He had formerly been employed as a software engineer at Samsung Research India.
Rishikesh SR is also one of the company's co-founders. He completed his studies at PES University, where he earned a BE degree in Computer and Information Sciences. He is the creator of theKarrier and IMPStant. The project he created for the year won a prize as well.
Aravind Sanka is a Rapido and theKarrier co-founder. He attended the Indian Institute of Technology in Bhubaneswar, where he earned a Btech degree in Mechanical Engineering. He formerly worked as a Finance Business Partner on Flipkart.com after doing a Summer Internship at Tata Motors.
Startup Story
Rapido's roots may be traced back to the days of Karier, which was built on a logistics and supply-chain-driven concept that allowed its clients to transfer their possessions quickly. Things were not going well for the firm, but one of its co-founders, Aravind Sanka, "soon understood that shifting gears from B2B to B2C provides greater space for development."
B2C meant that the firm could no longer cope with trucks and had to transition to bikes to meet the clients' transportation needs since going back to automobiles would imply an additional financial load for the company, plenty of competitors, dealing with traffic, and delays.
Due to their simple desire to make travel easier for customers, they began working with 15-20 employees, who sowed the seeds for Rapido and made the business's success possible through hard work, tenacity, and commitment.
The three founders' fundamental concept was to recruit individuals, particularly those who possessed two-wheelers. The founders also sought to create something unique distinct from Ola and Uber because they had invested considerably in vehicles. They planned to develop an app similar to the Rapido captain app to allow two-wheeler owners to register and validate their information with the firm.
They believed that Ola and Uber would never be available to everyone regularly and that traffic in large cities was becoming more and more congested every day. Thus, they devised a strategy that avoided the apparent issues and positioned themselves for successful motorcycle trips.
Business Plan
The app allows users to schedule a ride, and then a rider, known as a captain, would arrive at the user's location. Each ride costs a specific amount based on the number of kilometres travelled. Those who wish to serve as captains must first register with the Rapido captain app and be authenticated by presenting the relevant documentation. Captains can ride on anything, even scooters or motorbikes.
However, there is a stipulation that the cars must be two-wheelers and no older than 2010.
Business Model
Rapido's revenue model is comprised of two major components. It stated that the company's sales increased 13 times in 2019.
One is based on commission. The firm generates money by acting as a link between the two – captains and ride seekers. As a commission, the corporation takes 20% of the total fare.

The other is a business-to-consumer commission. 

The firm makes money here through B2C logistics, namely by assisting logistics providers in delivering their supplies.
In all circumstances, brand promotion is required. In all cases, brand promotion is needed. It's an essential factor that helps companies improve their reputation and helps them expand. 
Rapido – Tagline, Slogan And Logo
Ride Solo is the company's tagline. According to Aravind Sanka, 60% of working people switch between three forms of transportation daily. The creators needed something dependable, easy, and economical for ordinary people to travel small distances; therefore, they came up with the catchphrase mentioned above.
White, yellow, and black are the colours used in the logo. It was created on Dribbble by shoby cc.
Funding And Investors
As of April 15, 2022, Rapido had raised $309.8 million in investment over ten fundraising rounds. The firm raised $175 million in its most recent Series D financing round on April 15, 2022, from investors, including Westbridge Capital, TVS Motors, Shell Ventures, and Nexus Ventures, which Swiggy led. Rapido secured $52 million in funding from Westbridge Capital, Nexus, and Yamaha in the previous (Series C) round, which took place on August 16, 2021.
Growth and Revenue
The fledgling firm is quickly expanding, and its financials reflect its expansion. The Bengaluru-based business claimed a 12.5x increase in sales the previous year, and the selling of mutual funds resulted in interest revenue and a capital gain for the corporation. It hopes to reach a million clients each day, but it currently has 500,000 captains who have served 10 million customers across 90 sites.
Rapido, the mobility company, boosted its revenue by 54.4 per cent during FY21, increasing from INR 56.9 cr to INR 87.9 cr. Rapido's income from operations increased to INR 75.6 crore.
What's more noteworthy is that the corporation could minimize its costs, which dropped from INR 301 crore to INR 254 crore. This is why the company's losses decreased from INR 244 cr to INR 166.3 cr within the same fiscal year.
Rapido is now valued at over $800 million, following a recent financing round headed by Swiggy, which invested $175 million on April 15, 2022. This is a significant boost in the company's worth, which was previously valued at $235 million at the last investment round. Other notable brand growth milestones include:
Rapido is presently available in over 100 Indian cities.

The firm claims to have over 15 million clients. 

It also has more than 1.5 million driver-partners.
Rapido – Competitors
Rapido's rivals include RideAmigos, GoKid, Vollo, and GrabTaxi.
RideAmigos is a transportation service provider that offers trip planners, trip monitoring, and gamification. Their principal focus is transportation.

The slogan of GoKid is "greener way to go." It's the CarPooling App for Kids. Organizing kids' carpools significantly decrease traffic and pollutants.

Vollo is a startup that specializes in bus searches, quick and easy travel, and booking. It is primarily a comparison tool for bus timetables and routes. Its objective is to provide the most satisfactory possible service to its consumers while also making planning easier.
Rapido – Future Plans
The company's key objective is to keep its software updated while also adding newer and more intriguing features to make it more convenient for captains and users. The founders are also considering lowering the fees. Furthermore, they aim to add something new to their journeys that would help passengers move quicker. They also intend to offer a subscription-based power pass for their regular clients. The goal is to make their rides more inexpensive.
FAQs
Rapido is an online bike taxi aggregator that offers transportation options to its subscribers. Rapido was founded in 2015 and is based in Bengaluru.
Who is the Co-founder of Rapido?
Rapido was founded by Aravind Sanka, Pavan Guntupalli, and Rishikesh SR.
Who are the Rapido competitors?
Rapido's competitors include Ola, Uber, Bounce, Vogo, etc.
How to start a Rapido business?
Initially, you must be interested in joining Rapido's fleets as a captain. A Rapido Captain must possess some of the following qualifications:
Mobile data connection of at least 3G on an Android phone

At least a 2009 model or newer motorbike

A valid driver's license

Certificate of registration of the vehicle

Valid bike insurance

PAN card