Scientists at Swansea University:
Scientists at Swansea University have discovered potentially hazardous chemical pollutants released from disposable masks after being immersed in water.
Scientists have found that the silicon-based and plastic fibers of ordinary disposable face masks contain high levels of pollutants, including lead, antimony, and copper.
This work is supported by the IMPACT (Institute of Innovative Materials, Processing, and Numerical Technology) and SPECIFIC Innovation and Knowledge Center.
Dr. Sarper Sarp, the project leader of Swansea University's School of Engineering, said: We all need to wear masks because they are essential to ending the pandemic. But we also urgently need to conduct more research on mask production and supervision to reduce harm to the environment and human health.
A recent paper outlines the tests conducted by the research team, using a variety of masks-from standard ordinary masks to novel and festive masks for children, many of which are currently available in retail stores in the UK.
According to records, the increase in the use of disposable masks and related waste due to the COVID-19 pandemic is a new cause of pollution. The research aims to explore this direct connection and conduct investigations to determine the level of toxic substances present.
The results of the study showed that the content of pollutants in all the masks tested was very high. During all the tests, micro/nanoparticles and heavy metals were released into the water.
Scientists have concluded that this will have a significant impact on the environment. In addition to this, it will also raise the issue of potential damage to public health–warning that repeated exposure may be harmful because the substances found are related to genotoxicity, cell death, and cancer formation. 
 In order to solve this problem, Scientists recommends further research and development of follow-up regulations during the testing and manufacturing process.
Dr. Sarper Sarp, a Scientists continued: The global response to tackle the spread of the new SARS-CoV-2 virus, in China alone, and the output of DPFs mask (disposable plastic face) reached about 200 million per day.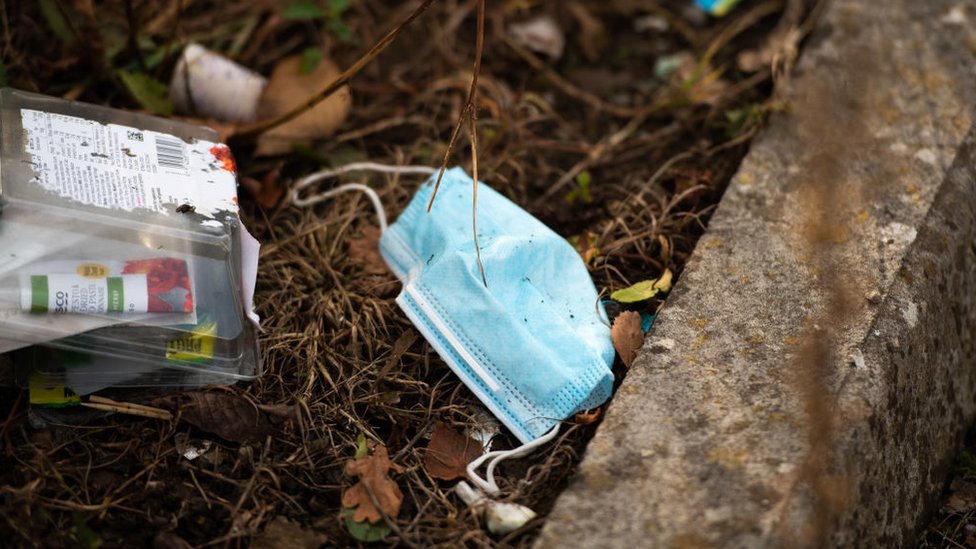 However, the improper and irregular disposal of these DPFs is a plastic pollution problem that we have already faced, and it will only continue to intensify.
There is a lot of evidence that DPFs waste can release pollutants only by exposing it to water, which may have a significant impact on the environment.
Many toxic pollutants discovered in our research have bioaccumulation characteristics when released into the environment. The research by Scientists results indicate that DPFs may be one of the main sources of these environmental pollutants during and after the Covid-19 pandemic.
Therefore, it is imperative that stricter regulations must be implemented during the manufacturing and disposal/recycling of DPFs to minimize the impact on the environment.
It is also necessary to understand the impact of this particle leaching on public health. One of the main problems with these particles is that they are easily removed from the mask and immersed in water without agitation, which indicates that these particles are mechanically unstable and easy to separate.
Therefore, it is necessary to conduct a comprehensive investigation to determine the amount and potential impact of these particles leached into the environment, as well as the level of inhalation by the user during normal breathing.
This is a major issue, especially for key workers, health care professionals, and children who need to wear masks during most of the work or school day.
Last year, a "top secret" study conducted by a well-known federal research agency found that COVID-19 may have originated in and leaked from Chinese laboratories.
This research by Scientists was conducted from the Intelligence Department of Lawrence Livermore National Laboratory and has not been disclosed publicly until now.
Sinclair Broadcast Group said that this is considered the Department of Energy's leading biodefense research organization.
The study was released on May 27, 2020, "It has been evaluated that both the laboratory origin theory and zoonotic disease theory are reasonable and worthy of further study." Sinclair admitted that he has not read the research conclusions, but the publication talked to multiple sources, and they either had read the study or gave it a brief introduction to the study.
A Livermore spokesperson confirmed the existence of the study but declined to elaborate further. He told Sinclair: Because the report you are referring to is confidential, it is not appropriate for our laboratory to discuss it.
Just a month ago, the new director of National Intelligence Avril Haines testified that the US intelligence community is actively investigating these two theories.
We have two reasonable theories. We are working on the fact that the various components within the intelligence community have basically merged together. One is that this is a laboratory accident, and the other is that it is caused by human contact with infected animals, she said.