Trends
Startup Tips: How to Get Organized Online
Startup Tips: How to Get Organized Online
A digitally connected world provides many startups with exceptionally lucrative opportunities, many of which can be seized upon without ever leaving the bedroom office.
While this has in some ways served to level the playing field, the accessibility and quality of modern tech tools mean that the virtual business arena is still extraordinarily competitive.
For those wishing to try their luck and chase success with their startup company, establishing a strong online presence is critically important.
It may be true that digital tools and cloud computing make for greater collaboration and connectivity, but without the know-how to maximize online efficiency, your virtual operations will likely fall short of the mark.
In order to stop this happening to your own startup, getting digitally organized should be your top priority.
There are so many details to consider, tools to implement and data regulations to abide by, that digital organization becomes less of a convenience, and more a necessity.
Here are some top tips for the startups who want to create a strong virtual foothold and retain their competitive edge by getting organized online.
Digital Asset Storage
The longer your company spends online, the larger your digital footprint will become. This means a greater influx of data needs to be taken care of.
Digital assets come in many shapes and sizes, but the most common forms they take include:
Customer Data – Bank details, email addresses, and affiliated organizations are all examples of customer data that needs to be handled with extreme care if you are to avoid a breach in your system.
Images – Any of your brand's images, like your logo, pictures on your website or any marketing material you create that includes visuals.
Documents – Files you have stored on your company system, such as PDFs of your business guidelines, policies, agreements, employee contracts, and many other types of form and regulatory records.
Site Content – Your website will probably be comprised of many digital assets, from source code to graphics and possibly even audio files.
This list generally tends to grow exponentially as time goes on; suffice to say, keeping your digital assets under control is a must for anyone wishing to get organized.
It is not too dissimilar a process from organizing your physical assets. Say you were working in a real-world retail store – you would probably not want to leave all your possessions lying around for everyone to see!
One of the best ways to get all of your digital assets neatly organized in one centralized location, or at least visualize them all in one location, is to leverage a reliable DAM (digital asset management) system.
Not only can this help you store your assets, but as a platform, it is easy to access and collaborate on, meaning that you can increase your in-house communicative efforts from wherever in the world your employees happen to be.
Cybersecurity
Cybersecurity is as important as ever, and if a move to a digital-centric working day has proven anything, it is that cybercrime is a very real and dangerous threat to many businesses the world over.
Without putting some measure in place for your own startup, you could be leaving yourself open to a disastrous cyberattack.
Good digital organization can go a long way towards preventing certain types of cybercrime, particularly the types that are a result of human error.
A well-organized cybersecurity infrastructure generally consists of:
A Firewall – Your stalwart line of defense against some of the worst aspects of the online world, including hackers and other types of malicious traffic.
Anti-Malware Programs – Malware can infest your business network and may be hard to deal with or even detect in the first place if you do not put dedicated anti-malware programs in place.
A VPN – To mask your location and browse the online world in peace, a VPN can still be an incredibly useful security tool.
DLP (Data Loss Prevention) Tools – Misplacing data and losing valuable digital assets is, unfortunately, fairly common for unorganized businesses, and it can be a huge security issue. Implementing DLP tools and educating your staff on the value of cyber-hygiene is probably the best way to go about avoiding this eventuality.
This is by no means an extensive list, and in most cases, opting to seek out a customizable, scalable solution is likely in your best interests as a startup.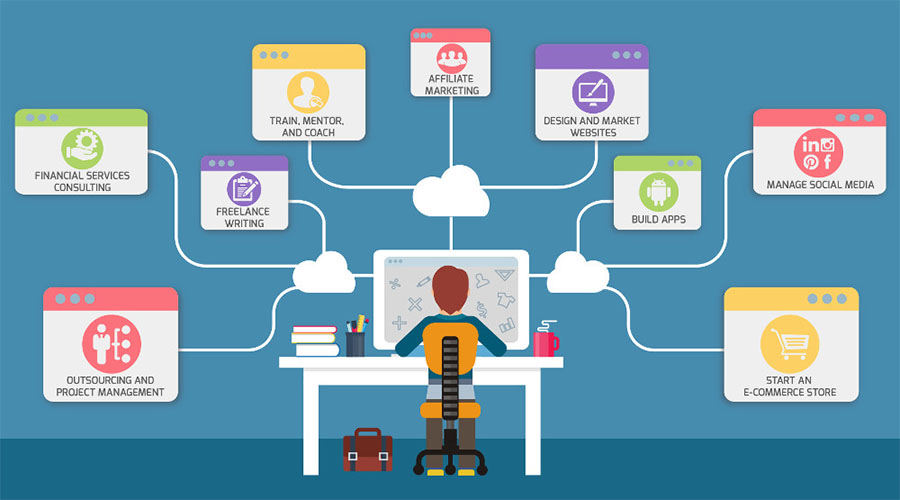 Password Management
Having to remember countless passwords to various subscriptions online can be frustrating, overwhelming, and ultimately, time-consuming.
By organizing all of your passwords and managing them with the help of a useful tool, you never have to forget your login details ever again.
This might not seem like very much in the way of getting your startup digitally organized, but every little detail helps, so do not hesitate to make your own online browsing experience as smooth and stress-free as possible.
Organize Your File Names and Locations
It can be tempting to just name a file the first stupid word that comes to mind, but this usually tends to come back and haunt you later on down the line.
Similarly, stuffing your files into the nearest folder or failing to keep track of their saved destination can result in missing documents.
By clearly labeling and storing your digital files in easily manageable locations, you should be able to increase your overall organization levels across the board.
Plus, if you are working with a large team that you need to share files with, poorly labeled folders and a messy file layout can reduce your communication ability and generally hinder your productivity.
Spring Clean Your Inbox
Sifting through a swamp of emails each and every day is aggravating enough as it is, but when the spam starts finding its way through, opening your email in the morning can be a terrible way to start your day.
To avoid this, organizing your inbox is crucial. This can be a superb way to get your communication infrastructure in order while, at the same time, it enables you to relish in a little peace of mind.