Trends
Top 10 Best Fitness Apps In India 2022
Top 10 Best Fitness Apps In India 2022
Most people prefer working out at home over going to the gym, making the ideal fitness apps in great demand. Saving time, money, and effort is easy with these top Health and Workout Apps to Download. These apps can help you stay fit and healthy with out joining a gym.
The top fitness and workout apps keep you active. By allowing you to do regular activities throughout the day, the top fitness and workout apps keep you active. We can download Android and iOS fitness apps for smartphones online, and the rest of the top fitness apps in India are beneficial.
The interface of an app can also be examined to determine how simple it is to use. Below are some of the best free and commercial fitness apps available right now.
Introduction 
An app is a small, specialized program that can be downloaded to a mobile device, such as a smartphone or a tablet computer. A fitness app assists in exercising, performing other types of physical training, consuming nutrition, and dieting. Health apps, a subset of fitness apps, can be used at home and away, making them a part of the mobile health movement.
Top 10 Fitness App In India 2022
1.Fitelo
Fitelo is the easiest way to get fit. It identifies people's habits, fitness goals, and medical conditions and creates personalized health programs. The brand is dedicated to helping people eat right, enjoy little treats, and stay active while keeping up with their daily routines.
Over 500k followers follow Fitelo on social media, and the company has served more than 15k customers worldwide. They have impacted the lives of more than 300k people.
How does Fitelo work?
Fitelo believes a healthy lifestyle cannot be achieved in one day. They have devised the BITS approach after conducting extensive research to weave tiny habits into your daily routine, and it allows you to effortlessly lose weight while maintaining a healthy lifestyle.
Body Analysis- Based on the information you provide, they can determine your body type, composition, and requirements.

In-Depth assessment- The team of expert consultants works closely with you to understand your preferences, likes, dislikes, and medical conditions.




The plan- Your 100% customized diet plan is provided to you following a thorough assessment.

Self-Learning program- The approach they take to plan the perfect diet plan is very transparent so that their clients can keep abreast of everything they do intend to keep them in touch with themselves and help them become their health experts.
What makes Fitelo different from other Fitness apps?
Fitelo does a lot more than lose weight. It makes the whole journey of losing weight and getting fit, extremely easy for the clients. There is no calorie counting involved. There is no portion control or following of fad diets. They don't ask you to follow a hard core gym routine. Their entire process in online. The best part is, there are no supplements involved.
Ultimately, they want their clients to adopt a weight loss approach that they can follow all through their lives. Optimal nutrition, adequate exercise, good sleep patterns, and a positive attitude are the keys to a healthy lifestyle. 
Today, Fitelo's team consists of more than 50 dietitians (specialists in weight loss, disease prevention, and maternal nutrition), sports trainers and yoga instructors, and skincare specialists and mental coaches. Your whole health is in good hands with Fitelo.
With the Fitelo app, available on both iOS and Android, you can do all of this with a click of a button. With 100% natural diets, you have access to online diet consultations with your dietitians, weight loss plans, healthy recipes, and a wide variety of other diet services. By using Fitelo, you will always have access to dietitians, trainers, mental coaches, skincare experts, yoga instructors, and more.
.

2. Cure.fit
Exercise, meditation, yoga, a healthy diet, and other activities are all part of Cure.fit's fitness and lifestyle software. The app allows you to watch live fitness and yoga sessions. The Cure.fit platform offers professional coaching, competition with other users, and progress tracking.
While many features and facilities are accessible on this app, you may use more by subscribing to their yearly or monthly plans.
The features on Cure.fit are: 
Join a live fitness training session

You can access exercise videos and sessions

Check out healthy and delicious recipes at the nearest cult.Fit location

Subscriptions are available for Mind-Body workouts.

3. Fittr
The world's largest fitness and nutrition community is Fittr. As a small WhatsApp group, our company started to train a few individuals to get fit. With more than 2.5 million members, it is one of the most informative and engaging fitness communities.
Fittr provides all your health and fitness needs under one app. Fitness experts and fitness enthusiasts can exchange tips and advice through Fittr's freemium model, which offers free access to industry-standard diet & training tools. Fittr's 500+ certified coaches will provide users with individualized guidance, customized plans, and weekly follow-ups for a small fee.

4. HealthifyMe
The HealthifyMe site is an Indian digital health and wellness platform that offers nutrition and fitness coaching on a one-to-one basis and diet and workout plans. The app is available for both Android and iOS platforms to keep users motivated and engaged. In addition to the nutritionists, fitness trainers, and yoga coaches available to premium subscribers. 
Additionally, users can consult Ria, a virtual nutritionist powered by artificial intelligence. Syncing with activity trackers is also a feature of HealthifyMe, which combines these services with wearable technology.

5. Aaptiv 
Aaptiv offers one of the best training and fitness workout sessions at your convenience. A collection of audio fitness sessions and classes led by experienced trainers can be subscribed to at any time. Music tracks are also included to keep you motivated and in sync. Workouts include strength training, stretching, running, race training, yoga, and other activities.
A new class is added every week. Suitable for all fitness levels, the app can be downloaded from Google Play or the App Store.
Aaptiv's Strengths:
A large number of sessions are available

Monthly and weekly plans are available

Training with high-intensity intervals is also available

Motivational music on many playlists

Motivational music is also featured on many playlists. 

6. Strong Lifts 5X5
Strong Lifts 5X5 is one of the most effective workout planners and plans. You will use this program as your trainer to follow each training plan in StronLifts5X5. It offers many valuable routines for beginners and experts alike and keeps track of your daily progress.
The app is available on Google Play and the App Store for Android and IOS devices.
Several features of Strong Lifts 5X5 impress us.
Plan, track, and time with this interactive planner

Expert and beginner weightlifting plans

A graph, a tracker, and a planner are also provided

Fitness Apps For 2022 lists this app as one of the best.  

7. Sworkit
Exercise on the go has never been easier, thanks to Sweakit, a workout app that offers high-quality workouts and training. The Sworkit app allows people to get gym-like training at home or wherever they are. Exercise is effective for weight loss, weight restoration, and fitness. Google Fit is integrated with the app, which keeps track of your activity and calorie intake.
The app is available on the Google Play store and the App Store. There are numerous free and paid content options available.
Sworkit's strengths:
Courses are offered for six weeks.

Exercises such as HIIT, cardio, yoga, weight loss, and others fall into this category.

8. MyFitnessPal
With MyFitnessPal, you can track your diet and exercise with your smartphone. To motivate users, the app uses gamification. The app allows users to scan food items' barcodes or manually enter nutrients in the app's extensive database to track nutrients. You can also connect MyFitnessPal accounts to FitBit, Samsung Health, and other fitness apps. Under Armour acquired MyFitnessPal in February 2015.

9. Seven- 7 Minute workouts
Apps like Seven – 7 Minute Workout are a great option for those looking to do HIIT, bodyweight exercises, and other workouts. All activities are only 7 minutes long, which is a unique feature of this application. The app is easy to use and has a goal-oriented approach, and exercise with this app shouldn't require special equipment.
The Benefits of 7-Minute Workouts:
Exercises that last 7 minutes are available daily;

Train according to a personalized plan;

Motivate and entertain yourself by competing with friends;

Get more features by joining the 7 Club.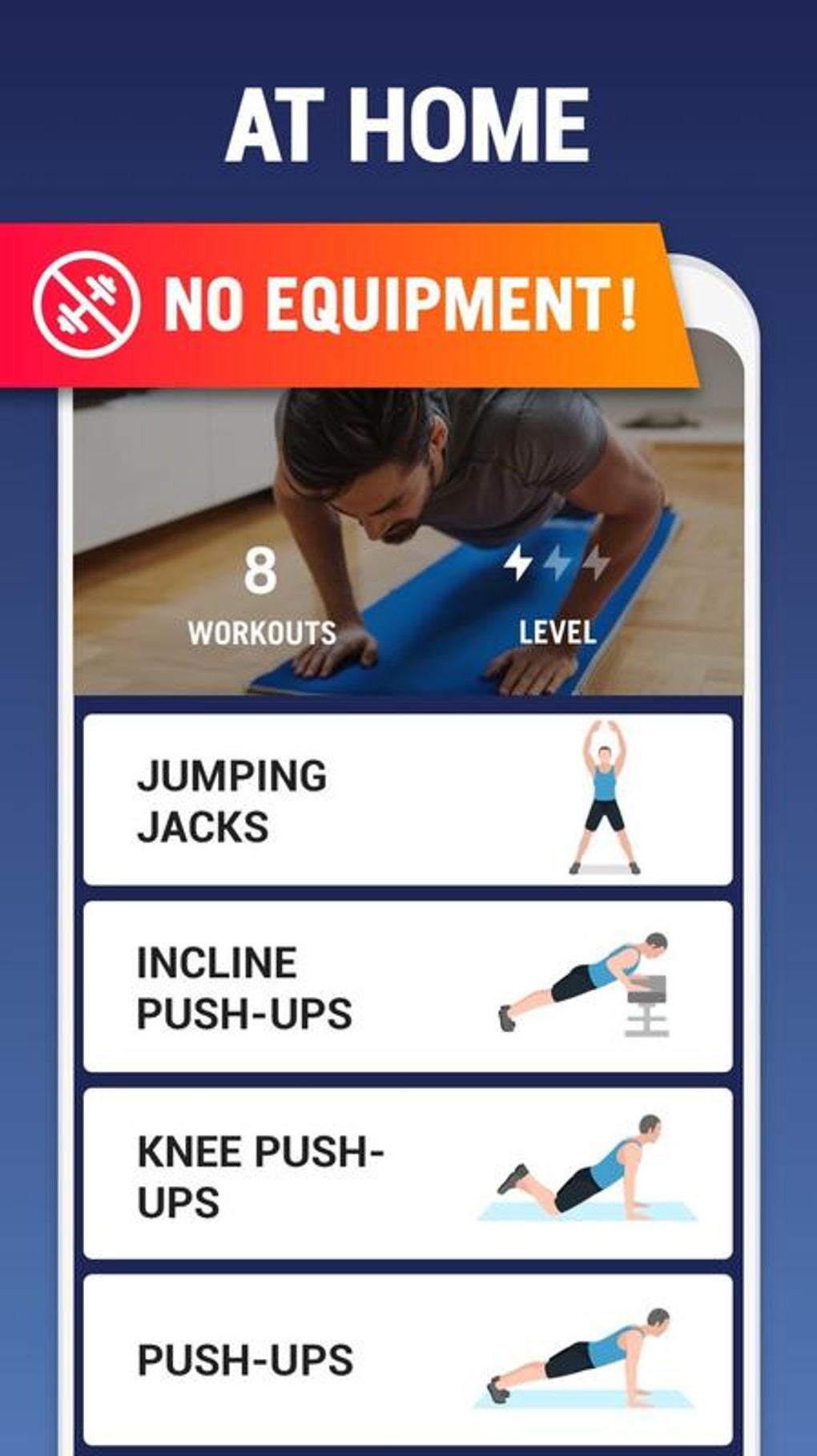 10. Home Workout – No Equipment
With the help of a Home Workout, you can exercise every day at home without using the equipment. They offer exercises that focus on all the major muscles. Training software that you can use at home allows you to maintain your fitness and health without going to the gym.
There are also warm-up routines, videos, and guidelines in this program created by experts. The app is available on Android and iOS.
Our favourite thing about home workouts is they do not require any equipment.
Exercises like stretching and warm-ups are offered; workouts with premium content are free; computerized workout records are kept; a chart indicates your weight trend.
Applicability of the Fitness app
Generally, fitness apps provide instructions for exercising, participating in physical activities, following a nutritional program, or learning about other fitness topics. Users can download fitness apps online. Other devices are used to calculate calories, record workouts' statistics, and collect data on walks, runs and cycling. Personal trainers or nutritionists are available on some fitness apps to help consumers with specific fitness routines or general workout advice. Some fitness apps, such as running or fitness classes, come with coordinated songs with the same beat.
Do Fitness Apps can Replace Gym Memberships?
With a fitness app, you get the same information and workouts as a gym membership, but for a fraction of the cost. Some people like not going to the gym and can work out based on their class schedule instead of going to the gym. A fitness app might be a better choice than a gym membership if you prefer working out alone or have a busy schedule that does not sync with the gym hours.
Despite this, some individuals may struggle to stay motivated when working out independently and need some face-to-face interaction, whether with instructors or other gym members, to stay focused. You will also have access to a much broader range of equipment at a gym than at home. Consider keeping your gym membership if you enjoy working out with others and using various fitness equipment. As a supplement to your training and to reach your goals, you can use a fitness app for free or inexpensively.
Exercise Habits and Fitness Apps
Using mobile technology to monitor health and stay active has revolutionized how we stay healthy. Over 80% of Indians now own a smartphone, and wearable fitness trackers like the Apple Watch and Fitbit have gained considerable traction and are now used by 21 per cent of the population. However, more than 97,000 wellness apps are available on mobile US app stores, so finding the best one that meets your needs or knowing if the apps are worth using can be challenging. Is it possible to improve your overall health and wellbeing with a smartphone or smartwatch app? Discover why downloadable apps can be beneficial for your health and how to find the right one. 
Features of Fitness Apps
Easily accessible and convenient
In today's technologically advanced world, smartphones, smartwatches, and tablets are everywhere. Additionally, they help monitor and train our health. Now that we can track our fitness and health achievements anywhere, mobile apps provide more support for improving our wellness. Besides that, they provide us with training regimens we can follow on mobile devices and provide guidance on doing specific exercises. How many people use health apps nowadays? Fitness app usage increased by nearly 50% after COVID-19.
Smartwatch and smartphone app developers strive to provide simple user interfaces so that you can get started quickly. What are the first steps in using a fitness or health app? It's easy. After you download a profile, you can quickly and easily set up your profile by adding information such as your age, gender, weight, and health goals.
Many fitness and health apps are available for free to download, making investing in your health and wellness an affordable proposition. However, there are subscription-based health apps, which means you can download them free of charge, but you must subscribe to access premium features.
These days, you can find various fitness apps with premium content like training and dieting tips. Even so, online personal trainers are generally more affordable than in-person instructors, as most charge only about $80 per month for web-based training. Our recommendation is to find the style that works best for you. However, regardless of which route you choose, downloading apps on your phone or smartwatch is a cost-effective way to start your journey towards better health.
Health-related apps are believed to improve your overall health by 93% of doctors. Fitness and health apps are motivating, undoubtedly one of their best features. Users of some apps can join online communities, take part in virtual challenges, and receive push notifications reminding them to "keep pushing forward!" and be proud of their progress." You can also earn badges by completing challenges in certain apps.
Several smartwatches and smartphone apps have also included an online community component that has mainly motivated users. You can encourage and inspire your peers when you share them on social media or from your device. People learn a new behaviour after seeing an inspiring action performed by someone else, known as vicarious learning. 
Selecting a Fitness App
It is incredible how many fitness, health, and wellness apps are available in your mobile app store. Making a list of a few areas in your health that you would like an app to focus on is the best way to start.
Alternatively, you may need to narrow your search if you are looking for a specific app, such as one for diabetes, medication compliance, or something completely different. Find out what your friends and family use as well.
If possible, ask them whether a specific app was downloaded for particular reasons, what they have found most useful, what the user experience was like and if there are any dislikes/challenges with the app. Make sure you research and read reviews before choosing apps for your smartphone or smartwatch. Your recommendations combined with that information will help you select an app that's perfect for you.
Conclusion
As a result, we saw how different mobile fitness apps contribute to keeping our health. Through technology, we became more aware of how to maintain a healthy lifestyle. Through these apps, obese people can adopt a healthy workout routine. By doing so, they can prevent harmful conditions such as cardiovascular disease and cancer. Why not get started now? Get an app, download it, and start working out. 
By 2022 and beyond, short training sessions (30-45 minutes max) in a socially distant manner that keeps overhead low for fitness business owners will define the future of training.
Fitness app that offer a flexible schedule for training and workout sessions will be successful if they provide high-quality instruction, deliver results, and provide a comfortable environment for their clients. With an online training course and quality over quantity, success will be assured in the Fitness field.
Edited and Proofread by Ashlyn