Trends
Top 10 Best Restaurants In USA In 2023
Top 10 Best Restaurants In USA In 2023
INTRODUCTION
The restaurant industry in the United States has seen a huge surge in growth over the past decade. In 2023, there are a variety of restaurants across the country that offer a wide variety of cuisines and dining experiences. Some of the largest U.S. restaurant chains include McDonald's, KFC, Burger King, Subway, Chick-Fil-A, and Starbucks.
These large restaurant companies generally operate hundreds or even thousands of locations nationwide, making them leaders in the industry. Other popular restaurant chains include Chipotle Mexican Grill, Panera Bread, and Denny's. These chains typically have fewer locations but remain popular for their unique menu offerings and customer service. Smaller regional and local restaurants also dot the landscape in most parts of the country.
These restaurants often specialize in a single type of cuisine such as Italian, Chinese, or Mexican food, or are known for their unique takes on traditional dishes. The emergence of delivery services like Grubhub and Uber Eats has also made it easier than ever to order takeout from any restaurant with the click of a button.
With so many different options available, customers can find exactly what they're looking for, no matter where they are.
IMPORTANCE
Restaurants companies in the US will continue to be very important in 2023. Consumers have become increasingly demanding when it comes to quality food, convenient service, and value for money. Technology has allowed restaurants to provide better customer experiences by offering online ordering and contactless payment options.
Additionally, companies that offer delivery services, such as Grubhub and DoorDash, are becoming more popular. Restaurants are also investing in sustainability practices, such as reducing food waste and using sustainable ingredients. As the demand for healthy, local, and organic products increases, restaurants need to adjust their menus to meet consumer needs.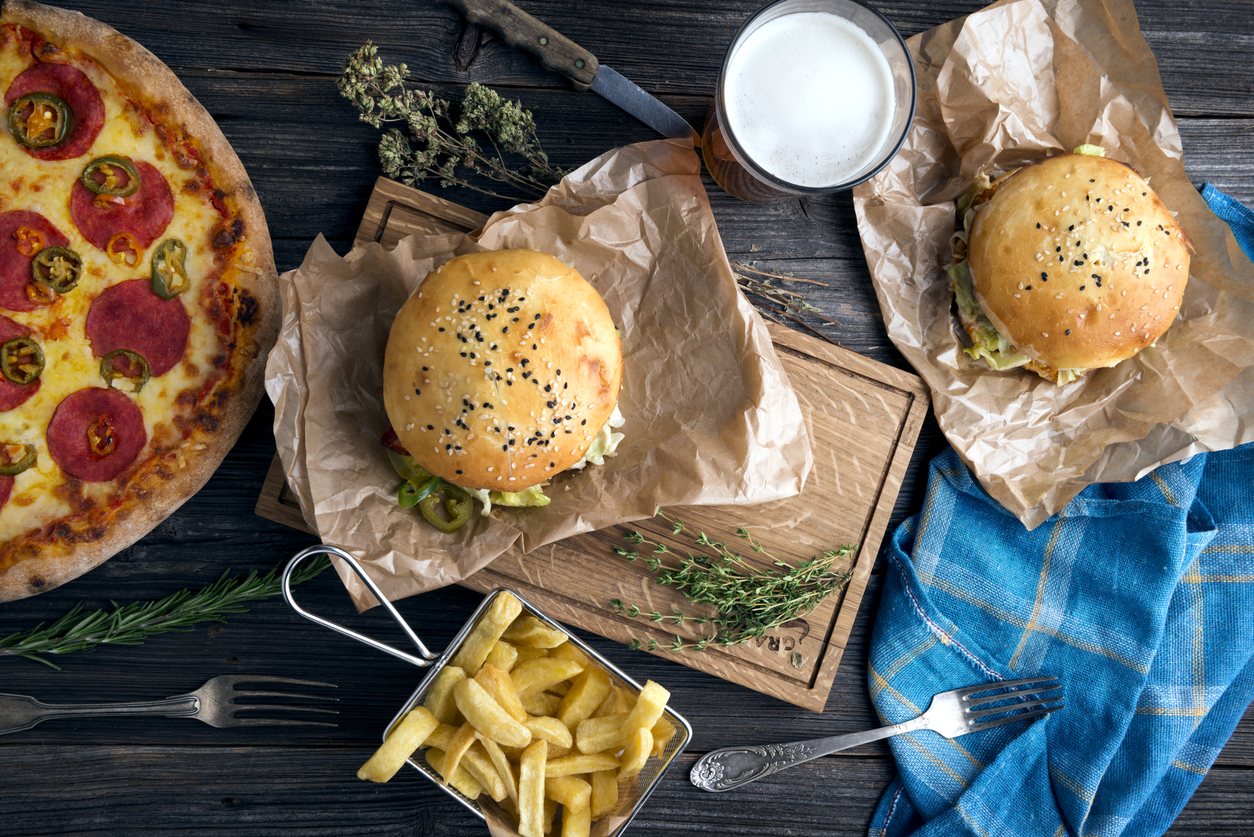 The restaurant industry is also expected to grow due to the increased demand for convenience, efficiency, and customization, which many restaurants are providing through mobile apps and loyalty programs.
Finally, restaurants are also leveraging digital platforms to reach a wider audience, create brand awareness, and keep up with trends. All of these factors make restaurants a critical part of the economy and will continue to do so in 2023.
Here are the top 10 best restaurants companies in USA in 2023.
McDonald's – McDonald's is one of the world's most recognizable fast food brands. Founded in 1940, McDonald's has grown to become an iconic symbol of Americana with its golden arches. The company currently operates over 36,000 restaurants in over 100 countries and territories around the world.
It is the world's largest restaurant chain by revenue, serving over 68 million customers daily. McDonald's menu consists of hamburgers, chicken, french fries, breakfast items, soft drinks, milkshakes, and desserts. The company also offers some health-conscious options, such as salads, fruit, and yogurt parfaits. Over the years, McDonald's has made efforts to reduce calories, fat, sugar, and sodium in various menu items.
The company has also developed a McCafé line of coffee products. In addition, McDonald's has expanded its business to include kiosks and delivery services. By leveraging digital technology, it has become much easier for customers to order from their smartphones. McDonald's has also implemented sustainability initiatives, such as energy efficiency, water conservation, and recycling programs.
Through its different menu offerings, digital technologies, and sustainability efforts, McDonald's continues to be a major player in the fast food industry.
Starbucks – Starbucks is an American multinational coffeehouse chain and coffee company. Founded in 1971, it is now the largest coffeehouse chain in the world with over 31,000 locations across 80 countries. Starbucks has a diverse menu of hot and cold drinks like regular and decaf coffee, espresso, iced tea, and blended beverages.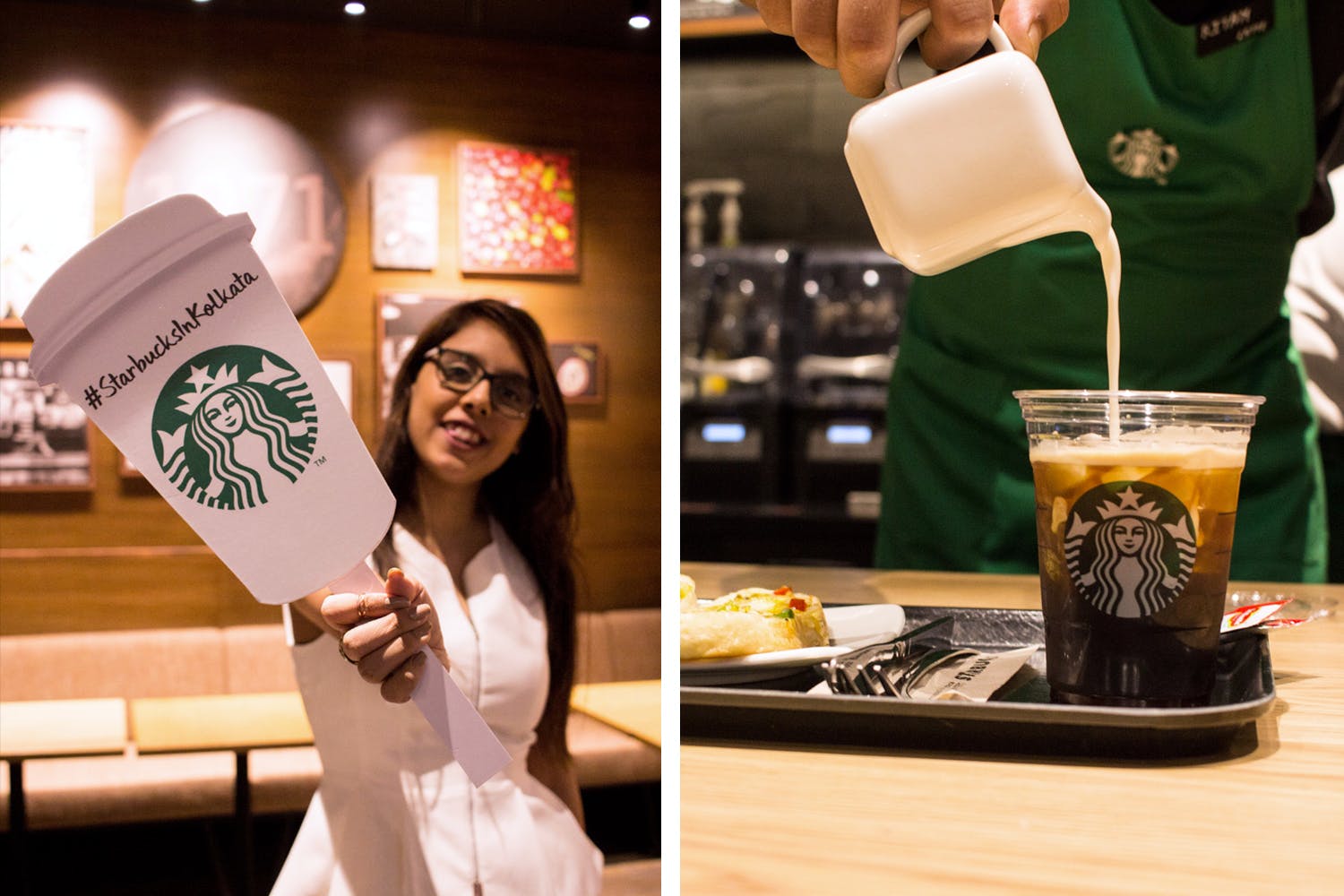 They also offer a wide range of food items including breakfast sandwiches, pastries, salads, and snacks from their popular "Frappuccinos" to warm breakfast items. Starbucks also offers a variety of seasonal options like pumpkin spice lattes and gingerbread mochas.
The company is dedicated to sustainability, sourcing ethically-sourced beans, investing in water conservation projects around the world, and using recycled materials in all of its stores. They also give back to local communities and partner with charities that support youth, social justice, and the environment.
Starbucks takes pride in its commitment to quality and strives to create a welcoming environment for all its customers. With its passion for coffee and dedication to providing the best customer service, Starbucks has become a leader in the specialty coffee industry.
Subway – Subway is a fast food restaurant chain that specializes in submarine sandwiches and salads. Founded in 1965, Subway is one of the fastest-growing franchises in the world, with more than 45,000 locations in over 100 countries. Subway has become known for its fresh ingredients, signature sauces, and customizable menu.
The sandwiches are made to order with a variety of breads, meats, cheeses, vegetables, and condiments. In addition to sandwiches, Subway also offers salads, wraps, kid's meals, breakfast options, desserts, and drinks. Subway prides itself on providing healthy, delicious options for its customers.
From its beginnings as a small sandwich shop in the Northeast United States, Subway has grown into a global brand recognized around the world. Subway is committed to offering great tasting food at an affordable price, while promoting clean eating habits and a balanced lifestyle.
Pizza Hut – Pizza Hut is a popular pizza chain restaurant owned by Yum! Brands Inc. The company was founded in 1958 and has since expanded to more than 18,000 locations worldwide. Pizza Hut specializes in Italian-American cuisine, including classic pizzas with all the traditional toppings, as well as a wide range of other menu items such as pasta dishes, salads, wings, desserts, and calzones. Pizza Hut also offers delivery, carryout, and dine-in services, as well as online ordering and catering.
Pizza Hut is committed to providing customers with an enjoyable dining experience, ensuring the highest quality ingredients and food preparation standards. Their pizzas feature a variety of doughs and crusts, along with a selection of flavored sauces, fresh vegetables, and cheeses. Customers are also able to customize their order with special toppings, additional cheeses, and other extras such as garlic butter or stuffed crusts.
Pizza Hut is dedicated to giving back to the communities it serves, with initiatives such as the Book It! Reading program that encourages elementary school students to read more, and the World Hunger Relief program, which aims to reduce world hunger by providing meals to those in need. The company also partners with various charities and organizations to support their causes.
At Pizza Hut, customers can be sure to get good food, great value, and superior customer service. Whether it's for a casual night out or for a party, Pizza Hut always provides a delicious experience that everyone can enjoy.
Burger King – Burger King is one of the world's most iconic fast food chains. Founded in 1954, Burger King has long been known for its flame-grilled hamburgers and other delicious menu items. Today, Burger King locations have modern decor and offer a wide variety of burgers, chicken sandwiches, salads, sides, desserts, and breakfast meals.
Burger King also offers popular specialties such as Whoppers, chicken nuggets, and BK Stacker burgers. Burger King restaurants are typically located in high-traffic areas like shopping malls, universities, airports, and other places with large amounts of foot traffic. Burgers are made to order with fresh ingredients, and customers can customize their orders with a variety of toppings and sauces.
Burger King's menu also includes shakes, smoothies, coffee, and frappes, as well as healthy options like salads and wraps. In addition to traditional restaurant dining, Burger King also offers delivery and takeout services, allowing customers to enjoy their favorite meals without leaving home.
Burger King is committed to providing quality, affordable food to its customers, while still offering an enjoyable dining experience.
Domino's Pizza – Domino's Pizza is one of the world's leading pizza delivery companies, with more than 16,000 stores in over 85 countries. Founded in 1960, Domino's has become the recognized world leader in pizza delivery, providing a delicious variety of pizzas and side dishes. Their slogan, "Oh Yes We Did!", emphasizes the commitment to delivering great-tasting pizza quickly and reliably.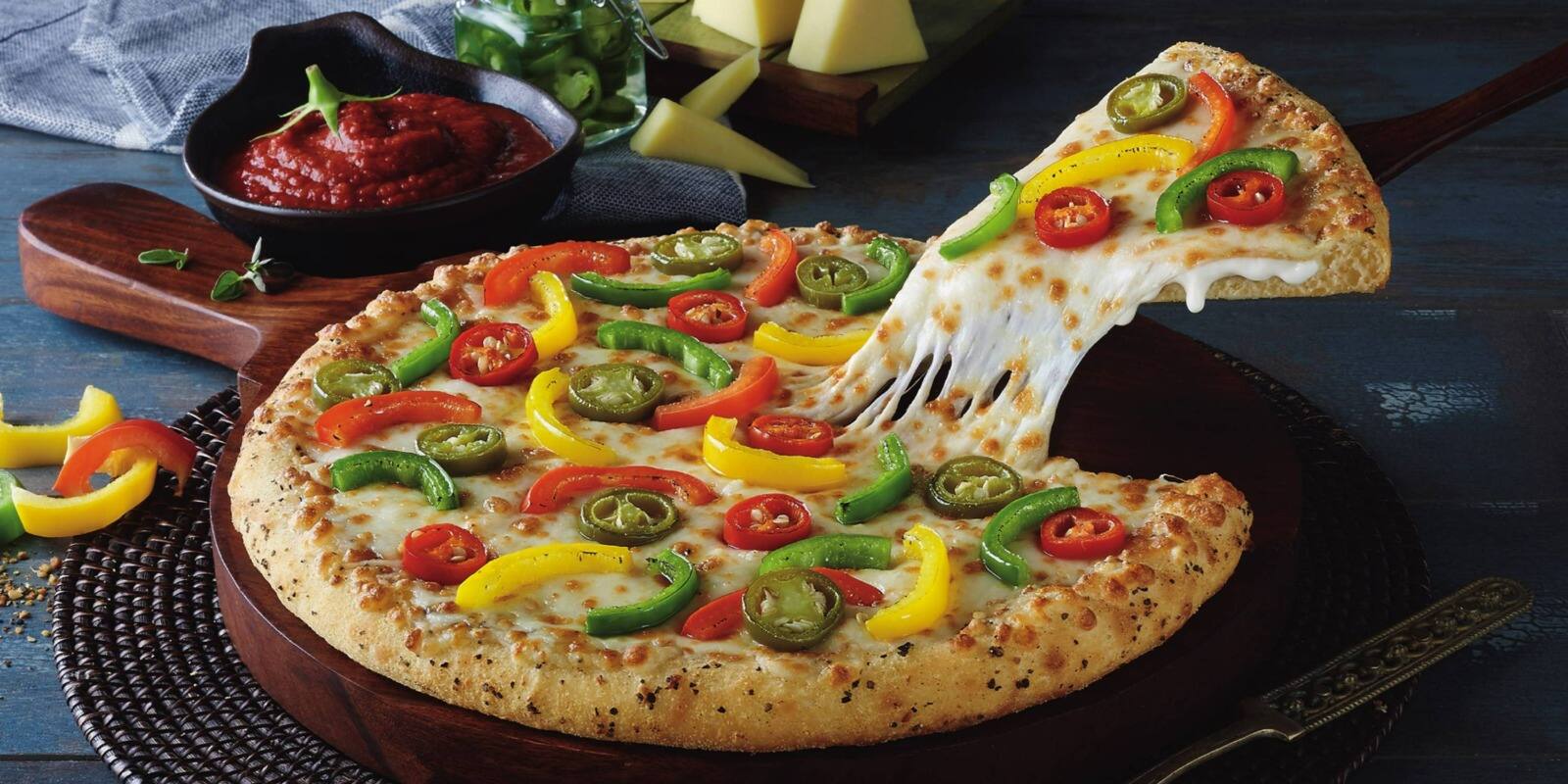 At Domino's, customers can choose from a wide variety of menu items including their signature hand-tossed crust pizzas, deep dish pizzas, thin crust pizzas, artisan pizzas, stuffed crust pizzas, and even customizable pizzas. They also offer a variety of specialty pizza combinations with toppings such as ham and pineapple, mushrooms and peppers, and sausage and peppers.
In addition to pizzas, Domino's offers several side dishes including breadsticks, chicken wings, salads, desserts, and sandwiches.
Domino's continues to innovate and expand its menu, offering new products such as the Specialty Chicken line of chicken wings, cheesy breadsticks, boneless wings, and more. Additionally, Domino's offers a wide range of online ordering options such as ordering through their website, mobile apps, and even by texting. This makes it easier for customers to order their favorite pizza without even leaving the comfort of their home.
In addition to offering great pizza, Domino's also takes pride in their commitment to customer service. They have implemented a satisfaction guarantee that ensures customers are happy with their purchase or they will get a free replacement or refund. Customer concerns are addressed quickly and efficiently and customers are always taken care of in a timely manner.
Overall, Domino's Pizza is an excellent restaurant choice for those looking for high quality pizza delivered fast and hot. With over 16,000 locations, customers can find a Domino's no matter where they are located. With their commitment to quality, customer satisfaction and innovative products, Domino's is sure to be around for many years to come.
Chipotle Mexican Grill – Chipotle Mexican Grill is a fast-casual restaurant chain that was founded in 1993 and is based in the United States. The company specializes in Mexican-style burritos, tacos, and other dishes. Chipotle focuses on fresh ingredients, sustainability, and community involvement.
All of their restaurants follow a standard format, typically offering counter service and seating for customers. Chipotle's menu consists of burritos, tacos, bowls, salads, and chips served with salsa, guacamole, and queso. Burritos are made with one or two tortillas filled with a variety of proteins, beans, rice, and vegetables.
Tacos can be ordered either hard-shelled or soft-shelled, and both can be filled with various proteins, beans, rice, and vegetables. Bowls consist of a base of rice and beans which can then be topped with various proteins and vegetables. Salads are also available with various toppings such as grilled chicken, steak, carnitas, and tofu.
Chips are provided with a choice of salsa, guacamole, or queso. In addition to their main menu items, Chipotle also offers sides, drinks, desserts, and catering services. The company has a wide commitment to sustainability, sourcing locally grown ingredients whenever possible. They also make efforts to reduce waste and minimize their environmental impact.
Additionally, Chipotle is involved in numerous charitable organizations, donating food, money, and time to local communities. Chipotle prides itself on its commitment to quality, sustainability, and community involvement, making it a favorite among many customers.
Panera Bread – Panera Bread Company is an American chain of bakery-café fast casual restaurants in the United States and Canada, specializing in salads, sandwiches, soups, pastries and coffee. Founded in 1981 by Louis Kane and Ron Shaich, it is owned and operated by JAB Holding Company.
Panera is committed to providing fresh, quality ingredients, such as organic and artisan breads, low fat and whole grain offerings, and classic sandwiches. The company also offers seasonal and limited-time options that feature flavors from around the world. Menu items are made to order and can be customized to fit dietary restrictions or preferences.
In addition to dining in, customers can order online for pickup or delivery. Panera also provides catering services for special events. Panera seeks to provide a comfortable and enjoyable dining experience, with friendly and knowledgeable service.
They strive to serve delicious food in a warm and inviting atmosphere, while contributing to their communities through charitable programs and initiatives. Panera is dedicated to making a positive difference in the lives of its customers, employees, and the communities they serve.
Dunkin' Donuts – Dunkin' Donuts is a global donut and coffee chain established in 1950. It operates over 12,000 restaurants in 41 countries worldwide, making it one of the largest coffee and donut chains in the world. Dunkin' Donuts' menu consists of a wide variety of doughnuts, coffees, teas, espressos, bagels, breakfast sandwiches, and more.
The company is well known for its signature item, the "Original Glazed Doughnut", as well as its seasonal flavors such as pumpkin spice, gingerbread, and peppermint mocha. Dunkin' Donuts also has a range of hot and cold beverages, including lattes, cappuccinos, iced coffees, smoothies, and frappes.
In addition to their food offerings, Dunkin' Donuts offers a variety of special promotions, rewards, and loyalty programs. This includes the Dunkin' Donuts Rewards program which allows customers to earn rewards points on purchases and redeem them for exclusive discounts and offers.
Dunkin' Donuts also has a digital app and website where customers can order ahead, pay with gift cards, and track their orders. In summary, Dunkin' Donuts is an iconic brand that is recognized around the globe for its delicious treats and wide range of drinks, as well as its customer loyalty programs and promotions.
Wendy's – Wendy's is a fast food restaurant chain founded in 1969. It has over 6,700 locations worldwide, making it the third-largest hamburger fast food chain in the world. Wendy's menu consists of hamburgers, chicken sandwiches, French fries and beverages such as milkshakes, soft drinks, and lemonade.
The company is known for its square hamburgers, sea salt fries, and Frosty, a type of soft serve ice cream. Wendy's offers a variety of health-conscious items on its menu, including salads, wraps, and grilled chicken sandwiches. In addition to its main locations, Wendy's also operates several satellite restaurants called Wendy's Express, which specialize in serving burgers, sandwiches, and other fast food items quickly.
The company also has an extensive rewards program for customers, allowing them to save money and earn points for free food. Overall, Wendy's is a well-known brand that has been around for over 50 years, offering quality food and service to customers across the globe.
CONCLUSION
In 2023, restaurant companies in the United States are doing well overall. Many are expanding their locations and offering new services, such as delivery and takeout options. The industry is becoming increasingly tech-savvy, with automated ordering systems, digital menus, and mobile apps.
As consumers demand more convenience and quality, restaurants are having to keep up with the times or risk lagging behind. Consumers also value sustainability, ethical practices, and health-conscious menus, which many restaurants now offer. This has helped to create a diverse and vibrant restaurant industry in the US.