The tourism sector accounted for 39 million jobs, accounting for 8.0% of total employment in the country. By 2029, it is expected to represent around 53 million jobs. In 2019, the contribution of travel and tourism to GDP represented 6.8% of the total economy. All of these statistics show how rapidly the Indian tourism industry is developing. Not only in India, all over the world, but the travel industry is also booming. However, India still has a lot of growth potential, making India one of the best places for travel business owners. 
As India's travel and travel industry grows and proliferates in the post-pandemic world, now is the best time for travel business owners to seize the opportunity and make the most of it left. To help you grow your travel business, we've got a step-by-step guide on how to increase your travel sales.
Step 1: Develop a Website The first step to increasing sales in the travel industry is to develop a website for your business. Having an online presence is essential to reaching potential customers today. Having an active and well-navigated website informs your potential customers about 
• What products/services do you offer?
 • How will it help them?
 • Why should they choose you? Make sure your website is mobile-friendly. This is where most people will see your website.
 Step 2: Connect with Potential Customers If you have a website and a social media presence, there are several ways you can easily accomplish this task. 
• Start blogging on your website. Write a blog about the places you can visit in India. About any dish, store, unique item. Write many blogs and create a separate section for this on your website. Use keywords in your blogs that direct your potential customers to your website and indirectly to your business. Search Google for keywords related to your blog.
 • Post regularly on your social media page. You can post on your blog, or you can post pictures of beautiful places in India. Make sure to let the reader know where this photo was taken. 
Step 3: Collaborate with other travel-related businesses Collaborate with other companies whose products and services are related to the travel industry but do not directly overlap with yours and instead complement them. It's a great answer on how to increase sales in the travel industry.
 For example, if you are offering a hostel stay in any city, you might consider a company that has comprehensive travel packages to work with. Such partnerships will broaden your reach and strengthen your credibility. They will introduce you to the loyal customers and followers of the brand you partner with and drive sales. 
Moreover, you usually don't have to pay anything for it, as the other entrepreneur also receives similar benefits from you for their business. In this type of barter system, both parties have an advantage without harming anyone's business.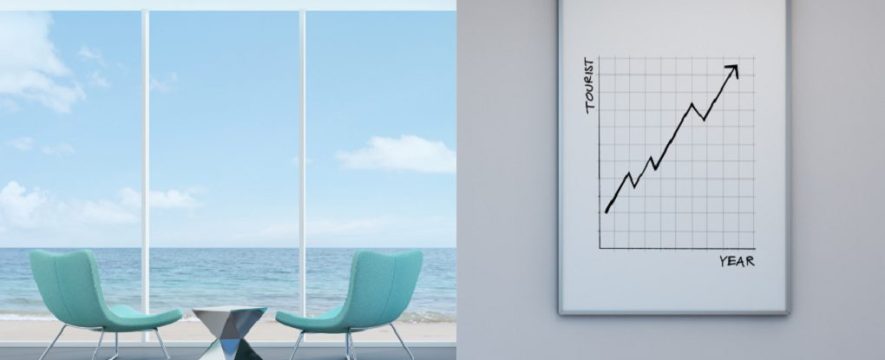 Step 4: Take Full Advantage of Social Media Platforms How to Increase Travel Sales Through Online Marketing and Attract Potential Customers to Your Website Social Media Marketing. Social media platforms such as Instagram, Facebook, Twitter, etc. They are the best place to find and connect with your potential customers. Many users follow travel bloggers and travel photography pages to explore the place they can visit later. Here are some ways to do it: 
• Collaborate with bloggers/bloggers/travel influencers. These users who specifically post travel-related content are the ones you should contact to advertise your brand. They can post a photo or video of your product/service, which will instantly get you hundreds of views on your page.
 • Make your page fascinating and engaging by posting intriguing and engaging material. This is not necessarily always your product/service. Just post content for travel enthusiasts who can follow your page for more such content. On social media, your main goal is to get the attention of people across the country or even the world.
 Step 5: Focus on prioritizing customers rather than selling the product/service you are offering. While sales are significant, engaging audiences is also essential. The question is, how do you increase sales in the travel industry on social media? The 80/20 rule is indeed a helpful guideline to follow. According to this, 
• 80% of the content must be personalized to engage, communicate and connect with the target audience.
• 20% of the content should be a direct and persuasive call to action. Your main goal, in the beginning, is to bring your potential customers to your page as a viewer or follower. After that, all you have to do is keep them engaged and give them a reason to check your page regularly. A good tip for social media marketing is to check periodically the algorithms of these platforms, which show which posts are most successful.
Step 6: Publish testimonials Publish the experience of your previous customers, what they think of your product/service. You can share it more as a photo or a video. Be sure to ask your client for permission before uploading their testimonial. Testimonials are a great way to increase sales in the travel industry because they add credibility to your business by encouraging potential customers to choose you over others. 
This is a possibility, but try asking your customers to post this content on their profiles. Although not many people agree, you can ask them to tag your page with their post and offer incentives like discounts if they order / post content with you on their profile.
Step 7: Attractive Packages and Email Marketing The most straightforward answer to increasing sales in the travel industry is to offer attractive packages on products/services to encourage your customers to choose you. You can also work with other companies to make your plan more convenient and beneficial for your customers. Once you have prepared your offer, you should email the details of this package to your former customers. Add a request box on your website and make sure to ask for visitors' emails. This email will then be used for email marketing.  
Step 8: Offline Marketing So far, we have discussed online marketing methods as it is the most convenient and easiest way to reach your potential customers. However, you can also use your local contacts for marketing. Cooperation with local hostels / hotels / restaurants / shops etc. Give them an extra incentive to choose you over others. 
 Conclusion 
 While the COVID19 pandemic has put the travel industry on the back burner, it has also changed people's travel habits. The concept of "workcation" had accelerated compared to before when people did not mix the two more often than not. The travel industry is set for a resounding comeback.
Article Proofread and Edited by Shreedatri Banerjee