Gaming laptops are famous for appealing to "geeks" and "nerds." As a result, they are more capable than traditional laptops, but they've also alienated a large portion of the public at large. Part of this problem is that gaming laptops are all about specs, which means they are priced in a responsible for marketing.
Nevertheless, Pc makers add entry-level SKUs and market gaming laptops for light gaming, and office or schoolwork has evolved. The new HP Victus 16 isn't aimed at gamers. It's an expensive way to check out a gaming laptop without the high price tag or added thrills. After a day of use with Victus 16, here's what I think of HP's budget gaming laptop.
HP Victus 16 price in India: Starting from Rs. 64,990
Review of the HP Victus 16: Design and Aesthetics
The Victus 16 varies from Omen notebooks and Pavilion Gaming laptops in design. I think it has a lot to do with HP's aim to position the Victus 16. The Victus 16's non-flashy design demonstrates that we can use it for both casual and gaming purposes. It has a plastic chassis and all slabs. The smooth lid is embossed with a V-shaped logo.
For a 16-inch laptop, the chassis is slim, and the side screen bezels are thin, giving it a modern look. It was neither too big nor too small. It's exactly right. The Victus 16 is a versatile machine that can be used for gaming and presentations while being lightweight enough to be carried in a backpack. 
On this entry-level gaming laptop, the port selection is surprisingly good. On the left, you'll find a Gigabit Ethernet port, HDMI 2.1, USB-A 3.2 Gen 1 and USB-C 3.2 Gen 1 ports, and two more USB-A ports, and on the right, two more USB-A ports. On the left, there's a 3.5mm audio jack and an SD card slot. There is Wi-Fi and Bluetooth 5.2 connectivity for wireless connectivity.
In the middle of the top bezel is a 720p webcam. The web camera isn't imposing (it doesn't support Windows Hello and has a fingerprint reader), but it should suffice for online classes and Zoom calls. If you want to be doing live streaming, you will get an external webcam.
The Victus 16 does have the advantage of being able to upgrade its internals. You can access the two SODIMM memory slots and two SSD bays by removing the back panel; that's not easy.
Review of an HP Victus 16: Display and Audio
The display of HP Victus 16 is perhaps the essential element of any laptop. This one has a 16.1-inch display with a 60Hz refresh rate and a 1920x1080p resolution. It has a 16:9 aspect ratio, which is common amongst gaming laptops.
To be clear, this is an entry-level notebook, and HP has made compromises to keep the price cheap. However, I've seen other gaming laptops with a 144Hz display in a similar pricing range.
Yes, there is no option for a 120Hz or 144Hz screen, nor is there a touchscreen. So, if you want a high-refresh display, keep your options open. It was okay to play games late at night, and it was also great for watching movies late at night.
The Bang & Olufsen-tuned speakers, on the other side, are impressive. The sound of the speakers is good, if not outstanding. These speakers are sufficient for watching YouTube videos and listening to music when out and about. When I was playing Dirt 5 on Victus 16, they were rather loud.
Review of an HP Victus 16's keyboard and trackpad
Excellent keyboards on HP computers continue to impress me. Gaming laptop keys aren't the most comfortable to use. They used to throw me a lot of grief since I kept pressing the wrong keys and correcting typos. The Victus 16's keyboard is not only easier to type on, but it's also much less robust! It has a numeric keypad as well as being a full-sized keyboard. The keyboard is backlit, but it does not feature RGB backlighting. The Victus 16's touchpad is big and responsive.
Performance and battery life of an HP Victus 16
Victus 16's performance is unlikely to win any awards. I took the AMD Ryzen 5 5600H processor, 8GB of RAM, 512GB SSD, and Radeon RX 5500M graphics in the base model to the test (4 GB GDDR6 dedicated). The Ryzen 5 is a strong processor, but it has its restrictions, especially when combined with Radeon RX 5500M integrated graphics. I was able to play Dirt 5 with a lower frame rate. As a result, older AAA games should run well on Victus 16. Nevertheless, the laptop's efficiency is reduced due to its 8GB of RAM and the absence of a mid-level dedicated graphics card. It is why buying a computer can indeed be challenging when millions of dollars are involved.
The Victus 16 is perfect for those who want to play yet need a laptop for education and work. A most critical point to remember is to ensure the correct specs for the computer you wish to use. If you want to for a high-refresh-rate display and better graphics, you'll have to pay that much for a gaming laptop. However, the sky's the limit.
Surprisingly, the battery works well. Victus 16 lasted four hours in a gaming test, which isn't bad for a gaming laptop. You'll achieve closer to five hours on a charge if you're using the notebook for essential work on the go.
Should you purchase an HP Victus 16?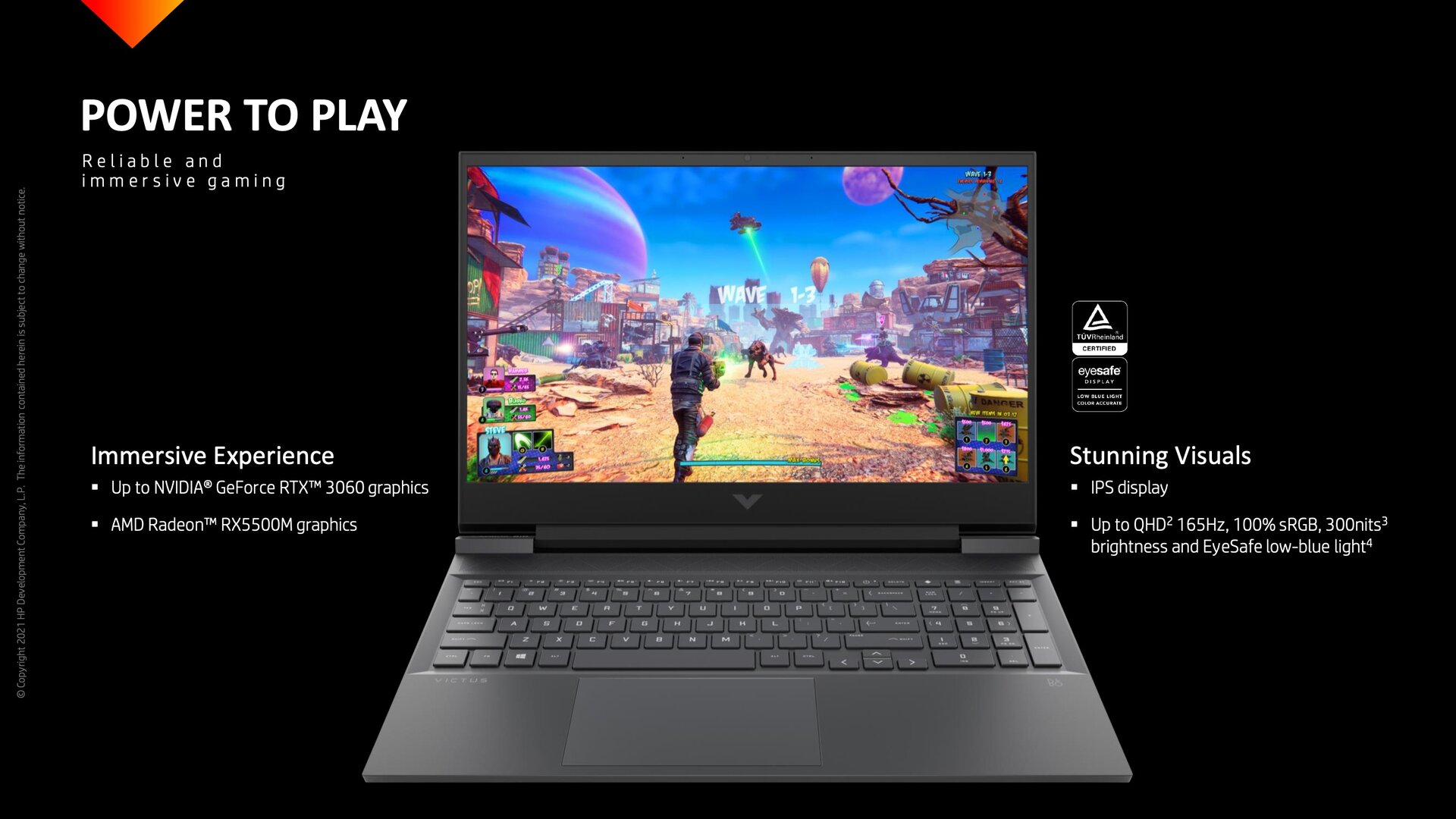 Let's take a look at the typical consumer who is contemplating buying the Victus 16. This person may indeed be using a Windows laptop or is looking to replace an old computer. Web browsing, light photo editing, writing emails, and using essential apps like MS Office are all popular practices, as is casual gaming. In this scenario, I suggest the HP Victus 16, which we can buy online for under Rs 60,000. However, suppose you're looking for a gaming laptop with more power, RAM, and a better high-refresh display. In that case, I'd recommend looking at other HP options or opting for a gaming laptop with a higher configuration from a rival.
Article Proofread and Edited by Shreedatri Banerjee