Want to have fast food? If so, you should check out the best fast-food chains in India. The country has become home to many fast-food chains over the years. As a result, the Western cuisines are now a part of the Indian food culture.
These top fast food joints are also excellent for spending quality time with family and friends. People tend to like the taste. The term 'Fast Food' is mouth-watering. They also provide quick and doorstep delivery of delicious food with just a click of a button. That is the reason fast-food chains are multiplying rapidly. The greatest thing about these places is that they provide easy meal solutions.
Over the years, many fast-food chains have appeared in the country. As a result, Western cuisine has become a part of Indian food culture. These premier fast-food restaurants are also ideal for families and friends. People love the taste. 
Let's talk about the top five fast food chains in India: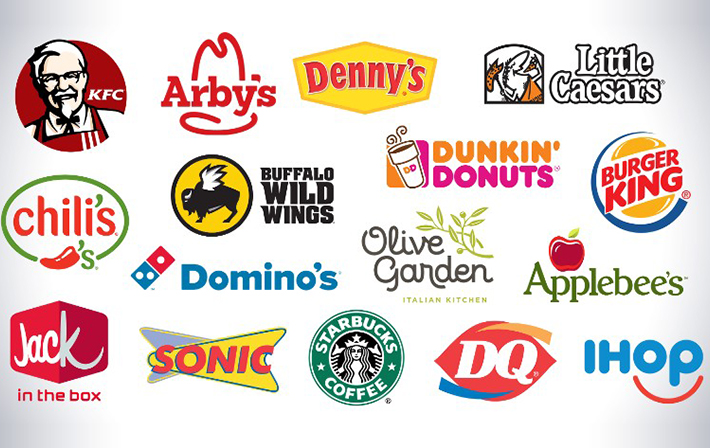 1. Domino's
Domino's is synonyms to pizzas. Jubilant Foodworks holds the Domino's Pizza franchise in India. The must-try pizzas include deluxe veggie, paneer makhani, peppy paneer, and double cheese Margherita among others. Domino's is popular for its express delivery. The food chain is spread across 230 cities across the country. Domino's keeps providing exciting offers throughout the year.Domino's is synonymous with pizza. Jubilant Foodworks operates the Domino's Pizza franchise in India. Domino's is known for its express delivery. The fast food chain spans 230 cities across the country. Domino's has great deals all year round.
2. Mc Donald's
Founded in 1940, McDonald's is an American fast-food company. The fast-food chain is popular for burgers and fries. The menu includes wraps, desserts, chicken products, milkshakes, and breakfast items. The company has also added salads, fruits, and smoothies to its menu.
McAloo Tikki Burger, Dosa Masala Burger, Veg Maharaja Mac, and Chicken Maharaja Mac are some of the Indian special items in their menu. Doorstep delivery is also available via McDelivery website and app.
3. Kfc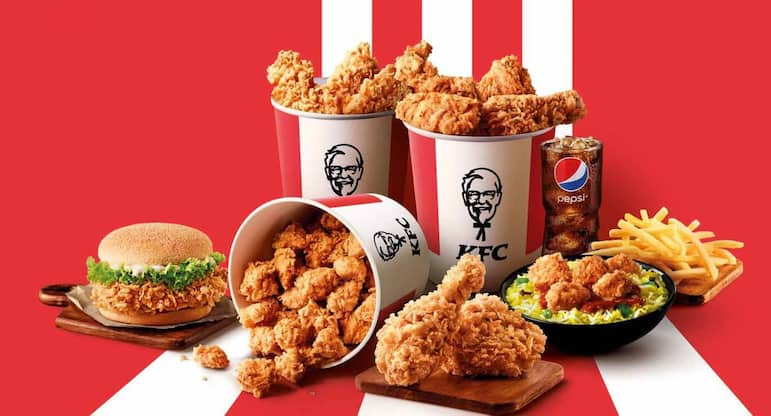 KFC is the world's second-largest fast food restaurant after McDonald's. They have a presence in 150+ countries across the globe. KFC specializes in fried chicken. They have around 350 outlets in India. KFC has adapted its standard offering to Indian tastes. The menu includes Hot & Crispy Chicken, Fiery Grilled bucket, Chicken Zinger, Krushers, Rice Bowlz and 5-in-1 Meal Box among others.
The company has also introduced a vegetarian menu that includes rice meals, side dishes, and wraps. They also serve eggless mayonnaise and sauces. In recent time, KFC has enhanced its vegetarian range with the use of Indian spices and cooking techniques.
4. Pizza Hut
Founded in 1958, Pizza Hut is known for its Italian American cuisines. The fast food menu includes pizza, pasta, side dishes and desserts. The renowned fast-food chain offers scrumptious pizzas. The must-try pizzas include veggie Italiano, chicken exotica, paneer soya supreme, triple chicken feast, tandoori paneer, country feast, chicken pepperoni, and smoked chicken.
Recently, they introduced 10 new variants of the iconic pan pizzas. The original pan pizza debuted in 1980. It continues to be the most satisfying pizza around the world. Over the last few months, the company is witnessing a surge in delivery and takeaway orders.
5. Burger king
Burger King is best known for its mouth-watering range of burgers and meals. The most exquisite fast-food items of the brand are big king XL, bacon king Jr, whopper, chicken nuggets, chicken club salad, pancake platter, fully loaded biscuit, quarter-pound king, crispy chicken club, frozen coke, frosted frozen coke, double cheeseburger, and crispy chicken tenders among others.
The fast-food chain is famous for serving the best burgers in the town. It is slowly growing in India as well. You can find a Burger King store in your city. They also provide online service with doorstep delivery.
Edited by Tanish Sachdev