To prevent the spread of coronavirus government has imposed a lockdown, due to which people are facing shortage of essential commodities. In such a situation, the central government will provide pulses for free under the Pradhan Mantri Garib Kalyan Anna Yojana scheme. Union Food and Consumer Affairs Minister Ram Vilas Paswan said that 20 crore beneficiaries will get 1 kilogram of pulses per month for three months. For this 5.88 lakh tonnes of pulses have been allocated.
Union Minister Ram Vilas Paswan tweeted that by April 28, NAFED (National Agricultural Cooperative Marketing Federation of India) had sent 1.14 lakh metric tonnes of pulses. Out of this, 83.167 tonnes of pulses have been lifted by the states.
Food Corporation of India has provided 4.37 lakh tonnes of wheat and 5.03 lakh tonnes of rice under lockdown till date. So far, NGOs running relief centers in the lockdown has given 161 tonnes of wheat at the rate of Rs 21 and 2680 tonnes of rice at the rate of Rs 22 per kg.
Paswan said that on April 28, FCI has loaded 1.59 lakh metric tonnes of food grains through 57 rail racks.
Government provides relief during lockdown
At the same time, the Modi government has given great relief to the poor, farmers and laborers most affected by the lockdown. According to the Finance Ministry, Rs 1405 crore has been invested so far in the accounts of 2 crore 82 lakh elderly, widows and disabled people.
31.77 crore people have been benefited through Pradhan Mantri Garib Kalyan Yojana scheme. Under this, 33 crore people have been benefited so far. A statement from the Finance Ministry said that 10,025 crore rupees have been added to the Jan Dhan accounts of 20.05 crore women.
Under the Pradhan Mantri Garib Kalyan Yojana scheme, out of 40 lakh tonnes fixed in April, 40.03 lakh tonnes of food grains have been lifted by 36 states and union territories. The report states, "Till April 20, 31 states and union territories have distributed 19.63 lakh tonnes of food grains to 39.27 crore beneficiaries". These people fall under the purview of 1.19 crore ration cards. Apart from this, 1,09,227 tonnes of pulses have also been sent to various states / union territories.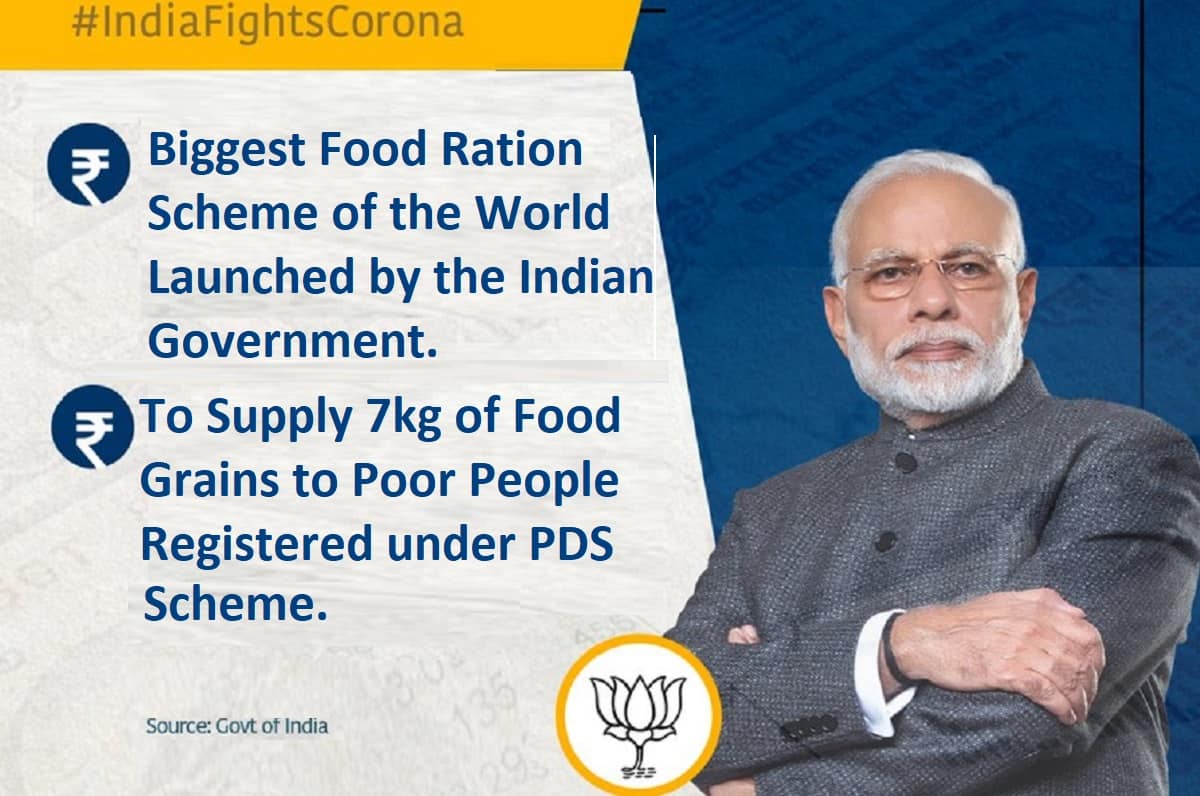 3.05 crore LPG cylinder booked under Ujjwala scheme
In addition 3.05 crore LPG cylinders have been booked under the Prime Minister Ujjwala scheme. A total of 2.66 crore free LPG cylinders have already been distributed to the beneficiaries. Workers' wages have also been increased under the Mahatma Gandhi National Rural Employment Guarantee Act (MNREGA). It has been notified from April 1. Rs 7,100 crore has been released to provide outstanding wages and material money to the states. According to the statement, 2.17 crore workers engaged in construction works have been given financial assistance under the 'Building and Construction Material Fund'. Under this fund managed by the state government, Rs 3,497 crore has been given to the beneficiaries.