Stories
Know SP Hinduja: That One Great Name Behind The Successful Sculpting Of The Indian Economy.
A representative for the family said in a statement, Gopichand, Prakash, Ashok, and the entire Hinduja family regret to announce the passing of Mr S.P. Hinduja.
Srichand Parmanand Hinduja, also known as SP, chairman of the $70 billion Hinduja Group, was regarded as the family patriarch, the eldest of the four Hinduja brothers. A man whose life in India, Iran, and the United Kingdom was dotted with success, controversy, and tragedy died in London on Wednesday after a lengthy illness. He was 87.
A representative for the family said in a statement, Gopichand, Prakash, Ashok, and the entire Hinduja family regret to announce the passing of Mr S.P. Hinduja. He was a visionary and guide to the empire, passing on their late father, P.D. Hinduja's fundamental ideals and values. He and his brothers were instrumental in forging a strong link between his host nation, the United Kingdom, and his native country, India.
SP has been battling disease and has been in nursing care for the previous few years. He had long been the family's public face, having co-founded the organisation with his brothers, who were famed for their strong networking skills and commercial acumen. They expanded their family firm, which includes commercial vehicle manufacturer Ashok Leyland and private bank IndusInd, to various enterprises in 38 countries, including oil lubricants, chemicals, energy, and information technology. The company employs almost 200,000 employees.
The brothers thrived with succeeded in creating the great Hinduja empire.
The Hinduja family, founded by Parmanand Hinduja, began modestly before SP and his brothers led the organisation to pursue higher goals and become one of the first Indian billionaires to make money abroad. The Hinduja family may be traced back to the Sindh province, home to many daring traders. They created a name for themselves by dealing with Iran in spices, linens, and dried fruits.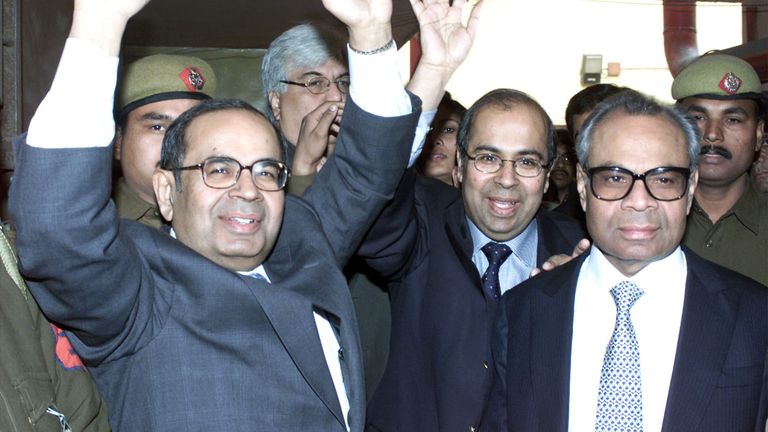 A historical briefing.
The Shah of Iran, Mohammad Reza Pahlavi, had grand aspirations to modernise Persia. The Hinduja family pounced at the chance to build metal towers in response to Shah's ambition to strengthen Iran's power production. Following the overthrow of the Shah by Ayatollah Khomeini in 1979, the Hinduja family relocated to London. The family's stay in Iran ended sixty years after Parmanand initially launched a company for his family in 1919.
Back then, Bollywood films were dubbed in Farsi for local audiences, which enhanced Hindujas' social capital in Iran. Hindujas' net worth was estimated to be more than £28 billion on the Sunday Times Rich List in 2022. 
The scenes of personal challenges.
While he witnessed the family business's phenomenal success and prosperity, his life was marred by challenges and a few personal tragedies. He lost his son, Dharam, in a tragic accident in 1992 when his traditional family objected to the young scion's love affair with a female from outside their society. Madhu, his wife, died in January.
He was forced to take on family obligations at a young age. He was Parmanand Hinduja's second son. Girdhar Hinduja, the eldest, died in 1963 at 33, leaving SP, then 28, to help his father run the firm.
The family image revolves around disputes.
SP built the Hinduja company into one of the most prominent Indian business families during the next half-century, taking over after Parmanand died in 1971. Along with popularity, the brothers were involved in a number of disputes. The most serious of these allegations was that the family served as a conduit for bribery on behalf of the Swedish armaments manufacturer Bofors. However, the Bofors issue unravelled, and the courts cleared them of wrongdoing.
SP and his three brothers—Gopichand, 83, Prakash, 78, and Ashok, in his early 70s—made a 2014 agreement that all assets held in any brother's name belonged to them all. Srichand sued his three brothers in 2015, saying the arrangement had no legal force. Vinoo and Shanu are his two daughters. After Srichand developed dementia in recent years, Vinoo, who had been given enduring power of attorney over his affairs, maintained the struggle.
The move towards spirituality.
SP, on the other hand, has recently abandoned the chase of fortune in favour of religion, while his brothers have taken over the leadership of the organisation. Early on, there was evidence of a shift in the businessman's mentality. Srichand told writer Pritish Nandy in a 1999 interview that Dharma taught him to transcend tremendous personal anguish and convert it into a meaningful and helpful mantra. A hopeful mantra. That was what kept him going.
Throughout SP's life, he worked to create the Hinduja business house, carrying on businesses that spanned continents from London, with India serving as a fulcrum with two flagships—Ashok Leyland, a truck manufacturer, and IndusInd Bank, a private bank.
Conclusion.
SP will be recognised for his significant contributions to the globalisation of India and its culture via his career and humanitarian initiatives. 
Behind every great civilisation, numerous minds and efforts take the call to build the nation. Sp was one such great persona. The country will never forget and offer gratitude to him for his tremendous efforts in shaping the economy of India.
Proofread & Published By Naveenika Chauhan