In light of the unprecedented surge in the Covid-19 cases, Delhi Chief Minister Arvind Kejriwal, Chief Secretary Vijay Dev, and Lieutenant Governor Anil Baijal are scheduled to meet on Monday to discuss possible ongoing restrictions, including the curfew due to Covid-19.
Surge In Covid-19 Cases
People familiar with the matter said the shortage of oxygen supply has overburdened the city's health care infrastructure.
On Sunday, several trader groups voluntarily demanded that the market should be closed, and residents' groups demanded a short lockdown to prevent the proliferation of cases and break the chain of transmission.
The Chief Minister, the Lieutenant Governor, and the Chief Secretary are scheduled to meet on Monday afternoon. The Senior Official, who did not wish to be identified, stated that the agenda of the meeting includes a review of coronavirus cases, the status of medical infrastructure and hospital management, and restrictions, including curfews in the city like those imposed on weekends.
On Thursday, the DDMA (Delhi Disaster Management Authority), hosted by Baijal, imposed a weekend curfew, temporarily closed stadiums, shopping malls, spas, and entertainment parks, restricted the capacity of cinemas and multifunctional halls (multiplex) to 30%, and also prohibited dine in the restaurant and limit the weekly market to one per day in the municipal area.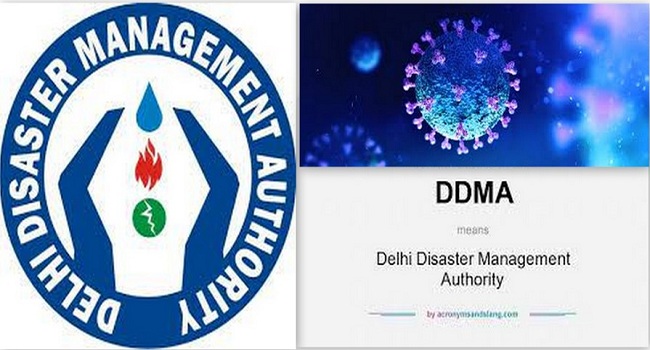 The senior official said that since there was no immediate decision to extend the weekend curfew, conditions in Delhi will return to normal on Monday morning. He added that what happens in the next few days will depend on the city's today meeting.
On Saturday, Kejriwal said that if the Covid-19 situation is not under control, he will not refrain from enforcing stricter restrictions. 
Dr. Lalit Kant, former head of the Department of Epidemiology and Communicable Diseases at the ICMR (Indian Council of Medical Research), said: At this juncture, Delhi needs strict restrictions. Given the extremely high spread of Covid-19, gatherings should not be allowed. The situation has been out of control, the health care system is heading towards a complete collapse.
Delhi reported 25,462 coronavirus cases on Sunday, and the city's market association stated that they are considering closing the market to break the chain of COVID-19 transmission.
Although the market associations of the famous Delhi markets, such as Khan Market, Sarojini Nagar, Connaught Place, Lajpat Nagar, and Karol Bagh have assembled a meeting on Monday to call for the market to be closed, the Chandni Chownk Traders' Association called on all its market traders to keep the market closed until April 25.
President of Chandni Chowk Sarv Vyapar Mandal, Sanjay Bhargava stated: We held a video conference with all members and unanimously decided to keep the market until April 25. We have called on all traders to close the market. We will review the situation on April 25 and take further measures. 
The situation in the city is such that such crucial steps must be taken. The most worrying aspects are the high positive rate and the shortage of oxygen machines, ventilators, hospital beds, and medicines, and other medical facilities in the use of the pandemic.
The Delhi Kirana Committee, Chemical Merchants Association, and the Khari Baoli traders also decided to keep the market closed.
The Sarojini Nagar Market Traders Association held a virtual meeting to solicit the opinions of all traders. The President of Sarojini Nagar Small Market Association,  Ashok Randhawa, stated: Almost 60% of traders believe that the market should be closed. But the final decision will be made by today.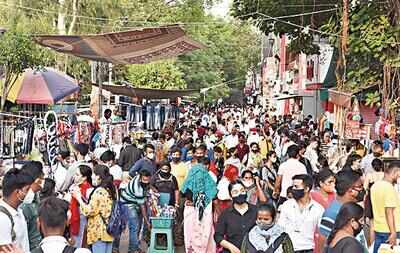 Traders said that they have been the most affected since last year due to coronavirus's economic impact. Although they admitted that the curfew must be limited or extended for a few days at this juncture, they added that the government should support businesses.
President of the New Delhi Merchants Association (Connaught Place), Atul Bhargava said: This will take time. Given the serious situation, we will convene a meeting tomorrow to discuss this issue. But what we want to say is that the government should support those who are facing issues due to the economic slowdown and also support the trader at the receiving end.
The CAIT (Confederation of All India Traders) has written to Delhi L-G Anil Baijal requesting a 15-day lockdown in the city. CAIT General Secretary- Praveen Khandelwal said: Delhi should be under lockdown immediately for at least 15 days with immediate effect. It is true that this will definitely affect Delhi's business and economic activities, but people's lives must now be put first.
The Resident Welfare Association also called for a lockdown. President of URJA (RWAs Group in Delhi), Atul Goyal stated: The situation is grim. People are trying to get their loved ones into the hospital for treatment, basic medications, and oxygen supply, etc. The situation is worse than last year. Locking for 10-14 days is the only solution at present.
Chief Minister Flags Delhi's "Oxygen Emergency", Writes To The Central Government
Delhi Chief Minister Arvind Kejriwal called on Sunday that the hypoxia of Covid-19 patients in Delhi is an "emergency", because his deputy Manish Sisodia, believes that if the central government does not increase Supply, the hospital will run out of oxygen within a few hours.
Dell is facing a severe oxygen shortage. In view of the sharp increase in cases, Del's demand far exceeds the normal supply. Our normal supply has not increased but has decreased sharply. Delhi's quota has been diverted to other states. On Sunday, after meeting on scarcity in the evening, Kejriwal wrote on Twitter: "Oxygen has become an emergency in Delhi".
Several resident welfare groups and relatives of Covid-19 patients also said on Sunday that they had difficulties in obtaining oxygen cylinders and concentrators.
On Sunday, Kejriwal also wrote to Piyush Goyal, Union Minister of Industries and Commerce, seeking his intervention, and emphasized that the center is sending oxygen to other states through a "major supplier" in Delhi. 
Kejriwal said: The rapid increase in Covid-19 cases in the National Capital Territory of Delhi has led to a large number of severely ill patients being admitted to various private and government hospitals. This has led to a sharp increase in the demand for medical oxygen. 
According to the standard formula prescribed by the Indian government that an oxygen demand of at least 700MT has proposed to your Ministry. On April 17, the same has also communicated to the Department of Industry and Internal Trade Promotion, the Ministry of Commerce and Industry of the Government of India. A quick response is still needed on this matter.
The Chief Minister also stated that most of the output of M/S Inox, the capital's "major supplier", has been transferred to other states.
At this critical juncture, it will be impossible for the hospital to sign a contract agreement with the new supplier that has now been assigned to Delhi. This disruption has begun to cause serious shortages in major hospitals.
The company accounts for 20% of Delhi's total daily oxygen supply. A spokesperson of the Federal Ministry of Commerce did not respond to our inquiry about Kejriwal's letter.
An Anonymous government official with direct knowledge of the matter said: After discussions with the states, the government finally determined the allocation of 6,177 metric tons of oxygen, including 1,500 tons of oxygen to Maharashtra, 350 tons of oxygen to Delhi, and 800 tons of oxygen to the UP state.
During an inspection of Covid-19 facilities, Sisodia stated: Several hospitals in Delhi are facing severe oxygen shortages. If the supply is not increased immediately, some of them will run out of oxygen in another three to four hours. Others will run out of oxygen in 10 to 12 hours. I got a review this evening. 
For example, Balaji Hospital provides oxygen for 24 hours, Batra Hospital provides oxygen for three hours, and Ganga Ram Hospital provides oxygen for 32 hours. This is a critical Emergency. We urge the center to make oxygen supply a priority.
At the same time, residents said that even if the hospital refuses to send patients away due to insufficient beds, the supplier has already run out of new cylinders.
The resident of Greater Kailash 1, Puneeta Marwah said: It has been difficult to arrange oxygen cylinders or concentrators. Several hospitals have told us that a few beds may be free in a day or two. But before that, we have to manage patients at home.
The GK-1 RWA (Resident Welfare Association) stepped in and provided her with an oxygen concentrator. Since last year, the association has maintained two oxygen concentrators and 3 gas cylinders for coronavirus patients.
Health experts recommend that if the blood oxygen saturation of Covid-19 patients is below 94mm, they should be hospitalized. However, experts say that with a lot of equipment, if possible, oxygen therapy should be given to patients at home.
The Head of Pulmonology and Shalimar Bagh's Fortis Healthcare Department, Dr. Vikas Maurya, said: In view of the surge in coronavirus cases and the demand for hospital beds, patients are advised to receive oxygen therapy at home or support until they are admitted to the hospital. Oxygen saturation level below 94 means that there is lung involvement and the patient should start looking for hospitalization. A level below 90 is a cause of concern.