Stories
G7 Meeting of 2021: All you need to be aware of
WHAT SHOULD YOU KNOW ABOUT G7?
G7 is a club of 7 countries that are titled liberal democracy. The term G7 stands for a group of seven and consists of Canada, France, Germany Italy, Japan, the United Kingdom and the United States. It is held annually and carried over by government heads of member states as well as the European Union representatives who also confirm their presence.  
BRIEF HISTORY
It emerged in 1973 after the oil crisis as a need for the world's major industrialized country emerged. It was then convened as an informal gathering which consisted of Finance Ministers from France, Germany and the United Kingdom. The first meeting was held in France as a G6 and Canada joined the summit in 1976 and since then G7 members and representatives are meeting annually to discuss world agendas.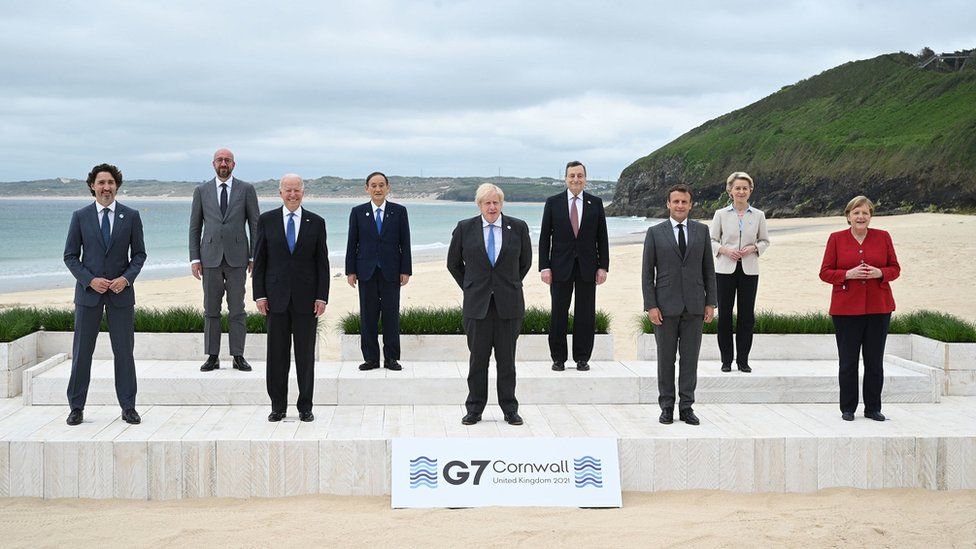 For the first time, 1996 marked the year international organisations such as the World Bank, International Monetary Funds and World Trade Organisation were invited to debut the G7 meeting held in France. Russia joined the G7 in 1997 and formed the G8.it was removed as a part of G8 after it occupied Crimea in 2014. It was in the year 2002, Russia gained permission to hold the G8 summit in its territories and finally in the year 2006, a meeting of G8 held in Russia hosted by Vladimir Putin. 
CURRENT LEADERS AND REPRESENTATIVES OF G7. 
CANADA: Prime Minister: Justin Trudeau and Finance Minister: Chrystia Freeland.  
FRANCE: President: Emmanuel Macron and Finance Minister: Bruno Le Maire. 
GERMANY: Chancellor: Angela Merkel and Finance Minister: Olaf Scholz  
ITALY: Prime Minister: Mario Draghi and Finance Minister: Daniele Franco  
UNITED KINGDOM: prime minister: Boris Johnson and Minister of Exchequer: Rishi Sunak.  
UNITED STATES: President: Joe Biden and Secretary of Treasure: Janet Yellen.
EUROPEAN UNION: Council President: Charles Michel and Commission President: Ursula Von Der Layan.  
 OTHER INVITEES : (2021)
AUSTRALIA: represented by Scott Morrison 

SOUTH KOREA: represented by moon Jae-In 

SOUTH AFRICA: represented by Cyril Ramaphosa 

INDIA: represented by Narendra Modi  
EXPECTED AGENDA OF THE MEETING 
The meeting is supposed to take place in Cornwall, United Kingdom on June 11, 2021, and the British prime minister has advised and pledged to talk over global vaccine distribution and pathways to prevent future pandemics of any kinds. Climate change is a pivotal agenda to discuss as well and ahead of complications faced by the climate which is resulting in the emission of greenhouse gases, increase in global heat and rising sea levels and melting glaciers is a concern and their addressal is the need of the hour. 
WHAT IS THE FIVE-POINT BY THE UK PM BORIS JOHNSON ON PREVENTION OF THE FUTURE PANDEMICS? 
Since the expected agenda of the G7 meeting is coronavirus pandemic, thus the united kingdom prime minister Boris johnson devised a five-point plan which includes : 
Need of zoonotic research hubs all across the globe. 

Need for development of global manufacturing capacities for treatment of diseases and vaccination. 

Coronavirus had spread in such haste because the world lacked a global warning system so he advised the needs of early global warning systems. 

Global protocol agreement for any kind of emergencies related to health emerging in future. 

Trade barrier reduction for easy trade. 
HOW FAR IS IT LEGITIMATE TO SAY LOCAL LIVES ARE AFFECTED DUE TO G7 MEETING IN CORNWALL? 
Yes, the local lives have been impacted due to road closures and many paths to beaches and surrounding coastal areas shut down due to security concerns of guests; this resulted in diversions of plans to reach the places nearby. To attain the highest standards of security and avoid any extreme activities, the residents in areas of ST. IVES are affected as they have to provide subtle proof of their address to make sure they belong to this soil. The meeting will be held in CARBIS BAY HOTEL located around ST IVES in CORNWALL.

Edited by Aishwarya Ingle