Stories
Will Japan's plans to release radioactive water into the ocean upset climate activists?
Japan wants to dump more than a million tons of contaminated water from the demolished nuclear plant in Fukushima into the sea, it said on Tuesday. Tokyo Electric Power Company Holdings Inc. (Tepco), plant operator, will start pumping the radioactive water out in a treatment that takes decades to complete, in about two years after processing.
What about water pollution?
Since three reactors were brought under Tepco's regulation after the earthquake and tsunami in 2011, it has struggled with the building up of tainted or contaminated water. In order to maintain the coolness of the molten uranium fuel rods the corporation used a pumping system and piping for injecting water into broken reactor vessels.
The water is polluted by the fuel before it leaks to damaged cellars and tunnels, where it is blended with groundwater which runs through the site from top hills. The mixture helps in the pumping and treatment of surplus contaminated water before being deposited in large tanks crowding the facility. These tanks currently contain about 1.3 million tonnes of contaminated radioactive water.  To draw attention to this scale, consider- this much amount of water is enough to accommodate about 500 Olympic swimming pools.
Has the company not taken any precautions?
An "ice wall" was being built around damaged reactors and wells to draw away groundwater before it could reach the reactors in order to tackle the crisis. However, the accumulation of polluted water was reduced but not stopped by steps like these steps.
Over the years Tepco has still been fighting leaks, spills, malfunctions and safety infringements, hindering cleanups that will take decades. Despite claiming proper waste elimination for years, in 2018, Tepco confirmed that all hazardous chemicals had not been filtered out of water.
How does it plan to Release the water?
Tepco plans to re-filter the polluted water to eliminate isotopes and leaving only tritium in water. Tritium is a radioactive hydrogen isotope that is difficult to remove. Then, it plans to dilute the water before draining it straight into the ocean from the coastal site. The dilution aims to bring tritium levels below the legal limits. Tritium-containing water is regularly discharged from nuclear reactors all over the world, and regulatory agencies support the disposal of Fukushima water to the ocean. Tritium is considered relatively harmless since it does not emit much radiation for human skin to penetrate. However, when consumed, can increase the risk of cancer, a Scientific American article reported in 2014.
Tepco will take about two years to begin pumping the water, construct facilities, and obtain regulatory approval before the first water spill. Before then, polluted water will begin to accumulate, with annual water treatment costs expected to be about 100 billion yen ($912.6 million). The water disposal process, which will include a rolling filtering and dilution process as well as the proposed decommissioning of the plant, will take decades to complete once it is started.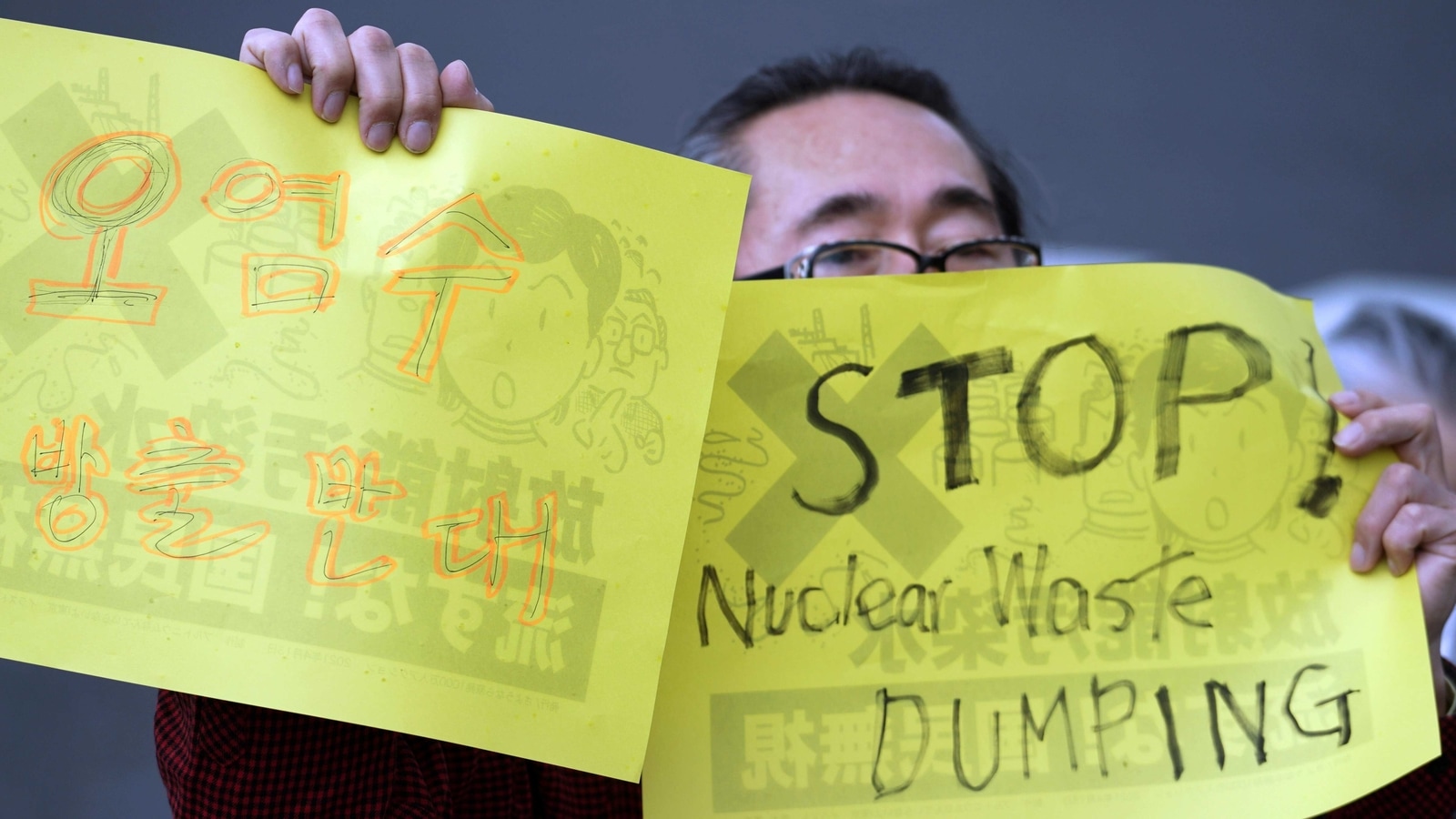 How did people react to the news of ocean release?
In order to prevent reputational damage to local production, Tepco works with fishing groups and other stakeholders and promotes agriculture, fishing and forest products. However, conservation activists, including Greenpeace, are saying that instead of taking the cheaper ocean release alternative the government needs to install more tanks to maintain the water outside the facility.
Many have doubted the plans of Tepco because the organization is highly distrustful. For years, fishing associations in Fukushima begged the Government not to release water, saying that it will work to preserve their fishing career. The head of Japan's fisheries unions said in October that opening the water would be disastrous for the industry.
Concerns have also been voiced by neighbouring nations. A spokesperson for South Korea's foreign ministry, which retains sanctions on Japanese goods, expressed grave concerns that the move may have a direct and indirect effect on the welfare of our citizens and the atmosphere. Municipal councils in South Korean cities near the sea, Busan and Ulsan, have asked for the release scheme to be scrapped. In October, a spokesperson for China's foreign ministry urged Japan to behave responsibly toward its own citizens, neighbouring nations, and the international community. China said that Japan's proposal would be harmful to public health, and that Tokyo had agreed to dispose of nuclear waste water despite domestic and international concerns and opposition. The foreign ministry said in a statement on its website that this policy is highly reckless and would seriously harm international public health and safety as well as the fundamental interests of citizens in neighbouring countries. According to Beijing, the ocean belongs to all of humanity, and the dumping of nuclear waste water is not just a Japanese issue. China, along with the rest of the international community, will continue to closely monitor developments and reserve the right to respond further, according to the foreign ministry.
Around 1.25 million tonnes of water have been stored in tanks at the nuclear power plant, which was crippled when a tsunami in 2011 caused it to break down. In decades of nuclear decommissioning, Prime Minister Yoshihide Suga of Japan said that disposing of water is an "inevitable task." The International Atomic Energy Agency supported releases, which are close to waste water storage of nuclear power stations in other parts of the world. Japan-China ties have groomed in recent months as Washington courts Tokyo as an associate for regional powerhouse in the Pacific.