Trends
Agritech is boosting India's farming landscape in the 21st century
Agritech is boosting India's farming landscape in the 21st century
For millennia, Indian farms and farmers have persevered in the face of persistent difficulties, with new ones appearing every few decades. It may be argued that the agriculture industry encounters issues globally. The circumstances in India are special, though. Solutions created for the Indian agricultural terrain are therefore necessary.
In today's increasingly globalized economy, Indian farmers now feed the entire world instead of just their own town, state, or nation. Due to current global uncertainty, this has regained attention. It has confirmed the impact and contribution of Indian agriculture on the global landscape.
At this pivotal moment, contemporary technology is enhancing the significance of Indian agriculture from a global perspective.
Enabling scientific farming
Even though Indian agriculture has more obligations than ever, most of its issues are still the same. Undoubtedly, farming in India is still impacted by problems with the weather, soil, crops, irrigation, etc. However, modern discoveries and technology are slowly ushering in a transformation in Indian agriculture that may be the largest since the Green Revolution.
Agriculture in India has been excessively reliant on the goodness of the environment. But as new digital technologies like ICT, IoT, Big Data, cloud, blockchain, and others emerge, meteorological and satellite agricultural advancements are making farming more predictable and adaptable to risks.
A growing number of agricultural parameters, including soil moisture and quality, are being evaluated using satellite technology. Farmers now have access to cutting-edge information, such as bad weather patterns, rainfall trends, etc., thanks to improved weather forecasting.
The promotion of integration
The extremely disjointed agricultural landscape of the nation is becoming more integrated thanks to technology. In India, 90 to 150 million farmers work in agriculture (93.09 million households). The land holdings of these people range from marginal and minor (0–2 hectares) to considerable (more than 90%), (2-10 hectares). The fact that operating holdings are about 1.08 hectares in size makes the fragmentation obvious. It is extremely difficult to deliver information, products, and services to such a dispersed demographic.
The integration of the whole value chain of food production, including the agricultural landscape, depends heavily on digitalization and electronic mandis. It facilitates the supply of products and services to the agricultural community as well as the sharing of the most recent scientific information. Additionally, it fosters trust and openness among farmers.
Direct access to larger markets, the certainty of open pricing, and a greater return on investment are all benefits for farmers. Digitalization is fostering consumer and market trust in the quality of Indian goods and agricultural practices by improving traceability.
Introducing automation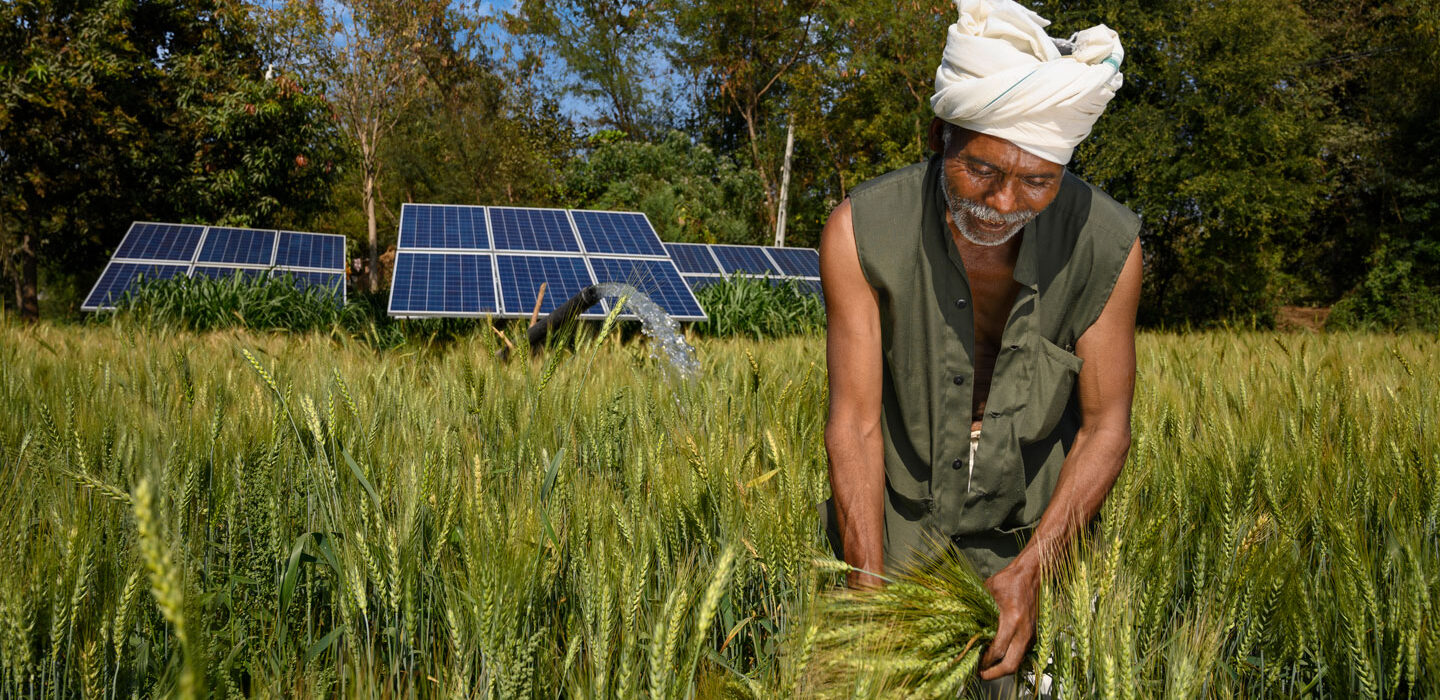 Corporate farming and farm mechanization in the West have not proven effective in India. That's because India's dispersed, small-scale farmers lack the resources to buy or rent very expensive mechanical farming techniques, in contrast to industrialized and less populous countries. But innovative, cost-effective, and mechanizing alternatives like drone technology are bringing about a significant change in some farm operations.
Accurate field mapping, drainage pattern analysis, data & intelligence gathering, crop monitoring & surveillance, agricultural spraying, and seed plantings are all made possible by drones. Drones are also improving resource use and energy efficiency in Indian agriculture, which lowers costs and boosts output.
Optimizing resources
Agriculture uses a lot of energy and water. Agriculture is using more water than ever before because of the requirement for greater yield and more production cycles. Additionally, this is contributing to rising water waste and falling groundwater levels. Some of the most important agricultural advancements are the widely used micro-irrigation systems, such as drip irrigation. Today, drip or sprinkler irrigation systems cover more than 19 per cent of the area of irrigated land. Regarding energy, the agriculture industry uses around one-fifth of all the power used in India. The industry is using solar technology more frequently to power various agricultural machines like pump feeds, etc.
Encouraging a generational change toward agribusiness
Agricultural advancements and technology may have one of the most significant side effects of encouraging a generational shift back to traditional farming practices. Agritech has elevated a vocation in agriculture to the mainstream. As younger generations relocated to metropolitan regions in search of professional work during the past few decades, the farm industry experienced a labour deficit.
Agritech is now rekindling interest in the industry. Agri-tech start-ups are being founded by educated professionals, including those from IITs and international colleges, to develop technology that will make agriculture a more valuable, alluring, tenable, and knowledge-intensive industry. The agriculturalists of tomorrow are rediscovering the significance of farming as a result of this.
India has to invest its human capital and intellectual capital in the agricultural value chain if it is to become the world's food basket. And agritech is currently reinventing the Indian agricultural environment for the twenty-first century.
edited and proofread by nikita sharma